---
Review of Saint Laurent Fall 2021 Fashion Show
WHERE THE SILVER WIND BLOWS
Sumptuous Classic Jackets and Micro Skirts Amongst Volcanic Rocks, Glacier Icebergs, and Magnificent Waterfalls
By Long Nguyen
As the fashion industry debates the race to resume some forms of live fashion shows, probably in mid-September for the Spring 2022 season, one critical question that seemed to have evaded discussions ought to be a central focus of the creativity of the fashion shows.
In 2019 before the pandemic, there was an epidemic of shows. Worst of all, the problem was too many shows on the global calendars with too little creativity.
With a bit of time off from shows, brands of all scales have to think creatively about the most impactful way to show the products in a digital format that can reach a worldwide audience.
Designers have come up with new ways to show a collection in the non-runway year beyond the confines of the rigid formal settings, often requiring significant interior decorations draped in the hope of conveying a more vital message.
"I am a fashion designer, not a filmmaker. So this work is new," Miuccia Prada said in the Zoom call after her Fall Miu Miu show filmed in the snowy mountains of the Italian Dolomites Alps.
That sentiment expressed by Prada this past March was something that many designers and brands experienced. The most memorable fashion shows were creative collaborations with filmmakers like the Dior Haute Couture fantasy films with the Italian director Matteo Garrone throughout the pandemic year presentations. These films were not just mere substitutions for actual shows: they convey a better sense of the collection and presented in a more meaningful way for a larger audience to experience.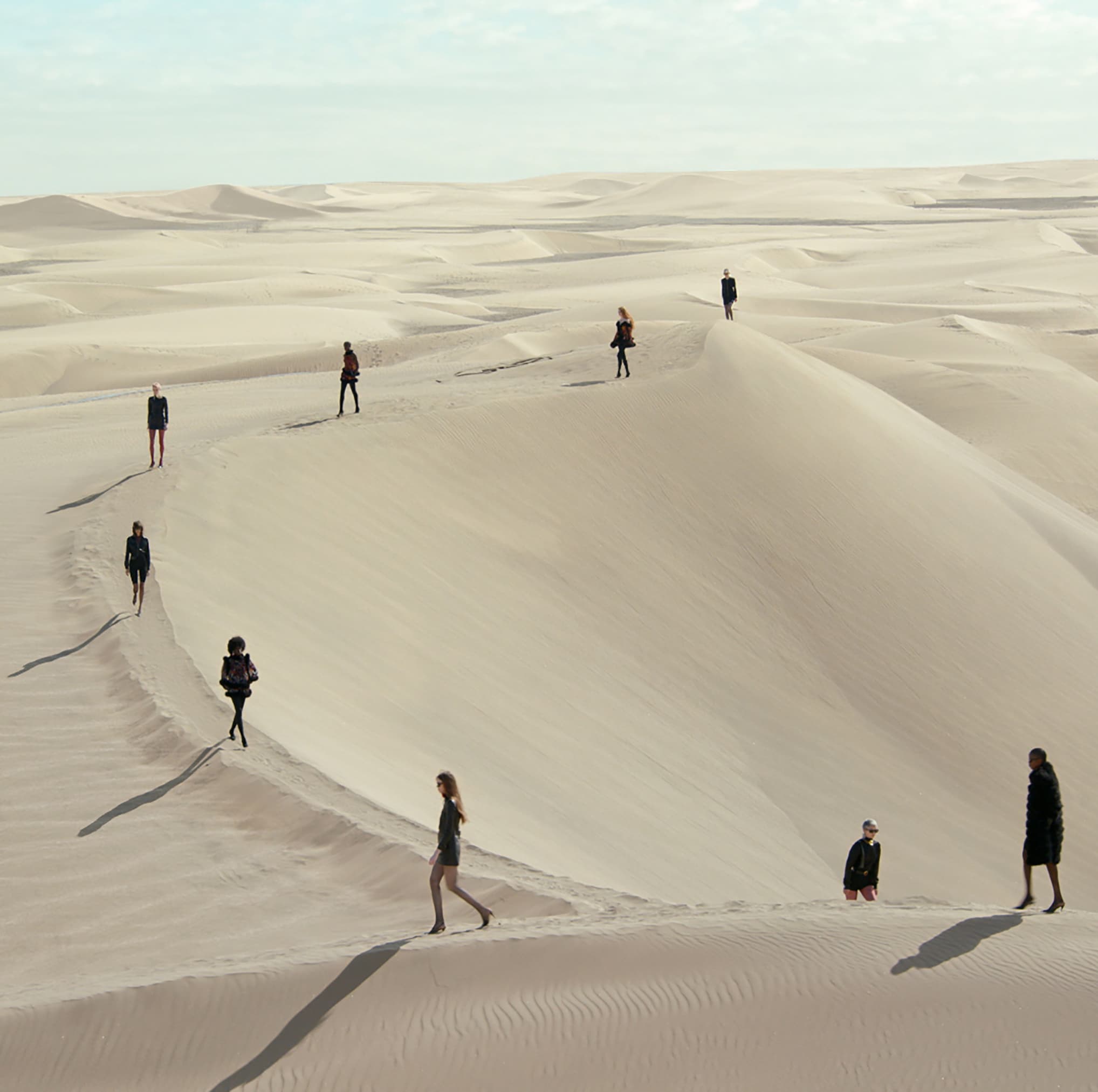 Anthony Vaccarello, the creative director at Saint Laurent, is no stranger to the idea of a majestic setting to stage his collections.
Saint Laurent women's shows took place precisely 8 PM sharp on a raised platform stage directly across from the Eiffel Tower, where the hourly display of lights signaled the show starting moment. Vaccarello ventured out to the beachfront Malibu for a men's fall showing, with models walking on the sand at dusk. The spring 2021 collection show filmed somewhere in the North African desert conveyed both the aesthetic and the emotional tribute to the YSL heritage with effortless clothes destined to today's young clientele.
For this Saint Laurent fall 2021 presentation, the designer chose the stark and brutal nature setting with the grey sky overhead. Models walked in their thigh-high boots and fine leather strappy decorated heels on the dry grass and black rocks with the spectacular northern seaside area with sturdy volcanic black rocks and mountains covered with glacial snow and giant waterfalls.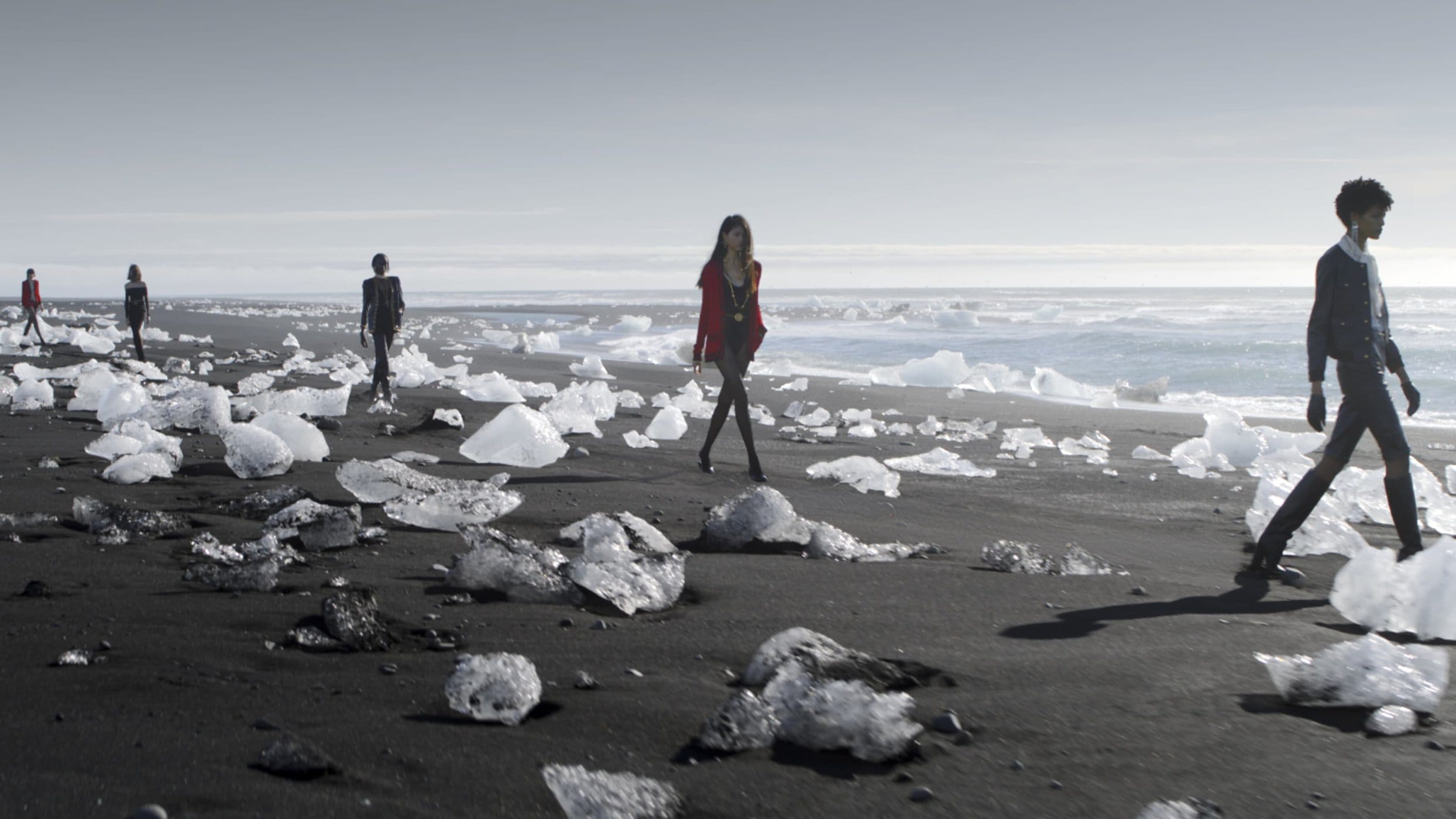 Vaccarello's Saint Laurent women strode in their fine leather thigh-high boots as if they were walking in hiking boots. The elegant takes of the tailored jackets now in a near-infinite choice of colors and fabrics, like the blue wool cardigan lean jacket paired with a micro skirt with green furry trims and a shiny silver bodysuit or a blue cardigan jacket with a light green tee-shirt and a gold leather micro skirt.
And yes, there are plenty of necklaces, earrings, and bracelets to complete each look as the models took command of this mountainous setting. (If you have been to Iceland, the multitude ranges of landscapes of this secret chosen location may remind you of the black volcanic mountain range, the dense glacier snow, and the sea and coastline, but this is my guess.)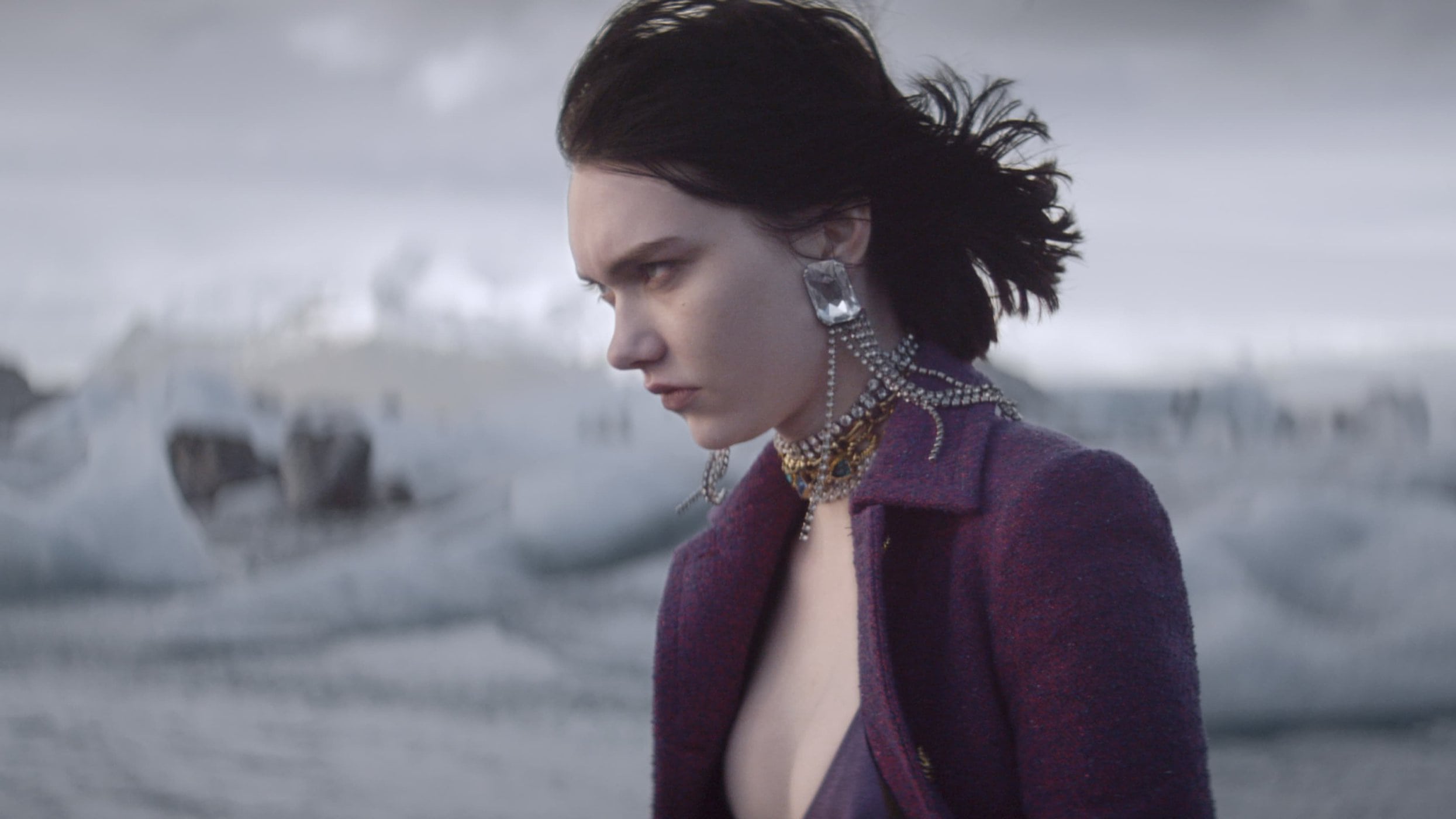 Serious matters push you to take things less seriously, finding the balance while staying on edge us a sophisticated attitude.

– Anthony Vaccarello on his point of departure for Fall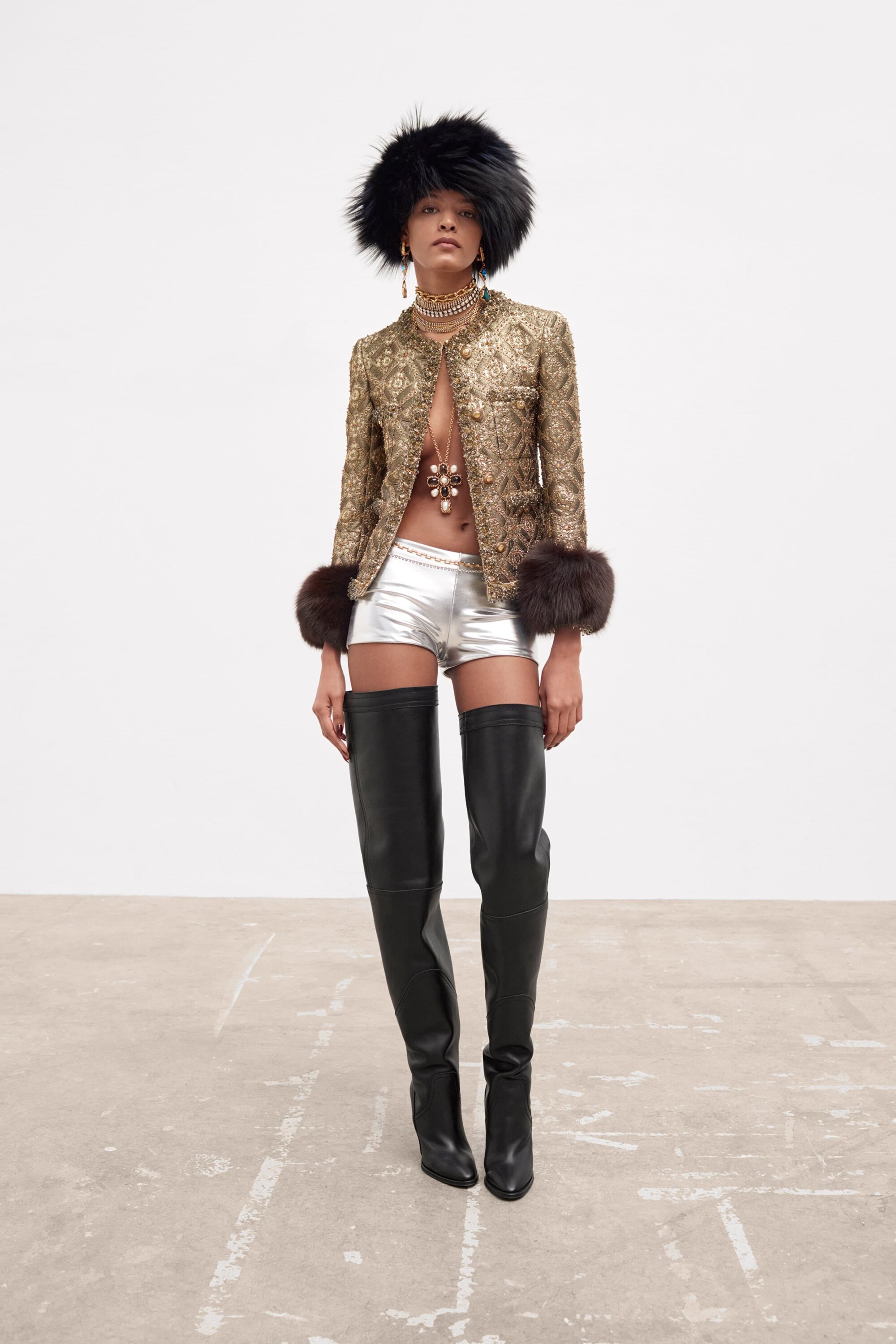 It wasn't just the juxtapositions of raw nature and a great and concise collection that made this film showing an instant classic. Instead, the clothes themselves inherited the habitual mixtures of couture and street sensibility, a concept that Yves Saint Laurent invented in the early 1960s. Then YLS perfected his merger of utilitarian garments and their precise cuts with couture embellishments that rendered a military officer jacket from 1967 or a trench coat from 1962 into haute couture gamut not commonly seen for these types of clothes.
The variety of tailored jackets and micro skirts and those thigh-high leather boots here recalled the feel of the Fall-Winter 1963 Haute Couture collection 'Robin Hood' collection that sported short leather pea coats with similar matching boots. The new jackets come in various shapes and colorways – dark blue cardigan jacket with color buttons, aqua blue shirt collar jacket with matching skirt, light green cardigan jacket with patch pockets, or black and white cropped bolero jacket.
These fall 2021 cropped jackets and their paired micro skirts and boots embraced the spirit of the 1971 "Quarante' haute couture collection. Then, it was a wartime fashion inspiration with its combination of short dresses, platform shoes, and a bit of padded shoulder that broke the aesthetics of couture at the time, dragging the style into the streets. Then the word 'kitsch' was used to describe that 1971 show as an alternative to the excellent taste style prevalent at the time.
In this fall show now, the 'kitsch' element is also in the great mixtures of the sophistication of a white furry coat with black trims and a slutty looking light violet super short skirt or a short sleeve jacquard tunic dress paired with red biking shorts and brown woolly hats.
Over his years at Saint Laurent, since 2016, and his first Spring 2017 show in Paris in the courtyard of the new headquarter under construction, Vacarello had fine-tuned his design process following the founder's principles. Yves Saint Laurent said in 1982 when he spoke about his ways of working – "I am no longer concerned with sensation and innovation, but with the perfection of my style."
This season, there is a continuation of Vaccarello's work with his spring 2021 collection. The designer is looking anew at how the YSL looks of the 1960s that regurgitate an entire fashion generation can be seen again in a new light, with more minor heavy-handed references than an overall shift in the sharp tailoring cuts of the pared-down jackets. The past is present but never omnipresent.
Now, Vaccarello made his fall clothes very much like how he has always designed his women's collection with their youth obsessions – ultra sexy and lots of legs.
This collection is demonstrably like the recent spring outing, a commercial collection with super wearable clothes with more sensual pleasures than intellectualism.
This season, though, Vacarello's references to the house's heritage are subtle, adopting just the framework of tailoring the jackets as a point of departure, then blend in with what in the designer's mind as the now. It's a brilliant idea, and indeed these clothes will have plenty of young women as customers. In addition, the film works powerfully and poetically with the classical music soundtrack. A runway show cannot deliver this level of creativity, poetry, and commerce.
Taking these clothes out of this mountainous location, they can still stand on their own. More so, the collection is an actual wardrobe proposal.
Sure at the stores, there will exist probably longer-length skirts to match any of the jackets.
---