---
Review of Saint Laurent Spring 2023 Fashion Show
Vaccarello's Wardrobe of Effortless Excess is not for the Stealth-hearted.
By Angela Baidoo
Anthony Vaccarello has come into his own at Saint Laurent, taking the house codes and leveraging them to create a true vision of luxury for a certain type of woman for whom wealth doesn't come with capitulating to stealth, and despite featuring close to 50 looks – and bar the anomaly of a matching polka dot set – the collection felt like a considered and cohesive edit.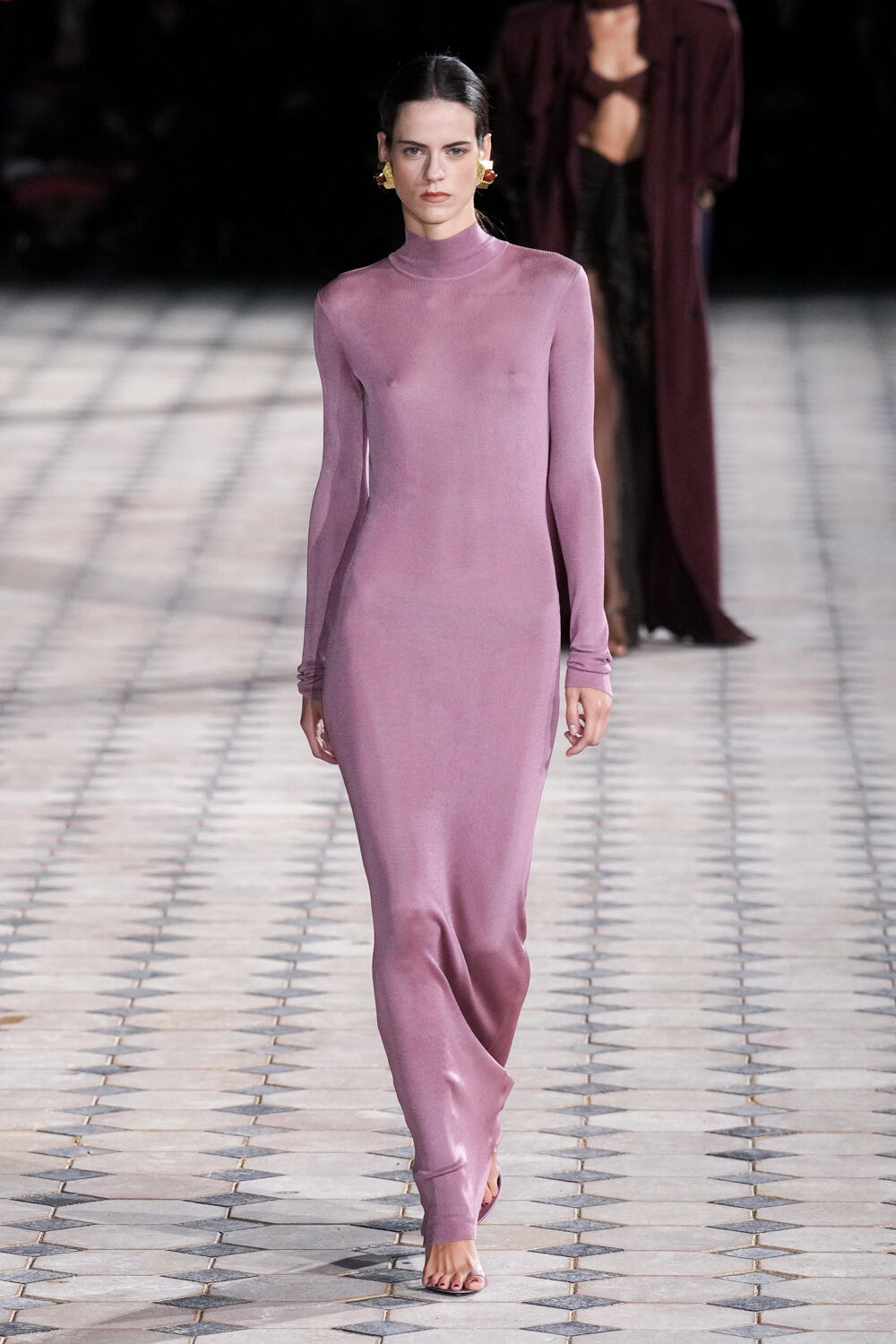 The floor length silk jersey tubular dresses inspired by Martha Grahams infamous 1930 'Lamentation' choreography was given a modern-day translation, which this time-around affords the wearer an effortless ease
The luxury house in its current guise is facing into a clientele for whom the current shakiness of the economy will be a mere ripple, and while others have made efforts to address this – from consolidating their brands to offer a deeper range of price points, developing collaborations with contemporary retail partners, and dipping a toe into the world of rental and resale – Saint Laurent's success over the last few seasons has laid in the embracing of its positioning as the trusted brand for the wealthy elite.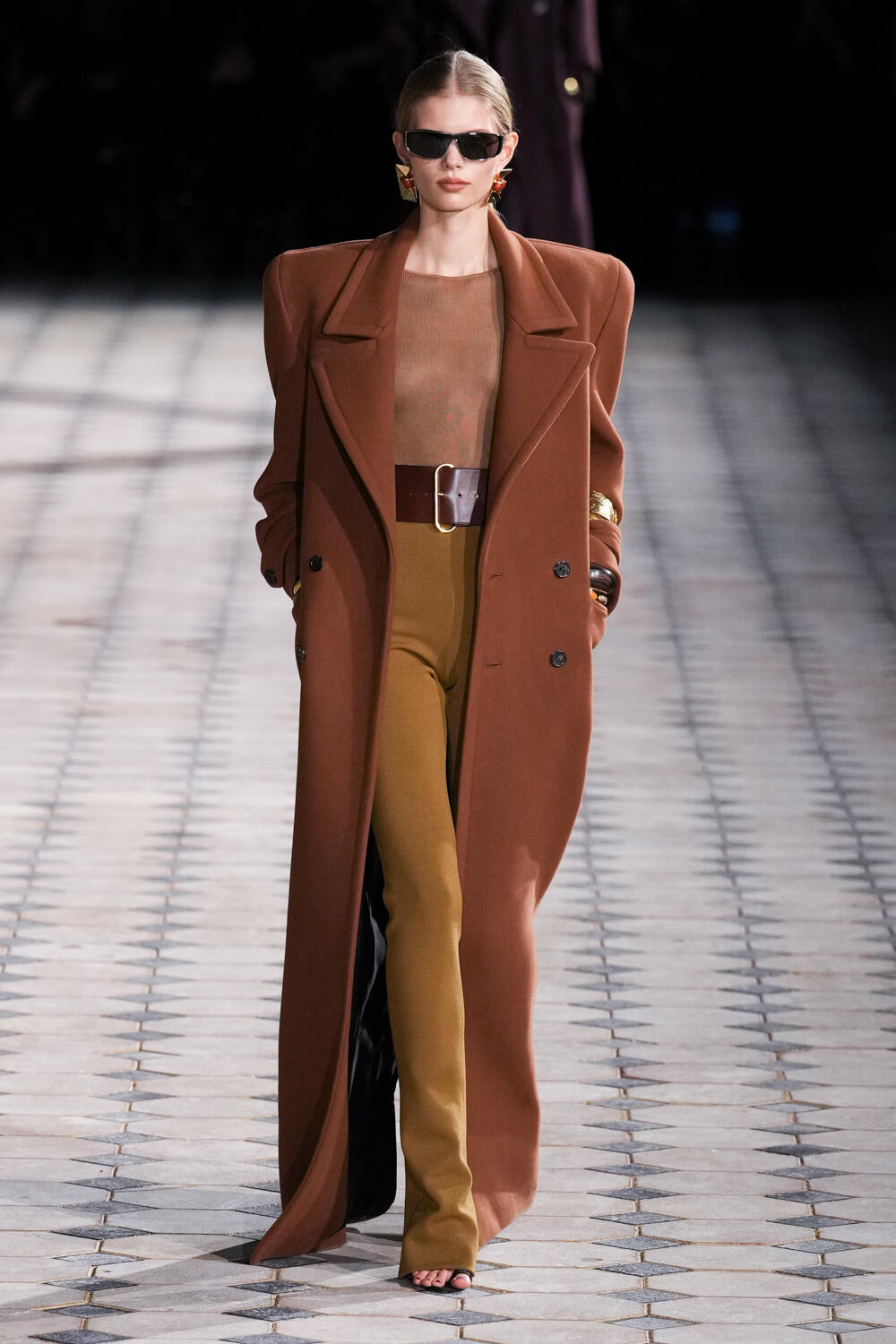 And while it may seem slightly out of touch, an acknowledgement needs to be made that there are those who actively seek out this brand, as it epitomises Parisian chic without the need for too much overt ostentation, at least not this season.
For this collection, Vaccarello kept to a simple formula of long-over-long in dress form, as knitted dress after jersey dress was sent down the runway, each with their own aesthetic, with only a simple tweak made from the one before it, coming together through a palette of rich deep tones more suited to the season in which it was showing, namely autumn. Aubergine, cognac, khaki, and a deep sulphur yellow were colours deserving of a destination show reminiscent of his most recent Menswear collection staged in the Agafay desert, just outside of Marrakech.
Standing alone as singular statements, the tone of each shade also meant that they effortlessly work together, something that will be appreciated by those seeking wardrobe options that can be adapted across continents and seasons.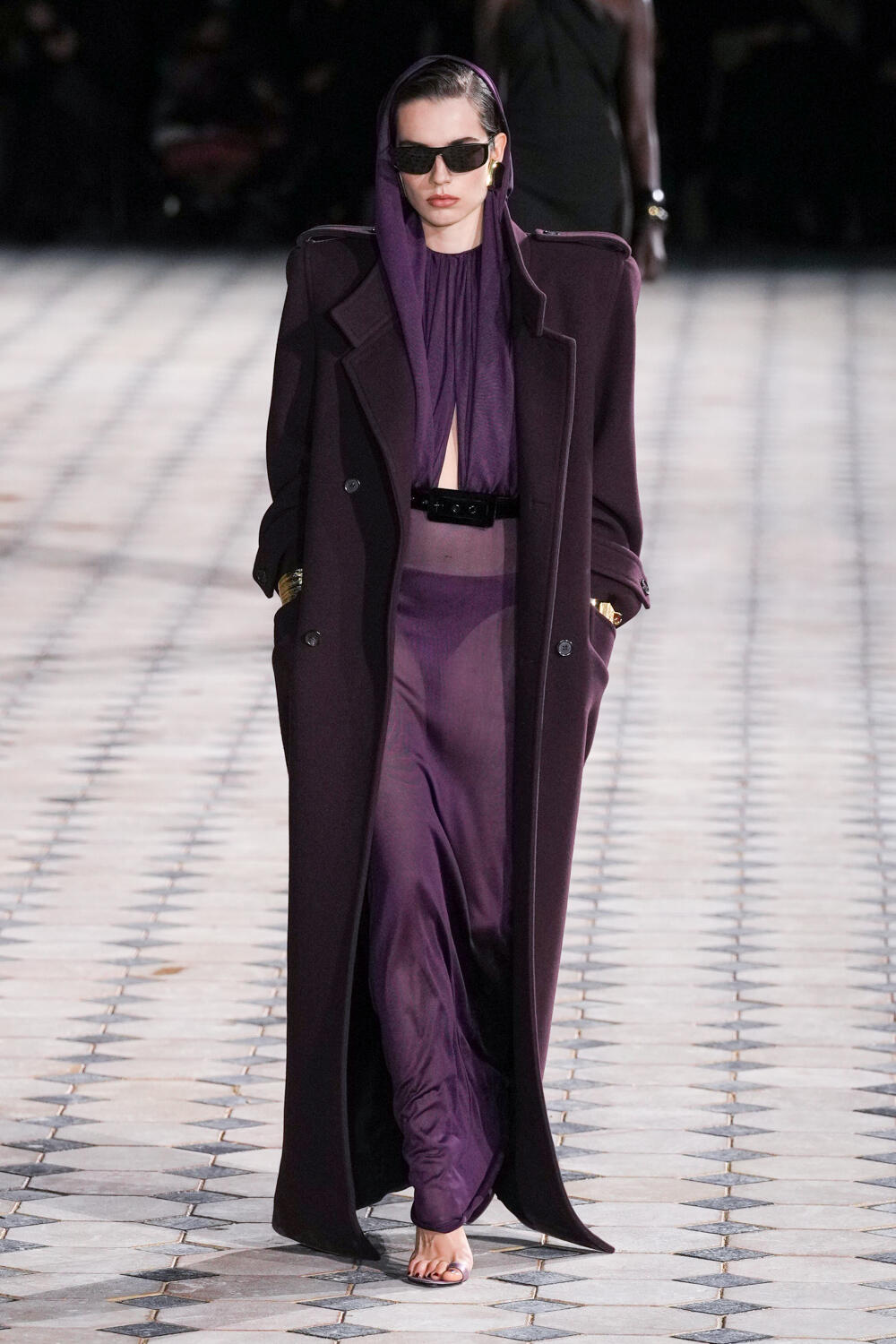 As a break away from the recent focus on the near noughties, the eighties played a major role in the choice of silhouette, as padded power shoulders and fluid hoods, cashmere overcoats and tapered trousers paid homage to the decade. Outerwear – a key driver here – was mainly worn in maxi lengths and rendered in wool or leather and draped to the floor, making it the ultimate cover-up to invest in now.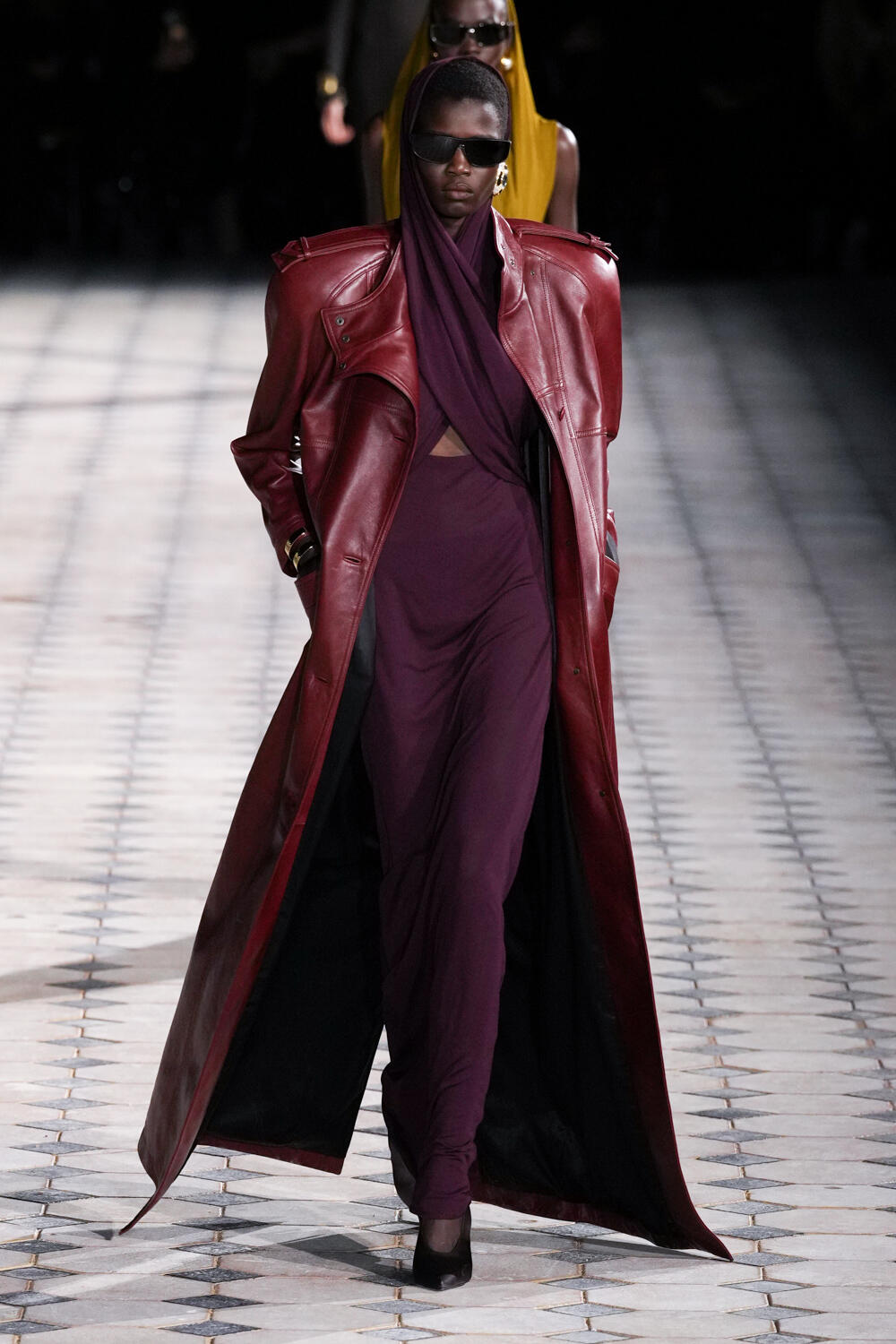 The palette of rich darks are an intense break-away from the classic summer palette, which will extend the life of this collection beyond the summer 2023 season.
It wouldn't be a Saint Laurent by Anthony Vaccarello show without a modicum of sexiness, and while the slinky svelte shapes emphasise the body, there was a subtler take on the trend sweeping across the season.  Knitted dresses were semi-sheer, and midriffs were revealed through modest cape-like sleeves.  The draped hoods  – a signature whose fluidity this season was a reference to a 1969 collaboration with Claude Lalanne – and wrap fronts gave an extra dimension to the straight cuts of the dresses.
In distilling the essence of The New Sexy down to a collection made for the Saint Laurent customer, we were presented with what was truly a Parisian take on the mood sweeping across the shows this season.
---