(Big) Game On at Saint Laurent
Review of Saint Laurent Spring 2024 Fashion Show
By Angela Baidoo
THE COLLECTION
THE VIBE
THE THEME

Described as a "Return to foundations" in todays show notes, Anthony Vaccarello took to the brands archives and revisited one of Yves Saint Laurent's most culturally influential garments 'The Safari Jacket'. Presenting a show brimming with safari-style with a tinge of retro-glamour. Remaining in keeping with his coveting of the HNWI customer who is more 'Haute Luxury' than 'Quiet Luxury'.
Where silhouettes last season were all about the body, for summer 2024 we see how the Saint Laurent woman can take on a more a casual stance. Reaching back to the safari suit era, which many of the brands more seasoned customers will be familiar with, this take on utility for the upper echelons of society has a natural ease, fitting as there is unlikely to be any actual manual labour taking place in these "couture-informed daytime looks". But, referencing pioneers such as American aviator Amelia Earhart and French pilot Adrienne Bolland, the designer was looking to next season as a summer of freedom for his Saint Laurent woman, with shapes given more volume in a borrowed-from-the boys way, billowing chiffon maxi dresses offered a more expressive take on her personality.
The consistency with which Anthony Vaccarello is performing is admirable, especially at a time when the game of designer musical chairs is having another go round. Having served 7 years at the helm he has managed to keep a relatively low profile. Instead dedicating himself to growing the brand into one of the markets true luxury players who have held onto their desirability through a mix of campaigns which sell a jet-set lifestyle, and doubling down on the brands French heritage (Paris is often used a backdrop for their photo shoots) to win new customers who continue to want to buy into the dream that the designer has curated.
THE BUZZWORDS
Sophisticated Safari. Structured Satin. Casual Couture.
THE SHOWSTOPPER
Look # 46
The simplicity of a summer maxi, which in the hands of Anthony Vaccarello is given an added dose of drama with a chocolate palette and soft volume adding to its effortless ease.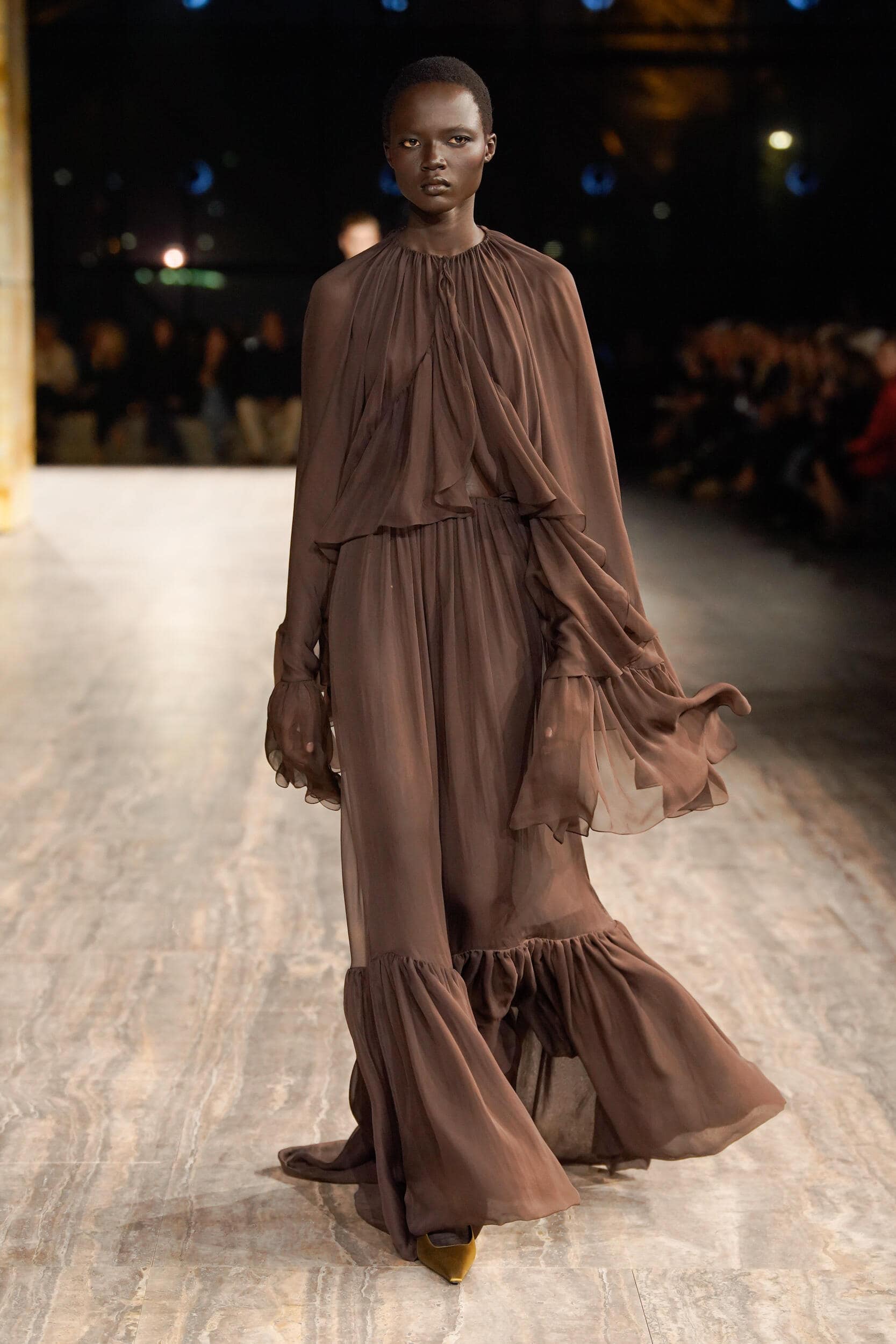 THE DIRECTION
PROS
Reviving the popular Saint Laurent safari look is sure to win over long-term customers of the brand.
Wearable silhouettes, with volume and a relaxed fit will appeal across a number of regions.
CONS
If utility and bohemian-inspired silhouettes don't resonate, there will be few items for the customer to buy into.
THE WRAP UP
The Saint Laurent woman breaks away from her day-to-day refinement and escapes out to safari, as Vaccarello channels the spirit of pioneering female aviators who have as much in common with his muses then as they do now, mainly for their take charge attitude above all else.
Offering a broader take on his handwriting for the brand thus far, this collection marks a welcome and realistic change from the ultra-svelte narrative which has persisted since he joined the brand. But in zeroing in on safari styling, there may be little for the customer who is seeking more of the same design language the designer has built over the last years.
---