If the times we're currently experiencing are frightening and unstable, they have also been reflective and productive, too, forcing us to adapt and find new ways forward. The impact of COVID-19 has been felt everywhere, but it remains to be seen how it will shape our near future. When we're no longer running around, traveling across the world, and have to stay confined within one space to protect ourselves, as well as others from infection, introversion cannot be escaped.
In many ways, having the time to reconsider our practice and improve on the ways we work is a true luxury, which does not happen that often. Fashion is notorious for being ruthlessly fast and this drastic slowing down has had a real effect on designers and how they envisage fashion. While most of us assume that the larger groups will recover faster, despite being hit globally as well, the fate of new independent brands remains unclear and problematic. On the one hand, such companies are more flexible than larger ones and therefore able to respond to this crisis quicker, but, on the other, they are talking to a limited -and much more selective- audience. The possibility of growth might be tricky for these brands, and some of them might not even survive the tough conditions we're facing as a community.
Leave it to Sander Lak to stay ahead of the curve and keep his refreshing sense of optimism. The New-York based Dutch designer launched Sies Marjan in 2016 and quickly caught the attention of influential press and buyers with his intricately crafted clothes and unique use of color. He has showed in Paris and New York, opting for larger productions as well as more intimate affairs. His rich, jewel tones and unexpected color combinations have become a trademark, as well as his soft textures and directional shapes.
What makes Lak's work so unique is its emphasis on comfort and timelessness. His vision is artistic and sensual, but it also underlines the natural strength and intelligence of the men and women who choose his clothes. That feel-good factor isn't easy to achieve today, and it's, therefore, no surprise that charismatic artists and performers are drawn to his clothes, from Beyoncé, John Boyega, and Glenn Close to Selena Gomez and Zoe Saldana.
Sander Lak is himself an interesting study in contradictions. If he displays a critical and introspective mind -both strong illustrations of his European background- his enthusiasm and positive thinking come across as typically American. He has fully embraced the aspirational and forward-thinking spirit of New York while managing to keep his Dutch pragmatism alive. This balance between imagination and reality seems to define the essence of his work, which is grounded within urban life, while often having a lyrical feel.
Humble and sensitive, he's part of a new generation of talents who are open with their emotions and use them in their work. In fact, it's hard not to think of Lak as a poet, too, using his clothes to create seasonal melodies. Inspired by love, nature, relationships, or family, his collections are personal and often autobiographical, adding a layer of mystery to his garments. We caught up with the talented -and confined- designer to discuss how he coped with the changes triggered by COVID-19, the importance of feelings within his creative process, and why he thinks traditional fashion shows still have their place within our industry.
Philippe Pourhashemi: Where are you staying at the moment? Did you decide to leave New York for a while?
Sander Lak: Yes. We had a close eye on what was going on and decided to supply everyone with what they needed to work from home.
Philippe Pourhashemi: How quickly did you close the office?
Sander Lak: We had the office closed down before it was even ordered by the state. Health and safety are a priority for me. I had recently purchased my first home in upstate New York and created a little design studio, so it felt like the best place to go to work. And now here we are, working from home, Zooming, and trying to stay positive.
Philippe Pourhashemi: Your last show was inspired by the countryside, and news ways to approach it. How did this reference translate into clothes?
Sander Lak: We partially sponsored Rem Koolhaas' countryside exhibit at the Guggenheim Museum in New York. It was a long process as we were in conversation for over a year. It was in the most amount of time I had ever dedicated to one single collection. I was inspired by Rem's research and several key themes were incorporated into the collection. We worked with various global artisans to create special pieces and fabrics. We also thought about typical garments people wore in various countryside settings. What was important to me, was that there isn't just one "countryside". There are many different versions of it across the world.
Philippe Pourhashemi: Which fabrics were you keen on using?
Sander Lak: We explored many different natural fabrics and even worked with visual artist Diana Scherer, in order to create a fabric using root systems. We then collaborated with artist Claudy Jongstra through Maharam to create a completely sustainable iteration of Drenthe Heath wool, as well as mulberry silk, and silk chiffon.
Philippe Pourhashemi: Sounds like a great process. Why was it important to involve them?
Sander Lak: Claudy and Diana are artists. It was amazing to work with them in this way as they don't typically create fabric for clothing. I think it's important for us to see how we can use sustainable materials. Obviously, we are not in a place to mass-produce these garments, but at the same time, maybe that's okay in the end? Those pieces are truly special items. I envisage them as works of art in themselves.
Philippe Pourhashemi: Which other textile processes did you develop for this collection?
Sander Lak: We used a selection of fabric that was created through contact dyeing practices, using fresh foliage found locally in both New York City's plant district and Ithaca, in collaboration with Cornell University. We really researched intensively and thought about unusual ways in which we could make a garment.
Philippe Pourhashemi: What kind of feelings did you want to convey with the show?
Sander Lak: Timelessness and joy. For every collection, I want to create items that are going to make people happy. Especially right now. Something they can keep and cherish forever.
Philippe Pourhashemi: What role does sustainability play into your practice? Do you apply it to your company and own creative process?
Sander Lak: We only want to grow our sustainable efforts. As a fashion business, it is not easy. There are so many large industrial systems in place, and as an independent small company we are not calling the shots, but we want to do what we can and move into a positive direction. There is no reason why sustainability shouldn't be top of mind for everyone and this does not only apply to our industry.
Philippe Pourhashemi: How have you adjusted to the rise of COVID-19? What consequences does it have for an independent label like yours?
Sander Lak: I don't think we have adjusted yet, but we are pushing through and trying to stay positive and work creatively. We still don't know what is going to happen. It is a very scary time, but you have to be hopeful and flexible as a young brand.
Philippe Pourhashemi: Many people left the city to go back to the countryside, visiting their parents for instance. Is this something you foresaw in your last show without even knowing?
Sander Lak: You are always surrounded by other people in the city, mainly strangers. I think what we learned is that people feel safer in the countryside. There is more space to enjoy, so in a way, it feels like there is more security, too. That wasn't something I had thought about prior though.
Philippe Pourhashemi: Do you feel that COVID-19 has changed your approach and the way you currently design?
It's not easy working from home. I do miss my team and being able to collaborate in person. That kind of dialogue is so important and it is where the magic tends to happen. We are doing our best to recreate what we can in a digital way, but we, as humans, obviously enjoy communicating in the flesh. The whole process is a bit isolating.
Philippe Pourhashemi: Do you think this is an interesting time to be a fashion designer?
Sander Lak: I do think it is an interesting time, and also a scary time for everyone involved. We don't really know what the future has in store. I think you have to be positive and use this time to be creative and find ways to adapt. What can we make out of this? Let's create things from everything that we are feeling right now and think about how we can move forward.
Philippe Pourhashemi: How do you envisage our near future? Do you think attitudes are going to change?
Sander Lak: Within the fashion industry, I think that we are all feeling a bit frustrated. Everything is very fast nowadays, and we are always moving. We have all this new technology, yet we still are approaching some parts of the industry the same way we did decades ago. I think all of us having to be so still has put things into perspective.
Philippe Pourhashemi: Do you see fashion having to reinvent itself?
Sander Lak: Yes, of course. Fashion is always being reinvented, and in some ways that is what we all love about it. I think we have to reinvent the fashion system in a way that makes sense for us now.
Philippe Pourhashemi: Have some designers been churning out too much product and damaged nature as a result? Is it time to slow down and rethink?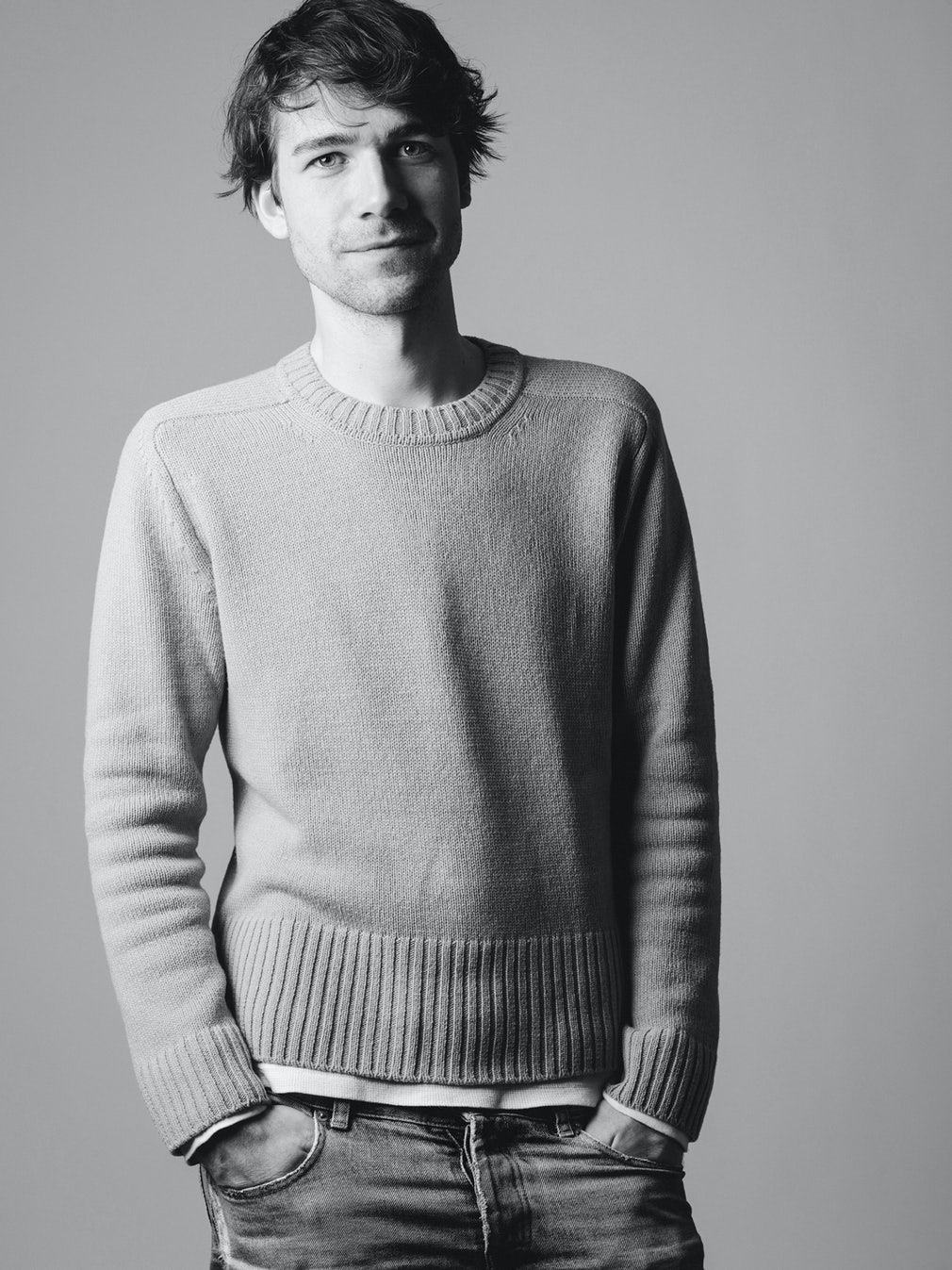 I think some brands, like us, are more mindful of what we are making, how we make it, and how much we make of it. That's how we do things at Sies Marjan, but there are many other brands, not even within fashion, that just want to push, push and push for more sales. When I design, I really want to create quality and special pieces. That means pieces you will have in your closet for years and maybe pass on to your daughter, cousin, friends. Clothes with meaning, as opposed to items that end up in the trash. I am not here to create waste.

– Sander Lak, Sies Marjan Creative Director
Philippe Pourhashemi: What do you think gives fashion meaning now?
Sander Lak: Fashion has always been a mix of utility and fantasy. I think we still need that now, maybe more than ever.
Philippe Pourhashemi: You have been doing shows for both men and women. Why do you see them as important moments?
Sander Lak: While it is true that we have done shows for both, we have done presentations as well. I think you have to do what is right for you as a brand. Sometimes a larger spectacle is exactly what you need, and other times something smaller and intimate is more effective. It really depends on the moment and the intention. I don't believe in one single formula.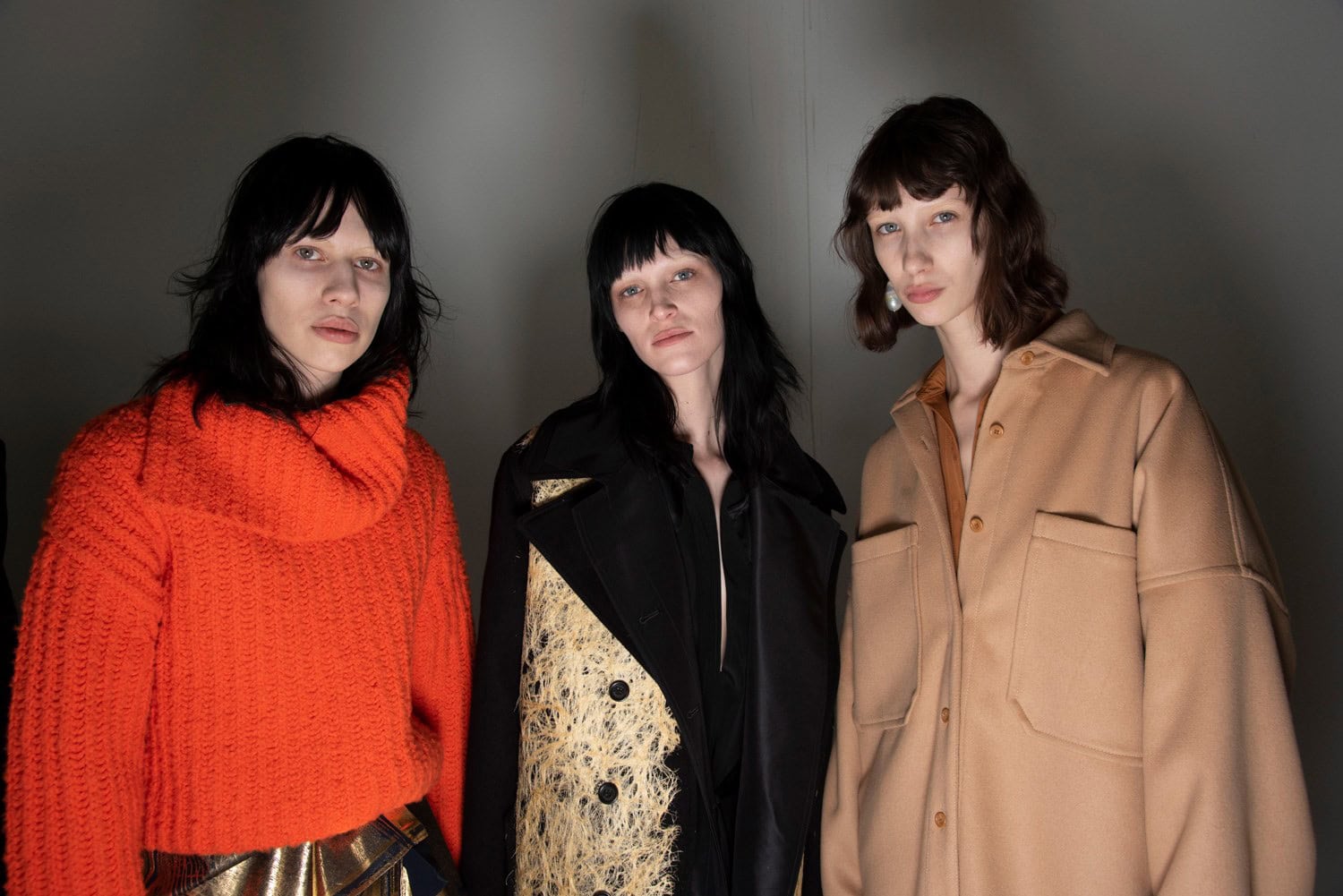 Philippe Pourhashemi: If fashion were to run without shows, which possibilities would we have?
Well, it's kind of like music in a way. What would we do if we didn't have live concerts? Would we be satisfied with just listening to music on our iPods? Live gives you a special feeling and I think the same applies to a show.
Philippe Pourhashemi: Paris men's has been canceled, and Milan men's is postponed. How are you planning on selling -and presenting- the men's collection in June?
Sander Lak: No firm decision has been made yet. We will work with the industry in order to decide what's best. We have to work on this together and find the right way to move forward.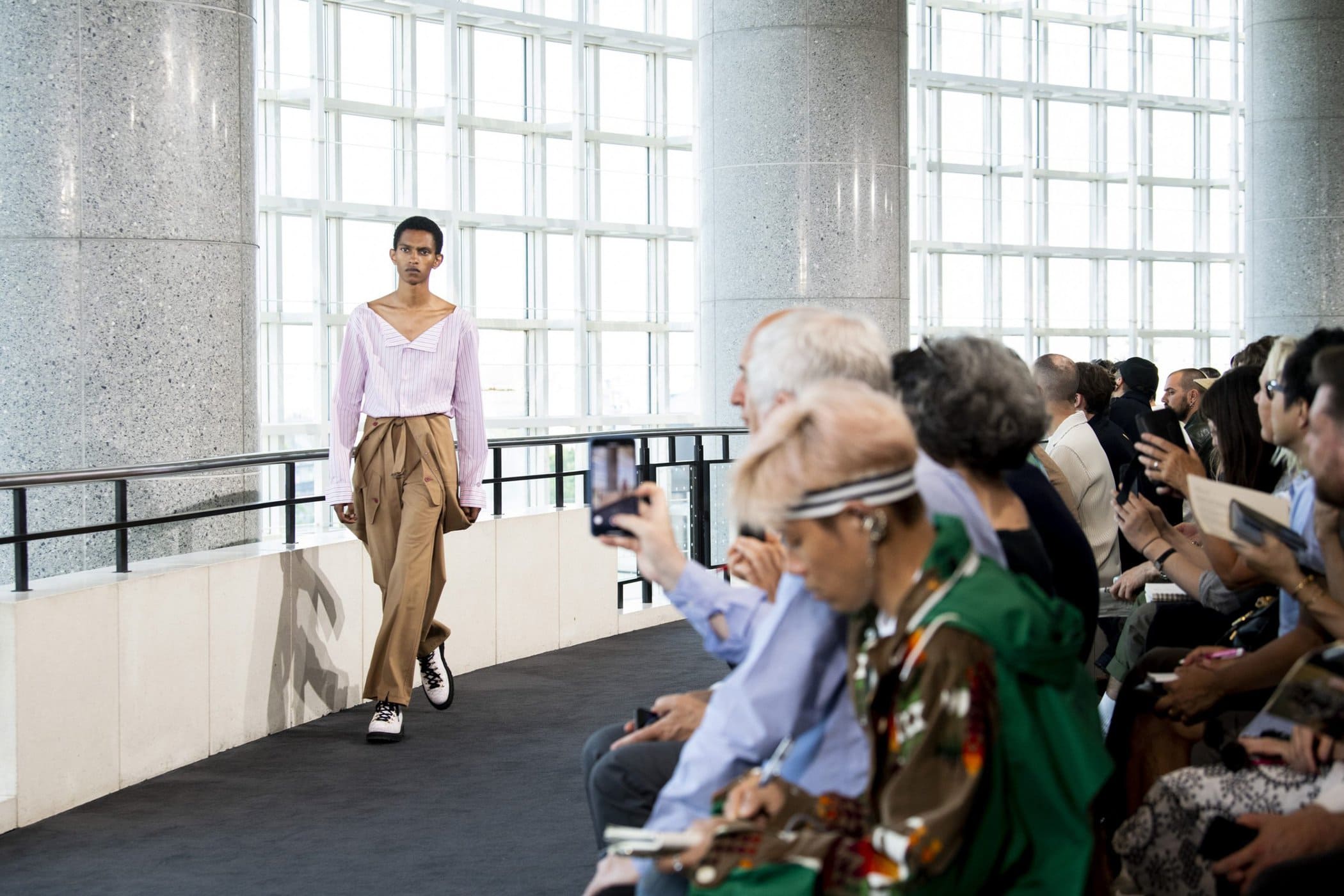 Philippe Pourhashemi: What are your very first memories of fashion and clothing?
Sander Lak: I think for me it was more of a subconscious thing, a combination of events in my childhood. I remember my mother wearing clothes that she would save up for and literally wear for years and years, such as an Ann Demeulemeester dress I still see clearly. I didn't really put that together as "fashion" until I was a teenager and started reading Dutch magazine. It was a really special fashion magazine that was launched in the 90s.
Philippe Pourhashemi: Dutch was, and is still, so iconic. There are issues I look at now and they haven't aged at all.
Sander Lak: True.
Philippe Pourhashemi: Is it important to infuse garments with emotions? How do you think a designer can do that?
Sander Lak: Well, as a designer, that emotion goes into everything you do. I don't think you can have this career otherwise. My objective is that anyone wearing Sies Marjan needs to feel amazing in their piece.
Philippe Pourhashemi: How key is sincerity for you?
Sander Lak: Being creative, I believe it's really important to approach everything with sincerity and honesty. We owe it to ourselves and each other as well.
Philippe Pourhashemi: Many of your collections are autobiographical and rather personal. What does it feel like to put yourself out there?
Sander Lak: It is scary and it is probably the part that I enjoy the least.
Philippe Pourhashemi: At the same time, you seem to do it quite naturally.
Sander Lak: I guess I need a balance of maintaining some privacy in my own life. I don't have any personal social accounts for instance. Some parts of your life you definitely have to keep for yourself, but everything else I pour into Sies Marjan.
Philippe Pourhashemi: What gives you the strength and desire to continue designing?
Sander Lak: I genuinely love what I do. I am lucky to be able to do what I truly love as a job. I don't think I would do this if I wasn't passionate about it. I find strength and drive through my experiences, my team, and my loved ones.
Philippe Pourhashemi: Are you still planning a show for September?
Sander Lak: We are just taking everything day by day, and we have to do what is right not just as a company, but also think about the well-being of others. I hope we can move past this soon, but we have to do this right to make sure that everyone is safe.
Philippe Pourhashemi: The period we are living is a challenging one. Does this inspire you in anyway?
Sander Lak: What has inspired me is how everyone's coming together right now. We are all playing our part and it's clear that we can't do this alone. This sense of community, strength, and collaboration, has been very inspiring.
---