---
Review of Schiaparelli Fall 2021 Fashion Show
A Bullfighter Denim Blouson, A Golden Lips Purse and the Bullhorn Dress Usher A New Era of Excess Decorations
By Long Nguyen
Daniel Roseberry, the American designer who took over the creative direction for Schiaparelli with his debut couture showing in July 2019, sat center stage on the runway with pencils and a drawing board creating sketches reflecting each models' runway looks as they exited from behind him. Determined to transform the historic Schiaparelli house with its many icons edged into the collective fashion memory into a couture house today, the designer has added on to the highly decorative past of the house's fashion DNA. 
Reviving a heritage brand with strong historical roots from a distant past is never an easy project at a fashion house like Schiaparelli. The founder had established such an identifiable fashion iconography but perhaps relegated to the pages of fashion history with little relevance to today's environment.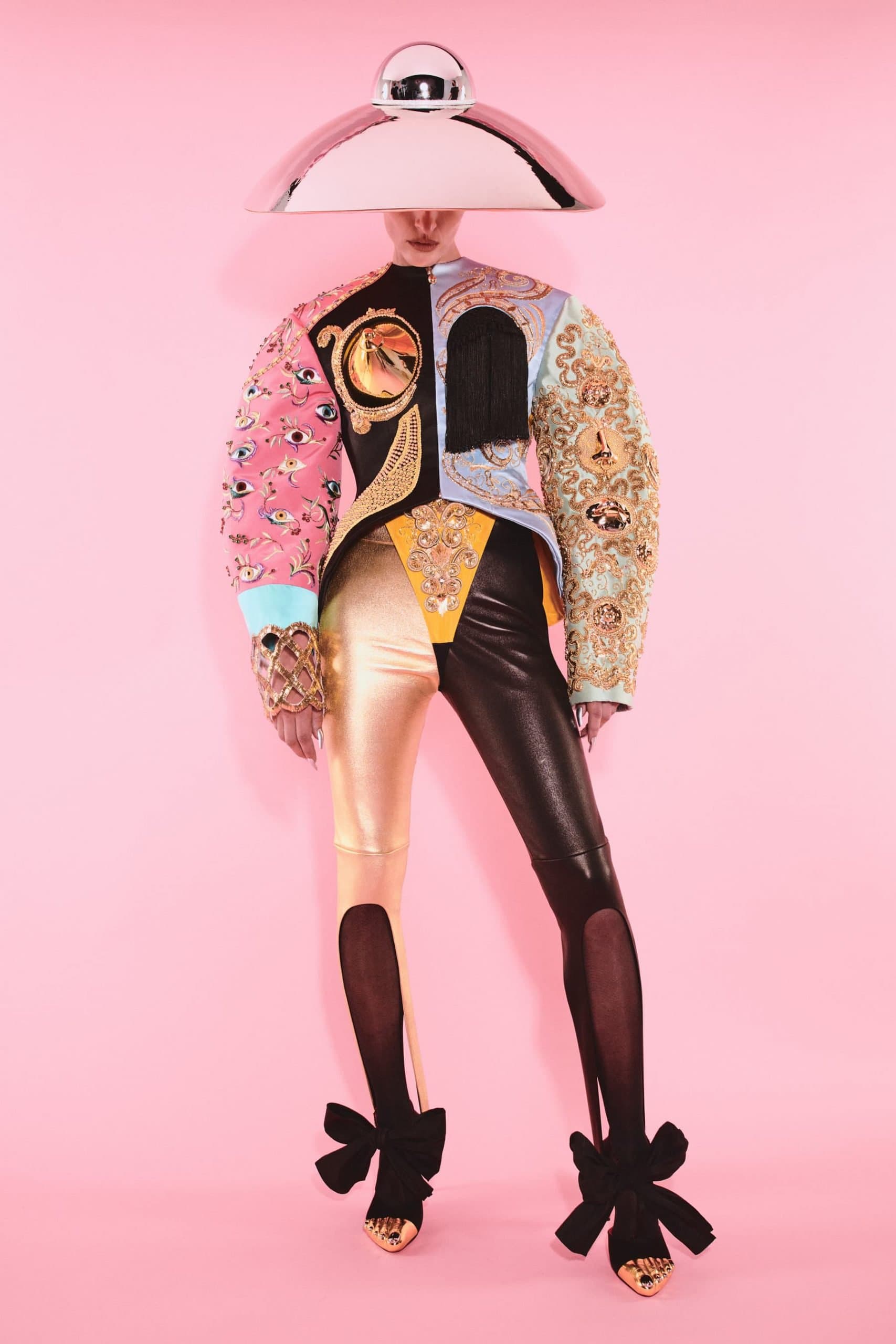 Since his appointment to lead the Schiaparelli house in 2019, Roseberry has posed this question while experimenting with different answers, not getting stuck in the kind of gimmicky clothes that his precedent had delivered.
It is in a way how to look at the spirit of the house's founder and see how that thinking can correlate to the rapidly changing and challenging fashion taste, rather than attempting to duplicate the past, hoping that heritage would stick now. That means, in this case, how to convert the idea of surrealism at the heart of Else Schiaparelli's oeuvre into a vision for the range of clothes that will make sense today.
In his first two runway couture shows for Fall 2019 and Spring 2020, there seemed to be a bit of hesitancy in the designer's proposal for a couture wardrobe that fluctuated between the men/women tailoring and the more fanciful gowns in flowing shapes and vibrant colors. Roseberry went more extreme towards more eclectic notions in the pandemic years, like his last digital couture presentation in late January. Those body-building stretch dresses and leather torso corset dresses.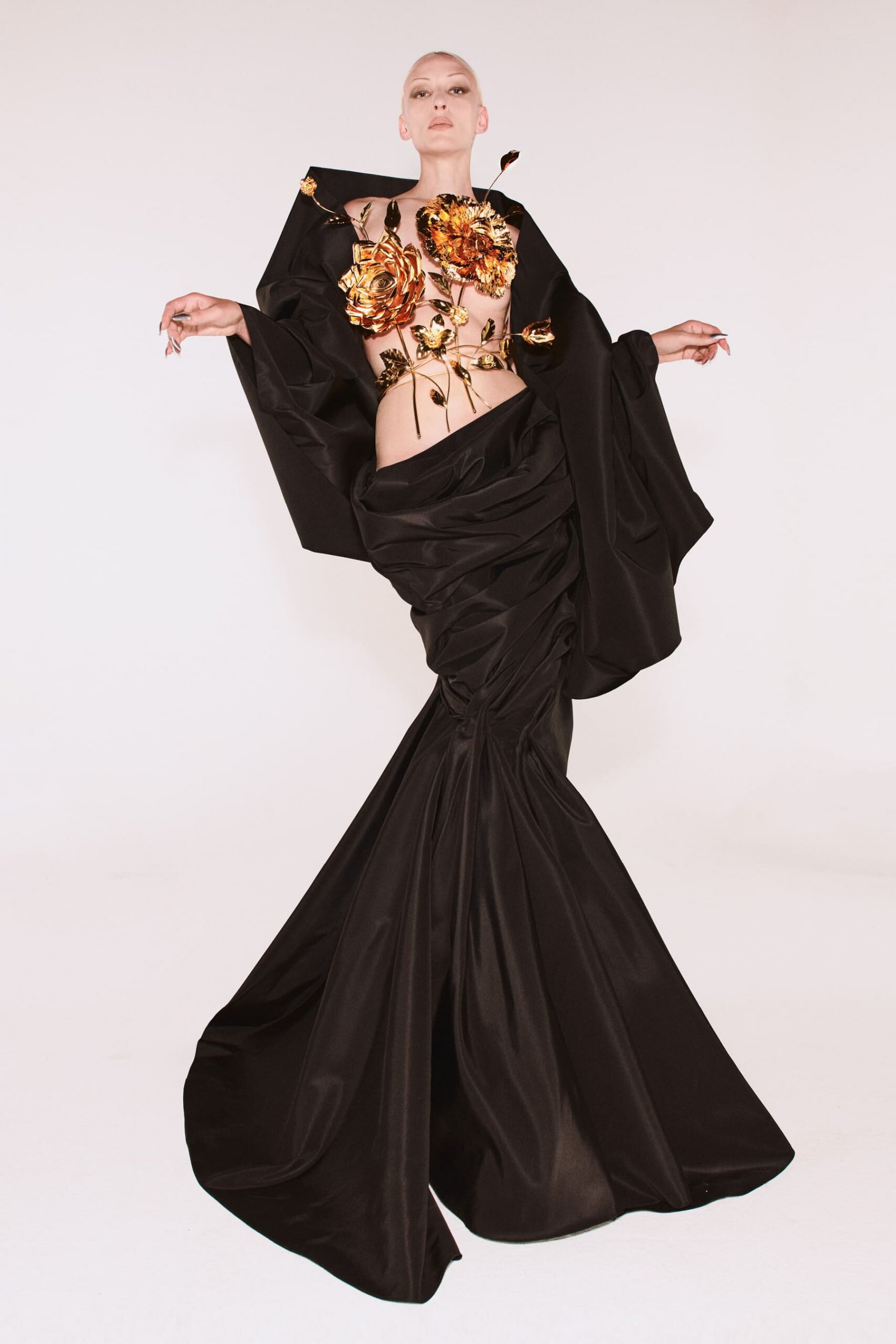 For two years, I've been saying that I didn't care about nostalgia. This season, though, it's where it all started. I found myself wondering, again and again: what if you combined a little Manet, a little Lacroix, a little 1980s, a little 1880s, a little matador, a little space alien, a little Ingres, a little shimmer, a lot of colors? Could I do it? And what would it look like? The answer is this, my fourth collection – 'The Matador' – a collection that honors Elsa's vision but isn't in thrall to it.  

– Daniel Roseberry
At first sight, the twenty-six-looks collection did not veer too far into the costume territory. Still, the more extreme version of a black velvet bullhorn corset dress with skirt overlay and leather gold patterns boots was wearable rather than too artsy.
"If last season was about deconstruction, about pushing past the boundaries of what couture was, about trying to upend all its unspoken rules, about doing things we weren't "supposed" to do, this season, I felt the freedom to make something fiercely, undeniably, unapologetically pretty—because sometimes you have to rebel against beauty to return to it. It also represents a return to innocence, to the joy that drove me into fashion in the first place. I wanted to honor the potential and power of the art form by returning to the fashion I loved in my youth. Blind nostalgia isn't healthy: we can't romanticize the past, especially when, for so many groups of people, the past wasn't romantic at all. But the gift of fashion is its ability to allow us to pretend, and that is its promise as well; if we dream hard enough, maybe we can will that beautiful past into existence," Roseberry said of his thinking for this fall couture collection.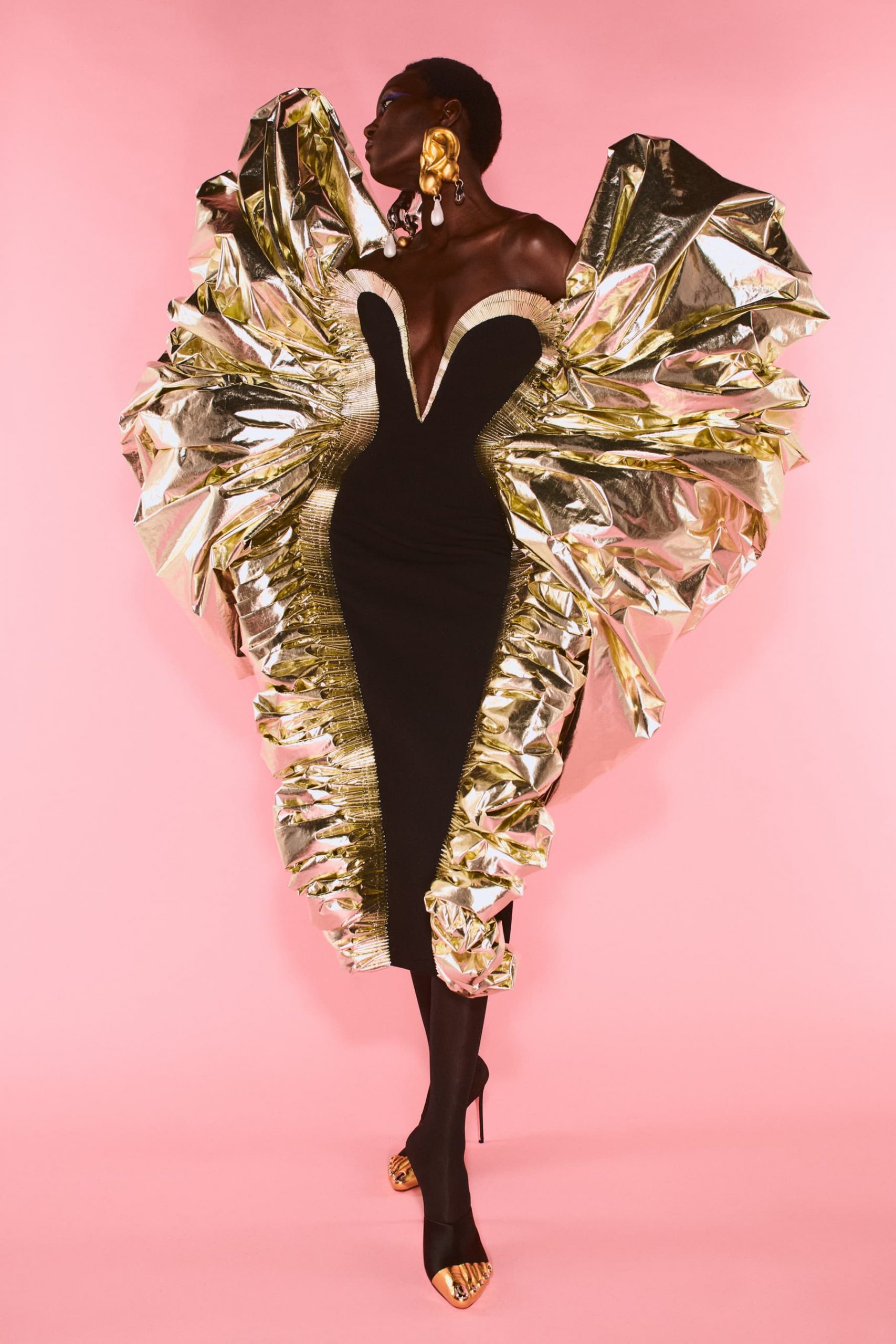 The 1980s came in the broad, prominent shoulder shapes of the matador embroidered blousons, the gold dangling jewel beaded deep v-neck hip jacket, and the long black dress with curved chest front cut and a jeweled corset. These matador blousons paid tribute to the Schiaparelli 1930s using some of the founder's pattern re-embroidered anew from found designs at the embroiderer Lesage and a black silk crepe curved sleeve embroidered pink silk roses as a tribute to the Schiaparelli x Jean Cocteau dress from 1937.
The focus of the body and body jewelry is a feature of the heritage that Roseberry remake into a new visual vocabulary. The designer re-casted the armament of the hard silver breast cups sown onto a broad shoulder black jacket dress or a metallic corset plate worn with a black patent leather fringe coat combining the hard and soft elements on one garment. The volume of these matador blousons even dwarfed anything grand statements from the icons of the house's founder.
The standout looks in this collection are the black short chiffon dress with a golden flower necklace, the faded blue denim matador jeans jacket with gold breast cups and elaborate embroideries, and the black stretch micro dress with puff sleeves embroidered with rose flowers. The light pink taffeta bubble puff sleeves oversized dress reminisced those large puff Lacroix silhouettes from 1987. The black and white embroidered bullfighting jacket and dress in black circular hat recalled the Lacroix Fall 2002 collection with a Spanish theme.
"A year ago, I felt like I was designing for the end of the world. But the world didn't end. We're still here. Fashion is still here. Couture is still here. And not only is it still here but in a world increasingly reliant on the easily replicable and the digitally disseminated, its power—to stop you in your tracks—is greater than ever," Roseberry said.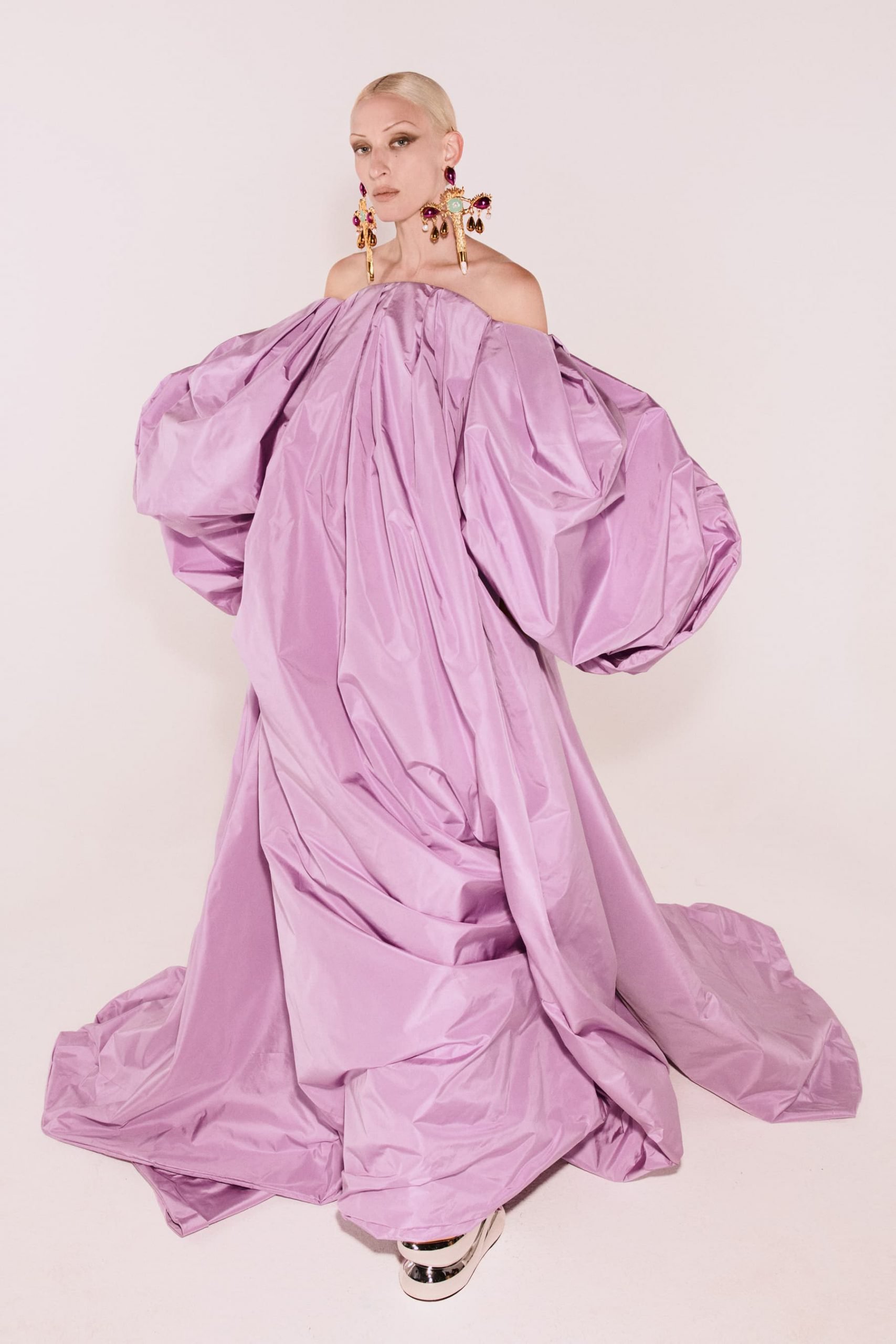 These garments aren't precisely a reproduction of the past, as their connections to heritage are just the point of departure rather than the ending that is the elaborately crafted denim blouson or crepe dress.
It is accurate as Roseberry said that the clothes are for the faint of heart. Sure these garments may gather temporary digital viral traffic, and perhaps that's their true wonders. But, haute couture should not be just about excessive decorations.  That, however, seemed to be the designer's strong suit here, but its loudness limits this fashion vocabulary. 
---