---
Review of Schiaparelli Spring 2023 Couture Fashion Show
Roseberry's Spirit of Doubt Turns to an Ascension of Ecstatic Creativity
By Lizzy Bowring
Daniel Roseberry showcased the epitome of Haute Couture in a stunning presentation at the Petit Palais. Drawing inspiration from the work of Dante Alighieri, Roseberry demonstrated an intangible sensibility to the House of Schiaparelli.
However, whether or not Elsa Schiaparelli would approve of the gigantic accoutrement of animal heads – which will surely command some rhetoric – will seem inconsequential. These faux-taxidermy looks – the leopard, the lion, and the she-wolf, representing lust, pride, and avarice, did not detract from his balanced show.
Dante's work, the Divine Comedy, was a literary achievement, endlessly adapted, pinched from, referenced, and remixed, inspiring painters and sculptors for centuries. Dante also provided us with the dark and sinister visions of Hell, painted by Botticelli and Blake, Delacroix and Dalí. Or the sculpture by Rodin – whose The Kiss depicts Dante's damned lovers Paolo and Francesca. Yet the saying "All hope abandon ye who enter here" did not apply to Roseberry's darker world.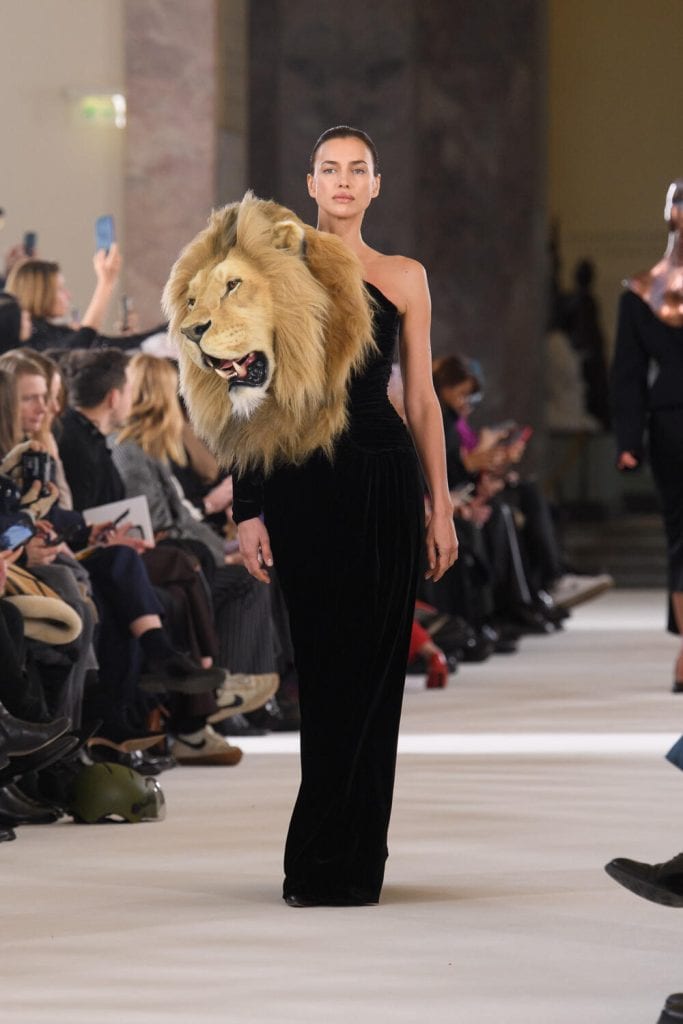 Instead, a deeper exploration of surrealism appeared, where Roseberry pushed the boundaries of creativity, ignoring the depths of despair, and instead saw an allegory of doubt within Dante's literature. Roseberry drew a parallel here. Like most creatives, there always exists an inherent inference of self-doubt. The show notes allude to Roseberry's fears, "When I'm stuck, I often take comfort in thinking of Elsa Schiaparelli's codes she created, the risks she took. Yet too, she must have been uncertain, and her fear enabled her bravery. Fear means pushing yourself to make something shocking, something new."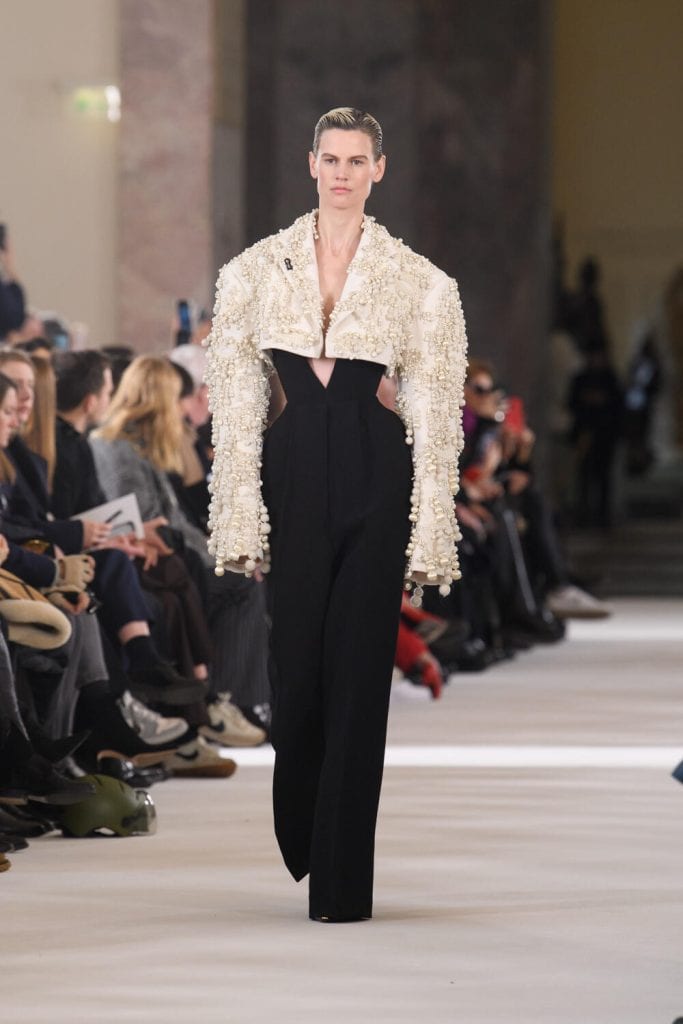 But what Roseberry presented today was an authentic couture collection – a presentation of thoughtfully curated pieces, each silhouette bearing its own identity and demonstrating that Roseberry dares to dream and stretch the boundaries. In a world dominated by constant negativity, it thrills the soul to witness creativity at work because that is what the premise of fashion is – Art.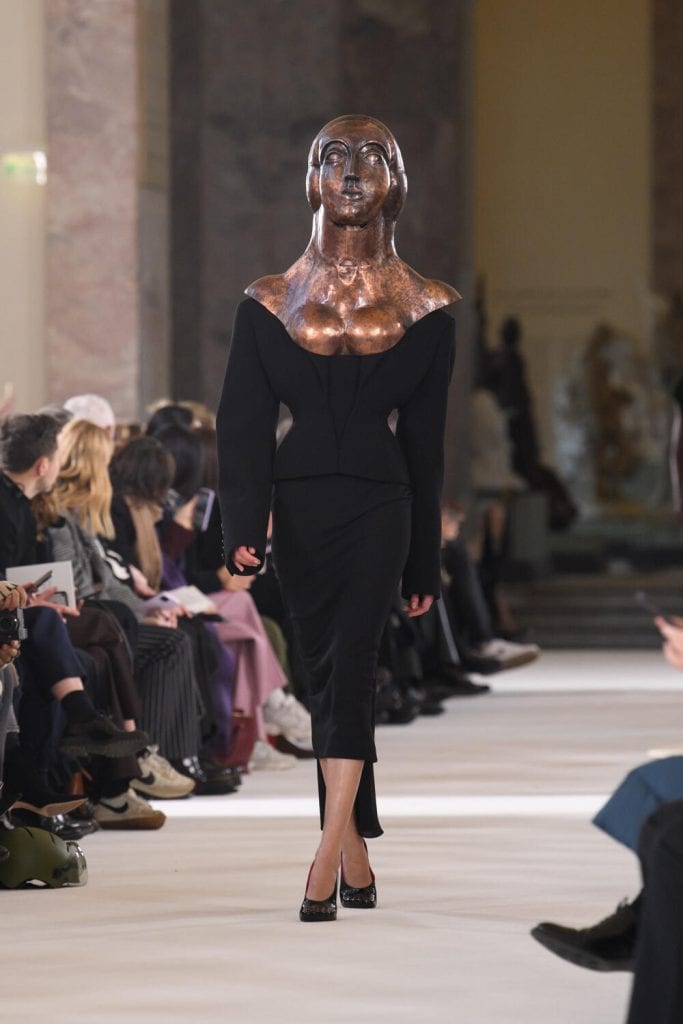 Throughout, the models moved slowly and deliberately for the purveyors to drink every detail within each silhouette. The opening shapes enhanced the waistline in an extreme hourglass form – first, a coat followed by an illusion strap dress in beige silk, fully embroidered with molded leather metal sequins and a matching leather bra with conical breasts. The texture was infinite. The iridescent shimmer of the velvet column dresses hand painted in pigment that changes colour was quite stunning
Elsewhere, dresses were reimagined and underscored the dramatic feminity of silhouettes, with bare shoulders and intricate back details mimicking crisscrossed corsetry lacing. Or the slim champagne-colored slip dress in silk satin that subtly caresses the female form without clinging. Take the dramatized pieces with extreme volumes in the skirt – looks 12 and 27 – these will be the clothes of choice for celebrities during red carpet-appearances.
Daniel Roseberry also provided a new and innovative impetus to accessories. (the audience wearing every bit of Schiaparelli gold). Roseberry's idea of the metallic breastplate came as a painted bust, enhancing the upper body in an illusionary body-skimming top worn with the signature measuring tape brass belt; the neckline was enriched with a hammered brass necklace set with broken amber hand-faceted glass.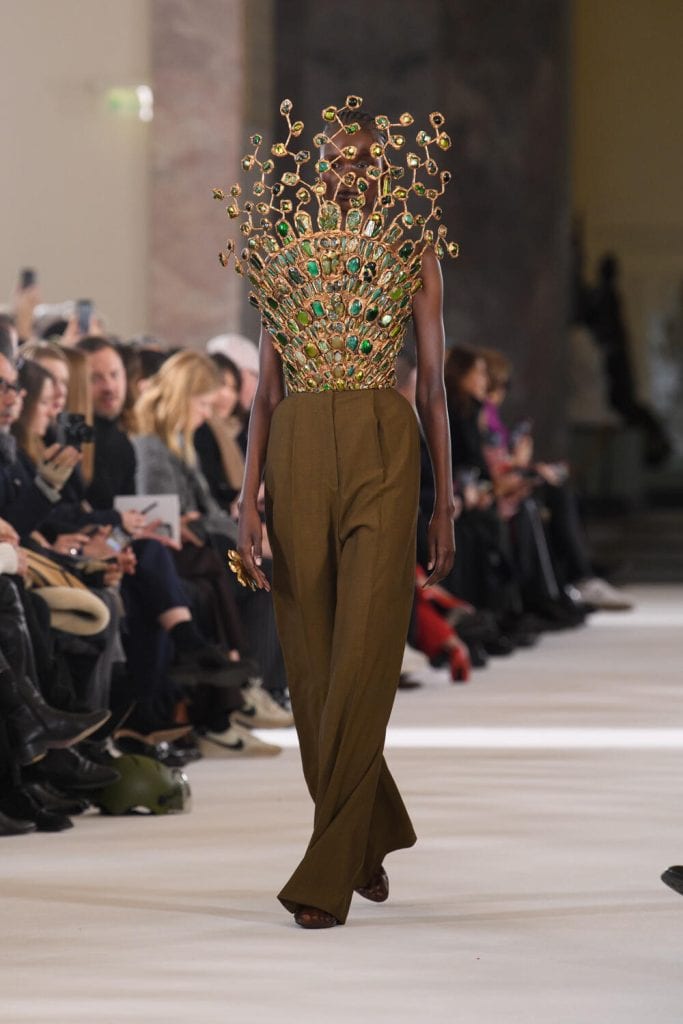 The house's signature fragrance bottle Shocking! inspired the tailored and highly sculpted waists, such as the shaped bustier dress in black silk georgette, fully embroidered with molded leather-covered metal sequins.
The jewelry and accessories for which the House is well known may have been minimized, but Roseberry presented sculpted breastplates in waves of mother of pearl. Then there is that one piece that comes from nowhere, a giant bust made of copper and patina'd by hand over four months. That is Couture!
In Paris, the recently launched Shocking! Exhibition at the Musée des Arts et Décoratifs has drawn hundreds of fashion fans. While in London, the first floor of Harrods now has a permanent UK flagship Schiaparelli boutique – this in itself lies testament to the love of Roseberry's pioneering penchant for spectacular opulence, as well as providing an irresistible avant-garde elegance.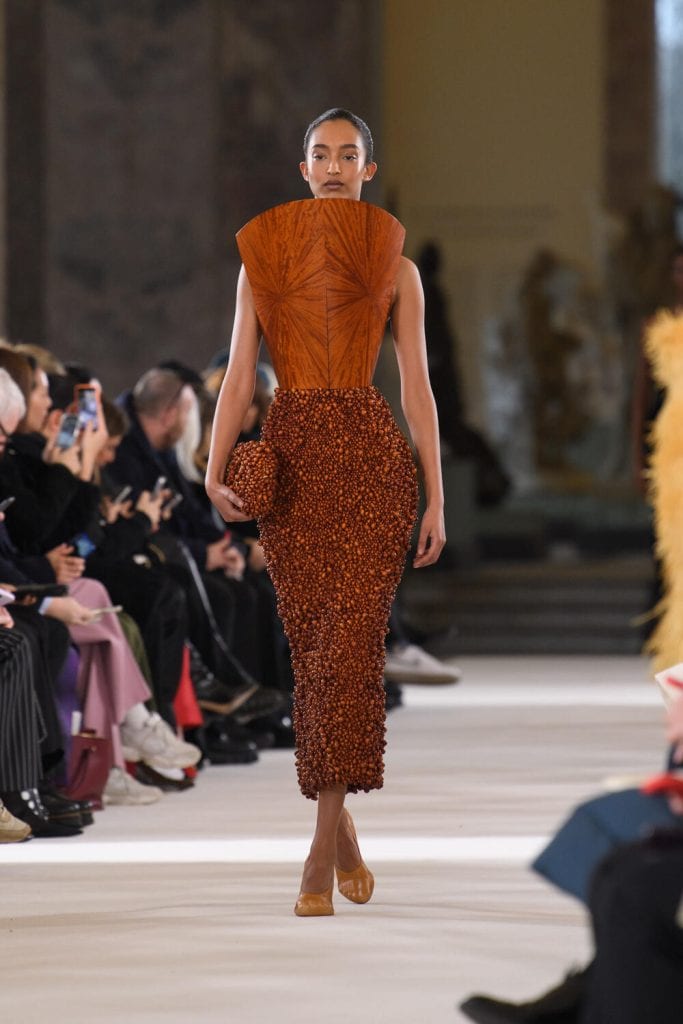 Today, Roseberry sent out a collection that focuses on the essence of Couture. It may have been a stripped-back offering, but the details, the cut, the exquisite materials, the bespoke techniques, and the Mastercraft tailoring also came with unique explosive details that will continue to carry the House of Schiaparelli into the future.
After all, Couture represents the stuff that dreams are made of, and Roseberry dared to dream. "I remember that no ascension is possible without first a trip to the fires and the fear that comes with it. Let me embrace it always." There is no baptism without fire – Roseberry has ascended.
*No animals were harmed in making this collection
---