---
Review of Sergio Hudson Fall 2022 Fashion Show
The Glamorous Life Dressed in Vibrant Belted Pantsuits
By Long Nguyen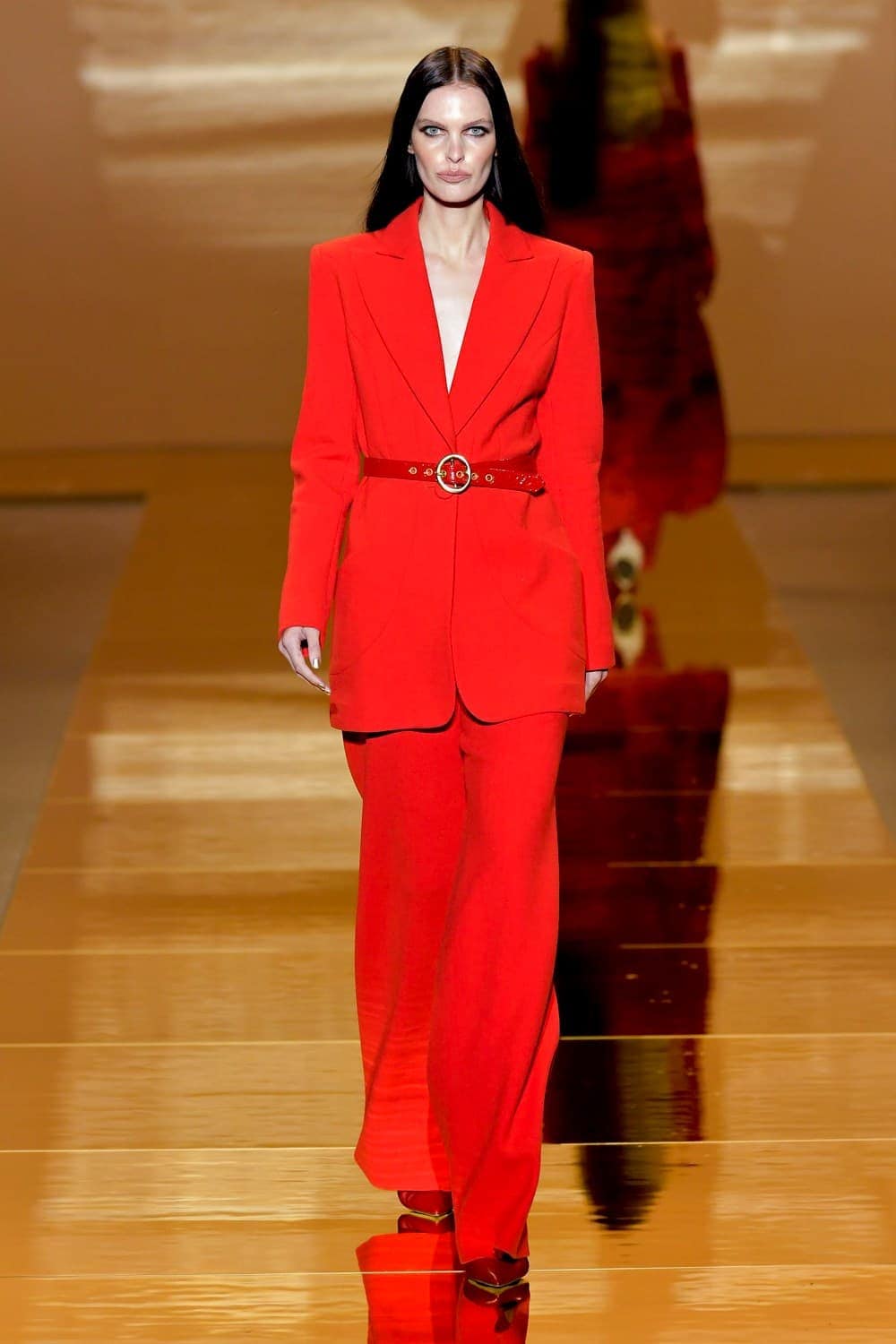 "My first show in New York was in February 2020, just before the pandemic. So this collection is a follow-up to that show that was at the beginning of the lockdown. Everything closed, including production and sales," Sergio Hudson said backstage in a preview of his Fall 2021 show at Spring Studios under the auspices of the IMG Fashion Alliance to promote the work of eleven American designers at the New York Fashion Week.
Before any models emerged onto the runway in Hudson's bright and colorful tailored and dressy clothes, Sheila E performed her 1984 percussion hit The Glamorous Life to thunderous applause from the audience, ready for pretty a celebration of a new mood of fashion.
Hudson said that the choice of Sheila E to perform was an organic one rather than something plotted out early on the show planning but that the choice was evident as he was born in the mid-1980s and grew up with this type of music that was about joy and fun and dancing. Known as the winner in 2013 in Bravo TV's Styled to Rock fashion competition, the designer wants to interject that sense of optimism through his clothes.
Being born in the 1980s and raised in the early 1990s, so it was a natural choice. I am into glamour, and Sheila E's song speaks directly to my heart. This song from 1984 was the mood in my head. Women are ready to get dressed up again after a year in pajamas," Hudson said without any reservation. "I know my clients do want to get dress up, and I am going to give them what they are looking for."
The collection that Hudson delivered was polished and verged on the side of sophistication rather than anything raunchy with a splashy range of sparkling crystal mini dresses at the last segment of the show.
Remember that Hudson said, "Oh definitely!" when asked if women readied to return to this type of joyous dressing. The designer's affirmative exclamation shows a balance of a very bright and vibrant color palette throughout the show. Think bright pink lean single breast pantsuit with matching waist belt, light yellow long wool coat with mock neck knit, and cigarette pants or silk satin double breast jacket short dress. There are purple high-slit knee-length dresses, or ice blue one-sleeve side slit dresses in a sparkle fabric.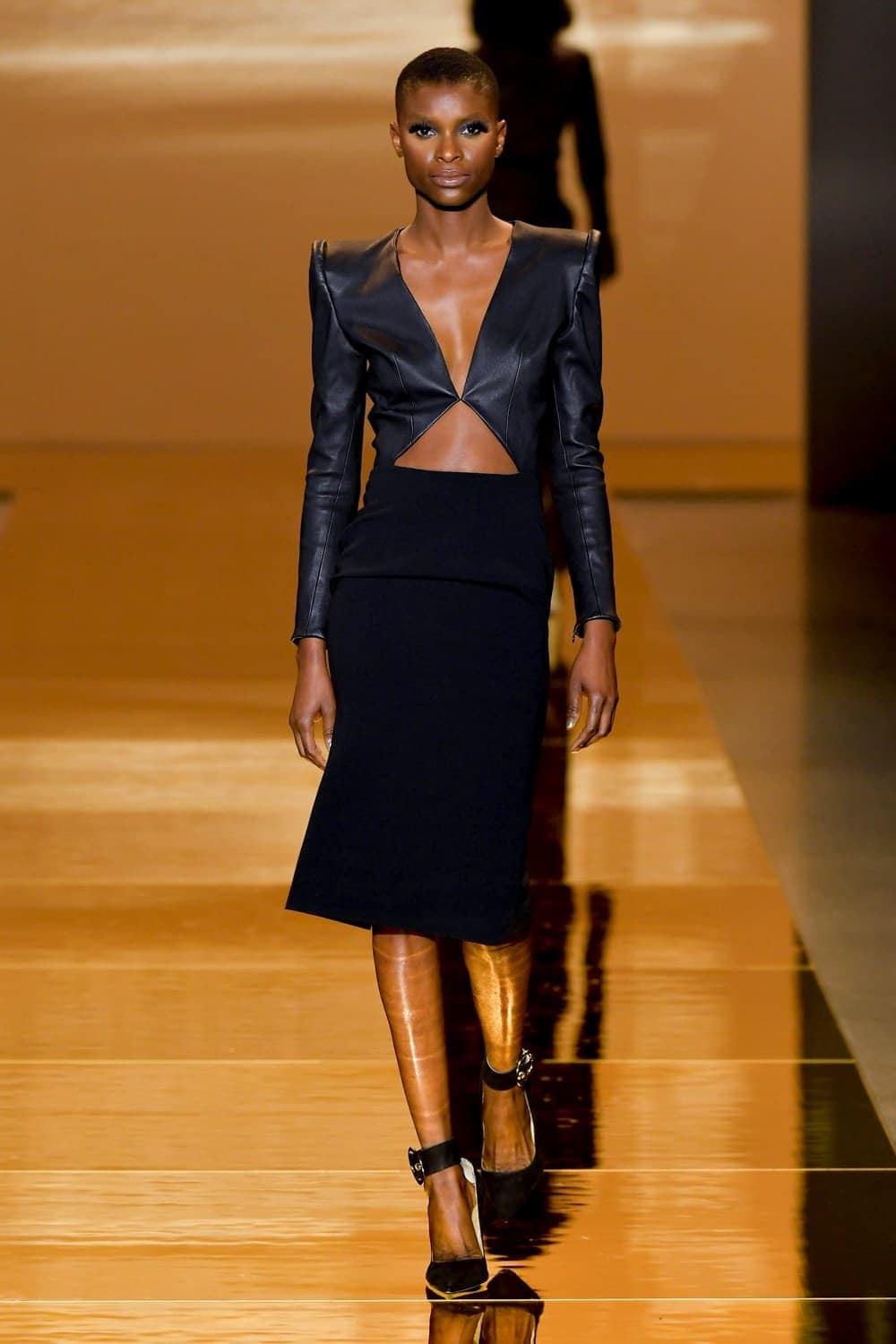 Tailoring is my thing," Hudson said.
Tailoring is the backbone of the collection and the brand. It is the show's centerpiece in the lean shape pantsuits and coats/pants mixing all with the requisite leather buckle belt. Nothing in this collection spells excess, and the urge to have fun tempered by the luxury quotient of these garments made solely in LA and New York. The pantsuits feel more relaxed and certainly are not rigid power suits.
Interestingly, some of the younger designers like Hudson now are focusing more of their work on tailoring rather than the usual more casual street stuff.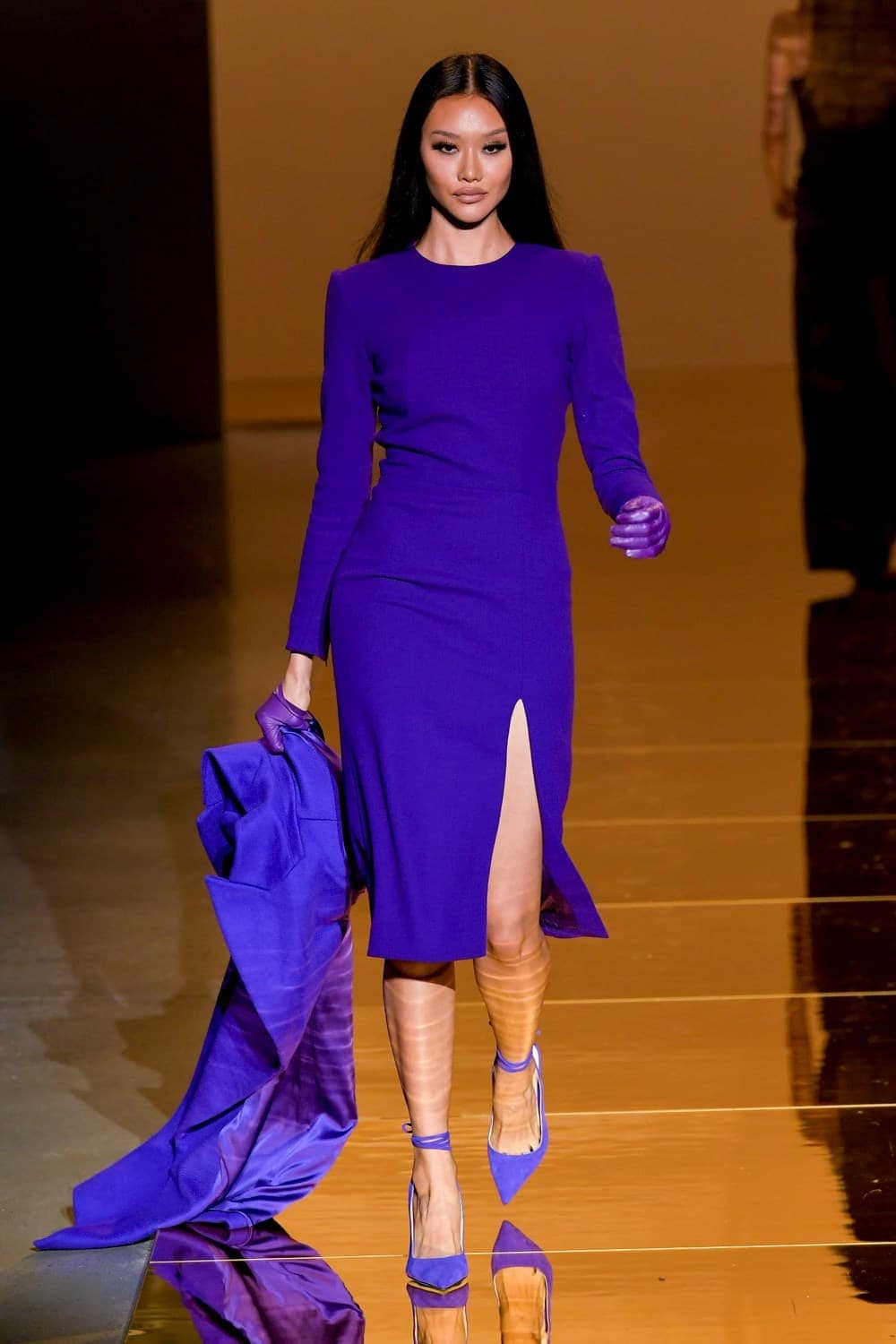 Perhaps in future seasons, as his business develops and matures, Hudson can begin to think about offering his clients a slightly more expansive range of products. Including more choices for mixing separates into a wardrobe still well within his field of sophisticated and fun clothes. The few pieces of leather jackets and pants in this show point to this potential direction.
---