Let's get to the point and pardon the pun!
Despite cyclical patterns in footwear, the classic pointed-toe continues from S/S 23 with much to choose from in updated details and heel shapes – the perfect accoutrement to the season's love affair with wearable, feminine clothes. Move over square toes; the pointed-toe form is the must-have for F/W 23. A certain Deja vu existed in several styles that appear lifted from a Christian Louboutin design sheet. But no matter, the exquisite construction of the latter carried through into killer heels and a shape that curves into the arch of the foot, seen at Rokh in liquid silver and gold. At Givenchy, a classic slingback was updated with an ankle strap and patent leather shine – the material of choice for the season. And yet another stunning Pret-a-couture shape came in luminous green satin with a wedged heel. Loewe also tapped into the classic shape toe, showing snakeskin-covered uppers with a two-tone effect -. a classic JW Anderson twist.
The artisanal craftsmanship at Valentino saw the house studs curl around the base of the shoe drawing attention to the shape of the pointed toe, a perfect design without revealing toe cleavage – never a pretty sight in such sensual shoes. Continuing with the classic thread but with modern embellishment, Lanvin's points featured a sculpted Louis heel and OTT uppers peppered with metal studs; sculpted heels are the utmost in design details for these pointed pieces. Acne, even a brand not known for such sensual shoes, included a slightly dystopian appeal, featuring ultra-pointed toes and unexpected details such as criss-cross and lace-up fronts.
The desire for a more dressed-up look continued at Dior with an almond shape point but much more sturdy in construction, with snakeskin uppers, an ankle strap, and thickened soles that would be a comfort to wear on cobbled streets of Paris without wobbling in the cracks! And as for making those legs look longer, go no further than Victoria Beckham's killer heels, dramatically shaped with 90-degree toes built up on high platforms – guaranteed to need a steadying hand walking on these, but the effect – sexy with a capital S. There is a bit of deja vu happening. Miu Miu tapped into her older sister's commercial vintage shapes of ten years ago with pointed toes and slingbacks. But those Prada flats stole the show – ultimately crafted and embellished. If these were all one wore, you would be forgiven!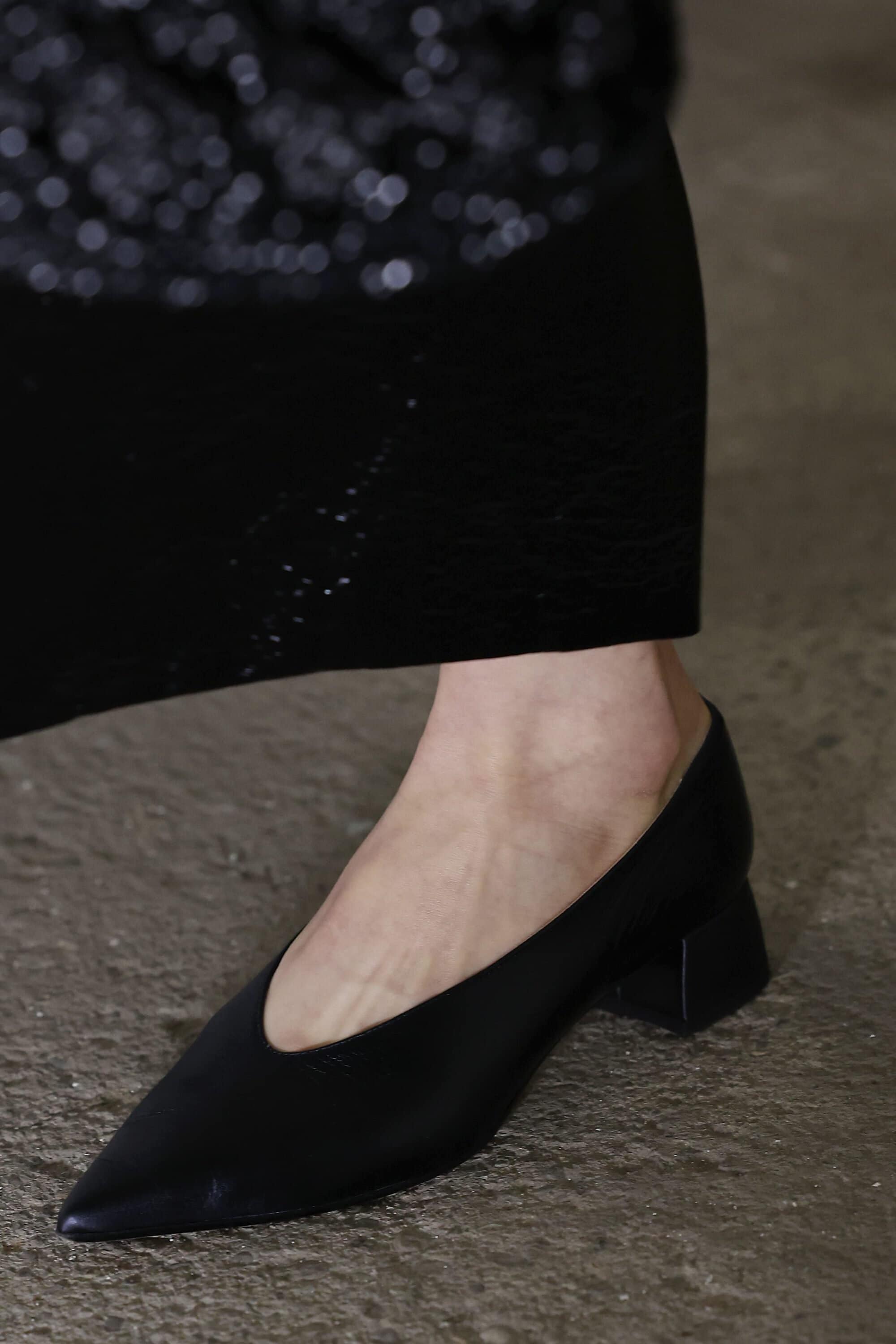 ---