Simone Leaves a Sweet Taste
Review of Simone Rocha Spring 2024 Fashion Show
By Angela Baidoo
THE COLLECTION
The menswear was an updated take on active
A missed opportunity to experiment with the gender fluid narrative
THE VIBE
THE THEME

Staged at the English National Ballet's City Island outpost – far away from the madding crowds – Simone Rocha was able to create a microcosm moment and, once again, immerse us into her world. Proving that romance isn't dead, the designer attempted to capture it, as she trapped a handful of perfectly cut roses beneath layers of silk mesh. Her shrouded beauty (the roses) could have been a subtle commentary on how it should be protected, as there is so little of it to be found in the current climate. With her finale dresses the designer attempted to be a beacon of hope, hope that it can still be preserved, in fashion form at least.
Revealing her first Crocs collaboration during the show, this could prove to be a lucrative partnership, as the worlds of #gorpcore, #balletcore, and (to some extent) #regencycore converged. Calling it a "disruptive moment" for both brands, utilitarianism and femininity were married through Crocs durable foundation and Rocha's signature pearl, crystal, and beaded embellishments. Perhaps influenced by the viral AI sneakers which reimagined Nike's classic Air Force 1 silhouettes given a romantic twist of lace and embroidery (created by Instagram account @AI_ClothingDaily), many of Rocha's fans were quick to call out the potential match made in fashion heaven. So Crocs, being that they are one of the biggest selling footwear brand globally, could be the next best thing for the designer.
Athleisure, outside of viral leggings and hypebeast sneakers, can be aesthetically pleasing and the designers spin on it for her menswear sections showcased a growing confidence in the category. Perhaps alluding to a move to a solo show next season, or at the very least a guest designer stint in the design lab at one of the more directional sportswear names in the future.
THE BUZZWORDS
Shrouded Beauty. Celebratory. Soft Sports.
THE SHOWSTOPPER
Look # 49
Beauty captured at its most potent. Rochas' dress looks to the past-time of flower pressing and gives us a way to preserve something fleeting in a way that will make it last forever.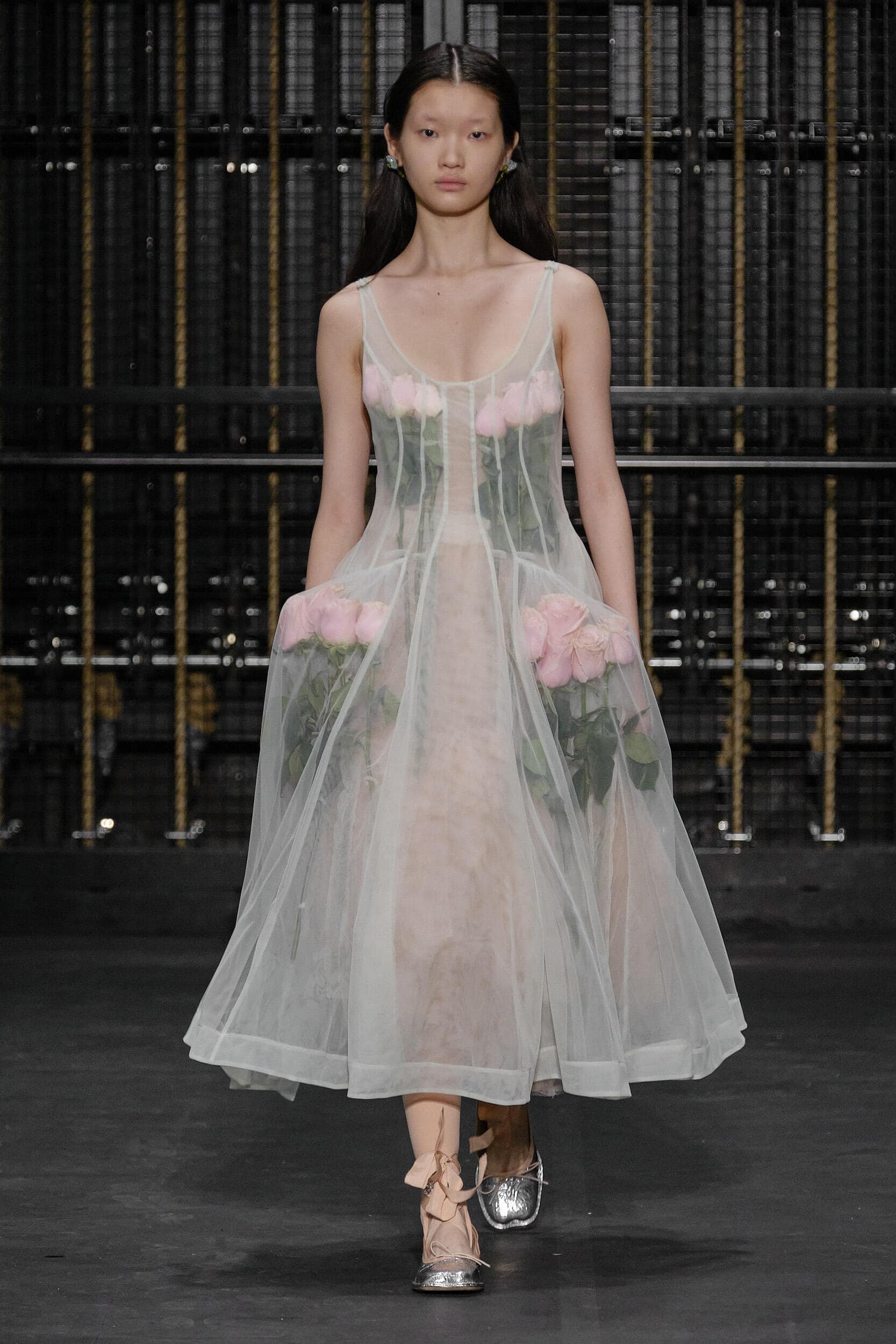 THE DIRECTION
Rochas should look to her menswear designs as a way forward when it comes to her brand evolution, as many of her peers lean into the ways in which gender no longer dictates how their pieces are worn, adapting her designs for all could bring in a radical new way of considering her brand.
THE WRAP UP
Known for her signature romantic handwriting, it was disappointing not to have seen the men's looks on the female models, as this would have been a leap forward for the brand in showing how the Rocha customer isn't always sweetness and light.
The Simone Rocha woman entering the active arena would have opened up a world of possibilities for her customer. An element of the nylon active looks, such as a metallic silver technical jacket over the silver bandeau dress could have reimagined how sportswear could embed a dreamlike romanticism too.
---