---
Bucolic and beautiful, the Resort 2020 campaign from Sir. continues their exploration of the creative power of women.
This new campaign from the up-and-coming Australian label feels like a direct continuation of their Pre-Fall campaign, which retold the origin story of humanity with a focus on femininity and discovery. Bruna Volpi once again handles creative direction and brings a similar aesthetic, but now the story has moved forward in time.
A larger, pastoral community of women has developed. Nestled among rolling green and gold hills, they frolic among flocks of sheep and cows. The imagery is strongly reminiscent of Thomas Hardy's classic novel Tess of the D'Urbervilles, which celebrates the natural beauty and pagan innocence of its heroine even after industrialized, patriarchal, Christian society has turned its back on her.
Stylist Meg Gray makes brilliant choices to reveal the advancing of history and development of culture: while the Pre-Fall campaign featured minimalist accessories crafted from shells and plants, this one highlights beautiful and intricate metal jewelry from the collection. While the women of the previous campaign were barefoot, these ones wear boots. The tailoring and construction of the clothes also seems more technical and complex.
In addition to providing these scenes with movement and birdsong, the short film features voiceover from the cast. While it never becomes clear exactly what pieces they are looking at – and it never matters – they seem to be describing their experience as they view works of art which depict other women. It adds a sort of meta-layer to the campaign, as if it is creating its own aesthetic philosophy from within itself.
Each of these campaigns from Sir. are beautiful and successful on their own, but together they form an incredibly special sort of storytelling. This campaign retroactively imbues the previous one with prophetic meaning, and in turn the new campaign can take the primordial matter of the original in beautiful and revelatory new directions. What will Sir. do next? Only time will tell, but whether they decide to continue this story or start over again, they are in a powerful and exciting position. We can't wait to see where they take it.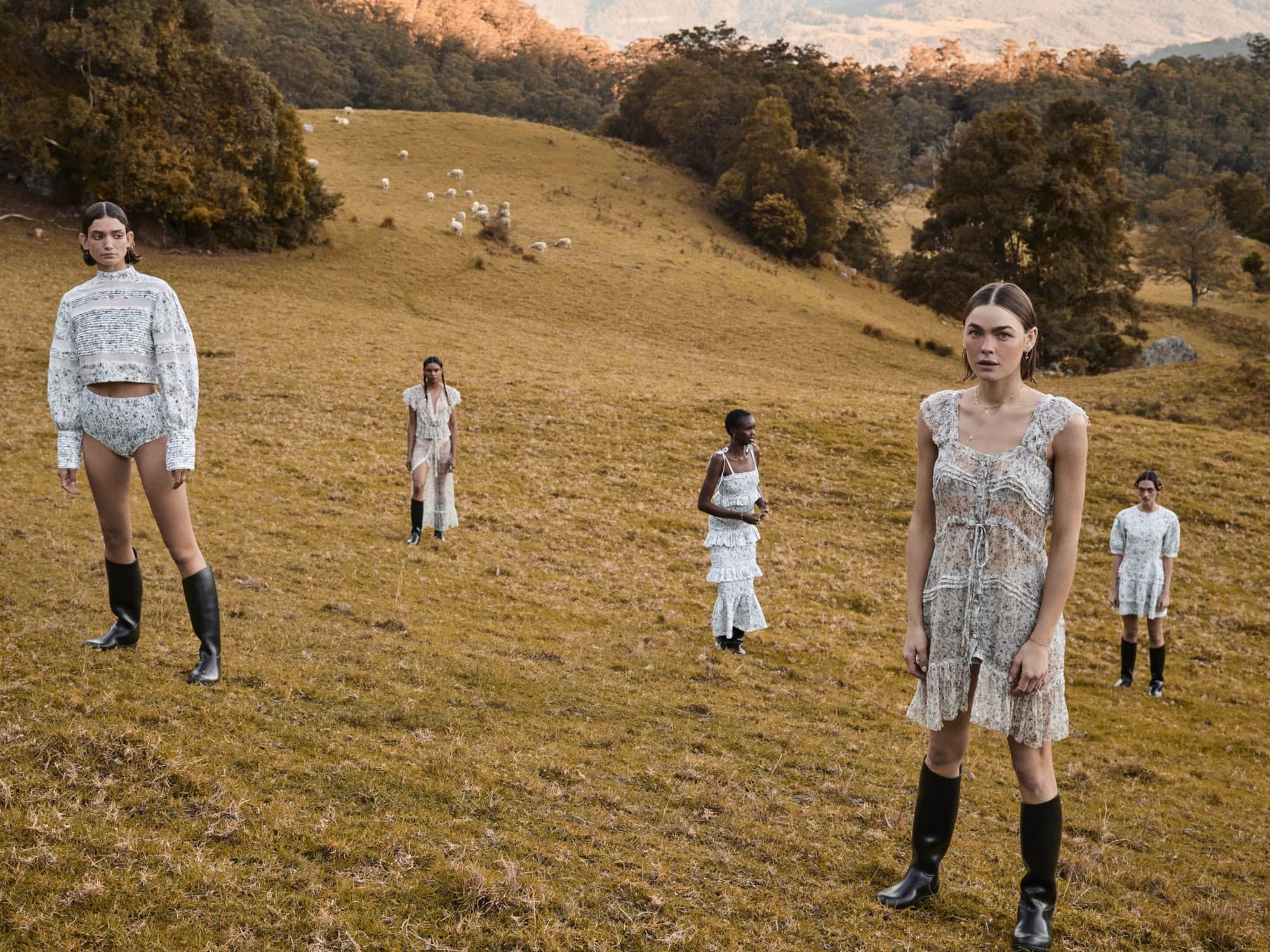 Creative Director | Bruna Volpi
Photographer | Jake Terrey
Stylist | Meg Gray
Hair | Daren Borthwick
Makeup | Linda Jefferyes

---