Review of SKKN BY KIM Fall 2022 Ad Campaign by Creative Director Kim Kardashian with Photographer Dana Scruggs with models Aliana King, Dominique Babineaux, Megan Rodrigues, Raphael Balzer, & Sylke Golding
by Aidel Townsley
SKKN BY KIM, Kim Kardashian's second foray into skincare, launches their Summer 2022 campaign. Nude and ritualistic, the campaign is captured by photographer Dana Scruggs, focusing on healthy and nourished skin.
Bleached eyebrows on models Dominique Babineaux and Megan Rodrigues allow the skins highlighted canvas to maintain itself past ordinary boundaries. Slick, braided, and buzz haircuts by stylist Ro Morgan allows for the polished skin effect, with its contours and protrusions, to seamlessly continue.
Models Alaina King and Megan Rodrigues are seen leaning cheek to cheek, or chin to clavicle, their distinctive skin tones and features melding once more in a communion-like reference to inclusivity and broad-efficacy. The pose of Raphael Balzer is again devout, an upturned chin, downward gaze, and shrunken shoulders creating the white space of the haloed light that shines upon his countenance.
The campaign imparts that SKKN BY KIM skincare is about the sanctity of self care, the holistic health of the body and spirit, and the relationships between people of every skin type or tone.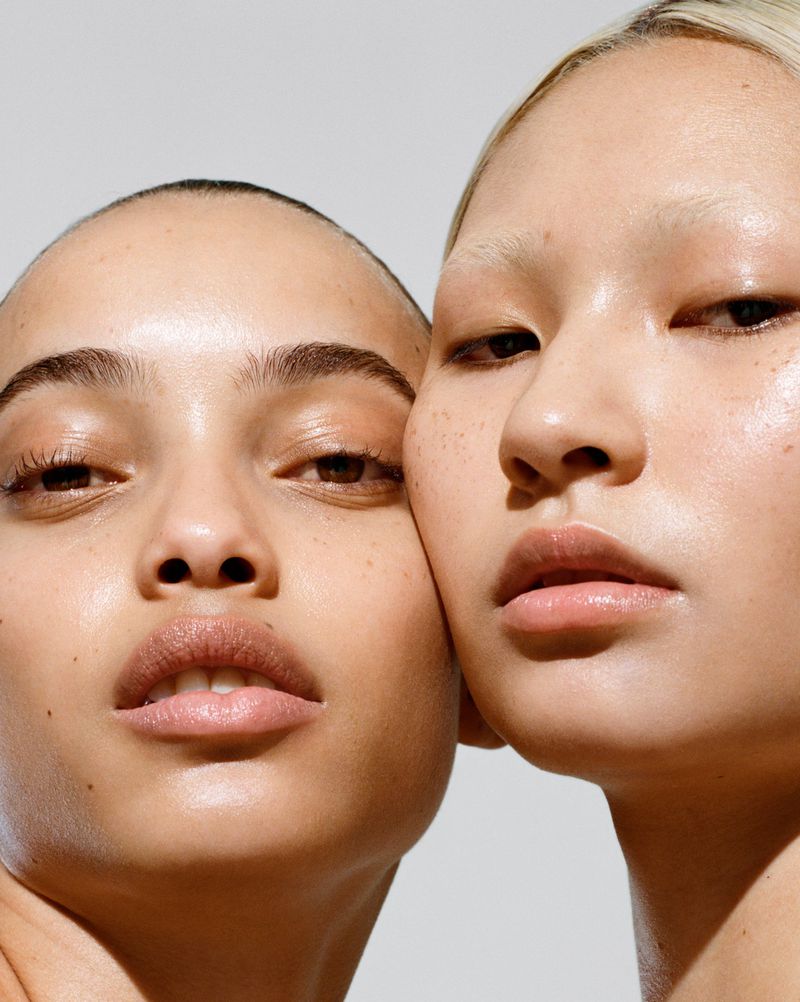 SKKN BY KIM Creative Director | Kim Kardashian
Photographer | Dana Scruggs
Models | Aliana King, Dominique Babineaux, Megan Rodrigues, Raphael Balzer, & Sylke Golding
Hair | Ro Morgan
Makeup | Michela Wariebi

---