---
Review of Stella McCartney Spring 2023 Fashion Show
Optimism Rides High at Stella McCartney
By Angela Baidoo
As life outside of the world of fashion seems to be on a never-ending loop of chaos, it is no surprise that this season it has become more important than ever for designers to return to self, dig into their brand DNA, and tap into their source code. As when times are rocky consumers will be seeking the comfort of the familiar and looking to brands to provide that. So, doubling down on what makes them unique makes a whole lot of sense right now.
The biggest thing we have done this season is to incorporate regenerative cotton into the collection, which we have been piloting for three years. It's completely bio-diverse

– Stella McCartney
When developing her summer 2023 collection, the idea was that it be generated to "reaffirm the Stella DNA and codes". And that – for all those who have followed her career will know – was about centering sustainable design practices across all aspects of the collection. Boasting the use of 87% conscious materials, making it her most sustainable collection yet, McCartney has proved herself to be consistent when it comes to her messaging (and actions) around her brands environmental impact, showing what can be done at scale. This season the collection features the luxury industry's first-ever garment made from regenerative cotton, in the form of a T-shirt, which the designer reiterated "it brings nature to the process, as opposed to completely destroying and eliminating nature with all the pesticides". It is also worth noting that LVMH were generous enough to assist the brand with this project, and helped to fund it, being that they are a smaller fashion house in comparison to others within the conglomerates stable.
Sustainable design and conscious choices can be a hard sell for those brands for whom embellishment is part of their DNA, and here the designer revealed that the crystal-embellished mini with cape and tank dress were developed without the use of any animal glues, as well as forgoing all the solvents normally found in rhinestones, noting that "this means we have less colours to choose from and less scales", but it didn't take away from the finished article, which will be imperative in converting customers to her way of thinking.
There was a laissez-faire attitude to the clothes today, as the designer (and a woman herself, she highlighted that "there are not enough of us at the heads of the houses") is highly attuned to the way in which women's lives are ever more complex, so clothing choices need to be anything but, whether for work or play. This is why Saville Row tailored blazers came in relaxed roomy fits – the designer herself confirming backstage that she "just wanted to go more linear this season, and bring everything back onto the body, as the trick in fashion is to come off the body" – which were paired with asymmetric bias-cut skirts for the ultimate suit-wearing experience.
A laid-back California vibe permeated throughout, adding to the call to relax and go with the flow. Cargo Bermuda shorts, rash-guard inspired branded T-shirts, and oversized boxy resort shirts in denim pick up on the surfer girl lifestyle many will be craving come summer 2023.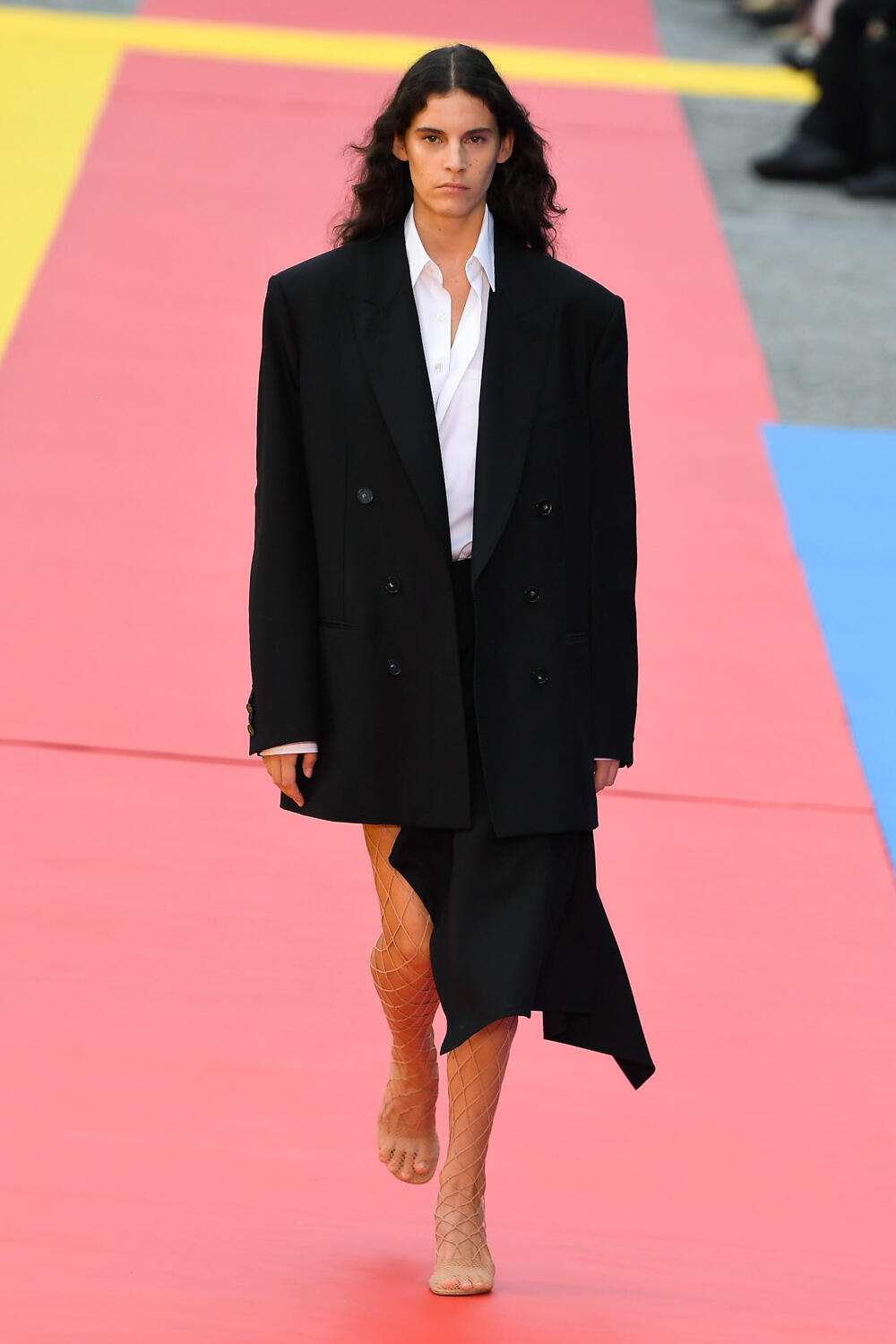 The New Sexy became more sensual in the hands of the designer as she cut "light pieces from soft fabrics", A-line shell tops and hanky hem miniskirts moved fluidly around the body, lace trimmed deep V-necks updated slip dresses, and a pair of low-slung tailored trousers had the sides cut-out and was highlighted in jewelled embellishment.
The eagle-eyed will notice the style is an update of an infamous pair she wore to the Met Gala in 1999, which she created during her days as Creative Director of Chloe. This inclusion was a nod to the main theme of the show, which was 'How Do We Change the History' speaking on this McCartney quipped "I want to look back at my history, I want to redefine where I started and where I am now, and what the next Stella looks like"
The mycelium mushroom leather technology is so cutting edge, that we are only able to manufacture a limited number of bags, but the roll-out is going to get bigger and better

– Stella McCartney
Always one to take her art pairings seriously – last season it was a Stella by Stella (Frank Stella that is) collaboration – for summer 2023 she reached out to iconic Japanese artist Yoshitomo Nara, whose paintings of wide-eyed children in emotionally expressive states adorned scuba-style tops and dresses. This the designer felt was a meeting of the minds as she stated "He and I are very aligned in our way of approaching the world, which is being at one with nature, in harmony with animals, we're pretty punk rock and rebellious, and have a message in our work".
The accessories in the form of leather bags were also part of the sustainable success story. Shoulder bags were developed with grape-based leather, alongside the Frayme Mylo which was made from the mushroom leather mycelium.
Speaking with the designer post-show she revealed that she was feeling optimistic about her show manifesto of changing the history, stating "I have to be optimistic, because of the way that I work I have to believe that we can change the history of fashion, and that is fundamentally my goal". And when it came to her choice of dopamine brights, she chose to lean into the season to create a positive and uplifting message.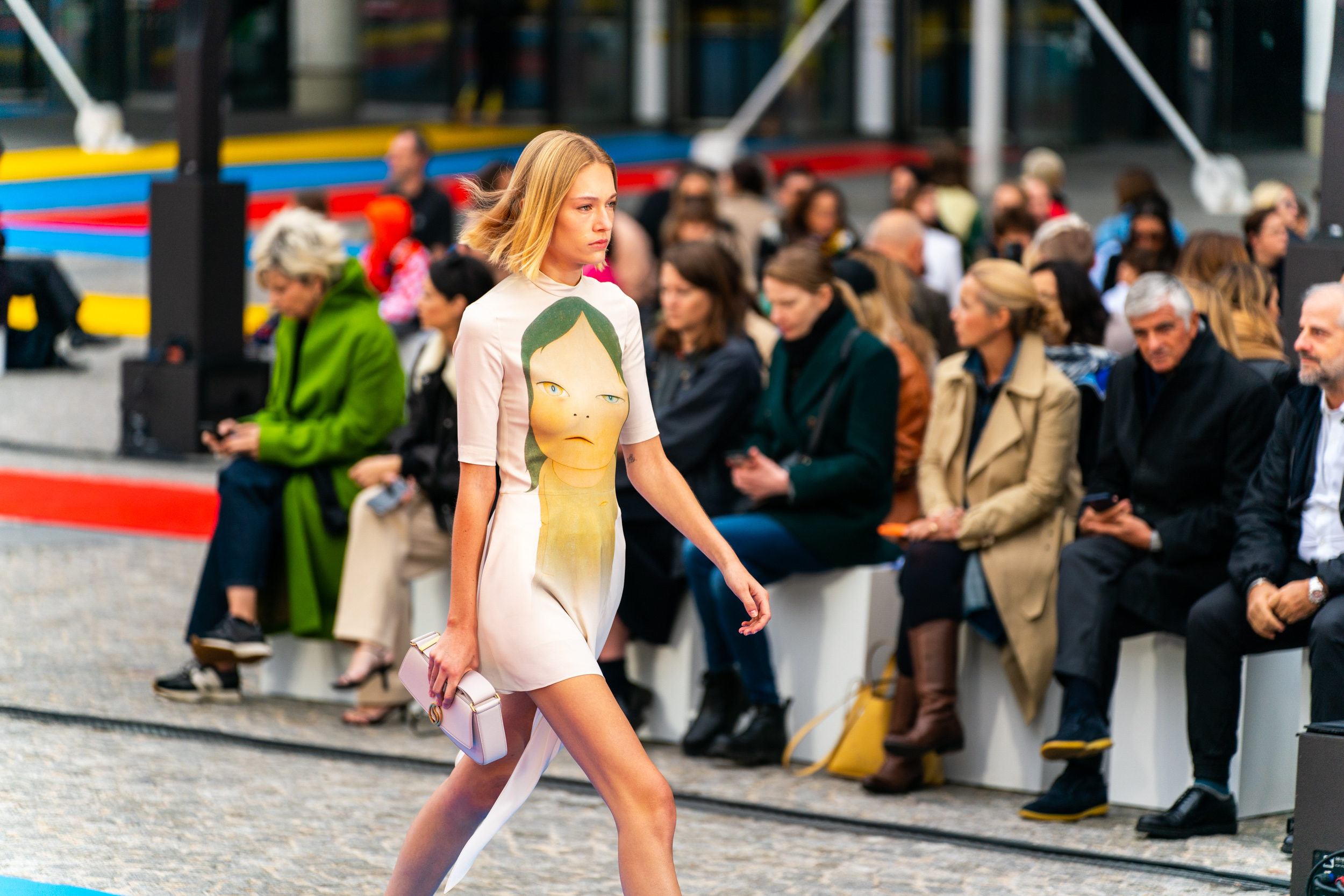 Believing that you have to have brights in the summer, as its the season to dream, McCartney wanted this collection to inspire us all to get ready to play, and have fun in 2023.
---