---
Review of Stephan Rolland Spring 2022 Couture Fashion Show
Crystallized Couture
By Mark Wittmer
Stephane Rolland's Spring 2022 couture collection was presented from Paris' Théâtre National de Chaillot, a historical and iconic theater that was France's first national theater to be dedicated to dance. While the venue has hosted fashion shows before, this dedication to movement, to physical presence and expression, seemed particularly in harmony with the designer's excellent couture collection.
Even more so than ready-to-wear, one of a couture show's most primary defining characteristics is the impact of a piece's physical presence, and Rolland's work seems to embody this aspect of the art form. His dresses demand to be seen and felt: richly minimal, airy kaftans and tunics generously spread, skirts flowing, sleeves and hems floating across the floor. Sculptural elements balance solidity of structure with the floating freedom of clouds.
Elsewhere, elevated bodycon bodices hug the torso, while their sheer skirts descend as light as air. Such a dress reveals more than it conceals, but strikes the balance with graceful and assured precision.
Hoods blossom from shoulders, lending mystery and protection. Rolland's use of sparkle is relatively restrained, but in the poetically controlled moments he does let it rip, we are mesmerized.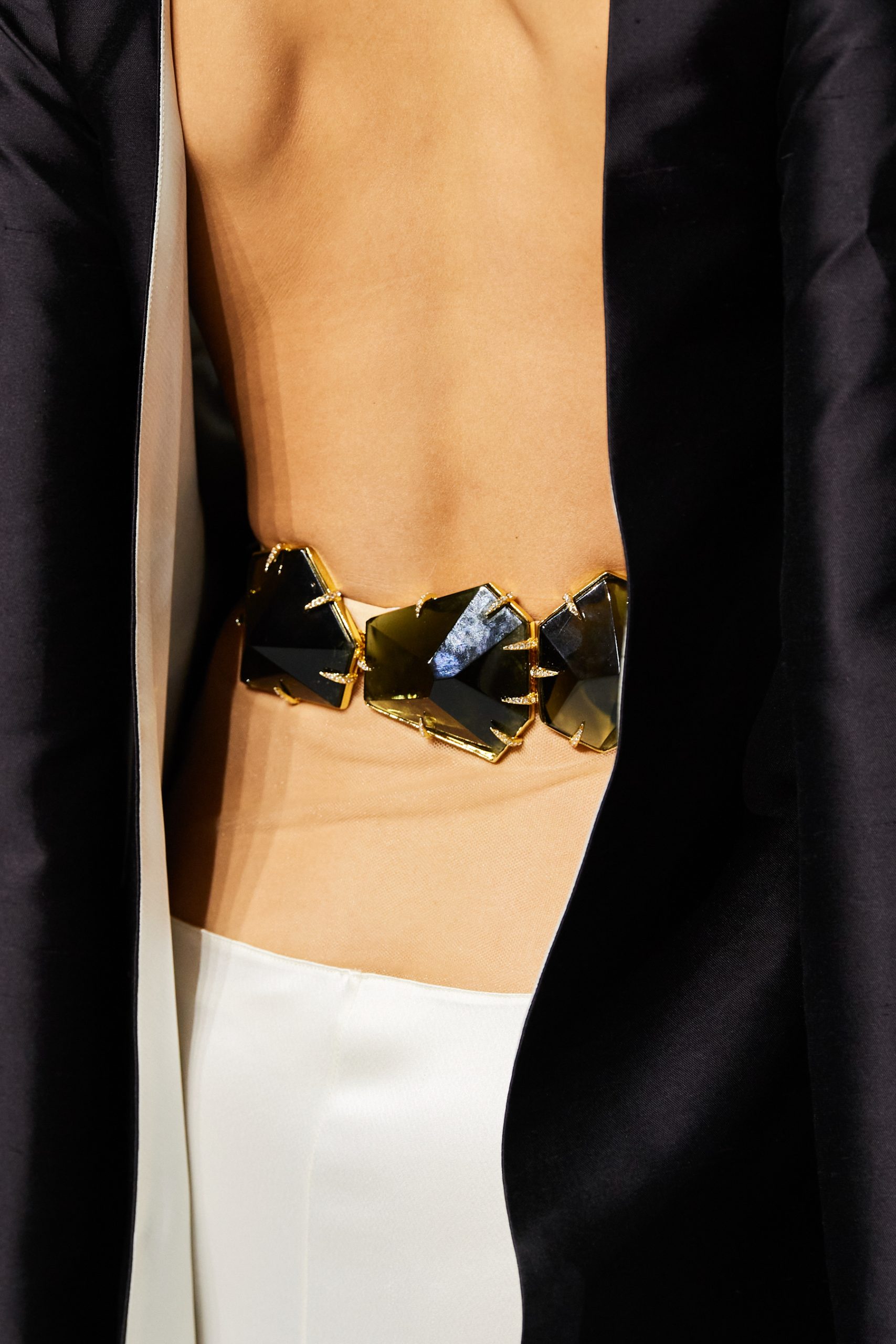 Another aspect of the collection that seems impossible to communicate in photographs: for most looks, the back of the dress is at least as important as the front. Looks with solid fronts open up in back, revealing shoulder blades and uniquely placed and constructed accessories; motifs develop into harmony across the entire piece. "
This power of physical presence is perhaps most forcefully expressed in the gorgeous accessories, asymmetrical and organic hunks of stone, mineral, or crystal delicately held by minimal gold hardware, including ear pieces, arm cuffs, neck pieces, and rings that occupy all fingers, as well as clasps and other features on the dresses themselves.
A pure process of nature formed slowly over time, captured and held in its precious timelessness. Raw, expressive shapes brought into harmony with the couture designs, these stone accessories both exquisitely contrast and emphasize the fluidity of the collection, and symbolize its imparting of power.
With these pieces as a focal point that crystallized a spirit extended entirely across the dressmaking, the collection seemed to embody the spirit of couture in its purest sense: a purity of creativity, a standard of excellence of material and craft, and a commitment to a dressing of the body that uplifts and expresses its natural beauty.
---