Our Talk with Agency Renaissance Man, Steven Prancia
By Kenneth Richard
While the term "Renaissance Man" is often casually splashed around, in the case of the CEO/Founder of Creative Exchange Agency, Steven Pranica, the definition of "a person with many talents or areas of knowledge," is actually quite fitting.
Those talents aid in bringing together brands and creatives like Giovanni Bianco with Miu Miu for creative direction, Frédéric Sanchez and Comme des Garçons for runway sound design, and Nick Wooster with Pringle of Scotland for a capsule collection. Pranica's representation is vast, including artists from photography, fine art, fashion, design, sound, creative direction, film & digital. Which is partially why fashion designers such as Gareth Pugh and Greg Lauren to fine artists such as Robert Wilson and Marco Brambilla trust Pranica to represent them. Outside of the depth of talent, Pranica and his agency have elevated the idea of creative representation from simple request for specific skills to collaborative, win-win partnerships.
The Impression sat with Pranica to discuss how he got his start, discovering new talent, the evolution of brand alliances, the power of art, taking over Times Square, and the evolution of the agency.
Kenneth Richard: Steven, thanks for sitting down with us to talk shop. Have to say that your agency is so versatile and forward thinking that I'm looking forward to learning more.
Steven Pranica: Thanks, Kenneth, it's great to catch up and happy to tell you about CXA. I read the Impression first thing every morning and find it such a valuable resource.
Kenneth Richard: Thanks, so about you, can you tell us how you got started in the industry and what drew you to it?

Steven Pranica: Well, photography originally started as a hobby, but quickly turned into my passion. While I was in school in Chicago, I worked as an assistant to two renowned photographers – Norman Parkinson and Victor Skrebneski. They taught me the importance of light, composition, angle of views, texture and empty space. This experience exposed me to the significance of defining a consistent visual language, narrative and character development, and collaborating with influential stylist teams.
Being that I was more business-minded, I realized I was better suited to focus on artist representation, and at twenty-one, was offered a position at a prestigious photo agency in New York, acting as an agent to Herb Ritts and Kurt Markus. I spent the next seven years working for several prominent photo agencies in New York and Los Angeles, directly representing Helmut Newton, among other notable photographers, prior to starting my own agency.
Kenneth Richard: From Herb to Helmut, that sounds like some experience. So how did you transition to create your own agency? Who was your first client and how did it come about?

Steven Pranica: After years of experience in the industry, I founded my boutique firm Creative Exchange Agency (CXA) twenty years ago to represent and manage photographers, fashion stylists and art directors. One of the first photographers signed was David LaChapelle and shortly thereafter, Sarah Moon.
One of my first clients was Giorgio Armani, which had just developed a branded style publication, Emporio Armani Magazine. Randall Mesdon photographed both the Armani campaign and a story for their publication, which was one of the first of its kind.
In the years to follow, most of the photographers signed had a fine art background, such as Jeff Burton. My focus was on discovering talent, nurturing their development, overseeing their management and production, and providing resources for them to explore new mediums and markets. We worked extensively on developing book projects, and gallery and museum exhibitions, in addition to assignments for traditional editorial publications and advertising campaigns.
Kenneth Richard: You represent a broader base than most agents, covering everything from photographers to sound and lighting design to digital design. Can you share how that came about and why?

Steven Pranica: I knew early on that I wanted to explore and cultivate the intersection of photography, art, design and culture. With all the changes in the global economy and technology, we forecast and embraced this progressive cultural movement by representing multidisciplinary artists with diverse applications in photography, fine art, fashion, design, sound, creative direction, film & digital. We have redrawn the boundaries between these artistic disciplines by forming three distinct divisions within our agency: photography + film, style + design, and art + culture.
CXA specializes in aligning artists with luxury and consumer brands to translate both traditional and unconventional forms of multi-platform content into art & advertising campaigns, fine art exhibitions, artistic collaborations, limited-edition product designs, short films, strategic sponsorship programs, store installations, immersive environments and experiences, and books publications.
Brands are becoming creators and distributors of content and we provide access to a roster of interdisciplinary artists who are adept at conceptualizing creative ideas and culturally relevant programs. For example, recent projects include a makeup collaboration with Daphne Guinness and Philip Treacy for MAC Cosmetics; Frederic Sanchez's sound design for Prada stores and the Comme des Garçons fashion show; Nick Wooster's collaboration with Barneys and Pringle of Scotland; Giovanni Bianco's art direction for Miu Miu, Givenchy and Marni; and Charlotte Gainsbourg with Louis Vuitton and Current/Elliott.
Kenneth Richard: So do you approach brands or vice versa? How do these collaborations come about and what role do you play?

Steven Pranica: Each season, we meet and consult with current and prospective clients to discuss their brand strategy and initiatives. We suggest relevant artists and cultivate activations for their fashion shows, campaigns, films, retail environments and digital platforms.
Alternatively, artists come to me with creative ideas and I align them with brands or organizations that understand their visual aesthetic, have a similar voice, and can provide a communications platform to support and elevate their project. Two of our artists had an idea to create art films for the massive electronic billboards in Times Square. Robert Wilson and Marco Brambilla each partnered with Times Square Arts on a month-long takeover of over 50 billboards, bringing public art to millions.
We are very actively involved in orchestrating the production process and timelines, overseeing the contractual negotiations, and participating in the content activation across international distribution channels.
Kenneth Richard: You also cross over into the art world, how did that come about?

Steven Pranica: Art is a passion of mine and certainly a big source of inspiration. I identified an opportunity for crossover between artists, designers, art institutions and luxury brands, and set about building a roster of contemporary fine artists that could bring their signature artistic vision to projects extending beyond the walls of a gallery.
Fifteen years ago, we formed CXA+ART to explore alternative avenues of communication and distribution of art and culture by aligning fine artists, global brands and art institutions. We develop corporate sponsorship opportunities, such as funding artists' gallery and museum exhibitions and public art initiatives, form strategic partnerships, and create art programs that induce the cultural exploration of content. We meticulously balance the sensitive relationship between the artist and brand and seamlessly orchestrate the process for both sides.
One of our first fine art projects was with Lavazza coffee. David LaChapelle photographed their legendary calendar and we then pitched an opportunity for them to sponsor his retrospective photography exhibition at the Barbican Art Gallery in London. We ultimately negotiated for Lavazza to sponsor a very successful series of exhibitions at the museum over several years.
Other examples include Robert Wilson's collaboration with Nike to design a multimedia visual sensory experience for the Olympics, which featured a high definition video portrait series inspired by vibrant youth culture; Marco Brambilla's direction of a visually stunning film for Jason Wu and Hugo Boss, which expresses a marriage of nature and technology – classical versus high tech; Jack Pierson's publication of 'Tomorrow's Man'; and Robert Polidori's venture into fashion, a campaign for Bottega Veneta shot on location in a sixteenth-century Venetian palazzo.
Kenneth Richard: You were a little ahead of the curve in terms of collaborations. Can you share how this started and how you have seen collaborations evolve?

Steven Pranica: Based on our roster of multidisciplinary artists, and our long-standing relationships with brands, it was a natural transition for us to cultivate collaborations as an extension of traditional brand campaigns.
And as luxury brands needed to adapt to a rapidly changing global marketplace, it was inevitable that they would need to develop alternative, progressive content to inspire and engage the consumer.
One of our earliest collaborations was with Galeries Lafayette in Paris. We were commissioned to transform a full floor of the store into a month-long immersive environment, complete with daily fashion shows, a bespoke sound design, and oversized murals setting the tone for the spectacle. We also designed and decorated all their storefront windows and shot the photograph displayed on the façade of their flagship store. This project was developed in consecutive years by Robert Wilson and David LaChapelle.
Today, we are experiencing content in new ways on a variety of screens – mobile, computer, television – sometimes simultaneously. Access is instant. This means that brands are able to reach scalable audiences, but it also gives them the ability to target niche markets with content unique to that specific demographic.
Kenneth Richard: So collaborations are changing due to technology?

Steven Pranica: Yes, in many cases. With the diversity of platforms, brands are actively exploring experiential, immersive and technology-driven applications. We've seen an evolution in the types of progressive programs we have recently activated for brands, including a virtual reality film directed by Marco Brambilla for Givenchy; and a multi-sensory immersive experience designed by Gareth Pugh for Lexus, which transformed Pier 36 on Manhattan's Lower East Side into a multi-site installation and performance space featuring Pugh's apparel collection in a series of films and dance performances.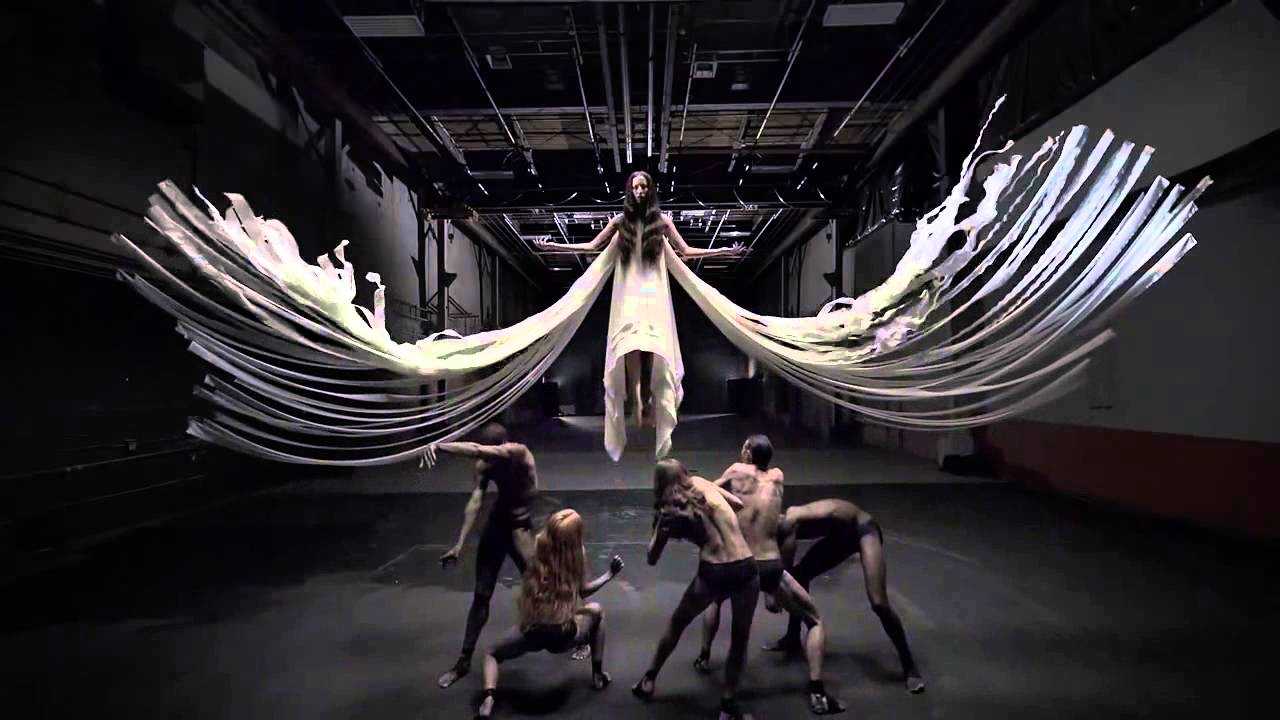 In another recent project with Jay-Z and Beyoncé, Dikayl Rimmasch directed a three-part black-and-white film series, Bang Bang, inspired by the likes of Godard's Breathless and Tony Scott's True Romance. The films acted as the backdrop to their worldwide concert tour, 'On the Run,' as well as their HBO concert event/special. Anywhere there is a screen, there is the opportunity to create compelling artistic content.
Kenneth Richard: How would you describe the agency today and what do you feel the agency does really well?

Steven Pranica: We are an advocate of artists converting their unique and particular cultural value into market value, and have been reshaping the agency into a community of influential artists with diverse disciplines. Our agents, managers, producers, researchers, and digital department specialize in different key sectors of the market. CXA accelerates the growth of each artist and their intellectual property assets by utilizing our platform to leverage and monetize our relationships.
Personally, I believe brands come to us for the quality of artists we represent and our ability to make things happen. By forming alliances with our artists, the brands are able to explore their heritage, embed their values and spirit, and reinforce their brand identity, while exposing different facets of the brand over a vast spectrum of media.
Our artists are able to explore new areas of development in alternative mediums and platforms and unconventional media outlets and expand their global exposure, without compromising their artistic integrity.
Kenneth Richard: What's next for the agency and what are you looking forward to over the next year?

Steven Pranica: We plan to continue refining and curating our artist roster, expanding into emerging markets, and cultivating campaigns and experiences for our artists and brands. This season's campaigns include Cartier, Miu Miu, Calvin Klein, Dior, Marni, Apple, Nike and Hermès. CXA also recently signed Liberatum, a global multimedia cultural brand that unites multidisciplinary talent through festivals, summits and other programming.
We are excited about several recent book projects, including the sold out Collector's Edition of Gisele Bündchen's new book, designed by Giovanni Bianco for Taschen; Matthew Porter's 'Archipelago;' 'The House that Jack Built' and 'Saint Louis' by François Halard; and an upcoming retrospective book by LaChapelle for Taschen.
We are also excited to be celebrating our twentieth anniversary with such talented and passionate artists. We just relaunched our website: (cxainc.com).
Kenneth Richard: Thanks, Steven, for taking the time to share how CXA came about and what you are up to.
It's been a real pleasure, Kenneth.
---