---
Review of Sunnei Spring 2022 Fashion Show
The Seamless Interactions of Worlds 
By Long Nguyen
At the Sunnei, founded in 2015, the design team of Loris Messina and Simone Rizzo firmly believe in how to look at fashion now and in the near future.
In recent seasons, especially during the pandemic year, the Sunnei designer duo had experimented with reorganizing part of their fashion business with the launch of the Canvas collection, whereby products made to the buyer's specifications, whether retailer or retailer individual consumer. Every product starts as a white digital form ordered into specific garments in the range of offered fabrics.
'Canvas'is a novel approach to production and the process of inventory management, crucial for any fashion start-up business.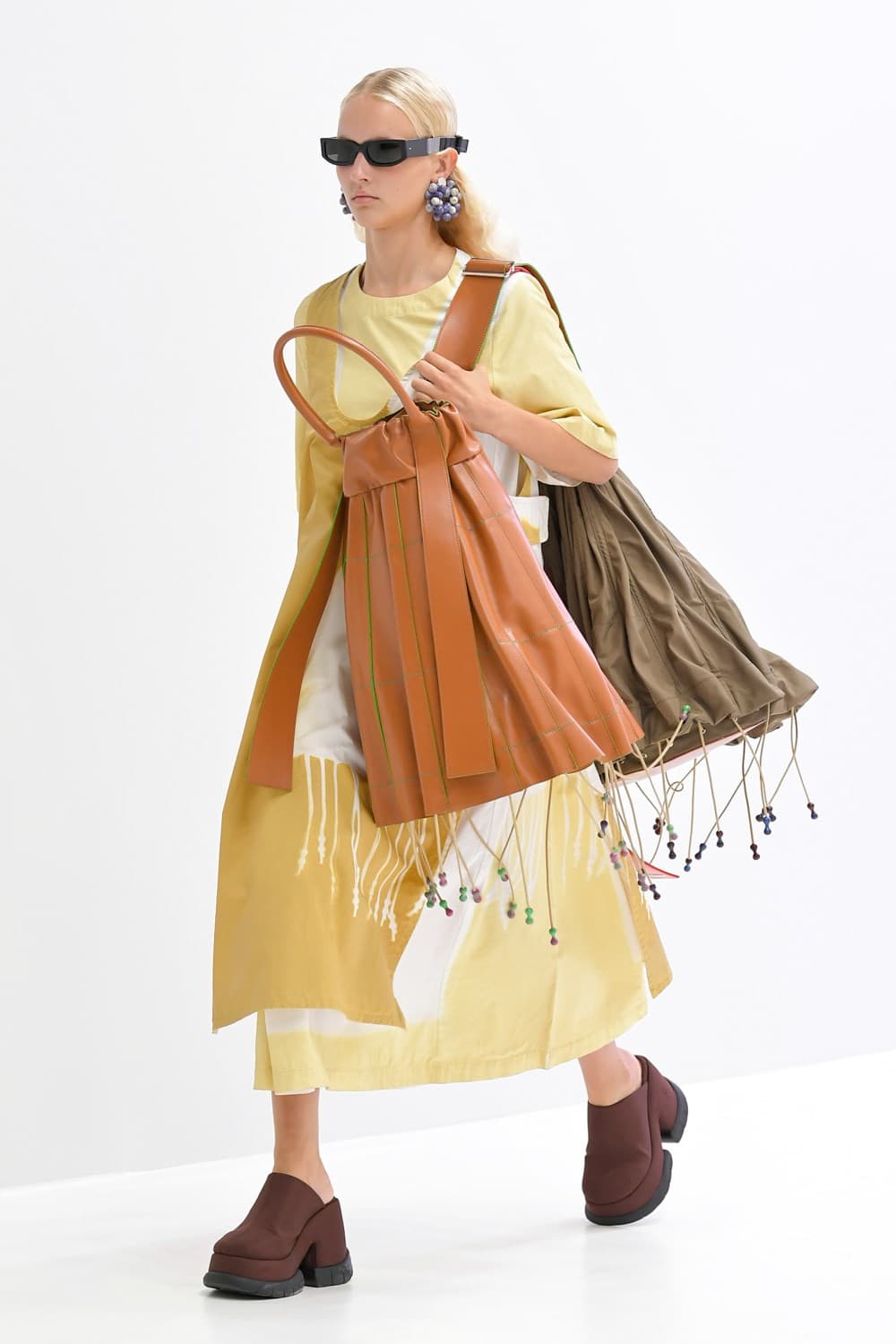 The thrust of Sunnei's fashion aesthetic is hard to pin down. Still, Sunnei's ethos lies somewhere between different tangencies and confrontations – digital/real, street/high fashion, and of course, somewhere along with these fusion points a sense of the cool now-ness. These vibes coming from seemingly different worlds collided and doused the products now comprising men's, women's, genderless garments, bags, shoes, and eyewear. 
At the Sunnei Spring 2022 live fashion show staged inside an industrial building on the outskirt of Milano, guests were each given a new pair of Prototipo 3 Sunglasses and asked to wear them as the lights turned on extra bright. The purpose of the sunglass isn't so much about glared visions from the incredibly bright lights.
The audience experienced the clothes as the model passed by through a filter. An additional lens is just like gazing at the screen in this digital era in a conscious way. 
Backstage after the show, I asked the designers about their thoughts on their design approach today in their more digital than ever life and how to think of fashion now.
"We are millennials, so the digital world it's something we naturally have in our veins. However, when it comes to envisioning a new collection, inspiration comes from our "real" everyday life: our friends, things we see, people we meet, places we visit. Just like an iPhone, each collection is an upgrade to the previous one. The way we communicate the pieces that result from this process is where the digital comes in. As in our presentations, we always play with the balance and unbalance of virtual and real. This season, the show experience included some elements that wouldn't be replicable through video as it consisted into a journey to a "space within a space" (a suffocating corridor structure within a huge empty area), symbolizing a frank zone where a live surreal moment," Loris Messina said. 
"This passage marked by the presence of a different light, a blinding one, that would force guests to wear the sunglasses they were given at the entrance, which in this way became the medium grating access to the fullest version of the experience. On the contrary, during the show, our worldwide community watching the live video could instantly shop those very sunglasses and a selection of bags that were on the runway," Simone Rizzo interjected.
I have to say I was looking at the show both with and without the unique eyewear inside the white triangular corridor. The difference lies in a kind of added depth to the field of perception and that the colors of the garments seemed denser and more concentrated, or so it seemed. At any rate, the eyewear provoked the constant consciousness of the process of observing, seeing the act of seeing. Maybe that is the same thing as looking at any of the screens.
This Spring 2022 collection is perhaps the most comprehensive showing and the most cohesive, focused, and mature season for designers with such a diverse range of products for all sexes. It's hard to believe, but so many of the elements of their early works – that's since 2015 and women's added in 2018 – with lean and long overall silhouettes shaping the range of clothes that merge street/sport/rave/luxury in seamless ways. 
The designers also experimented with new processes like using rubber-coated threads on tactile fabrics on the inside borders of the green trench coat or a bright acid blue zippered blouson. The designers used the airbrushing technique to impress the shape of the dress to create body surfaces on the double side leather handbag or on the ice blue trench to produce uneven coloration.
Knitwear is the strength here because of their lean cut fitted shapes like a white long mock knit dress and a white cotton pant or a green/white gingham long tunic sweater and a loose denim Bermuda short with long yellow fringes. Coats have shirt collars available in a loose green or a straight blue line fit, worn with either flared denim pants and tops or matching ice blue cotton pants. The orange cotton shirt-pant can be considered a new version of a traditional suit for today's youth.
Standouts in this show are the cropped denim vest and long denim flares leg or the version in floral print denim, the grey and pink long sleeve tunic and grey flare pants, and the ecru loose folds mock neck top and flare bell pants. These shapes are now Sunnei's signatures in a great mix of colors – white, ice blue, leaf green, yellow, camel, red, and dark blue.
"It is not a larger collection, but it's certainly richer as we experimented with a great variety of special manufacturing processes, uncommon materials, prints, and colors. The SS22 commercial part of the collection had been already launched a couple of months through Canvas (which consists of a selection of signature SUNNEI pieces from previous seasons that buyers get the chance to customize as they like) so that now we could focus on research and the making of eye-catching pieces that could make our first runway after the pandemic memorable," Messina said.  Not a more enormous collection but an expanded range in different categories. 
"The category that has expanded is accessories with brand-new styles in bags -as the Parachute Bag whose shape reminds of safety nets-, footwear -including beaded boots and special silver and gold versions of the brand's signature 1000CHIODI Shoes- and jewels – with exaggerated shapes and skittle charms used on earrings and spiral bracelets in resin," Rizzo said.
Immediately following the show, customers can also order the Labauletto bags in addition to a limited quantity of the eyewear,"
The status of the Canvas project launched over a year ago is alive and well and evolving as an intricate part of the Sunnei business.
"Each season, we will keep on launching two collections balancing each other. Canvas disrupt the traditional fashion scheme as buyers choose fabric, color, and other details of each item they want to order. Instead, the Main collection follows the "ordinary" pattern, but it's disruptive in the experimentations behind each piece it is composed. For example, this time, we used a process of melting down rubber-coated threads to make tactile textiles employed in both ready-to-wear pieces and accessories," Messina said. 
It is surprising that other fashion brands, at least the emerging ones, are not adopting this 'Canvas' structure for sales and instigating a greater exchange between brand and audience consumers.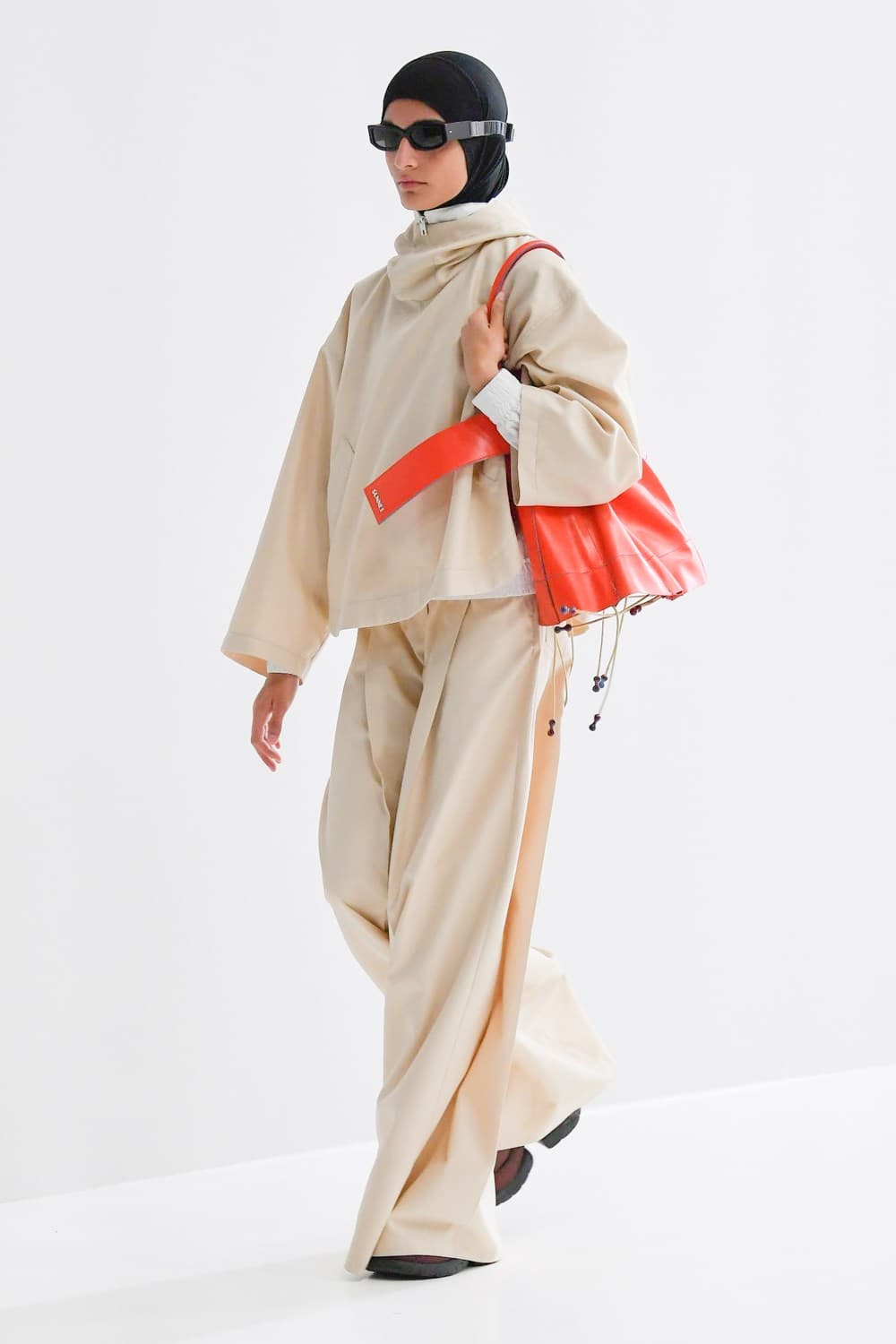 "Next Canvas, there surely be other implementations giving more decision-making power to our clients and offering them a wider and wider selection of pieces they can choose from," Messina emphasized. 
---