Review of Swarovski Summer 2022 Ad Campaign by Creative Director Giovanna Engelbert with Photographer/Director Mert Alas and Marcus Piggott with model Bella Hadid
Swarovski has launched a new summer campaign designed to look on the bright side featuring the house's newest ambassador, model and influencer Bella Hadid.
A multifaceted portrait of Bella Hadid is designed to mirror the many sides of crystal in the image of a new-generation icon. Conceived by Creative Director Giovanna Engelbert and photographed by Mert Alas and Marcus Piggott, the portraits capture the transformative and versatile nature of Swarovski Crystals through diverse expressions of style. It's a contemporary quality personified by Bella Hadid – the new face of the Swarovski campaign – whose transformative look serves as a muse for the campaign, embodying the multidimensional mindset of a fresh fashion mentality: a free and fluid approach to dressing that defies the codes of tradition.
"Bella Hadid sums up the individualistic and transformative attitude of a new global generation. She is a multifaceted character who evades the boxes of rules and conformity. She goes from sporty to glamorous while remaining the same girl – the same Bella – with confidence and authority. In that sense, she conveys the values of Swarovski to perfection. Today, crystals are a dynamic part of our everyday wardrobe: a way of accentuating your individual style in a way that can be as casual as it can be elaborate. Bella is the poster girl for this state of mind." – Giovanna Engelbert, Creative Director of Swarovski
"I was very familiar with Swarovski already. It really is such a timeless and iconic brand. I love the new collections and what the brand has been doing, especially these past two years under the creative vision of Giovanna, and I really see Swarovski as the contemporary jewelry brand of the future. Jewelry is about expression and celebrating individuality – Swarovski celebrates all people and the idea of modern glamour, and I love that" – Bella Hadid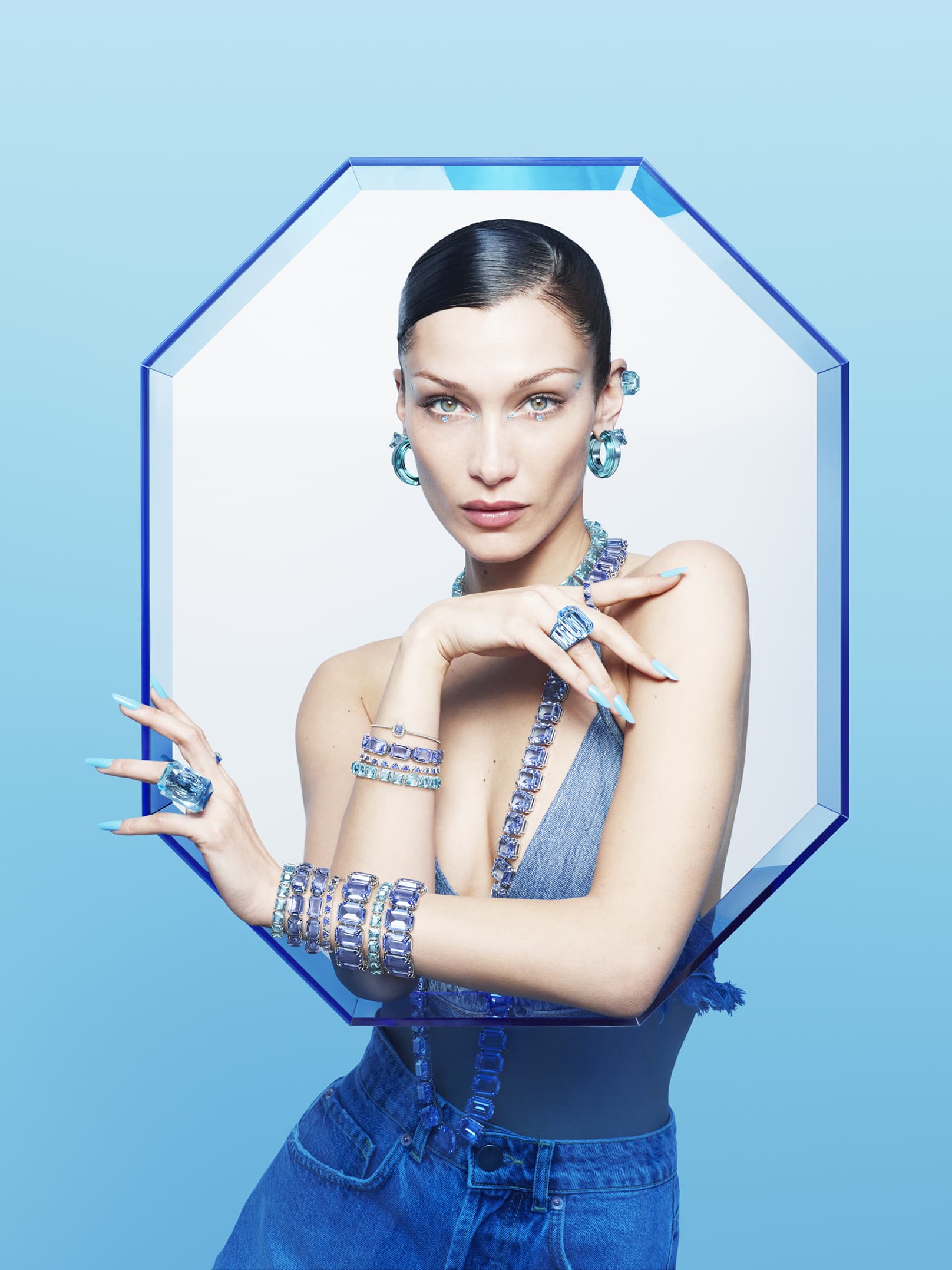 Swarovski Creative Director | Giovanna Engelbert
Photographer/Director | Mert Alas and Marcus Piggott
Model | Bella Hadid
---