---
Review of Takahiromiyashita The Soloist, Paco Rabanne, Kenneth Ize Fall 2021 Fashion Shows
Extreme Design, Extreme Embellishment, and Extreme Simplicity
By Long Nguyen
Takahiromiyashita The Soloist
It's hard to watch Takahiromiyashita The Soloist ten minutes long moody and dark digital film presentation and understand what the Japanese designer is trying to say, either with this film or with this fall season's collection titled 'RE.'
Miyashita started The Soloist in 2010 with an art installation of his first collection, taking his fashion to the outer boundaries of art and clothes.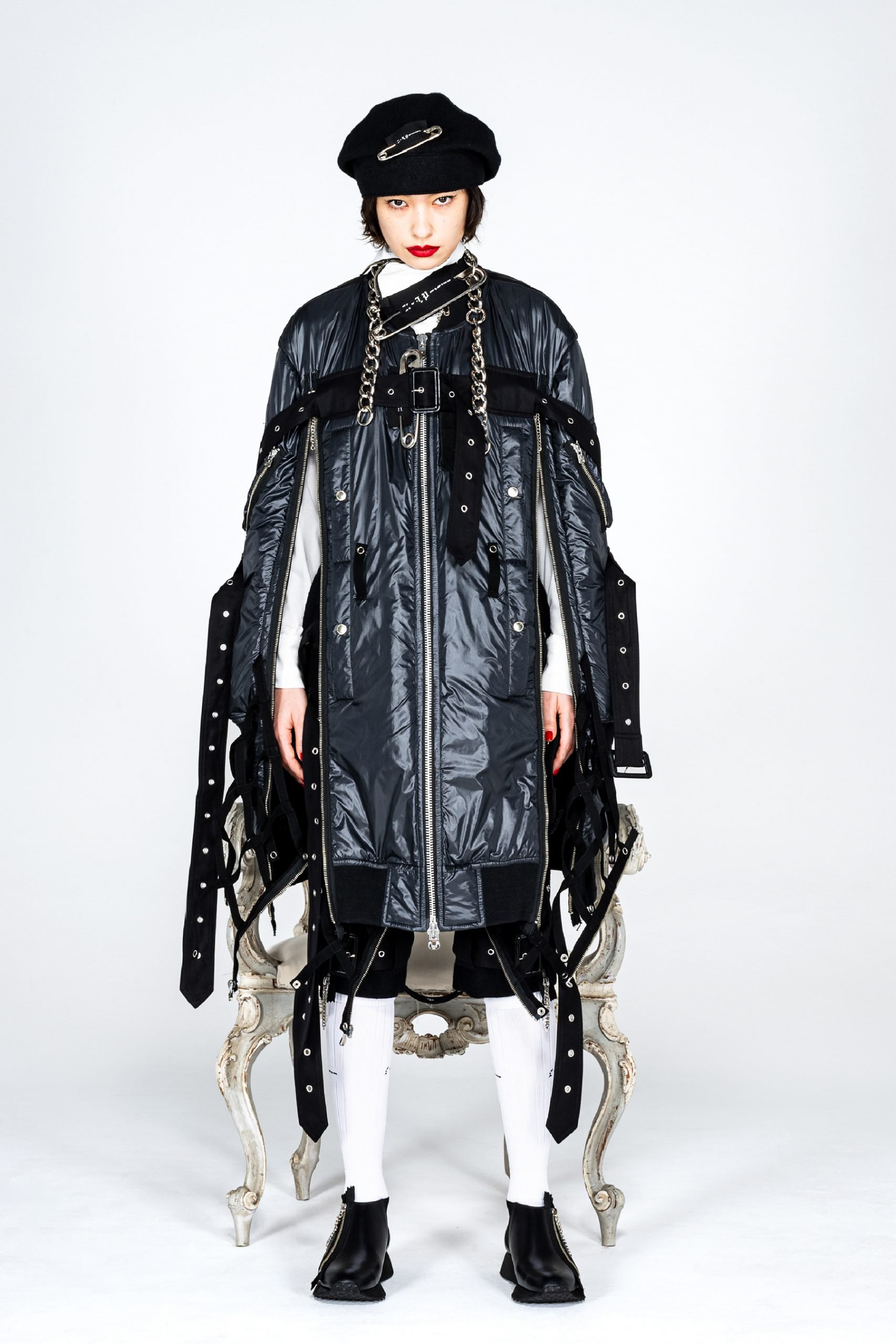 "I am still questioning the meaning of 'RE.' It is thesis and antithesis at the same time. It is about freedom and restraint at the same time. It is unanswerable and questionable. It is an update to both past and now, and that attitude reflects in the collection. It is the beginning and the end, and I somehow come and go in between," was how the designer explained his thinking behind the cut-out and tied-up clothes.
One thing is for sure – there are a lot of zippers, steel chains, belts, and metal pins embedded in the garments in monochromatic black and white. The belts that envelope and close firmly around the chest of a long nylon bomber now slashed in various places, creating panels with zippers that can open or close with more belts depending perhaps on the wearer's mood. A shorter nylon bomber version has zippers running diagonally across the front side and all over the bottom, leaving large holes when the zippers opened. Supposedly, the hanging panels of more additional sleeves are part of the hybrid of a jacket and a cape, having lost their former structures.
No garments are left undone under Miyashita's acumen for cutting up jackets, coats, and even morphing elements from different cutting lines in the patterns and then in the actual clothes.
What seems chaotic on the surface is well planned in terms of design.
The cape jacket has sleeves, but the wearer can't move in their arms inside as the sleeve arms are unusable.
"I'm obsessed with the idea that new is better, or rather what we create now has to overcome the past. That's part of the reason why I challenged working within the constraint of black. I encourage entering freely into garments rather than being restraint by garments," Miyashita said from Tokyo.
Paco Rabanne
Looking at the photos of Julien Dossena's new fall Paco Rabanne gives the feeling of being stuck in a revolving time warp yet unable to find the escape hatch.
Amidst the exquisitely made from the total jewelry corset under a black pantsuit with white flame collar, a black strapless dress with jeweled trims, or a navy blue metallic dress with a top section wholly covered in white and green custom jewelry as well as the bottom trimmed with elaborate crystal is the affirmation of the craftsmanship.
But quality aside, these clothes seem of another dimension.
While there are other garments deprived of embellishments, such as a simple black wool single breast wide-leg pantsuit, a white boat neck layered lace ruffle dress, or a reddish floral dots print long sleeve short dress with white cotton mock collar, they are too plain.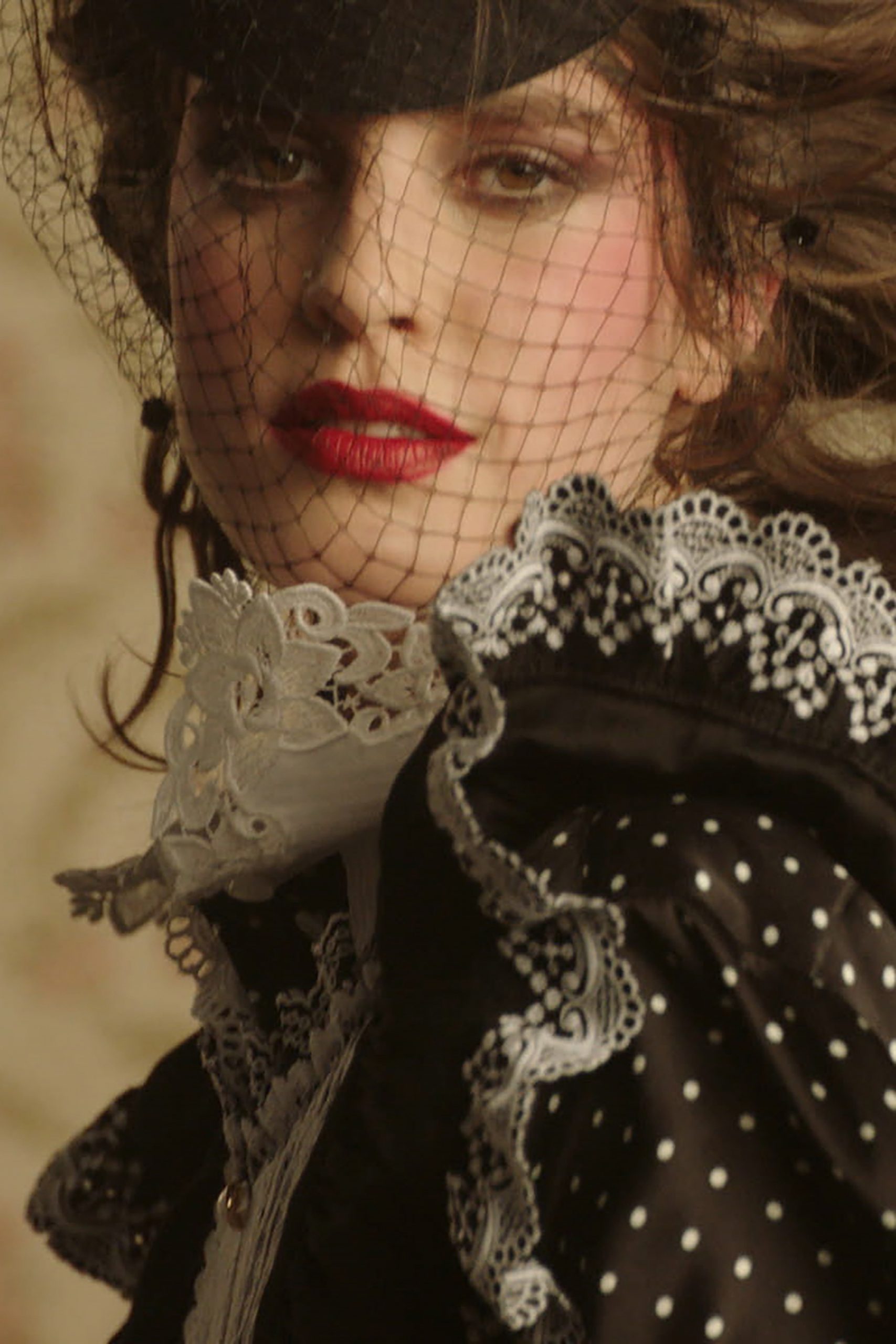 These garments do not have any reasons for consumers to purchase as they don't have any signature style or brand identity of any kind. A great brown wool plaid coat with a deep green faux fur collar has an orange/blue embroidered slip dress underneath.
The central problem at Paco Rabanne has always been how exactly is a correct course to revive this house steep in one particular model of the turbulent 1960s era. The spirit and the style of that era should remain on the history books rather than the attempts at reincarnating the idea of the founder's "twelve unwearable dresses in contemporary materials" collection presented in 1966, a manifesto in clothes that deeply anchored this house's aesthetics.
Even in python print motifs, the emblematic mesh dresses resurfaced with more ornamentations than in their original forms.
Julien Dossena, the artistic director since July 2013, has done a remarkable job in his tenure balancing the constant acts of heritage versus the now. In contrast, a few of his collections succeeded in tilting towards his thinking like his fall 2018 show, the past weight's temptations heavily on the present collection. However, why pay so much homage to the past when the designer court's young women don't care about heritage worship.
Within this confusion is the pillars for the new Paco Rabanne that Dossena is supposed to erect as his rejuvenation continues onward. If these highly decorated clothes are as an antidote to the present malaise, so be it. It is also a question of whether doubling down on the ethos of the late 1960s is even relevant now.
Or perhaps these excessive decorations can be seen as a form of struggle against the boredom and the seemingly permanent listlessness pervading fashion this past year. But from a fashion standpoint, there should be other ways of resistance than mere decorations.
If these new Paco Rabanne extreme decorations are hedonist revenge against the dark times, so be it. But, if these clothes represent to leap forward for the brand, they don't seem so much.
Kenneth Ize
On the opposite end of the spectrum, the Nigerian designer Kenneth Ize showed a simple digital film he titled The Circle of Birth and Death on the last day of this extended Paris season.
Against a backdrop of white sheets and curtains hung from a clothesline, Ize again deploys his embrace of local manufacturing using handwoven cloth aso oke made by the Yoruba tribe in West Africa.
Ize chose a more muted and darker color palette for this fall season's simple-cut clothes. Perhaps a reflection of the times and what is happening in his home country with the EndSARS social mass protest against state brutality in Nigeria, especially by the Special Anti-Robbery police squad with notorious abuses of power.
In clothes that mean a brown with white snake motif coat, a slim cropped one button single breast grey jacket with drawstring pants, a mustard strappy long dress, and a one-shoulder side stripe blue dress, a black coat with a long cotton grey tunic in this co-ed short digital film. The boxy jacket and the one-shoulder tank made with aso oke yellow and grey stripe cotton fabrics shown on a male model is a strong push for the use of local resources. The film show has a stronger focus on menswear, with a cropped jacket and duotone pants closing out the showing.
---