Modular details, ergonomic frames, and mirrored lenses form the basis of some spectacular eyewear.
Protection from the elements and a direct influence of sport elements makes eyewear's shield and the phygital concepts highly desirable. Functional qualities plus fashion appeal are tantamount to one of the largest categories in eyewear in S/S 23. Modular details and mirrored and tinted lenses formed the basis of several spectacular items. Rick Owens's wraparound ergonomic shield could be just the piece to protect one's eyes against the sun's glare in the Nile's hot climes. Coperni's temple-less shades are easy-wearing clip-on items and can hold a mysterious gaze behind a blackened lens. David Koma's sport-infused eyewear pieces with contrasting frame rims were the most provocative and racy. While at Luar, otherworldly spectacles held wide solid frames with dark-tinted lense.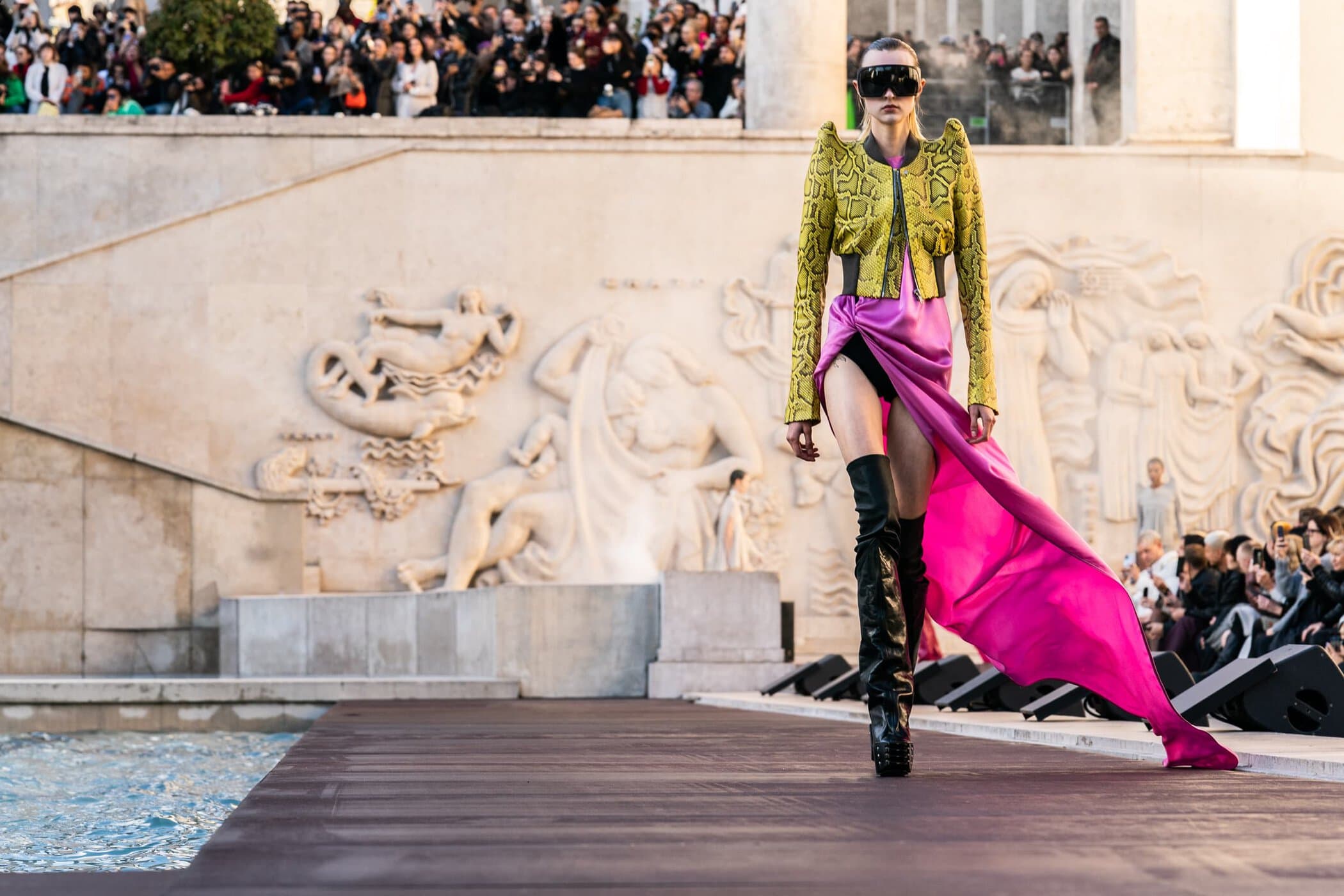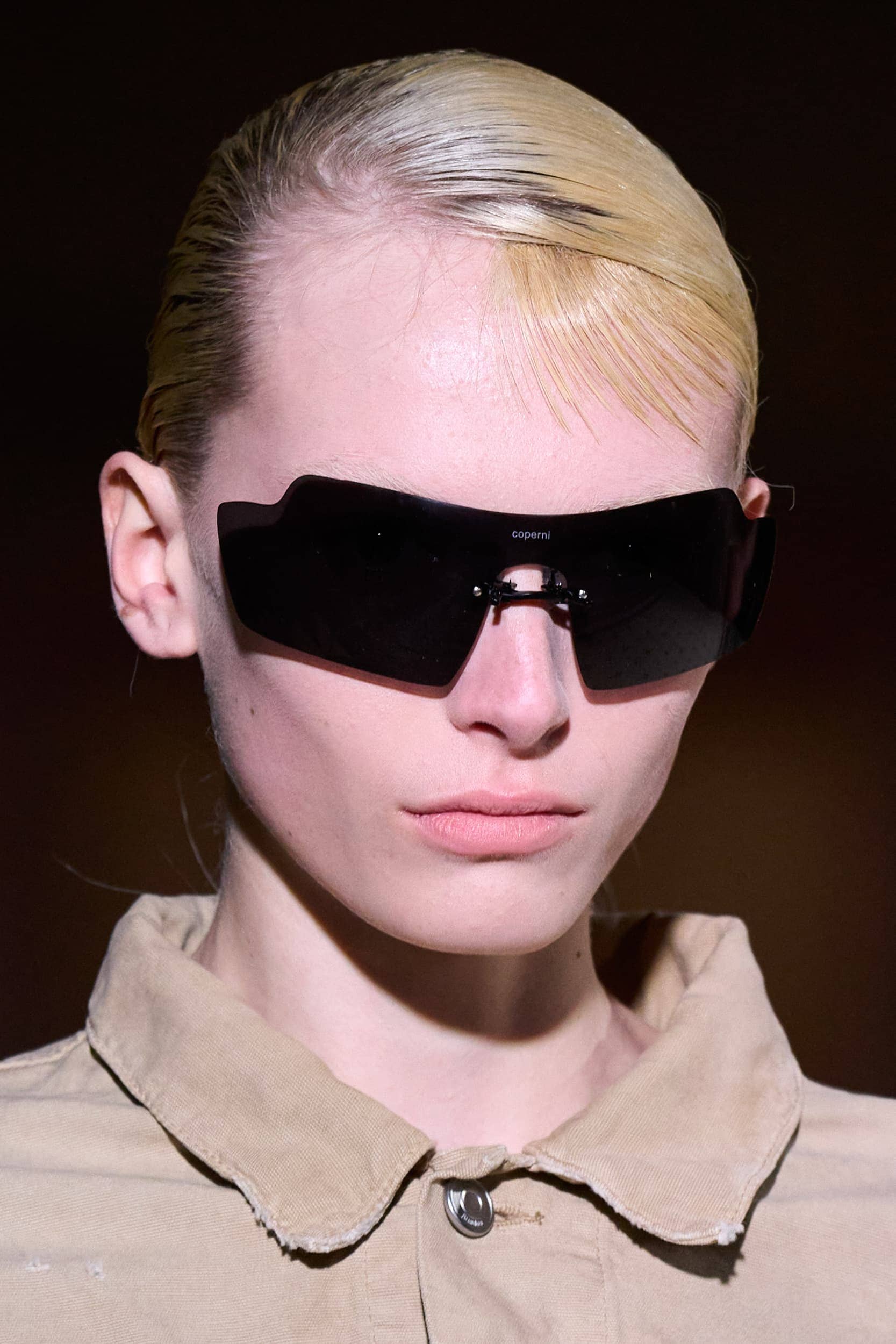 The Sports Racer
The Y2K spirit has infiltrated S/S 23, with the noughties nostalgia coming full circle with pieces reinterpreted with a "speedomic", futuristic edge.
No longer just black tinted, the 'speedomic' racer eyewear, with its elongated and ergonomic shape, now comes with tinted reflective hues and is a must-have for the new season. Stella McCartney presents this streamlined silhouette in sustainable materials – a showcase for the partnership with LVMH. The profile is set with iridescent mirrored and tinted lenses. S/S 23 sees the importance of protective and functional eyewear emerging with smart innovation and design. At Dsquared2, the thicker frames reflect the bold colours in the collection without losing the visual appeal of the racer. Prabal Gurung's space racers and Marni's devilishly shaped coloured lenses look even more futuristic with a sleek 'cat eye' structure.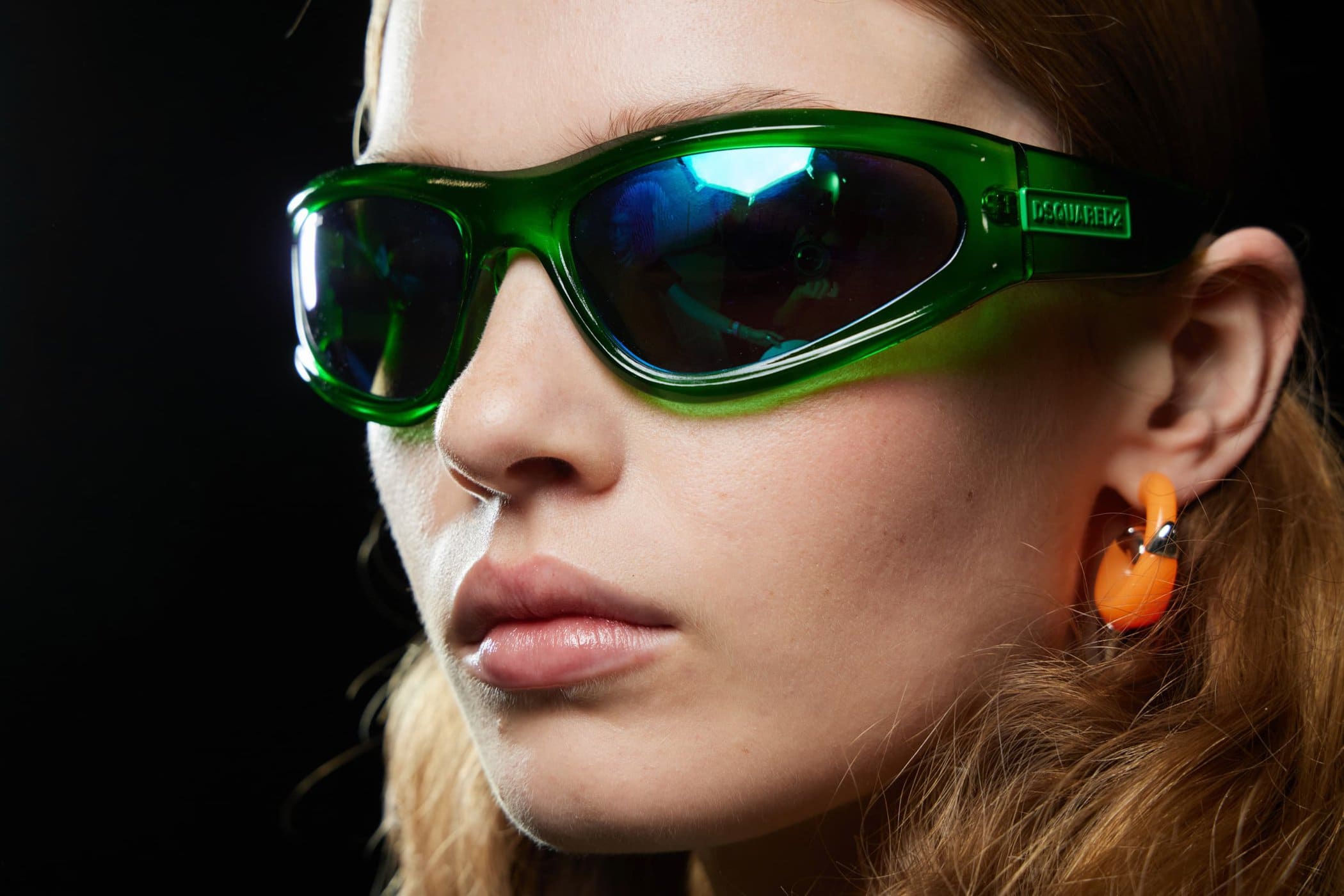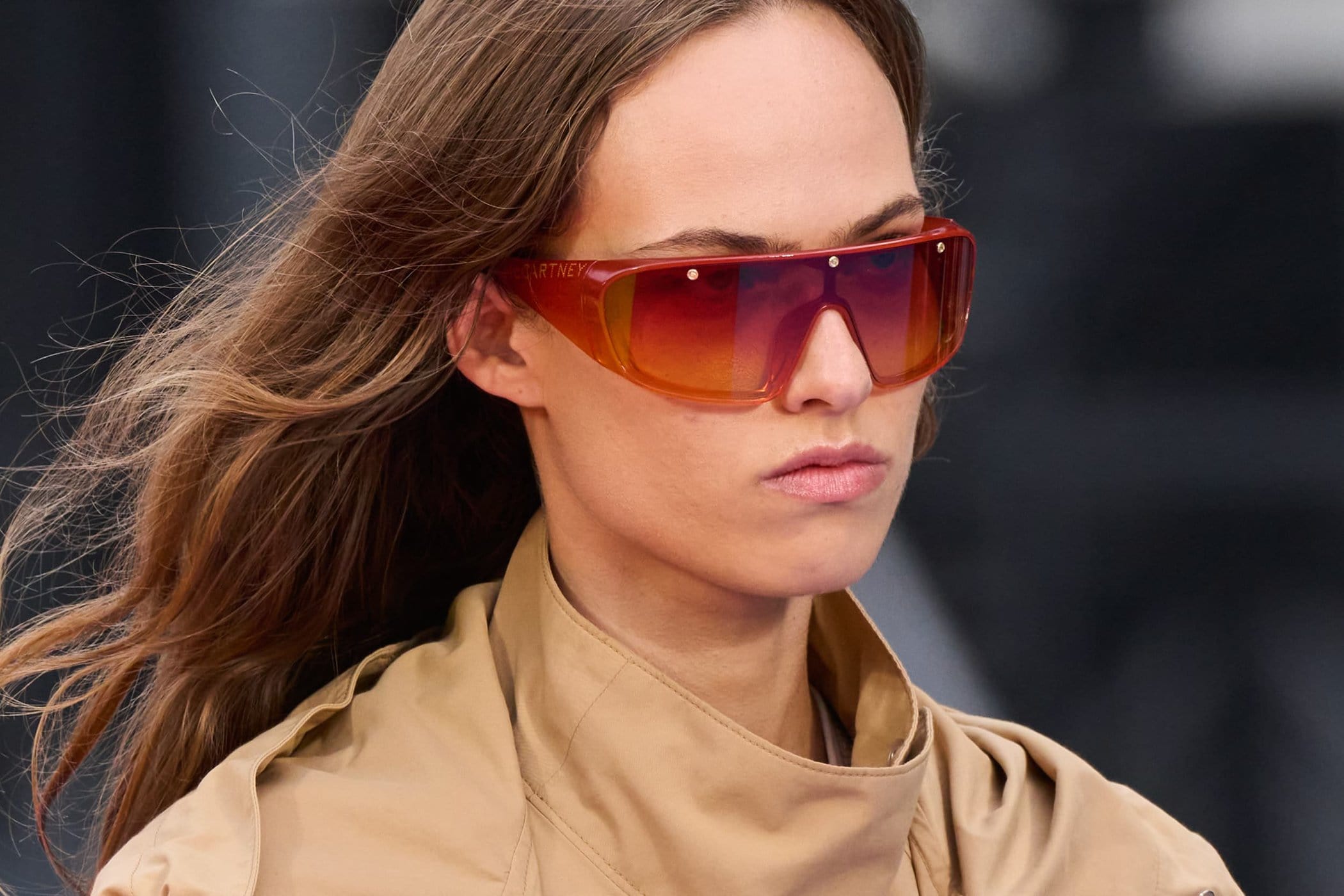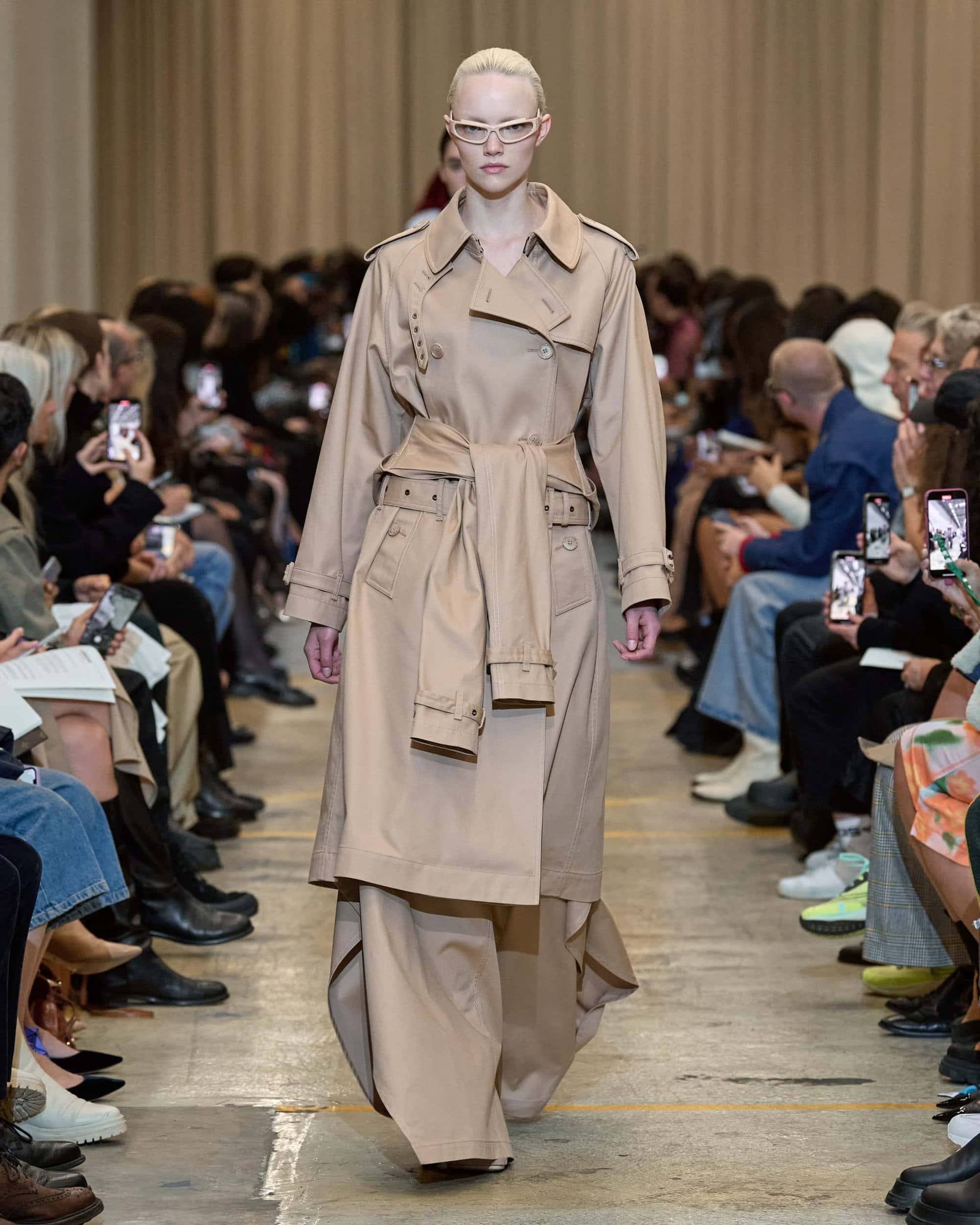 Barely There
A minimalist profile is a perfect aesthetic as well as offering gender-inclusive design.
Streamlined and minimal, these barely-there designs are perfect for every aesthetic. Lightweight and versatile, frameless and ultra-fine metallic frames amplify the simple construction. Coperni's no-fuss straightforward structure features a fine metallic bar across the bridge of the nose, and at Prabal Gurung, a slim approach to the design offers a sleek futuristic alternative.
Andreas Kronthaler for Vivienne Westwood may be a little OTT, but the shape of the eyewear, with its frameless heart-shaped edges, and tinted lenses, is just right for an S/S 23 dalliance. At Prada, complementing the clothes, minimalistic shades make a statement for modular design. They are the chicest items for S/S 23; while Fendi's 'F' shape metallic frames are perfect in understated design. And at Tory Burch, her minimalist designs demonstrated how added features such as rose-tinted lenses and a simple structure could update a simplistic profile.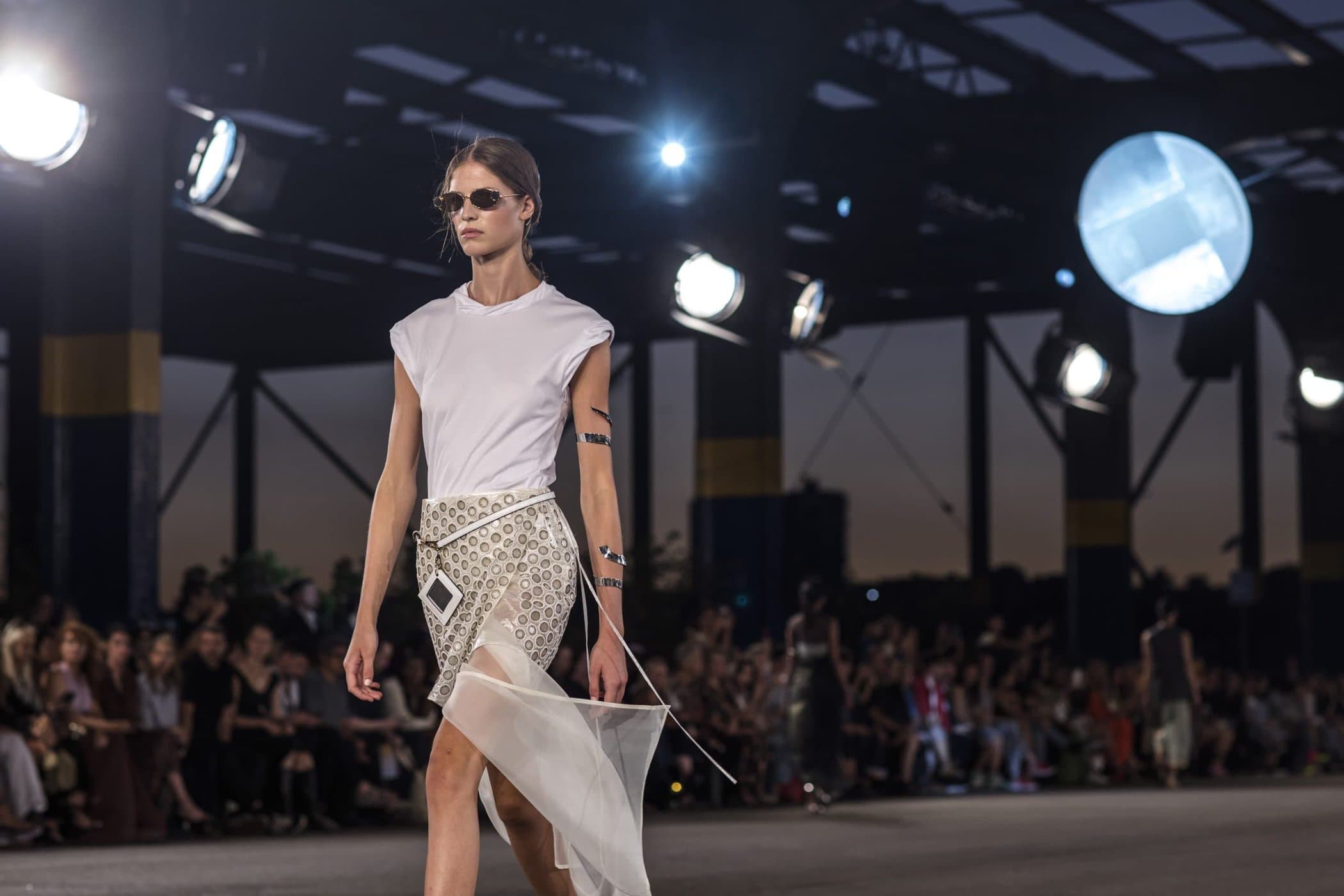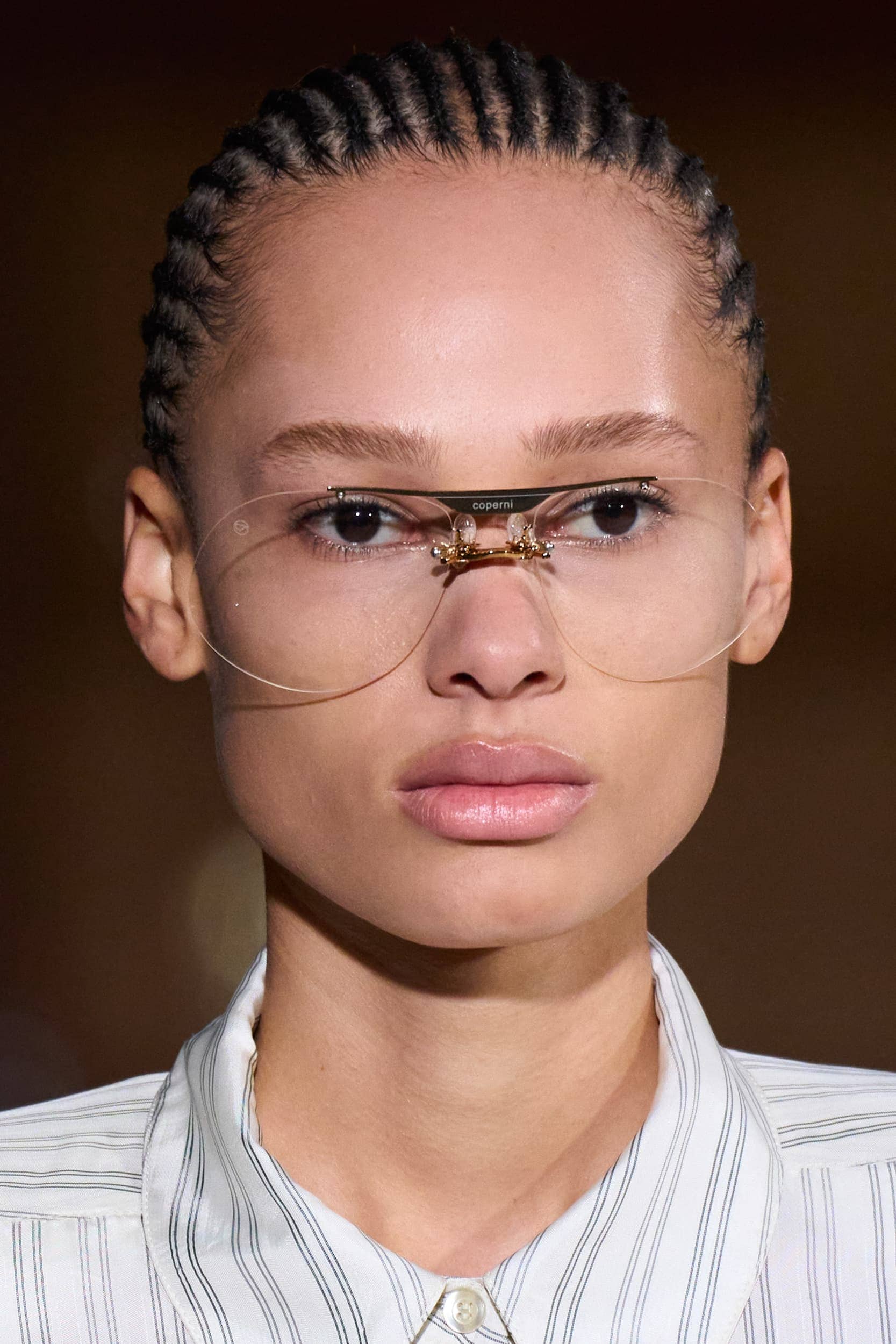 Retro-spec-tive
Don't underestimate eyewear. It can be a game changer to an outfit as well as to the look, be it sporty, fun classic or glamorous. S/S 23 heralds a retro-spec-tive in eyewear as designers look to the past to create the future. Bold, maxi, statement-making eyepieces are the choice for the season. Not all one size fits all, but in these maxi-minimalist designs, there is a shape for everyone.
Gabriele Hearst played with oversized round shapes with solid edges that framed the black-tinted lenses. Elsewhere frames looked as if they were cut from granite with inflexions of appealing colour. Wes Gordon for Caroline Herrera introduced a pair of the most glamorous 'Sophia Loren' shaped eyewear with exquisite tortoiseshell frames. Eudon Choi's simplistic circular frames bore a hint of nostalgia. At Max Mara, oversized wayfarer styles were equally glamorous and offered streamlined black frames. Prabal Gurung and S.S. Daley leaned on these larger retro shapes to significant effect. But as in the shoes, Anthony Vaccarello at Saint Laurent sent out chic and understated designs that were the most evocative of chic glamour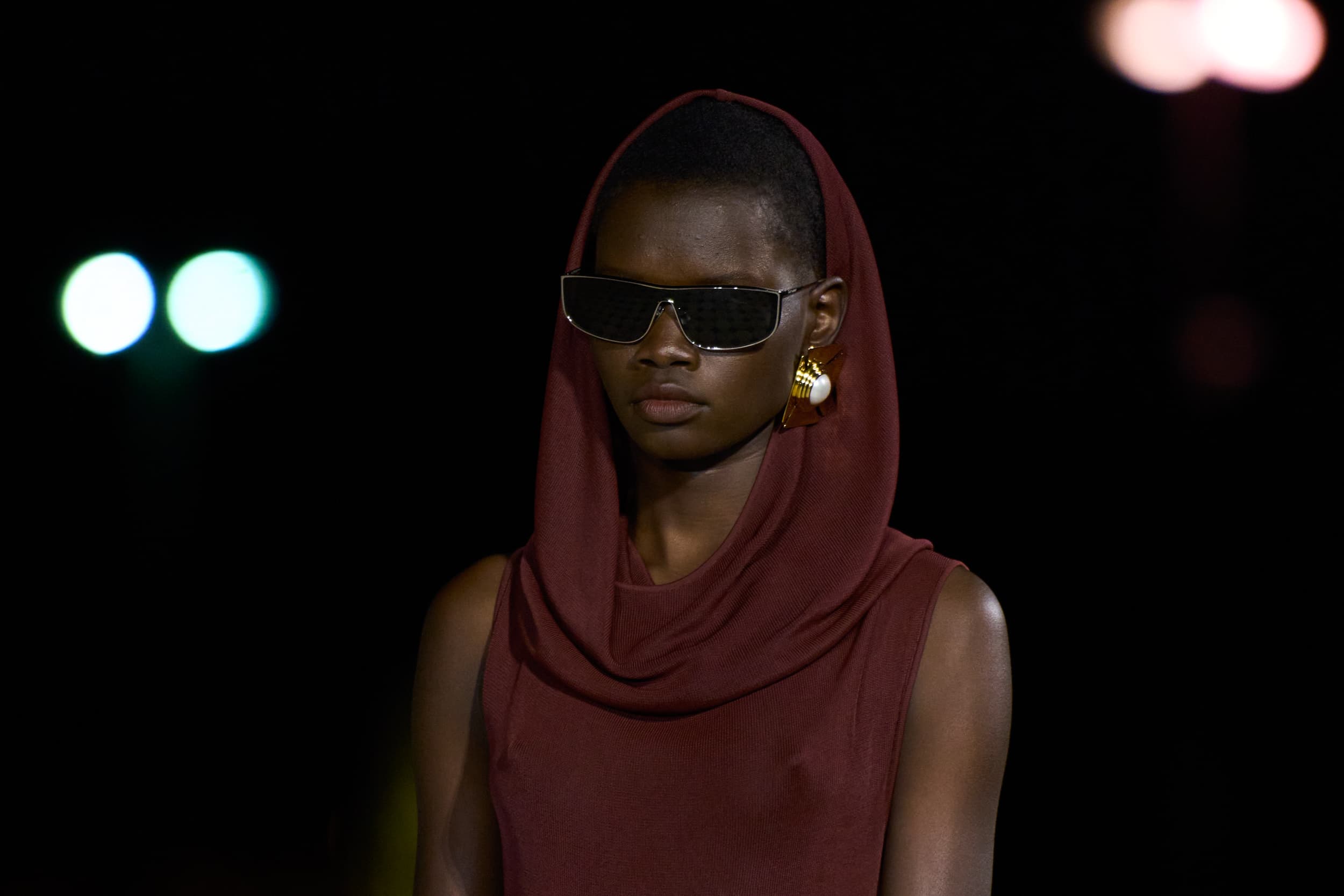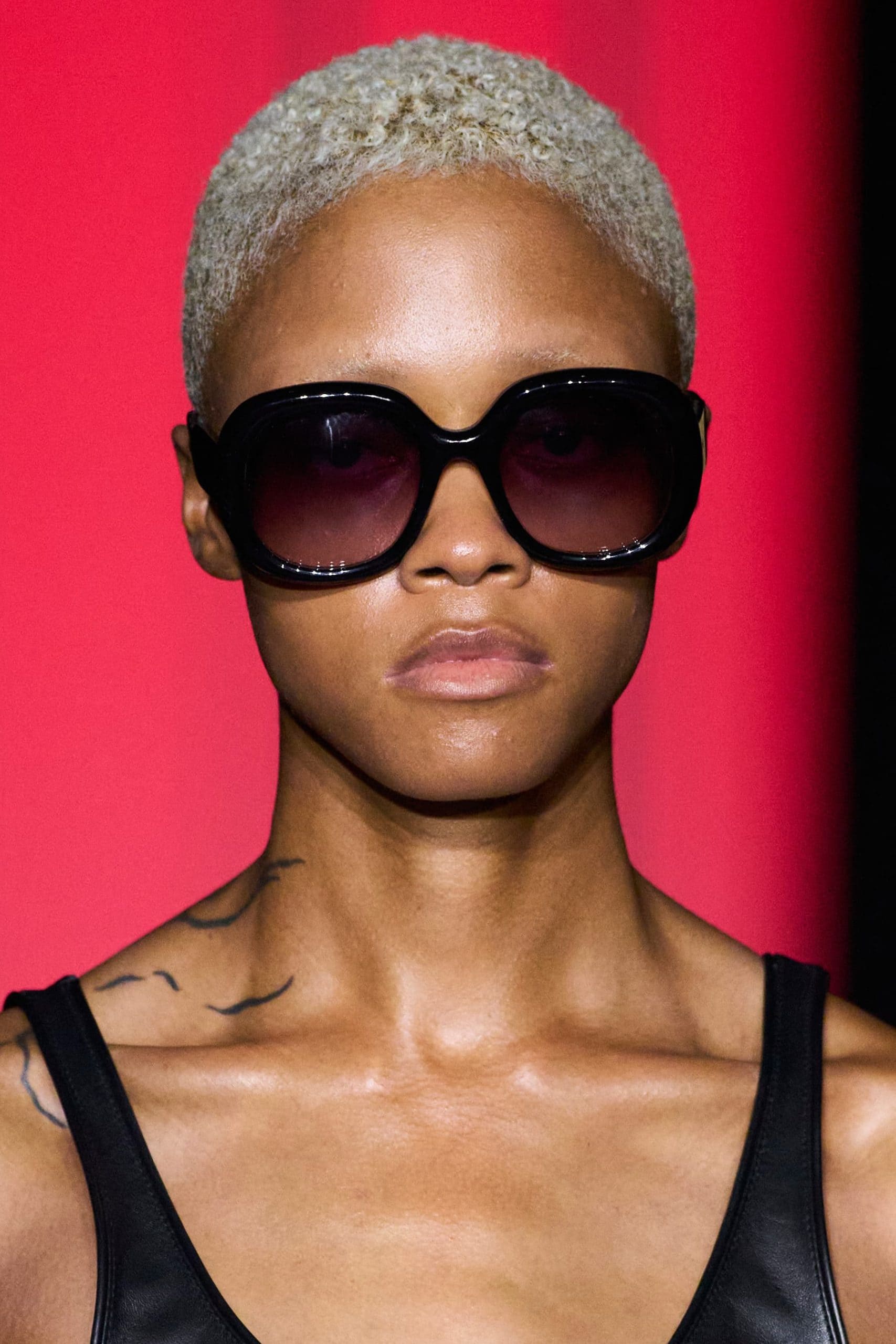 Cat Eye
If ever there is an iconic eyewear piece, it is the Cat Eye shape – synonymous with femininity.
The popular Cat Eye shape has been synonymous with femininity for several decades. And as S/S 23 is a season that not just looks to the future but is also retrospective for choices, it makes perfect sense for this design to be a popular option for designers. Not only does it complement the face, but it has that je ne sais quoi sense of luxury and enchantment, conjuring up memories of bygone heroines on the silver screen. Perhaps that is why Pierpaolo at Valentino selected the shape as the only design for his sunglasses – some in simple classic shapes or others with a slight touch of sparkle or a contrasting top frame
There is a 'beauty and fearlessness' in shape; Annakiki and KNWLS presented a variation on the theme with blown-up thick-coloured frames. Bora Aksu embellished the Cat Eye with military wings. Giambattista Valli pearlised thicker frames but kept the sensibility of the shape, while at Versace, those cat eye shapes in white were as subversive as they were bold!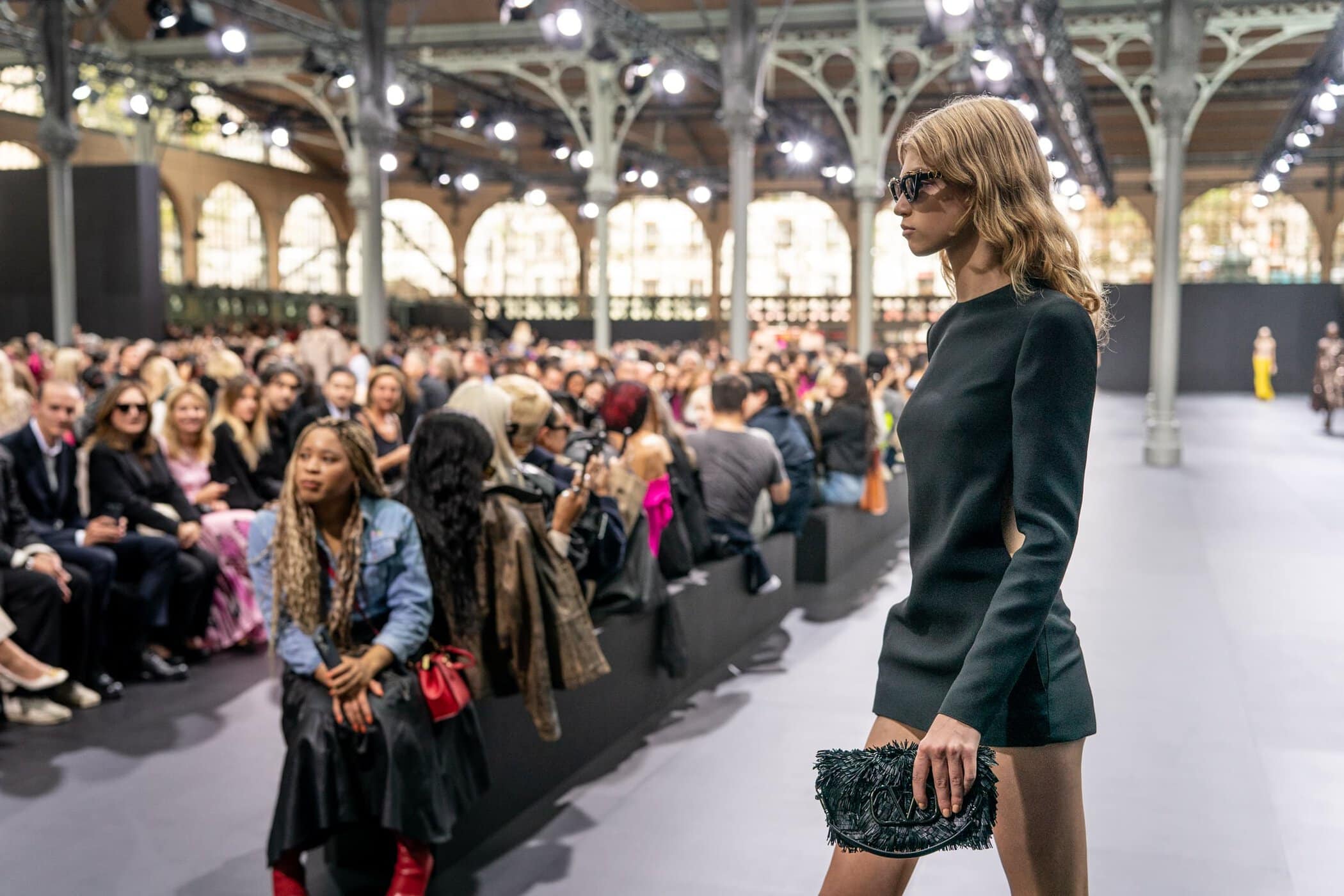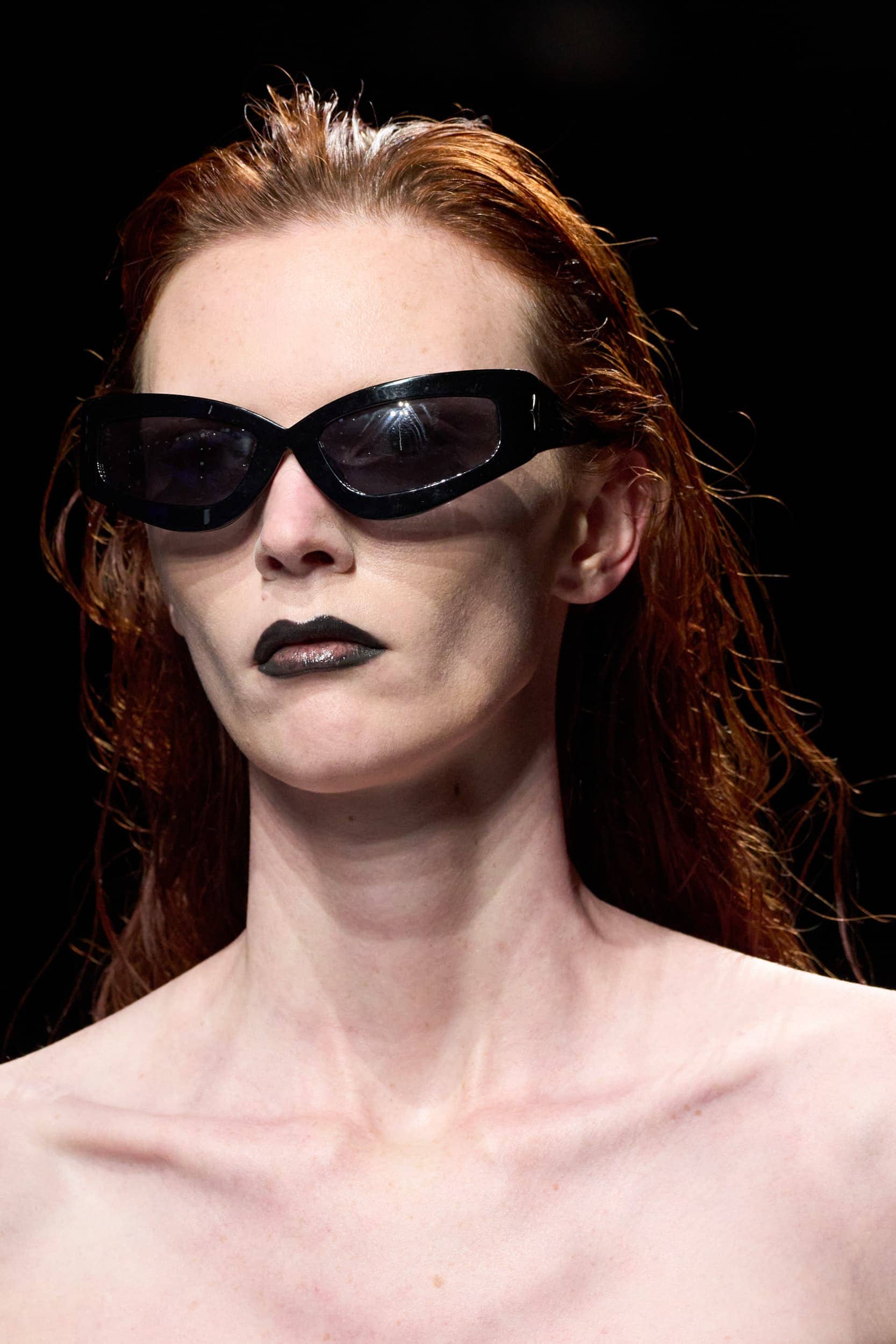 ---