Unveiling the Spectacle: Highlights and Trends from Fall 2023 Haute Couture Week in Paris
By Lizzy Bowring
As the curtains drew on the Fall 2023 haute couture week in Paris – the glimmering heart of the fashion world – another unforgettable chapter closed, where spellbound audiences reveled in the delicate harmony of timeless elegance and cutting-edge innovation. And whether one questions its relevance in today's world of misalignment, the Fall 2023 season was a poignant reminder of the carnival of creativity, where designers and their dedicated ateliers dazzled in a splendid showcase of unparalleled sartorial artistry, ranging from the sublime to the surreal.
The shows offered glimpses into the past, future, and infinite realms of imagination that define couture's highest echelons; this enchanting symphony of style and substance woven by the skilled hands of fashion artisans brought to life a new chapter in the ever-evolving fantasy of haute couture.
And the season proved to be an intoxicating blend of the fresh and the familiar, a vibrant dance between avant-garde boldness and traditional opulence. Whether it was the electric spirit of Thom Browne's debut or the poignant modern reimagining of Crístobal Balenciaga's legacy by Demna, who masterfully interweaved his modernist lens with timeless elegance, each show was a captivating journey. From the boundary-pushing, multidisciplinary dreamscape crafted by Daniel Roseberry at Schiaparelli, the futuristic, technological craftsmanship at Iris Van Herpen to the graceful silhouettes at Fendi, the Fall 2023 season was, as always, spectacular in every sense, weaving together the threads of elegance, luxury, and magic into an unforgettable tapestry.
As we delve into the key trends and "authentic creativity," let us celebrate fashion's grandeur, a testament to a sensory banquet showcasing these talented ateliers' capabilities.
From refreshingly innovative to beautifully traditional, the haute couture week was a testament to its enduring vitality and ability to keep us captivated, season after season, with its undying allure.
Index
1.) Fantastical Perfection
2.) Diaphanous Sensuality
3.) Shimmering Divinities
4.) Portraits in Bloom
5.) Couture's Jewelerification
Fantastical Perfection
"Fantastical Perfection" is an inspiring theme that refers to a design approach that combines elements of fantasy, surrealism, and high-concept art with impeccable craftsmanship and precision. It's an intriguing blend of the imaginative and the exacting, with fashion pieces that appear to have been plucked from a dream yet exhibit extraordinarily meticulous detail and complexity – pieces that incorporate advanced technologies alongside traditional handwork and flawlessly executed, with an attention to detail that demonstrates a mastery of the craft.
This sensory banquet of "Fantastical Perfection" was a unifying theme, from Thom Browne's groundbreaking debut to Demna's fresh take on Crístobal Balenciaga's enduring legacy and Schiaparelli's much-anticipated blend of fantasy and high fashion.
On the surface, Demna's latest collection for Balenciaga appeared to pay homage to Crístobal Balenciaga's classic designs, but a closer inspection revealed a blend of innovative techniques and traditional mastery. Demna's oscillation between tradition and innovation began with his captivation by tailoring and creating vast, funnel necklines on slim women's coats and jackets that stood as a sculptural definition to his silhouettes, achieved through a compelling fusion of cutting-edge technology and artisanal craftsmanship. The final look combined references from 17th-century Spanish aristocracy and Joan of Arc's armor, achieved using 3D-printed chromed resin.
Iris van Herpen took cues from aquatic architecture and bionic innovations. Inspired by futuristic floating cities and bionic design principles, Van Herpen's designs were digitally modeled, only to be physically draped, creating an elegant harmony between fashion and floating architecture.
Daniel Roseberry embarked on a distinctive path at Schiaparelli, crafting asymmetrical, sculptural silhouettes. Roseberry's approach epitomized the essence of haute couture as a platform for bold experimentation and stretching the confines of possibility, with fabulous constructed asymmetrical lines that curved architecturally around the female form, defying all laws of gravity.
At Dior, Maria Grazia Chiuri offered a contrastingly minimalistic yet monumental approach. She introduced pristine capes and dresses whose vertical pleats were reminiscent of Doric columns from ancient Greek architecture. The austere lines of her tunics captured an architectural aesthetic, blending simplicity and grandeur; their serene minimalism served as a reminder that haute couture's 'fantastical perfection' can also be found in clean lines and precise structure, a sublime balance between the elegant simplicity and dramatic statements.
Together, these designers heralded a new haute couture era characterized by the enthralling fusion of fantasy and perfection.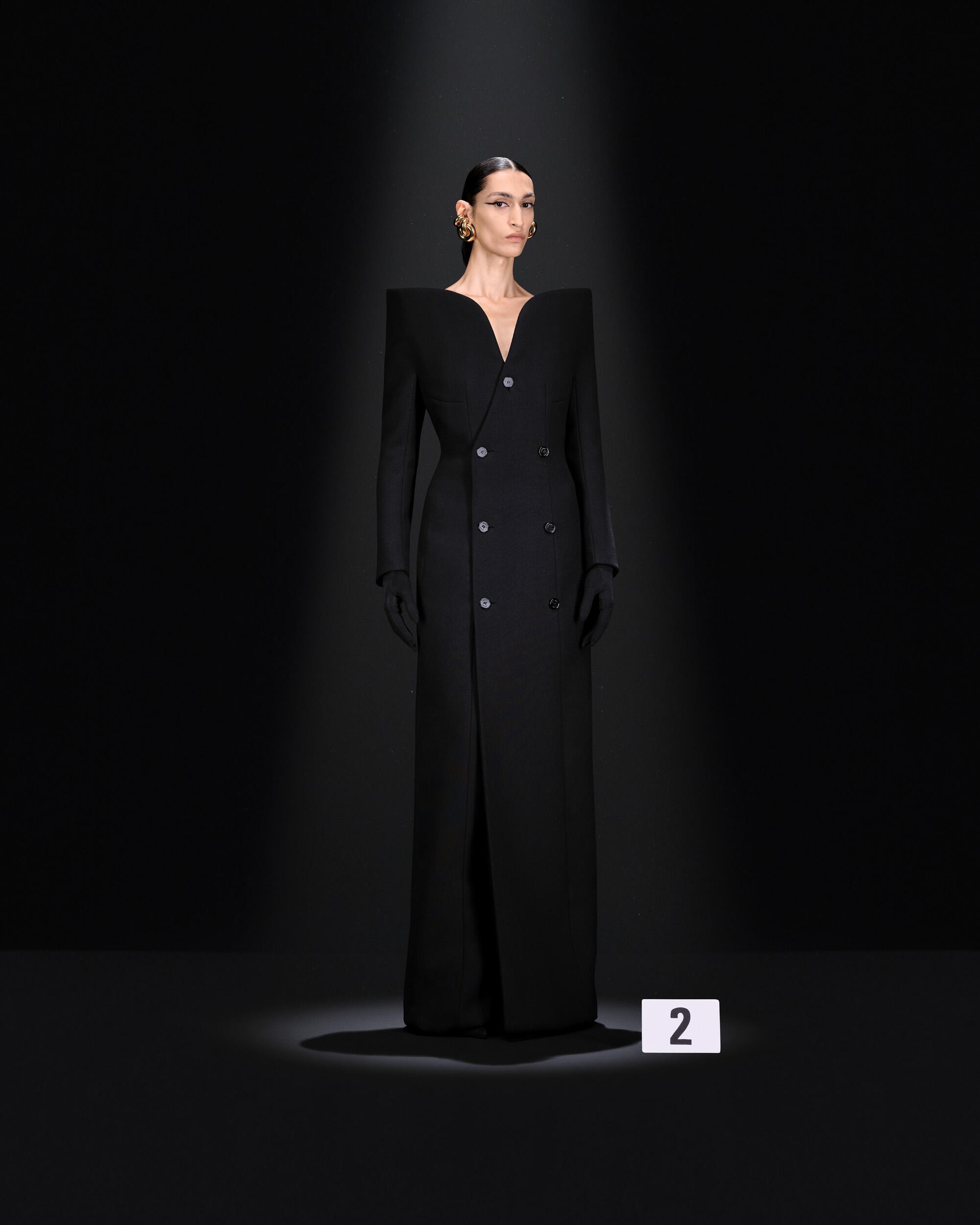 Diaphanous Sensuality
A dichotomy threaded through the Haute Couture landscape – the hard and the soft, the liquid and the structured. The trend of Diaphanous Sensuality emerged as an integral component of this paradox of trends. From Schiaparelli to Fendi, collections brimmed with futuristic, airy dresses and dramatically draped styles nodding to a revised interpretation of understated elegance. Excess was stripped away, revealing an ethereal beauty in shape and form. Dresses appeared to float around the wearer, with light fabrics, delicate details, barely-there colours, and a sense of elegance and lightness, creating an image of sublime delicacy. Lightweight materials were often semi-transparent or translucent, allowing light to pass, hinting at what's underneath without revealing everything.
At Alexandre Vauthier, the designer replaced vibrant hues and voluminous structures showcasing adroitness in crafting elegant, minimalistic forms and emphasized empowered femininity to accentuate sensuality and drama through fluid draping and asymmetries.
Maria Grazia Chiuri at Christian Dior, inspired by the classical simplicity of Greek and Roman antiquity, drew on these ancient influences to redefine modern 'classicism.' She combined pure minimalism, as seen in architectural tunics, finely pleated dresses, and sculpted capes, with delicate and intricate embroidery. Her designs of simplistic columnar dresses were adorned with delicate pearl beadwork, promoting an ageless modernity that supplanted formal opulence with chic simplicity.
Fendi, too, reflected this shift towards an understated luxury with designs inspired by natural hues and organic forms. Fluidity is the key, demonstrated through asymmetrical draping. Fendi's embroideries, based on the colors of natural stones, rubies, and sapphires, highlighted the quiet grandeur of the silhouette – a testament to the power of subtlety.
Pierpaolo Piccioli at Valentino reminded us that couture can be beautifully simple. He brought this concept to life by eschewing the unnecessary and focusing on masterful simplicity. This approach, combined with bias-cutting, soft-draping, and skin-baring cut-outs, conveyed a sense of weightlessness and effortless grace. Piccioli sought to encapsulate the spontaneous motion of the fabric, manifesting in an array of dresses, minimalist yet sensually leaning on the body.
Moving away from the often-ostentatious embellishments and volumes, designers have turned the spotlight onto the form and fluidity of designs, weaving an ethereal narrative that has redefined luxury and elegance. These refined and minimalist silhouettes testify to simplicity's enduring charm and appeal.
Above all, the trend of Diaphanous Sensuality has underscored a pertinent message: the transformative power of a masterful cut, a perfect drape, and a delicate detail. Its unique blend of elegance, simplicity, and feminine power will undoubtedly serve as a pivotal reference point in the annals of Haute Couture.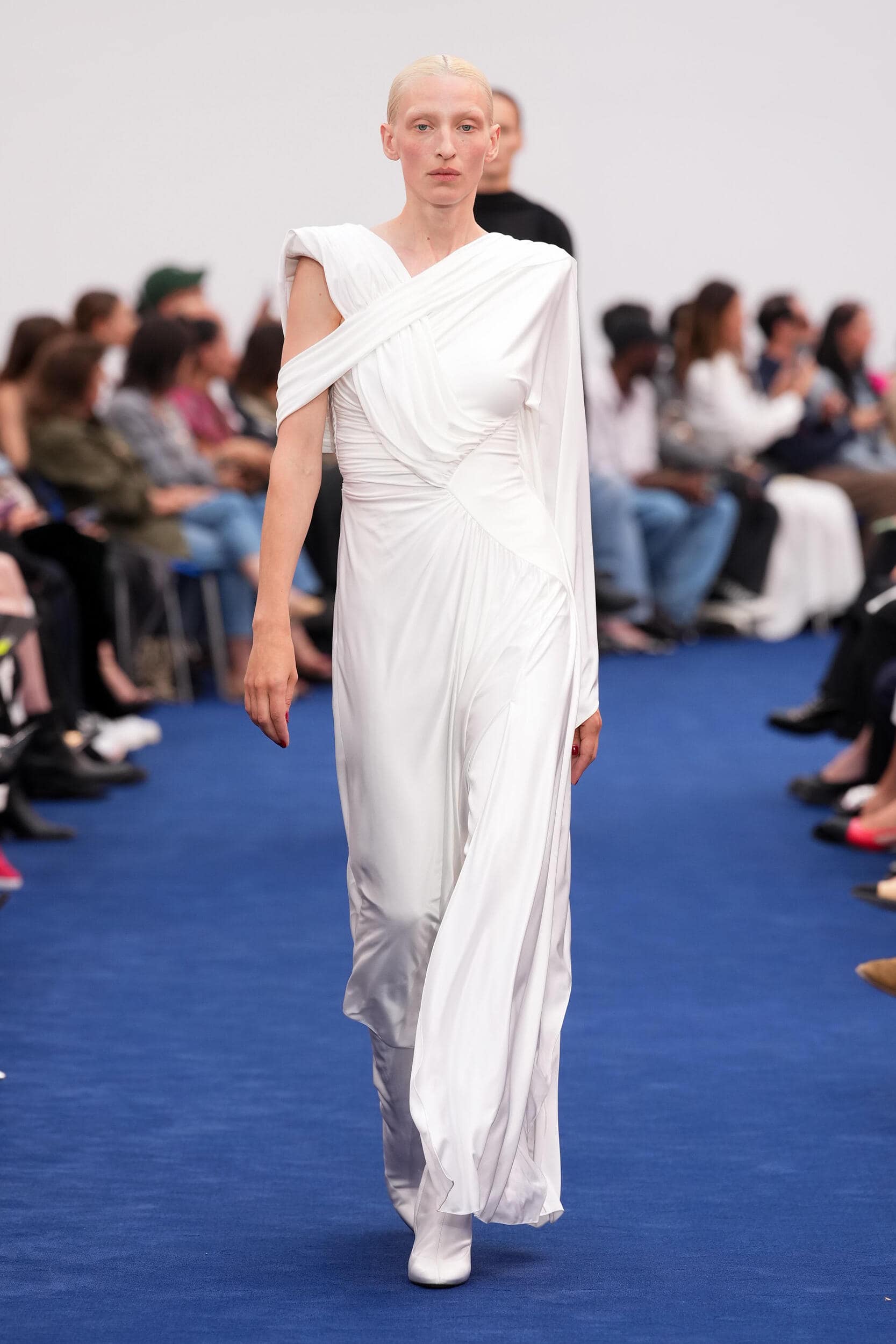 Shimmering Divinitie
A common thread ran through much of the Couture week, weaving through collections in silhouettes that spoke to a minimalist aesthetic – the thread revealed in shimmering materials that reflected gold, radiant metallics, and sparkling semi-precious stones. Such celestial figures, swathed in golden hues and metallic undertones, painted a panorama of otherworldly beauty while, at the same time, presenting divine femininity that basked in a liquid sheen. With a nod to old-world glamour, the Midas touch of the skilled ateliers radiated from every finely pleated or elegant column silhouette, bridging grandeur with modesty, modernity with intricacy, and lightness with substance, offering a radiant path for couture clients drawn towards ethereal aesthetics.
Dossena for Jean Paul Gaulthier demonstrated innovative craftsmanship as he framed an iconic pointy-bra dress from Gaulthier's debut collection in silver chainmail, adding his spin by draping bright gold and silver chainmail on paired models.
Continuing to fuel this dreamy escapism, Saab breathed life into medieval monastic lines, transforming capes, trailing trains, and décolletages into a glorious display of luxury and brilliance, with sequined embroideries dancing on the surface of delicate chiffon gowns. Yet, the simplicity of these silhouettes spoke volumes over the flattering power of soft draping that was a perfect canvas on which to play with the luminosity of sequined embroideries.
Ashi employed meticulous craftsmanship, turning unembellished materials into sensual self-expression. The glistening interplay of embroidery, beading, and coppery threads gave the evening looks an evanescent shimmer and added a tantalizing allure.
Bordering on the ethereal, Iris Van Herpen's harmonious color palette combined graphic contrasts of white and black, highlighted with metallic silver, bronze, and gold detailing. Kim Jones at Fendi also contributed to this heavenly trend, further strengthening the prevalence of shimmering divinities that barely touched the floor as they walked in sparkling columnar sheaths – a striking blend of opulence and subtlety from the hands of Fendi's ateliers.
Maria Grazia Chiuri transported this celestial theme and drew inspiration from the gilded goddesses of ancient religions. Choosing a serene color palette of white, grey, black, beige, silver, and soft gold, she redefined elegance for the evening gown and reshaped the feminine perspective on tailoring. Her vision bridged the gap between the ancient and the contemporary, breathing shimmering sophistication into her ethereal creations. This fresh take provided a perfect counterpoint to the more ostentatious gold renditions, underlining this radiant trend's incredible diversity.
Most things that Daniel Roesberry touches at Schiaparelli turn to gold, and this collection was full of golden artistic references – a two-piece suit crafted in a broken-mirror pattern or the columnar dress created in a rainbow of sparkling paillettes. The accessories shone; one, a 24k gold leaf imposed with the face of a Schiaparelli artisan.
As the dust settles on this shimmering couture week, it's clear that the golden goddesses have claimed the spotlight, offering luxury and restraint, fluidity and self-expression, and unique ways to drape ourselves in the ethereal beauty of shimmering divinities.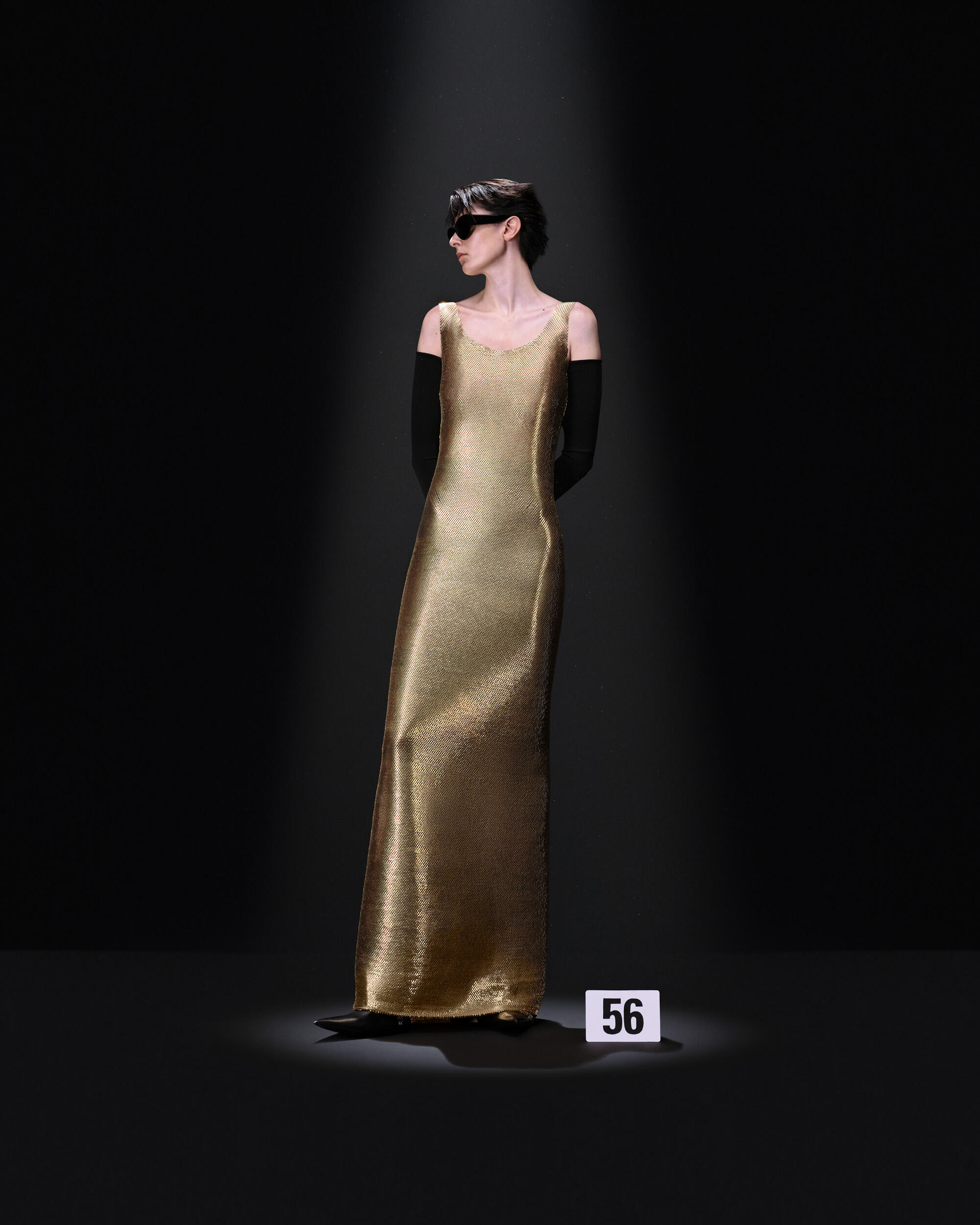 Portraits in Bloom
"Portraits in Bloom" paints the landscape of haute couture with an explosion of floral splendor. Designers took a renewed interest in florals, traditionally a mainstay of spring and summer collections, but now interpreted with an elevated, couture-focused lens. Whether it was their vibrant presence in prints or an innovative 3D application, florals took the spotlight, especially the romantic charm of rose blooms, which appeared across several designs in various interpretations.
At Chanel, Virginie Viard celebrated the brand's timeless elegance while infusing her fresh take on florals. Spring flowers bloomed abundantly across her creations, used literally and as an abstract interpretation, drawing on the brand's historical association with camellias but bringing an unexpected rose-inspired twist.
Florals played a central role at Valentino where Pierpaolo Piccioli's blooms found their way onto lavish gowns, on prints that bloomed with life and as remarkable 3D applications – a dress constructed in material petals or a deep red rose to embrace the head of a model – contributing to the couture-level detail of the collection.
Demna at Balenciaga pushed the boundaries of floral incorporation with a mix of tradition and innovation. His designs saw rose blooms utilized in a new couture context, sculpting them into surprising embellishments at the neckline of a dramatic silhouette, merging seamlessly with his contemporary design language.
Giorgio Armani created a symphony of rose blooms which became a textural element, thoughtfully integrated into each outfit. Roses were transformed into prints, dramatic 3D appliques, contributing to a spectacular presentation of floral mastery. A black velvet column dress with a stunning scooped back adorned came studded with miniature roses while lacquered rose garlands graced necks and corsages.
At Giambattista Valli, the show boasted an air of a chic garden party converging with evening elegance, where floral elements were omnipresent. These were found gracing numerous gowns – in the form of meticulously crafted rosettes and as vibrant all-over prints – and in the copious piles of real roses strewn along the carpeted runway.
"Portraits in Bloom" is a vivid tableau of floral grandeur that pays homage to the enduring allure of nature. The abundance of rose blooms and their innovative application is a testament to the power of reinvention, given new life and significance, culminating in a display of blooming beauty on the grand stage of haute couture.
Couture's Jewelerification
The Couture A/W 23 season unfurled with designers stretching boundaries, embracing the concept of statement jewelry as an elegant accouterment to their collections. Individually spectacular pieces emerged as another creative form of stunning craftsmanship, remarkable in execution and visually resonant. Daniel Roseberry at Schiaparelli continued his surrealist realm, crafting and molding asymmetrical silhouettes from monochromatic materials and collaborating with artisans to blur the lines between clothing, embroidery, jewelry, and textile collages. Reflecting on Schiaparelli's iconic gold embroidery led him to the vibrant Yves Klein blue that manifested in various forms, including painted wooden jewelry, that embraced an indi–genius perspective. But it did not stop there; the golden leaf adorned the swan stroke of a neck and decollete; elsewhere, enlarged cuffs were reimagined in beaten gold face masks, mesmerizing in the boldness of construction.
Fendi's jewelry designer, Delfina Delettrez Fendi, notably took center stage with her high jewelry collection, where Kim Jones provided the canvas with his sylph-like creations. The creative synergy between the two showcased a collection that was fluid in its integrity, blending into the barely-there silhouettes and embodied through Delfina's exquisite timeless pieces through which she merged '90s minimalism with Roman statuary influences. Delletrez's diamond accessories featured fluid, asymmetrical shapes embellished with pink spinels and yellow diamonds and incorporated subtle plays on the Fendi logo.
Pierpaolo at Valentino played up the rhinestone feature with fabulous elongated chandelier earrings that were as much a statement as the clothing and complimented the historical backdrop of the Château de Chantilly.
Both Demna at Balenciaga and Maria Grazia Chiuri at Dior created bold chokers that became integrated within every graceful silhouette – the jewelerification of Couture could not have been more vividly displayed.
As the lines between clothing and accessories blurred, these bold adornments became less of an afterthought and more of a vital part of the couture experience. Embellished chokers and dramatic earrings weren't merely accents; they were components as significant as the materials themselves, demonstrating Couture's enchanting amalgamation of tradition and innovation. As such, this season, jewelry claimed a place on the grand stage, becoming an indispensable element of the grand ballet of fashion.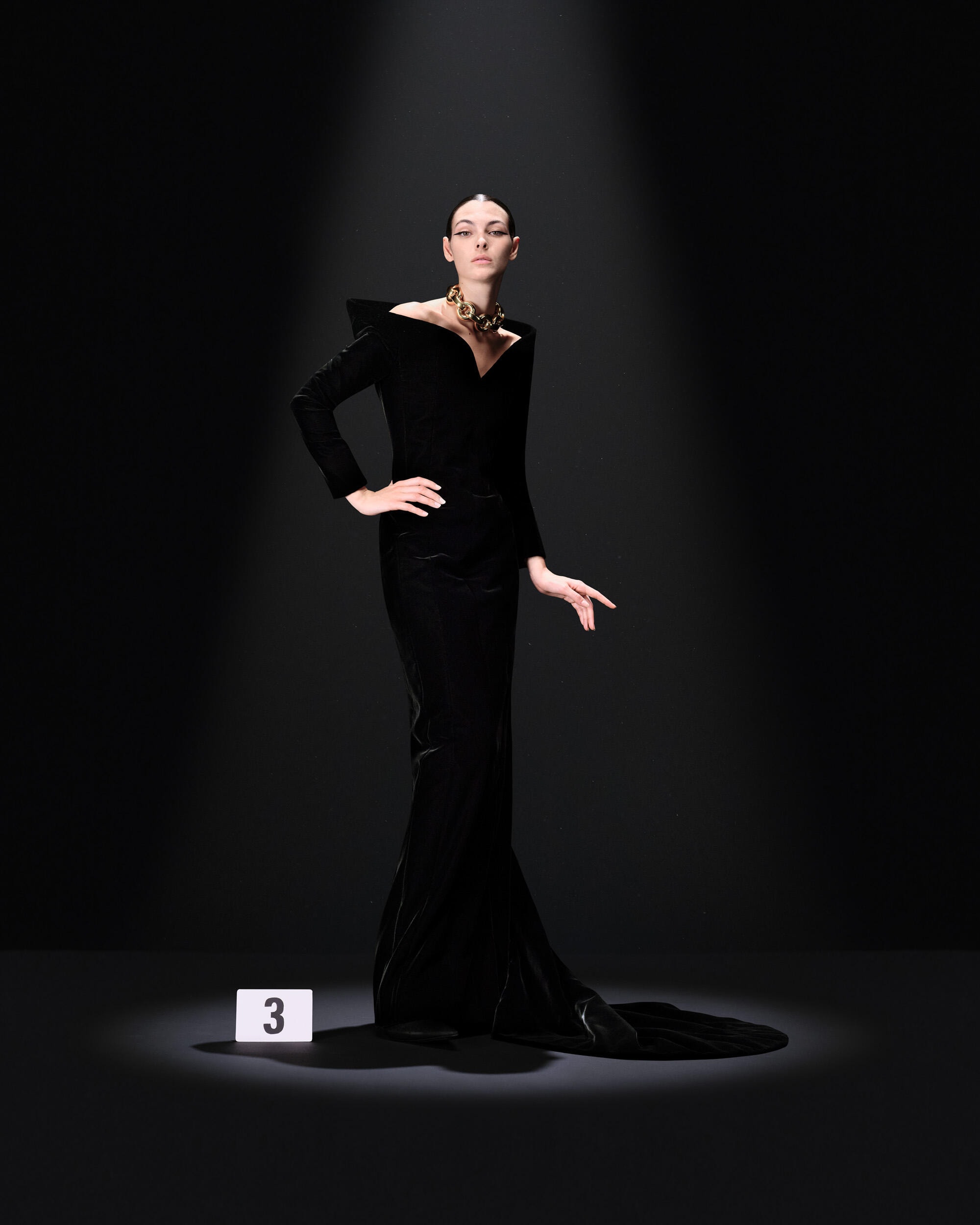 All in the Detail
While the recent Haute Couture collections have sparked numerous debates and discussions, it's perhaps worth reflecting on – are we overlooking the fundamental essence of couture? The unveiling of these collections remains a much-anticipated event in the fashion calendar, inhabiting an intimate and exclusive realm that epitomizes the pinnacle of luxury and craftsmanship. It is the culmination of numerous hours of meticulous craftsmanship by the world's finest artisans, cherished as unique and extraordinary.
In an arena where fashion transcends functionality to become pure art, it was a season that saw Dior delve into the depths of Roman mythology, Chanel holds firm to its quintessential Parisian heritage, Pieter Mulier demonstrated exquisite elegance at Alaïa, and Demna at Balenciaga pushed the boundaries of silhouette exploration. Despite these themes, one constant remained – an unerring focus on intricate detailing, amplifying the exclusivity and craftsmanship that defines haute couture.
And this is the magic of haute couture, where the extraordinary exists and where each stitch tells a story of passion, skill, and the highest form of sartorial expression. From sequins and florals sprinkled in unexpected places to intricate designs woven with precision, an enhanced focus on detailing takes center stage.
Once resigned to youthful attire, bows have elegantly emerged as a versatile detail. No longer confined to a single aesthetic, bows in all sizes found their way onto the creations of Ardazei and Elie Saab, although large in proportions, exuded softness and assertive femininity. At Viktor & Rolf, bows in all sizes and several in multi applications took center stage while outlining the feminine form.
Feathers floated down the runways, gracing the collections of Alexandre Vauthier and Zuhair Murad with their airy elegance. Often seen in contrasting black against white, delicate fronds adorned hems, or accentuated necklines, adding dimension and texture to ensembles, subtly infusing them with ethereal refinement.
Roses, a timeless symbol of passion, came to life in the hands of Valentino and Armani. Not merely prints, but tactile 3D creations, they imbued each garment with a blend of grace and tangible beauty, proving that the allure of this classic blossom endures through time.
Schiaparelli, Elie Saab, and Chanel adeptly utilized intricately boned corsets, a design element echoing vintage allure and reinventing the iconic hourglass form through a sophisticated silhouette and structure. Highlighting the waist and bustier allowed airy, diaphanous fabrics to spill in magnificent torrents of material, enhancing each silhouette's beauty and providing a captivating focal point.
Sequins dazzled in several collections, breathing life into garments and encapsulating the essence of haute couture — skilled and unabashed glamour. Valentino, Fendi, Balenciaga, and Dior gracefully crafted them onto diaphanous gowns or placed them strategically for maximum effect, particularly at Valentino, where a pair of jeans inspired by classic vintage Levi's, was constructed from silk gazar, meticulously embroidered with tiny pearlescent beads dyed in a spectrum of eighty indigo hues, replicating the distinctive texture of actual denim.
And to underscore the artisanal components of couture, the intricate arts of fabric embellishment – Appliqué and Embroidery – were found in masterful representation in the collections of Zuhair Murad and Jean Paul Gaultier, further testifying to the fascination with opulent detailing.
As we delve deeper into the realm of haute couture, the importance of intricate details becomes strikingly clear. These collections, a testament to countless hours of meticulous craftsmanship and skill, demonstrate extraordinary dedication to detail – the cornerstone of couture. Each ornate embellishment, luxurious fabric, and dramatic silhouette is a tribute to the grandeur and sophistication of haute couture. From the smallest bead to the grandest sweep of fabric, these details are not mere additions but the very essence of the design, transforming each garment from a simple piece of clothing into a work of art. This heightened focus on detail, this celebration of the artisan, truly sets couture apart, reminding us that in the world of haute couture, every stitch, fabric choice, and design decision is a love letter to the art of fashion.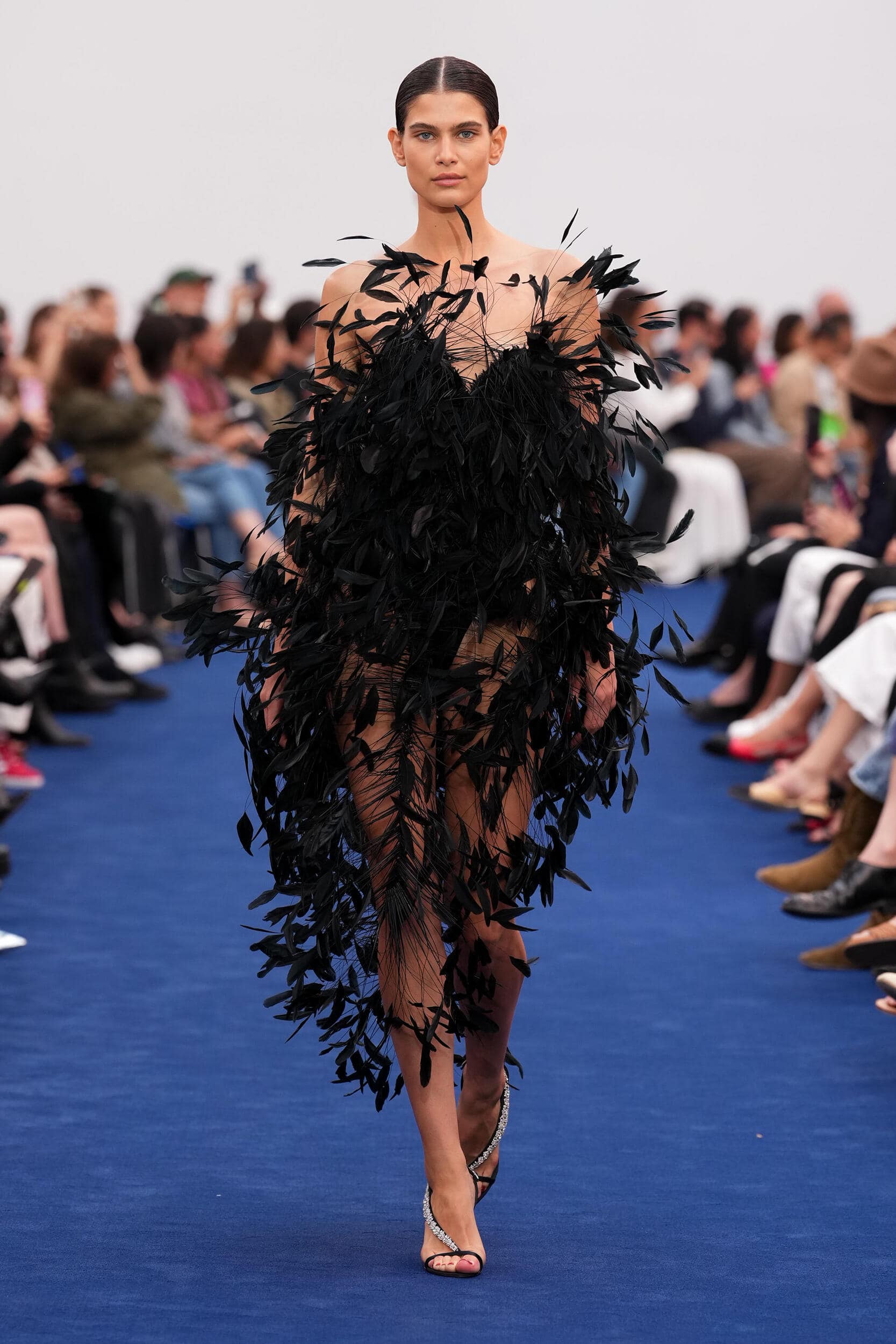 ---