The Major Trends of 2023
By Angela Baidoo
Taking stock of the world around them and the way in which it has, and continues to, irrevocably change, for Fall 2023 designers and luxury fashion houses chose to face the music and provide answers to the questions of fashions relevancy at a time when global conflict, financial crisis, and economic uncertainty are taking precedence over the humble act of shopping for next seasons wardrobe.
And in answering those questions the season did not disappoint, as each collection seen, from New York to Paris, had the ability to walk right off the runway and into the wardrobes of the editors, stylists, and buyers seated front row. No easy task at a time when gimmicks and virality have taken precedence over actual clothes. But fall 2023 saw a reversal of that trend and an embrace of ones which could be easily deciphered, adapt for all areas of a consumers lifestyle, and still manage to maintain a level of creativity that would mean a spark of joy is ignited each time a feather-fringed corset dress is worn.
Here, at The Impression, we have analysed the season and bring you our forecast of the key trends that will set the agenda in 2023 and beyond.
Index
1. Reconnecting With the Craft
What is the trend, and why is it relevant in 2023?
In the midst of uncertainty there has been a concerted effort across the season to get back to the heart of what makes a product truly sell. And in many cases, designers discovered that this was down to an intuitive connection to the brand DNA. For Demna Gvasalia's first outing for Balenciaga – following a tumultuous end to 2022 – he avowed to get back to the fundamentals of construction and craft, forgoing the gimmicks of the past, while Matthieu Blazy forged ahead with an unedited carnival of clothes, which owed much to the hidden magic of craft, that had to be seen to be believed – woven leather socks and fringed petals to name a few.
As a signifier for the year, the messaging is honing in on the fact that even though the bottom line is more important than ever, make no mistake, creative direction that is also relatable is what will truly drive sales in 2023.
How will it disrupt or add value to the market?
This marked shift serves to align with the conversations which are being had around 'Buying Better', a movement championed by the late Dame Vivienne Westwood who said, "Buy less, choose well, make it last". And as these collections hit down at retail, varying demographics – whether they consider themselves frugal fashion followers, luxury lifestylers, or streetwear savants – will be spoilt for choice when it comes to investment buying. A focus on quality over quantity, should inspire reduced or selective buys by retailers to further elevate the desirability of these items, and reassure the consumer that they are purchasing an item that will be sought after for years to come.
Who are the key emerging and established designers leading the trend?
Tory Burch, Bottega Veneta, Yuzefi, Khaite, Loewe, Proenza Schouler
What is the trend, and why is it relevant in 2023?
Surviving through fashions ebbs and flows, navy is a colour so often associated with the steadfastness of uniformity, whether naval or preppy. And as a sense of stability will be welcomed by consumers this year, navy, which offers a slightly less serious take than black, has once again risen up the ranks in formal wardrobes. Providing a sense of security in its longevity, as a hue which can be relied upon season-after-season.
How will it disrupt or add value to the market?
Surface texture will propel navy ensembles into superhero status, as sumptuous velvets, chunky ribbed knits, and boiled wools in the blue tone will inspire a second look. Peter Dundas' return to Paris was influenced by his Nordic familial roots on the sea, creating a range of lifestyle options from winter coats to billowing resort dresses, while at Ferragamo glossy leather mini dresses and contoured compact knits will shift this tone into an experimental foundation colour for day or night. Pinstripe blazers, which were updated with a gold lurex stripe at Dries Van Noten, will also spur on the revival of the tailoring category.
Who are the key emerging and established designers leading the trend?
Fendi, Ami, Dundas, Johanna Parv (Fashion East), Ferragamo, SS Daley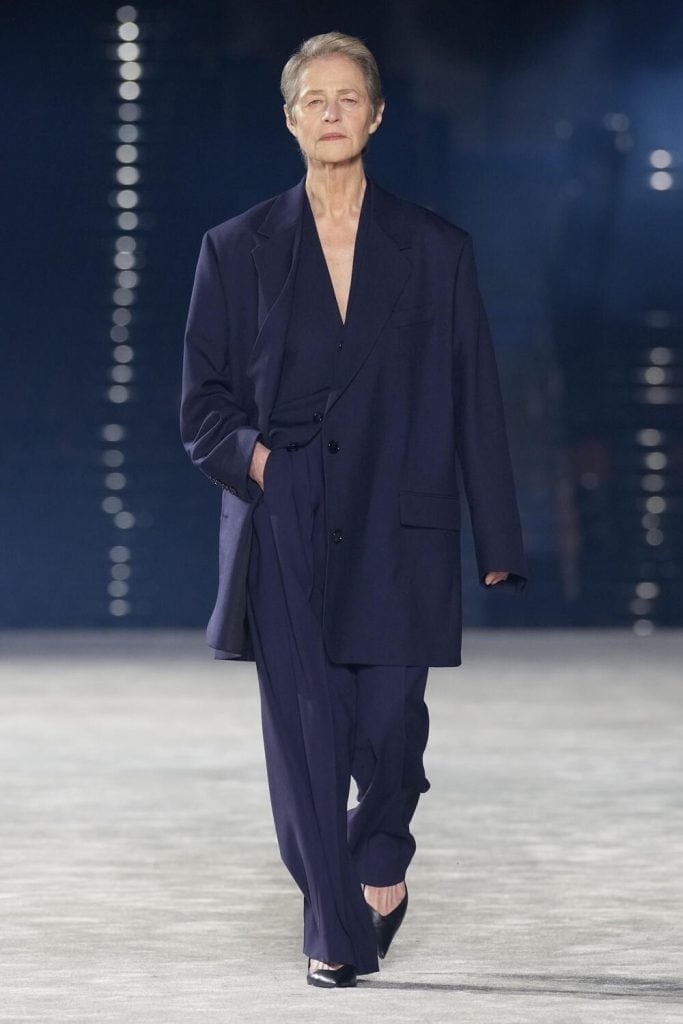 3. Betting Big on Base Layers
What is the trend, and why is it relevant in 2023?
Sensuality through a subtle game of concealment through sheer layers, or overt sexuality via risqué cut-outs and barely-there slips have informed a new sense of feminine power on the runways. Lingerie, intimates, sleepwear, and lounge have all become part of the lexicon of designers collections of late, making the leap from under-to-outerwear. Gaining momentum over the last few seasons, in part as a reflection of wider societies stripping away of women's rights over the autonomy of their own bodies, women are taking back control and reclaiming their sexual prowess in all its forms. And recent campaigns including Calvin Klein's minimal "Calvins or Nothing", and Ralph Lauren's Polo brand launch speak to the heyday of the confident 1990s returning. In this respect brands should look to the potential sales boom of expanding into the lingerie category across all genders, at both the established and emerging ends of the market.
How will it disrupt or add value to the market?
Set to see even more playful layering techniques and references to the nineties and noughties, the intimates category can also be sold cross-departmentally and styled in-store to encourage multi-purchasing. Lingerie and lounge that taps into the simplicity of cotton basics will take on a bucolic influence as sweet floral embroidery (seen at Bottega Veneta), and pointelle fabric (camisoles for men and women at Dsquared2) tap into the 'Twee' trend that has been emerging via TikTok. Branded elasticated waistbands will create an alternative advertising space that reworks the concept of logomania, while more sultry styles soften the structure of corsetry and utilise lace for bias-cut camisoles, slip skirts, and sets in decadent black and pretty pastels.
Who are the key emerging and established designers leading the trend?
No. 21, Dolce & Gabbana, Simone Rocha, Didu, Nensi Dojaka, Dsquared2
4. Expect Sensory Overload, as Touch Takes Over
What is the trend, and why is it relevant in 2023?
As many an op-ed lamented on the loss of the simple and comforting art of touch, there has been a renewed effort to reconnect us with our five senses, after a prolonged period of separation. Which has been seemingly extended due to an embedding of homeworking, and evermore 'social' apps.
Heavy fur piles, silky satins, fringed knits, and rubber footwear have meant that no surface has been left untouched by textile manipulation and innovation. Underscoring the need to feel fabrics again is a key reason for designers ramping up their reliance on the visual and physical experience this season, with engagement in outer surfaces set to be maximised in fall 2023.
How will it disrupt or add value to the market?
Designing into fabrics without limits saw fur encased and melted into plastic at Diesel, a silverware set re-purposed into couture at Dilara Findikoglu, and puckering take poll position in the collection of Feben. Textile innovation will be accelerated and fabric repurposing, recycling, and patchworking should spark an evolution of sustainable methods for developing novelty faux fur textures and trompe l'oeil effects borrowed from the animal kingdom. For fall, the senses will be used as a gateway to connect the wearer with their clothing by taking the tactile approach.
Who are the key emerging and established designers leading the trend?
Bottega Veneta, Colin Locascio, Balmain, Feben, Germanier, Genny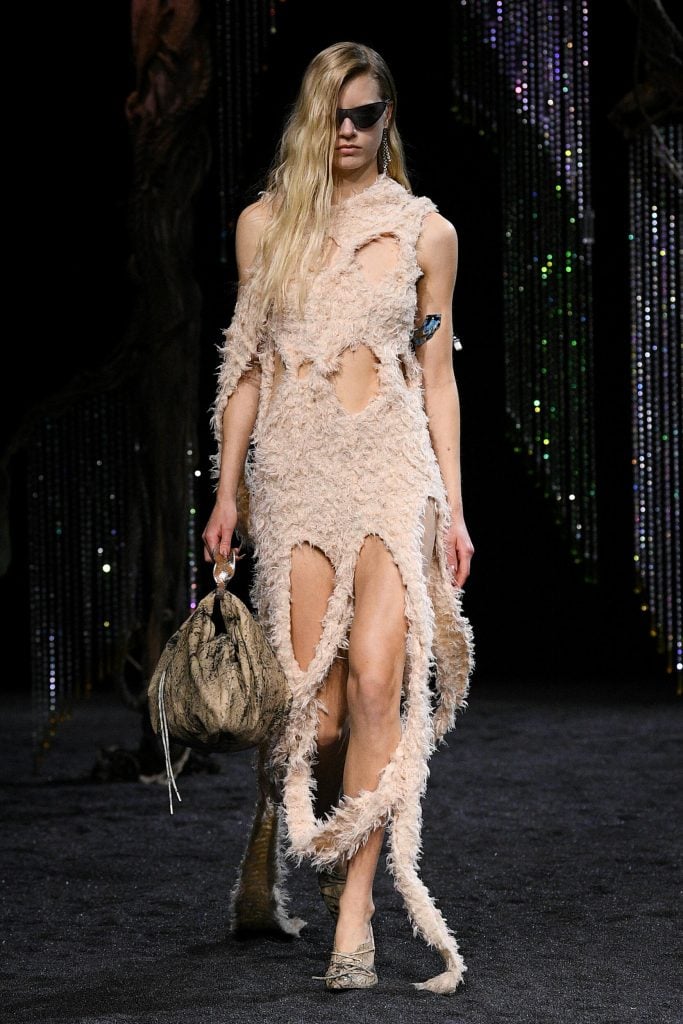 5. Off-Kilter Offers An Alternative
What is the trend, and why is it relevant in 2023?
Building in an emotional undercurrent, collections which truly connected with the maker or heavy references to revolutionary historical events, youthquakes, ground-breaking cinema, or disruptive artists are what moved the needle this season. And while they may not be fully appreciated for their impact for seasons to come, their flair for in-depth research and artistic vision will inevitably infiltrate the market beyond fall.
Brands such as A.W.A.K.E. Mode, who this season cited Rachel from Blade Runner as a reference, presented faux-fur cocktail dresses and crinkle leather cargo pants, while AZ Factory's guest designers Lucinda Chambers and Molly Molloy (who design for their own label Colville) explored "feminine strength, from wearer to maker" in the form of twisted padded jackets and patchwork performance shell tops.
How will it disrupt or add value to the market?
More art house than a preoccupation with the performative, a select few designers across New York, London, Milan, and Paris chose to do something different and balance creativity with commerciality. Engaging with those that are seeking a small sense of decadent deconstruction that will transform through the fabric of fashion. This trend also fostered a more marketable interpretation that will be sure to peak during the 2023 party season, in the one-shoulder detail which appeared across dresses, tops, and knitwear. As Ian Griffiths Max Mara demonstrated how the long-knitted dress could be modernised through the asymmetry of a single sleeve paired with a matching elbow glove accessory. Off-kilter at its finest.
Who are the key emerging and established designers leading the trend?
A.W.A.K.E. Mode, AZ Factory, Sunnei, Luar, Y/Project, Maison Margiela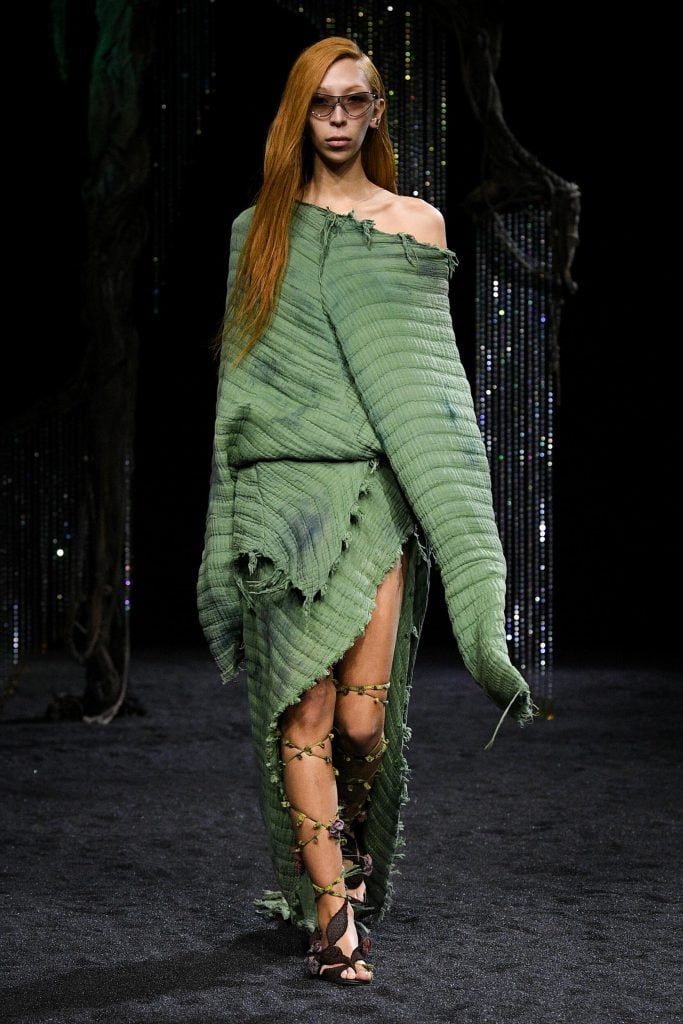 6. Seventies Bohemia Marks a Return to Hedonistic Chic
What is the trend, and why is it relevant in 2023?
The seventies were a time of deep societal change for women who were entering the workforce in significant numbers, as well as getting involved in political and civil rights movements. It was also a time when embracing ideas around liberation and freedom gave rise to a more relaxed bohemian narrative in fashion, with voluminous dresses in maxi lengths and flared-leg trousers growing in popularity.
Regaining its relevance this season, the seeds of a new iteration of bohemian style have been resurfacing, as a follow-on from the move away from structure and into comfort-driven fits during 2020, which led to the rise of #cottagecore and sell-out styles such as Hill House Home's 'The Nap Dress'.
How will it disrupt or add value to the market?
Bohemia now represents a welcome break from the norm, in its indulgence of extensive tiered layers or swathes of fabric, the mash-up or heavy use of all-over patterns, and a penchant for preferring crafted surface decorations such as crochet or fringing over decedent embellishment. A lean into the bohemian way of dressing will shift the focus to the artisan, and when done responsibly will open up opportunities for equitable partnerships with communities globally who specialise in hand-crafted techniques.
And with the ideals of self-expression and an unconventional free-spiritedness, coupled with the rise in demand for vintage clothing, the next reworking of the boho trend should utilise the harnessing of deadstock fabric, archive prints, and the upcycling of items from the era to add a sense of authenticity to the trend.
Who are the key emerging and established designers leading the trend?
Akris, Chanel, Marco Rambaldi, Conner Ives, Michael Kors, Roberto Cavalli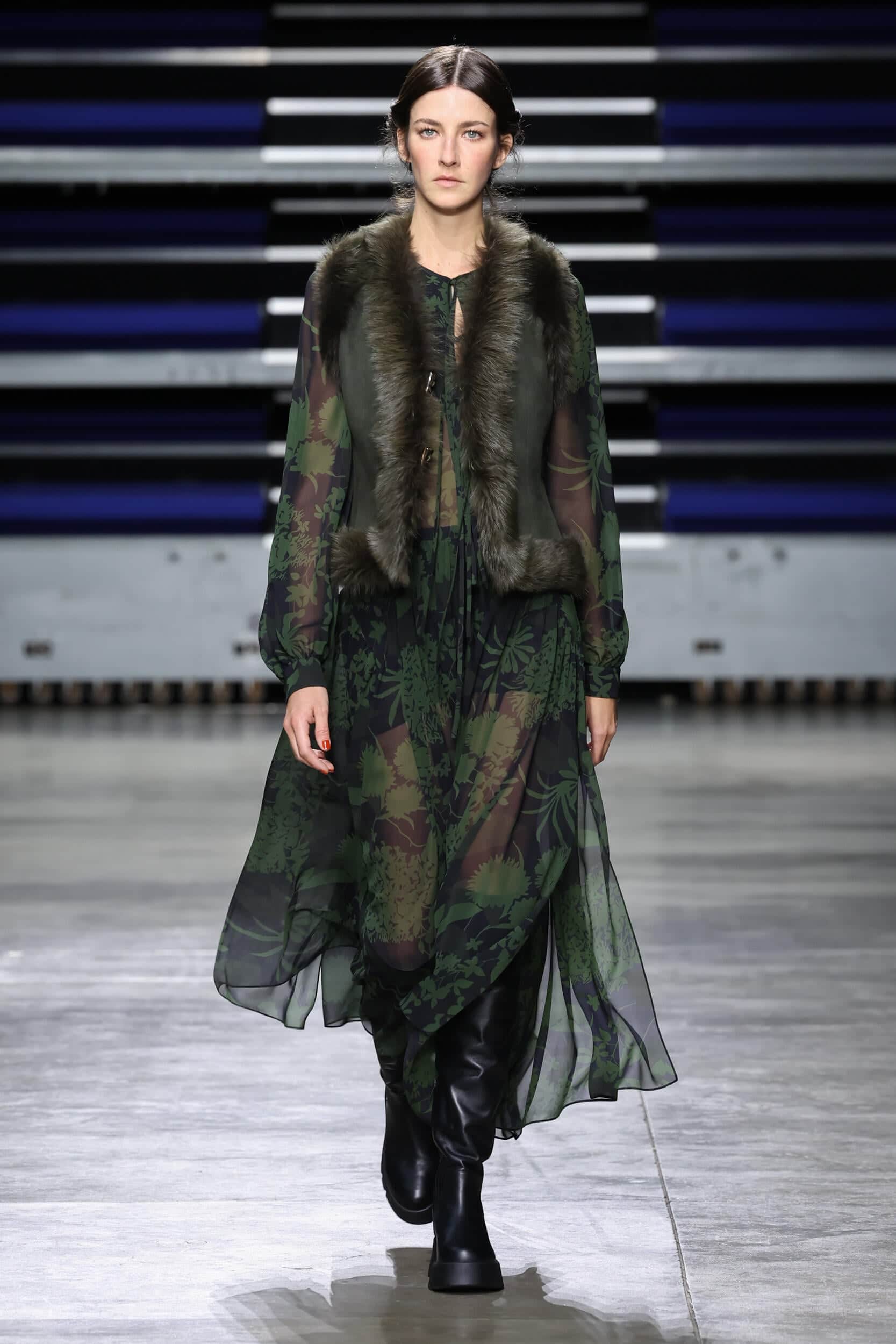 7. The 00s Off-Duty Uniform is Back
What is the trend, and why is it relevant in 2023?
Not so much a trend, as a way of life, some of this seasons most talked about collections resonated due to the way in which they provided an antidote to the more-is-more maximalism of recent years. Where everything has been bigger, faster, brighter, and brasher in order to make the next day's headlines or go viral on TikTok.
For fall 2023 stripping back was not only in reference to some of the revealing looks that were seen on the runway, within this context it also meant stripping back to basics, and considering the choices made by luxury consumers each morning in a more uniform way. Enter stage left, the elementary equation of the 'Jacket + jeans', a simple two-piece that can be worn every day, in any number of combinations. From the streets to the showrooms trench coats and baggy jeans, or relaxed pinstripe blazers and deconstructed denim became the default for editors, buyers, and stylist alike. As those buying into fashion now are seeking easy, transitional, and trans-seasonal wardrobe options, and this no-brainer layering technique of forever pieces will take the hassle out of those daily decisions.
How will it disrupt or add value to the market?
The beauty of this trend is in the way that each item acts as a complimentary puzzle piece, being able to be satisfyingly paired together then slotted away after its wear – like it was part of a fashion filing cabinet – with the most minimal of effort. Because each thing is very much like the other, in tone, quality, or shape. Couple this with the fact that a degree in fashion history isn't required to decipher how to wear it well. Variations of this look, which focusses on the perfect proportions and getting back to quality materials that last, will reimagine what women want to wear in 2023, getting back to a place where purchases are made because a product is truly loved, rather than its ability to represent a fleeting of-the-moment obsession.
Who are the key emerging and established designers leading the trend?
Gucci, Nensi Dojaka, Gauchere, Rokh, Victoria Beckham, Coperni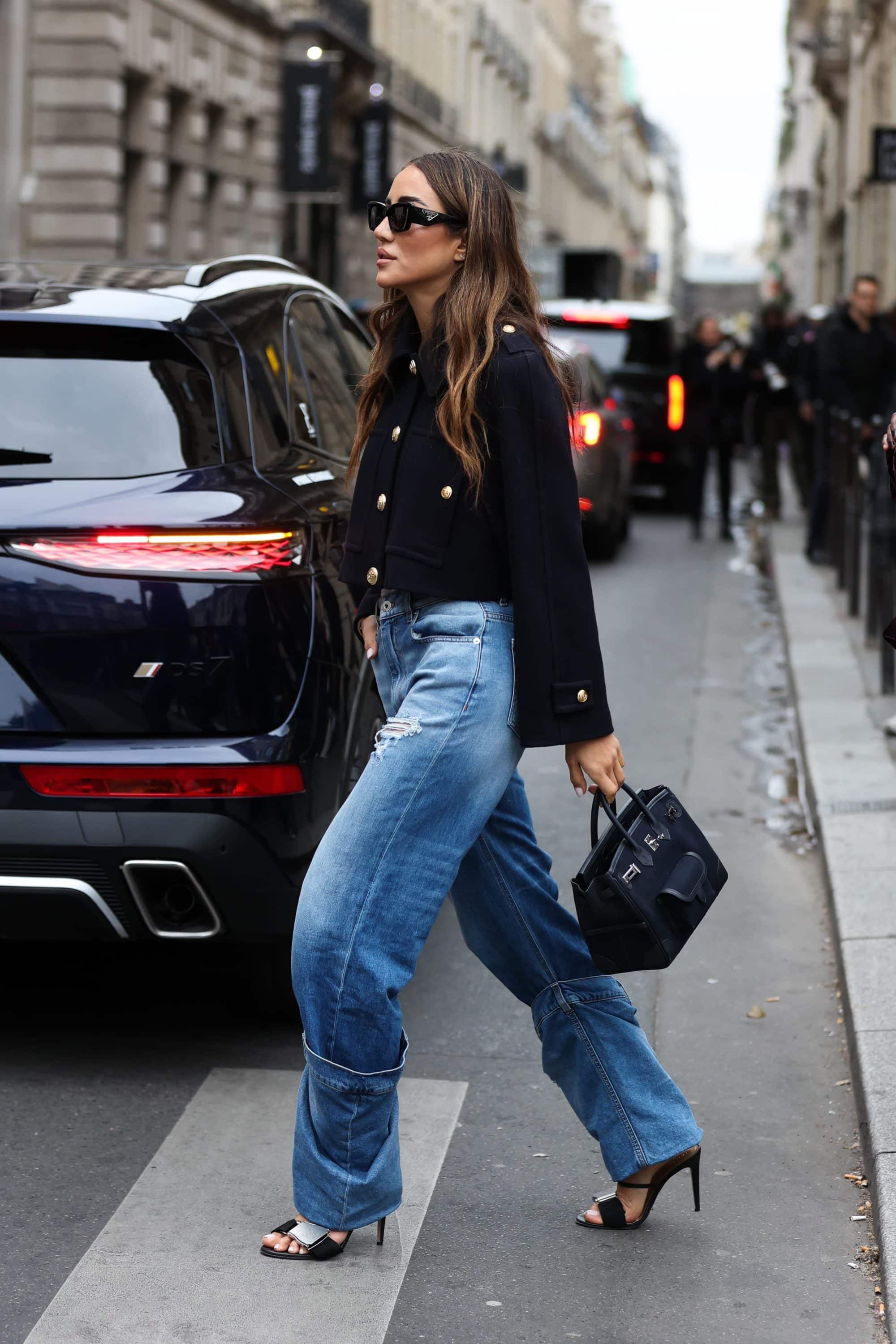 8. Slimming Down the Conversation
What is the trend, and why is it relevant in 2023?
The old (questionable) adage of "Nothing tastes as good as skinny feels" – uttered by one of the world's most famous supermodels Kate Moss – is circling its way back into the visual storytelling of designers collections. And due to fashions cyclical nature, there was an almost inevitability that the pendulum would swing back this way. Starting from the exaltation of all things Y2K to the marketing boom that was the worldwide viral sensation of the Miu Miu ultra-mini skirt. Which despite being worn by Paloma Elsesser on the cover of i-D magazine, as a silhouette it was very much adopted by a super skinny body type. One that was increasingly seen walking up-and-down the runways of all four cities this season.
In spite of this apparent and worrying backsliding by the industry, there remained a few stand-out designers – many of them emerging – who continued to amplify the inroads which have been made in the diversity conversation over the last three years.
How will it disrupt or add value to the market?
Rather than adding value, this shift back towards an ultra-thin model body is symptomatic of the creeping fight by the industry to maintain the status quo of pre-2020. Bringing to light the toxic undercurrents which are once again threatening to sweep in and reverse any semblance of progress that has been made.
The powerful impact of what images the industry chooses to back, alongside the negative effects of certain corners of social media (which have been exposed as promoting eating disorders), could mean that the so-named concept of 'Heroin Chic' could once again raise its ugly head at a time when more diverse voices are fighting to be heard, and seen, in the industry. But as we are living in different times, it is likely that it will be the consumer – especially those from Generation Z – who will push back against this shift, and demand that representation includes every 'body'.
And where brands turn a blind eye or deaf ear, they will find their clothes being reclaimed and reworked, much in the same way as the i-D cover. For those that gained significant visibility over the last decade, causing a ripple effect of change on the industry as a whole – from advertising campaigns to extended size ranges at retail – are unlikely to go quietly back from whence they came. And with young brands (Ester Manas, Karoline Vitto) continuing to stipulate the non-negotiable diversity requirement on their casting directors, the conversation is certain to be kept alive for the foreseeable future.
Who are the key emerging and established designers leading the trend?
Size zero – Ann Demeulemeester, Andreadamo, Blumarine
Size inclusive – Ester Manas, Karoline Vitto, Di Petsa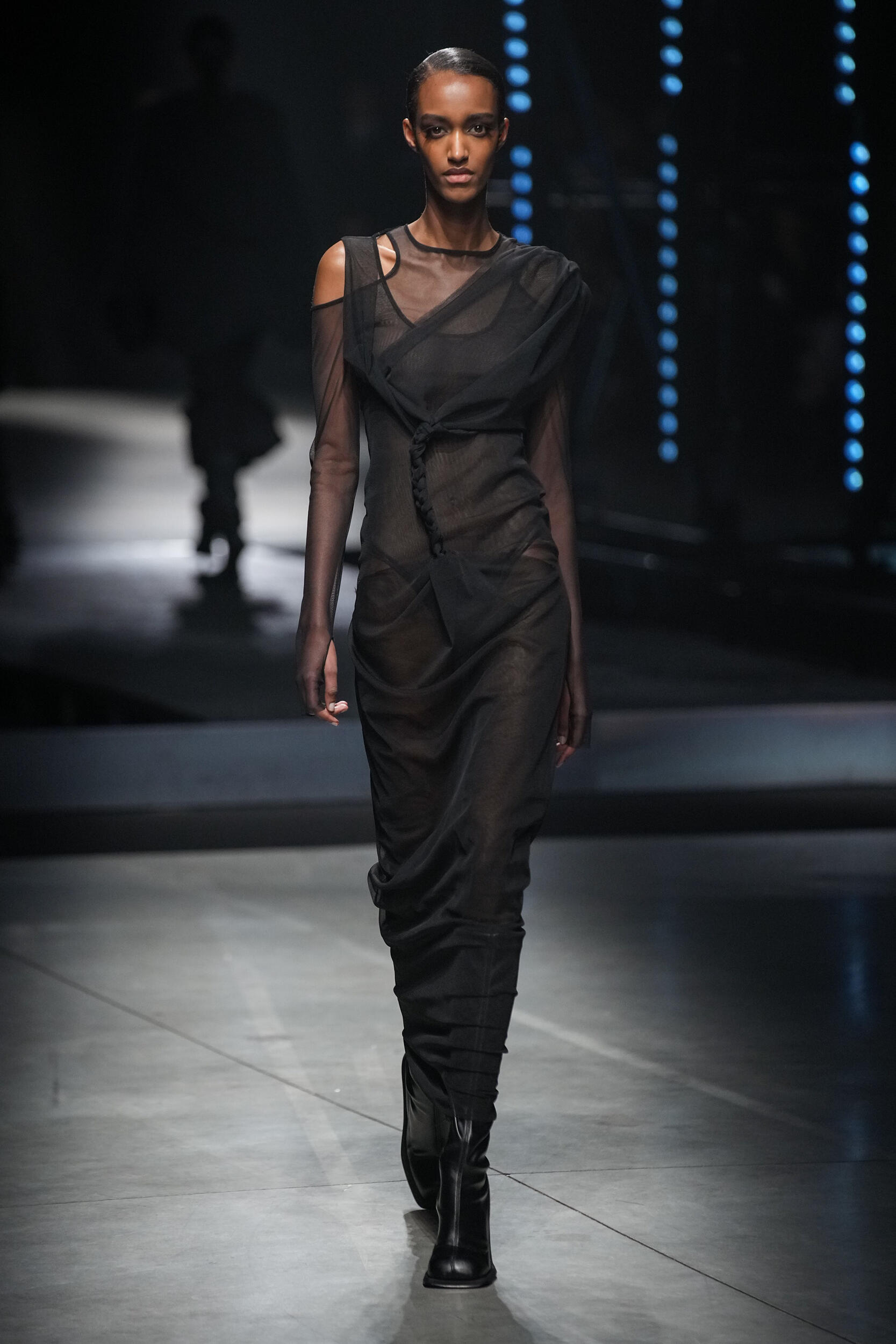 Key Takeaways
1. Getting dressed up again gets a grown-up makeover, as smart tailoring, reassuring navy, and considered construction are amplified for fall.
2. XXL faux furs, fluffy knitwear, and glossy surfaces will appeal to all five senses and should encourage investment in textile innovation.
3. The elevation of sheer layering will present an opportunity for expansion into the lingerie category.
4. Reflect the current state of the world and embrace imperfectly perfect looks, to appeal to a broader customer base, and demonstrate fashions enduring ability to adapt for everybody.
---