A New Wave of Buzzy Boutique PR Houses are on a Mission to Change the Fashion PR Game.
How has the Role of PR Changed, and What Does the New Guard do for Brands Today?
By Anna Ross
For those who have traversed the fashion week circuit of late, you'll have noticed a few new names on your calendar. I'm not talking about designers – but PRs. Public Relations teams are the beating heart of the fashion industry, keeping the wheels turning behind fashion season and bolstering brands with intelligent storytelling, media strategy and communication throughout the year.
However, in the last decade, as the business of fashion has transformed, so has how brands must communicate. With that, the premise and role of public relations has shifted drastically, uprooting a new wave of buzzy boutique and flying-solo PR houses that are on a mission to change the old hat of their industry. Here's how.
---
ACTION POINTS
Cut The Crap: A new wave of smaller, agile PRs are redefining their service, operating based on trust, transparency and collective growth, personally tailored, with a competitive price tag.
The Full Service: Communication alone is not enough. Brands can now tap into everything from strategy, social media, brand building and analytics.
Purpose First: Company values and culture are core for both PR's and their prospective clients and increasingly will lead to decision making in finding the right agency.
New Tools for A New Era: Print's demise has been the internets gain. How do PRs prioritize platforms now and into the future?
---
Cut The Crap
The rise of the internet, the decline of print media and a global pandemic are just part of the parcel of the seismic shift in the role of traditional public relations. In 2019, this concoction resulted in a domino effect of traditional PR-powerhouse shutters, from Black Frame and Siren to Starworks Group. Whatever their formula, it was no longer working.
Meanwhile, their savviest staffers had learned the ropes and were ready to swing PR into a new era – clientele in hand, new ideas in the other. One such firm is London's Raven, founded in just 10 days by ex-Starworks Group senior staffers Sophie Jewes and Yasmin Eady.
"It was really traumatic for everyone," said Jewes on Starworks' sudden demise. "Our clients were our friends and family." With 6 weeks to go before fashion week, Jewes and Eady began laying the groundwork for their own vision, taking their carefully built relationships with them along for the new journey. The duo worked on the premise: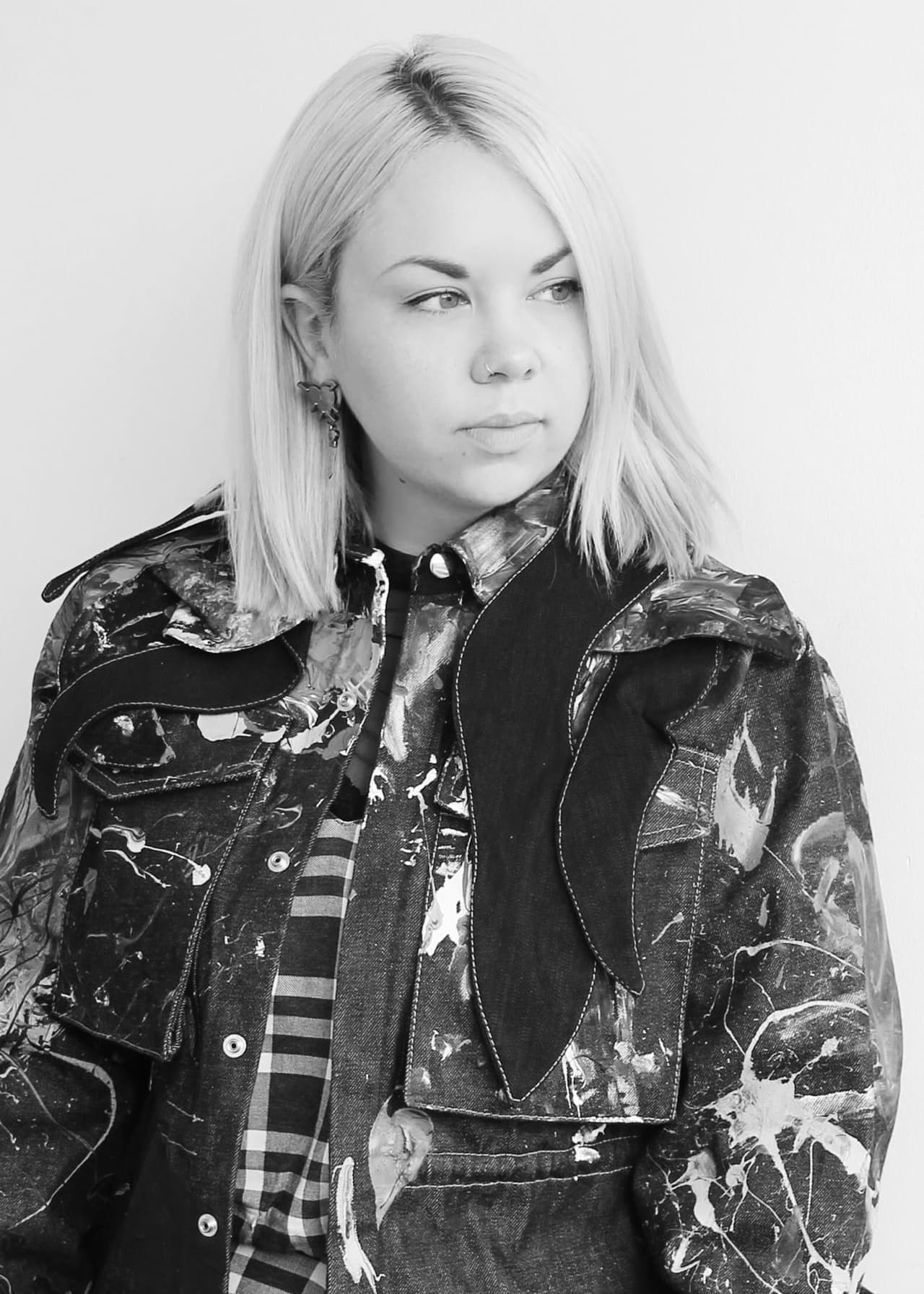 How do we extract the value of what's great here – and look for an opportunity to shed what we deemed 'the crap'?

That's really informed what's made Raven so special."

– Sophie Jewes, Co-Founder & Creative Director – Raven
But what was 'the crap?' exactly?
"Almost everything!" laughs Jewes, known for her straight-talking and frank approach to her work – just one of the reasons Raven has some of the UK's most exciting fashion brands under its wing such as 16 Arlington, Richard Malone, & Fashion East.
Culture and servicing were the common thread throughout The Impression's conversations with PR's past experiences. Stories of exclusivity, slow processes, and siloed working were all problems that new PRs were trying to solve.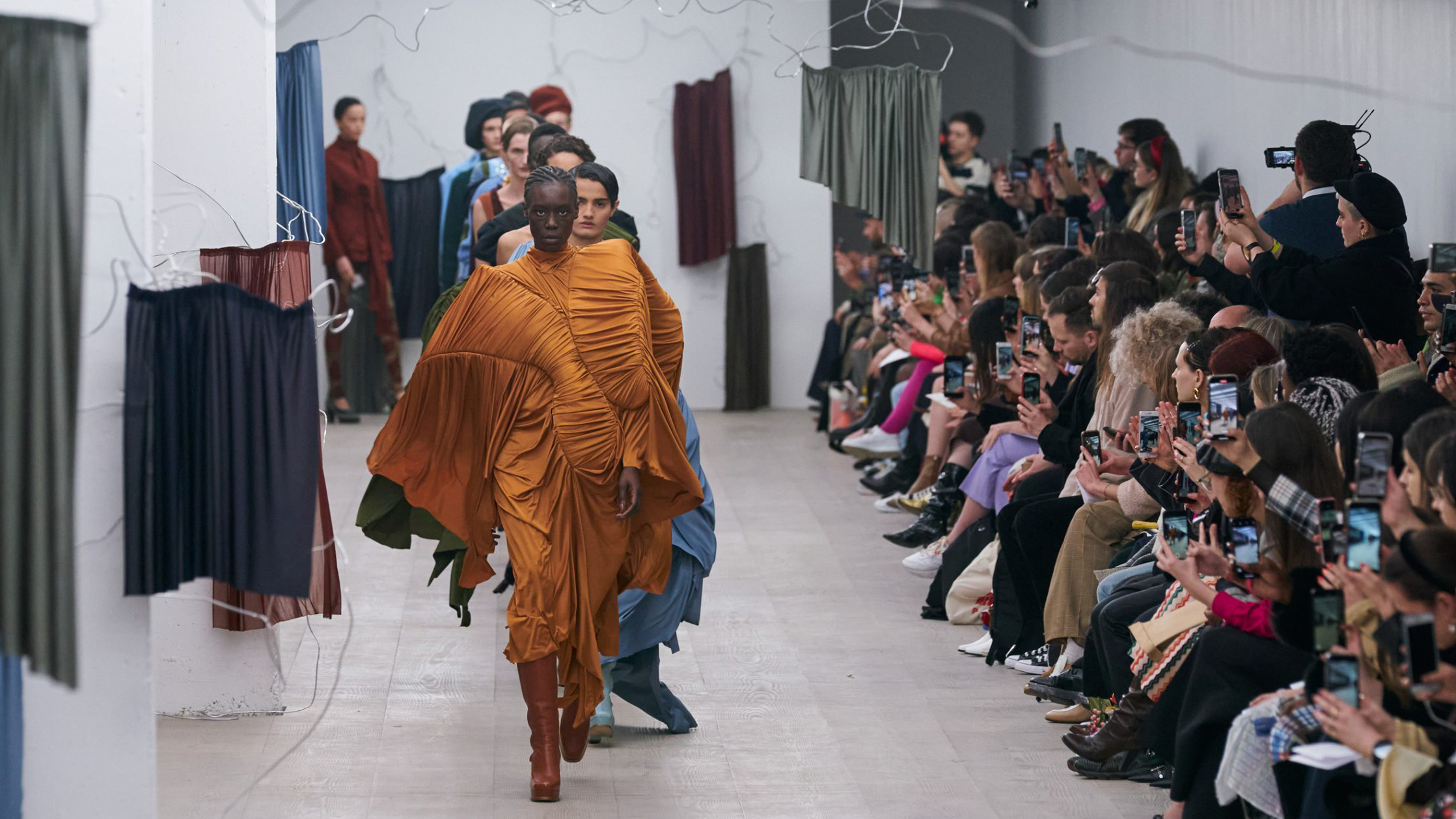 "We're not interested in needless processes – any kind of unnecessary formality," says Jewes, "…we wanted to redefine the traditional model, humanize it and create a transparent, ego-less environment for our staff and clients." Raven's condensed team-size allows it's clients direct founder access, something not possible at larger firms, while internally, less layers of hierarchy enables them to move quickly and get the job done. "What would have taken two days at another firm takes Raven twenty minutes. There's no time to dither."
Jewes isn't alone: "I remember in my first role as a PR assistant, I'd spend 90% of my time working with samples and sharing one look with four other markets, deciding who got the look depending on whose shoot was more important. It was chaos!" recounts Anna Brennan of AB Comms, whose 2020 London-founded firm counts labels such as Eudon Choi and Bora Aksu amongst their client roster.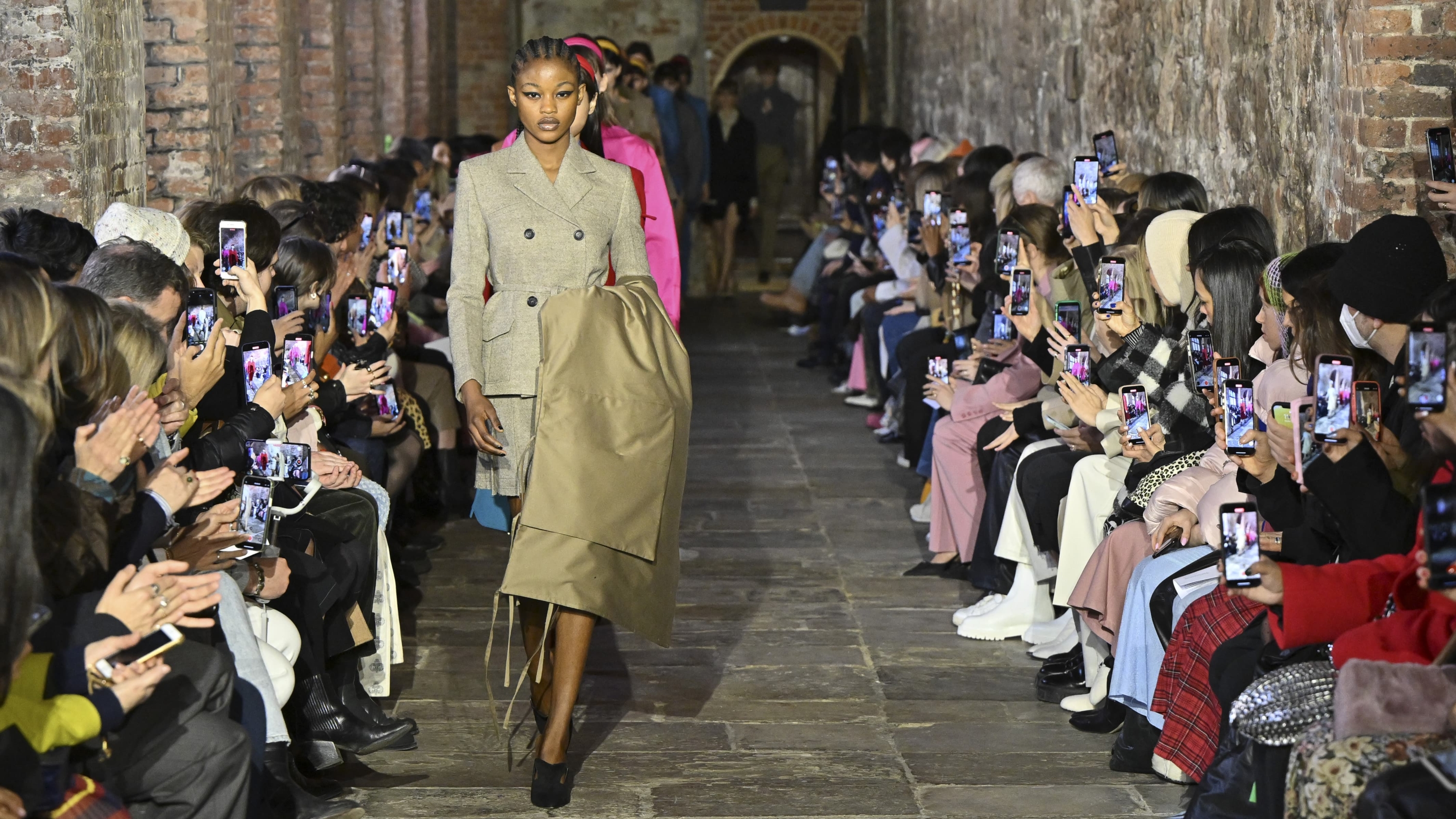 Crap and chaos aside, the notions of collective problem solving, communal growth, and genuine, transparent relationships are paying off for many firms that offer personal service and budget-friendly deliverables.
I wanted to offer brands a new view of the communications landscape – a more flexible approach and tailored packages that suit the brand's needs and internal strategies. Every PR strategy should be different as each brand has a different message and goal.

– Anna Brennan,
Founder – AB Comms
And budget. Lindsey Solomon of Lindsey Media is one of a handful of smaller-or-flying-solo PR firms paving a path for young brands who want excellent service without the powerhouse price tag. Currently a team of two, Lindsey Media, who counts Collina Strada, Anne Isabella, and Sandy Liang as clients feel they can do more with less overhead. "I set myself apart by being able to offer brands my services for a smaller retainer. As they grow with me, so does their scope of work." For Solomon, the proof is in the pudding: such is the growth around his client Collina Strada, the PR had to host two shows throughout the New York schedule to accommodate its audiences.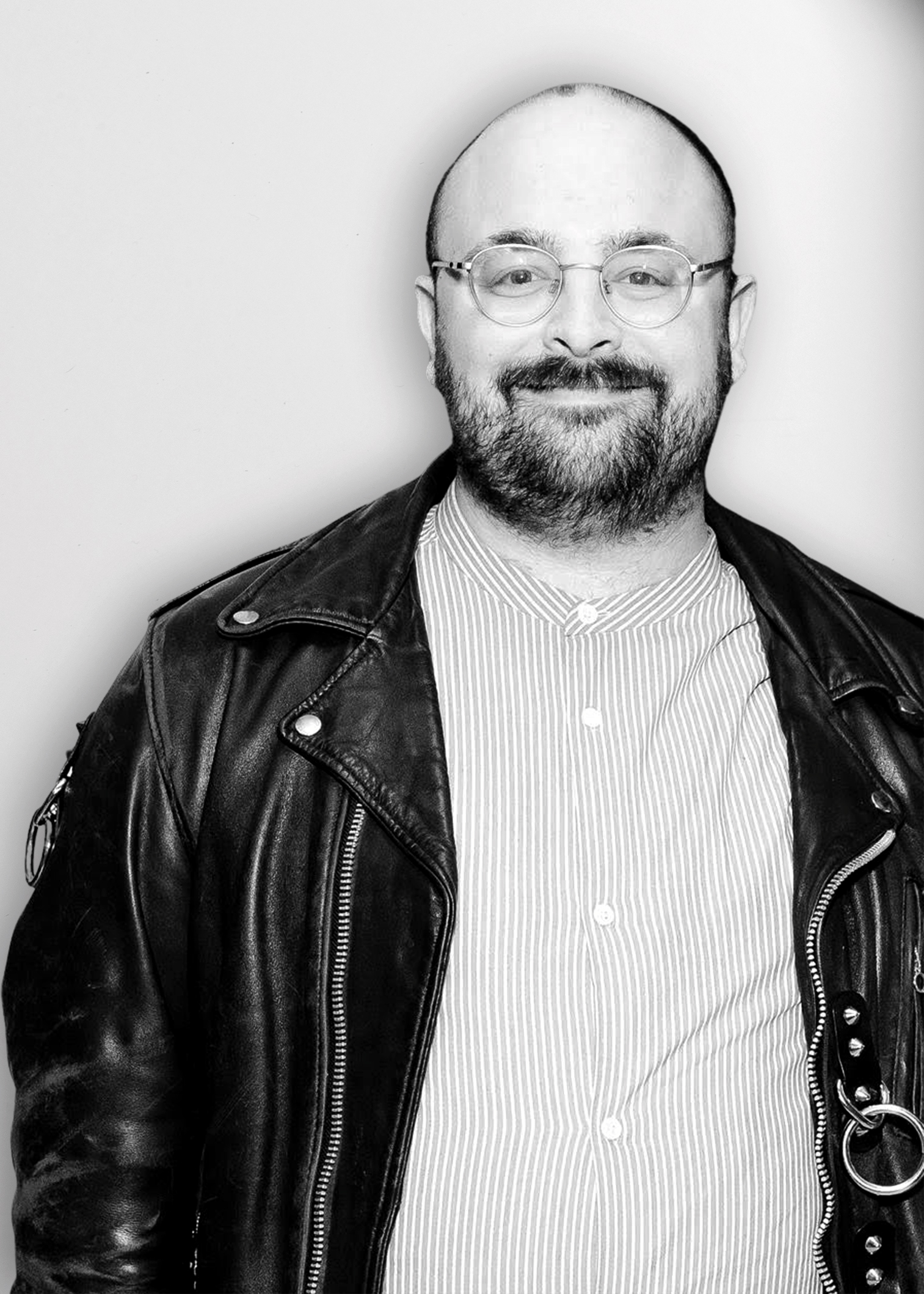 It's not about how big your team is. It's about how you organize your resources."

– Lindsey Solomon, Founder – Lindsey Media
The Full Service
Not only has scale shifted, but the scope of the job itself: "As PRs, our jobs have changed: we need to adapt, be more creative, think outside the box when it comes to new launches, events, and shows. These days, we focus our efforts on digital pieces, brand features and talent partnerships," explains Anna Brennan.
To a PR ten years ago, the job would be unrecognizable. Its scope now includes an umbrella of creative services, from creative direction, image consultancy, analytics, content creation, brand building and influencer marketing, allowing firms to add value to their clients' work in a myriad of ways. Former KCD alumni and founder of Platform PR, Marco D'Angelo, whose clients include Roberto Cavalli, Monse, Oscar de la Renta explains the evolution and thinking of this latest group of PR founders.
I don't consider myself a publicist anymore, but rather a brand strategist. The client wants 360 advice on everything around your market. It's not enough to tell a story to the press, part of our job is to put all the piece together and present it to the client.

– Marco D'Angelo, Founder / Chief Strategist – Platform PR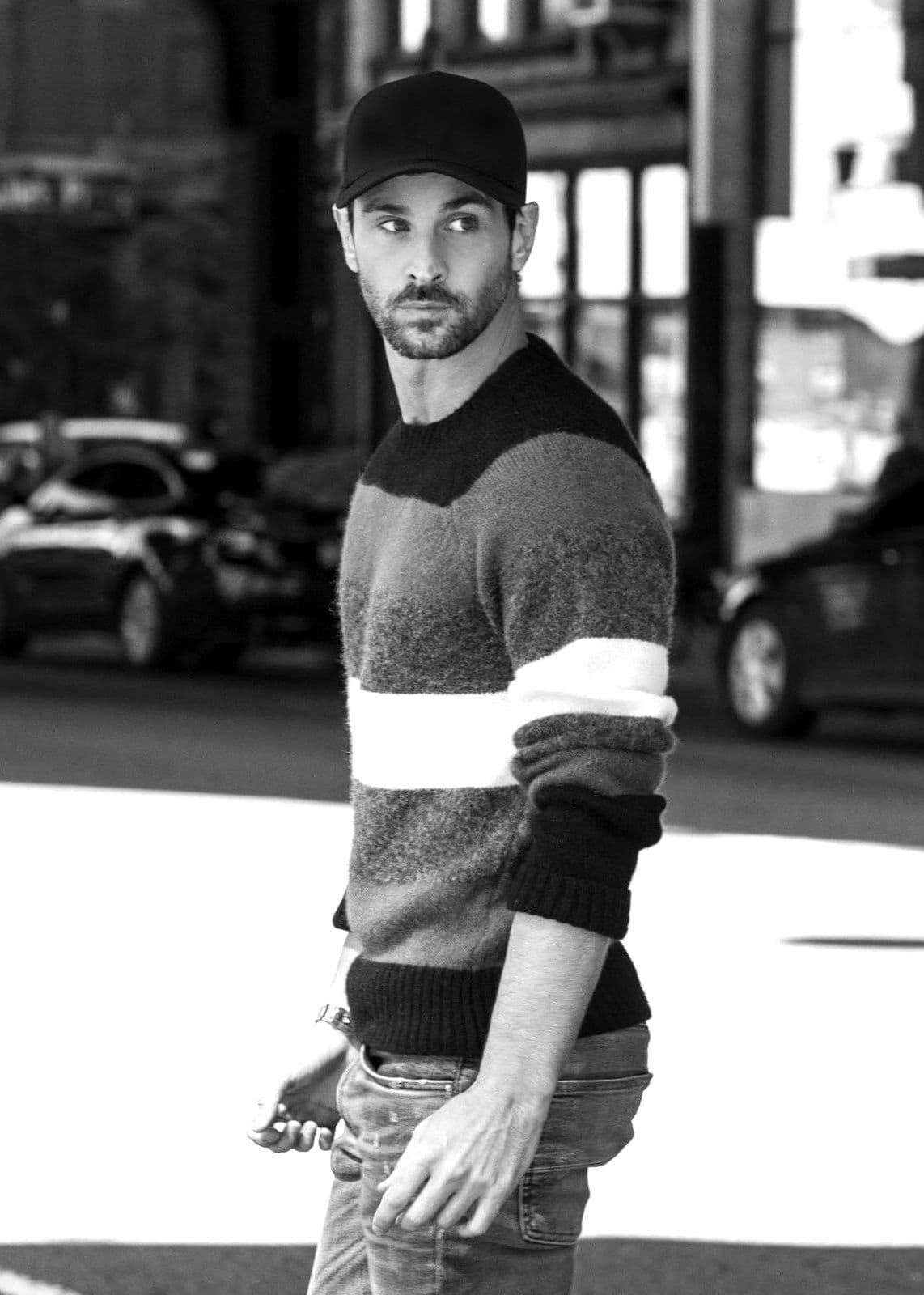 Raven's Sophie Jewes adds, "It's almost impossible to deliver interesting, intuitive communication services if you only deliver PR. Communications alone can't ever lead smart people to interesting results."
"At Raven, we wanted to identify and lay claim to jobs that publicists do that they don't get credit for. We felt empowered to go boldly into talking about ourselves as more than a comms company. And it's been a huge part of our success," explained Jewes, whose work with many of their brands is solely based on their creative services and culture marketing.
"We've been working across the revival of the Juicy Couture brand for the past two years in close partnership with our client The Batra Group, who hold the license," explains Jewes. "At the outset of our work together we were welcomed into the 'what does Juicy mean for today' conversation, and given the freedom to bring the best of our insight to the table."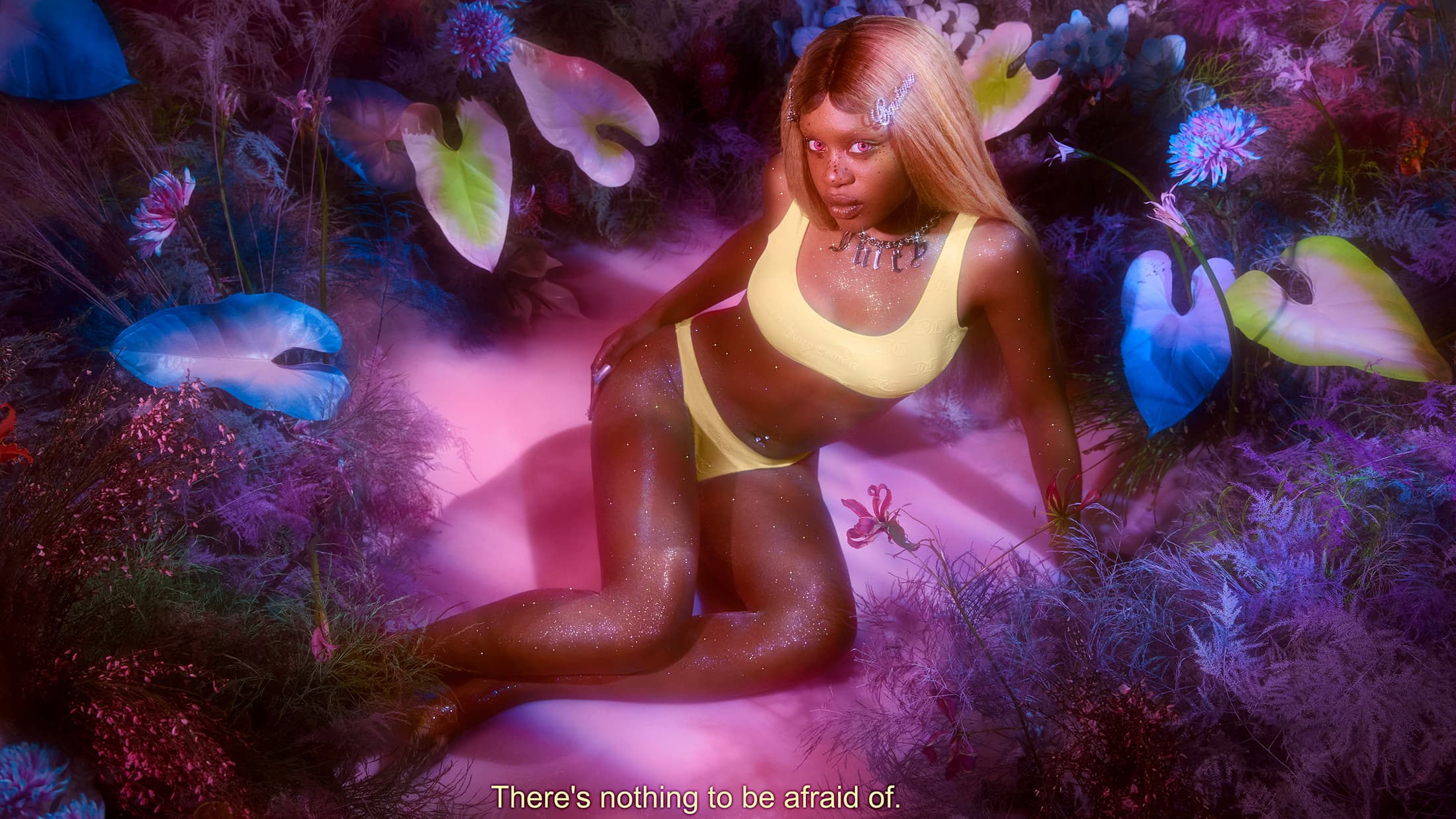 Their work together shows – the label is flying and has managed to re-capture the zeitgeist of the Y2K revival – part testament to Raven's creative services and youthful team with their finger on the pulse of current culture. "We creatively direct, cast and produce seasonal and inter-seasonal campaigns; overseen communities and alignments work; we get involved in the way that ecom shoots and styling comes together. We really go deep. At Raven, we consider it our job to cleverly shape the way a brand that's as storied and well-loved as Juicy can evolve and adapt, and ultimately stay relevant."
We're getting our hands dirty and directly impacting what potential customers see and experience from a brand, not just what they read about in the press. We actually shape the brands output."

– Sophie Jewes, Founder &
Creative Director – Raven
It's not just the brands output PR firms are shaping. At Platform, D'Angelo has helped grow his brands internally: "I recommended a designer to one of our brands and now that he is the creative director , the brand mentioning has increased of over 450% in the last 2 years," he explains.
New York's Lede Company is another prime example of how a full-service, multi-integrated PR agency can deliver a 360 package, with the potential to provide mega-growth for their brands using multi-faceted services. Founded in 2018, Lede Company combines six diverse talent divisions from music, fashion, media, tech, talent, beauty & wellness and lifestyle to form a new mega-strain of PR set-up with powerhouse capacity.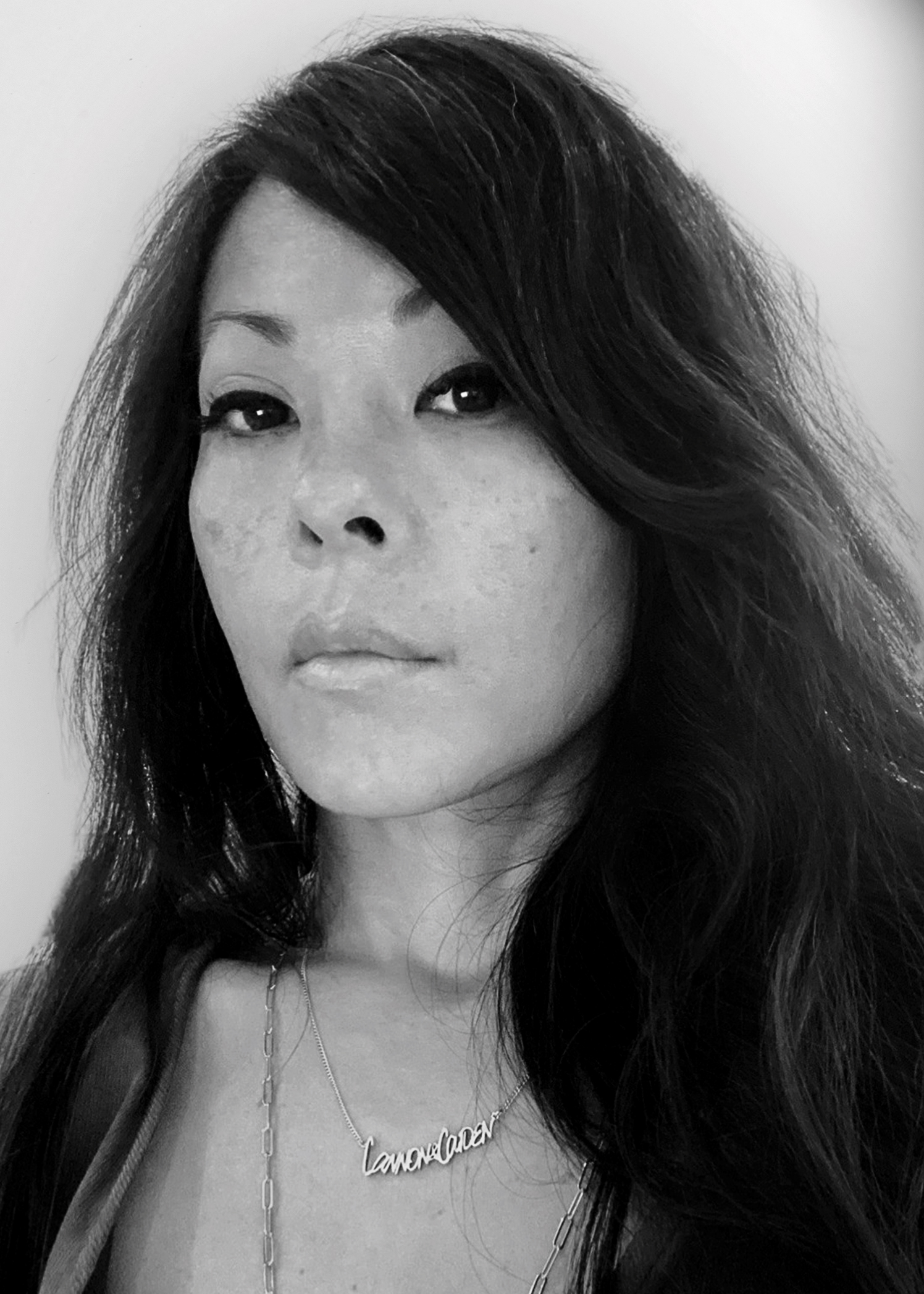 We're not a traditional media firm; we're a cross-pollination of industries (music, fashion, media, tech, talent, beauty & wellness) – that enables our team to truly think outside of the box for our clients.

– Christine Su, Co-Founder and Co-CEO – Lede Company
With an endless talent roster that includes 250 celebrities, a plethora of media companies such as Netflix and Whatsapp and New York darling fashion brands from Proenza Schouler, Thom Browne and Altuzarra, Lede's portfolio offers a bounty of endless potential creative partnerships on a global scale.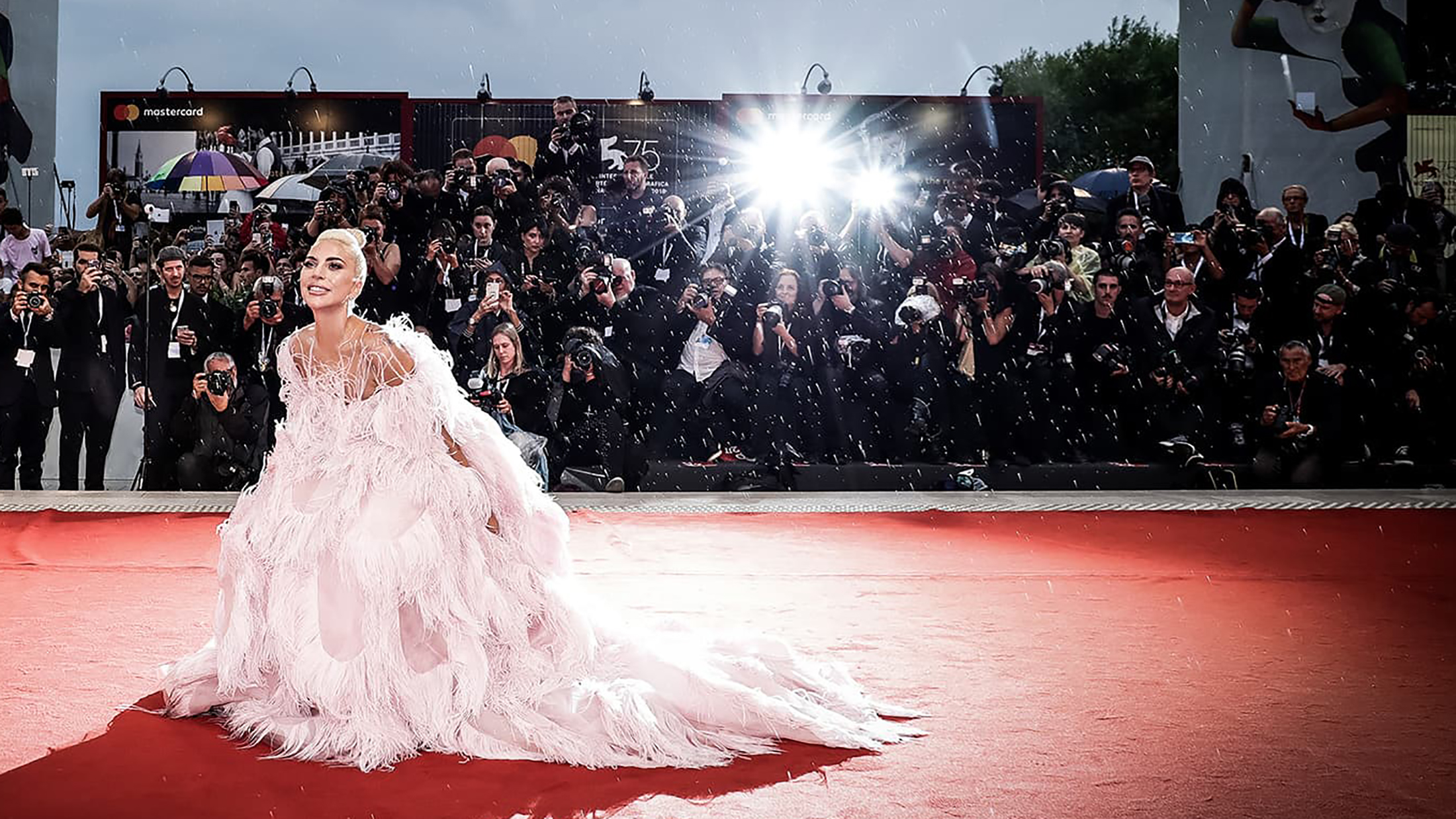 "One of our clients – Pangaia, is a great example of how we can collaboratively use our contacts and talent to build brand awareness from the bottom up, explains Su, "We could cross-pollinate across our celebrity divisions and have Pangaia promoted on several KOI's in a peak moment when sweatpants were soaring."
How to measure that success? "When I saw someone wearing Pangaia at my local grocery store, I knew I'd done a good job," smiled Su.
PR With Purpose
With many agencies now offering a plethora of creative and strategic services, one could argue they may be spoilt for choice. As such, brands are increasingly aligning with PRs that echo their core values. In the case of Lede Company, many will recognize their client Pangaia for their brightly colored sweatpants, but Pangaia has roots planted in sustainability and social responsibility.
Consumers today really care about what brands do. I believe that a truly successful brand taps into culture – be that art, music, sustainability – social responsibility."

– Christine Su, The Lede Company
As the aforementioned PR firms buckled under the strain of the pandemic, Lede Company was able to double their business as brands increasingly turned to them for such advice: "They needed us on the forefront of culture: of social injustice, Black Lives Matter, what to say – what not to say, how to react. We became an advisory on how to navigate the climate," explains Su. So strong is that ethos that Lede Company launched their own Social Impact Division, offering advisory and consultancy for clients around sustainability and social responsibility, including a SWOT brand discovery to help them stay on track with their goals.
For Raven and their team, culture is part of their DNA. "We propose Raven as a cohesive ecosystem. We've always communicated about fashion happenings with wider societal insight." explains Jewes, adding, "It was almost impossible to do that at a larger firm."
For PRs, the relationship works both ways: growing the 'right' client list is more important than becoming the largest.
"If I don't feel it – it won't work," says PR legend Lucien Pagès, who, although not new to the game (his eponymous PR firm was founded in 2006), knows a thing or two about the changing face of PR and when to trust his gut. "I like to work with creative people who are moving with the times," Pagès tells The Impression.
Many of my clients are a new generation of designers who are really aware of the industry – they know they have to have both product and community and understand what's going on with the world."

– Lucien Pagès
Founder – Lucien Pagès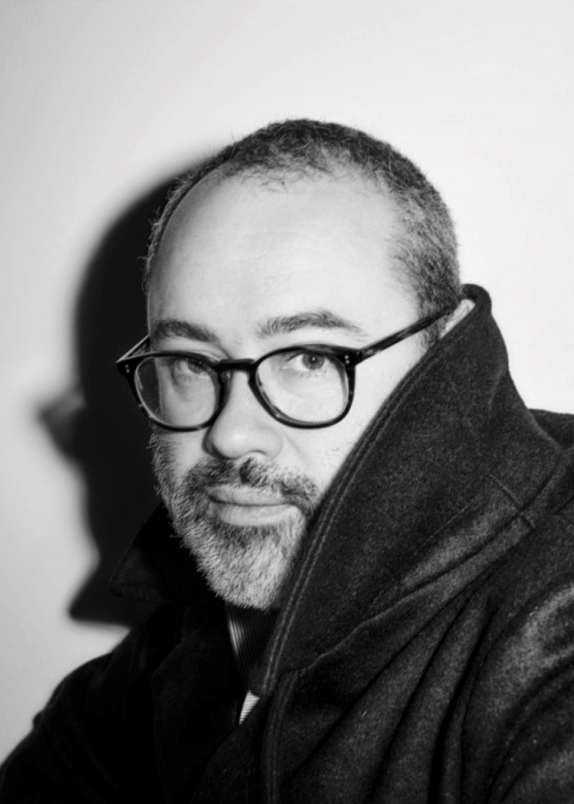 One has to only attend a Lucien Pagès show to understand that power. Although almost 16 years old, the firm has managed to remain 'boutique' in size and maintain all the buzz, attracting 'it-brands' like Peter Do, Ambush, Schiaparelli, Y/Project, Sacai, Courrèges, Coperni and others, all the way to brands making products with purpose, such as social-justice brand, Sheltersuit. Pagès clearly has a knack for the right talent – at the right time.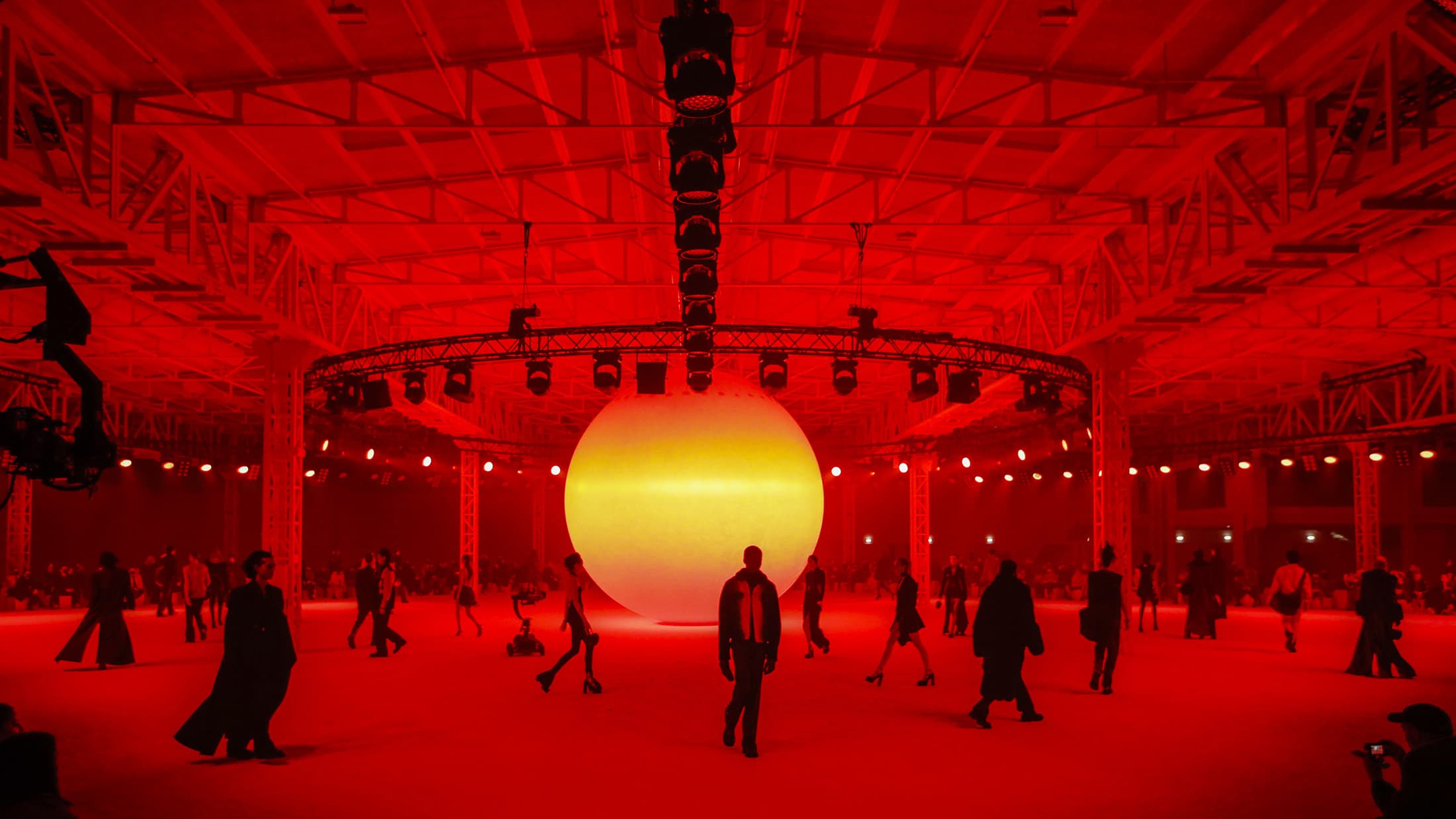 New Tools For A New Era
"Editorial opportunity has shrunk in the last ten years," comments Jewes of Raven, " You used to be able to stage a show, invite your press and the next day, you'd have three or four pieces of print coverage without having to break a sweat. It was a different world entirely."
Similarly, 16 years of expertise have allowed Lucien Pagès to witness the PR pendulum swing from celebrity endorsements, the rise of the internet, the demise of print, the influencer economy and back to the celebrity again. "So many things have changed, yet nothing has changed!" laughs Pagès, "What's changed is the tools. We now have the tools to make everything more well known, more powerful, more 'buzzy.'"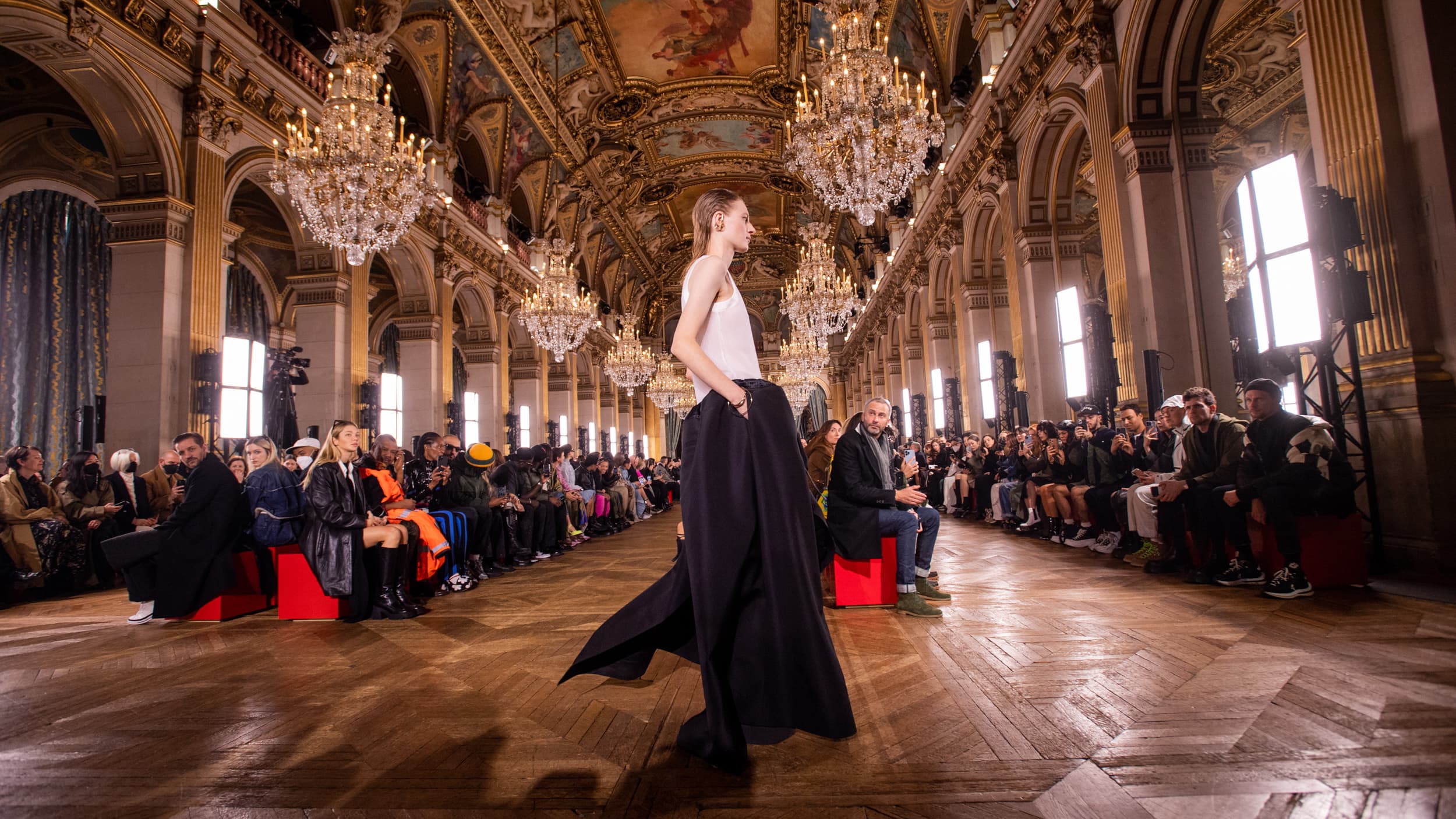 As print faded, many PR agencies and their brands have turned to such platforms as quicker, more reliable channels of media distribution and product placement. For younger, 'buzzy' brands, the influencer economy is an integral part of their own culture, thus natural in the language of their communication strategy, be it at shows or across their media platforms.
Likewise, for many new PR agencies such as Lindsey Media, these new 'tools' are very much part of their strategy around show season coverage. "Before ticket allocations I work out how media is going to cover showss," explains Solomon, "I take a 360 approach to the potential deliverables: 'who's covering it on TikTok? who's covering it on Instagram? who's writing about the show?' – I'm interested in this different, exclusive angles," he adds, clearly on the pulse of the tools he needs to amplify his message.
It's not just output. New tools for a new world have disrupted the internal mechanisms of how PR's navigate their work with brands today.
Internally, at Lede Company, the clients they work with are kept up to date with internal communications showcasing the latest trends, or workshops enabling their brands to learn about everything from the Metaverse to Cryptocurrency and everything in between. "We all learn together when things change," surmises Christine Su.
It seems PR is increasingly less about communication and more about community.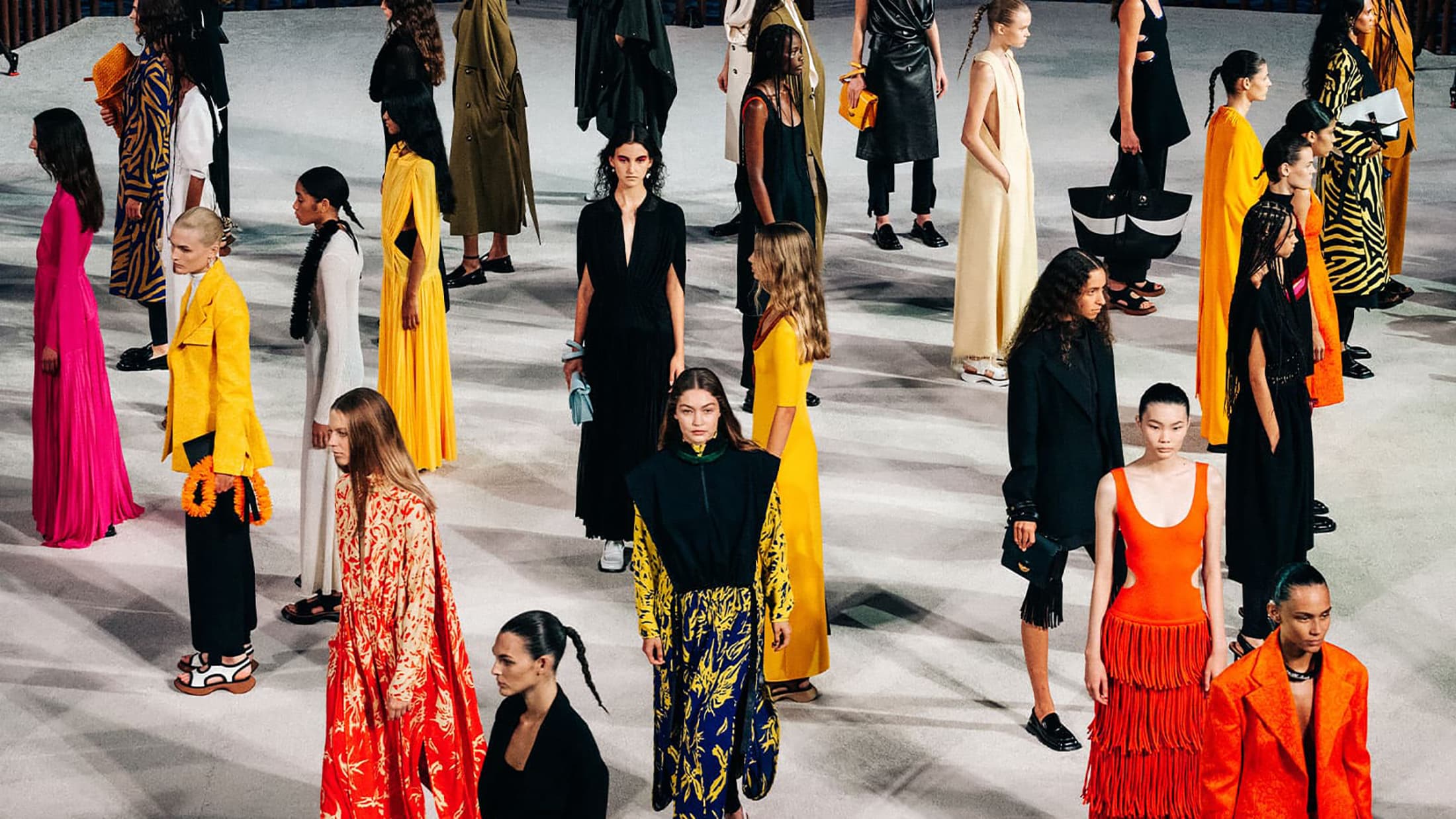 One could argue that the democratization of the industry has equated to a more direct line between the consumer and brands, so what's the need for a PR representative in 2022 when social is king? "That's not a long-term vision," states Pagès, "A long-term vision is building a brand – one with a strong foundation."
Of course you can have success on Instagram and sell product, but that won't last. There will always be someone else who will come along. Maybe they'll have a better product, better price – and better imagery. It never lasts when there is no foundation. It all comes back to the story."

– Lucien Pagès
That's where good PR and the amplification of its seemingly endless possibilities come in. It's all about a good story, end of story.
---