By Anna Ross
What's Next For Luxury Retail? The Impression Explores Five Innovative Strategies For In-Store Success In A Post-Pandemic Climate
Introduction
2020 saw the world shift online as stores were forced to shutter and consumers asked to stay at home. According to consultants Bain, online luxury sales grew by 50% in 2020, even as overall revenues declined by an average of 23%. This type of growth isn't predicted to ease post-pandemic: according to Statista, the fashion e-commerce market is expected to grow at 11.4% per year to reach a total market size of $1003.5 billion by the end of 2025.
This growth comes at the sacrifice of traditional bricks and mortar retailing. According to an analysis by Fortune and KPMG, the US saw a record 12,200 stores close their doors throughout 2020, while it's thought that the UK could lose 20% – 40% of its retail offerings.
For consumers, 'going shopping' has shifted from activity to automation, and retailers must reframe the role of the store into something that cannot be experienced via a screen alone.
Experience
For luxury fashion, there's good news on the horizon: According to research by McKinsey, post-Covid shoppers will continue to use physical stores for research and inspiration as part of the path to purchase for high-consideration items. As such, retailers must offer exclusive products and services that cannot be accessed on-screen.
Destination is everything: many brands realize the power a location can have as a means to visit. Kith's new location in Paris is housed inside a 19th-century mansion, creating a fusion of old and new, featuring teardrop chandeliers modeled from Nike trainers and an in-house restaurant and bar.
For many, the extension into dining is an obvious win for larger footprint stores. It creates a point of difference from a brand's digital entity and invites customers to stay awhile, capturing further opportunities for spending.
Fendi, Anya Hindmarch, Louis Vuitton, and Browns have all entered the food space with everything from branded Vuitton chocolates to full-scale Fendi-Cafés.
In-person experiences such as product personalization, beauty treatments, art installations, and in-house workshops are reimaging the store's future as an experiential community hub. Dior's newly opened ABCDior pop-up in SoHo, New York, captures the mindset of their clientele by offering an exclusive product as well as an in-house experience. In London, Stella McCartney offers talk series, music performances, and art installations inside her flagship in London. These experiences are an obvious creative extension of identity for luxury retailers and re-establish retailing with a meaningful personal connection.
Immersive, interactive experiences are not only the perfect Instagram fodder but a reliable marketing strategy for brands such as (socially-mute) Bottega Veneta.
The brand has recently designed a range of sensory shopping installations across APAC, such as Shanghai's mirrored "Invisible Store" and an audio-sonic landscape in Seoul, both designed to play with human senses and create one-off, in-person experiences that leave an impression beyond the click of a button.
The Power of the Pop-Up
With many brands rethinking their larger retail spaces post-pandemic, the tried and tested pop-up model proves an agile way to test business innovation, shift unsold inventory, and increase consumer awareness on a smaller, more cost-effective scale. Add to that the ample of empty real estate left behind in Covid's wake, and you have yourself a win-win for both landlords and retailers.
Across the UK, the model is proving effective in filling up empty retail spaces while giving a platform to emerging talent.
By partnering with The Lone Design Club (LDC), landlords are utilizing vacant space to create 'shoppable windows' equipped with QR codes that create a 'phygital' shopping experience. The LDC states the windows are "…driving community engagement, with shoppers three times more likely to purchase online having seen the curation in the windows."
The concept has seen such success that some 44% of units are now under long-term let, with the scheme intending to roll out in Milan, Paris, and Berlin throughout 2022.
This more localized strategy will become more popular. Flexible working has led to a decline in inner-city living and corresponding commuter spending. This behavior is set to outlive the pandemic: According to an Accenture global survey, 79% of consumers plan to continue shopping in suburban neighborhood stores or buying more locally sourced products long term. Brands should strategize to show up where it makes sense, all the meanwhile testing new audiences and scope out locations for future stores.
In the meantime, luxury brands are partnering with larger retailers as a safer short-lease bet until tourism returns to the streets. Rag & Bone have tapped into the 'local' sentiment with their New York Deli-style pop-up across Nordstrom, while Harrods used the pop-up model to shift unsold inventory in a more value lead market at Westfield Shopping Centre, London.
Of course, the beauty of the pop-up is its buzz-worthiness, and brands should ensure their space captures that 'experience factor.' Many brands are synergizing both physical and digital realities, creating spaces that utilize augmented reality (AR) and virtual reality (VR) to enhance the experience with digital touchpoints.
Staying local to London, J.W Anderson's new pop-up in Selfridges will utilize QR codes that trigger nature-inspired AR visuals, while Burberry's latest pop-up in Harrods fuzes Ricardo Tisci's narrative of world's old and new with AR that envisions the Greek Elpis statue in a digital dimension.
Virgil Abloh, the master of 'hype,' has conjured many interactive pop-up experiences that tap into the 'phygital' for Louis Vuitton, with new experiences planned this summer in Paris. His animated mascots' Zooom with Friends' (first introduced throughout his S/S21 campaign) comes to life via AR, activated via QR codes which allow visitors to interact with characters on-site and create shareable content.
Technology
Both digital experience and digital consumerism are the 'the new normal,' and according to research conducted by Salesforce, 88% of customers now expect companies to accelerate digital initiatives post-pandemic. This should not be restricted to e-commerce strategies but should be embraced as an omnichannel approach to the customer's entire shopping journey.
Throughout 2020, Burberry quickly took their online success in-store by creating the world's first "social retail store" in Shenzhen, China. In partnership with Tencent, it's designed to allow customers to interact with and be entertained in person and on social media, allowing visitors to unlock personalized assets that enhance both the on and offline channels.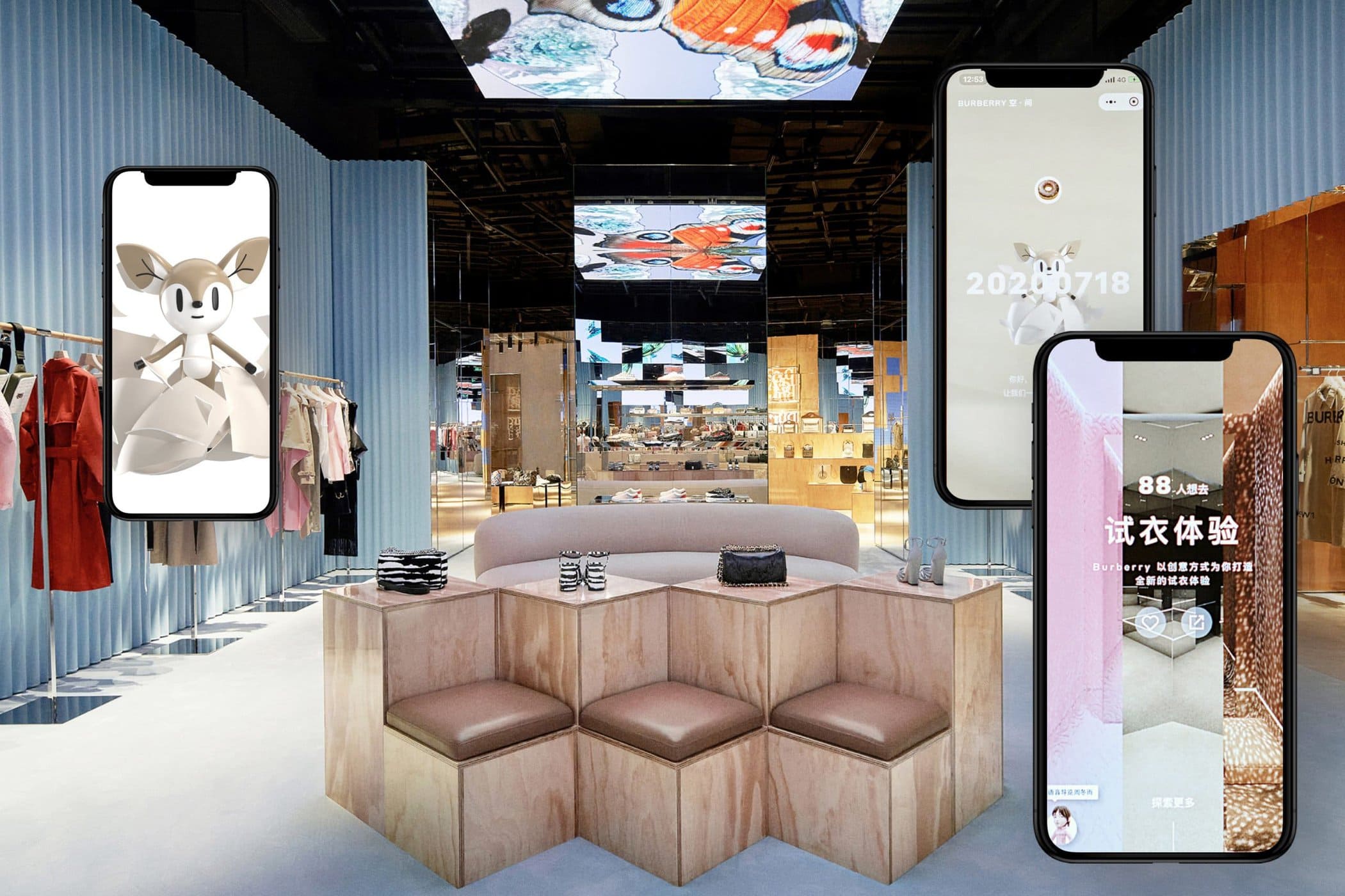 Flying the flag for omnichannel digital experience in-store is Farfetch-owned Browns, whose new Brook Street location in London blurs the boundaries between on-and-offline. "With the new store, we are bringing together everything we have been working on for years. It just so happens to be a landing at an opportune time for customers who now realize the importance of technology after so many months of being fully digital," says Holli Rogers, Chair of Browns.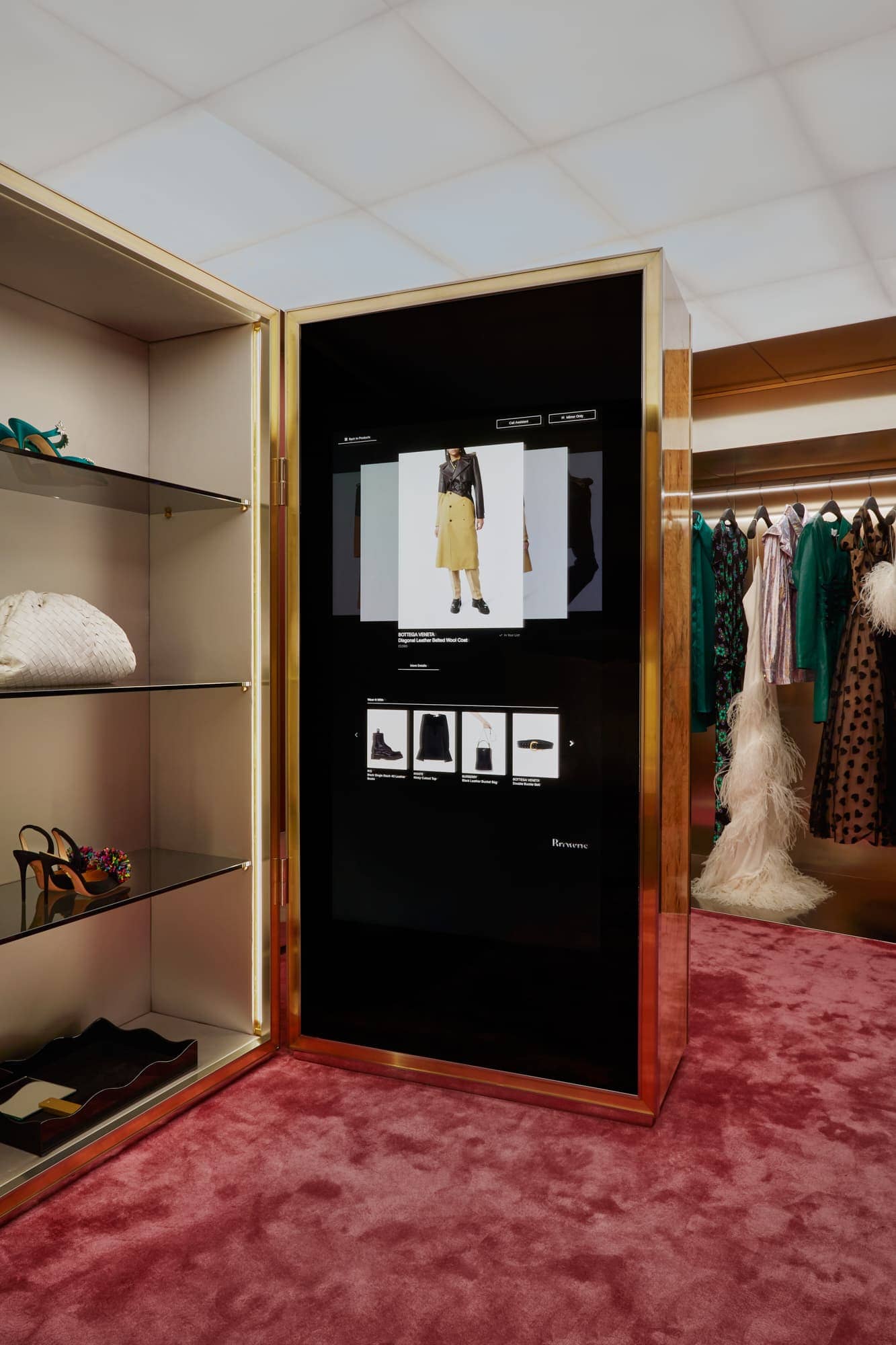 The journey allows a 360 connected experience, from the website, the store, and customer services. For customers, an app joins the dots between online and offline activity: customers can use it for virtual try-ons, book tickets for in-store events and while in-store, activate QR codes, and connect with customer assistance. For Brown's store associates, the app allows instant access to the store's global inventory and links them to customer's profiles to provide fast, hyper-personalized service.
Once a meta-concept, virtual mirrors are now very much a reality, and for Browns, they enable storytelling and rich product discovery at the moment purchase decisions are made. Their connected fitting rooms provide styling advice, show stock levels, and allow customers to discover similar items in store. "It will appeal to all of their senses; we will introduce a truly connected journey as we know that clients want to experience us in both the digital and physical realm," Rogers tells The Impression.
Cross-Industry Collaboration
As retail re-finds its feet, collaboration is proving a pivotal way to get businesses back up and running, utilizing both physical space and capturing demand across sectors.
As London reopened its retailing doors in April, Stella McCartney's Old Bond Street flagship store played host to six weeks of in-store collaborations, celebrating local businesses across sectors as part of her #stellacommunity campaign. Each week a local business was able to utilize floor space inside the store, seeing everything from local florists, coffee roasters, and eateries capture some of McCartney's footfall while increasing their own brand awareness while enhancing the Stella McCartney shopping experience.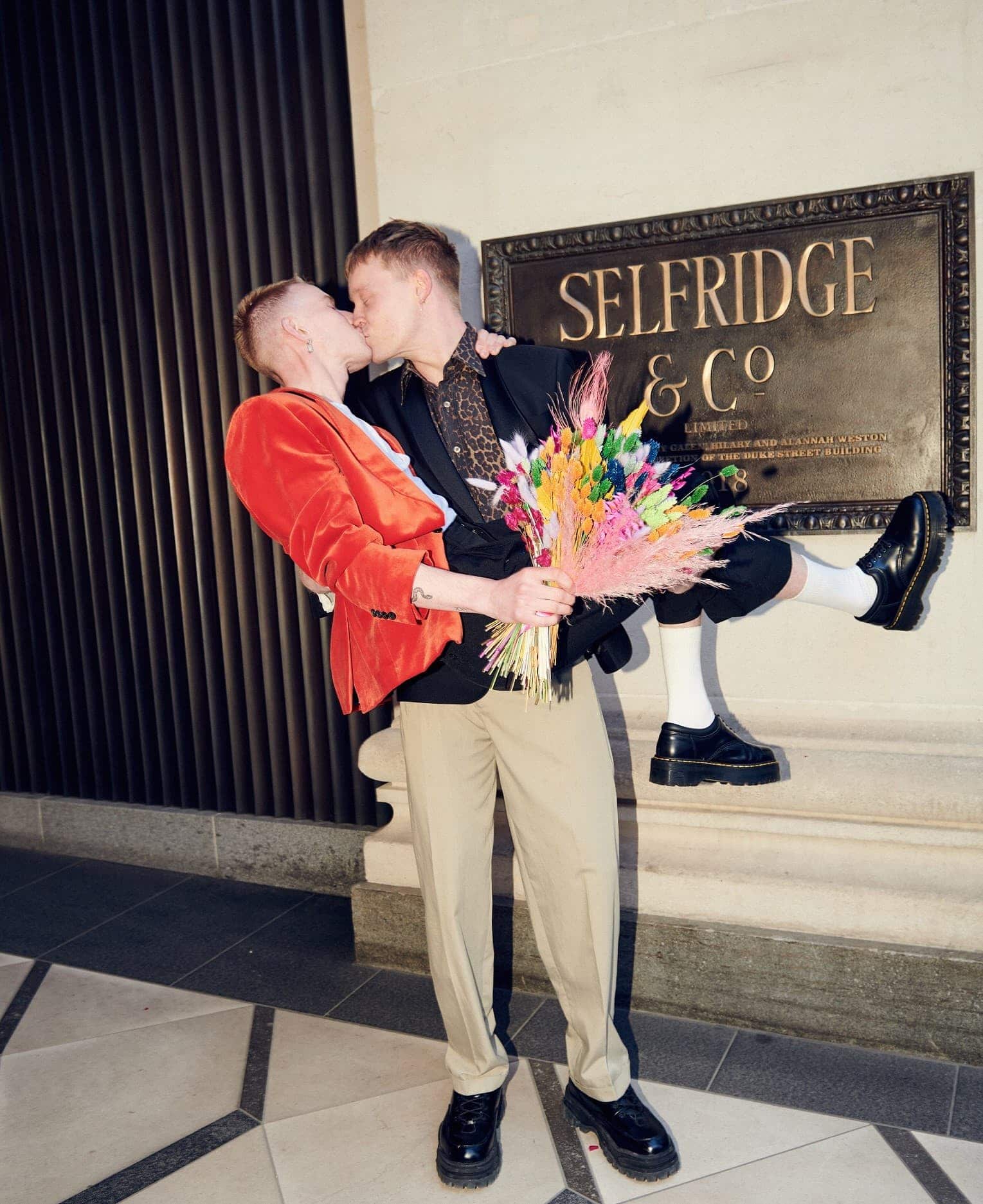 In the same vein, Selfridges captures the boom in the wellness industry by collaborating with SoulCycle, setting up an outdoor spin-space for customers right next to the store. In another clever move, the department store has stepped in to offer space for weddings, a badly hit industry throughout the Covid-19 pandemic. Their service compiles the full "Selfridges experience," including styling appointments, hair, and make-up by their beauty concierge, a wedding hamper from their food hall, and a cinema screening at The Cinema at Selfridges.
Retailers should think out of the box regarding how to best utilize large spaces and consider collaborating and supporting industries with a backlog in demand post-pandemic.
Sustainability
As consumer awareness increases around fashion's mounting sustainability problem, many retailers are ensuring their physical space boasts just as many sustainable credentials as their product.
Green Pea in Italy is a prime example, a space branded as "the first green retail park in the world." Built from recycled materials, the mall consists of four floors of eco-innovation, running off entirely renewable energy. From electric cars, green-banking, biodiverse restaurants to eco-beauty and luxury fashion, the mall consists of over 15,000 brands and is quickly becoming an attractive retailer for designers who wish to align their own commitments to sustainability with the mall's ethos. The mall has recently welcomed Ermenegildo Zegna into the store, showcasing their 'Use the Existing' range, made with materials recovered from the production cycle.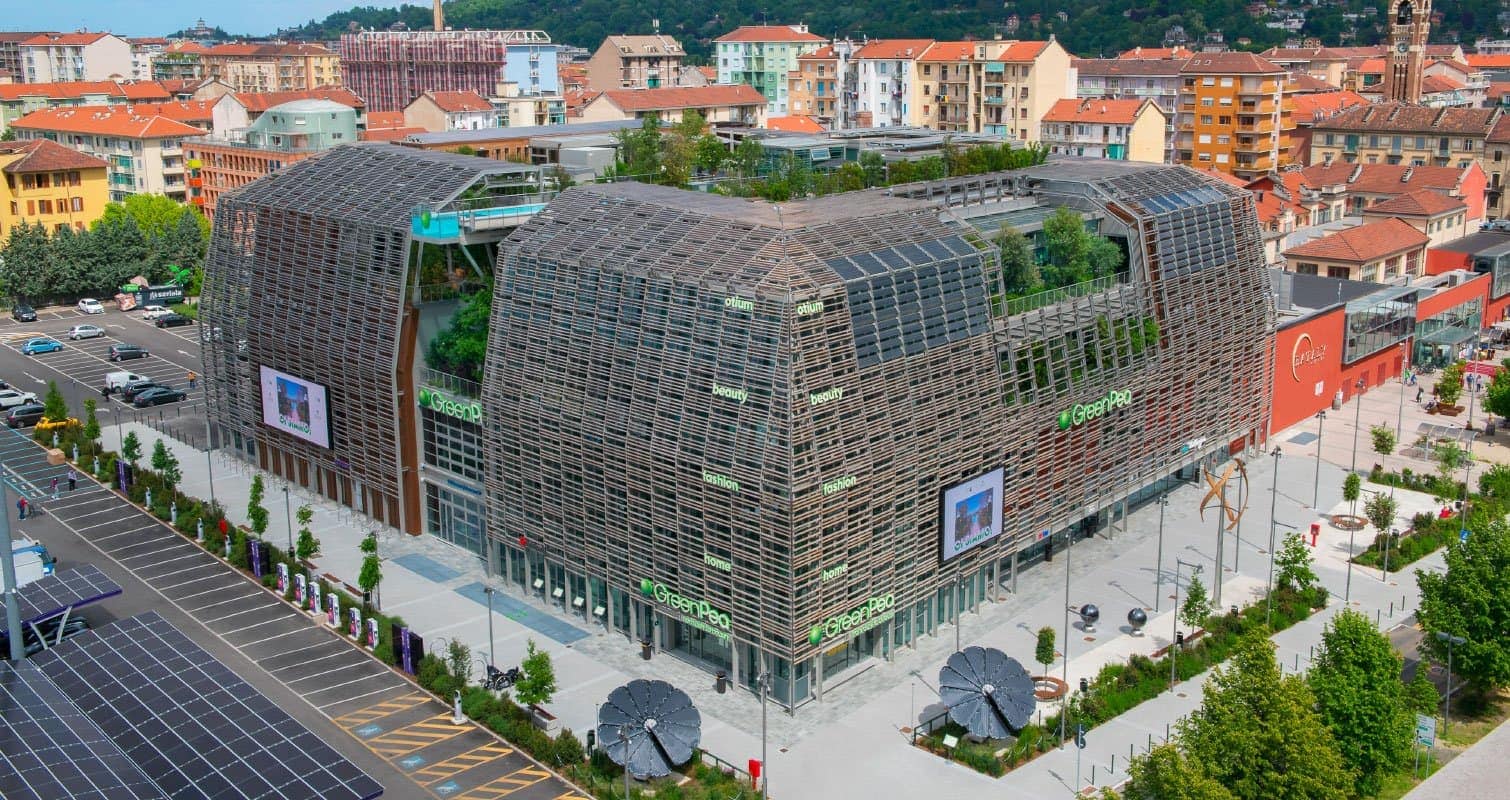 In São Paulo, Conceito ê uses its store as an environmental statement around the Amazon's rapid rate of deforestation. Their store envisions a post-consumerist future, whereby the forest reclaims the city's malls. Composed of upcycled tiles, plants are placed around the store in biodegradable cardboard structures, enriching the soil and encouraging greenery to grow wild around an entire buy of sustainable home, lifestyle, and fashion brands from the region.
In a growing bid to increase consumer awareness around sustainability, many are taking in-store activations to highlight both experience and sustainability in one.
Earlier this month, we spoke with Anya Hindmarch, whose Plastic Store will play host to a running schedule of talks, debates, and pop-ups around sustainability and circularity. Similarly, Stella McCartney is working alongside Alice Eady for Earthrise in a series of workshops and lectures, streaming from both the flagship store and their Instagram channel.
Rent, re-sell, and repair strategies are fast gaining traction with eco-conscious consumers, and many retailers have been quick to highlight such services in a physical retail environment. Both Selfridges and Liberty London have captured the rising trend in rental, hosting pop-ups and permanent fixtures from digital rental platforms such as HURR and MyWardrobe HQ. Repair services are gaining traction to bring customers back in-store and strengthen their relationship with the brand while reviving a product that could otherwise end up in the landfill. Last July, Veja opened a store dedicated to cleaning, recycling, and refurbishing old shoes. Selfridges has dedicated services such as The Restory and The Barbour Factory offering customers an opportunity to visit and revive their most loved items.
---