How Tailoring Took Over Fashion: The Resurgence of Classic Style 
By Lizzy Bowring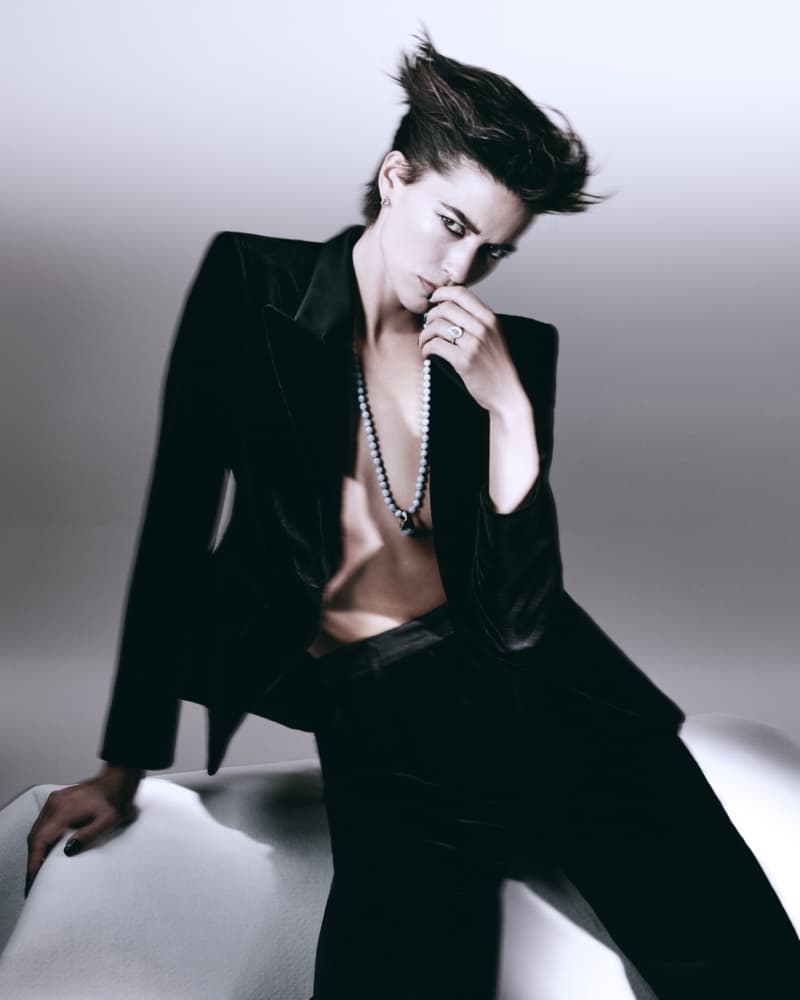 The fashion industry has significantly transformed in the last two years, with a notable push towards sophisticated Tailoring. This trend has been rising since the days before the pandemic in 2019 and was only interrupted by the emergence of 'work from home, comfortable clothing.' The Impression delves into why and how women's suiting has grown in popularity, the distinguishing attributes, and what the future holds for this enduring trend.
In acknowledging the demand for a renewed emphasis on dressing for individuality, brands have presented a unique view on tailoring, in practical, timeless pieces, bespoke in appearance, styling, and construction, yet designed to be worn by everyday women. This evolution reflects a broader societal shift towards gender-fluid fashion as consumers push back against traditional gender norms and expectations. Additionally, tailored suits can offer a powerful and sensual femininity while being versatile, and sustainable. This theme of "Sartorial Tailoring" represents a fresh start for a new era with a minimalist and streamlined appeal emphasizing simplicity and efficiency. But it has also been a powerful symbol of societal messaging and a component of cultural changes since the early 20th Century.
Index
Data analysis: The 'reel and thread' of the future growth of Tailoring.
The Impact of Early societal implications. From riding habits and suffragettes to the revolutionary designs of Coco Chanel and Marcel Rochas, societal messages highlight the cultural and legislative progress toward gender equality.
A Symbol of Professionalism and Empowerment for Women: The Power suits symbolize professionalism and personal style, allowing women to challenge traditional gender norms and express individuality.
The Perfect Fit: How Women are Reshaping the World of Tailoring. An insight into the current resurgence of the perfect-fitting suit.

Data analysis
Over the last two years, Tailored looks for women have significantly increased. According to the National Bureau of Economic Research, women's participation in the workforce has grown from 32% in 1950 to 57% in 2016, which explains the growing popularity of tailored clothing and suiting among women. In a market research firm Mintel survey, 67% of female respondents reported purchasing tailored clothing in the past year, and 51% said they planned to buy more. Blazers have become increasingly popular, with A/W 23/24 collections featuring essential items that enable versatile use across different occasions, reflecting the growing trend for smart, timeless classics. The Blazers segment is expected to have revenue of US$39.43bn in 2023, with an annual growth rate of 2.83% (CAGR 2023-2027). However, most gain in this segment is generated in China, with US$23,230.00m in 2023. According to Statista, the estimated sales for the Suits & Ensembles segment amounts to US$7.17bn in 2023, with an annual growth rate of 1.38% (CAGR 2023-2027) and a volume growth of 1.8% in 2024.
Barbara Maiocchi, Ceo & CO-Founder of Livetrend, weighs in on the increase in Tailoring – "Everything around Tailoring is making a buzz—Formalwear is growing 12% on Instagram and 500% on consumer interest YOY. Casual business attire is the favorite style, rising +450% in online searches. For the next season, brands will focus on upgraded essentials but won't be short in dramatic styles with sharper and more pronounced silhouettes. Tailoring and blazers are predicted to rise +21% in future assortments.
These are encouraging signs, but on reflection, there also exists a common thread throughout History, which is about the elements that shape the rise of Tailoring.
The Impact of Early societal implications
Women's Tailoring has come a long way since the early 1900s and reflects the progress toward improving gender equality through the societal impact of fashion and is a testament to a broader cultural progress. From the riding habit, a fitted jacket, and a long skirt, women's Tailoring has been influenced by a transformation in the fight for women's rights. In the mid-19th Century, the bloomer and suffragette suits symbolized these movements – the right to vote coupled with the desire for practical clothing – it was boundary-pushing, representing emancipation on two levels. Coco Chanel revolutionized women's fashion in 1925, introducing casual comfort with chic and confident elegance; her cardigan-style jackets departed from the overtly feminine designs of the times. Following her example, Marcel Rochas produced the first trouser suit for women in 1932, which became a defining trend of the decade. Women's sartorial freedom persisted during the Jazz Age as many took up sports like tennis, equestrian, and cycling. At the same time, Marlene Dietrich's iconic tuxedos and white double-breasted suits contributed to much of the advance in acceptance and challenges in gender norms.
During WWII, women's fashion took a turn as they entered the workforce, and wearing suits became more commonplace. Katherine Hepburn defied societal expectations by wearing pants before it was fashionable for women.
After the war, there was a decline in the popularity of feminine suits as many women returned to domestic duties. However, the 1960s saw a revival in women's tailored clothing, with a record high of 40% of female workers in the workforce. This decade also saw significant legislative progress toward gender equality, including the Equal Pay Act of 1963, the Civil Rights Act of 1964, and a Presidential Act prohibiting gender-based discrimination.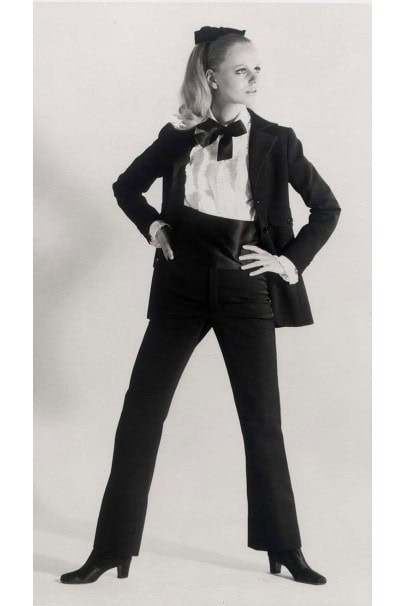 In the 1950s, Dior's "New Look" represented a return to femininity, but by the 1960s, the suit was back in full force as women returned to the workforce. Yves Saint Laurent's introduction of the women's tuxedo outfit known as "Le Smoking" in 1966 was a game-changing departure from previous styles, with androgynous fashion becoming popular in the 1970s. In the 1980s, Georgio Armani popularized the "Power suit" with oversized jackets and padded shoulders.
Understanding that Societal changes have been incremental in the attitude toward women's clothing is paramount while also considering that gender equality continues to shift. In 1993, Senators Barbara Mikulski and Carol Moseley-Braun led the drive to end the prohibition on women wearing pants on the Senate floor. Women's rights have also received more notice thanks to the #TimesUp and #MeToo campaigns. More women in leadership positions have augmented attention to women's rights and established themselves as professionals.
This transformation in women's clothing reflects an evolution in societal norms and attitudes towards gender equality while the challenges have, in many respects, contributed to women embracing traditionally masculine styles of dress; they can challenge societal norms and assert their identity through a fashion that can be both stylish and practical. And while the women's suit has received fresh scrutiny as a signifier of professional strength and authority, it also proves that investing in well-made pieces that offer a more sustainable and enduring option is an intelligent choice.
A Symbol of Professionalism and Empowerment for Women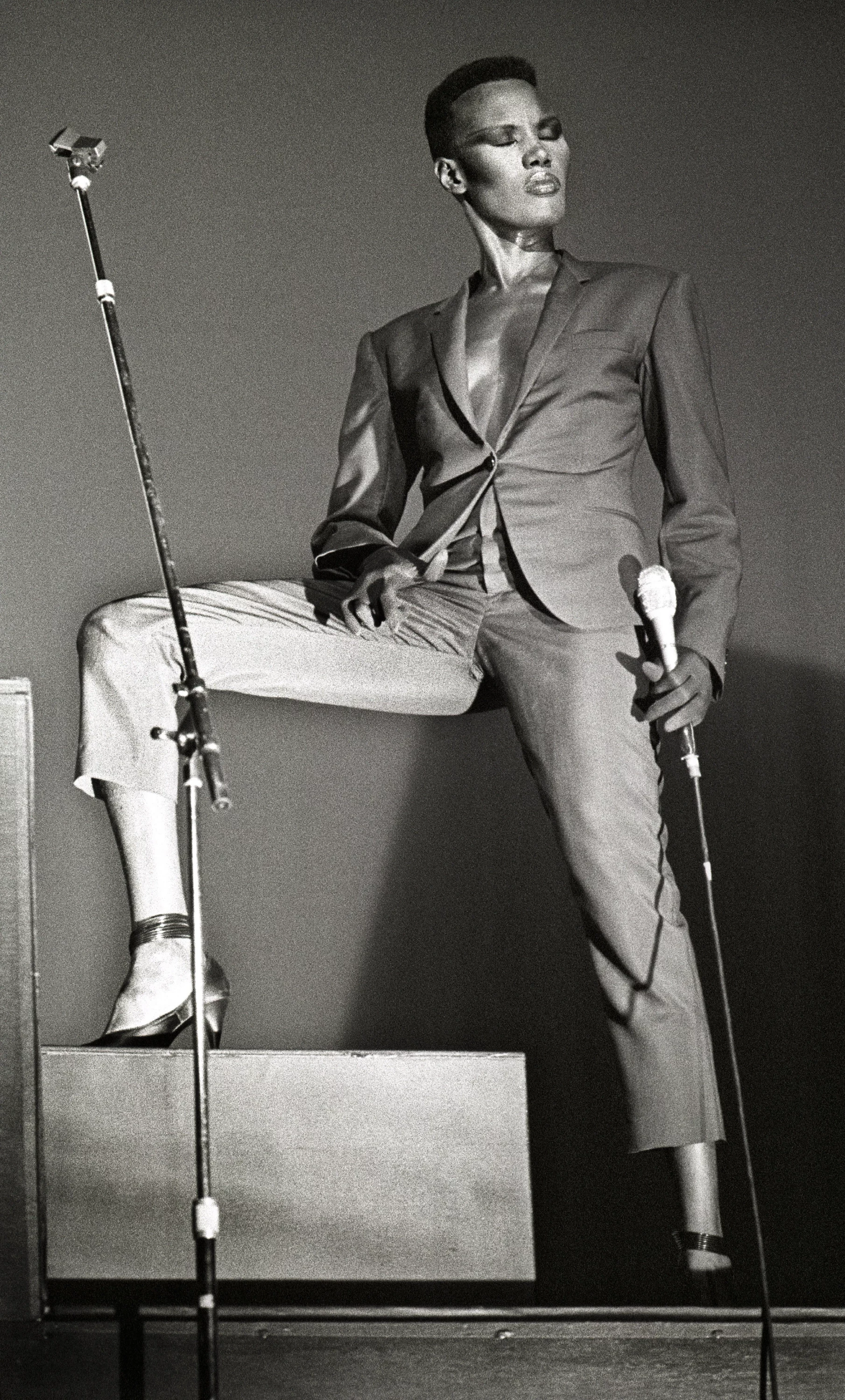 Several collections showcased an upgraded sense of minimalism and elegance as the 'Power Suit' return dominated the A/W 23 collections. We covered two distinct style variations: One, the return to classic slim Tailoring, which encompasses a return to a blend of feminine attributes, and the other, a demonstrative take on the 80s Power suit. Italian designer Giorgio Armani is widely credited with creating the modern power suit; his designs are characterized by clean lines, neutral colors, and minimalist styling, which appeals to both men and women. The Power Suit became more than just a trending piece; it symbolized women's progress in the workplace as more began to break through the glass ceiling and take on leadership roles in male-dominated industries. It was also a symbol of gender equality, empowerment, and strength – the trademark shape of extremely padded shoulders, and meticulous shaping conveying both strength and beauty – attributes of the 1980s power suit's aesthetic. Who can forget that image of Grace Jones – the bold, precisely structured shoulder line and the subversive sexiness of the demonstrative form?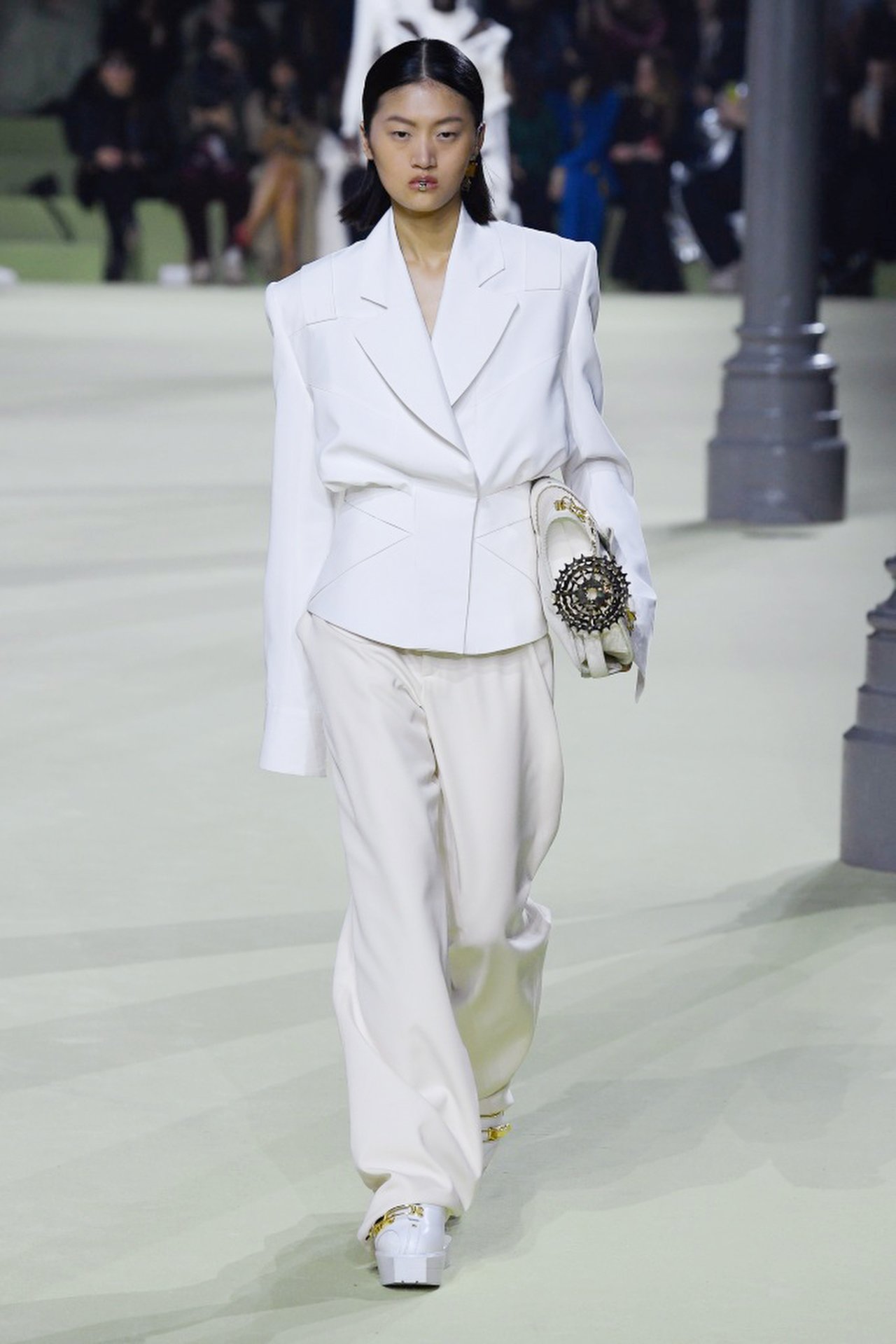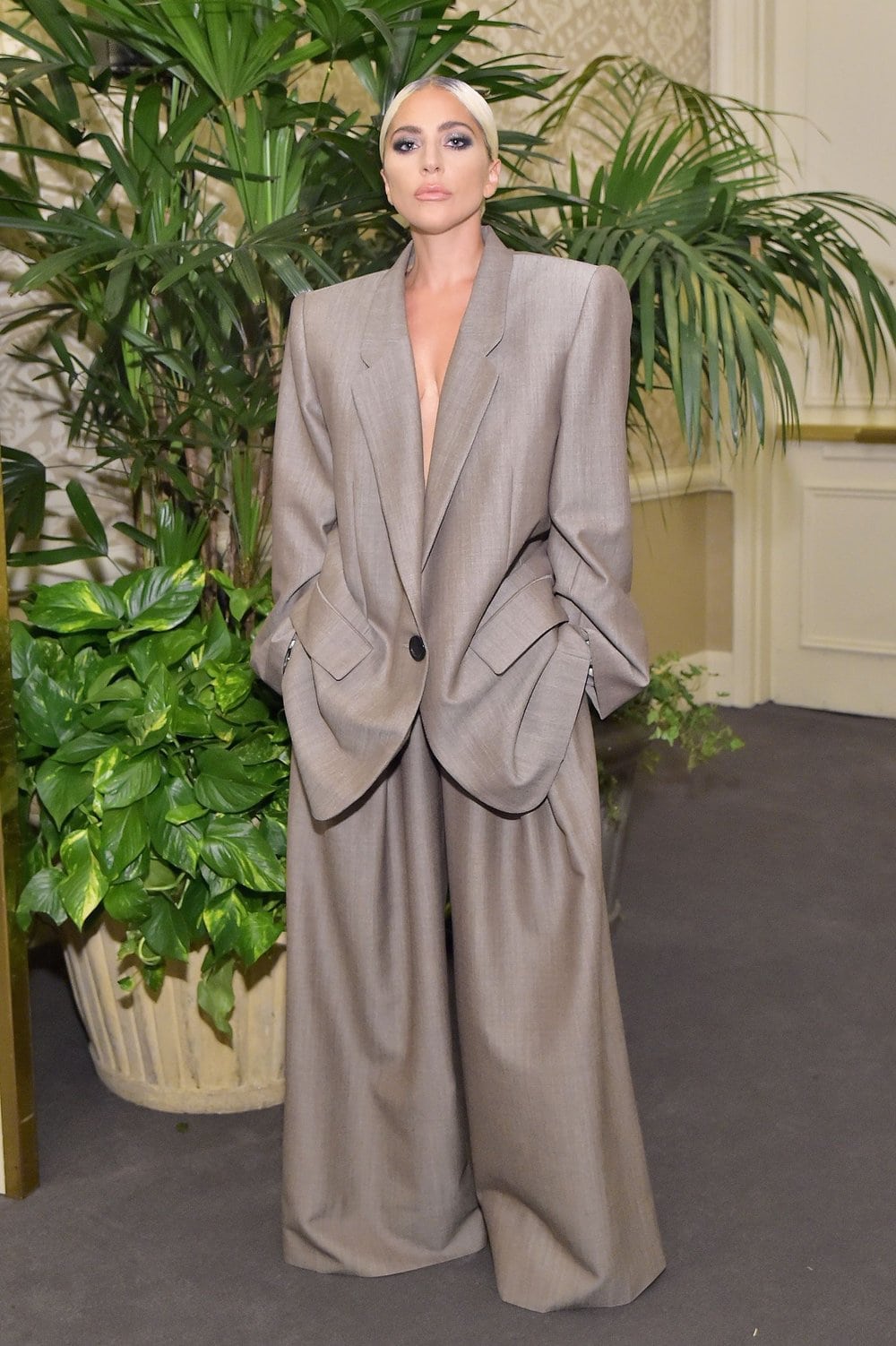 The suit reflected a newfound independence and professionalism, allowing women to adopt traditionally masculine dress styles while asserting their style and identity. The economic boom of the 1980s also played a role in this trend as the Power suit became a symbol of success and authority, especially for women entering the corporate world. The media and entertainment industry also significantly promoted the trend, with shows like "Dynasty" and "Dallas" showcasing the glamorous and powerful lifestyle associated with the Power suit. The Power suit continued to be a famous fashion statement into the early 1990s before giving way to more casual styles in the late 1990s and early 2000s. However, not only did the 1980s Power suit usher in a new era for women in the workplace, but it also became one of the most recognizable shapes of the 20th Century.
A/W 23 indicated a resurgence of the Power suit with designers such as Stella McCartney and Saint Laurent among several who presented their versions. Saint Laurent's interpretation featured extended shoulders paired with pencil skirts, visually compelling and demonstrating that the power of the fit and cut of the suit jacket speaks volumes to the overall look. Barbara Maiocchi provides extra valuable data about these strong silhouettes: "The focus on impactful outlines translates into long-lasting, impactful products with a general emphasis on the shoulders in Tailoring (+66% during FW23 fashion weeks) and bulky outerwear. The resulting look underlines a new era of empowerment for women that will be entered into the archives of power dressing (a key word gaining +100% in online searches year on year).
But while looking at strong masculine garments, the season doesn't look just at genderless pieces (making +50% on Instagram); it is also about the mix of proud romantic femininity with Tailoring. The look would only be complete with a sensibility for intimacy and romance, translated in lace and sheer silhouettes in subtle drapes, enhanced by ruffles, 3D florals, and preppy bow elements.
The Perfect Fit: How Women are Reshaping the World of Tailoring
And while the traditional image of Tailoring is no longer exclusively considered "menswear," it is also worth considering that the world of bespoke is becoming more inclusive due to a growing number of women seeking bespoke tailoring services. The global market for bespoke clothing was valued at $20.6 billion in 2019 and is expected to reach $25.4 billion by 2027, according to a report by ResearchAndMarkets.com.
Savile Row, where the tailoring profession has existed in London for centuries, has seen an uptick in women running tailoring houses. These female tailors specialize in custom clothing for both men and women, bringing a fresh perspective and approach to the craft. Several such as Kathryn Sargent, Daisy Knatchbull, and Phoebe Gormley of Gormley & Gamble, are pioneering efforts to break down barriers in the bespoke tailoring industry, particularly as female clients look to those who can cater to their needs and are more willing to invest in personalized, high-quality clothing, where the appeal of a bespoke suit extends beyond just its perfect fit.
In today's world, where environmental awareness is increasing, people are looking to consolidate their wardrobes with pieces that are a sustainable and timeless investment. With a new wave of consumers, particularly Gen Z, entering the workplace, there is a refreshing sense of dressing up and styling outfits, especially after a lounge-to-street post-lockdown dressing. But not everyone needs to demonstrate their ability to spend, and custom tailoring has given rise to a trend that has become increasingly popular in recent years, stealth wealth; it's a subtle way of displaying wealth through understated, often minimalist, clothing choices that are not immediately recognizable as expensive or designer; this will continue to evolve as this mode of modern Tailoring also reflects the increasing elevation of Quiet luxury. While bespoke suits are typically more expensive than off-the-rack options, investing in one offers several benefits, including timeless style, versatility, and durability, which make it an innovative and valuable addition to any wardrobe.

Key Takeaways
The rise of Tailoring isn't just a fleeting trend; it has been riding along the surface and is now on the wave's crest.
While it is evident that the creative directors are revisiting their brand's heritage and reimagining classic silhouettes for a modern audience, they also have paid homage to decades of fashion excellence and high standards. Designers are showcasing this renewed focus, emphasizing elegance and savoir-faire, particularly highlighting noble materials and classic silhouettes. Even the most contemporary shapes are paired with luxurious fabrics, seamlessly integrating past and post-war silhouettes and present styles. And rather than trying to confine women to a particular, idealized image, the recent collections aim to celebrate the diversity of femininity and underscore the powerful future ahead. As we have already learned, returning to Tailoring is a direct response to our living times coupled with a growing awareness of the importance of stability in a changing world. And if we take the time to review previous decades and connect the dots to Tailoring's continuation, it is not a new picture; it just has a different context.
---