The Top 10 Street Style Trends of the Season
By Angela Baidoo
The Great Coats
Denim Rebranded
Refined Urban Uniform
Modern Fairytale
Dark Beauty
Growing Up and Getting Dressed
Hearts on Fire
Lilac Lights the Way
Punks Legacy in Plaids
A Floral Note

The Great Coats
Every winter wardrobe starts with the selection of a great coat, and with erratic weather patterns causing fluctuating temperatures across the cities, London and Milan felt like the beginnings of spring and Paris and New York continued to experience the bite of winter. Thus, allowing for the full gamut of outerwear options to go on full display across fashion month, but one thread which connected them all was the fact that silhouettes went big.
Under the cover of a big coat, attendees were protected from all elements, but simple blanket coats in matching colourways allowed dresses to shine, tailored topcoats in checks or leather with broad-shoulders gave a masculine edge, and the ubiquitous trench in camel made a roaring return, but outsize shaping belted at the waist, so its volume billowed, renewed this style for the upcoming fall season.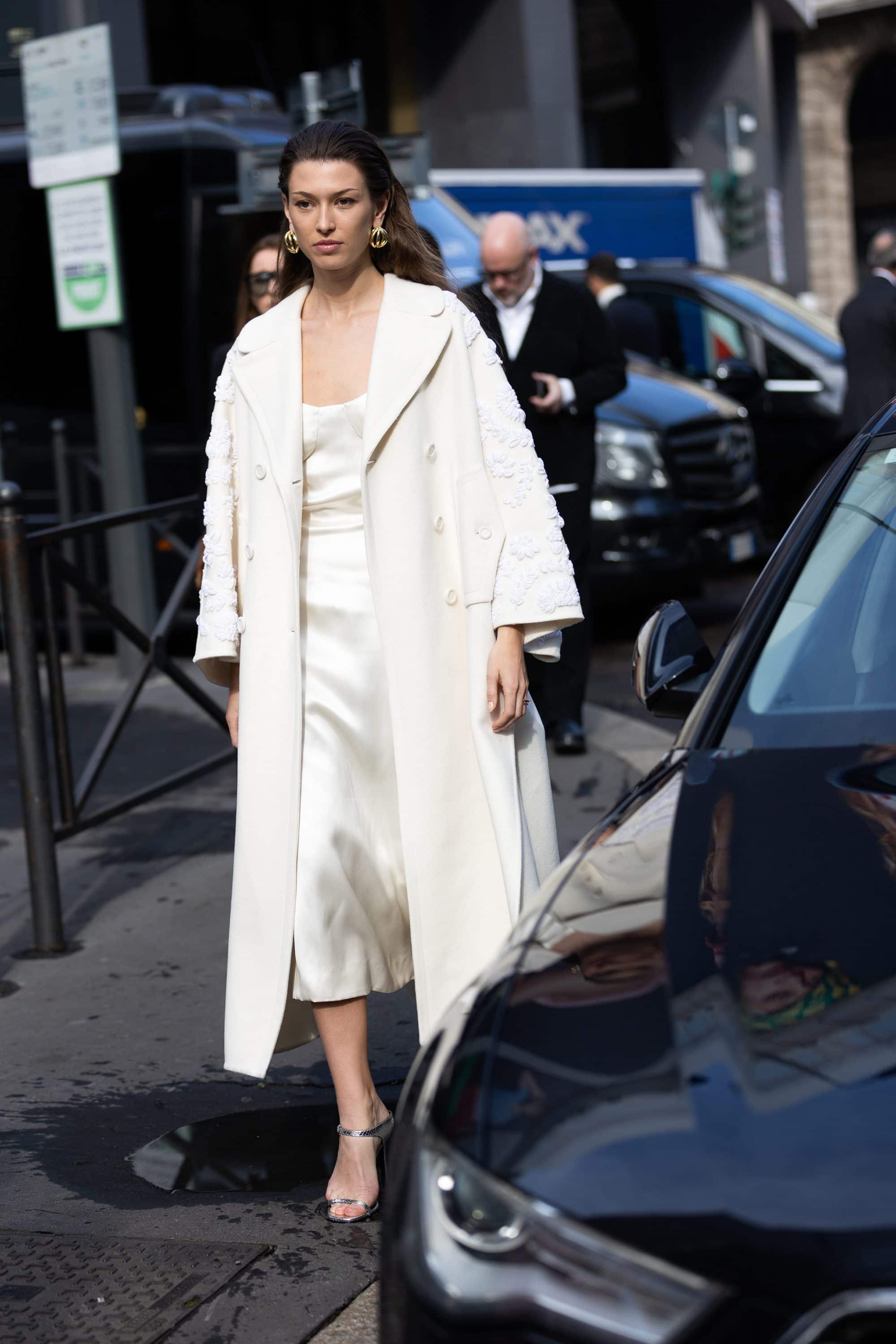 Denim Rebranded
Getting back to basics doesn't have to mean only minimalist cashmere sweaters and relaxed tailoring. As hard-working seasonless staple, in recent seasons denim has proved its versatility, up to the heady heights of luxury to the levels of couture, through to the revival of wearing double and triple layers in the form of dresses, outerwear, accessories, and footwear.
The blue-hued fabric most recent obsession has seen the midi-skirt become a nineties nostalgia icon once again, as floor-sweeping styles that take from grunge, or cleaner pencil styles with twee embroidery lean into the DIY aesthetic have already become a hit at retail. And while maxi outerwear, whether fleece lined or acid-washed is the new silhouette to watch, directional denim is the way to go. Attendees of Glenn Martens revamped Diesel proved the fabric could be edgy, with bleach-effects and burn-outs, while tonal stripe and floral prints, especially when overlaid together will be the surface decoration to invest in next.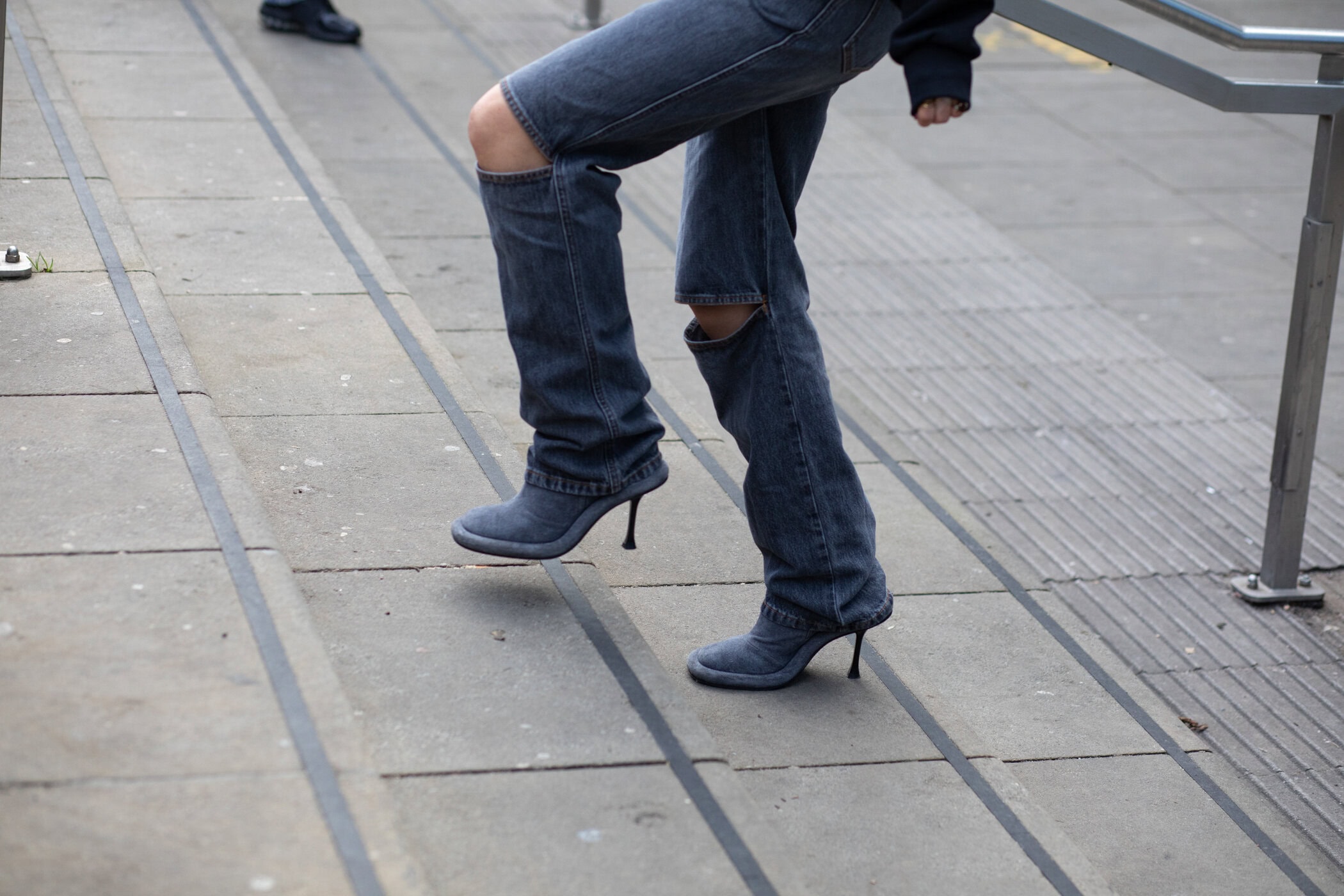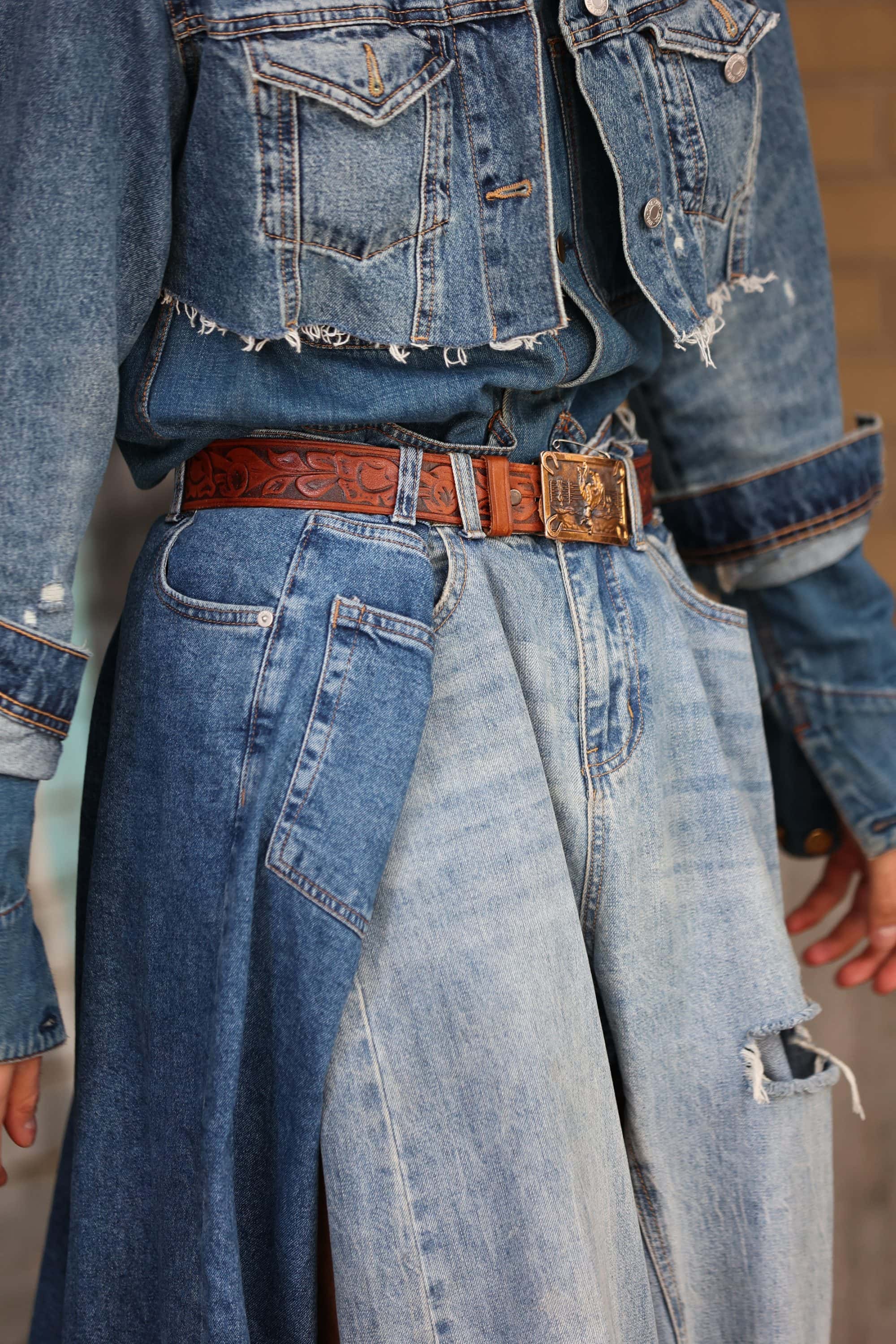 Refined Urban Uniform
A practical sense of readiness is a relatable response in these uncertain times, where consumers are still experiencing shockwaves through their daily news cycle, whether from economic turmoil or day-to-day living. So, the rise-and-rise in utilitarian dressing should come as no coincidence, as those out on the streets seemed to be readying for a time after-earth with looks that leaned heavily on military uniform.
Dominated by cargo pants and multi-pocketed constructions, there was a function-first mindset that was driven by efficiency. Outerwear incorporated protective padding in oversized volumes, pants were roomy and paired with skirts for versatility, and modular layering allowed for the purposeful piecing together of looks which faced into the wearers multiple lifestyle needs.
All shades of green, but especially deep khaki and a tinted sage were given a tactile touch as they were rendered in brushed cotton canvas, parachute nylons, satins, ribbed knits, and leather.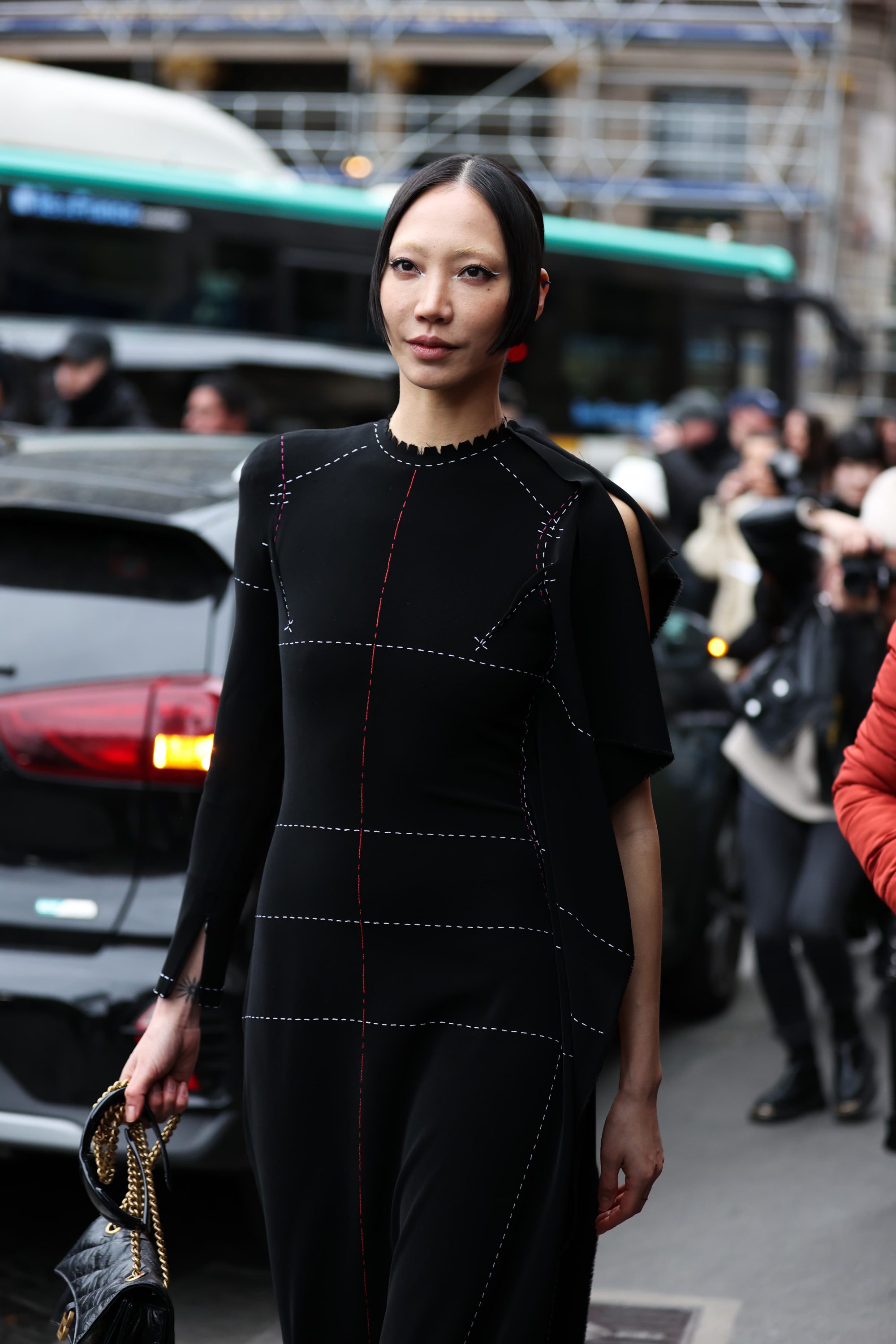 Modern Fairytale
Where there is dark, there is also light, so while 'Gothcore' was still making its presence felt and stealth wealth was championing all things wearable, an eccentric dreamy vision of unbridled femininity was rising.
Determined not to take themselves too seriously by fully embracing the fashion week streets as their stage, showgoers dove into their dressing-up boxes and opted into fairy-princess dressing with layers of tulle and chiffon in pastel pinks and blues. Vintage-inspired looks which resembled early nineteenth century nightgowns were toughened up with stiletto boots or chunky handbags, reminiscent of the early noughties. Delicate dresses of bias-cut silk were contrasted with fluffy and shaggy fur coats in shades of cream or pink, and utility jackets and bombers updated the look for a new generation.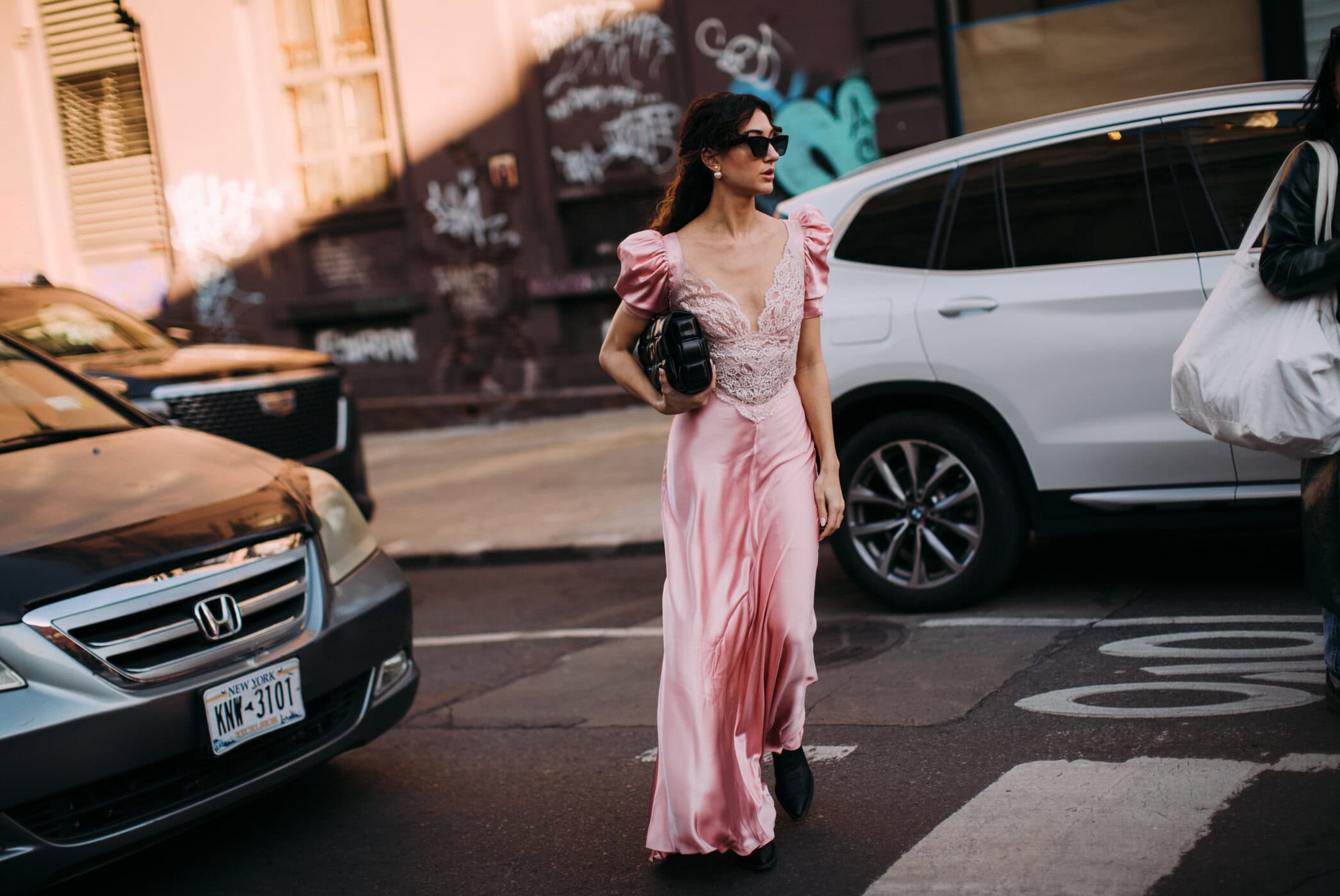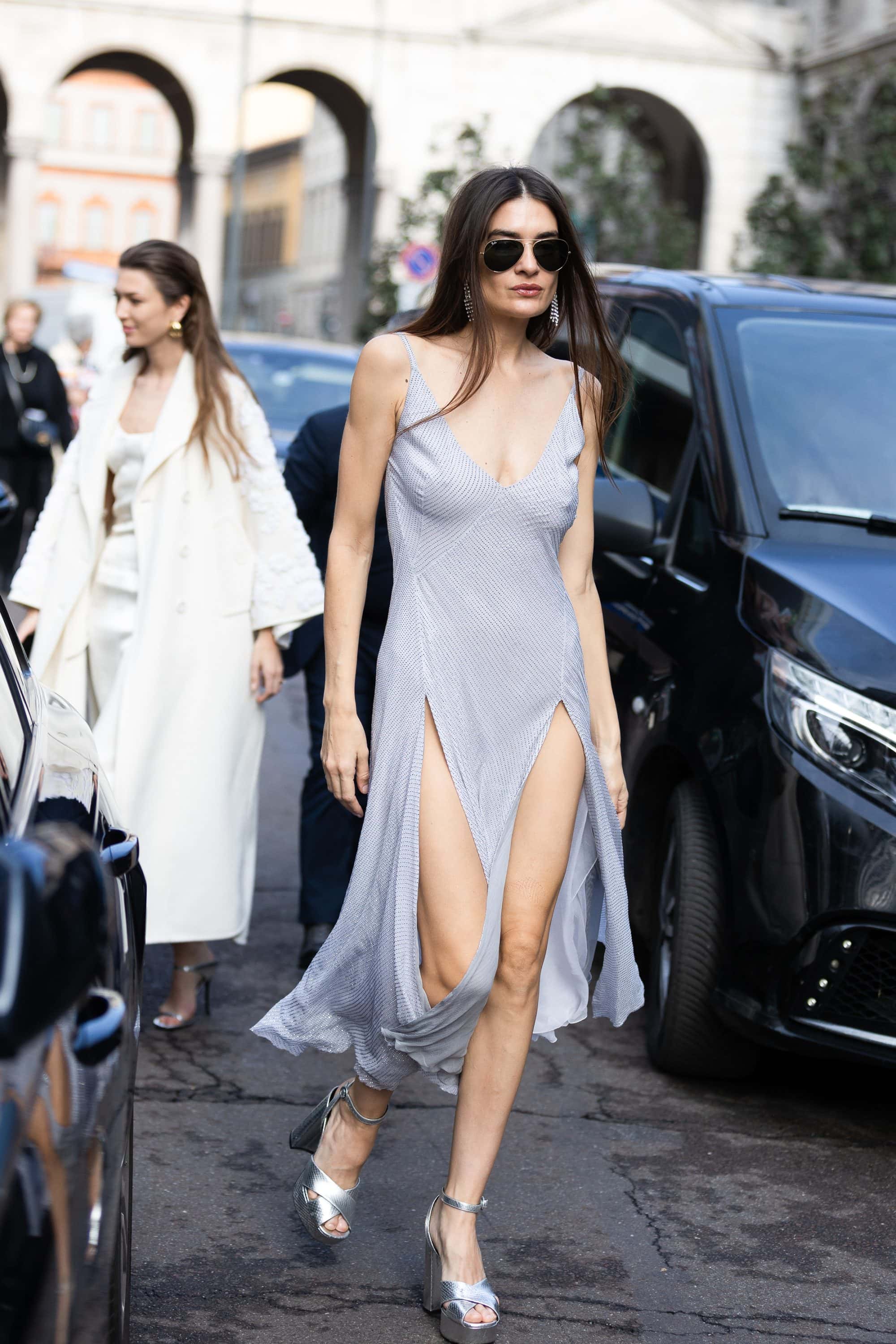 Dark Beauty
Going back to black, the craving for the dark side manifested itself in night-to-day looks Reflecting recent troubling times, attendees were in a state of mourning for the old world.
But leather, lace, and lingerie were merged to create an evolved version of the 'Gothcore' trend for 2023, where a more sensual mood is influencing the aesthetic.
The Little Black dress with sheer panelling or creative cut-outs and corsetry which amplifies the waist and bust are in, while a modest iteration was also seen emerging with draped midi dresses paired with knee-high boots or the classic tuxedo jacket styled with a feathered maxi dress. High-shine gloss rendered in bodycon dresses and coats nod to a not-to-far-off dystopian future, while cobweb and open-work knitwear offered a reduced take for the casual-minded goth-in-the-making.
Growing Up and Getting Dressed
The desire to get dressed up again in clothing which facilitates ease and whose foundation lies in everyday wardrobe options for grown-ups was made infinitely more possible this season, as wearable clothes for the real world became a beacon towards which many designers flocked towards for this coming fall.
Starting in New York and filtering right through to Paris, editors, buyers, stylists, and clients wore their best and wore it well. Coats of wool or leather were cocooning, skirts suits sat below the knee, trousers were wide around the leg to aid movement and were paired with sharp blazers or relaxed belted jackets, and muted neutrality became the palette for this trend as camel, mint, winter white, and most prominently grey stood out for their ability to be paired with everything one might already own.
Hearts on Fire
Not for the faint of heart, or the self-professed introverted among us, fiery or lipstick red has taken centre stage. A tone imbued with a rich history that spans associations with strong emotions, from passion to love, it was little wonder that it showed up as a key colour on and off the runways, which needed a worthy opponent to the wearable wardrobes that were leaned into across all cities.
Showgoers dared to be seen, especially those attending Maximilian Davis' second outing for Ferragamo, a designer who has reclaimed the storied Houses' signature tone as its new calling card. The power of saturated colour was evident in Milan where bias-cut floor-length dresses were swathed with matching deconstructed knitwear and Ferrari – another brand heavily associated with the tone – brought out attendees in looks reminiscent of those working at the Grand Prix, with jumpsuits being favoured. Surfaces in scarlet were reflective or textured through smooth satins, crinkle sheers, and supple leathers. If this summer is set to see Barbie Pink reach its pinnacle, then fall into winter will be the season of sultry red, which should be worn head-to-toe for dramatic effect.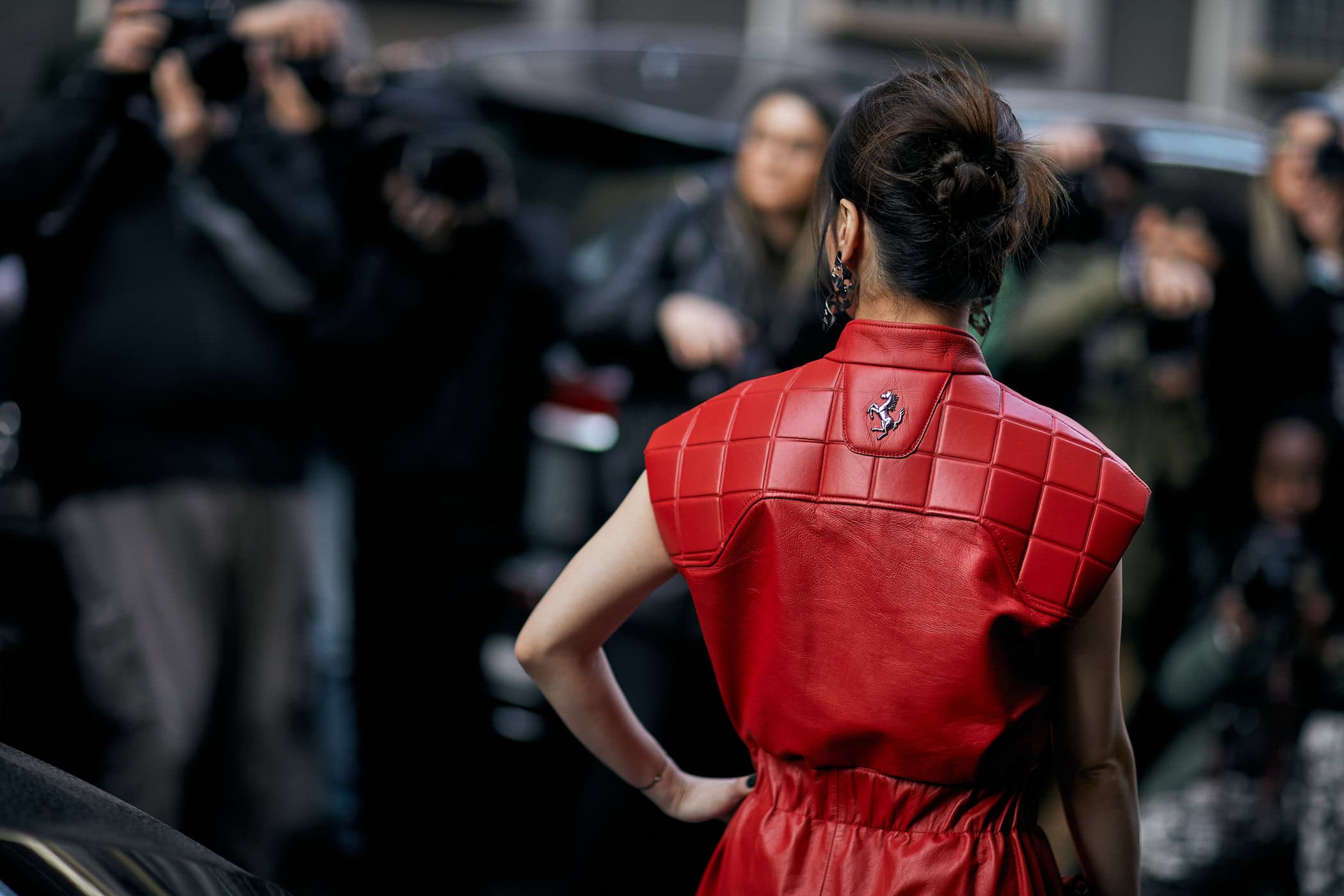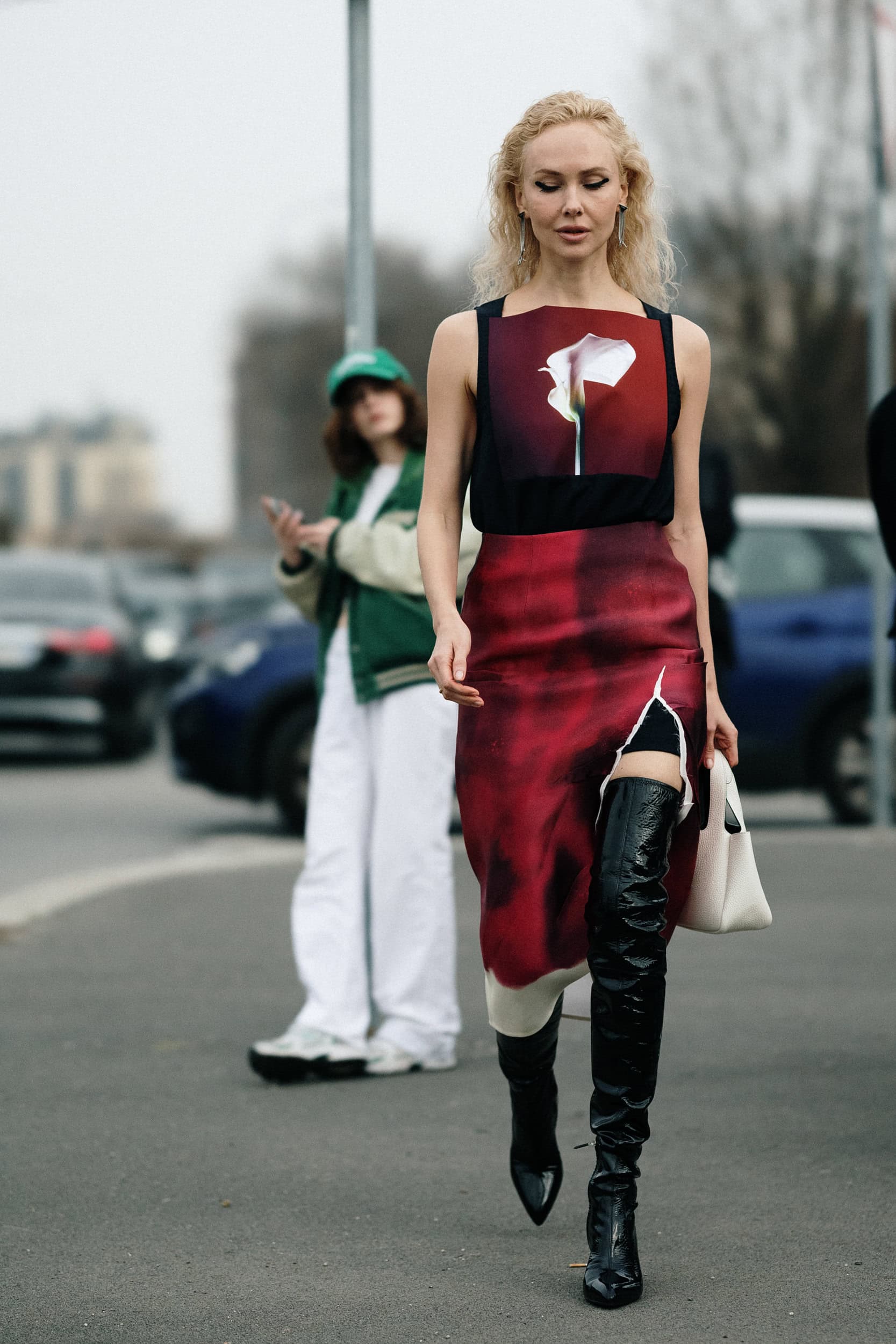 Lilac Lights the Way
This is not your grandmothers lilac, as Trend Forecasting agency WGSN and colour authority Pantone both backed the cool purple tone as 'Colour of the Year' for 2023 and beyond. Facing into the movement for gender-neutrality lilac, as a mix of red and blue, works across the gender lines and has been given a new lease of life through a Y2K lens.
Lilac with a cool undertone has a metaversal quality that is designed for the digital screen, and from fitted second-skin tops paired with oversized denim to silky wide leg pants, this colour is leading the way to the future. Adding a metallic sheen through a coating on pants or crystal embellishment across a top-handle bag demonstrates the versatility of the hue for any occasion.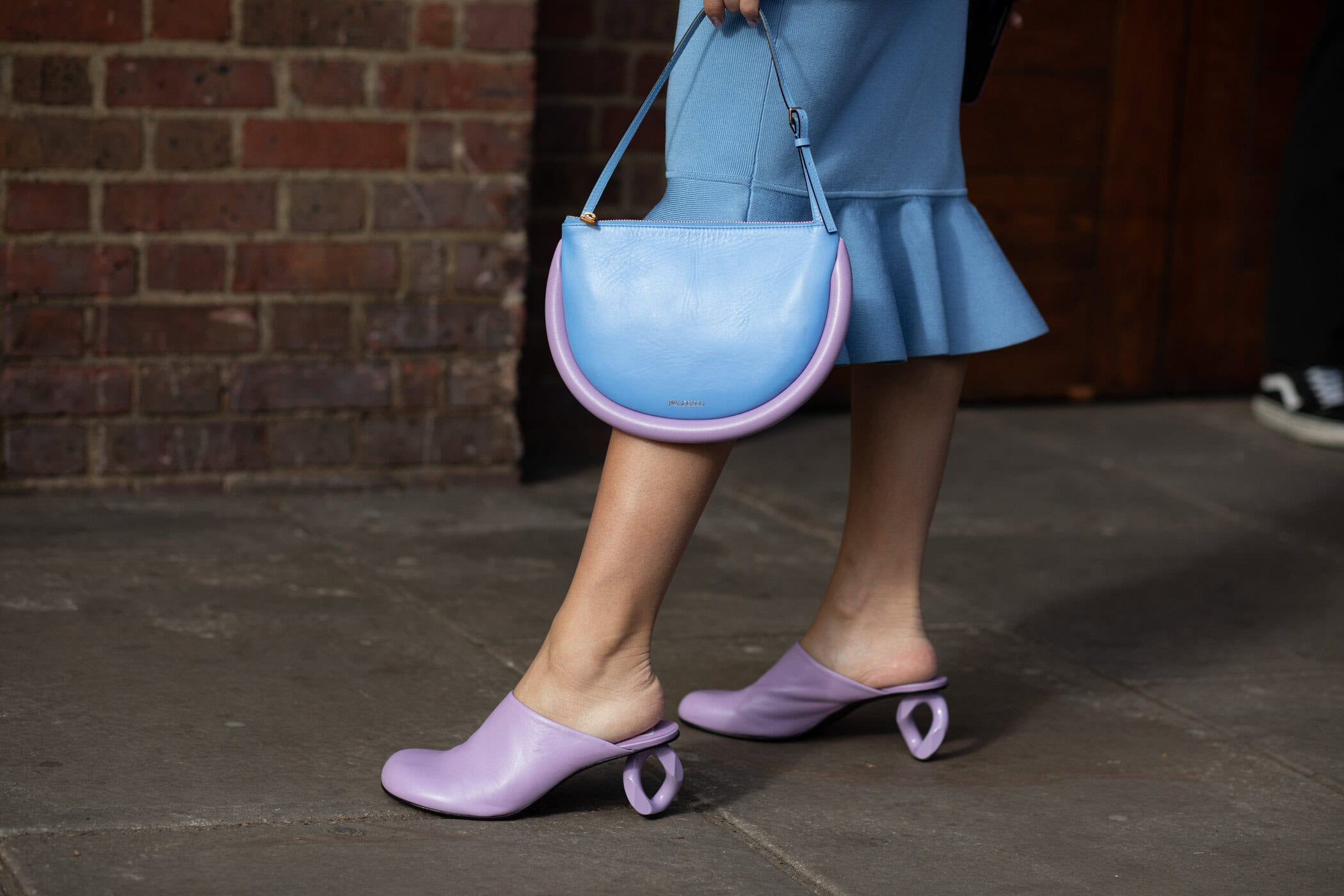 Punks Legacy in Plaids
The loss of industry icon and purveyor of all things punk, Dame Vivienne Westwood, spurred many designers to dedicate collections or cite her extensive breadth of work as a direct inspiration for fall 2023, and one of Westwood's constant design signatures was her use of plaid, specifically tartan – worked up in both historical costumes and rebellious incarnations.
The patchworking and layering of tartan checks gave rise to some of the most authentic looks that were seen on the street this season, where the fabric was worn as a maxi skirt with a leather jacket and graphic T-shirt, patchworked with a Vivienne Westwood orb logo print, or in a pleated mini styled over culottes. Brushed blanket checks in candy colours gave a fifties feel to oversized overcoats, and grids rendered in deep purples or yellow ombre looked youthful in sheer mesh. While houndstooth and monochrome checks in buttoned-up blazers reflected the return of the eighties power suit which was trending on the runways of Milan and Paris.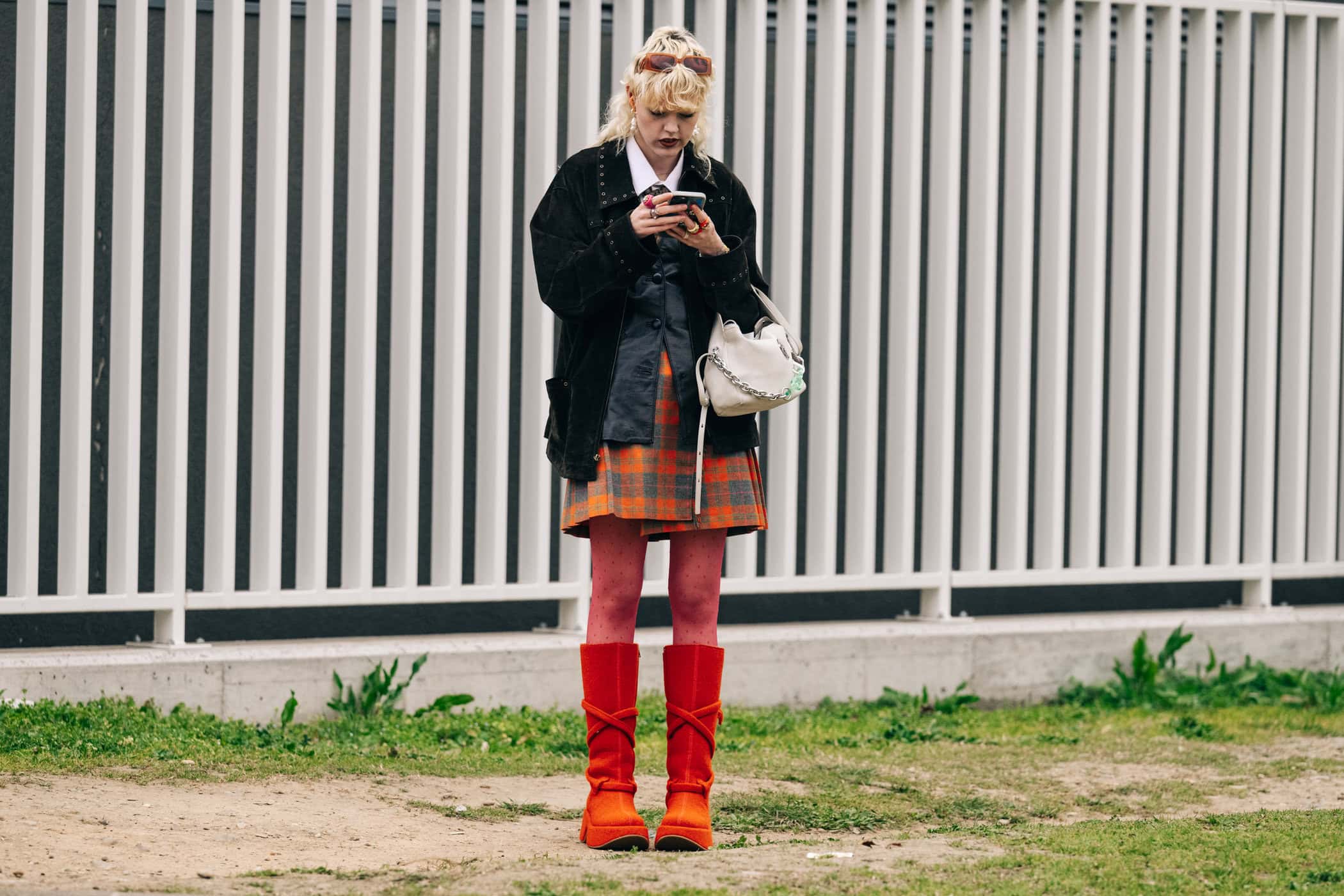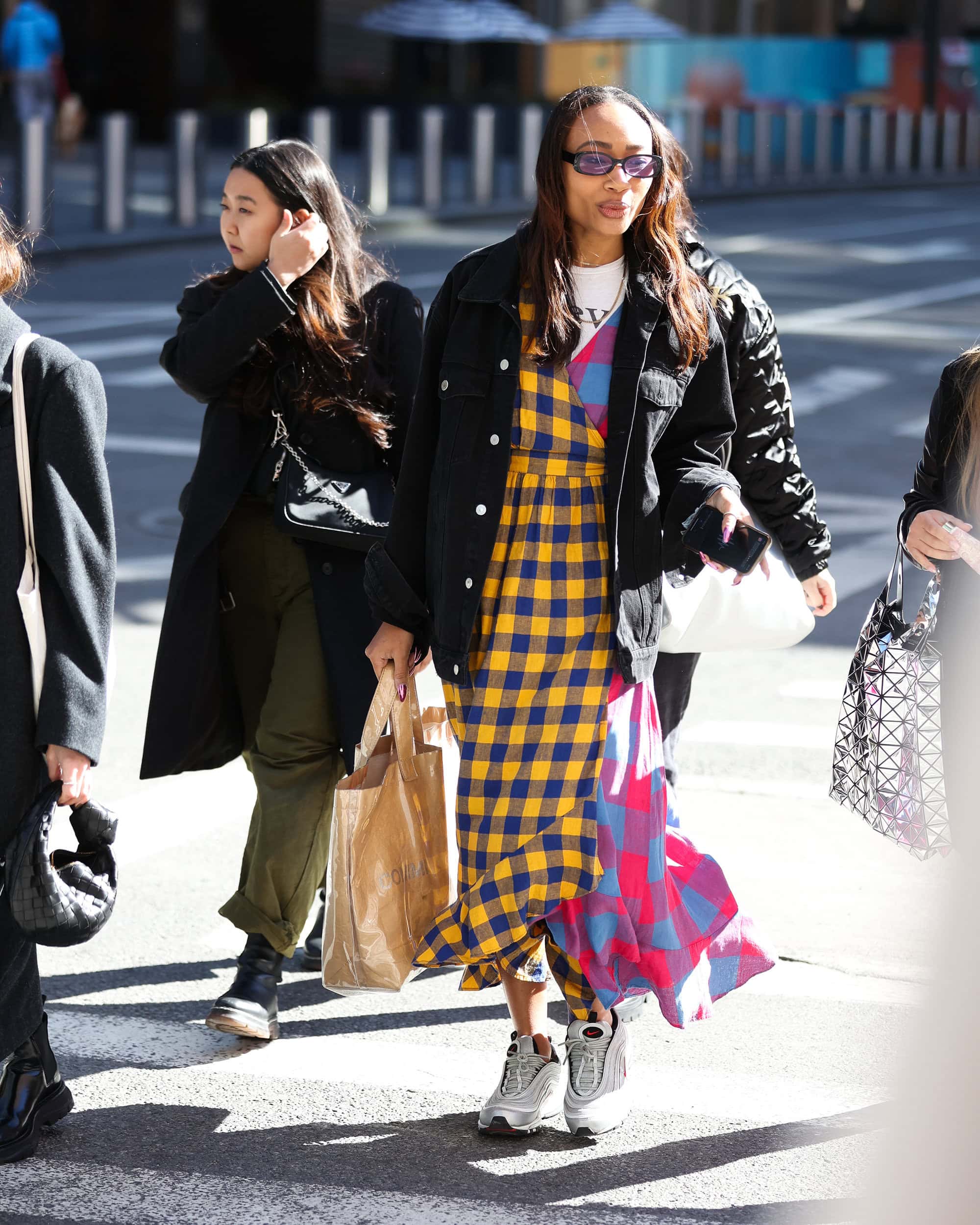 A Floral Note
The second-coming of the corsage has been solidified for 2023, as 3D versions of florals become the must-have accessory for spring, summer, and fall.
Being that the fall 2023 season preview takes place at the beginning stages of spring – February into early march – the use of feminine folds of fabric makes perfect sense, and while JW Andersons Anthurium flower may be harder to pull off due to its suggestive spadix, corsages work in both mini and maximalist proportions. Highlighting the neckline, florals adorned necks as chokers or were attached to clothing as a simple brooch which harked back to the mid-2000s.
Of course, Prada's decorative rosettes were a popular choice on ladylike knitted cardigans, and placements on the hip of a mini skirt or on the bust were an alternative playful take. But it was Chanel's celebration of its symbolic camellia flower clustered around the collars of coats or scattered across a classic tweed skirt suit, which will mean that we are set to see more of these embellishments across the year into fall.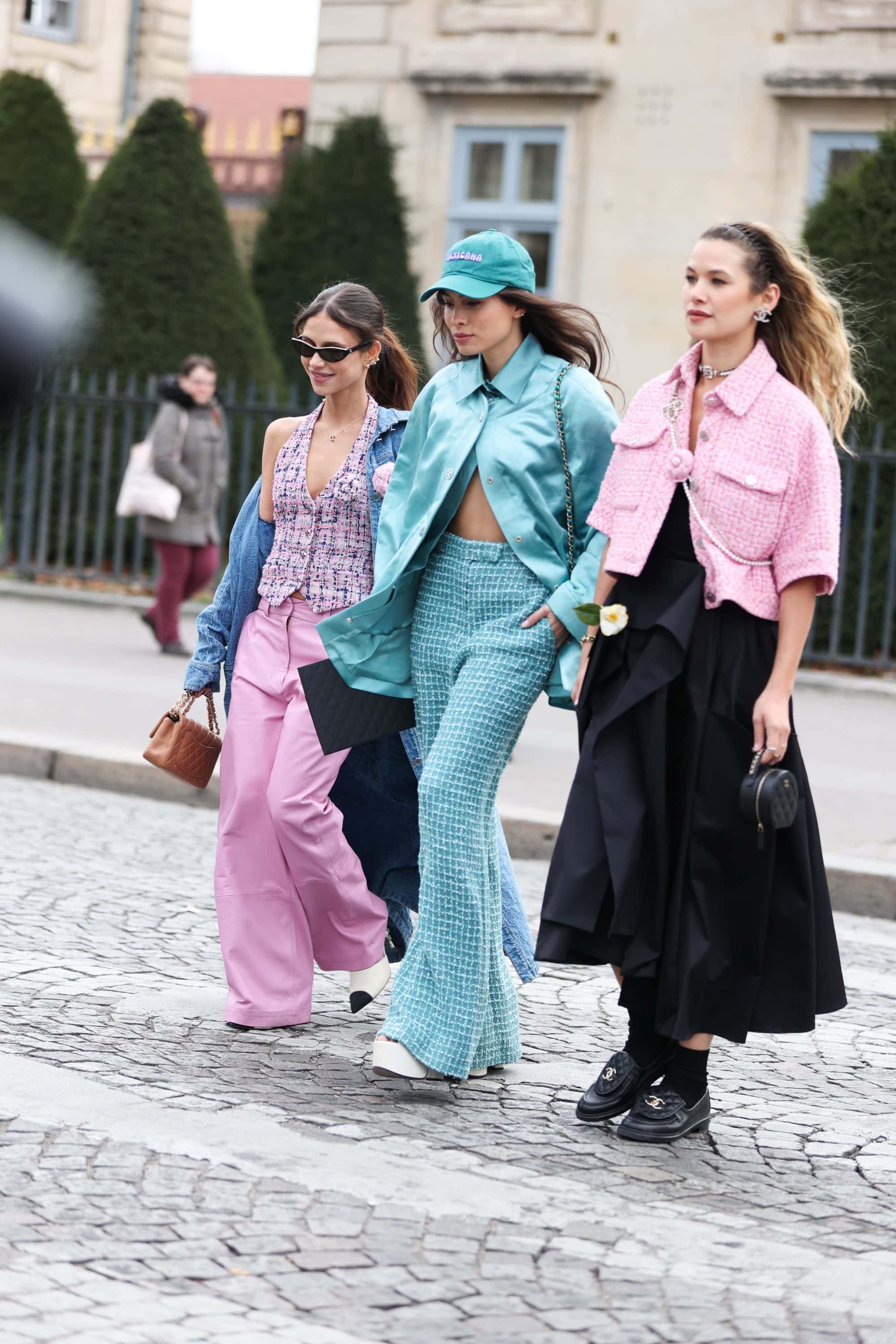 ---