The Top Couture Trends Spring 2023
By Lizzy Bowring
Haute Couture! The magic and the elegance, the creativity and craftsmanship. How glorious a week that was.
'Haute' Craftsmanship has always been the foundation of Paris Couture collections. And in the fashion capital this last week, the beauty, craftsmanship, and innovative creativity presented were spell-binding.
Paris has been steeped in the history of Fashion as far back as Louis XIV, who turned Fashion and style into a source of wealth and power, laying the foundations for the preeminence of Paris fashion. Although true, "Haute Couture was born in 1845 with Charles Frederick Worth," who transformed Fashion into the exclusive couture (sewing) craft it is today.
Sadly, the Spring 2023 edition has ended, but it has left an indelible mark and, of course, not without plenty to discuss around the messaging of Fashion and its future.
Within this arena, the artistic dedication of Haute Couture creatives presented several exquisite collections, from the surreal, controversial, but sublimely ecstatic details by David Roseberry for Schiaparelli to Haider Ackerman's showcase of sublime tailoring, sensitive creativity, and technical excellence. The exaggerated proportions, optical illusions, and irreverent, tongue-in-cheek displays from Viktor and Rolf offered a magical, surrealist aesthetic. There was little to fault.
House Creatives also focussed intricately on fluidity, ease, and lightness while celebrating the time-honoured traditions of the ateliers and craftspeople. At Fendi, these ethereal and transparent looks, infinite and beguiling in understated sexiness, remain in one's memory as a delicate overture for the week.
And if these creations were not enough, then the spotlight shone on the return of metallics and sparkling shine, such as at Christian Dior and Valentino. Valentino's Pierpaolo Piccioli, ahead of his presentation, says, "Of course, I love it that Haute Couture is about the magic of impossible challenges, it's about craft, and we talk about that all the time, but I also love it when couture feels effortless. It's all about the feeling of having something for yourself. It's democratic in a way, in the idea of showing this freedom of being whoever you want to be."
Designers showcased their art, enveloping their audiences and transporting them into some experiential wonderland in opulent proposals of storytelling. Fashion always has a story to tell about an era in Fashion, and Spring/Summer 23, was full of new innuendos and trend messages. The Impression defines the four key trends.
Ethereal Femininity
'Underwear as the new eveningwear' has been a theme for some seasons; however, S/S 23 Haute couture presented something a little more intimate and beguiling. While several provocative displays of the female form existed elsewhere, the idea of the reveal was tempered in discreet preludes of femininity, presented ethereally in sublime silhouettes of lighter-than-air silks. Familiar elements such as the columnar slip dress are reimagined in layers of transparency or finger-light lingerie-inspired satins and velvets. Schiaparelli's body-skimming, champagne-colored dress subtly caresses without clinging and will be a celebrated silhouette for the season. Maria Grazia Chiuri demonstrated her evocative celebration of feminine strength with pieces inspired by Josephine Baker, but it clearly defined the message of strength in femininity. Exacting columns of velvet or silk showed the acute craftsmanship; take the elongated form in subtle cream, delicately crafted with beads.
Lace also emerges as a standout trim, nodding to the vintage inspiration behind many key looks. There was indeed a flavor of 20's styled silhouettes in the beautiful and endlessly elegant Fendi pieces that will provide inspiration for the forthcoming S/S 24. Look to light layers of intricately carved leather to give a pointer for combinations of lace and sheer, or consider the handpainted florals that replicate coloured lace, crafted into soft subversive layers. The hint of lingerie inspired by an affluent past at Armani Prive portrayed the importance of embellishment and shone in full-length liquid gowns with the era's dropped waists. At the same time, the acutely cut V-front bodices – a design feature that will be re-interpreted – held the omnipresent subtle overlay of sheer silk.
Light layers continuing in exaggerated ruffles were a standout manifesto that displayed a playful coquettishness of the female form. Valentino's confident offering in barely-there silhouettes rendered in the finest soft laces and silk chiffons were so light that they danced in ethereal unison around the torso or came in asymmetrical swathes that wrapped down and around to the hem. Consider the 'dare to bare' black drop-waisted slip – it may seem overt, but it was also a piece of beauty.
While layered sheers play a vital role in adding textural interest, the colourways added to the ethereal context. Pale blue, pink, blue, sand, and peach, resembling delicate hues from the mother of pearl, were soft, gentle, and in keeping with the delicate laces and soft tulles and chiffons.
These delicate yet provocative silhouettes and the underlying theme of the 20s may result from the turbulent times we have been experiencing and, in doing so, provide a sense of strength and confidence in a powerful display of femininity.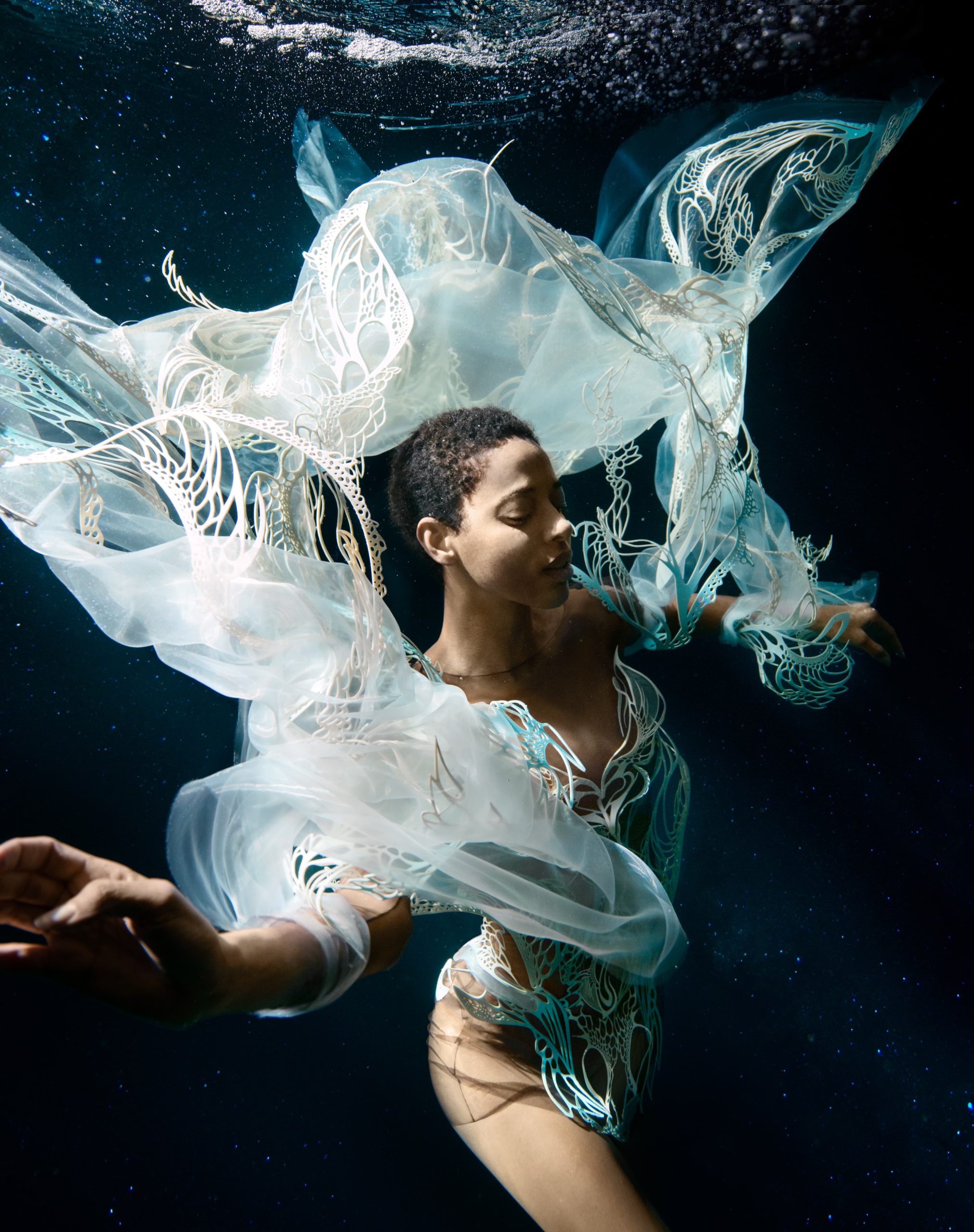 The Illusionary
The mysticism of haute couture lies in the illusion of creative construction, where the human form is removed from its original context to take on a more fantastical appearance. Shapes that both fit and distort the body or demonstrate extreme manipulation of one fabric, so it takes on the appearance of another emerge as another improbable expression of surrealism or, in a more applicable term, illusionary. S/S 23 Haute Couture presents the extraordinary in ideas that trick the eye.
Surrealism, was founded by the poet André Breton who wrote The Surrealist Manifesto in Paris in 1924. Surrealists also drew from neurologist Sigmund Freud's work, working with words and visuals to expand the possibilities between dreams and reality. The House of Schiaparelli, founded by Elsa Schiaparelli in the 1920s, was characterized by surrealist ideology and manifested it through trompe l'oeil imagery. The iconic red lobster, inspired by her collaboration with Salvador Dali gave rise to the mythology behind the brand.
The parallel between the 1920s has turned to the 2020's where what we are drawn to may be as strange as the times we live. The co-creation between Art and Creative directors in Fashion are inexplicably interwoven. The recent Schiaparelli collection by creative director Daniel Roseberry has spawned a deal of backlash, and to some, an incredible marketing ploy, but in actual fact, Roseberry drew his inspiration from the improbable Dante's Inferno, pushing the boundaries of creativity by rendering 3-D animal heads to glamorous, sensual silhouettes. From the exaggerated bustiers inlaid with mother of pearl or the beaten headpiece that took four months to create or the metallic breastplate that came as a painted bust, enhancing the upper body in an illusionary body-skimming top – it was all the stuff that dreams are made of!
Elsewhere, preserving and subverting the tradition of haute couture, Viktor and Rolf demonstrated that all is not as it seems, turning fabulous ball gowns upside down or placing garments in otherworldy positions. Adding to the extreme, apparitions at Gaurav Gupta were sculpted and molded around the female form with snake-like twists and curves. Rahul Mishra showed the extremities of the Haute couture craft in garments that bore illusionary sea-like creatures. At Stephane Roland, fabulous extreme sculptures in the dramatization of silhouettes came as massive flounces to envelop and exaggerate the feminine form. Sabina Bilenko presented sculpted forms that were acute in surreal-ist details, the peplum of one creation, exploding like soft petals around the hip.
And so the illusionary resides in other fabulous examples: Fendi's lace-effect intricately crafted from leather to Haider Ackerman's metallic faux-fur tracksuit, stitched by hand using over 200,000 pins. Virginie Viard of Chanel staged her show in a menagerie of moving animals; her models wore bow ties, top hats, and wrist-length gloves to evoke the ringmasters of a show. While the trompe leoil existed in corgi dog imagery.
This is what makes Haute Couture, the love of the extravagant and unusual, where Art and Fashion go hand in hand in creating a dreamlike illusionary world.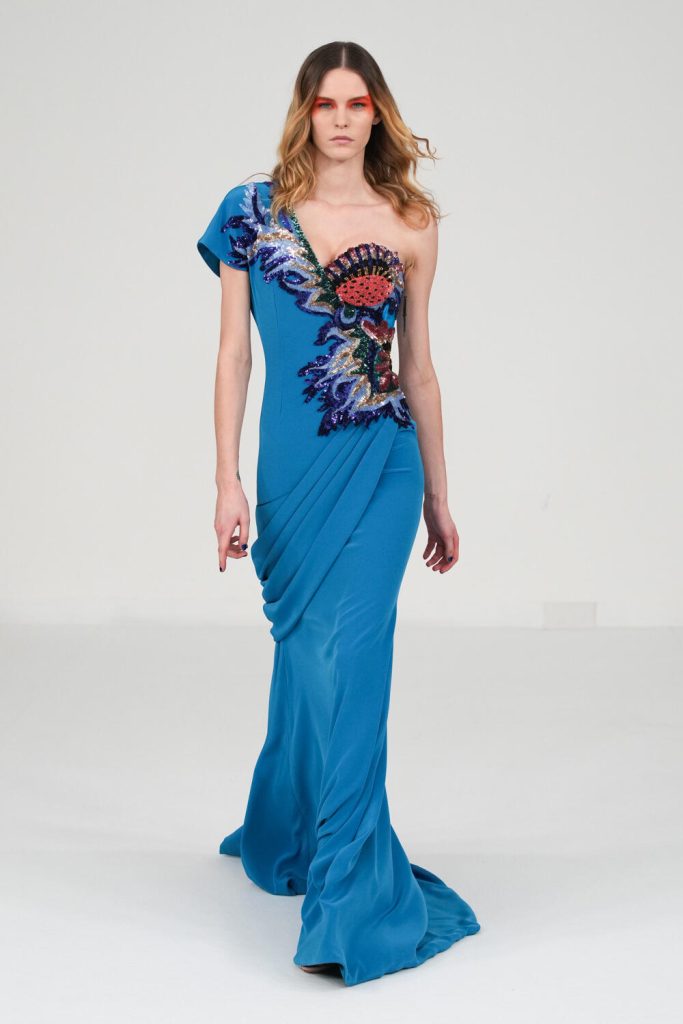 Shine On
The spotlight on sparkle abounds with everything from metallic treatments, to gold, silver, shimmering paillettes, and shiny satins. And whereas occasionwear calls for creative and sustainability-focused design thinking, this Haute Couture season underscores clients' need to indulge in a season filled with playful escapism, embellished with these dazzling delights that take the metallic sparkle to new heights. While silver and gold are traditionally accepted in the mix, designers cleverly included colour; the glamour and opulence reaching a peak with outfits drenched in shimmering sequins, gleaming satins, and an array of eye-catching trompe l'oeil details, representing a new take on this trend.
If the idea is for the future to be a rave of fantasy and freedom, Pierpaolo's Valentino Le Club Couture will be the leitmotif. Metallic effects came in abundance, from a silver sequined men's coat worn nonchalantly over an open shirt and black shorts, a two-piece bolero and short suit with vibrant yellow sequins, or a gold thigh-high-slit dress commanded attention contrasting with bright pink heels. A pink cloak cut a swathe of delightful colour through the night while sparkling ruffled layers interjected with lines of gleaming silver embroidery. An open mesh dress came intricately yet boldly exposing the female form. Finally, a column slip dress with graduating oversized paillettes in a sea green adds to the exuberance; just about every silhouette had been liberally sprinkled. And just as Pierpaolo's hot pink has reverberated throughout the fashion halls, sparkle and adornment will continue to be the next big trend.
Diamantes and sequins were lavished liberally over Zuhair Murad's twinkling silhouettes. Carefully crafted and detailed pieces from a meshwork of crystalized sunburst embroideries radiated from the waist of cut-out sylph-like numbers that nodded to the '20s.
Liquid silver in Maria Grazia columnar gowns will satisfy the sustainably minded clientele, offering that spine-tingling movement and sensuality. Imane Aysissi and Gaurav Gupta used vibrant colours and brilliant goldfor a dramatic episode of head-to-toe color. At the same time, sequins and diamantes are also used in dramatic displays of power and determination at Alexandre Vaulthier. A black sequined bomber and matching boots demonstrated the strength of positivity.
Although there should be an overriding element of less is more, these overt displays of sparkling embellishment will ring loudly, setting the tone to shine on a joyful future.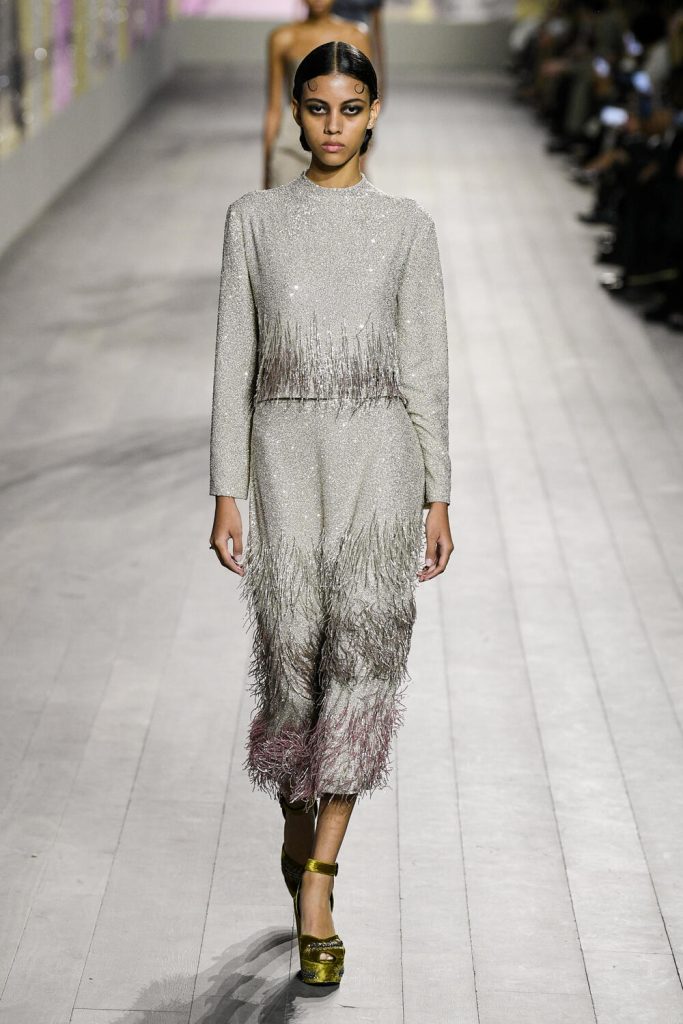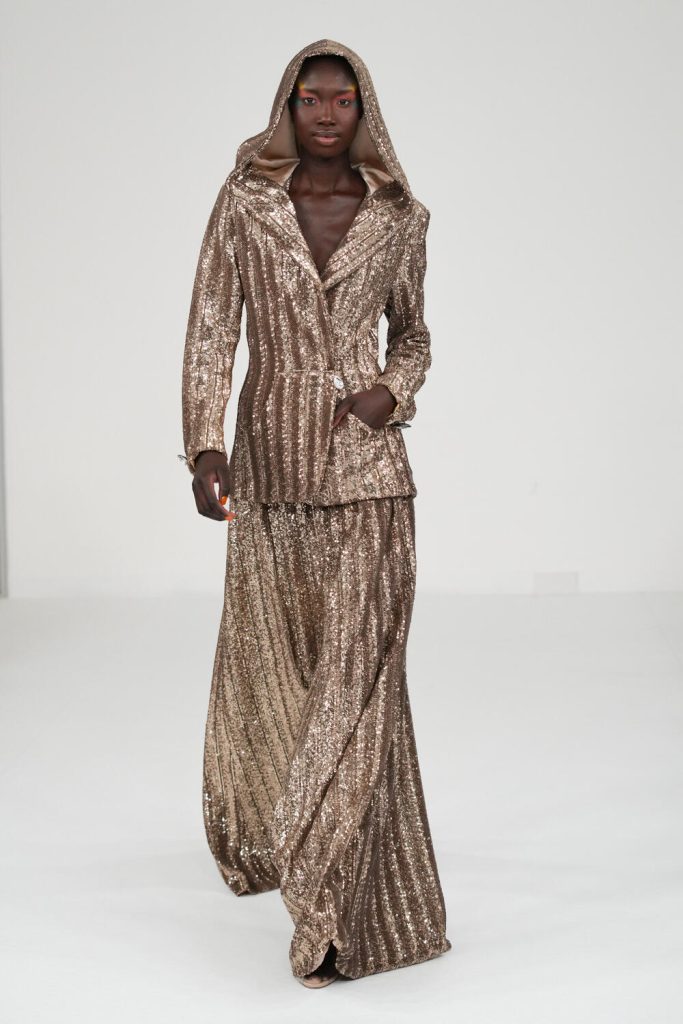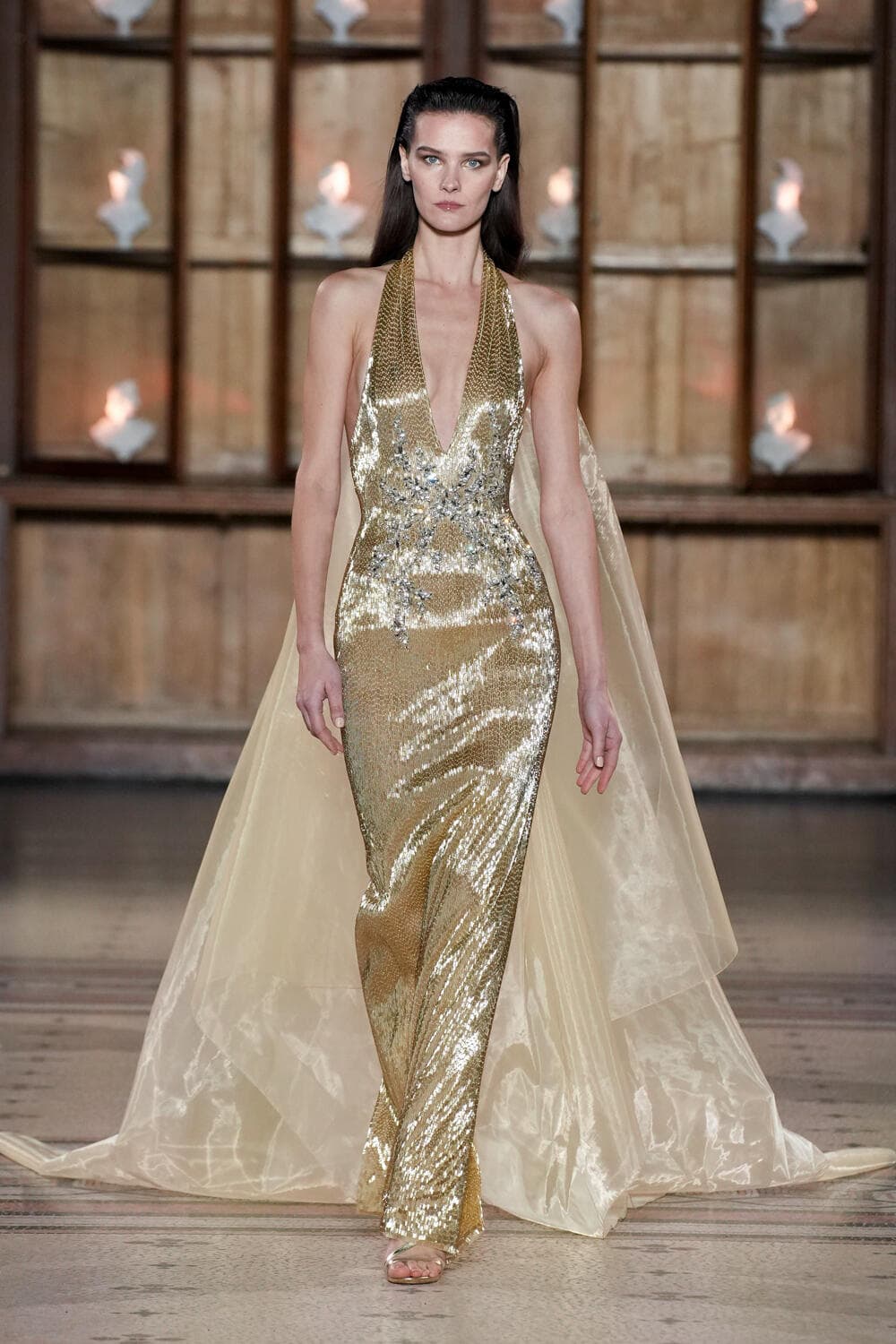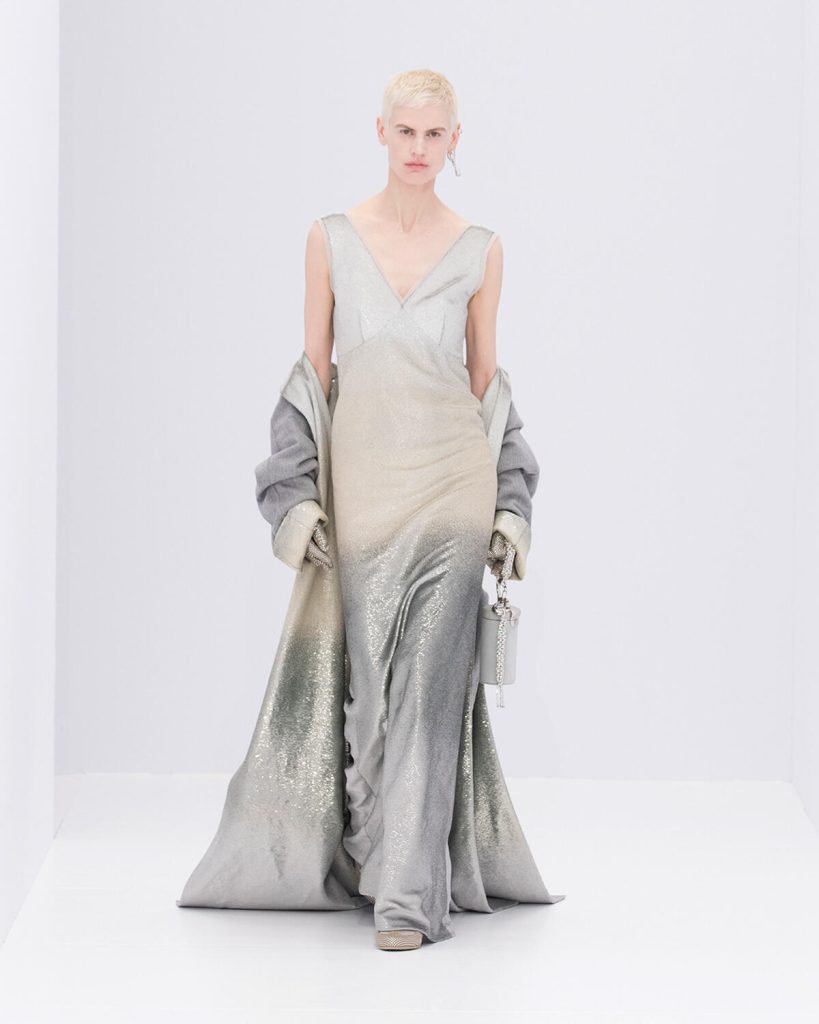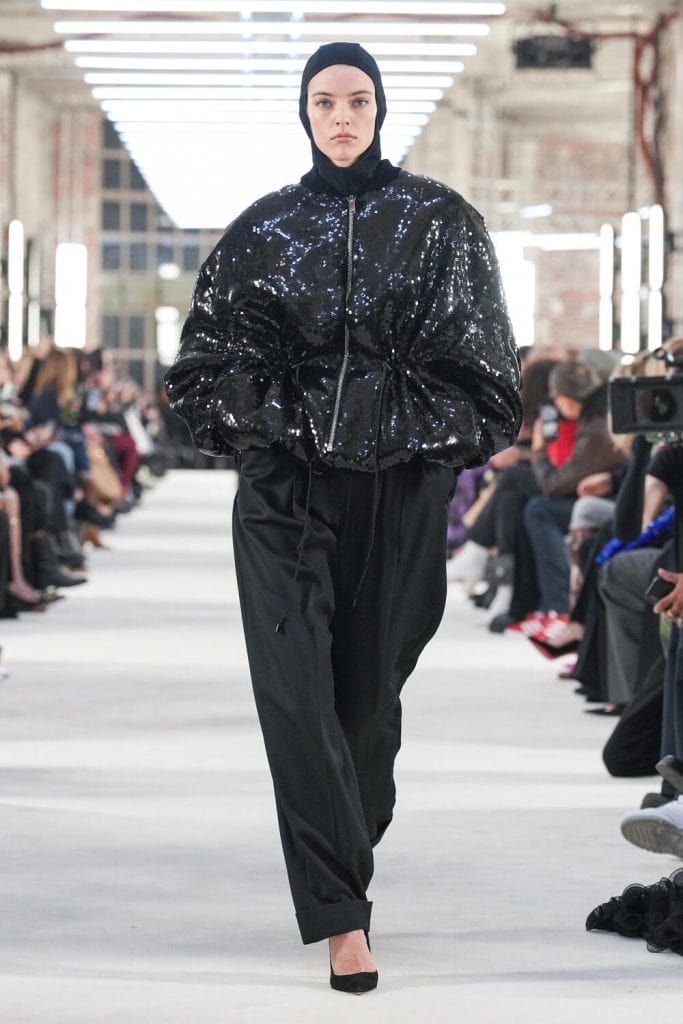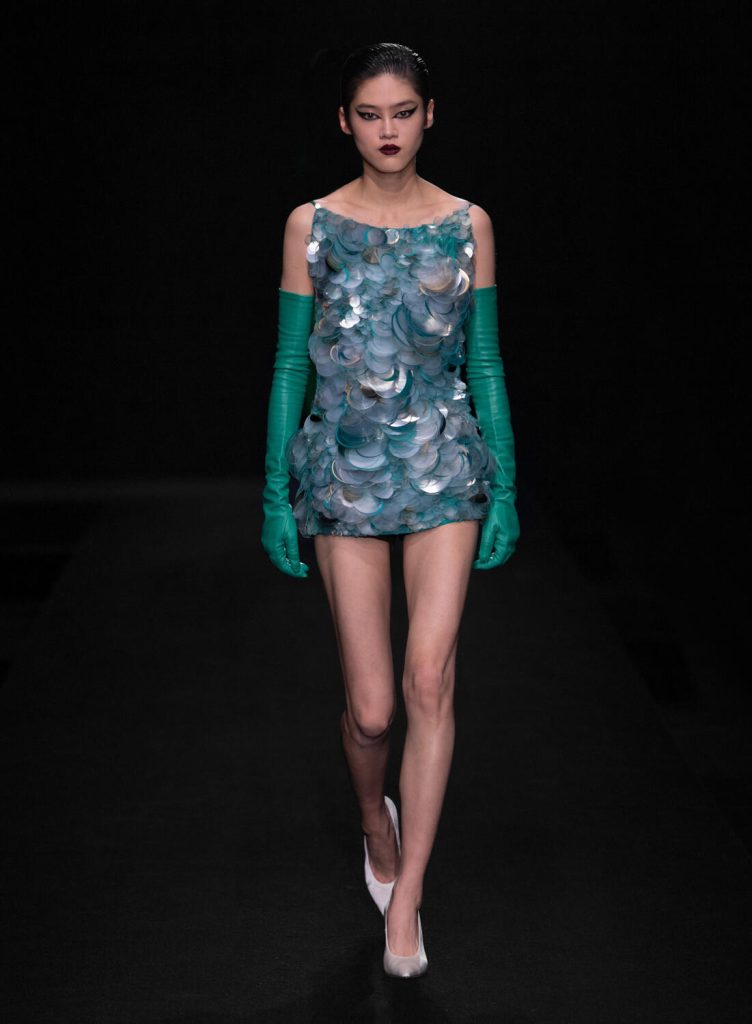 Infinite Tailoring
The influence of sartorial craftsmanship has taken twists and turns for several seasons, with bespoke iterations ranging from the perfectly formed tailored and ladylike 'neat' suit to the exaggerated proportions of menswear-styled suits and jackets. Craftsmanship and refined tailoring, as always, rose from the birthplace of all the Haute Couture collections, and S/S 23 showed that within every presentation, architectural tailoring existed, crafted to a fault. The supreme disciplines that guide bespoke tailoring present the embodiment of its craft. But it does not just rest with superbly cut jackets and suits. These looks are embodied in finely tailored dresses, coats, and the new must-have cape; a cape with the right structure and fluidity adds a unique, sophisticated, and distinctive touch to a collection.
The focus on tailoring and sartorial looks with a classic but effortless feel, are seen with subtle detail and colour twists to enhance individuality. At Chanel, Virginie Viard sent out a bevy of youthful shapes. A trapeze coat with the slightest of details commanded attention through it's streamlined simple shape but with the emphasis on the textured materials. At the same time, the sweet little suits bore intricate details on the sleeves, all expertly put together with the precision of the house. The clean lines, and impeccable tailoring, perfectly conveyed a relevant and decidedly modern aesthetic at Dior. A reiteration of the bar suit found its way in several silhouettes. The fact that such femininity exists in collections will set these looks for the future.
On the flip side, bespoke pieces that speak to Gender Inclusivity may have a wider appeal, such as the drama created at Alexandre Vaulthier. His extreme shoulders and tiny nipped-in waists demonstrated a powerful inclusivity that reached far into the audience. The sculpted pieces at Schiaparelli underscored an authentic couture collection. Perfectly defined narrow waists and broad shoulders created through the impeccable cuts, will render these 'translatable' for seasons to come.
At Valentino, details were just as refined, with designers taking the plunge with necklines so low they traveled in a profound southerly trajectory to the navel. The subversive sexy renditions of the white tuxedo jacket will be another silhouette decrypted for the future with its loose and sexy proportions flowing free and accessible over a white shirt and black tie. There was little to fault in the tailoring at Haider Ackermann. Ackerman's sublime tailoring, sensitive creativity, and technical excellence were acutely visible in the knife edge folds of the jackets, the sublime shape of a Trapeze coat, and the sartorially cropped jackets and trousers.
In summary, this trend's classic element is timeless, with a strong identity seen in both feminine and sartorial cuts with Haute Couture precision that will be embraced for seasons to come.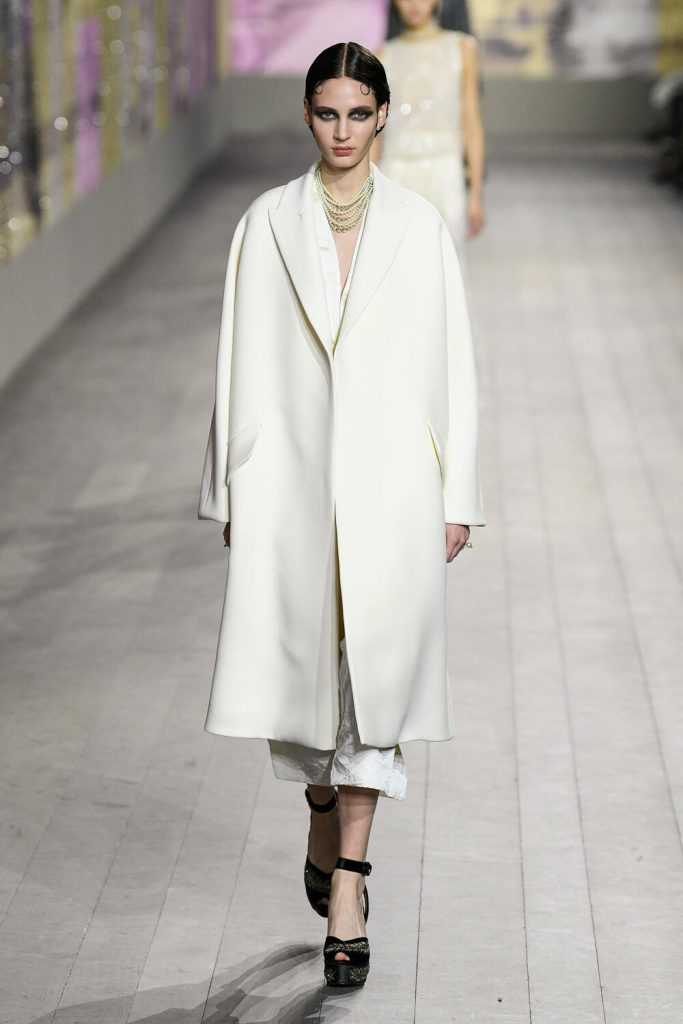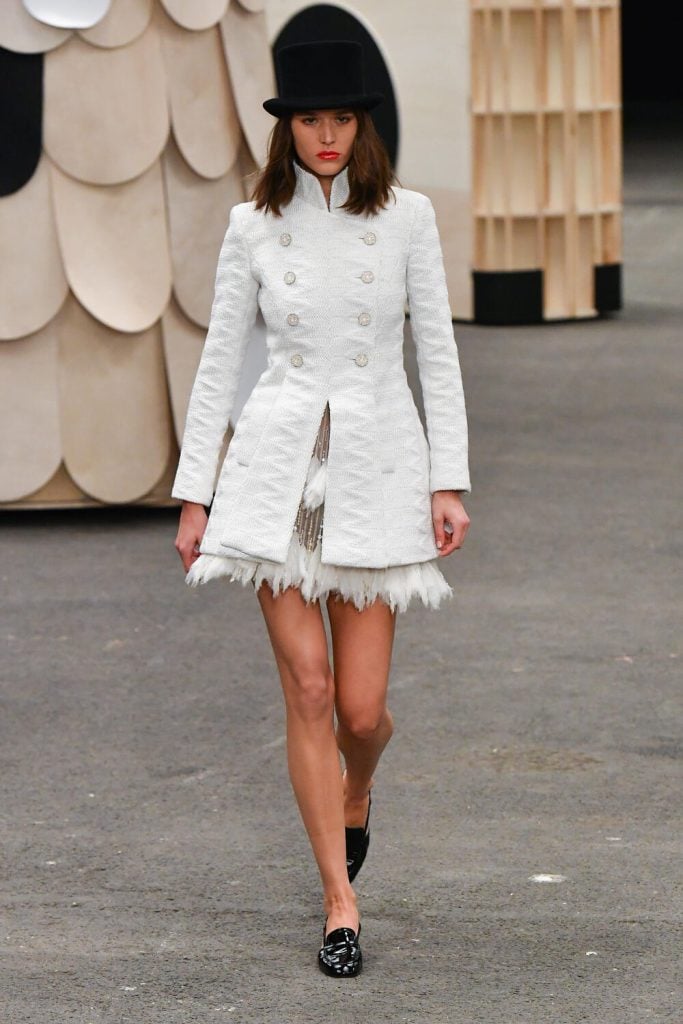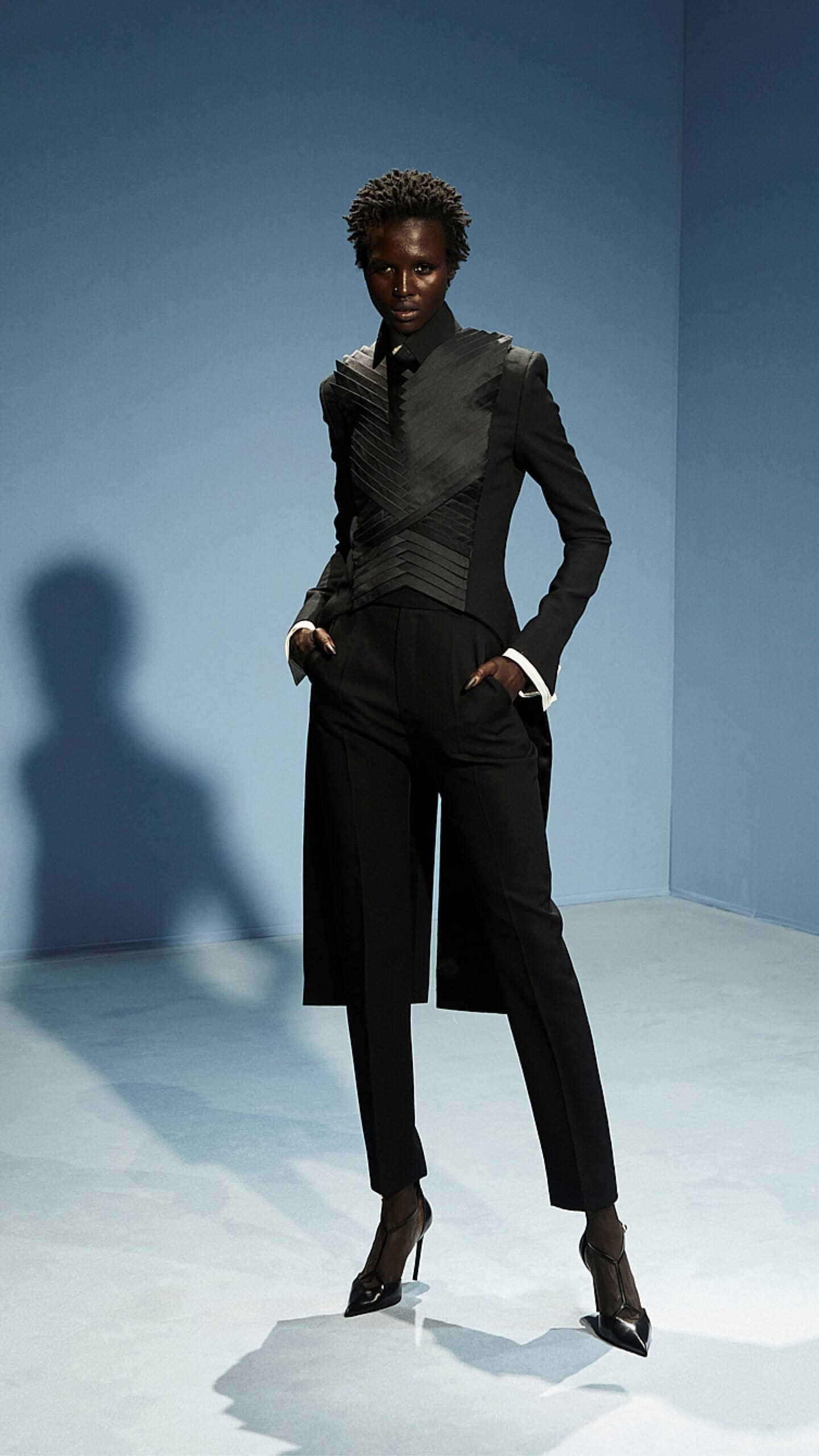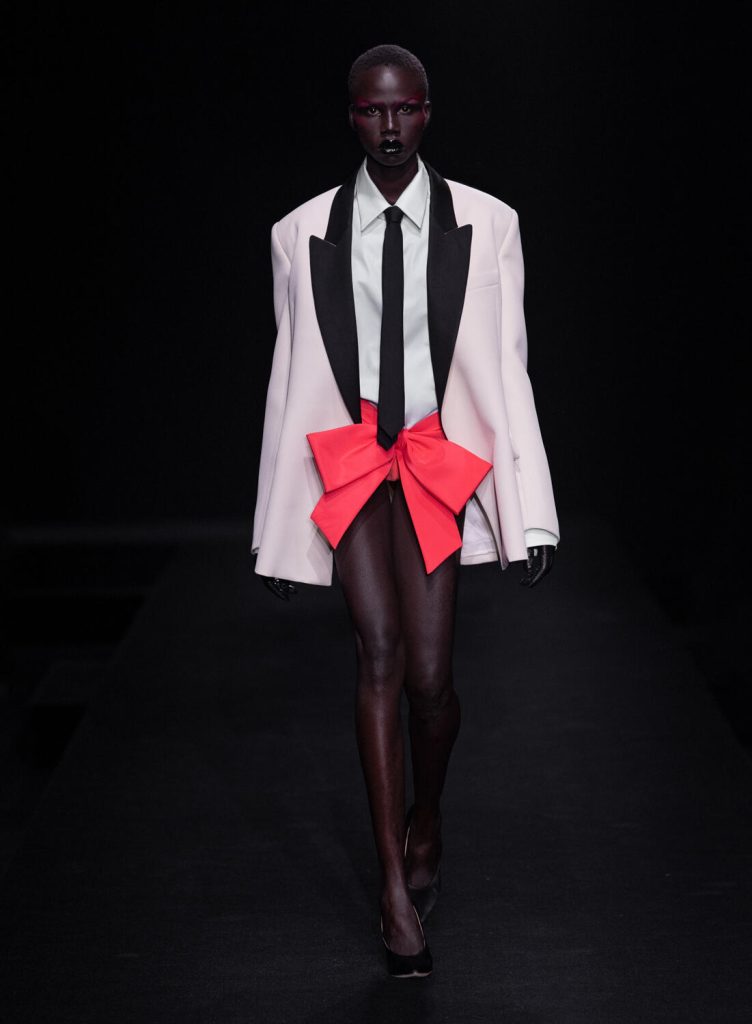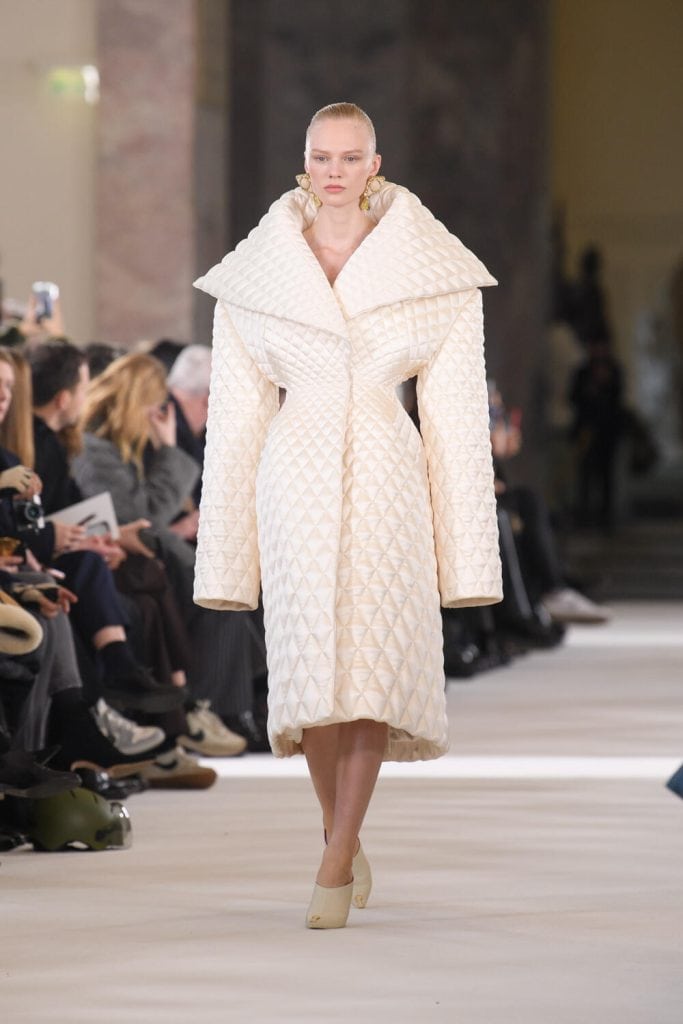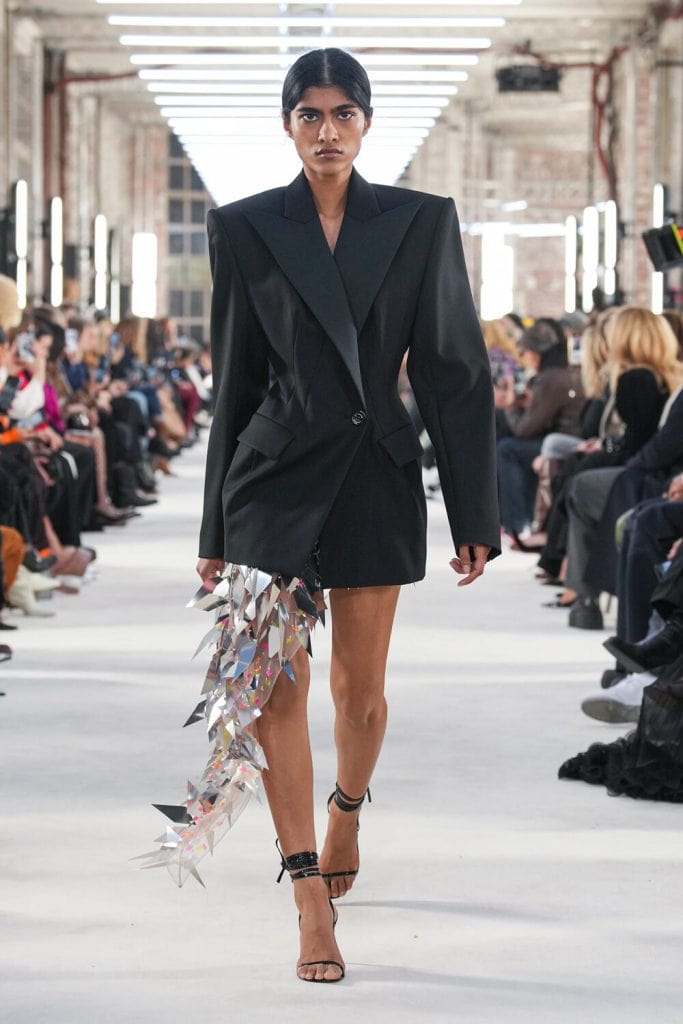 ---