The Top Street Style Trends from the Fall 2023 Menswear Season
By Angela Baidoo
Out on the streets, in contrast to a visible (if not staggered) return to a sense of formality on the runways, showgoers, editors, and general fashion obsessives continued to carry the flag for peacocking for the cameras. The menswear crowd, dressed in their finest street, sport, thrifted, or sartorial ensembles gathered and gave good face, but what was interesting to note this season was the increasing influence and impact of K-pop stars. Bringing with them a frenzy of dedicated fans, it's a shift that is confirming their (money-can't -buy but can) reach in terms of MIV (Media Impact Value) that having just one of the members of BTS or Enhyphen at a show can generate.
The parade of attendees – barring the influence of Dior and Louis Vuitton – were encouragingly starting to demonstrate a break-away from identikit dressing and leaning into more dressed down thrifted looks, or uber-sharp crisp tailoring, which is proving the tribal nature of men's fashion is here to stay, but that many more players are being invited onto the playing field. And rather than a wholesale move towards smartening up with structured silhouettes, the embrace of hybrid dressing that has sprung up to meet the need of out-of-office wear is allowing the new male consumer to adopt and merge new dress codes to suit the way in which he wants to dress now.
Here are the top 8 trends from Street Style:
Head Start On Fall
Standing head and shoulders above all the accessories trends that were seen on the street, the menswear crowd chose a variety of headgear to top off their 'fits. In response to the chilly temperatures outside the shows, and acting as an ironic nod to anonymity – as the aim for those attending, especially those sans ticket, is to be seen, no? – the balaclava has become the must-have finishing touch, rendered in wolf-like furs, or handcrafted knits. While more modest men opted for the simplicity of the classic beanie hat to complement their tailored cuts.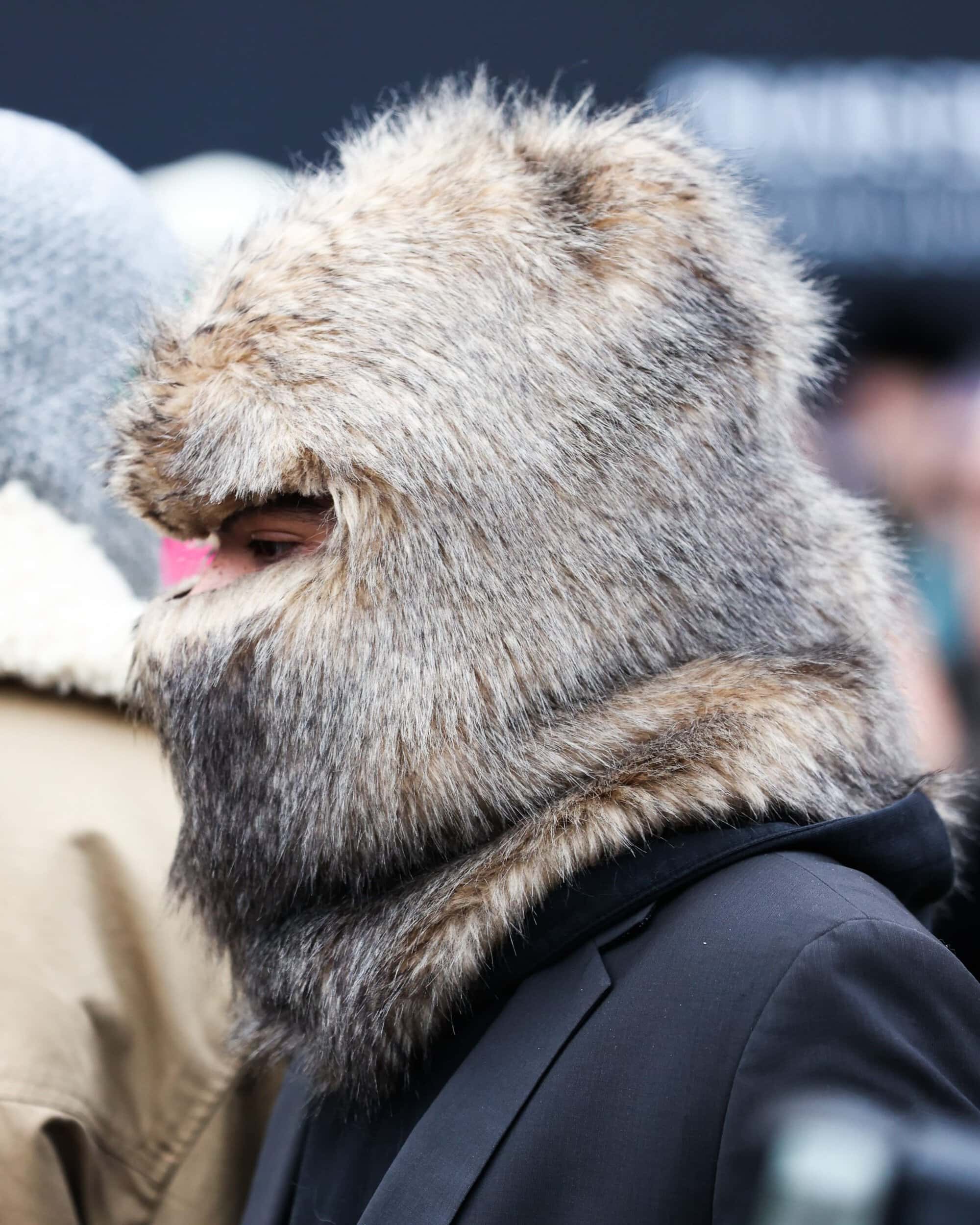 The Bag Maketh the Man
This season, it was the bag that 'Maketh the Man' as showgoers had crossed the shopping aisles to seek out cross-body, micro, and XXL tote styles from the women's department. A growing trend in China according to Jing Daily, who found that male consumers were "influenced by male celebrities [with] more and more Chinese male fashionistas integrating women's clothes into their wardrobe, due to their more fashion-forward designs ad attention to detail", the movement has gained popularity as designs by Fendi, Chanel, and Hermes proved irresistible to those on the street. Forgoing the more minimalist or utilitarian silhouettes typically associated with men's accessories, bold choices were made with colour and ultra-ladylike options which provided a contrast for harder-edged style statements.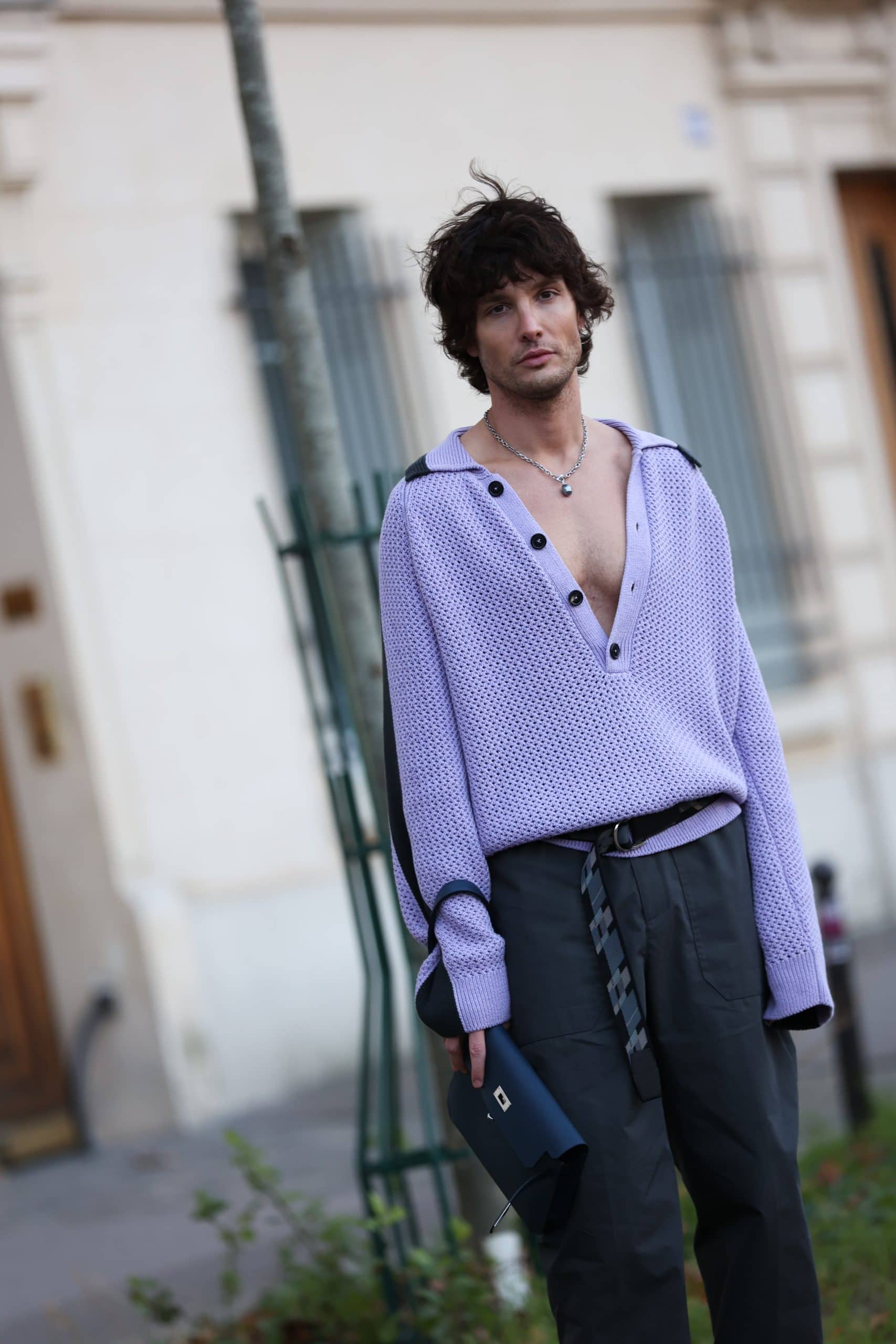 Smart Features
The forecasted return to a sense of formality is well underway, as the suit, albeit slightly deconstructed and in many cases worn as separates with more casual pairings, was definitely back on the agenda. Perhaps it's tailoring's ability to pull any look together with minimal fuss, but outside on the Milanese and Parisian streets the vibe was distinctly one of effortless elegance, with the topcoat taking pride of place in herringbone, checks, and brushed wools, or slick leather adding a punk or 70s nod. Replacing in many respects the reign of the puffer, which was still making its presence known, but didn't look as modern as it did a few seasons ago as it has now been relegated to the position of wardrobe staple. Instead look to the satin bomber from Gucci or the ovoid MA1 jacket from Prada – for the next streetwear must-have.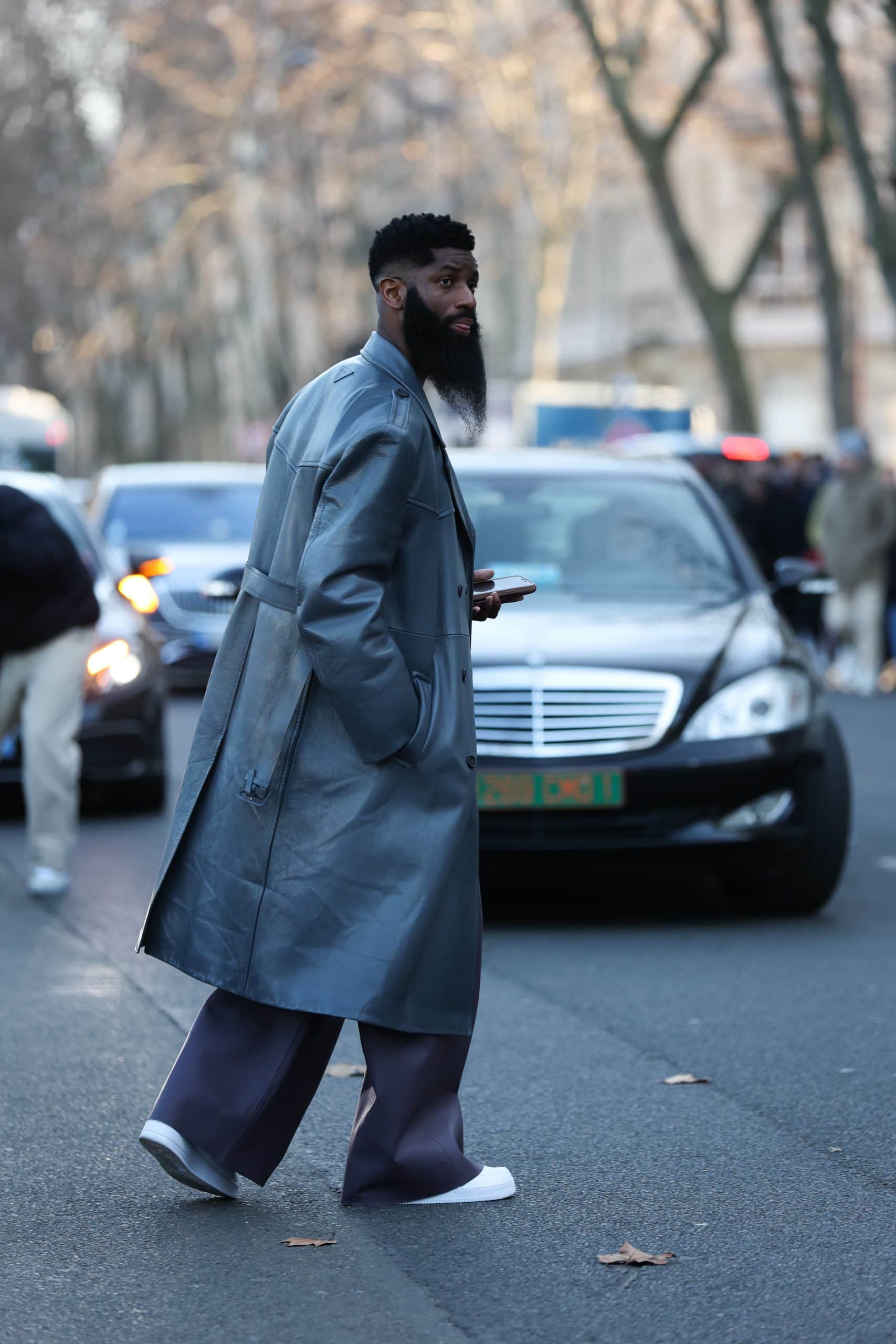 Hang Loose
While womenswear continues to mine the early 2000s for pop-culture references, the 1990s, and particularly the grunge era is providing inspiration for the rise in thrifted looks by show goers, who are opting out of the game of spon-con that so often dictates the styling of head-to-toe branded looks. This more personalised take has seen the fit of denim jeans favour a looser, much baggier iteration, complete with patches and DIY rips and distressing. It is likely that there will be an influx of visitors to charity and vintage shops hoping to replicate the style, which will be a win for circular fashion, as this style of jean looks best having been 'worn-in' by a few decades.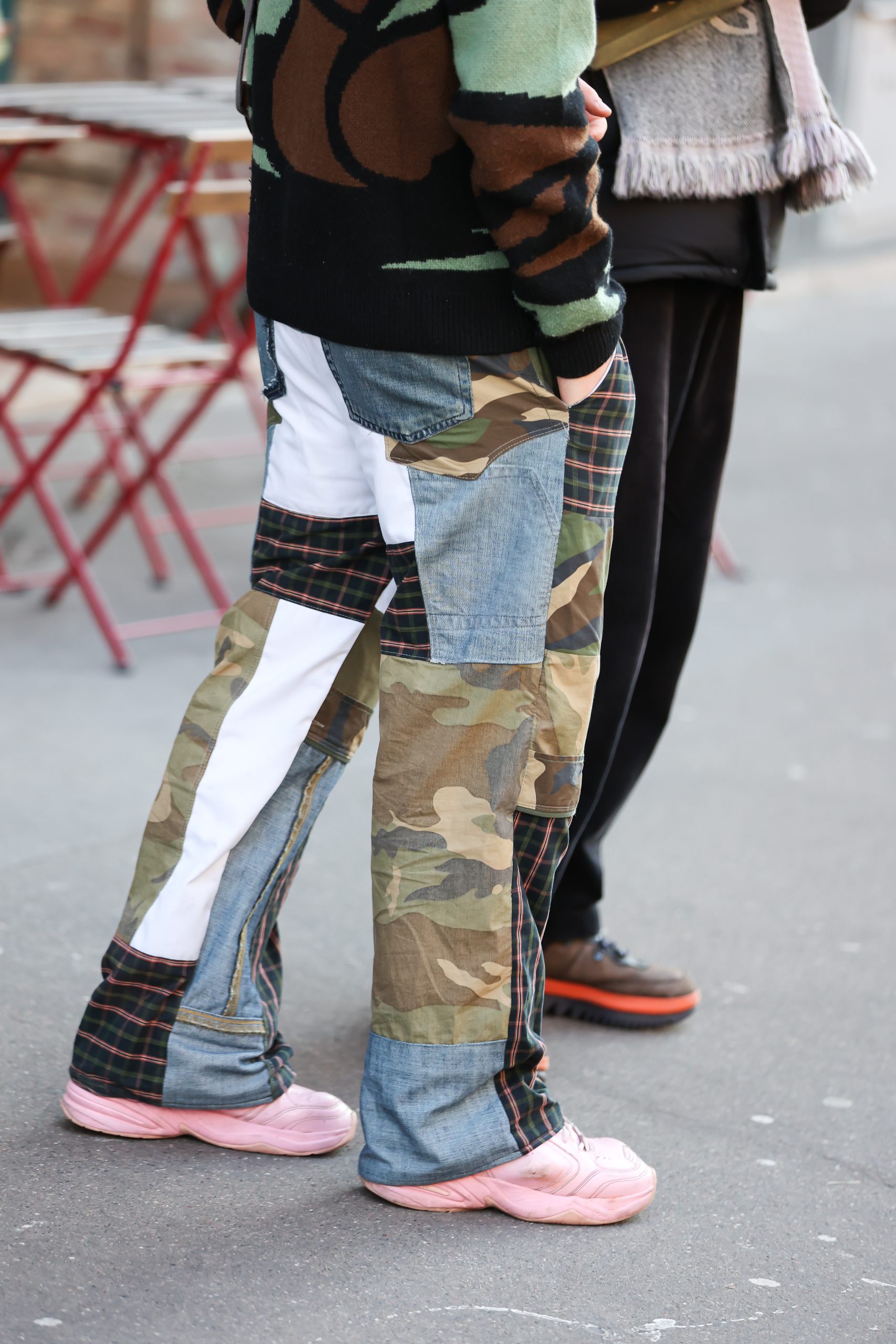 Practicing His Craft
The practice of the handcrafted – whether through collaborating with indigenous artists, sourcing one-of-a-kind vintage textiles, or playing into the desire for hyper-texture via super chunky knits – is ushering in a new era of appreciation for the analogue. Patchwork denim and check shirts featured surrealist motifs, while a Louis Vuitton crochet blazer demonstrated that the craft technique is not just for summer and can work year-round. A tailored coat rendered in tapestry depicting a palatial home and marble statues was an unexpected take on the trend, while embroidery and embellishment spoke to a renewed and much-needed sense of individualism on the streets.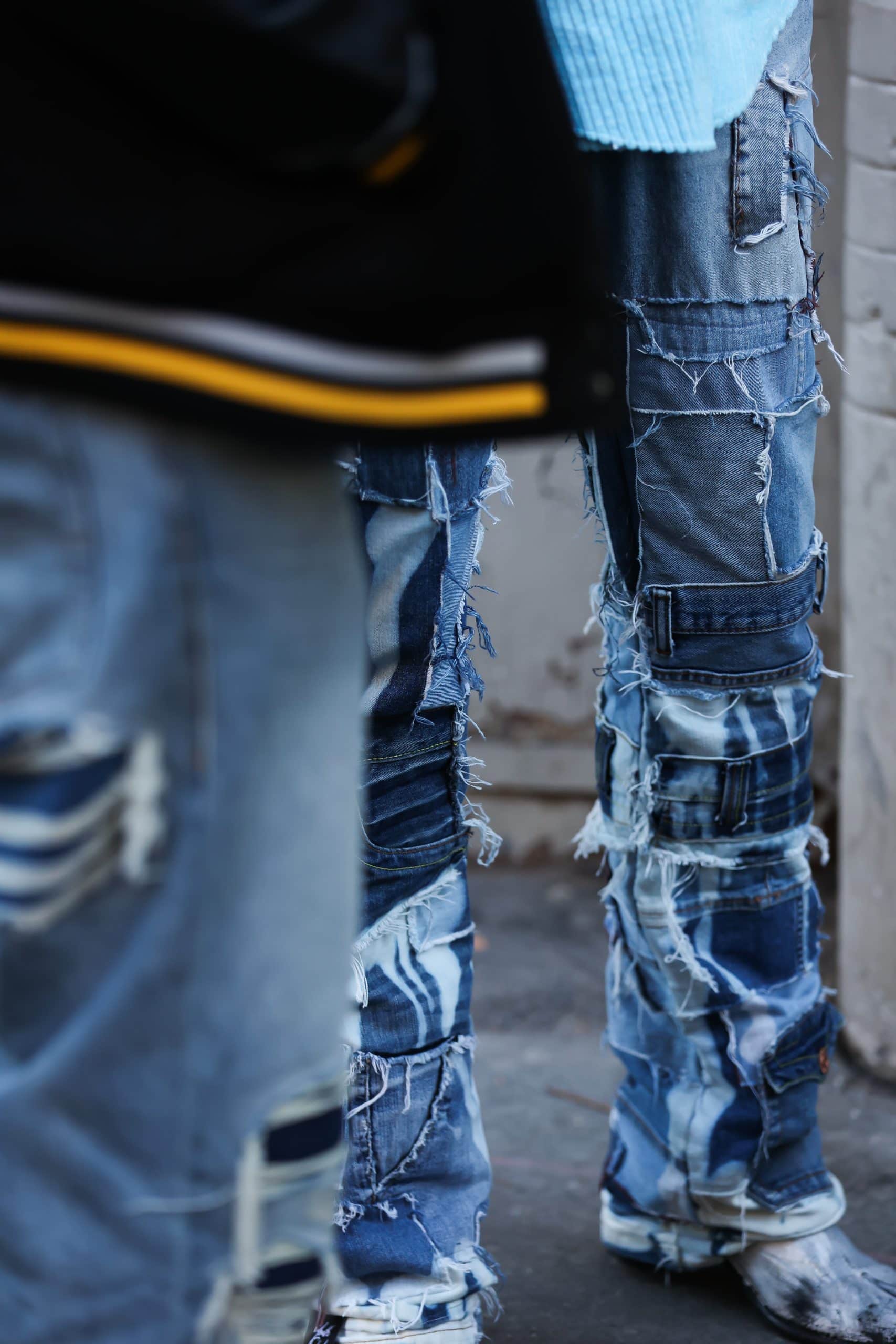 Dark Days Ahead
Reflecting the uncertain times, and quite possibly dark days ahead, the street style set went 'Back to Black', but it wasn't a wholly sombre affair, as there was more than dark dystopia in the details. High-gloss patent leathers, when worn head-to-toe were reminiscent of noughties sci-fi movies, the classic biker made the case for channelling your inner rebel, and the classic overcoat came in an updated floor-sweeping maxi length. As much as soft winter whites were trending on the runway at Dior, Casablanca and Wooyoungmi, 'Going Dark' seems to make the most sense for right now.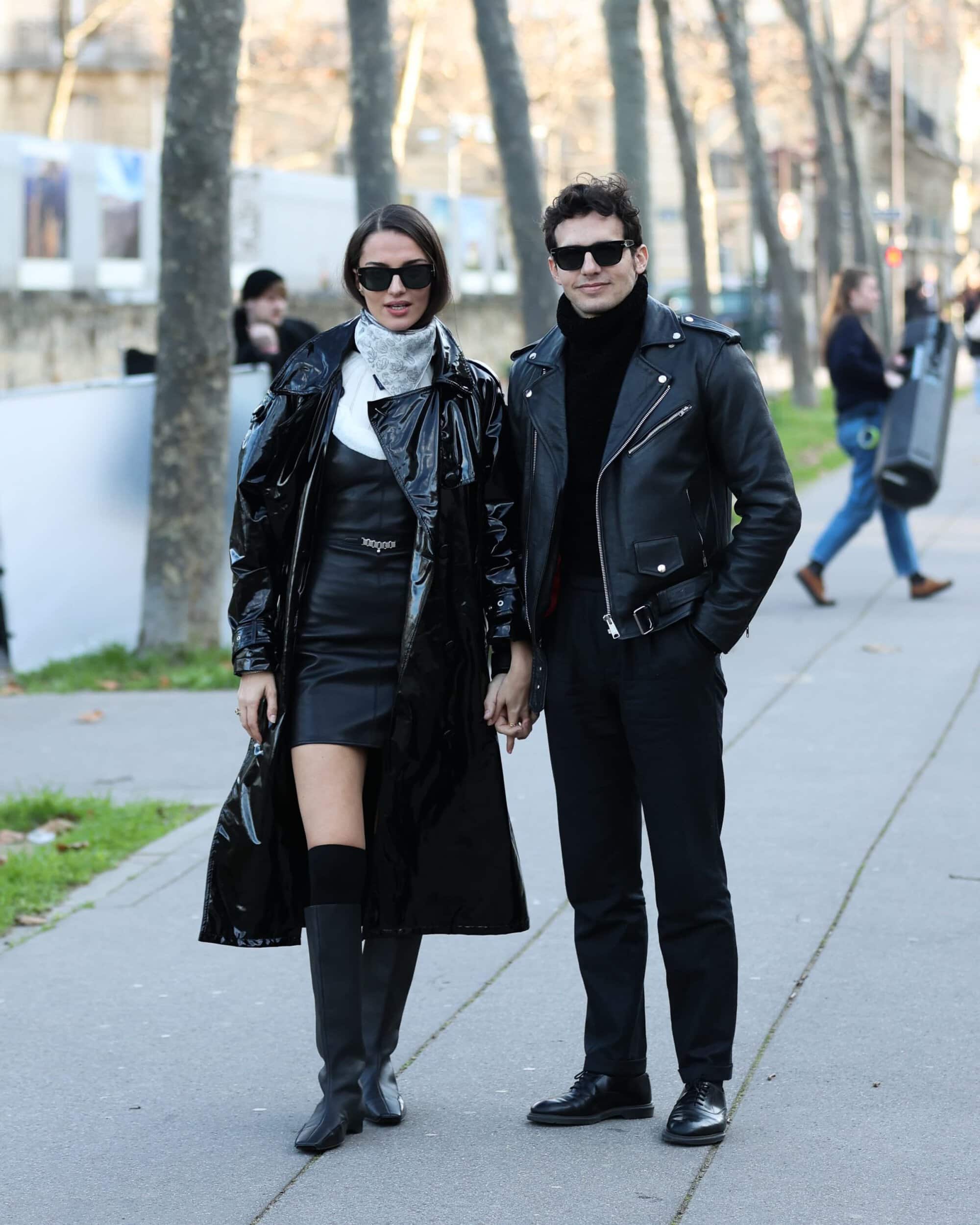 Watch Your Tone (Tone-On-Tone Colour)
Primary bright colours scream to be seen, but in line with the new mood for a subtle shift in aesthetics, delicate pastels and warm neutrals were a welcome escape from the noise. Offering a sense of balance and carried off with confidence by its wearer's, shades of sage and muted pinks were worn monochromatically in various textures and finishes, while creams and whites were highlighted with clever sheer layering. But an elevated, yet modern variation was seen in the tone-on-tone of Usher's slate grey leather set.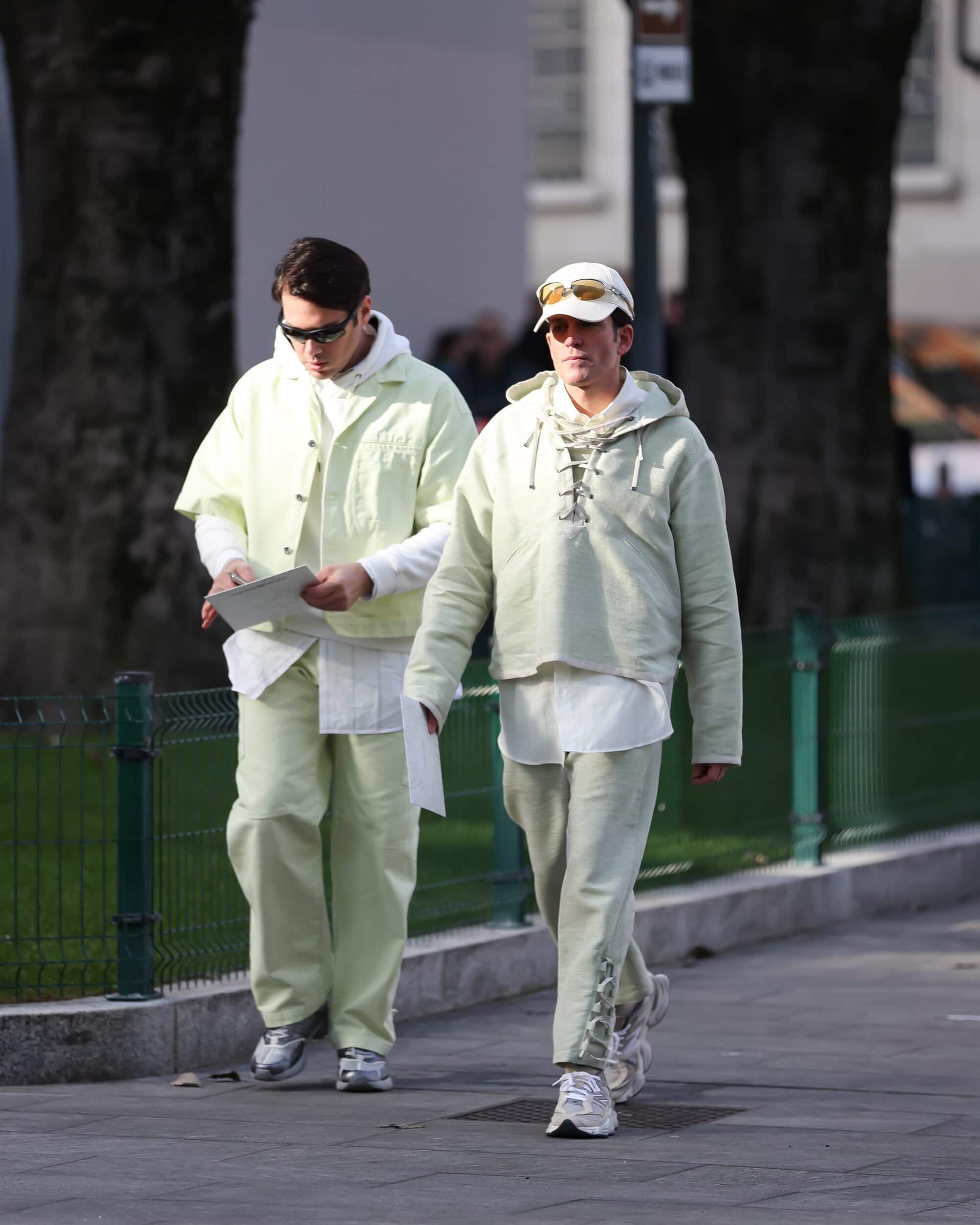 Twice As Nice (Double Denim)
Denim's authority over the casual narrative see's it appear season after season as the most beloved fabric to play with when it comes to street style. Show-goers paired up jackets and jeans to double the impact, and surface effects of designer distressing and raw hems sat alongside those who went for jacquard and floral finishes. A more interesting case for double look came in the form of 1970s style raw denim, with wide lapels and even wider flares, could this be the new hybrid suit? Quite possibly.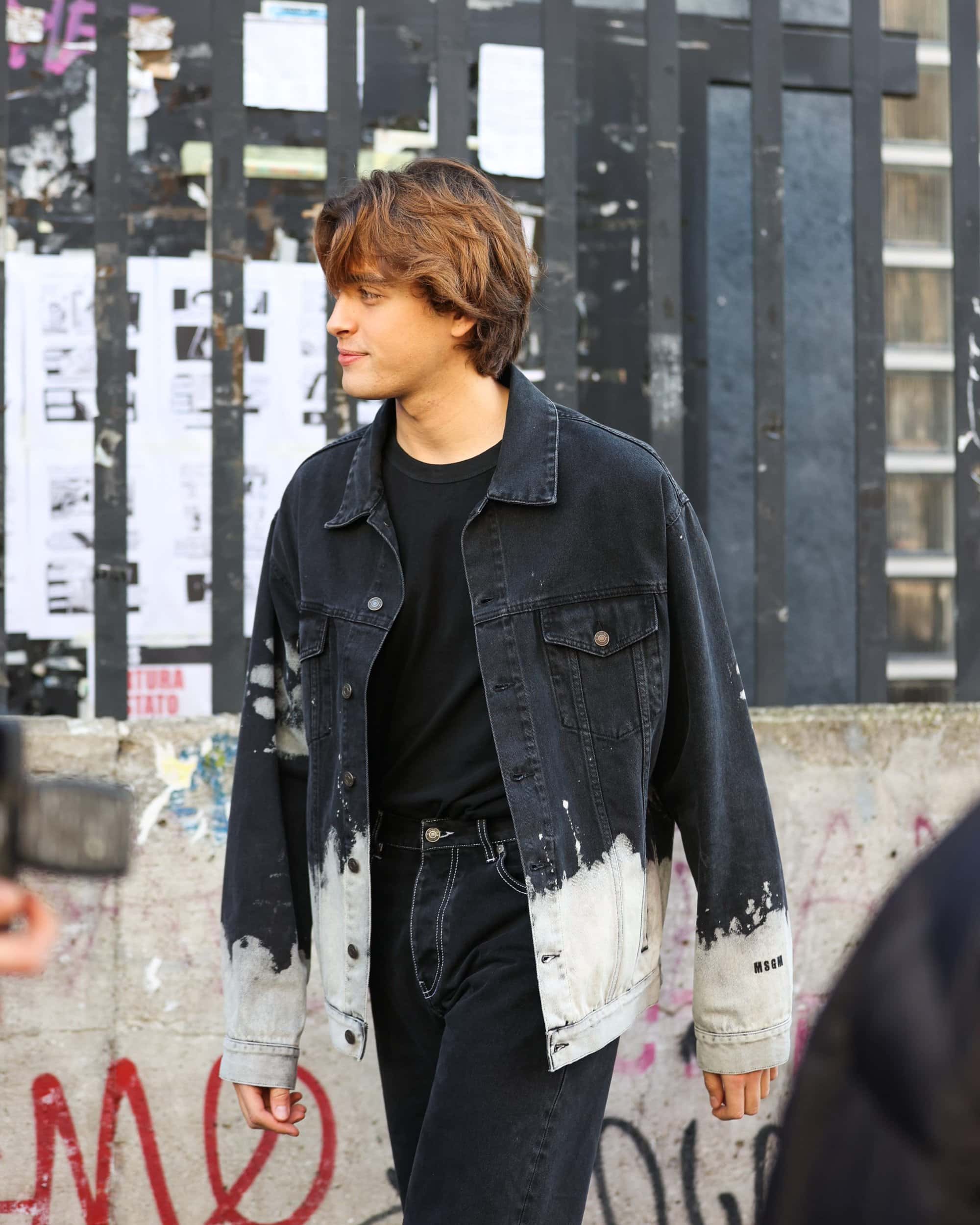 ---