Review of Thom Browne Fall 2021 Ad Campaign by Creative Director Thom Browne with Photographer Tina Barney and Actors David Harbour and Anh Duong
Thom Browne explores a vision of neo-American gothic in a new Fall 2021 campaign captured by photographer Tina Barney.
Barney's imagery focuses on a couple played by actor David Harbour and artist and actor Anh Duong. The campaign was captured at Teviotdale, the historic built by American politician Walter Livingston in 1774. The beautiful grounds and interiors of the manor could be said to play the campaign's third character.
The campaign follows the couple as they inhabit this space, comfortable at home and with each other. As no words are spoken in the film, the film and the photographs feel like natural extensions of each other. Their silence is not uncomfortable or oppressive, but rather a simple acknowledgement that no words need to be said. We simply witness the couple's companionship as they move through the quiet patterns of life.
The imagery references cultural staples while working them into its own unique vision. With its East Coast manor house and vintage documentary aesthetic, the film almost has a Grey Gardens feel to it – though instead of the documentary's characteristic surrealism and decay, the campaign film has a quiet sense of joy and vitality.
Barney's photographic compositions similarly tap into the spirit of American painting with their sense of quiet and composed realism. One photograph directly references Grant Woods' iconic "American Gothic," a connection that feels both playful and sincere, as well as illuminating the conceptual ambition of the campaign.
Working with a language of tailoring, interior design, architecture, and bodily presence, Thom Browne paints himself as the inheritor of a long line of American creative tradition, and asserts his vision as a contemporary master.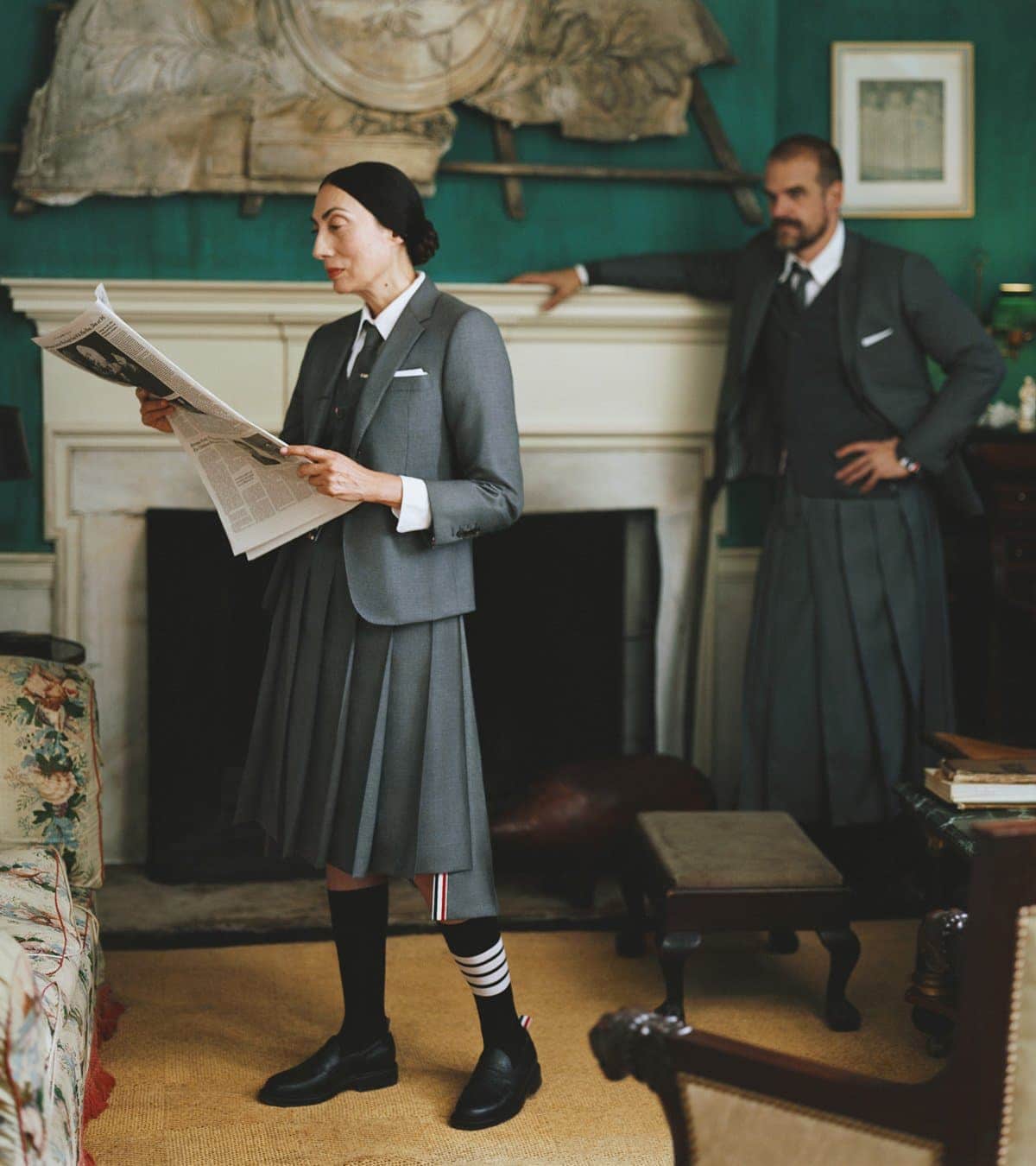 Thom Browne Creative Director | Thom Browne
Photographer | Tina Barney
Models | David Harbour and Anh Duong
Location | Teviotdale, Livingston, New York

---