Tiffany & Co. 'About Love' Fall 2021 Ad Campaign Fall 2021 Ad Campaign by Creative Director Ruba Abu-Nimah with Director Emmanuel Adjei and Photographer Mason Poole with Beyoncé & Jay-Z
Today's most iconic musical power couple stars in a new campaign for Tiffany & Co. Beyoncé and Jay-Z shine in the iconic luxury jeweler's "About Love" Fall 2021 campaign, which features creative direction from Ruba Abu-Nimah with film direction by Emmanuel Adjei and photography by Mason Poole.
The campaign marks the first time the couple have appeared in a campaign together, and the film makes the most of their iconic status and love story. Intimate and elegant, the narrative begins while the couple are apart, though they are present in each other's hearts as they create art examining their love. By the second half of the film, they are reunited, quietly reveling in each other's presence.
The campaign also marks two other exciting firsts, including the first time the famous Tiffany Yellow Diamond has been worn in a campaign. One of the largest yellow diamonds ever discovered, the stone was purchased by the house's founder Charles Lewis Tiffany in 1878.
But the visual centerpiece of the campaign is Basquiat's painting Equals Pi. Immediately purchased after its creation by a private collector, the piece is now owned by Tiffany & Co. The campaign marks the first time the painting has been available to be seen by the public. In a nod to the fellow New York artist, Jay-Z's hair is styled in the campaign after Andy Warhol's famous photographic portrait of Basquiat.
Recently under new ownership, Tiffany has been pivoting to a more accessible brand image and a narrative-based marketing that is more in line with the rest of the luxury fashion sphere, and this campaign represents a strong push in this direction.
There may, however, be an inherent tension in a luxury jewelry brand, which is based around and thrives on exclusivity, trying to make itself seem more youthful and inclusive. In addition to the many signifiers of the couple's immense wealth, this incompatibility is strikingly embodied in the campaign's perhaps exploitative use of a work of art by a famously anti-capitalist painter, and a diamond produced 150 years ago in slave mines.
The campaign is no doubt elegantly composed and smartly cast, but a critical look past its superficial inclusivity and romance show that Tiffany's values haven't really changed: they remain as self-assuredly elitist as ever.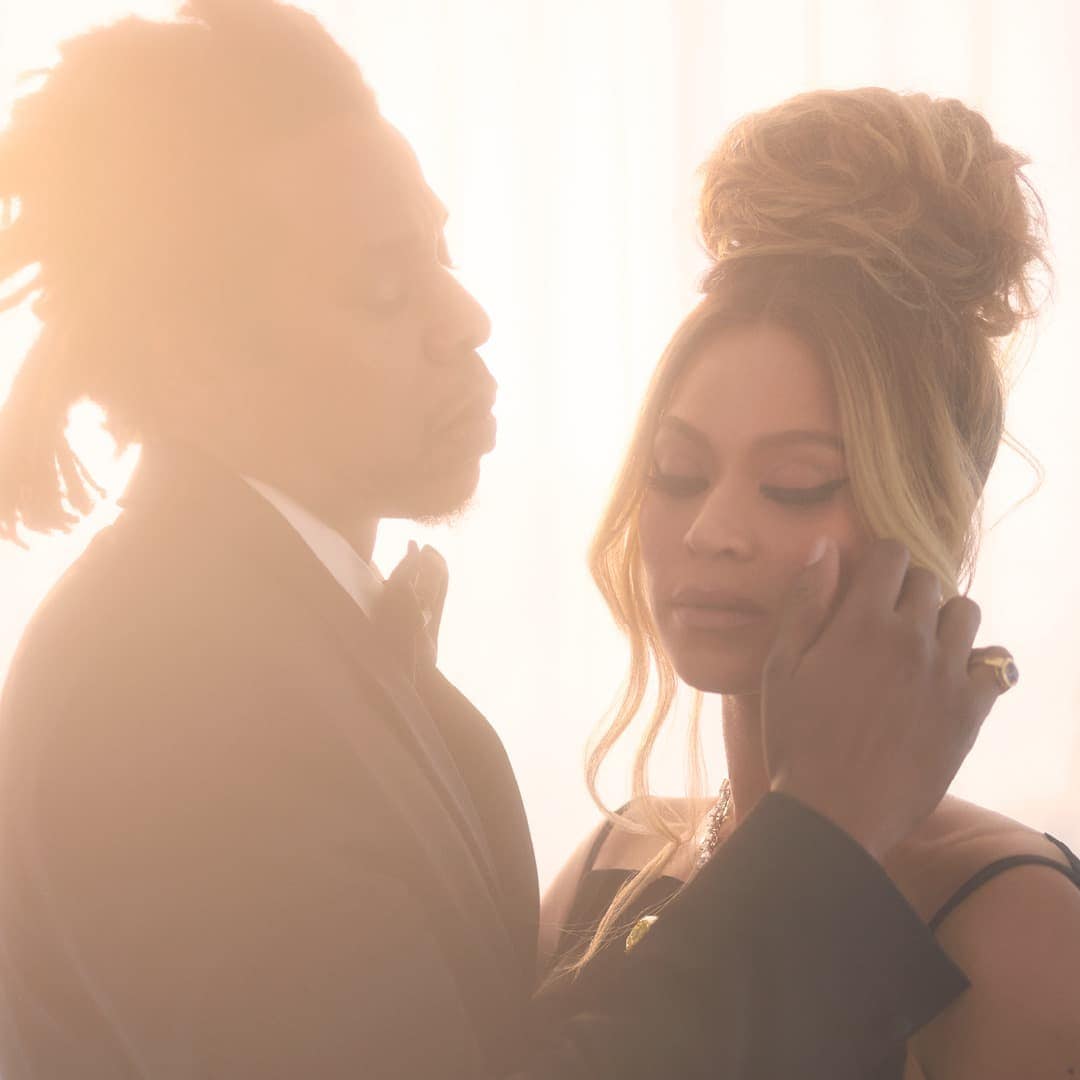 Creative Director | Ruba Abu-Nimah
Director | Emmanuel Adjei
Photographer | Mason Poole
Talent | Beyoncé Knowles-Carter, Jay Z
Stylist | June Ambrose & Marni Senofonte
Hair | Jawara
Makeup | Sir John
Set Designer | Rick Pirro

---