Future73 project calls on six global future makers to reimagine the iconic boot and catalyze it into the future as part of the 50th anniversary year.
Timberland launches the next of its Future73 collaborations, in partnership with New York-based contemporary artist and painter, Nina Chanel Abney. The Timberland® x Nina Chanel Abney Future73 Collection reimagines The Original Timberland® Boot, resurrects the '78 Hiker, and inspires a modern approach to Timberland's heritage apparel designs.
For Future73, Abney brought her vibrant artistic sensibility to envision what the future of the Timberland icon might look like. Her Future73 designs are infused with her appreciation for the great outdoors and carry all the hallmarks of her bold and distinctive artistic style.
I was brought to Timberland via hip hop in the 1990s, but I see the brand as something that is timeless. Much like a Picasso, Timberland is something that will always remain relevant. This collaboration with Timberland is pretty high on my achievements list. It's unbelievable to have the chance to work directly with a brand on a product that has been a part of my life, a staple in my closet.

– Nina Chanel Abney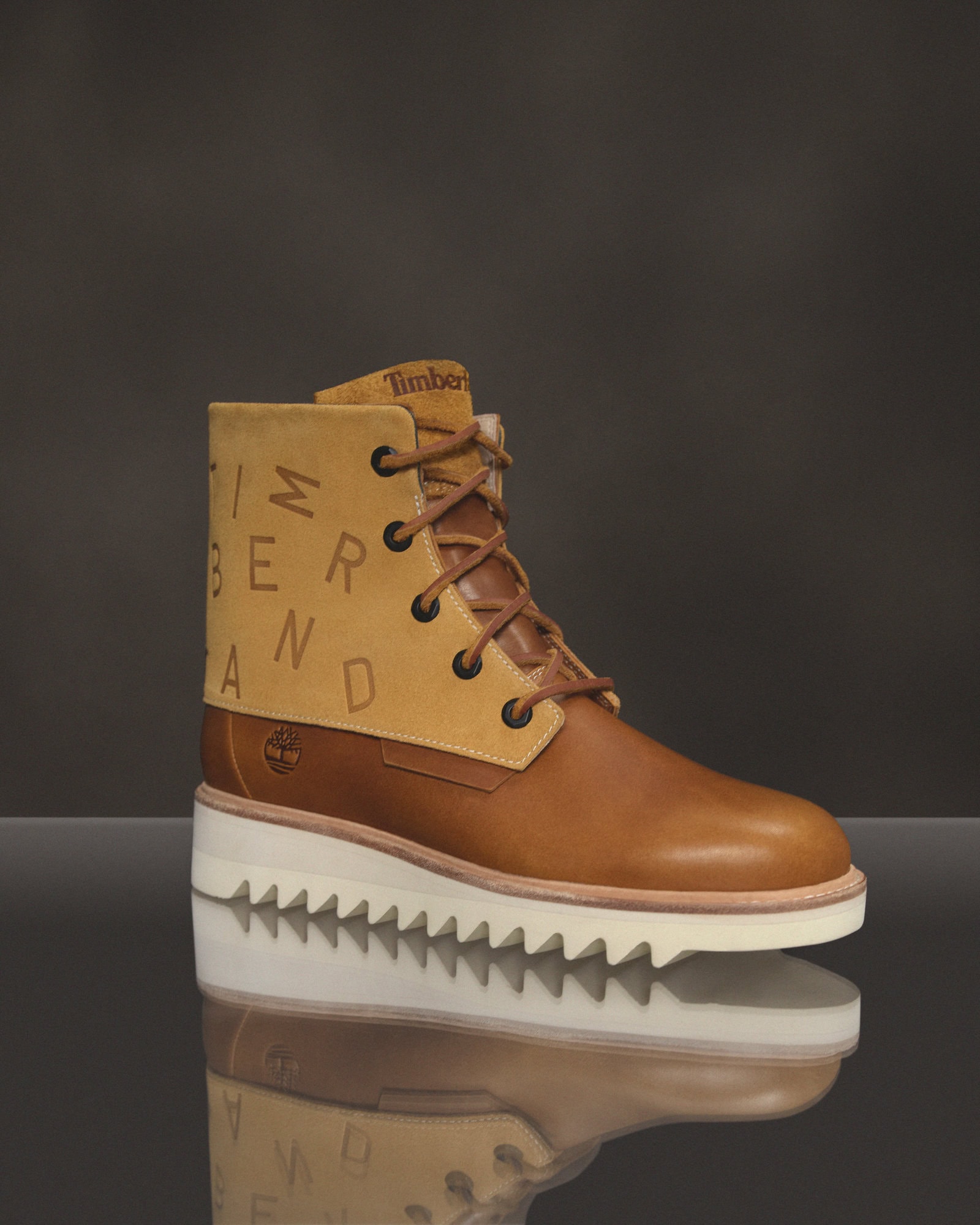 Abney's design process began with research, gathering photo references and archival imagery from which she created hand-drawn artworks before digitizing them into graphics for knits or prints.
The Timberland® x Nina Chanel Abney Future73 6-Inch Boot features premium leather with a contrasting rippled outsole. Two reversible, interchangeable quarter panels along with embossed backstay snaps, and extra laces allow wearers to customize their style. One panel is made with wheat debossed Timberland art: the flip side a ripstop fabric with Nina's special camo print. The second quarter panel is canvas; the reverse made of leather with stitched puffer detail. The blend of Abney's original artwork with the uniqueness of the "claypot" colored leather adds to the boot's intrigue.
The 1978 Hiker is particularly captivating for Abney because, in her words, "it is a dope shoe," and an original style that has not yet been widely reimagined. Her creation features heritage-inspired orange laces, full grain leather, and original Vibram outsole.
As with many creatives, the pandemic led Abney to reevaluate her artistic practice and reprioritize where she spends her time – with the outdoors taking on new significance. Future73 has seen Abney considering in real time how to combine her love of urban living with being in nature; melding fashion with hiking, and style (her primary concern) with function.
Timberland appeals to a very broad audience, with varying needs. However, this idea of 'stylish urbanites taking on hiking' was a great springboard for my collection. As a result, I chose to draw upon the idea of versatility for my collaboration. It was interesting to go through the Timberland archives and see some of the amazing silhouettes and designs that have inspired so much of what is currently trending.

– Abney
To round out the collection, Abney developed an apparel capsule featuring a cardigan sweater that incorporates the same bespoke artwork featured in her Future73 6-inch boot.

The ultimate in versatility, the Future73 Chore Coat can be worn as a heavy cotton canvas jacket with a corduroy collar, or as a reversible insulated vest in either orange or an original Abney camouflage print. Other garments include Jogger Pants cut from recycled polyester with cargo pockets and workwear suspenders; a Cardigan Sweater with corozo buttons featuring illustrations of animals, trees, and sun motifs in jacquard knit; an Overshirt in green buffalo plaid, and Sweatshirt and SS Tee designs in organic cotton with Abney's font or archival nature-inspired graphics. The collection also includes a Cap and Beanie.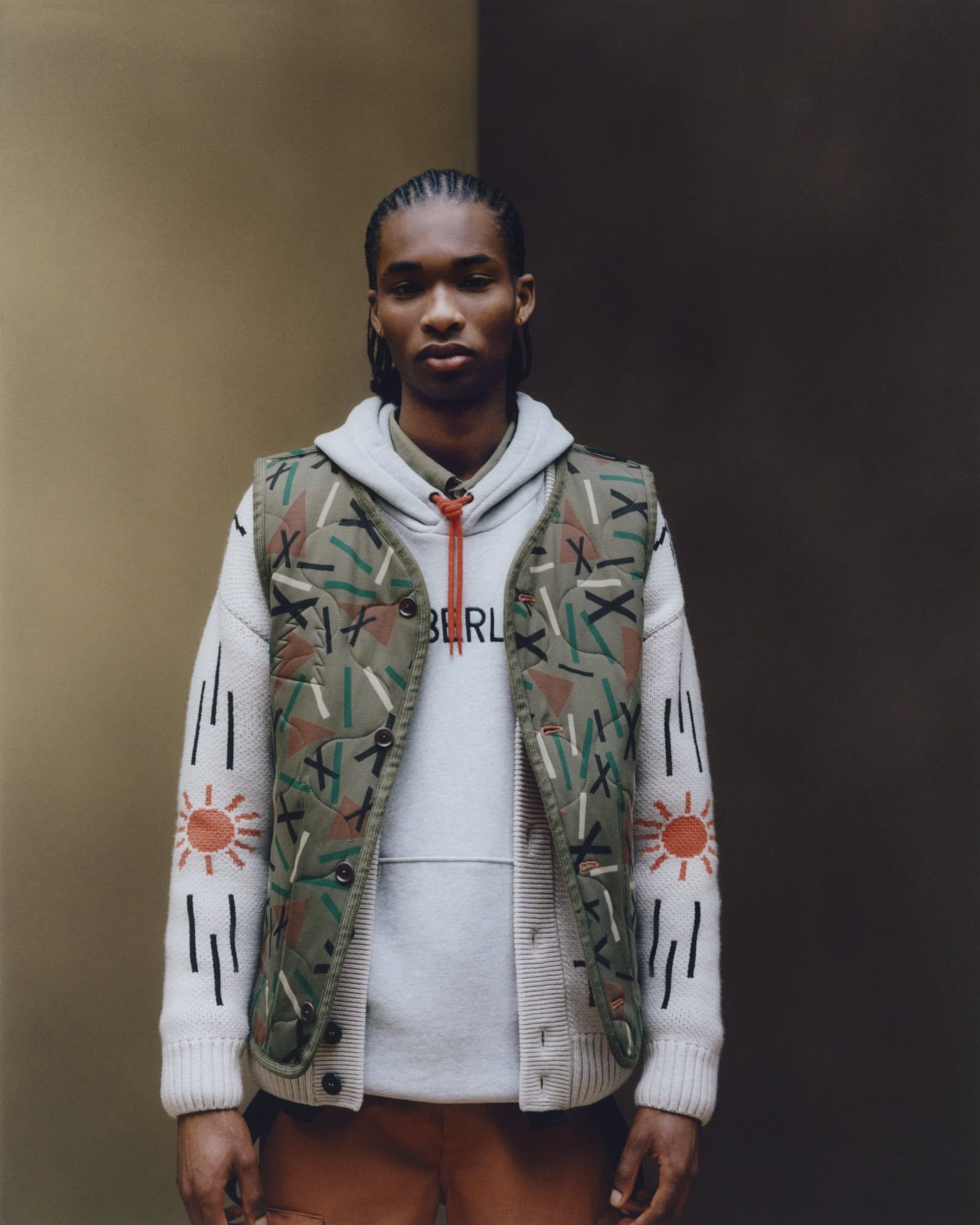 ---