---
Review of Tom Ford Spring 2022 Fashion Show
Out of the Darkness, Everything Sparkles Intentionally
By Long Nguyen
And so it was not so much different of a ritual on the Sunday evening of September 12, 2021, inside the David H. Koch Theater at Lincoln Center furnished with two-row of comfortable white couches on each side. That the light would darken, the disco music began blasting on the loudspeakers and the two spotlights at the end of one platform. Guests sat silently awaiting the start of the Tom Ford Spring 2022 show, with these seasonal rituals ingrained in the minds of those who have followed the designer's career since the mid-1990s.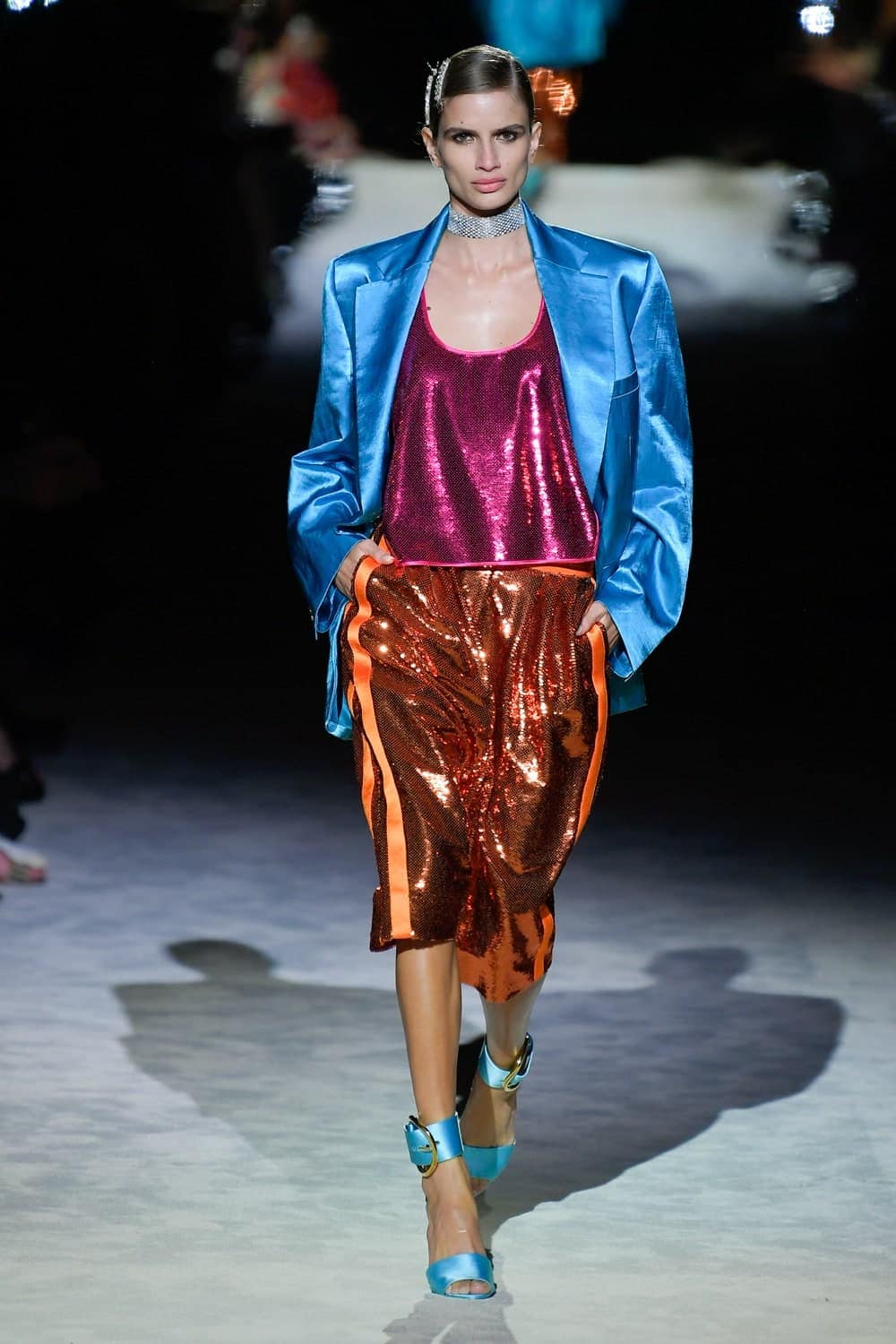 In recent months, that 1990s mood prevalent in the air is back again in full force and the brightest colors.
Absent from the New York shows since his September 2019 foray beneath the downtown subway station with the Spring 2020 season, the American designer and the Chairman of the CFDA closed the New York spring season with a live show.
Featuring an array of tunes reminisce of the distant disco era and plenty of sparkles on every garment or every look. Ford's show is the cap of the efforts to reinvigorate the New York shows and beyond that American fashion in this moment of still a bit of uncertainty.
There were hints of what was to come in the days before the Spring 2022 show on this Sunday evening. "After a year of often sitting on Zoom calls without being fully dressed … I am ready to put on a suit," the designer said on the brand Instagram post promoting the new merchandise from the fall-winter 2021 collection.
Los Angeles changes you. Or at least it has changed me. Returning to America, after living in Europe for 30 years, I can feel my taste shifting. A great deal. Perhaps it has been the pandemic and more time at home, or perhaps it is the more relaxed lifestyle of LA, but this season I am very much into a kind of glamour that is still chic but more straightforward and somehow still casual. There is a glossiness to LA. An almost airbrushed kind of beauty that starts to permeate the mind…" Tom Ford said in a letter he wrote to explain his spring show.
Ford embraced colors in his work in those early years and mentioned how fashion has also evolved in the digital era where flashy clothes are now required. Thus, this particular array of the brightest possible combinations.
The designer applies this stated principle to his entire spring collection but upped the volume to the highest degree in the hyper-decorated and sparkling clothes purposely overdone to enliven the current mood of positivity. Sure this spring show entertained and brought the audience collectively to an imaginary place many have not been in a while.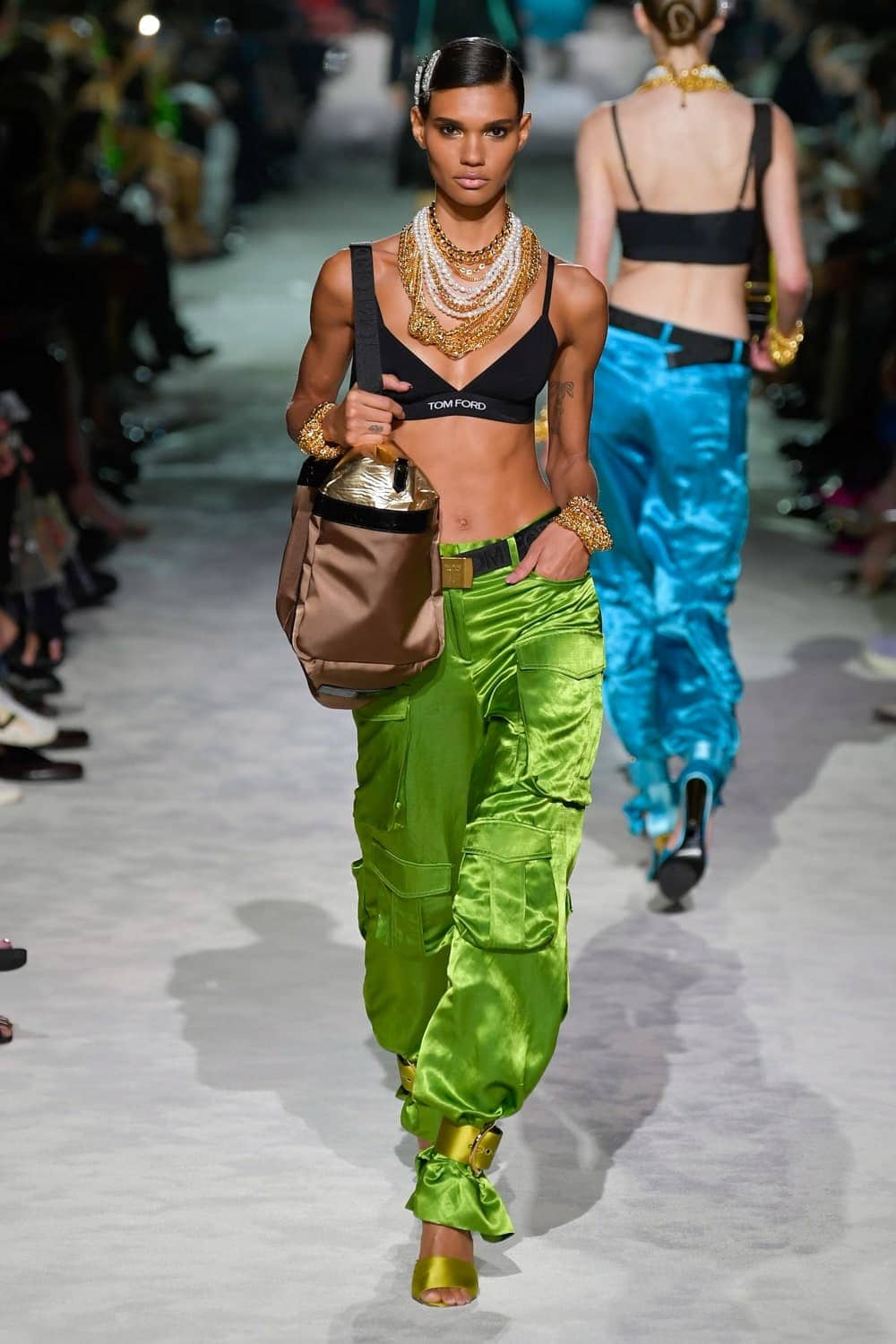 Increasingly, people don't dress in fashion for the day but only for the night. Or, for social media. Instagram may actually be what saves fashion in the end. People now seem only to get dressed up in a major way for a red carpet or to fill their pages with shots of themselves in powerfully stylish clothes. Black doesn't photograph well, and so clothes need to be increasingly cartoon-like to have power on the tiny screens of our phones. It is altering our perception of beauty. It has certainly altered mine," the designer said.
What is fashion and what are costumes has now intertwined in the ways clothes serve their purposes for people dressing for social media and not even necessarily going out.
There is a hodge-podge across the era from the two decades onward from the 1990s. Broad shoulder jackets with streetwear sequined shorts and sequined tank tops, bra tops with MA1 flight jacket in luxury silk satin and work pants, bra tank tops with cargo pants, gold leopard print single breast jacket with short pants and gold tank or the range of sporty garments mixing in with a bit of tailoring.
Yet here and there among the sparkles are perhaps the brand's bread and butter. The bright pink and blue silk velvet tuxedo with Capri pants and silk shirt tied at the waist and the single black breast belted jacket with a knee-length skirt. Customers can mix and match those colorful broad shoulder silk loose shape jackets here with paillette long pants or loose track shorts with their wardrobe.
"In real life, most pieces in this collection are evening clothes. Sleek and clean but potent. My customers will break these clothes down into key pieces to mix with their jeans or sweats for day or wear head to toe for the night," Ford said.
There is a 90's vibe in the air. At least there is for me. Perhaps it is the simplicity of the clothes of that era. A great shirt in an incredible color with a cool pair of pants and kick-ass shoes. In any case, the 2022 take of the 90's take of the '70s looks good to me, and as our beauty standard today is more brash than it was in the nineties, so are the clothes. It was 25 years ago that I designed a particular red velvet suit that was much photographed at the time and that has recently reappeared on several runways, so I decided to reclaim it, albeit altered for now in more vibrant colors and a new cut," Ford said.
Interestingly, in the Gucci Aria Fall 2021 film show last April, the creative director Alessandro Michele also brought back that same red velvet suit as part of the Gucci 100 Year celebration.
The menswear seems though more solid in terms of more fashionable wardrobe proposals. Instead of showing the more commercial best-selling men's suits and jackets, Ford relegated this more formal attire to the showroom rather than on the runway. One slim, broad shoulder suit, one single breast black coat, and another version in sparkling silver lurex silk.
The show and the clothes, though, felt slightly more variations on a single theme rather than an exploration of fashion possibilities.
Indeed this can be considered a designer's absolute command of personal visions and less so as repetitions. There is, though, one certainty coming from this show – it is that in the long run, Tom Ford's aesthetics are mostly his personal views rather than intertwined with the on-goings in the fashion world in terms of trends and moods. Ford is, in a way, his world, one he created and one he defined the idea of good taste and, to that extend, glamour.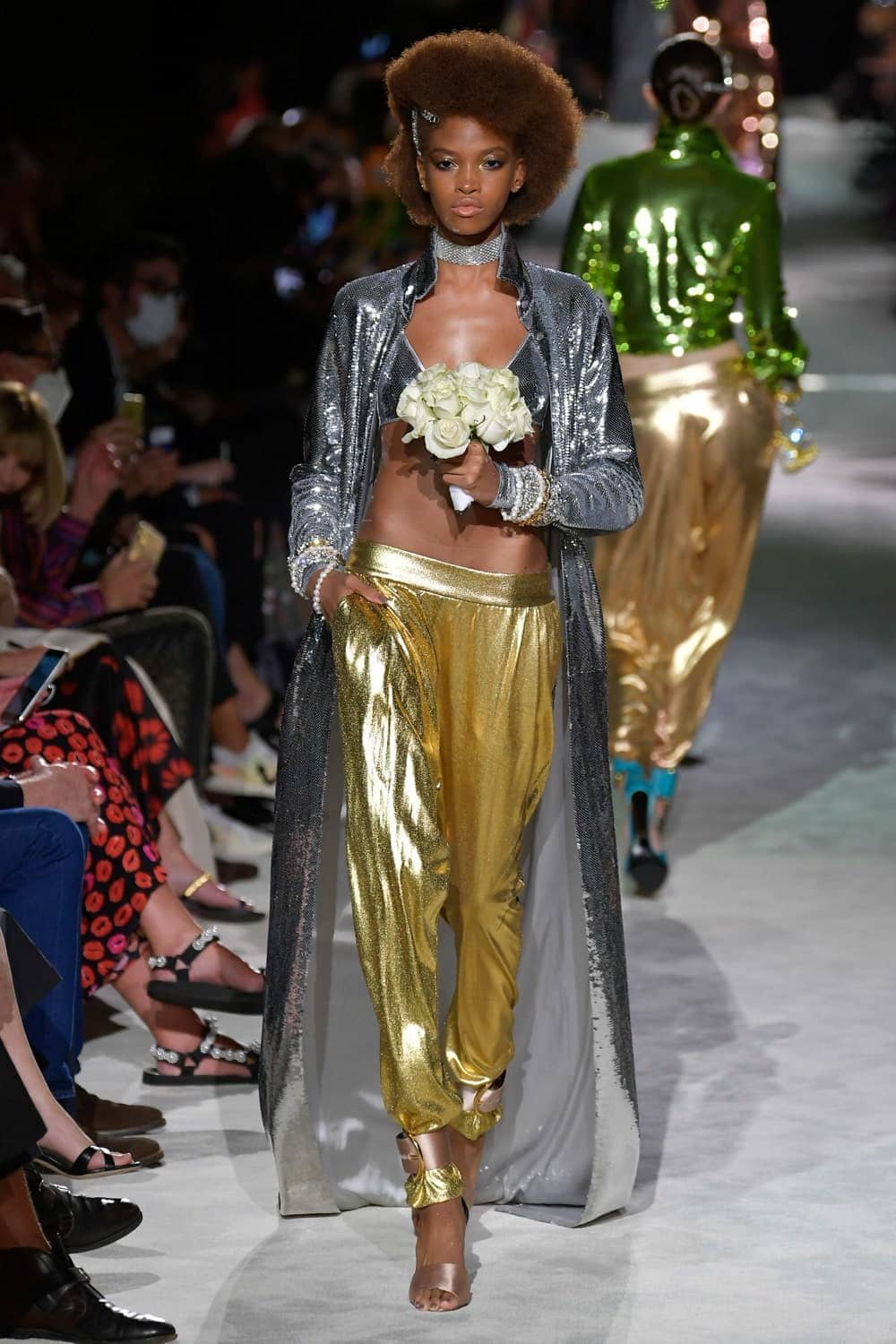 The more conservative tailoring base is always there now, hidden behind the fully sparkling garments. But the jackets, short coats, pants, tanks, MA1 blouson, leather bikers are all there and can easily be remixed in a different light for another day or night. But on this Sunday night, these garments are intentionally worn in this way to produce a maximum impact – a sort of all-out attack on the audience's sight, sound, and mind.
Mostly, I think that this is a hopeful collection and at a moment when we all need hope. We need that now more than ever. Spring is always that way for me, but this one is particularly important. We all need a bit of light in our lives right now. This leads me to my use of metallic that are very present in this collection. The entire ending of the show is gold. The last look is a beautiful but casual and modern summer bride. Not a bride suited for a church wedding but one suited for a quiet summer wedding by a pool at home. A modern bride. Slick, relaxed, but with some flash. And most importantly, full of optimism and hope," the designer always concluded with that sense of optimism that a new day or night is nowhere, and some new clothes as well.
Like it or hate it, this still is a quintessential Tom Ford collection. And you can't fault a designer for being true to his vision.
---