---
As the spectacle of shows only continues to grow due to social, the importance of the experience and the environment becomes more relevant. Star show producers such as KCD for Marc Jacobs, Carolina Herrera, and Coach, La Mode en Images for Gucci and Balenciaga, and Bureau Betak for Dior, Saint Laurent, Kenzo, and Rodarte (and many others) delivered sets with spacial vastness, lighting wizardry, and technological sophistication that rivaled creations from big-budget Hollywood films, broadway productions, and music tour extravaganzas. Words are hardly necessary when you can simply scroll down and soak in all the goodness. Enjoy!
Balenciaga
Balenciaga's Creative Director Demna Gvasalia and Art Director Nicke Bildstein-Zaar collaborated with La Mode en Images to create a post-apocalyptic set reminiscent of the dark and foreboding parallel universe in "Stranger Things." Finding a sad yet striking beauty in a conceptual recreation of rising ocean levels through a water-filled stage, combined with an LED screen that glowed above the catwalk producing imagery of clouds, sparks, and swaths of red flames like hellfire. Clearly a call to action for climate change, there has ironically been almost equal amounts of online discussion about the coveted first row seats being flooded. In this way, the flooded first row was really the most important element of the set design, because it spelled out in no uncertain terms that things cannot continue on the way that they were before.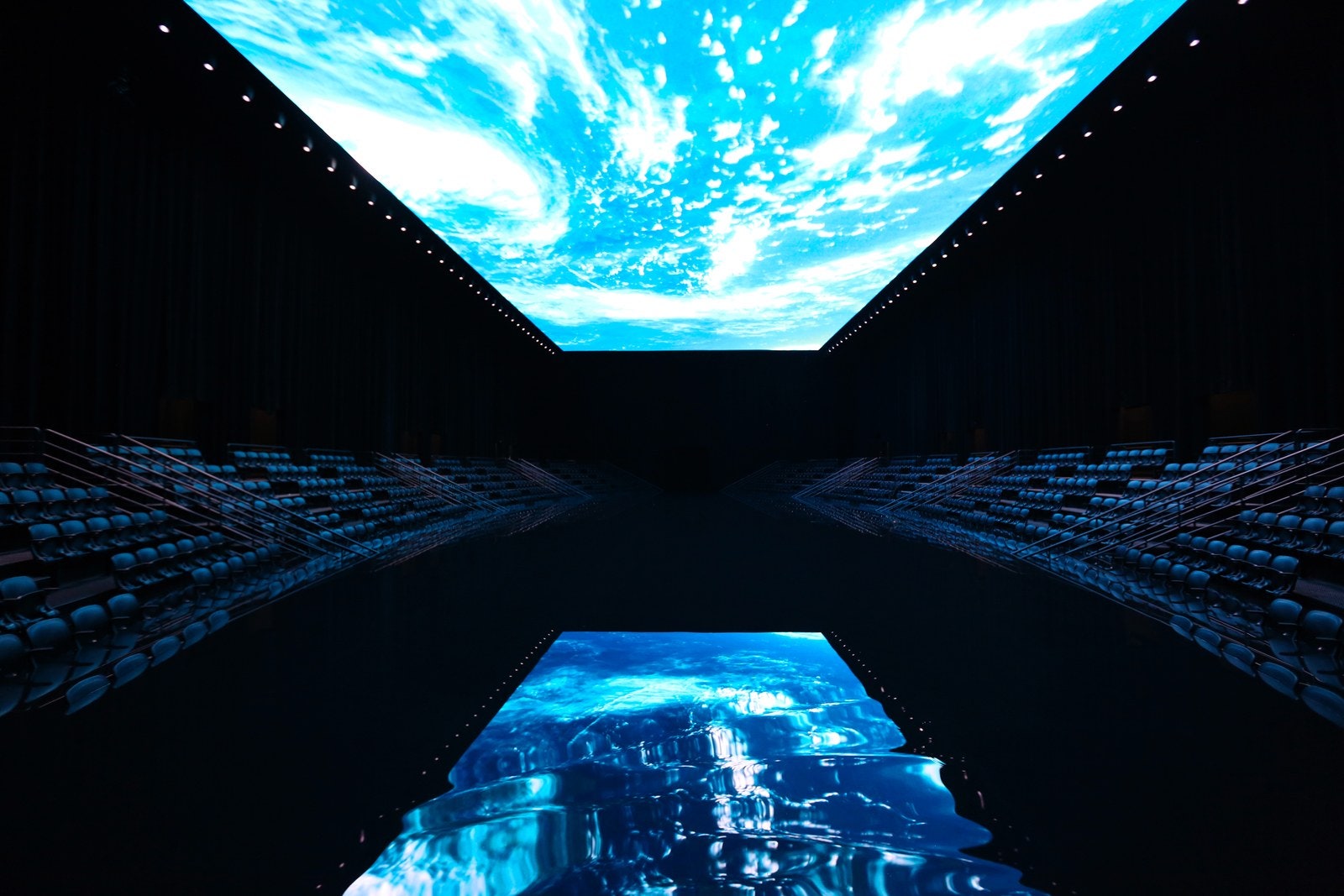 Balenciaga Creative Director | Demna Gvasalia
Show Set Creative Director | Nicke Bildstein-Zaar
Creative Services | La Mode en Images
Carolina Herrera
Carolina Herrera's Creative Director Wes Gordon collaborated with KCD to stage a show on a circular platform at The Shed, a cultural center at Hudson Yards in NYC. The Shed's exterior was designed by renowned architecture firm Diller Scofidio + Renfro, and is characterized by floor-to-ceiling windows through which passers-by were treated to a sneak peek of the house's newest collection.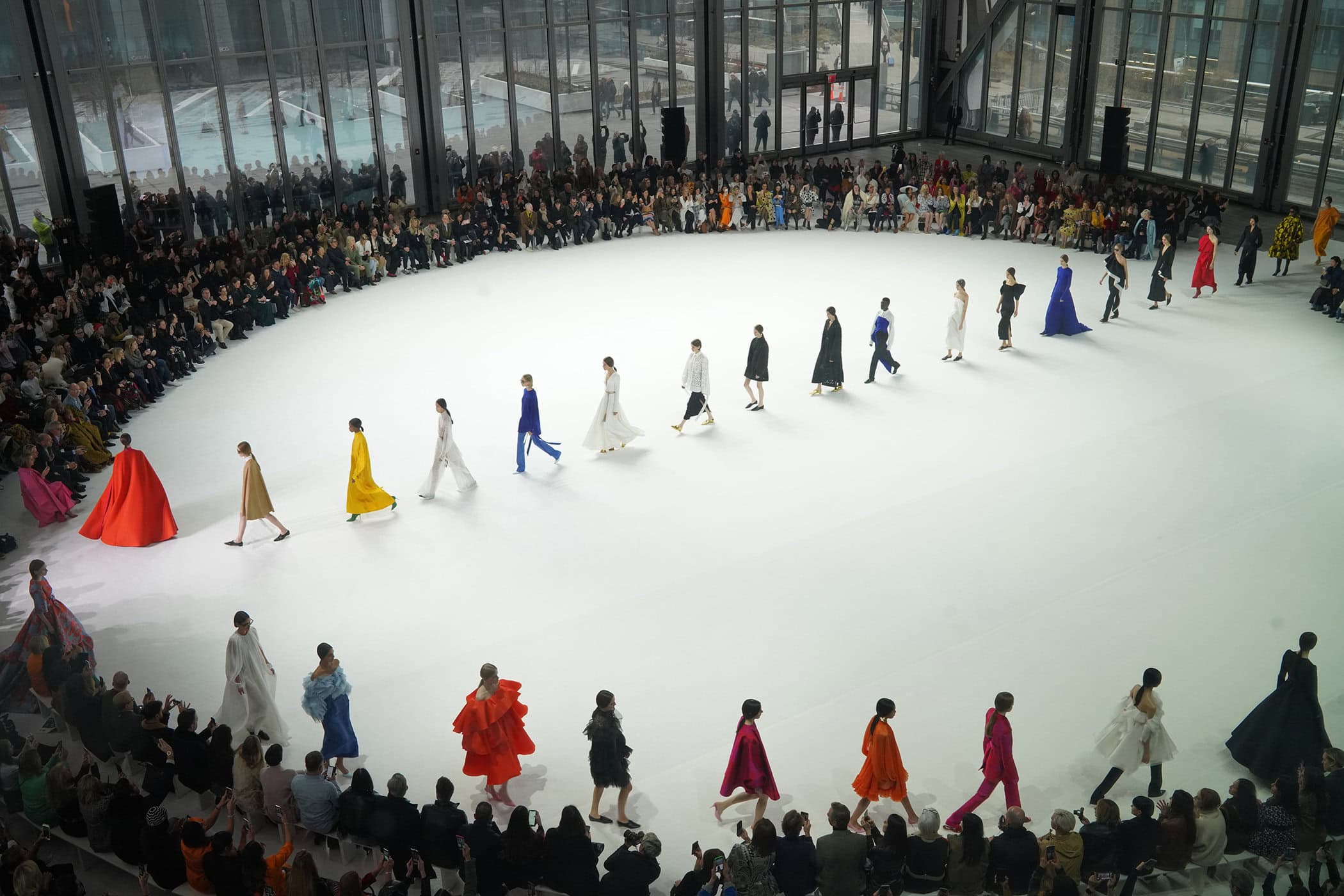 Caroline Herrera Creative Director | Wes Gordon
Creative Services | KCD
Coach
1980's New York was invoked by Coach's Fall 2020 Collection, and also by the set as designed by Stefan Beckman. Comprised of white faux-fur seating interspersed with pale peach and warm neutrals, and raw open space with concrete floors like the lofts in Soho that could still be found for cheap back in the 1970s and early 80s. Punk rock band The Coathangers provided the music, which culminated in a guest appearance by none other than Blondie herself…Ms. Debbie Harry, singing "Dreaming" from behind a dark pair of sunglasses. Long live the 80s!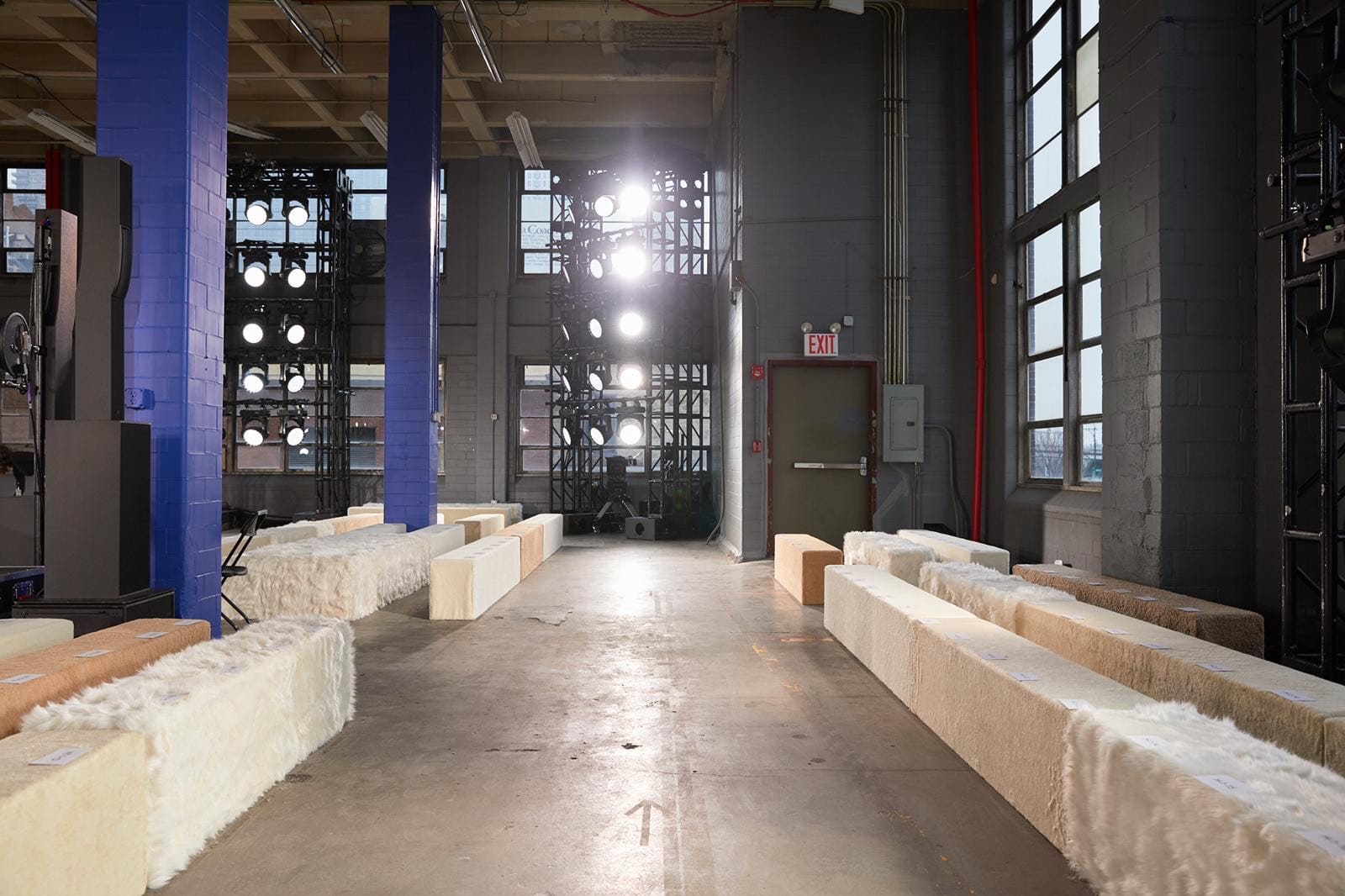 Coach Creative Director | Stuart Vevers
Creative Services | KCD
Set Designer | Stefan Beckman
Dior
Dior Women's Artistic Director Maria Grazia Chiuri collaborated with artist Claire Fontaine, who developed three-dimensional LED fixtures that spelled out a feminist manifesto. Produced by Bureau Betak, the show also featured flooring covered with France's Le Monde newspaper, which was plastered down using wheat paste. The colorful signage proclaimed statements such as "PATRIARCHY=CLIMATE CHANGE" and "PATRIARCHY KILLS LOVE", which seemed to be glossed over to some degree in the media coverage that followed. However, the word "CONSENT", which was repeated thrice and placed directly above the models' walkway, was positioned in such a way as to be impossible to ignore; subsequently, the one-word declaration was featured everywhere. The most thought-provoking phrase perhaps was "WE ARE ALL CLITORIDIAN WOMEN", a slogan infused with multiple meanings and coined by feminist Carla Lonzi; Lonzi co-founded the Italian feminist collective Rivolta Femminile in 1970, and rejected the idea that men and women were sexually complimentary, presumably setting women from men both physically and ideologically. Cheers to these fearless set pieces that were challenging in the best ways possible, through the communication of powerful ideas, words, and thoughts.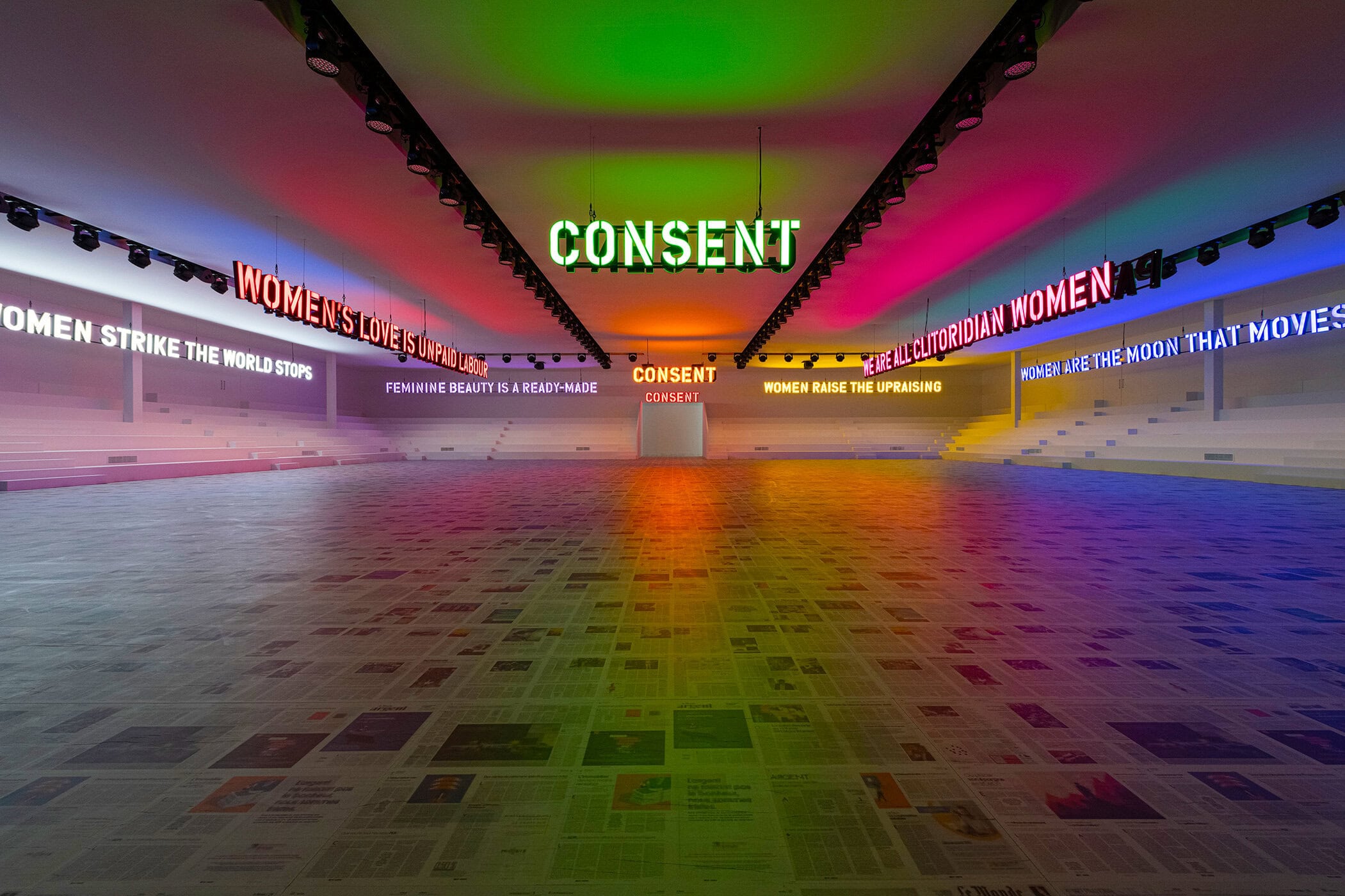 Dior Women's Artistic Director | Maria Grazia Chiuri
Bureau Betak Creative Director | Alexandre de Betak
Creative Services | Bureau Betak
Gucci
Gucci guests entered the show by walking through the backstage and straight into the fray of stylists prepping models for the show. As their hair and make-up reached completion, the models moved into their assigned positions on the revolving stage in their robes and slippers and proceeded to get dressed for the show. The entrancing final effect of the models on the set produced a mirage of living dolls on a carousel; magical yes, but the true genius of the design was that the audience-members' were engaged in the process from beginning to end.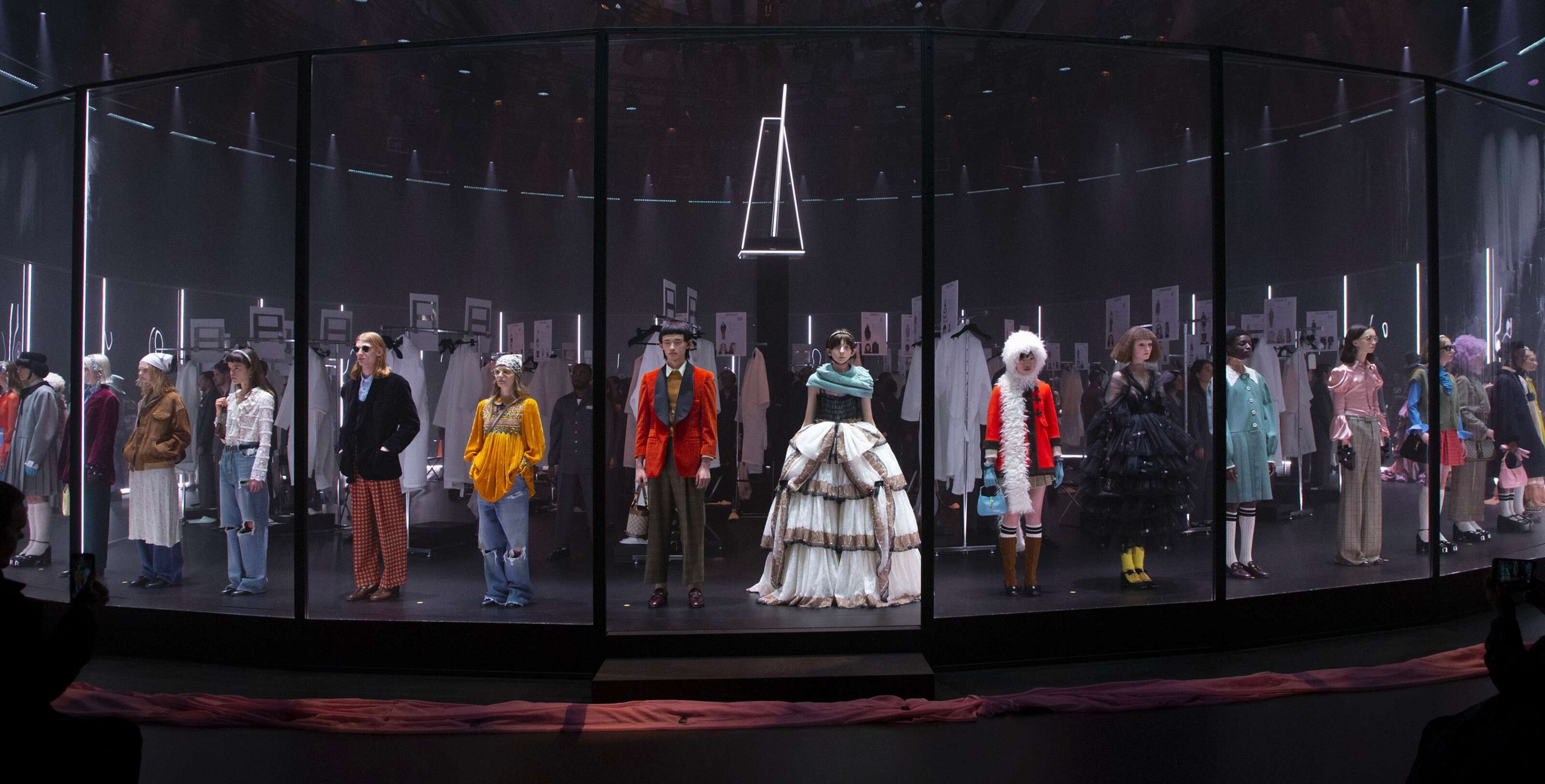 Gucci Creative Director | Alessandro Michele
Creative Services | La Mode en Images
Kenzo
Felipe Oliveira Baptista was appointed Creative Director of Kenzo last July, and his first outing for the French house was characterized by what could be described as a boy-in-the-bubble ambiance. Truly a stand-out in terms of innovation, the Bureau Betak produced set was a voluminous transparent maze, inflated by internal mechanisms and re-enforced by sets of double-doors at each entrance/exit, which sealed firmly to hold in the air. With plans to reuse the gargantuan tube at future Kenzo events, it almost feels as if the giant bubble was an eerie premonition of the publics' desire to somehow sequester themselves safely away from the effects of COVID-19.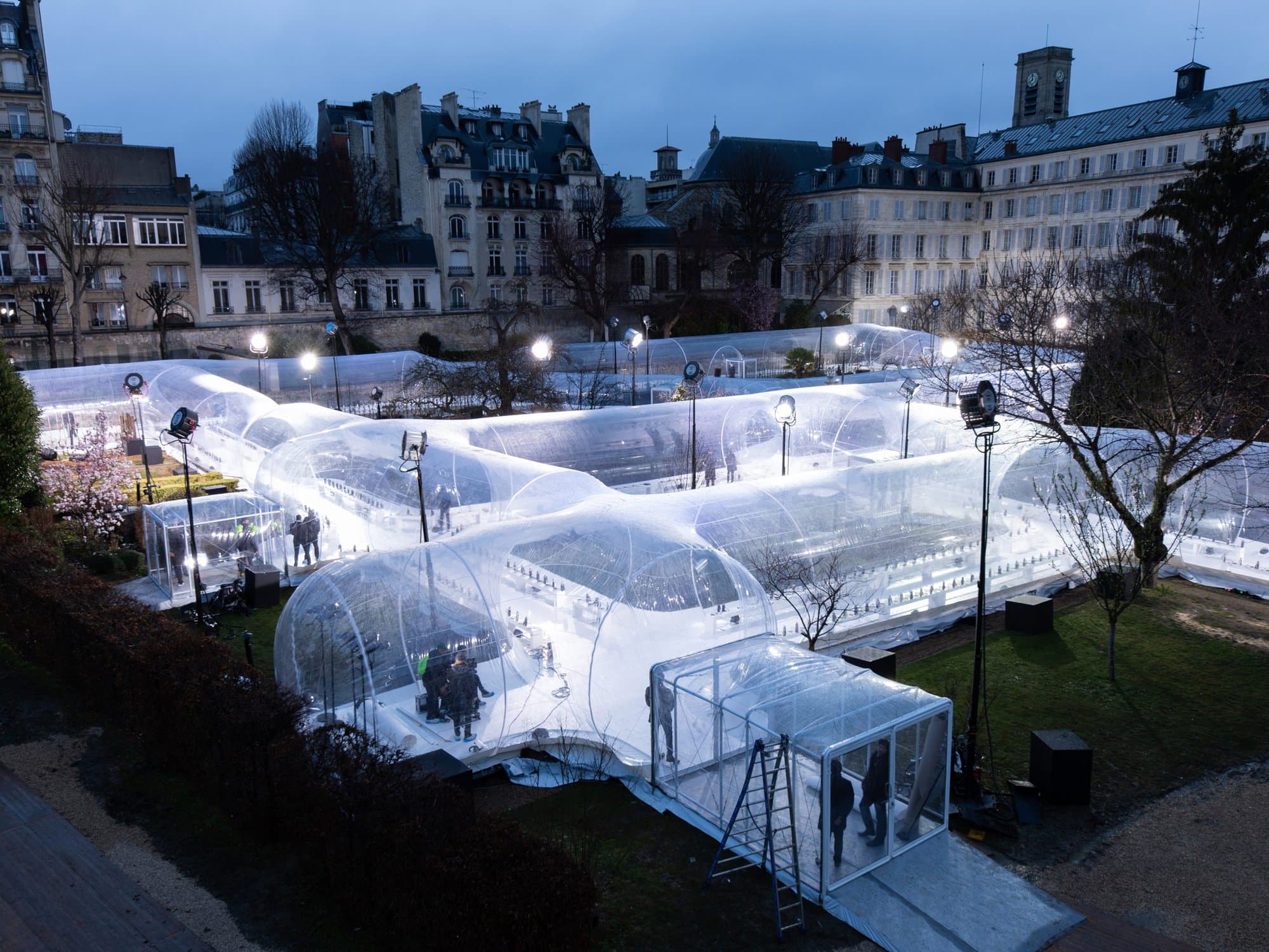 Kenzo Creative Director | Felipe Oliveira Baptista
Bureau Betak Creative Director | Alexandre de Betak
Creative Services | Bureau Betak
Khaite
Khaite Creative Director Catherine Holstein enlisted Prodject to convert a former retail space into a dark and moody street scene. With its glass blocks, ornate columns, raw exposed brick, and cinematic lighting, it produced an atmospheric visual effect similar to Prince's music video for "When Doves Cry" (sans roses and claw-footed bathtub).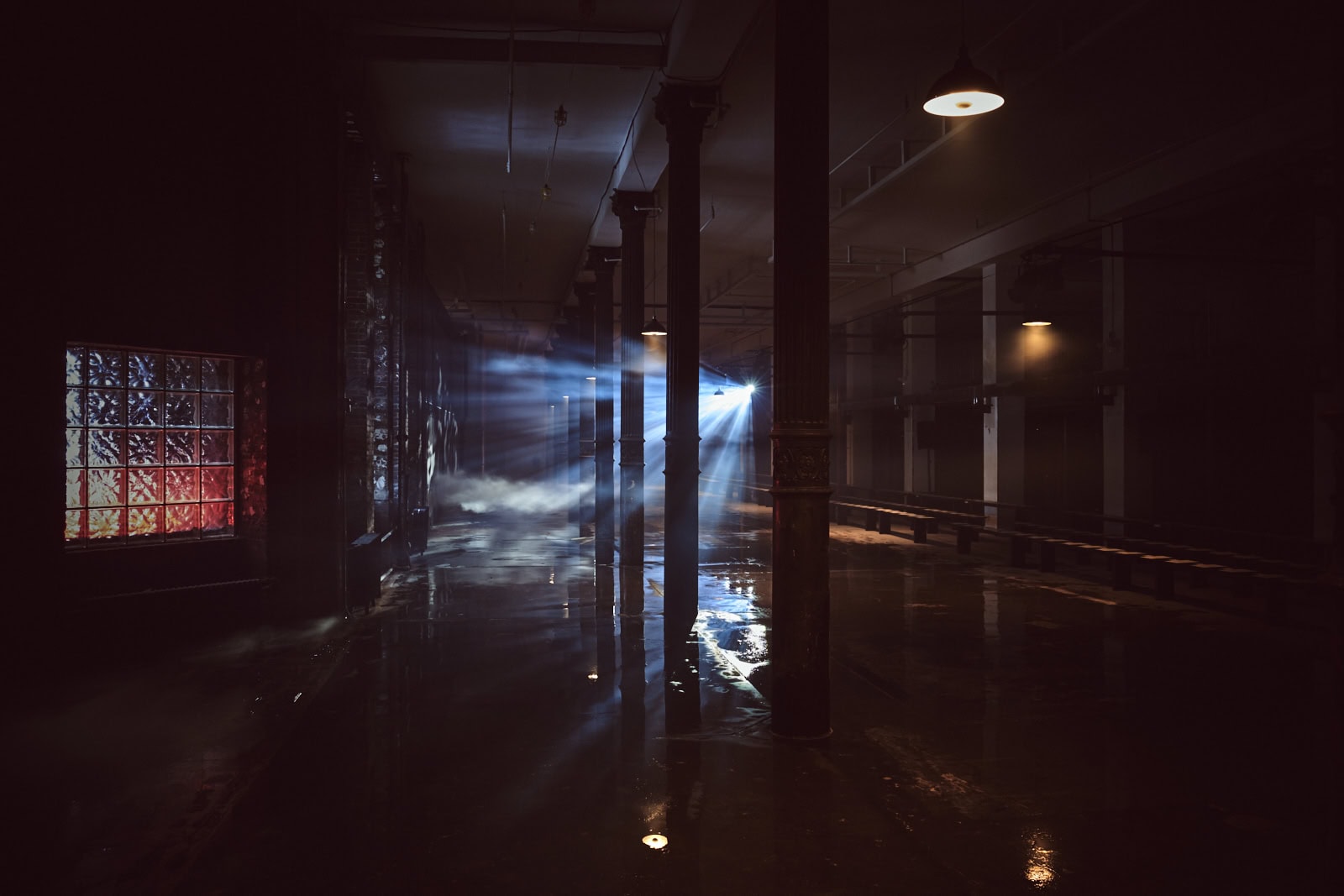 Khaite Creative Director | Catherine Holstein
Creative Services | Prodject
Longchamp
Light, bright and full of sunshine, Longchamp's minimalistic seating and plexiglass intensified the open spaciousness; paired with floor-to-ceiling glass walls and a view from the 25th floor of Hudson Commons, guests literally felt like they were on top of the world at this Bureau Betak-produced show.
Longchamp Creative Director | Sophie Delafontaine
Bureau Betak Creative Director | Alexandre de Betak
Creative Services | Bureau Betak
Louis Vuitton
Louis Vuitton creative director Nicolas Ghesquière collaborated with set designer Es Devlin and stage director Francisco Negrin to product what was arguably the most theatrical show of the season. Featuring a singing chorus of 200 characters cloaked in costumery from the 15th century to 1950. The costumes were designed by Milena Canonero, who also designed costumes for films such as "Barry Lyndon", "The Shining" and "A Clockwork Orange". The set was comprised of Valchromat and wood that is PEFC certified and sourced from sustainably managed forests in France, and post-show all the materials were to be donated to charity. Also noteworthy, the show's theme 'Time Clash' foreshadows this year's Met Gala since Ghesquière will be co-chairing that event, which will celebrate the opening of exhibit About Time: Fashion and Duration at the Metropolitan Museum of Art.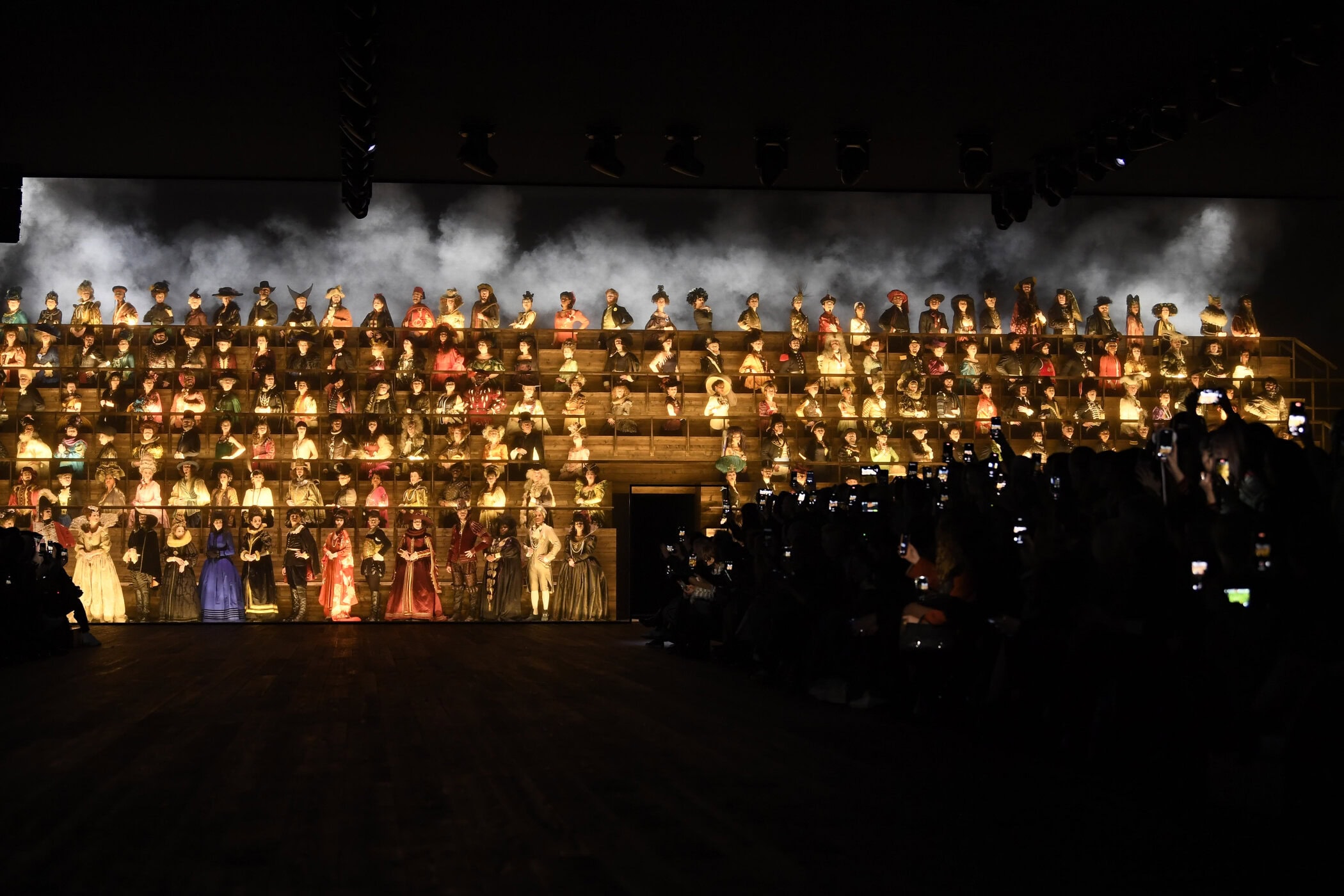 Louis Vuitton Women's Creative Director | Nicolas Ghesquière
Set Designer | Es Devlin
Stage Director | Francisco Negrin
Designer of Costumes, Hair, & Make-Up | Milena Canonero
Marc Jacobs
Marc Jacobs enlisted KCD and set designer Stefan Beckman to create a vast minimal stage set for dancing at the Park Avenue Armory in NYC, as the venue for a performance by dancer and choreographer Karole Armitage and company, who wore Jacobs-designed skirts, dresses, T-shirts and pants.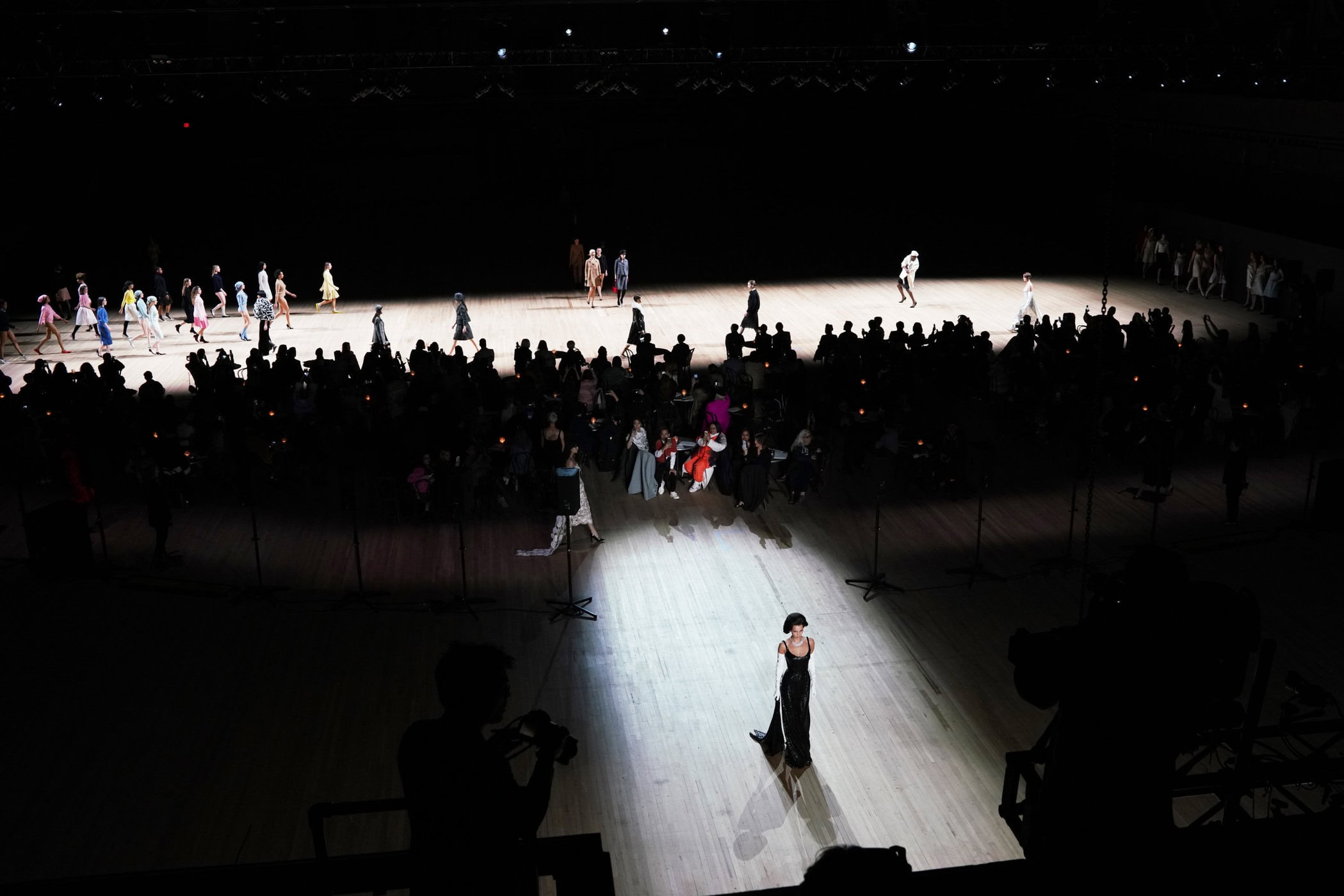 Marc Jacobs Creative Director | Marc Jacobs
Creative Services | KCD
Set Designer | Stefan Beckman
Michael Kors Collection
Michael Kors' set of angular raw wooden planks, produced by Bureau Betak, were laid out as a clever catwalk triangulation that afforded seating for guests right in the middle of the action. The materials were salvaged post-show and donated to the NYC government program Materials for the Arts after the show, which is a creative reuse center dedicated to supporting arts and cultural organizations.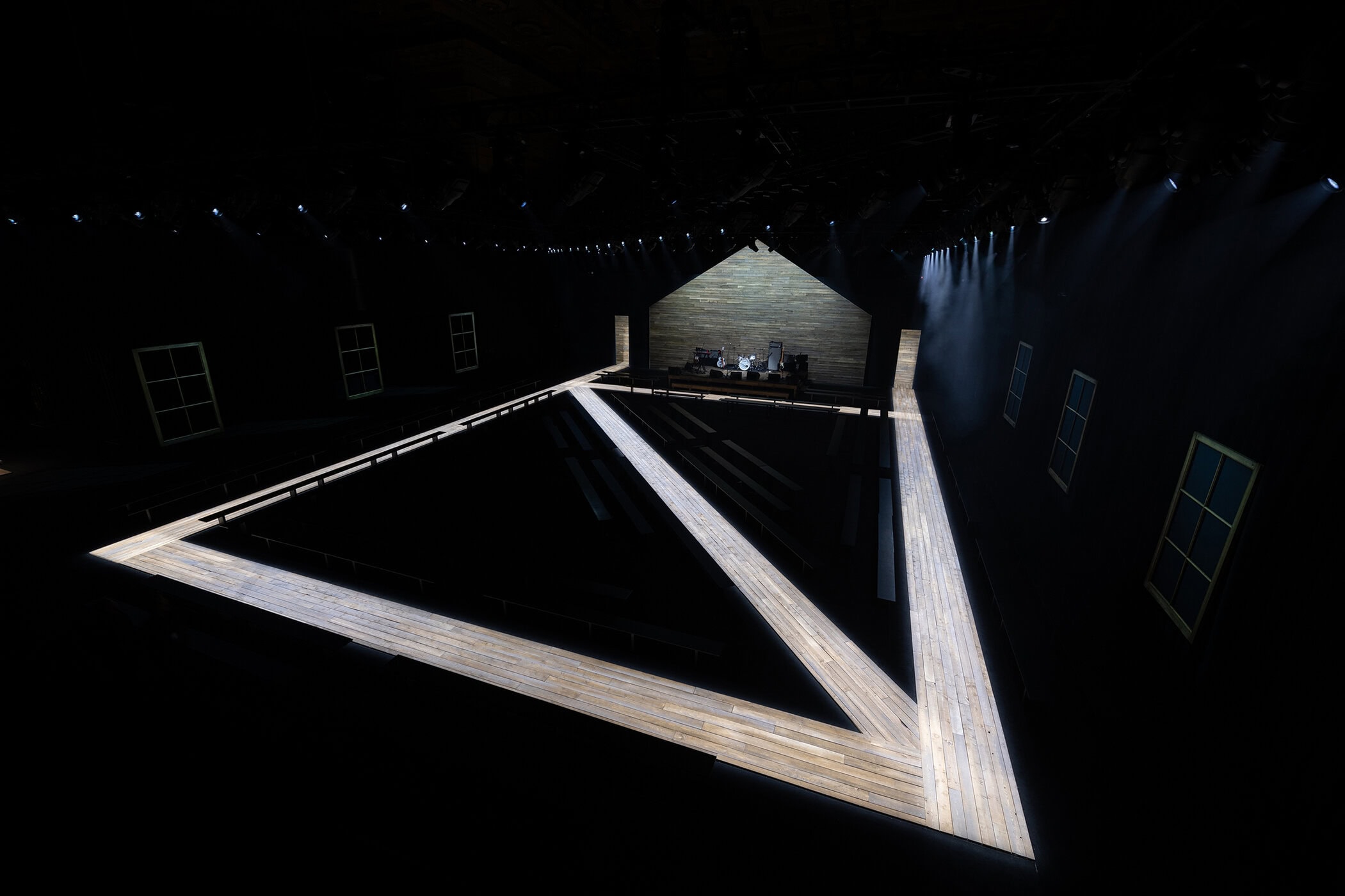 Michael Kors Creative Director | Michael Kors
Bureau Betak Creative Director | Alexandre de Betak
Creative Services | Bureau Betak
Miu Miu
Miu Miu enlisted OMA/AMO to elaborately re-dress the interior of the 16th arrondissement landmark Palais d'Iena. Designed in 1937 by architect August Perret, the look of the show was inspired by the art-deco era in which the building was conceived and built. A bold carpet with a stylized fan motif and metal frames with LED systems emitting bright pink light were installed in the colonnade, and velvet plinths at the base of the columns provided seating and dramatic visual composition, while the remaining guests reclined in reclaimed cinema seating. Mirrors were placed on the edges of the interior to "extend this mania to the infinite", according to an OMA/AMO spokesperson. Bravo!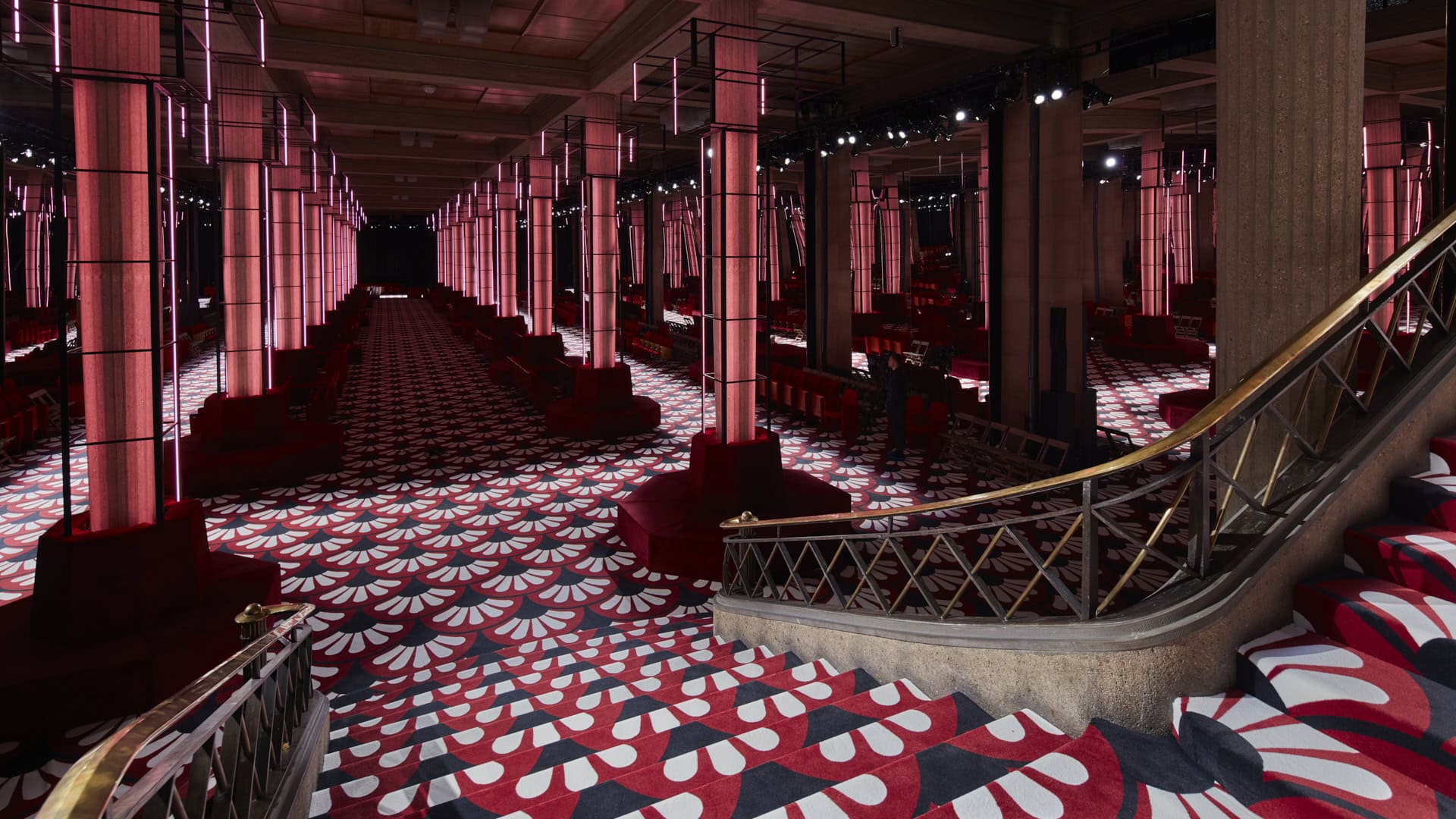 Miu Miu Creative Director | Miuccia Prada
Creative Services | OMA/AMO
Nina Ricci
Nina Ricci's show was held at the Musée des Arts Décoratifs. In a simple yet amazingly effective stroke of genius, a monumentally oversized mirror was placed at the end of the space, elongating the view and creating an effect that provided a wealth of visual information for viewers to digest.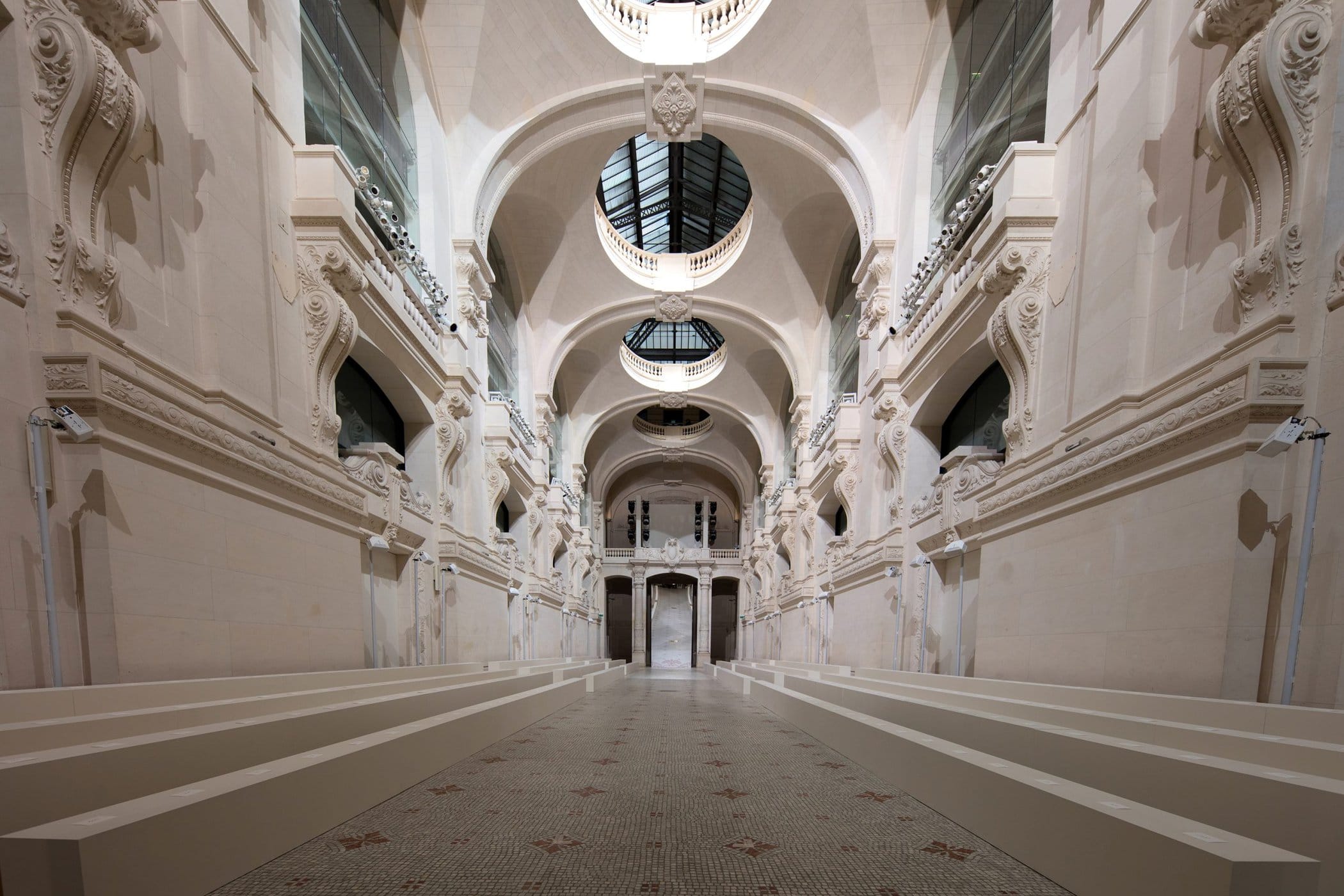 Nina Ricci Creative Directors | Rushemy Botter and Lisi Herrebrugh
Bureau Betak Creative Director | Alexandre de Betak
Creative Services | Bureau Betak
Prada
Deliciously conceptual and visceral, Prada's OMA/AMO-conceived set was lorded over by a cardboard-like three-dimensional cutout of Atlas, the pitiable god from Greek myths that literally held the weight of the world upon his shoulders. The runway was an extension of the simplified statue, formed by linear elements and interlocking planes. Red light poured over the installation at Fondazione Prada's Deposito, and abstracted piazzas and flowers inspired by facades of Viennese Secessionist buildings finished off the look.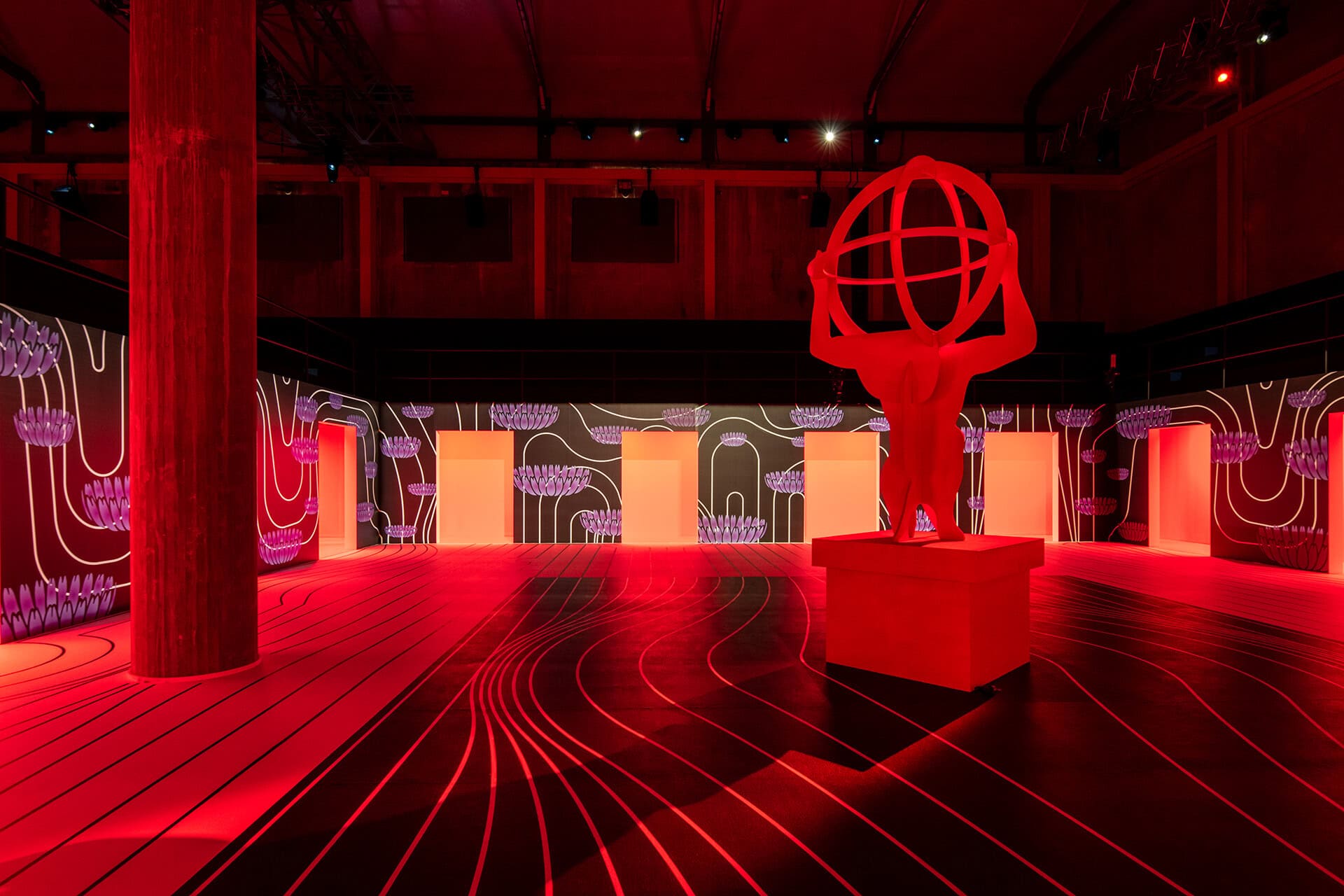 Prada Creative Director | Miuccia Prada
Creative Services | OMA/AMO
Rodarte
Romantically lit like a chiaroscuro painting, the nave of St. Bartholomew's Church on Park Avenue was the setting for Rodarte's dreamy Bureau Betak-produced show. Candles and lush greenery were in abundance, combining with the choral music to create an otherworldly ambiance.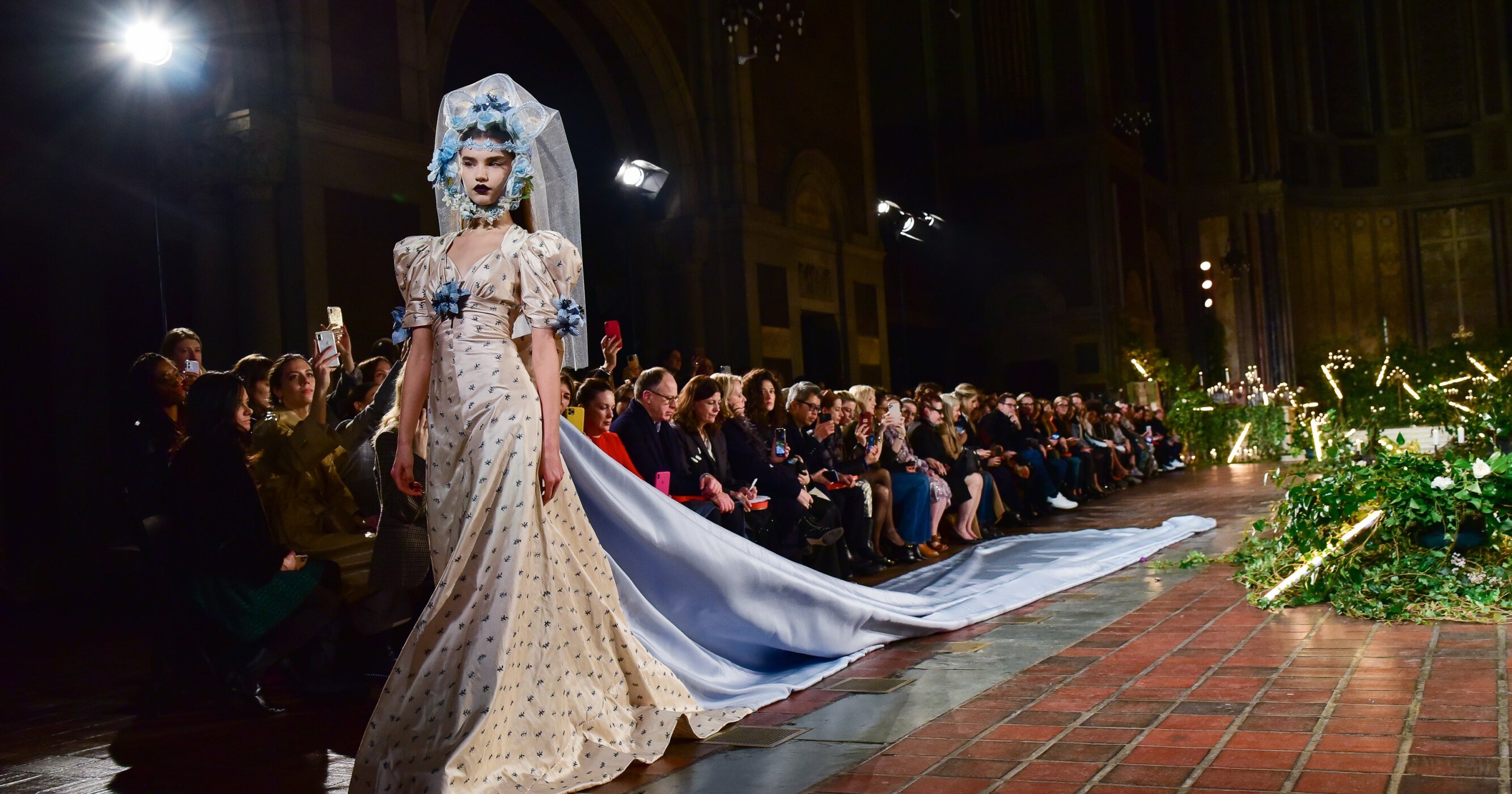 Rodarte Creative Directors | Kate and Laura Mulleavy
Bureau Betak Creative Director | Alexandre de Betak
Creative Services | Bureau Betak
Saint Laurent
Saint Laurent's show took place in a building that was all silvery mirrors on the outside, and inside the floors curved up the walls, which at first appeared to be brown but under the spotlights' hot gaze were bright and almost creamy in colour. It is difficult to describe the lighting effects without simply seeing it in person, but the spots didn't follow the models in a typical way. Rather, the spots went on and off as they passed, so there was always a new light on them, and always and old light fading behind them as they passed. As is often the case, the most simple concepts can be the most dazzling when executed to their fullest potential.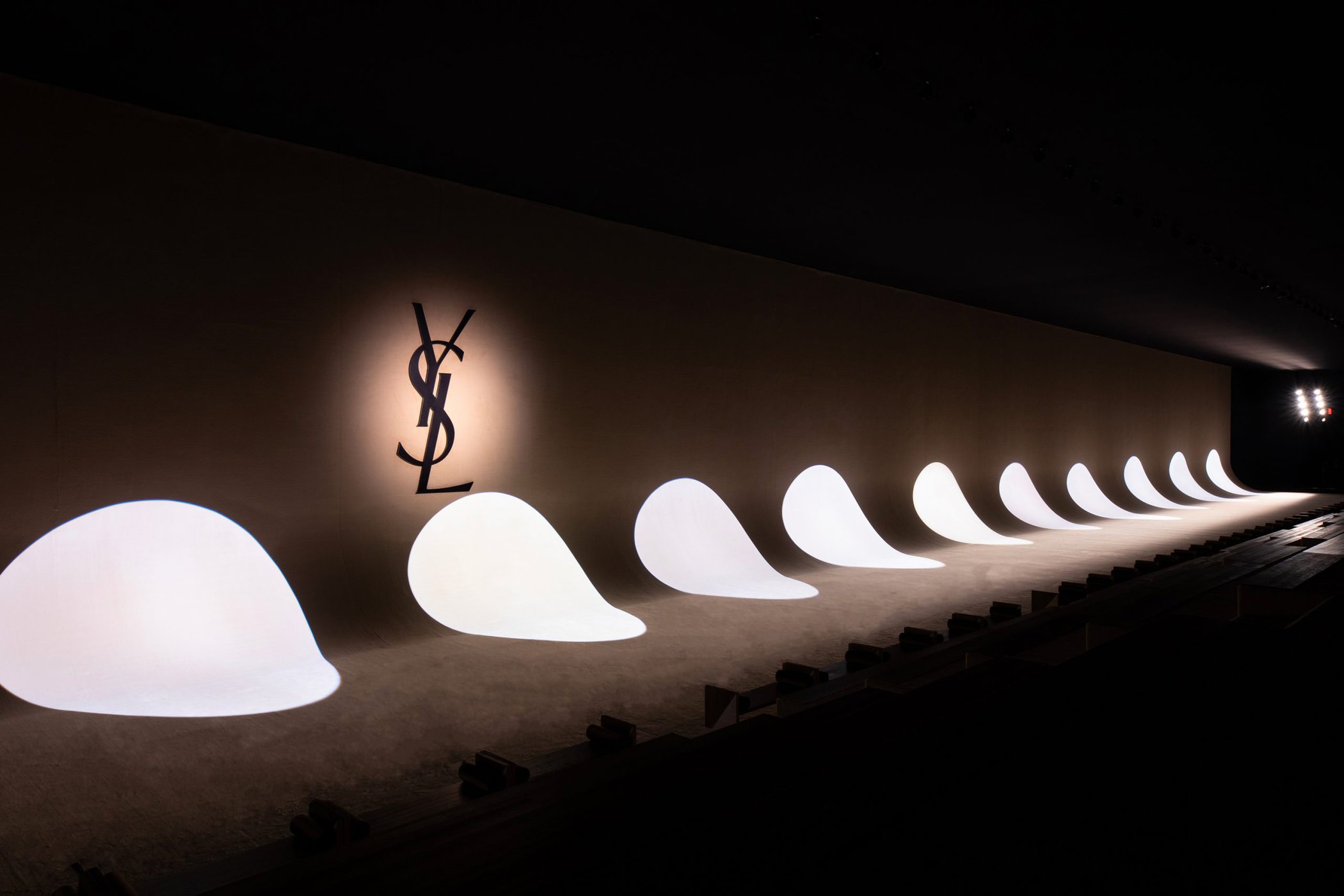 Saint Laurent Creative Director | Anthony Vaccarello
Bureau Betak Creative Director | Alexandre de Betak
Creative Services | Bureau Betak
Tory Burch
Tory Burch collaborated with New York artist Francesca DiMattio to fill the (otherwise minimal) set with large multi-coloured ceramic sculptures. Monumental and imposing, the art pieces were hung from the ceiling or affixed to the floor, seeming to grow out of the concrete like organic totems.
Tory Burch Creative Director | Tory Burch
Creative Services | KCD
Vera Wang
Vera Wang's show was held at a mansion called the James B. Duke House on "Millionaires Row" in NYC's upper east side, at the northeast corner of 78th street and Fifth Avenue. Doris Duke, the billionaire tobacco heiress, and philanthropist grew up in the mansion, and Wang filled the foyer with chartreuse carpet so that the models could parade around the perimeter as if they too owned the place.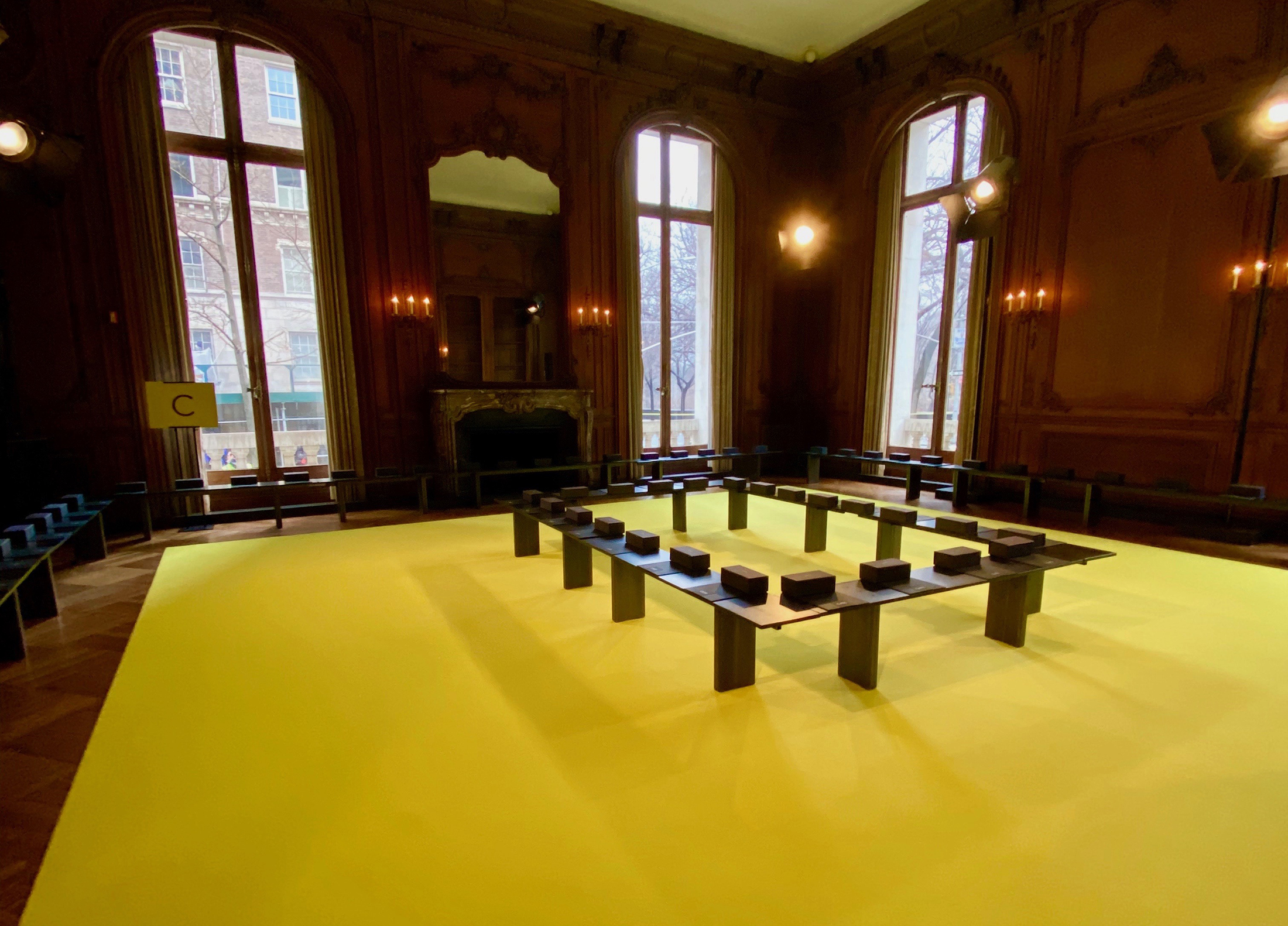 Vera Wang Creative Director | Vera Wang
Creative Services | KCD
Yeezy
Kanye West's Yeezy collection was shown at Espace Niemeyer in Paris. Niemeyer's dome, which was created in the 1970s by Brazilian architect Oscar Niemeyer, was a spectacular backdrop for the models as they glided down a long ramp and West's six-year-old daughter North West performed on the stage.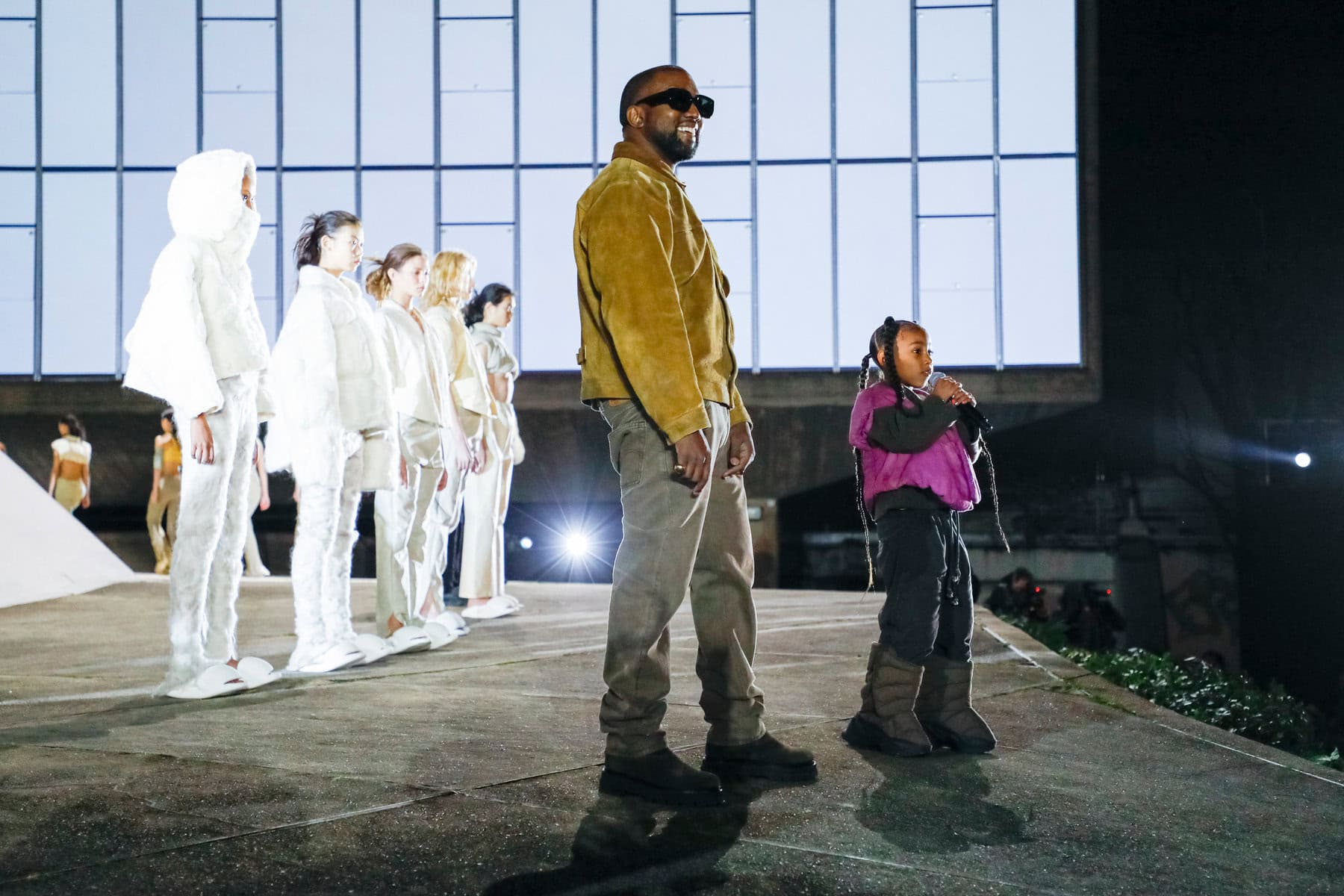 Yeezy Creative Director | Kanye West
Creative Services | KCD
---