Minimal Classicism
After the storm comes the quiet. Once the magnitude of a maximalist hand passes, quiet minimalism ensues, casting a classic aesthetic.
Call it keepsakes for the future; pearls, diamantes, and precious metals were finely crafted into the most delicate earrings. This fine crafting is evident at Giada, with Gabriele Colangelo using the natural pearl in his stunning elongated dropped earrings that spoke to the sensuality of the collection. Pearls are a popular choice for S/S 23, classic and enduring. Nensi Dojaka crafted them into singular clips or perfect long drops that just grazed the shoulder line; even a singular pearl danced at the end of Ferrari's prancing golden horse. Simone Rocha toughened them up by weaving them through heavy chains, and at Rejina Pyo, a single pearl came delicately balanced at the end of a small gold bar. Here, too, Monse combined double strands of diamantes with a pearl.
Diamantes were also incorporated into some of the most delicate pieces to adorn earlobes. The one-earring statement continues from seasons past, only this season, the length extends past the shoulder frame; thin silver strands and minimalistic shapes were mismatched at Alexander McQueen, perfectly styled to complement the clearly defined cut of the clothes. A handful of 'other' designers kept within this quietude, including Chanel and Jil Sander, whose silver loops also completed the fine cut of the sartorial outfits.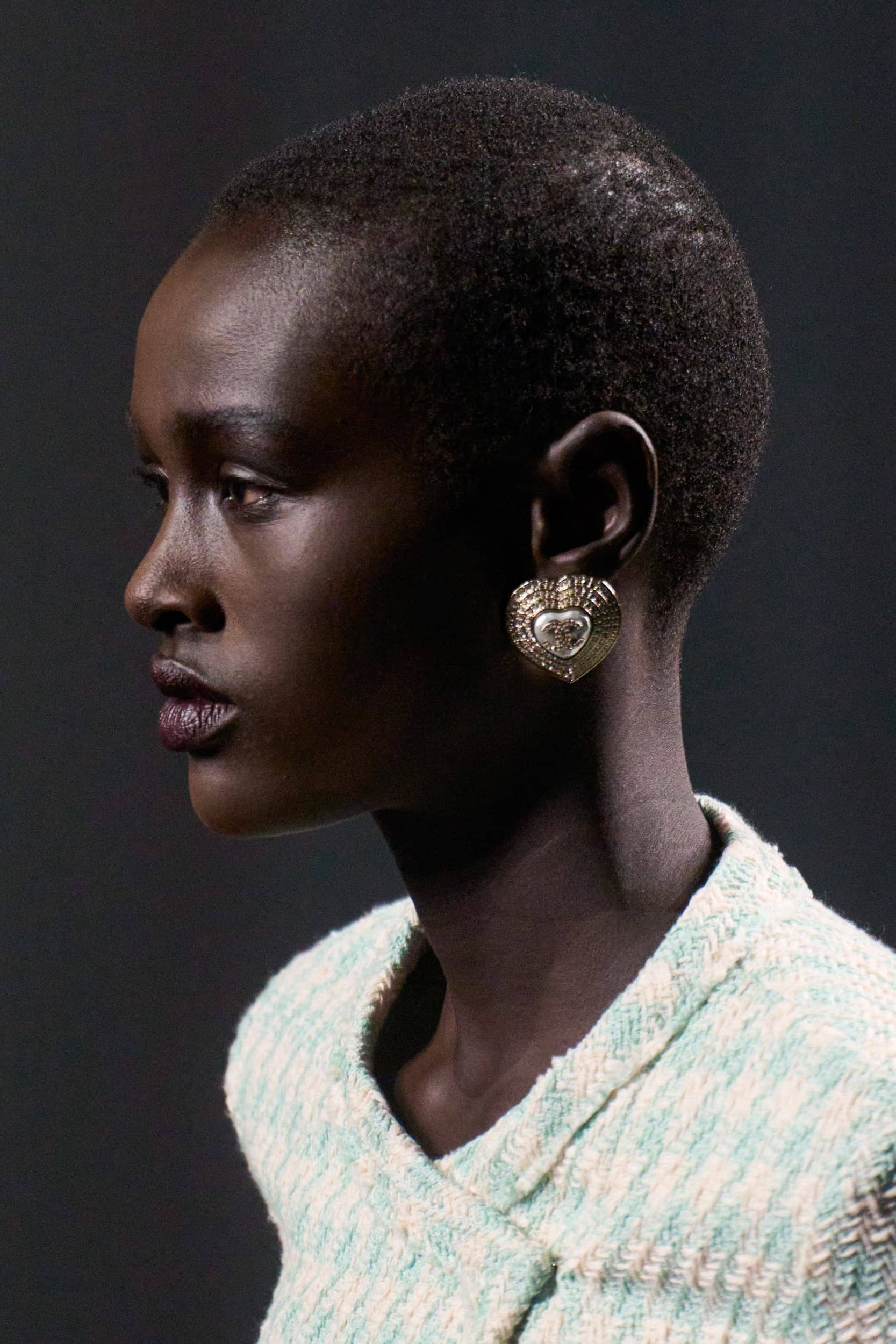 Maxi – Maximalist
Created to make an impression, nothing elevates a silhouette like a statement earring.
Overt and exaggerated in appearance but incredibly lust-worthy, S/S 23 sees oversized pieces continue the uptick in ear adornment. There is a piece for everyone, and with so many different designs, The Impression selects the ones that will stand out in a crowd.
It all began in New York with Tom Ford sending glitter-ball iterations in giant hoops. And speaking of which, the Trend for oversized hoops continued to grow with Halpern's double-rimmed silver metallic pieces; the master of bling, Halpern, also showed a concealed headband with massive floral earring attachments. Jason Wu's loops came in twisted silver and are a good choice if you want to save your ear lobes, and Olivier Rousteing's crafted bronze docs and loops are perfect for the enigmatic.
Layering is a strong message for S/S 23, and KNWLS demonstrated the favour of this Trend with multi-sized spiral hoops. Andreas Kronthaler at Vivienne Westwood had fun with his earrings, sending out a fun and varied range, all with lengths grazing the decollete.
Saint Laurent also showed up with oversized clips, but these were not so extroverted and cleverly demonstrated how exaggerated sizes can be sophisticated. Baroque and Renaissance periods inspired several designers, and Giambattista Valli, always in tune with the mood of the moment, encrusted his coloured drops with 'regal' diamantes.
Proenza Schouler showed crystal pieces in perfectly proportioned lengths. In contrast, golden florals at Jason Wu increased to supersized 3d forms at Badgley Mischka. And finally, Nicolas Ghesquière at Louis Vuitton proved how whimsical oversized pieces could be in either massive purple creations or elongated dropped earrings complete with stones, metal, and crystals.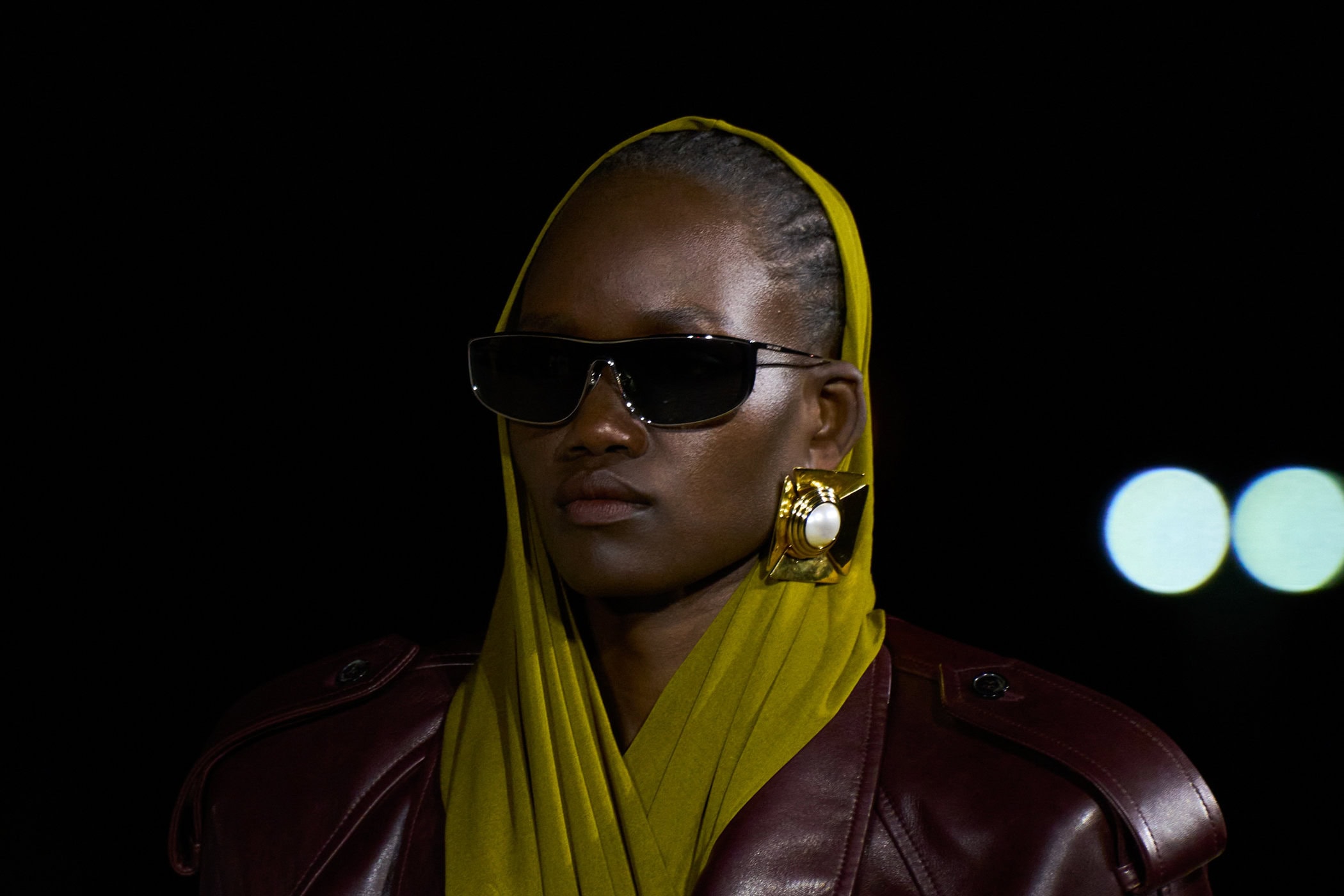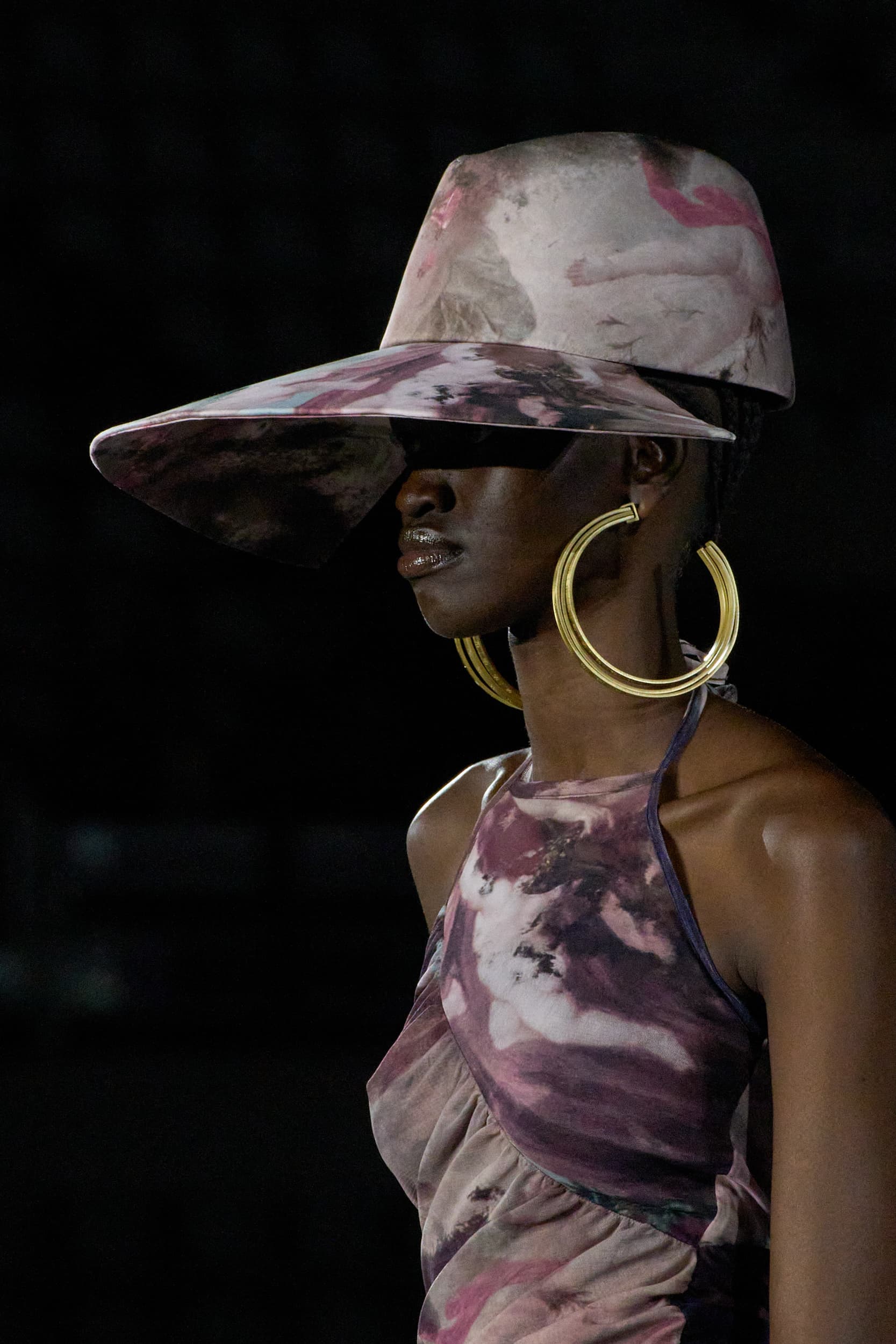 Natural Handcrafting
Handcrafting is a running theme that underscores the need for unique creativity.
The last two years have seen a significant rise in the inclusion of handcrafting within collections, and it is refreshing to witness this running theme throughout. Jewellery is a perfect showcase for the inherent vibrancy and attention to detail that handcrafting demands.
Etro's Marco De Vincenzo used decorative motifs and the richness of colour to create standout pieces for his new collection. Silken tassels adorned oversized earrings that swept down past the shoulders.
Erdem and Alberta Ferretti used healing crystals to create abstract drops. At the same time, at Ulla Johnson, each earring possessed its own identity – one long drop with a tiny shell or the other dangling a piece of natural stone from a handcrafted gold hoop. Mame Kurogouch's earrings came deftly crafted in thin strips that mimicked the idea of basketweaving. At Coach, hippy, tonal beads are mixed with objects lost and found, and crocheted Hibiscus flowers adorned lobes at Dsquared2.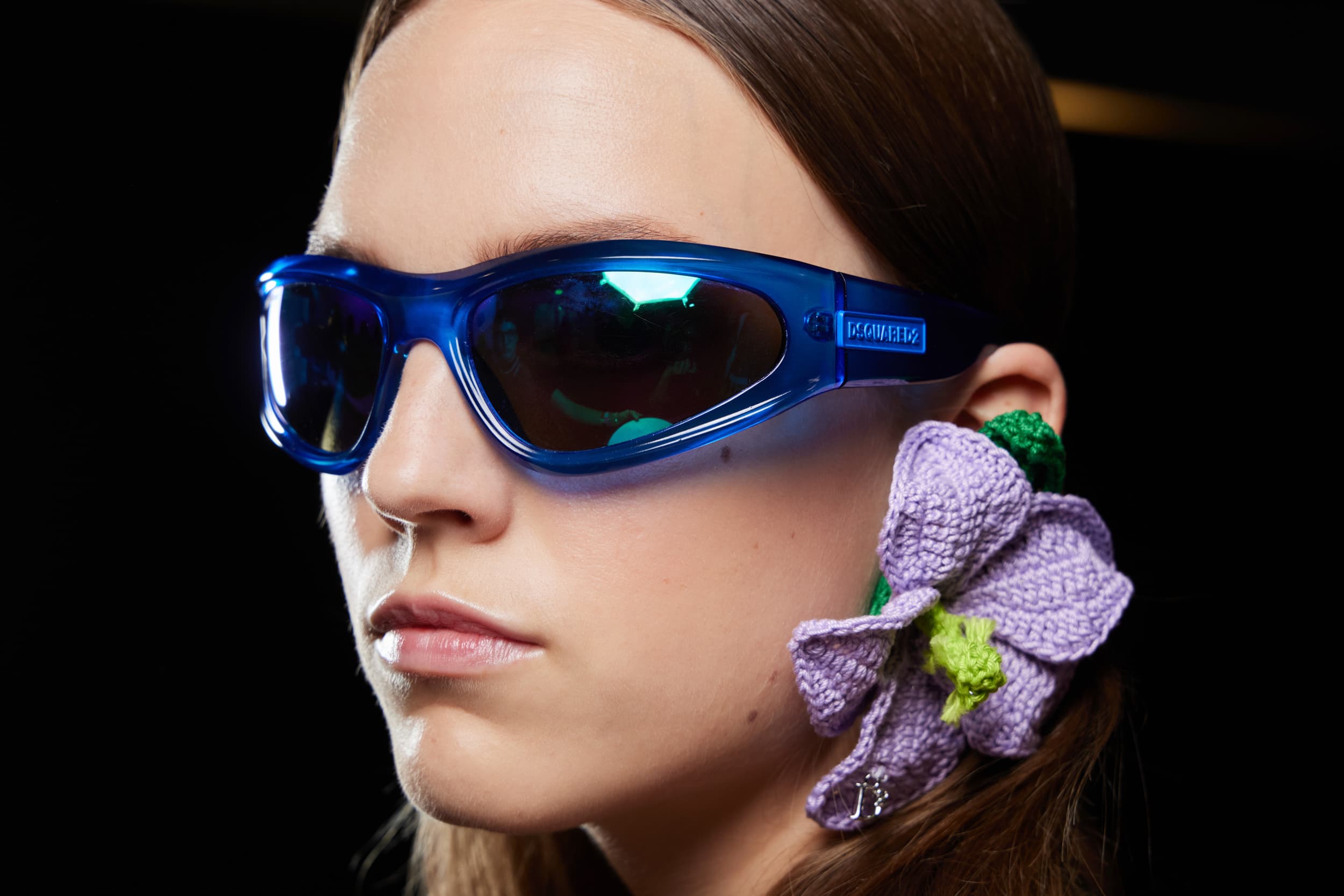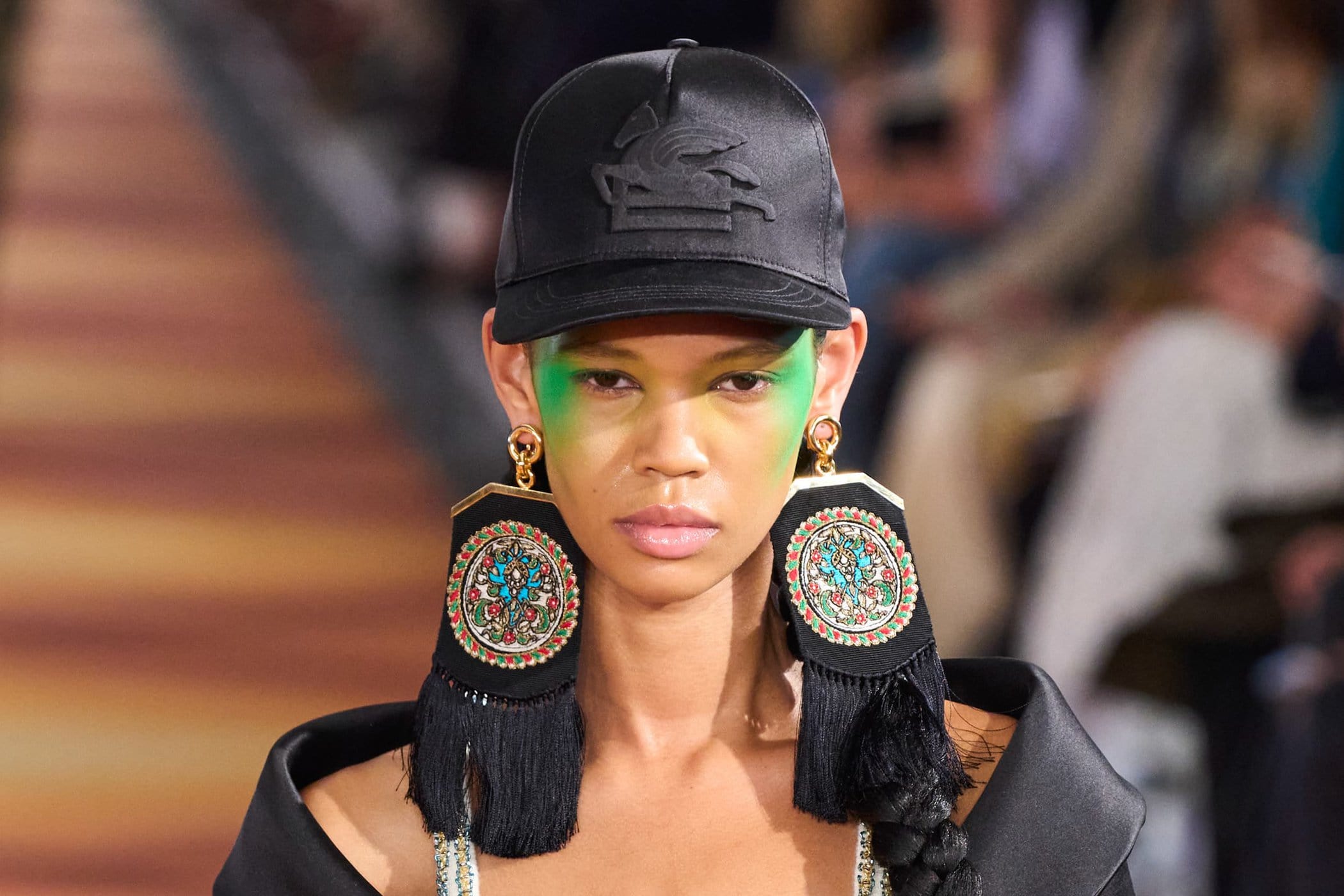 Embellished Bracelets
Diamonds are forever, so they say there was no shortage of sparkling diamonds, particularly in Milan, although the cut-and-paste glass variety was omnipresent!
Stacks of bracelets and multi-layering pieces adorned models' wrists, and it would appear there is never enough at Givenchy. Bally layered gold onyx encrusted wide bands and Ports 1961 matched a cuff and ring in platinum – a brilliant addition to the all-white silhouette.
At Saint Laurent, exaggerated gold cuffs were encrusted with amber stones, and at Dries, a modern aesthetic with globe-shaped pieces represented optimistic textures and shapes. "Heart of Glass," sung by Blondie, set a precedent for Van Noten's colourful glass jewelry that looked like contemporary art objects and will undoubtedly be keepsakes for the future.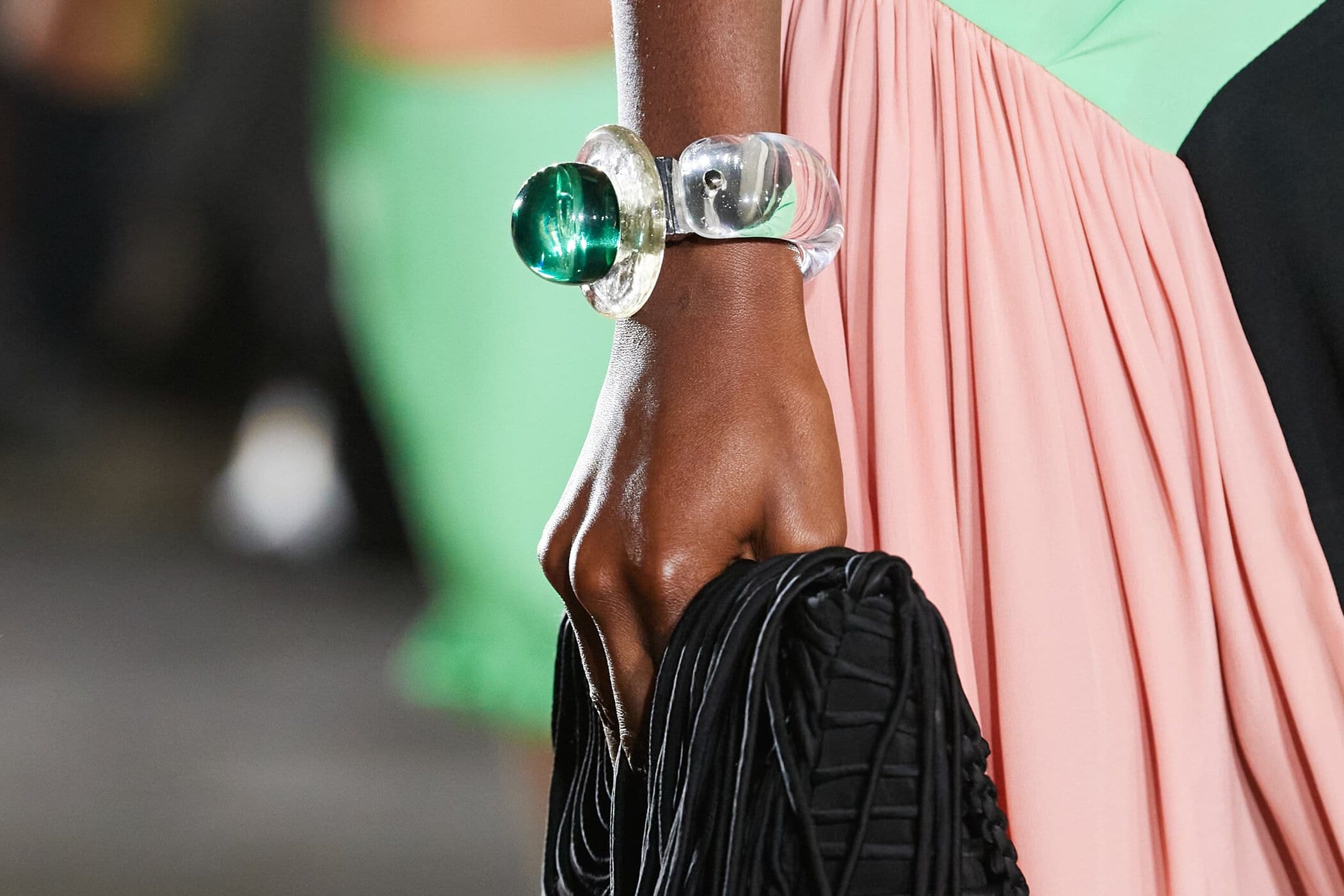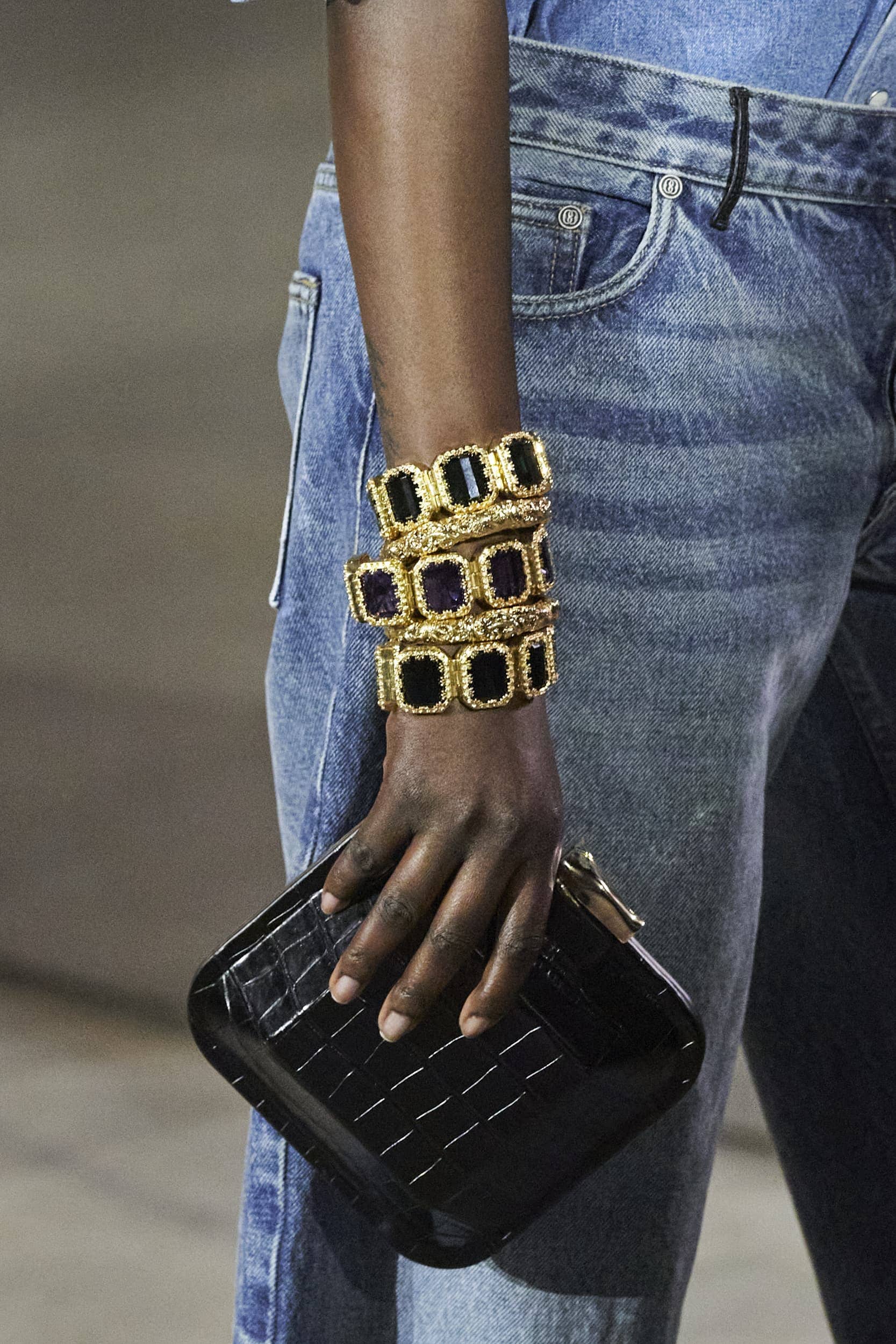 Oversized Bangles
It would appear that enough is never enough when making a statement.
Bangles, cuffs and armlets graced wrists and upper arms and, if not one arm, both. Elaborate details went into Olivier Rousteing's excessive creations. One 'bracelet' in particular looked like it was constructed of several moon orbits, but the effect was mesmerizing. The multi-layers of wooden bangles were also three in-depth and reached up to the mid-forearm or take the singular bangle constructed of two gold bands inset with wood links – all covetable. And when talking about excessive, Laquan Smith created bangles from perspex and diamantes and layered upon layer, different shapes.
The iconic sports brand Ferrari went OTT with oversized cuffs covered in gold baubles and pearls. Ferragamo and Tory Burch offered a minimal take on jewellery with handcrafted organically shaped cuffs worn at the upper arm.
The Future is omnipresent, and Rick Owens's iconic weighty metal cuff came layered by two or exaggerated and extended in 'Dune' sizes. A minimal aesthetic came through in Kors wide cuffs in polished gold and silver, while at Saint Laurent, the gold-textured armlets and layers of bangles were almost as seductive as the clothes.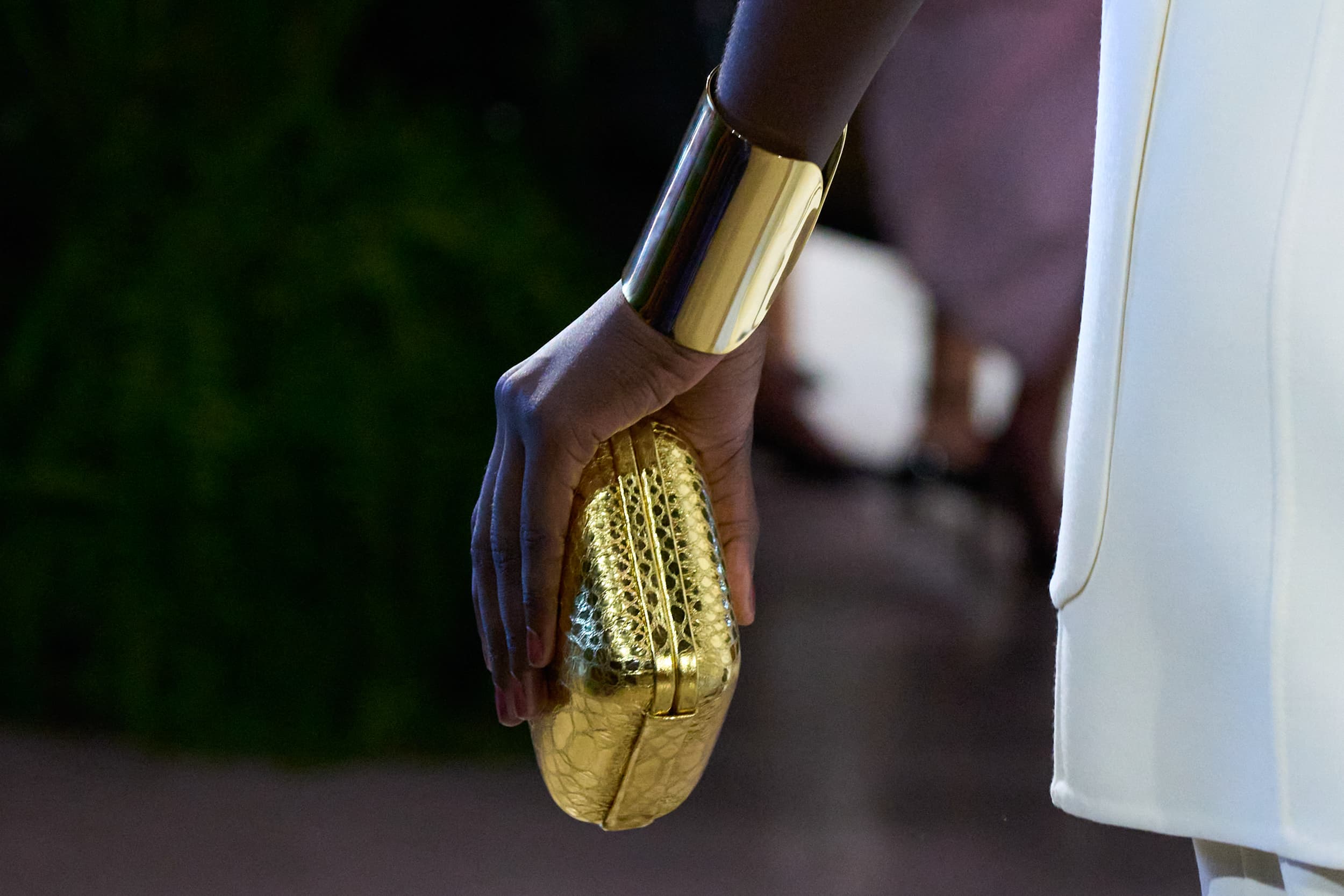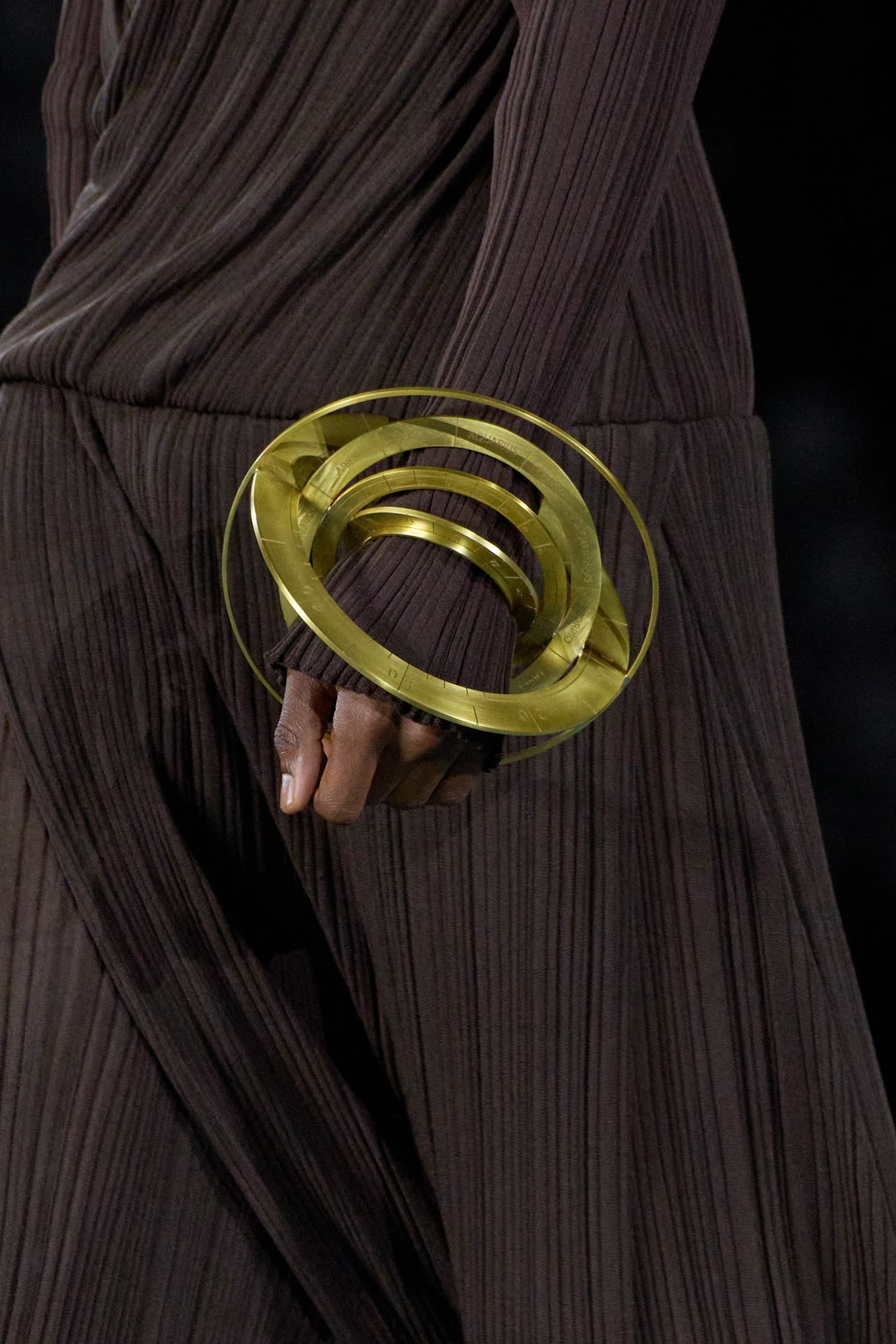 Noteworthy – Brooches and Pins
Striking in design, what was once viewed as the most precious of kitsch pieces, the brooch returns for S/S 23. It may have to do with the fact that Queen Elizabeth 11 favoured a brooch to adorn her outfits, but a brooch or pin has become a significant piece of jewellery for the new season.
Maximalist or minimalist, there is a pin to meet the new codes of dressing. A Corsage of roses at Prada came in a simple choice of pink, black or white and either one, two or three pinned to a silhouette. Tory Burch continued her hand-crafted minimalist approach with a silver and enamel twisted shape. Roberto Cavalli took inspiration from Hollywood and placed kitsch palm trees and pineapples with multi-coloured stones on just about every waistband and decollette.
Dries Van Noten, in his wonderful 'Heart of Glass' collection, crafted organically shaped pieces to clasp at the closure of a jacket or sit carefully placed on a lapel.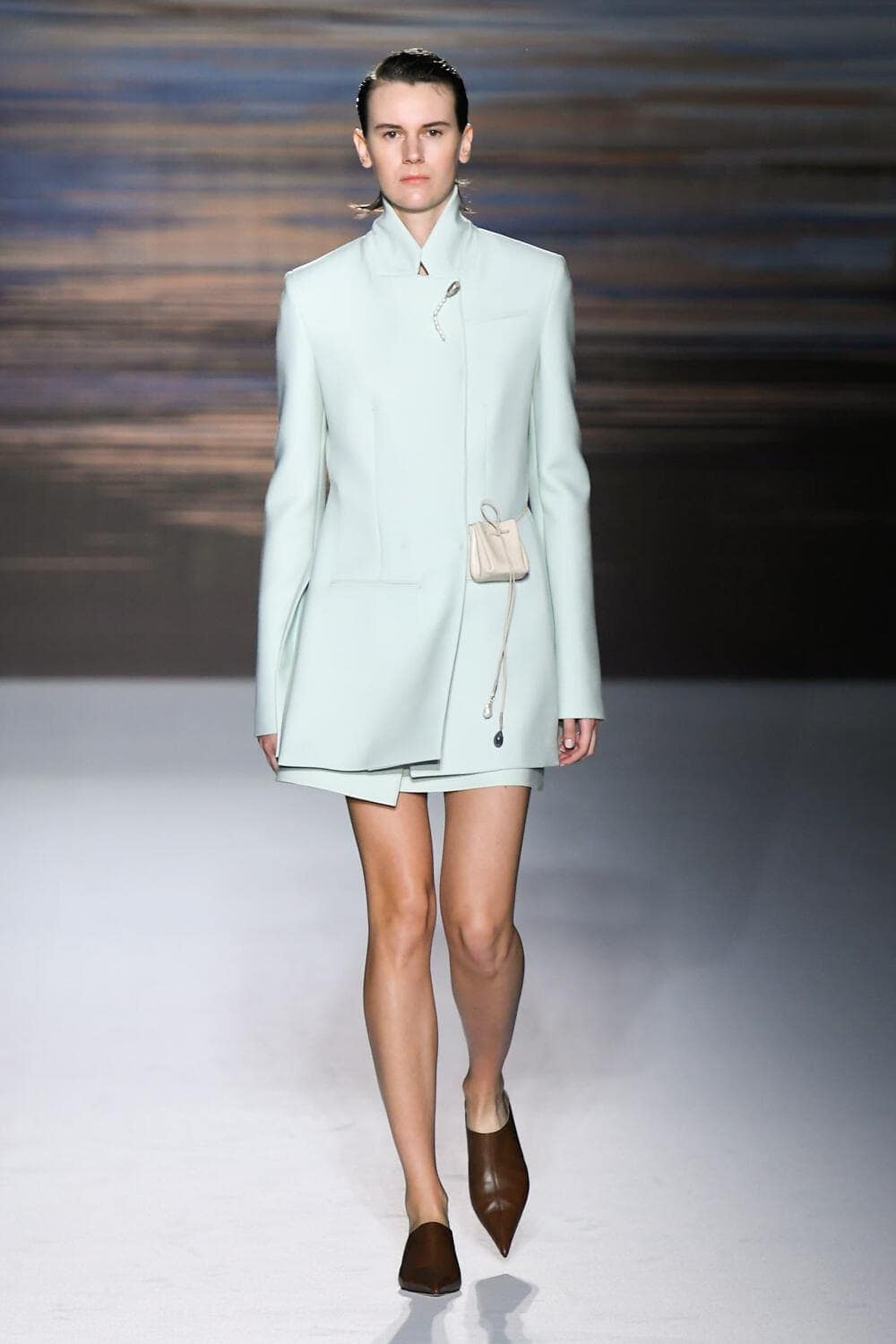 ---