Top Menswear Trends of Spring Summer 2023
By Angela Baidoo
If the past few years (and weeks if we're being honest) have taught us anything, it's that freedom to express ourselves in any and every way possible should be championed, and as frivolous as fashion may seem at times, this billion dollar global industry continues to provide a joyous form of escape, whether that's in a pair of distressed denim chaps (thank you Thom Browne), or a voluminous Etro caftan that billows in the wind.
This season we got true experimentation, not just from emerging names such as Egonlab, but also from industry stalwarts like Prada who featured leather mini shorts within their line-up. Silhouettes – pivoting to cater to changing demands – have become much more relaxed, with the shorts suit rising-up to become a stand-out within the tailoring category, and skirts being the preferred choice for show-goers on the street. In more familiar territory the black suit from Craig Green in crinkle textures, or trimmed with fringe at Casablanca looked fresh, and the uniformity of the preppy gentleman stuck around for another season, this time joined by the varsity team.
The Menswear class of Spring 2023 gave us more reason than ever to delve into what brings us joy – sartorially speaking – and wear it with pride. Here at The Impression, we are delving into ten of those reasons, and uncovering the Top Trends to invest in for the season.
1. Nu Rave Meets New Wave
The hedonism of the Californian surfer lifestyle is being blended with 1990s Rave culture, as designers channelled trippy prints and thrifted layering into a youthful mash-up of both cultural references, providing a new casual wardrobe solution that could see the return of iconic brands from the era. The brothers Caten over at DSquared2 embodied the perfect layered combination, mixing Balinese sarongs, extra-long Bermudas, and reworked scuba that was cleverly incorporated into a wavy-checked blazer, while Pigalle's ombre wide legs were trimmed with a multi-coloured rope belt. And as the summer is set to be soundtracked by house-tinged bpm's courtesy of Beyonce, Day-Glo brights reminiscent of warehouse parties provided the background for graphic logos, and track pants from Vetements, and colour block sports sets at Ahluwalia which could usher in a new era for the 1990s shell tracksuit. Graffiti will also be a print to note as a potential collaboration opportunity.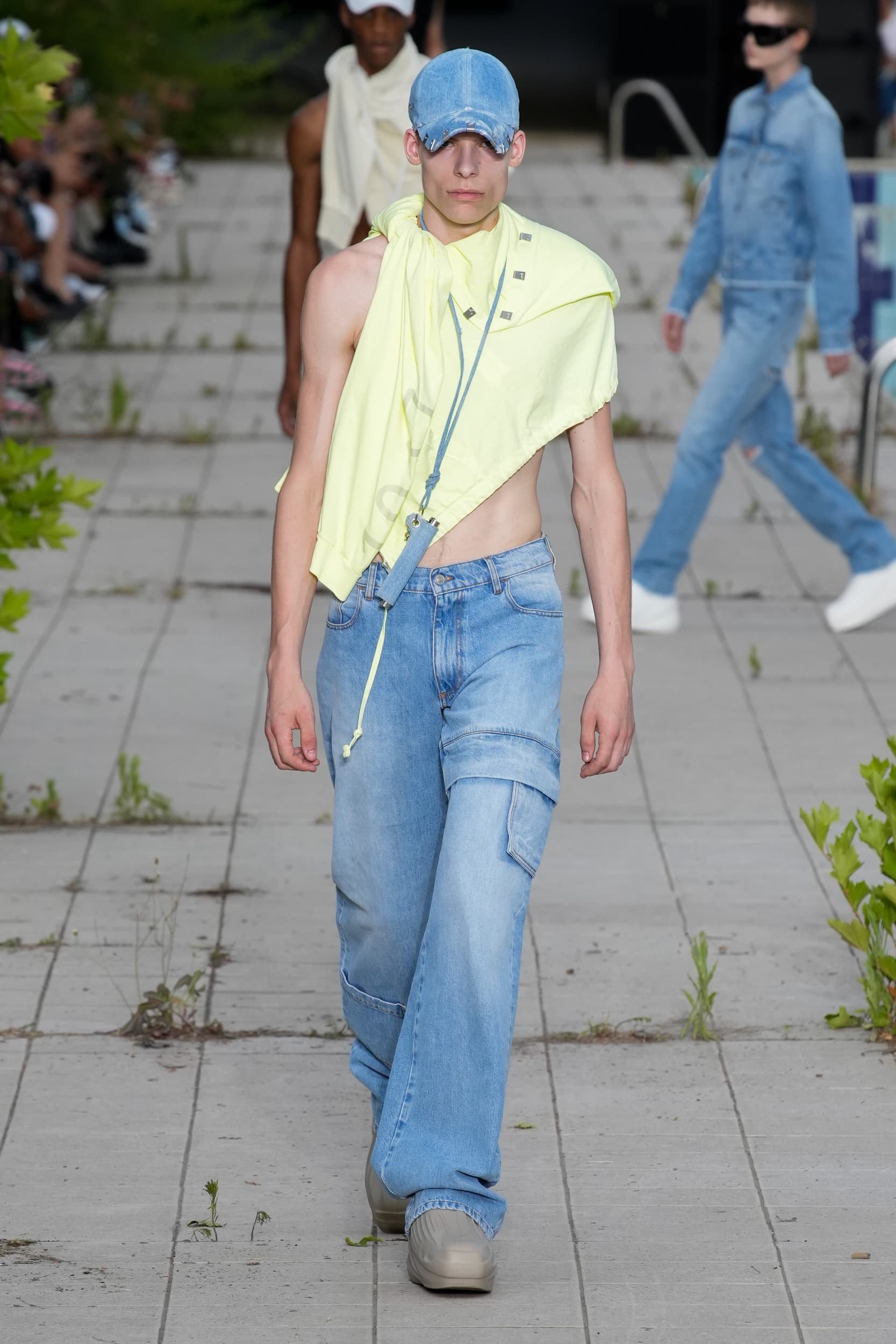 2. Preppy Deluxe
Having been part of the Menswear lexicon for decades, preppy's elitist codes have been broken down and reworked to face into a generation who believe everything is for the taking. Championed by luxury fashion houses such as Louis Vuitton, when under the helm of the late Virgil Abloh, as well as Thom Browne, and lifestyle brands including Aimé Leon Dore, the narrative has been revived through a sport, street, and couture lens, which has built a strong community for said brands. With the adoption of the look by younger consumers willing to buy into a less formal version of Ivy League style, MSGM's neon stripe rugby tops paired with airbrushed sneakers will resonate, while Nigo's second outing for Kenzo embraced patchwork stripes (also seen at Junya Watanabe), and collegiate lettering, V-neck sweaters in cable knits and argyles made a comeback, as did the tie, the accessory to invest in confirmed both on the runway and the streets.
3. The Short Version
In troubling times hemlines rise, and it's not just skirts that are getting the mini treatment, men's designers are also taking a risk with micro versions of shorts, it would seem cut-offs are in. The most directional versions in black leather, seen at Egonlab and Prada, have a clear link to the queer community, who it must be said have had a sweeping influence across the shows. This may hopefully lead to a growing acceptance of all forms of masculinity, as these designs hit the mainstream. But all shorts styling options were a focus, in baggy bermuda silhouettes delivering on the surfer look, or nodding to the uniform of boxers in satin at Etro. Suit pants also got the chop, and gave a modern take on summer tailoring, worn shirtless by most models at Fendi, Givenchy, and Jordanluca, the suit will shake off its stuffy formality in spring 2023.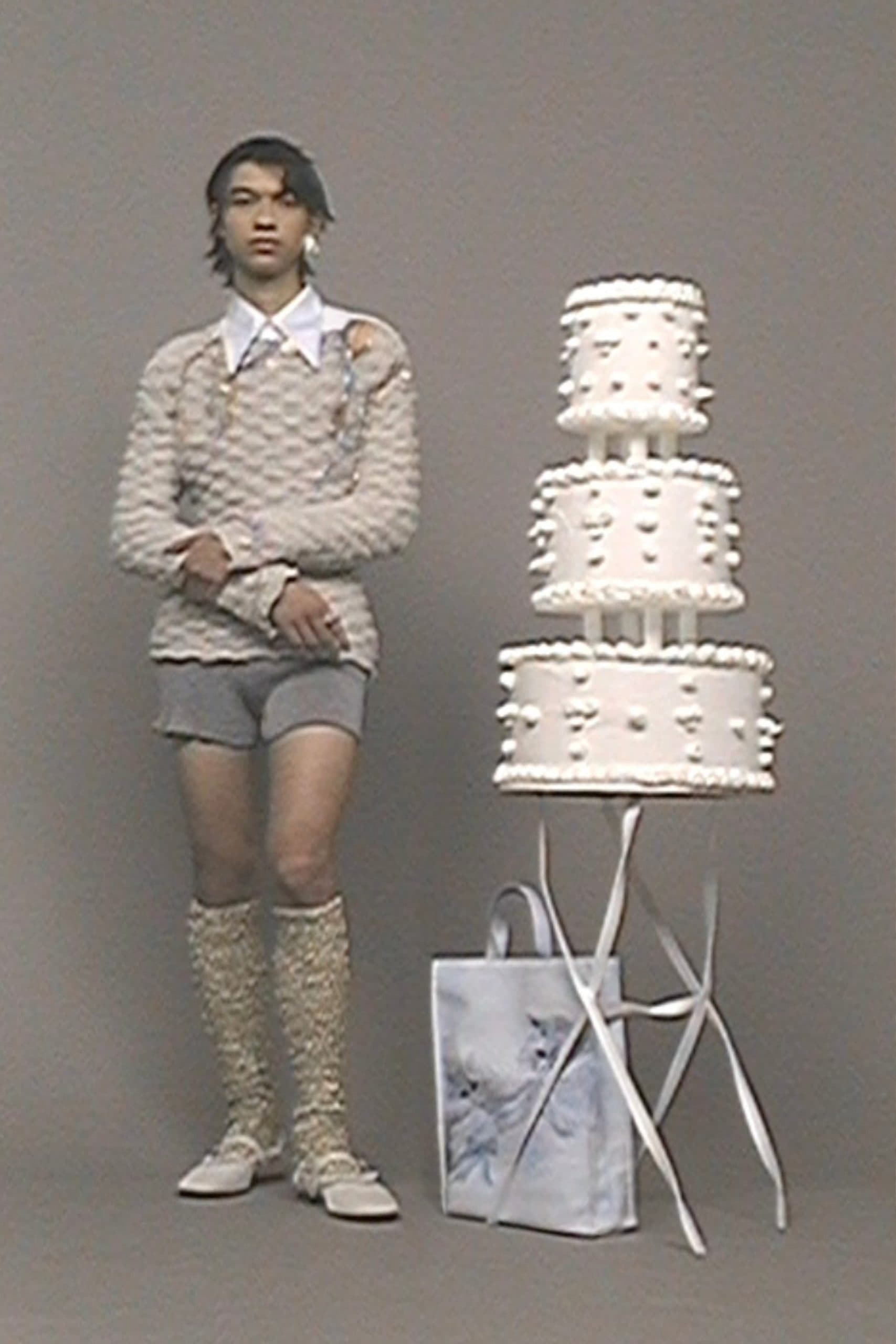 4. Denim Dudes
The fact that denim from brands such as Levi's hold their value at resale and are being elevated to couture-like status by designers such as Glenn Martens of Y/Project is no coincidence. As a category It has an everyday appeal, and when not bedazzled or embellished has the potential to become a favoured heirloom, passing down across the generations. There is no time like the present then for designers to dip into their R&D budgets and show us how they can rework denim – jeans, jackets, and shirts – into their brand codes. Taak's knack for artfully destroying the fabric, involves developing a unique jacquard weave, then washing, bleaching, and destroying each piece for a delicately doubled set only equalled in creativity by the trompe l'oeil effects matching Martens disrupted T-shirts with the denim worn beneath. Simple sets also belied their clean cuts, as Bianca Saunders' curved sleeves and asymmetric pleats were a highlight of the London schedule.
5. Hell For Leather
Leather was an unexpected twist for summer, especially when facing into soaring global temperatures that are now marking the season, and when it appeared head-to-toe it made for a further questioning of its inclusion, but at a time when consumers are seeking out investment pieces, the material is a safe bet. Black-on-black styling influenced by rock, punk, and western were sent down runway-after-runway, but the real interest lay in the coloured-up versions giving leather a spring-like makeover. Sage green shorts were seen at Amiri, while patchwork neutrals featured in a matching set at Marine Serre, but the 80s came roaring back with primary bright red and blue leather being rendered across skinny pants and truckers at Moschino, Celine, and JW Anderson.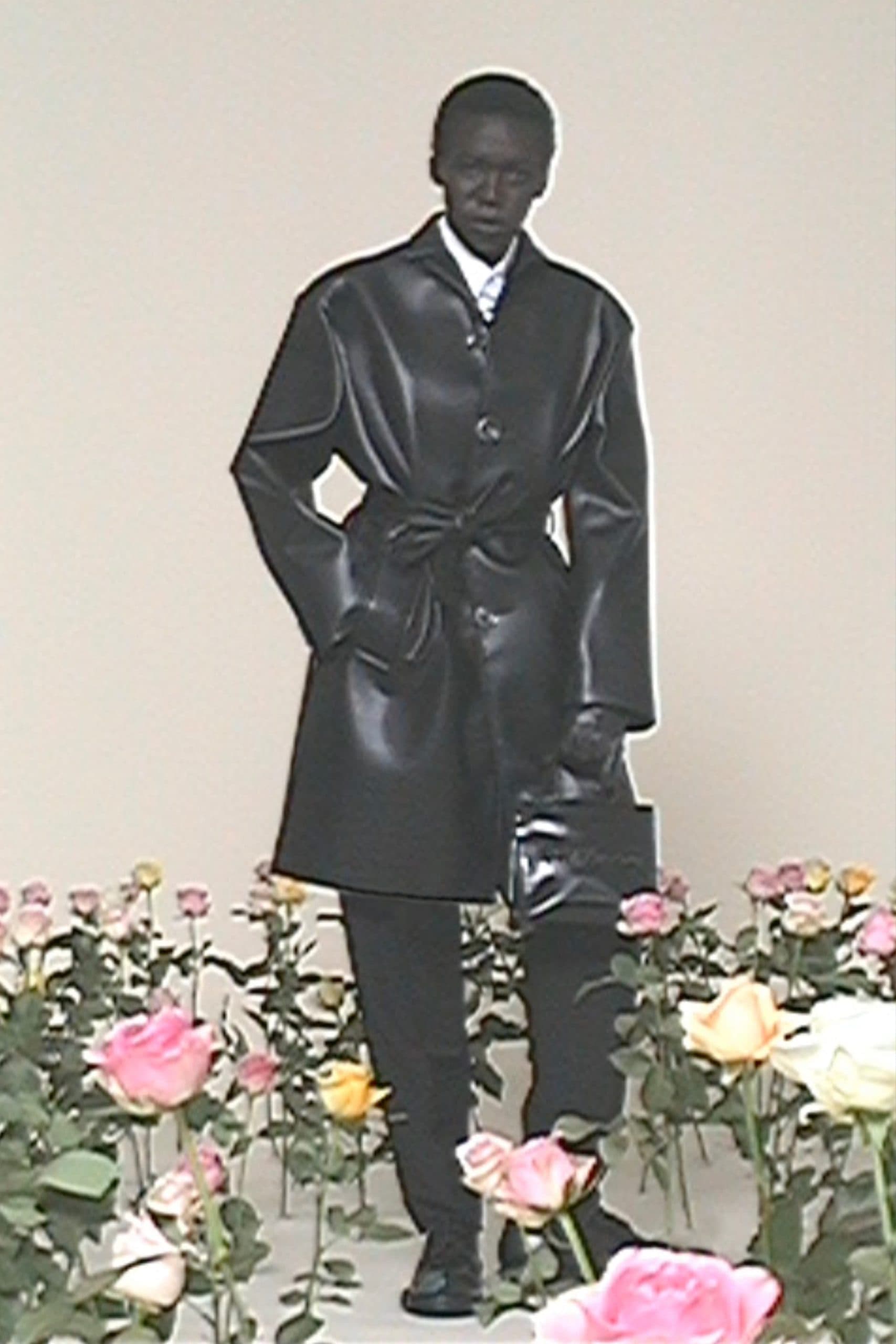 6. Vest Is Best
A very 1990s and 2000s essential, the white tank top has been a symbol of masculinity, minimalism, queer and even DIY culture, since its creation. The one-and-done look is now being adopted as an accessible must-have for the body beautiful. Most stuck to the classic Fruit of the Loom-esque ribbed vest, which was paired with a pair of Y-fronts at Dolce & Gabbana and was so trimmed away at Rick Owens, it was hard to tell if the model was sporting a cropped top. At Versace deep side cut-outs hinted at the beginnings of a bodysuit, with the most interesting iterations coming in from Y/Project and Dries Van Noten who both gave us camisole styles which hung precariously low at the front from thin spaghetti straps, which faced into the new mood for soft sensuality.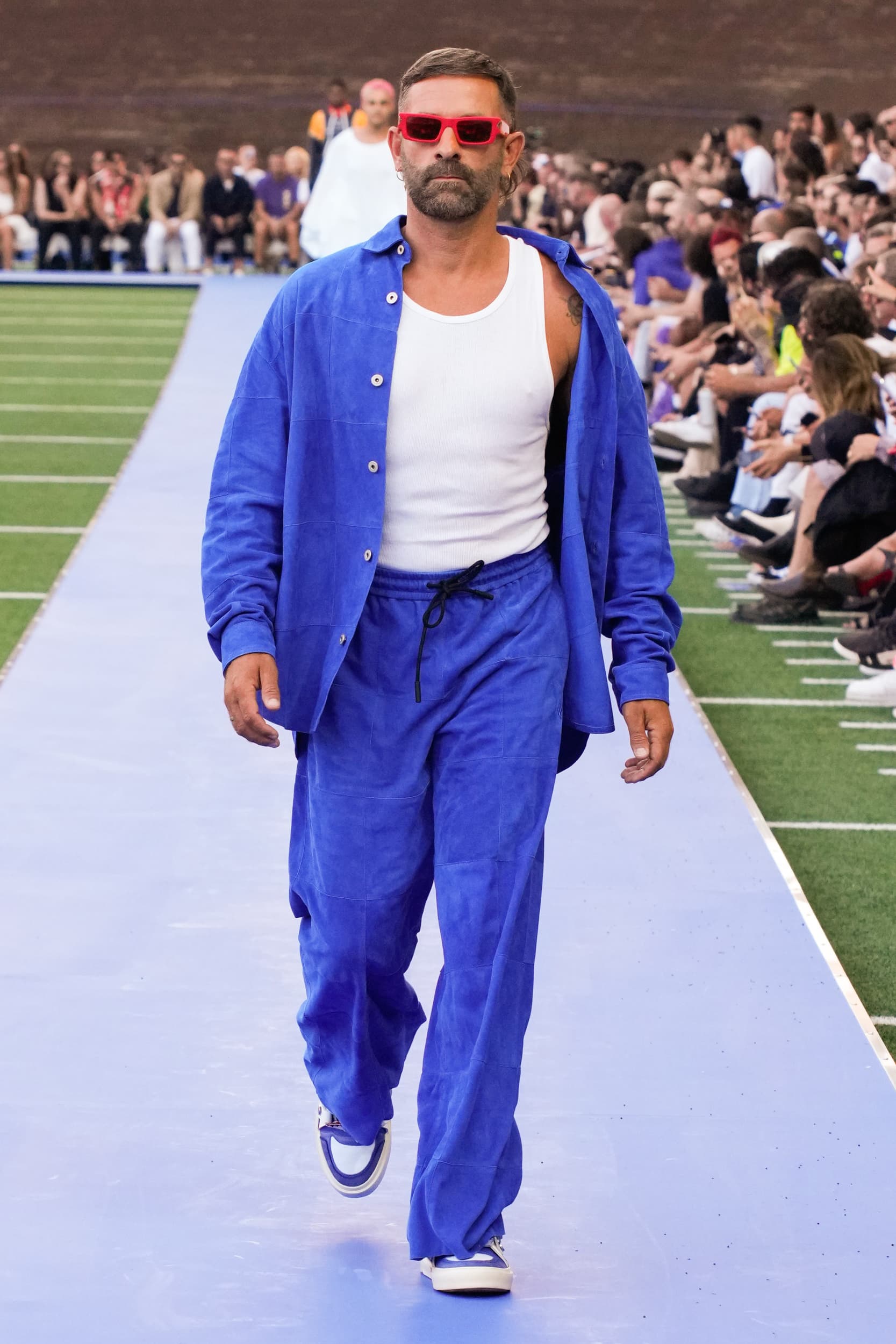 7. Bold Bombers
The culture around revivals, reboots, and remixes can become tiresome, especially as the recycle/cycle becomes ever shorter – trends from the 2010s are already being mined for their 'throwback' appeal. But one style who's swing back into the fashion orbit is never not welcomed, is the bomber jacket. Working for a range of bodies and across the gender lines – however fluid they may now be – the atypical shape of the bomber can be provocative when developed in an ultra-crop, playing into this season's obsession with skin-baring, or of-the-moment when its proportions are blown up to envelope the wearer like a (squishy) cocoon. Texture was key to give the style an update, with Amiri's delicate fantasy-inspired embroidered jackets featuring unicorns and a dreamscape, and DSquared2's tonal sequin embellishment offering a casual occasion remix.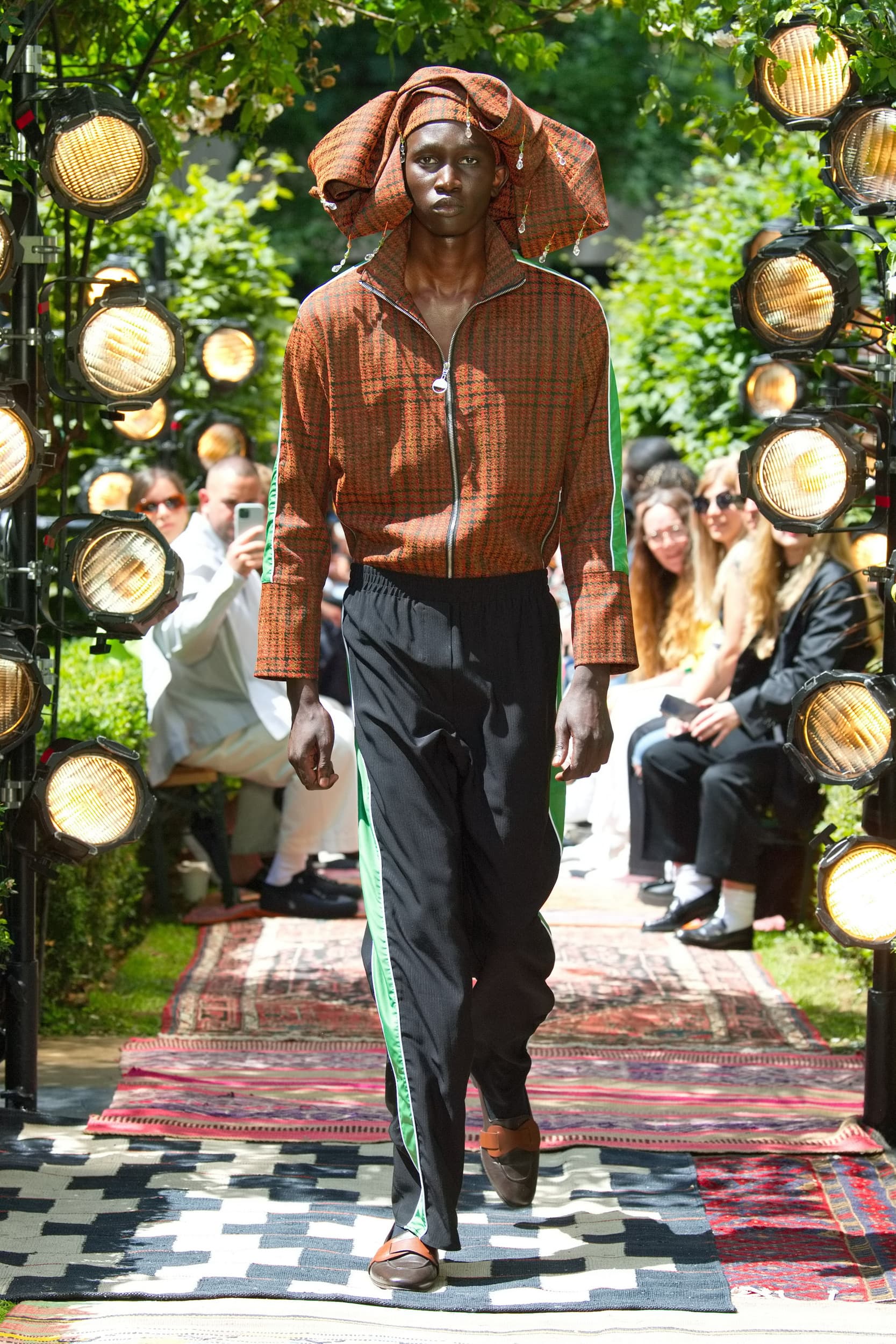 8. Vacation Stations
Channelling the escape needed from the high temperatures which enveloped both Milan and Paris and had many show-goers wilting in outdoor venues, a solution to keeping cool and remaining stylish in the summer was presented in the form of the Resort Shirt. Here designers let loose with print and colour, while knitted takes were thrown in for good measure. Patterned jacquards and rainbow crochet stripes were plucked straight from the seventies at Ahluwalia and Casablanca, Fendi's crisp boxy shirts are slick enough for the boardroom in golden hour hues, but with the proliferation of skin this season cropped styles from Amiri and MSGM aligned with the moment. And it was Aloha from Hawaii at Celine, where Hedi's washed-out beach scenes took on a thrifted quality.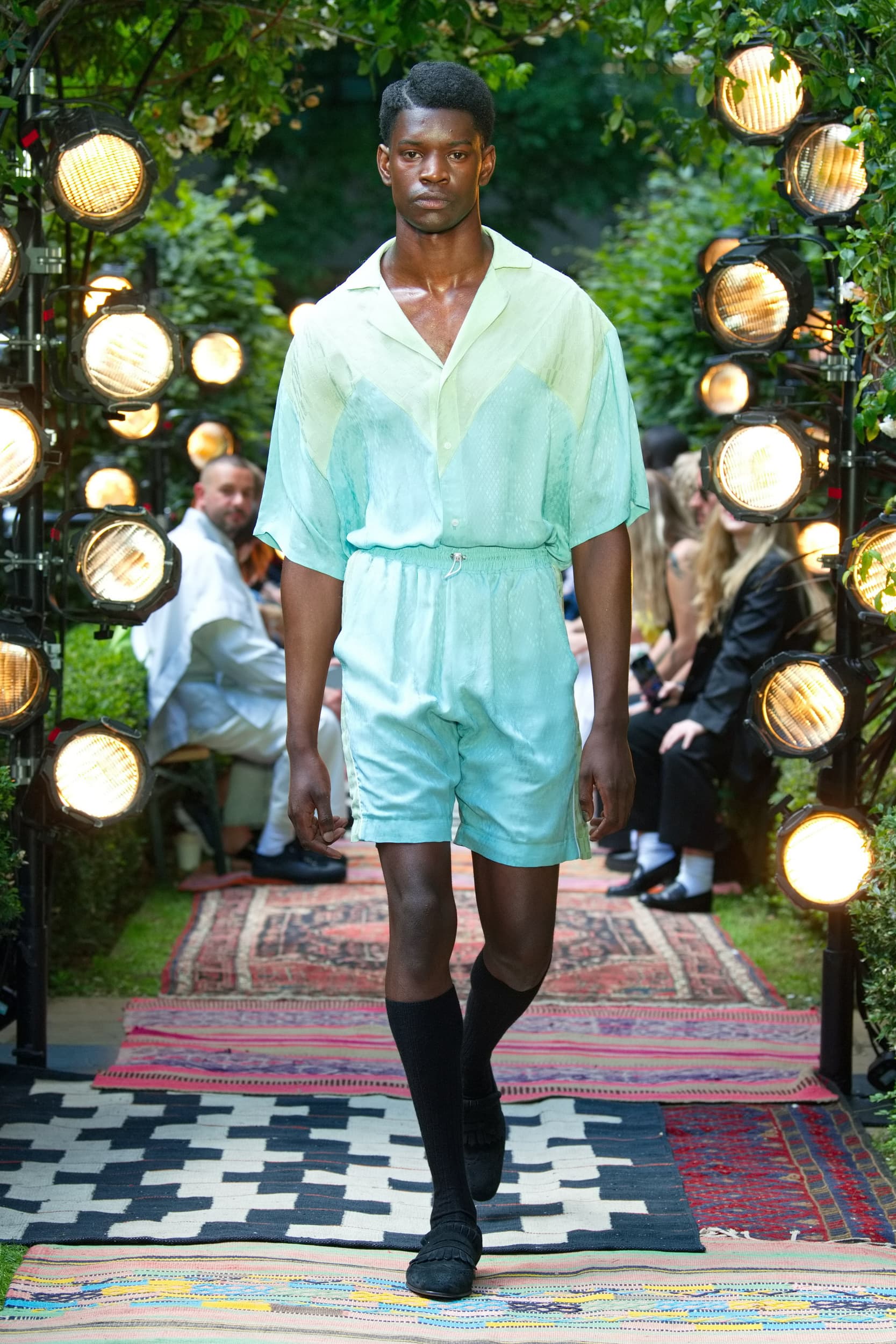 9. Men In Black (Suits)
With many predicting the death of the suit as home and hybrid working took off, we saw a tongue-in-cheek response to that notion with a sea of black suits on the runway, but rather than sounding the death knell, it felt like a celebration of this classic menswear status symbol. Demonstrating how a well-tailored fit can be used to pull together almost any look, we got Prada's 'shop boys', Rick Owens creative cutting, Craig Green's crinkled creases, and Mowalolas curved crop. While at Dolce & Gabbana there was a wholesale adoption, with every kind of option offered, from sheer lace to high-shine pajamas, and a voluminous number that was a Re-Edition from the duo's spring 1991 collection, giving their customer the opportunity to buy back into the archive pieces that made the menswear division so covetable during the era.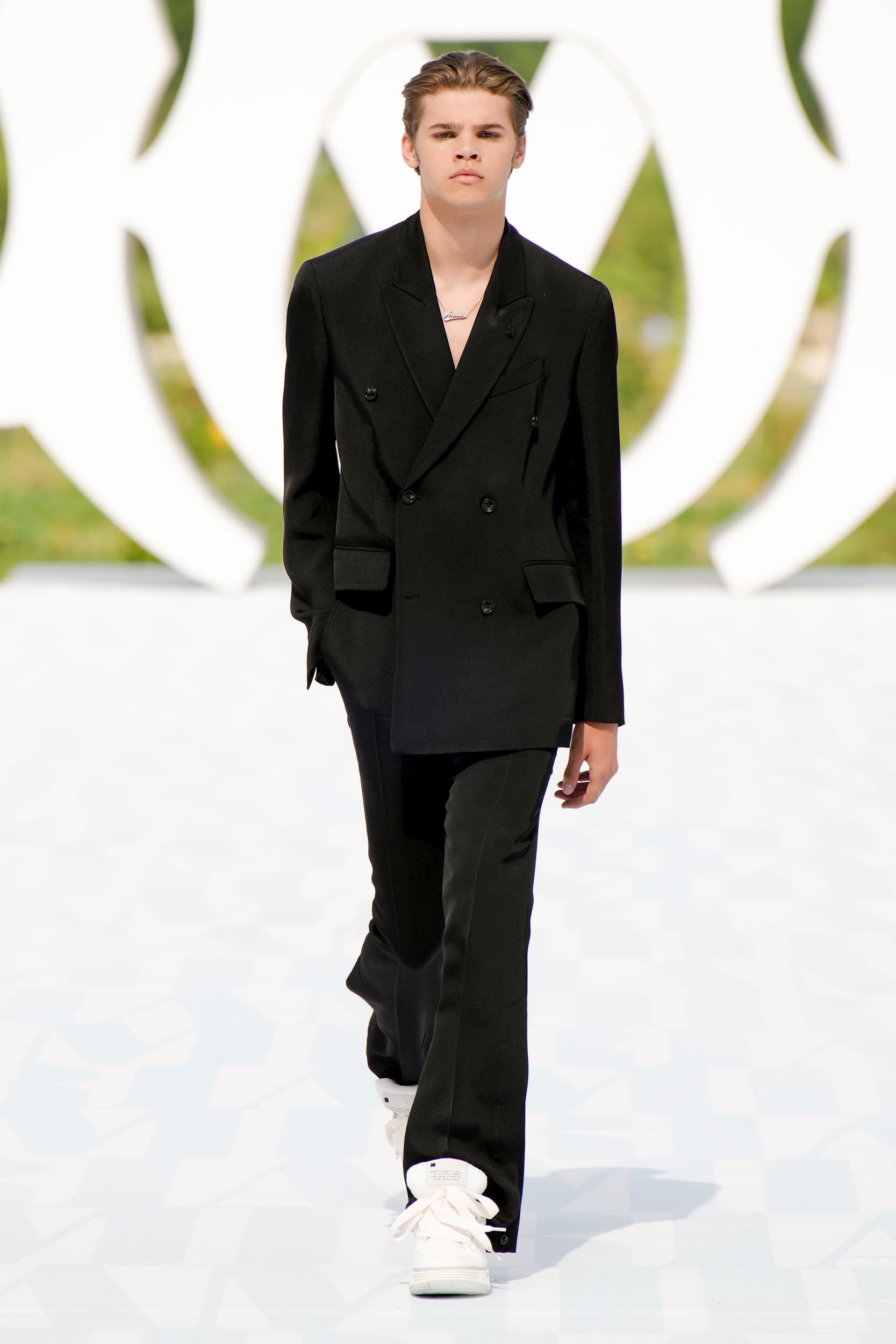 10. The Code Breakers
Come as you are, was the underlying aesthetic which buzzed across all three cities, reflecting the evolved notions on gender, identity, and sexuality which are taking hold globally, allowing designers to take a human approach to simply designing for bodies, however they identify.
In a rare moment of defiance, it was the emerging designers (clued into the changing of the winds towards more fluid gender norms) who led the way and showed what the future of fashion could look like. Styling, silhouettes, and shapes were absorbed from a broad spectrum, challenging the editors in attendance, but also their customers to rethink the way they consume fashion and robe themselves, because clothes should be just that, made to be worn by whomever sans exclusivity or judgement.
This season went some way to breaking down a lot of barriers, but it will remain to be seen how these styles – from micro shorts to camisoles, and full-on ballgowns (see Weisheng and Mr. Saturday for reference) – will be translated IRL, especially in a world that is simultaneously making leaps and bounds yet still seems to be regressing. Designers to watch from the new guard are Jordanluca (who had some of the best casting at Milan), Hed Mayner, and Egonlab, while more established names brought back the sarong (DSquared2), and the love affair with the skirt continued, going full length at Casablanca, crocheted and twee at Acne Studios, and as part of a risqué ultra-mini skirt suit at Thom Browne.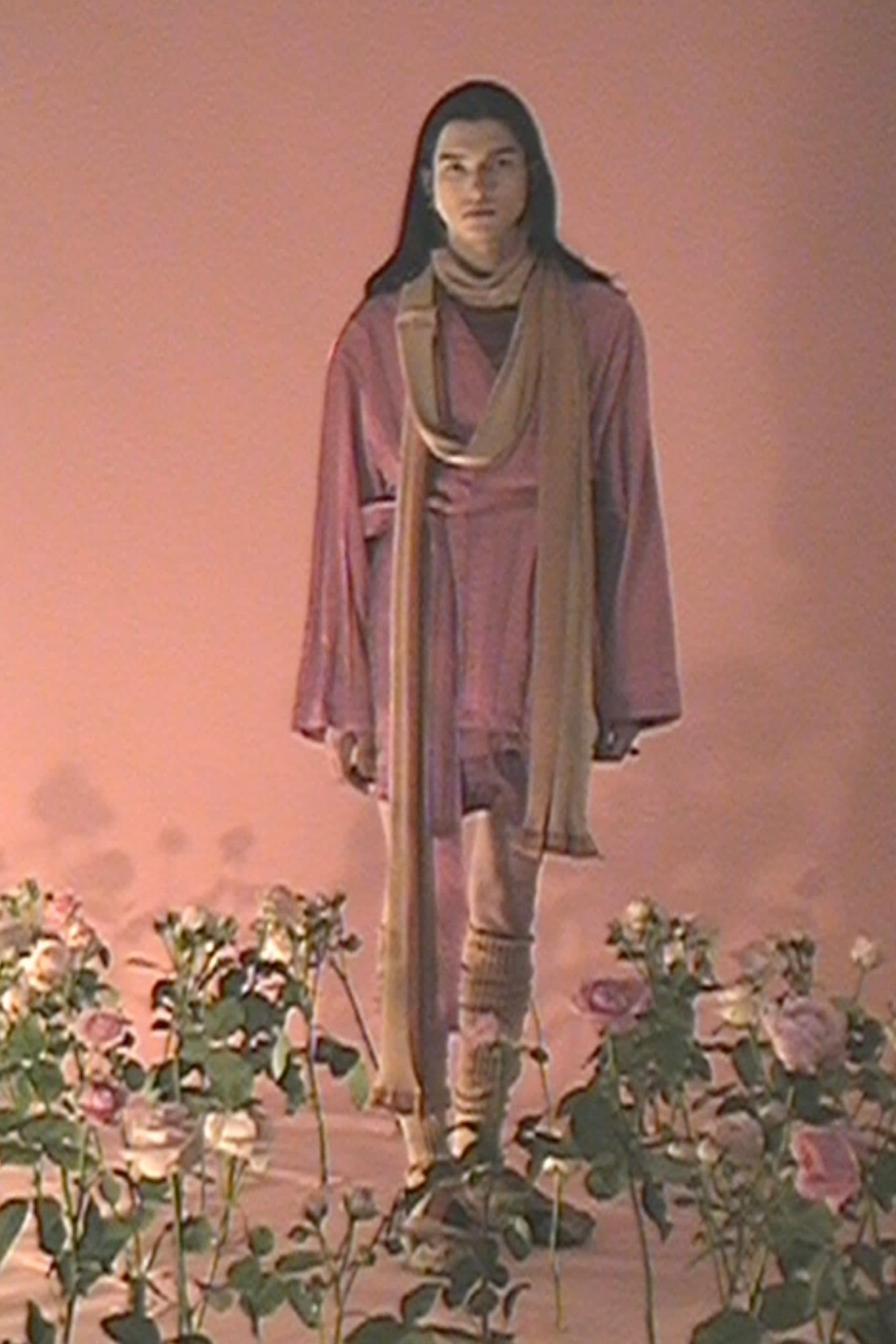 11. Set Design – Second Nature
Mindful pursuits which celebrate the act of slowing down has led to the elevation of hobbies such as gardening and hiking. Being immersed in nature for its endless well of inspiration influenced many to move the action to the Great Outdoors – whether physically or virtually – with the help of some innovative set design wizardry. Production teams set the scene in and amongst immersive foliage, floral-decked gardens, and mountain ranges. Acne Studios, Weisheng, and Erdem opted for the romance of English country gardens, Brioni's look-book models draped themselves in nature, and Vuarnets 'Summer Heights' collection shot in the Alps reflected the plant and woodland graphics that were a highlight across its knitted sweaters.
Etudes abandoned railway set where wildflowers grew among the tracks, was particularly iconic, subliminally suggesting the industry's continued return, even in less-than-ideal circumstances, and at Loewe, JW Anderson demonstrated how 'crops' can be reproduced (in collaboration with Paula Ulargui Escalona) on garments that will eventually be at one with nature again. While Kim Jones Dior Men's show took place in a merging of replica gardens from Christian Diors in Granville, Normandy, and artist Duncan Grants Charleston Farmhouse. Models meandered through cultivated flower gardens which meshed perfectly with the softness of Jone's utilitarian layering, right down to the miniature technical accessories that were fit for coastal get-aways, woodland exploring, or a simple picnic in the park.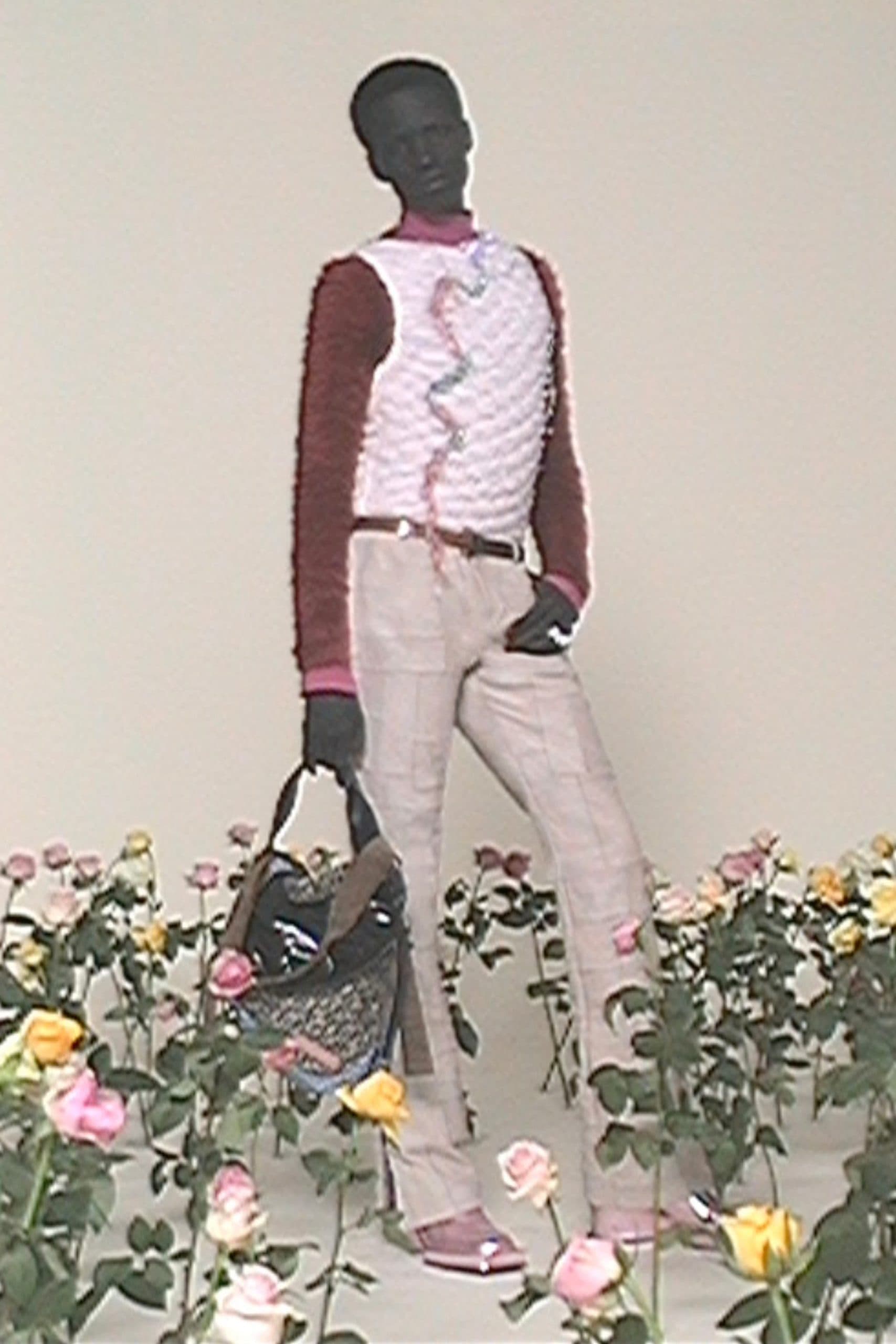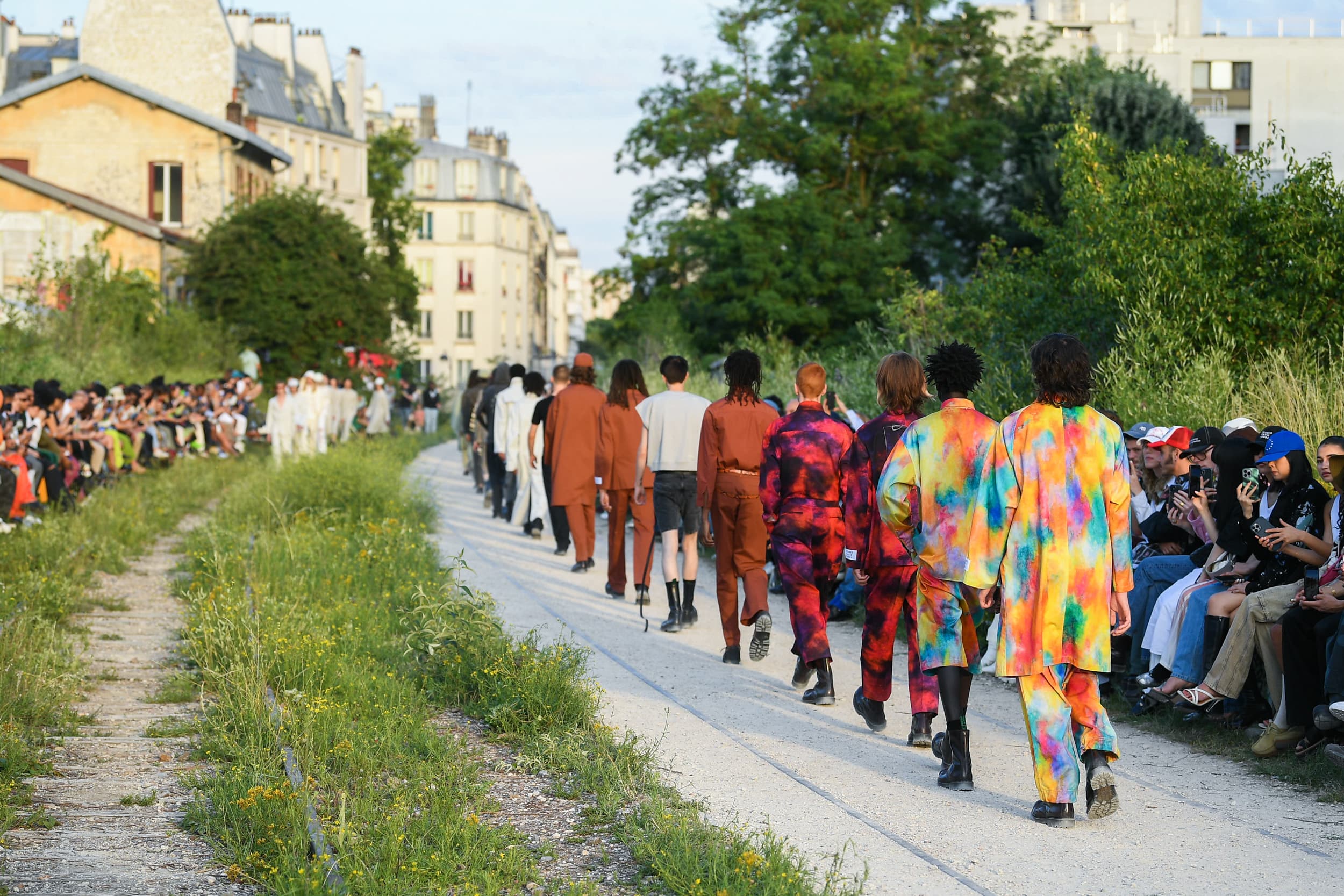 ---