Review of Valentino Garavani Rockstud Spring 2023 Ad Campaign by Creative Director Pierpaolo Piccioli and Photographer Steven Meisel with Talent Florence Pugh
Florence Pugh brings power and persona to the latest campaign from Valentino. The actor is lensed by photographer Steven Meisel.
While this may be her first campaign for Valentino, Pugh's friendship with the house and its creative director Pierpaolo Piccioli has been a while in the making. Valentino has been the actor's go-to for red carpet moments over the past year, and when one particular look that featured a sheer dress in Piccioli's signature pink sparked online controversy (oh no, nipples!), the two connected via social media and have added a close personal friendship to their professional collaborative relationship.
In a very smart move, the campaign brings Pugh's impressive acting chops to the fore. Meisel's portraits see her inhabit a range of emotions, ranging from shock, glee, and ferocity as she clutches the house's latest signature bag, the Rockstud.
The accompanying short film makes use of clever camera work to bring Florence face-to-face with herself. Playfully reminiscent of Pixar's iconic short "Geri's Game," the cinematography moves back and forth between the two incarnations of Pugh who face each other from opposite ends of a table, dramatically passing a Rockstud bag between themselves. Like the photographs, each transition is accompanied by a change in mood and emotion – as well as an outfit change – that makes for a frenetic and humorous exchange, creating an open-ended narrative that taps into the multiplicity of identity.
While the frantic pace at which celebrities and fashion brand form and drop alliances can be quite difficult to keep up with, and can often feel like shallow shilling, this campaign feels like it marks the arrival of one of those rare partnerships that feels genuine and meaningful. Almost an ideal celebrity partnership, Florence Pugh and Valentino seem to bring out the best in each other, supporting mutual values and revealing aspects of each other's personality. Relying on Pugh's talent for inhabiting various moods and seeing it through Meisel's confident portraiture, this campaign is a focused and fun statement of the start of something great.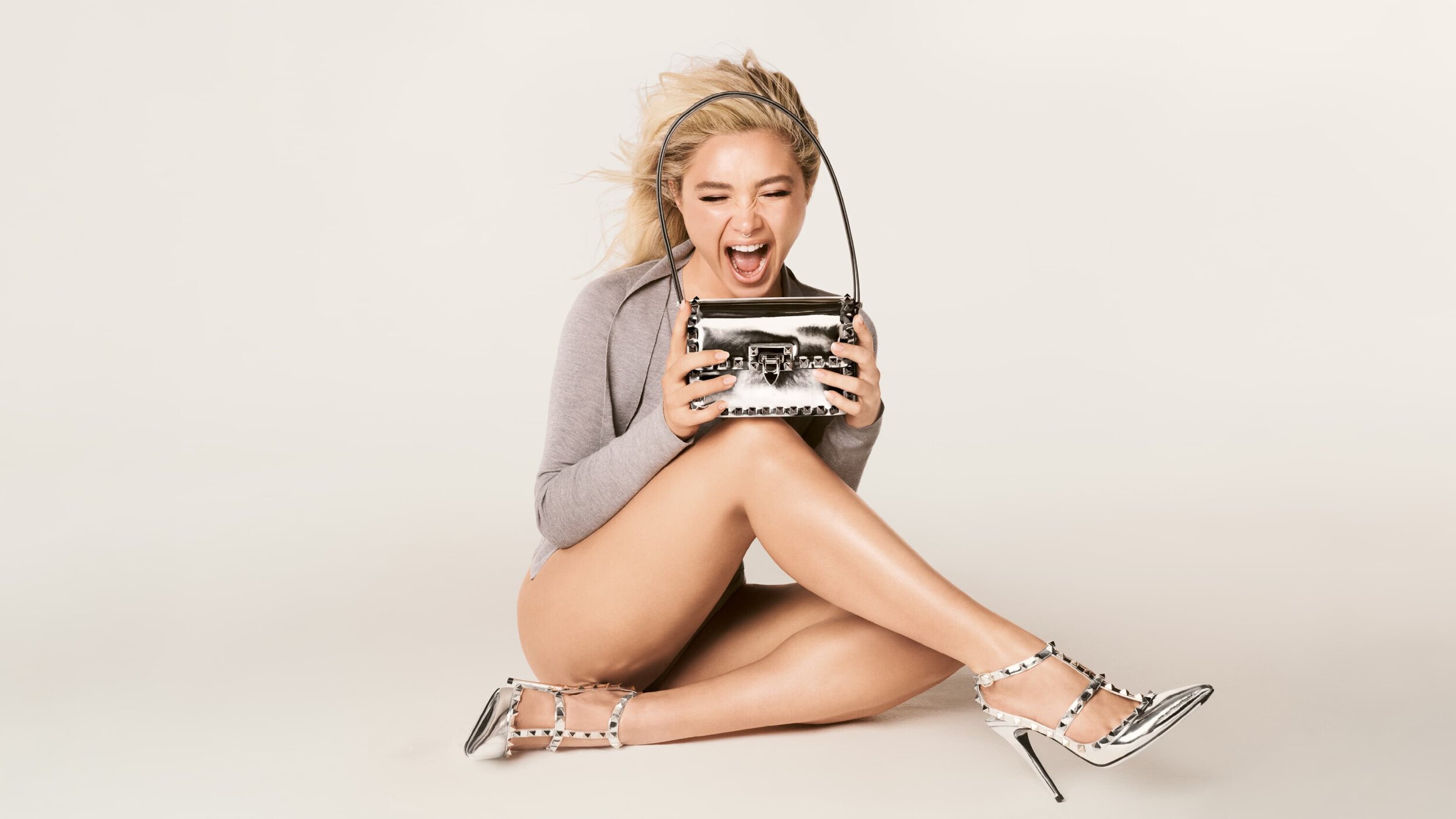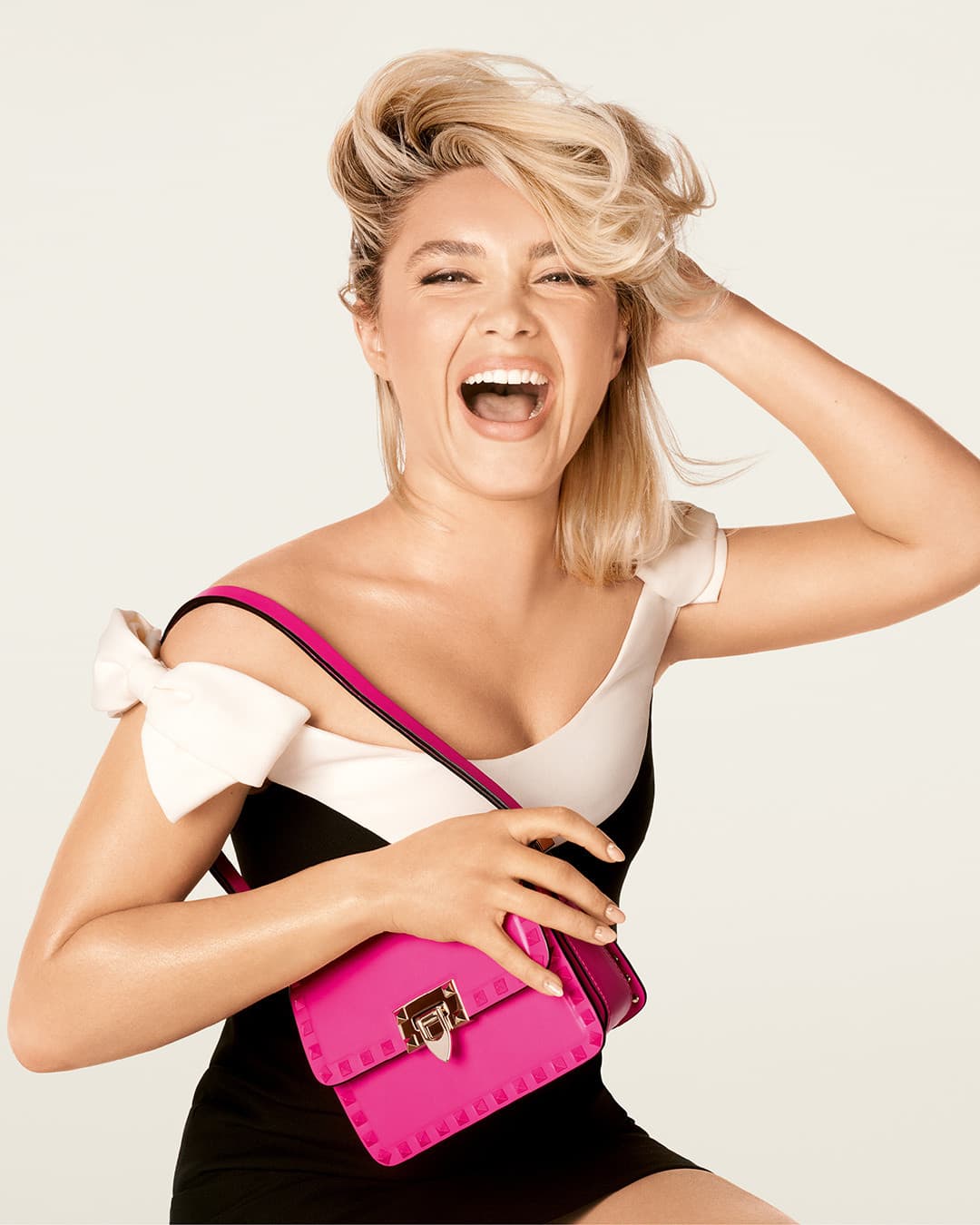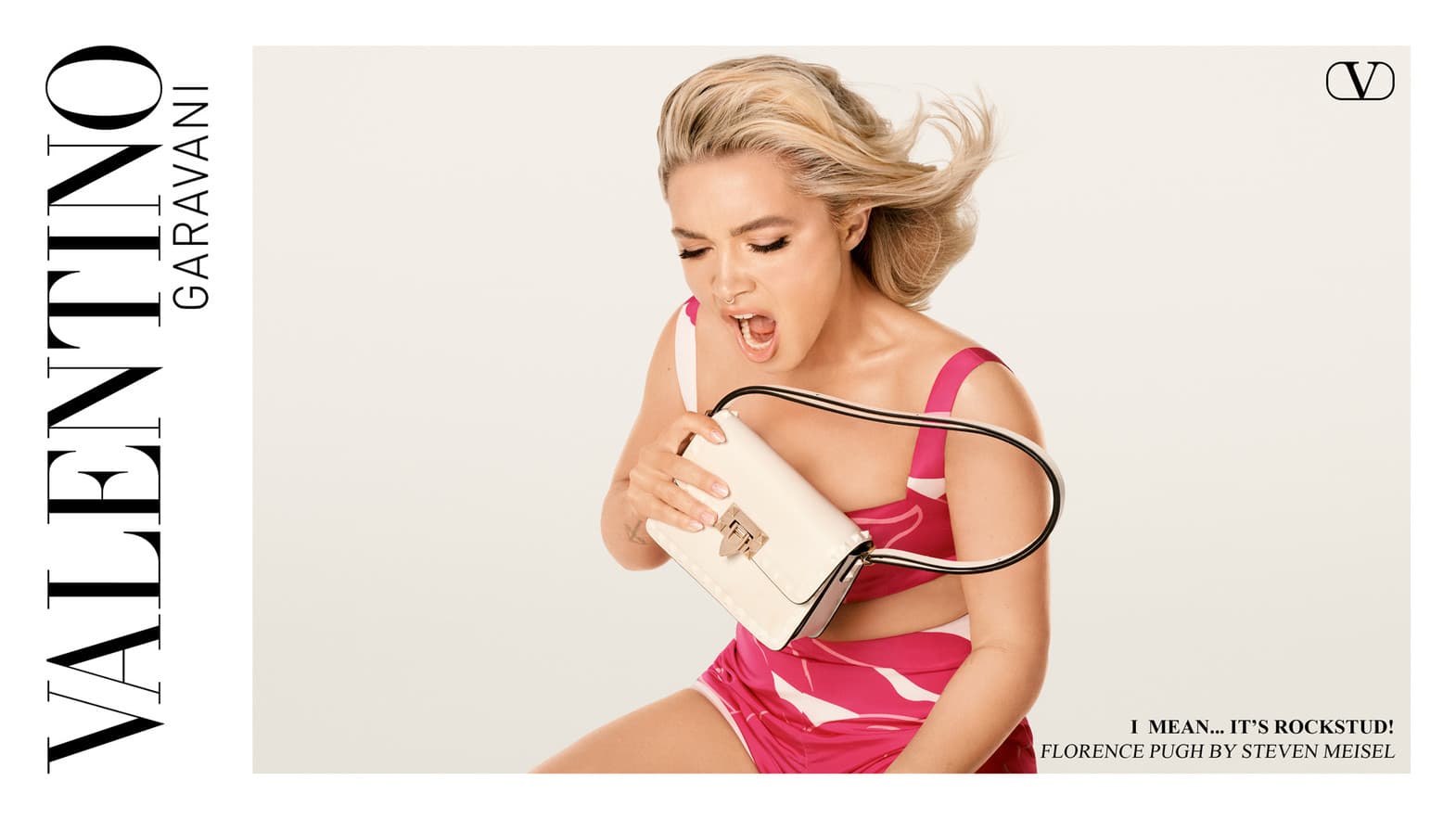 Valentino Creative Director | Pierpaolo Piccioli
Photographer | Steven Meisel
Talent | Florence Pugh
Stylist | Joe McKenna
Hair | Guido Palau
Makeup | Pat McGrath
Manicurist | Dawn Sterling

---