---
Pierpaolo Piccioli's Valentino collections are one of the highlights of the runway season, filled with narrative and rich with social meaning, modernism, color, and emotion. The collections leave so much room for running wild with energetic marketing messaging that any art director in the world would welcome the opportunity to work on one of the hottest labels in the world. Red hot in fact. However, of late once off the runway the label gets cold as exampled in the house's latest holiday campaign 'Joan for The Holidays.'
Enlisting 80s sensation Joan Collins, whose work on 80s TV show Dynasty has influenced both the fall Moschino and holiday Versace campaigns, the campaign presents Collins as an eccentric holiday party guest who is desperately needed to enliven the event filled with characters young enough to be her grandchildren. Sashaying into a foyer with her manservant Collins proceeds to toss out a few quips before going on to fan herself while exclaiming "You know I enjoy my own company as much as you do."
The spot is designed to showcase Valentino's Love Lab Capsule collection featuring Dante's quote embossed and printed on a slew of giftables, "L'amor che move il sole e l'altre stelle," which translates to "love that moves the sun and other stars." The quote speaks to the power of love and is ripe for meaningful and emotive narrative, expressing loves ability to change the heaven and the earth; to move mountains and like the character in Dante's Inferno, to traverse hell for love.
One of the fashion's greatest misunderstandings with narrative in the digital age is the need to create without the time to invest in fully thinking things through, concepting not just 'who' but 'what' and 'why.' In this case, more time in concepting may have lead to a more energetic spot with a more elevated and luxurious edge.
A collection inspired by love's ability to move earth and sky, coupled with Valentino's grandiose luxury and the talents of Joan Collins, should have been leveraged to tug at our heartstrings rather than made our heart sink.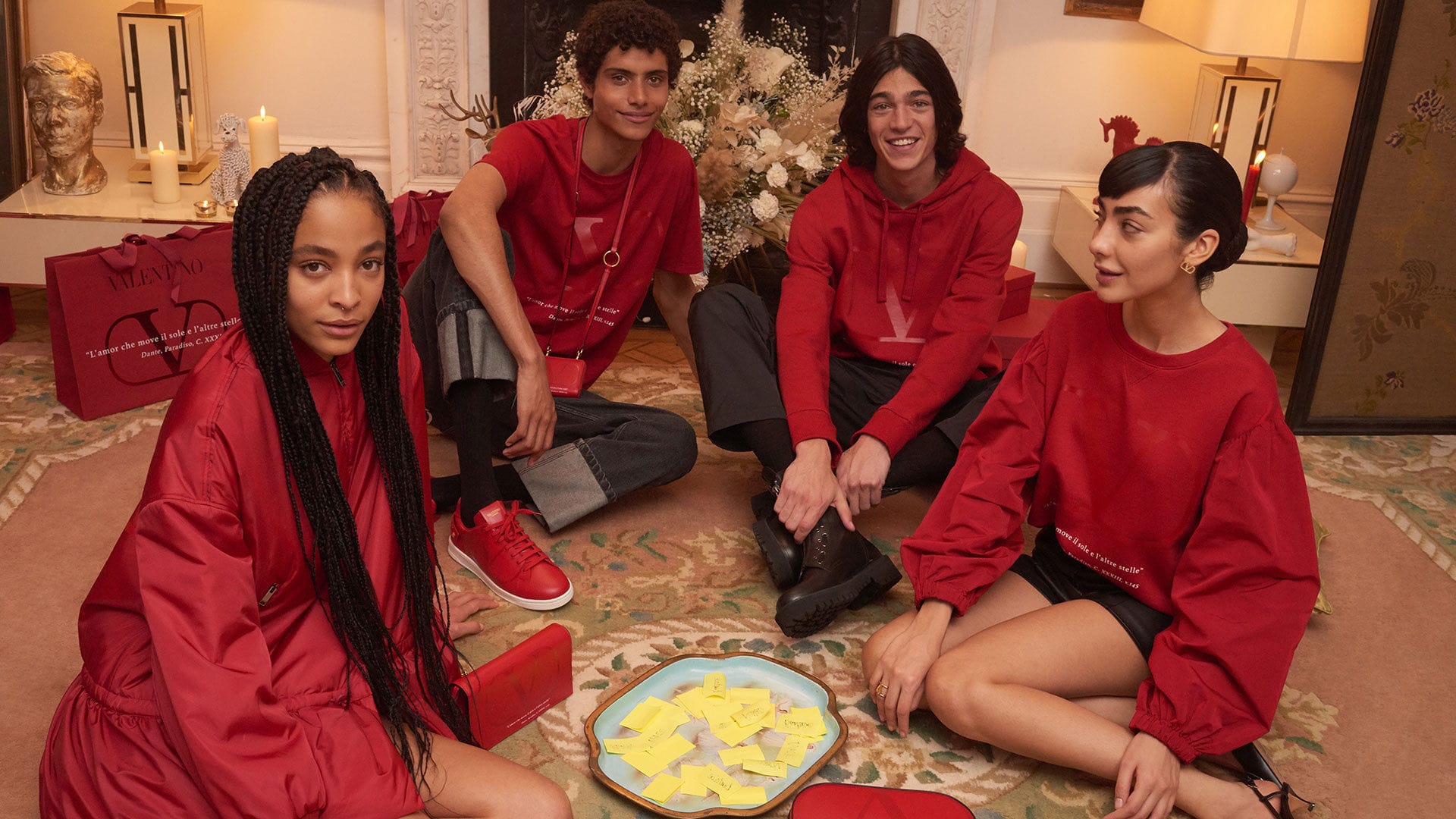 Valentino Creative Director | Pierpaolo Piccioli
Director | Barbara Anastacio
First Assistant Director | Hamish Storey
Talent | Joan Collins, Benoni Loos, Brionka Halbert, Louis Baines, Matthias El Koulali, Melody Lulu-Briggs, Milena Feuerer, & Trent Lafond
Stylist | Sofia Prandoni
Movement Director | Vanessa Le Mat
Hair | Benjamin David
Makeup | Porsche Poon
Manicurist | Cherrie Snow
Casting Director | Simone Bart Rocchietti
Set Designer | Andrea Cellerino
Location | London
---