A New School of Thought
Review of Valentino Spring 2024 Fashion Show
By Angela Baidoo
THE COLLECTION
THE VIBE
THE THEME

Summer 2024 was Pierpaolo Piccioli doing what he does best, taking simple, no 'honest' (a much better term to use, since simple is set to be the most overused word of the season) clothes and transforming them through colour, detail, and his innovative new fabric technique named by Valentino as Altorilievo or High Relief. Presented as some of the most enigmatic pieces, the fabric gave flowers and birds a sculpted feel in fabric form, and in patterns that allowed for multiple openings so the body could play its part as the key symbol in today's show. Goddess dresses with thigh-high splits offered dynamic movement, tailoring in cotton poplin softened the structure to highlight curves, and a mermaid motif present as a powerful folkloric symbol representing life. Footwear was kept close to the ground to further allow for greater movement.
The show notes for the Valentino collection were a sweeping narrative around the female body and its emancipation and freedom from the male gaze and going further societies expectations of it. Where it gets complicated, or even a little tricky, is that as much as there is a belief that we live in a liberated society which allows for freedom (of expression, to love, to raise a family, to wear what you want as a woman) there are still underlying biases around what form a woman's body should be presented in, and that often still adheres to the male gaze. If there is a concerted push towards a "fundamentally feminist aim" of re-ownership over their own bodies, then those bodies will have to become more representative of women everywhere. As with each model cast there was a distinctly formulaic method applied to their size and shape, namely thin and tall. And while there is nothing wrong with if a creative director chooses to cast his shows with a certain body-type (i.e. Kaia Gerber-esque), if emancipation and feminism and furthering the freedoms of women is what inspired, then that should at least marry with who gets to wear the clothes on the runway.
It would have been an infinitely more powerful outing if models from an XS to XXXL were to have walked today, in amongst them women from 21 to 81, and how would this concept translate for the more modest consumer? There is also the almost immeasurable positive impact to consider whenever a platform as influential a major luxury player chooses to take the provocative stance to show the world how it could be if all women were free. What would "Nakendness…as a natural state" look like if the wearer of a woven (read less forgiving) micro mini dress with waist cut-outs was a plus-sized model, would it still be considered liberating?
Can skin still "become a fabric" (as per the show notes) when there is more of it on display? Can the female form be reconsidered if it is presented as only athletic and slim? When bodies with rolls and folds should also have the opportunity to be considered as part of the conversation. Because when nakedness is applied to a bigger body it can't help but be provocative because of the way wider society views women who don't fit the perfect beauty mould.
THE BUZZWORDS
Innovative craftwork. Freedom of movement. Honest over simple.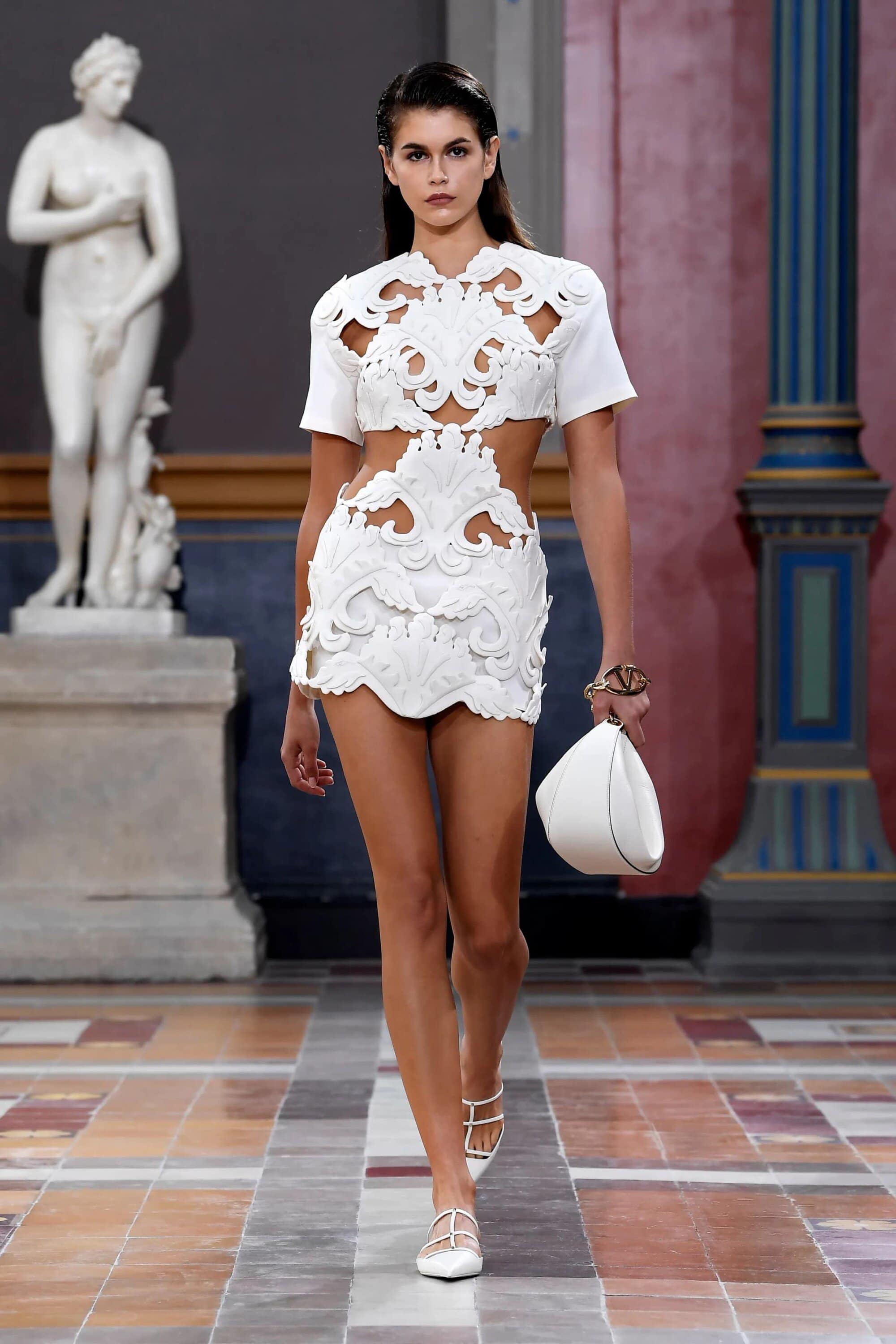 THE SHOWSTOPPER
Look # 32
Concealing and revealing the body while showcasing the designers innovative new craft technique, the cape and its pairing with denim communicate fully the concept of modern design for movement.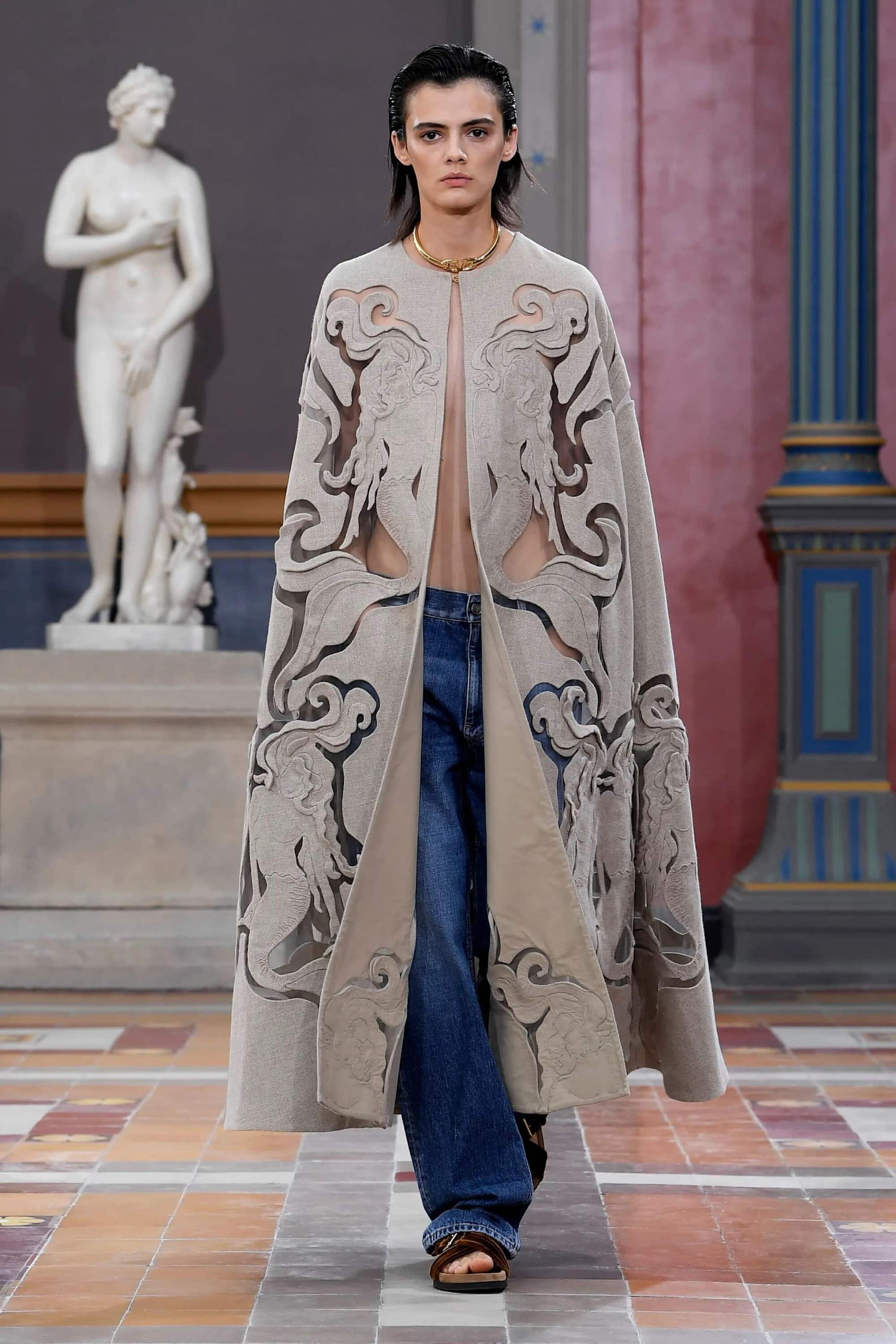 THE DIRECTION
PROS
The development of innovative new fabric technique 'Altorilievo', which created a sculpted fabric to elevate all categories.
CONS
A more inclusive outlook with regards to casting would have illicited a more impactful show experience and aligned with the underlying message.
THE WRAP UP
Pierpaolo Piccioloi's Valentino will continue to inspire and draw fans from across the globe for its unwavering commitment to celebrating femininity through the medium of fashion, and using craft as a way to enhance the female body which acts as its canvas. But when speaking to the emancipation of women and the liberation of their bodies from thinly veiled coding across society, that conversation has to be more inclusive of women who are mothers, daughters, wives, artists, engineers, doctors, performance artists, chefs, and yes models.
In seasons to come as the designer continues to L'ecole the industry on how femininity can be used to fight for freedom, it would be an encouraging gesture for that concept to be represented by all women on the runway too.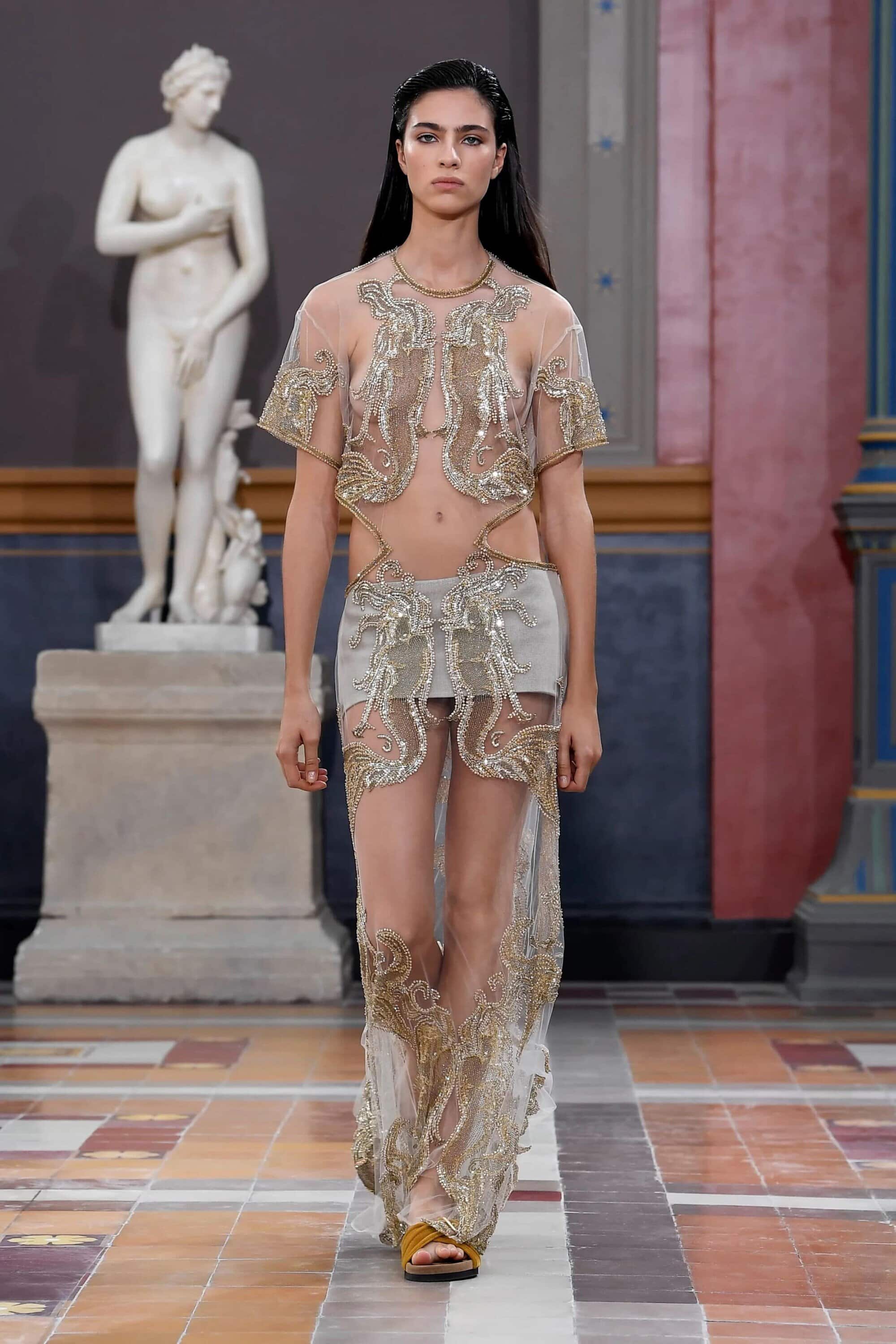 ---