Veronica Chou, Chinese fashion tycoon Silas Chou's daughter, has launched a sustainable fashion brand that can be a role model for best practices moving forward. Everybody & Everyone is everything you want in a brand – body positivity, inclusivity and sustainability has informed all their choices, from offering the full size range between 00-24, to accessible price points ($48-$288), to creating a circular economy. Chou is not just paying lip service to sustainability, but has thought it all through, from recycled and recyclable or organic raw materials to low-impact manufacturing practices, putting innovative technologies to work so we don't have to, while minimizing the carbon footprint all along the way, not to mention the distance between the mills and factories. The Impression's Dao Tran picked her brain about the global sustainable landscape, achieving carbon neutrality, the promise of material science, and doing less laundry.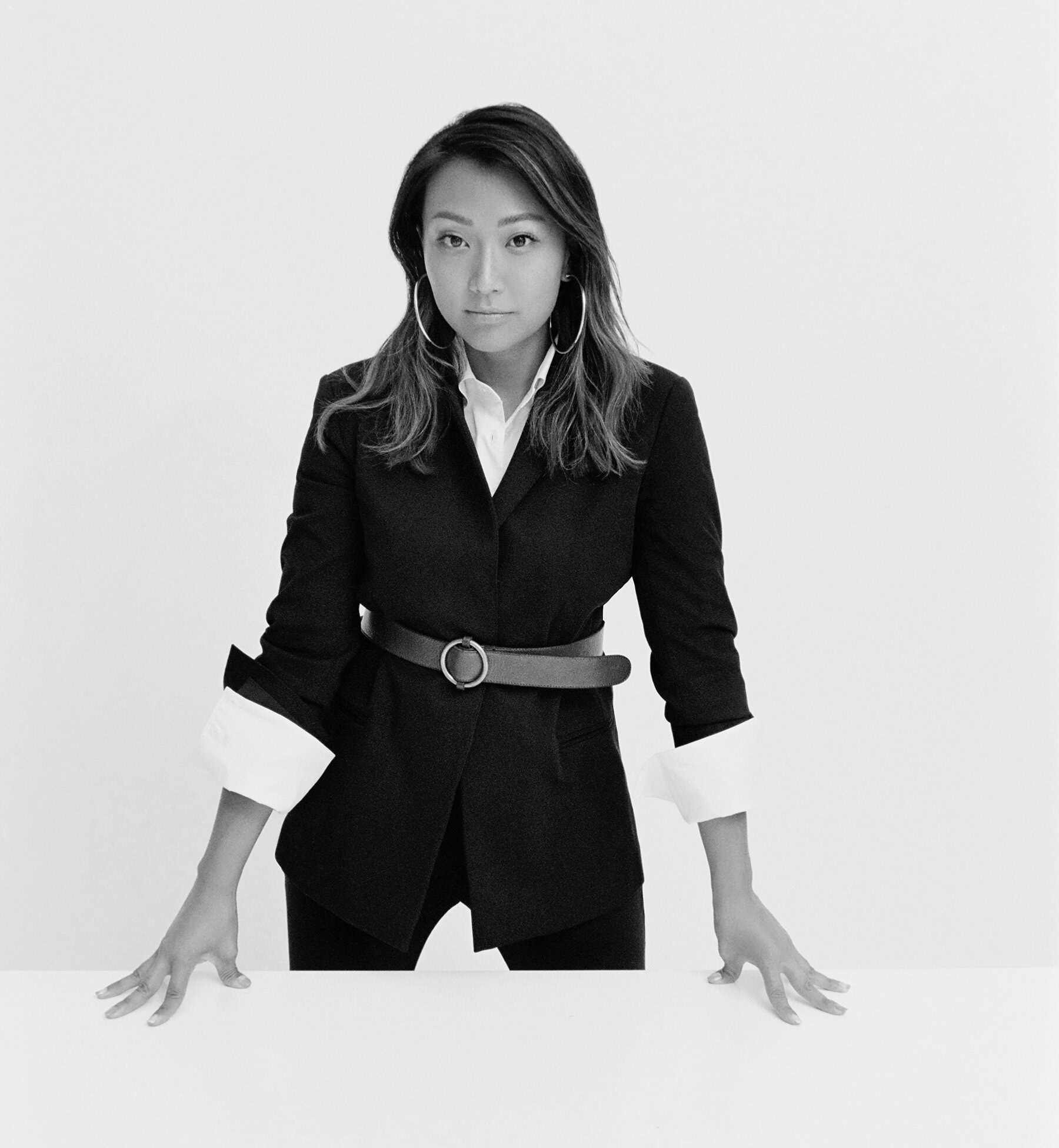 Dao Tran: Curious why you decided to launch Everybody & Everyone in the US when you live in London.
Veronica Chou: I got to know the American market very well when I was bringing American brands to China for Iconix. Plus I went to high school and college in America, in Connecticut and then in LA, so I still really feel like I know the American market the most from pop culture, which is mainstream TV and movies, to now more segmented pop culture, which is social media, IG, YouTube, and whatnot. I still feel like most of my information and news is from America even though I don't live there, I think I know that market the most.
My second business was Karl Lagerfeld but I don't know Europe as well as America, I feel like there are so many different places and it's so different.
In terms of China, I think the opportunities are huge there, but sustainability is not quite mainstream yet, and I feel like in America people really need something like this now.
Dao Tran: Do you feel like Americans are kind of ahead of the conversation?
Veronica Chou: Well, if you look at the global market, I would say Australians are the most sustainable in terms of fashion, there are the most sustainable brands coming out of Australia. That ozone hole was right above them so I think they became aware of that issue much earlier. They have their own homegrown brands and they have the environment for it.
Then Europe, people care so there are a whole lot of brands from Sweden and those places.
Honestly, America is one of the least sustainable countries. However, from my data research, I have found that people are searching for it. Look at Whole Foods – I started the sustainability journey with organic food – it is everywhere in America now. People have that awareness. It's not just NY and LA. But I think they really don't have many options at this point. Another reason why I wanted to do this brand, was because I saw very few sustainable brands for the plus-size customer.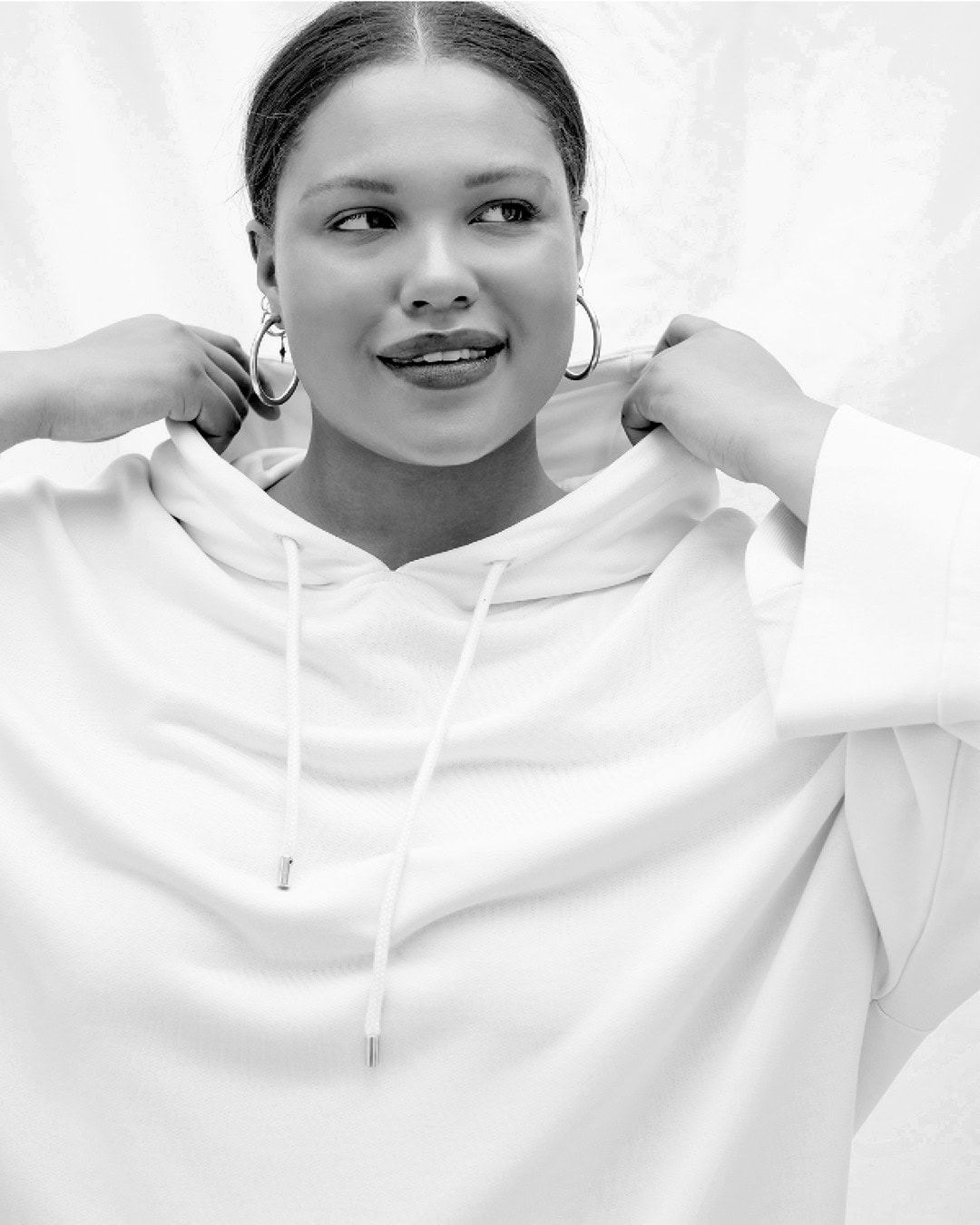 Dao Tran: Love that, and love that you have different size models in each look because it gives you an idea of how things really fit on different body types.
Veronica Chou: Definitely. I grew up 1) being Asian, 2) being in the industry, having all the pressures of being a size 0 or size 2 – which I never have been and never will be. I don't want future generations to grow up feeling that they need to be a certain size. So it was super important for me to do a full size range.
Traditionally, brands have either the missy or the plus size. And in the middle, there's a big gap so people actually can't find clothes because most people are in the middle section, they're not missy size or plus size.
Dao Tran: You show how clothes can work across the range of body types.
Veronica Chou: We also design with multifunctionality in mind, whether it's a sweater you can wear as a turtleneck or a crewneck.
Dao Tran: I love the 2-in-1 puffer jacket that can be worn short or long.
Veronica Chou: Yeah. It's super light and super warm. I've been wearing it every single day. I love that product myself. EcoAlf is fantastic. Each jacket is made from 330 recycled plastic bottles.
Our hope is that people will keep our products for a long time.
Dao Tran: I think that's something a lot of people can't wrap their minds around – how do you make money not trying to sell more product?
Veronica Chou: Look, people do need to wear clothes and clothes do wear out, so people will always be buying. The problem is buying and wearing it once or twice, that's when it's bad for the planet.
Eventually, I also want to look into different revenue streams. Whether it's reselling some of our products – Patagonia has already repurposed some of their products – I think these different types of revenue streams would all be very important.
Dao Tran: Well, your line is essentials that you wear every day so you always need that. But when you talk about reselling, how do you envision that at your price points, which are very accessible?
Veronica Chou: In America, platforms like thredUp or Poshmark are reselling at very affordable price points, they're not reselling at the RealReal price points. If those platforms have a chance at reselling at lower price points, I think eventually it will be the trend.
But yes, the accessible price points are integral to our core concepts: body positivity, inclusivity and sustainability.
Dao Tran: Your project is super well thought through, building in sustainability from the beginning – from the raw materials to the manufacturing, carbon-neutral offsetting, recyclable shipping…
Veronica Chou: Yes, all the labels, hangtags, all the buttons, as much as we can, whenever there's an option. The sad part is there are actually not enough options. Like our zippers, which are from YKK, they have a handful of sustainable options, but it's not like they have a whole lot of choices. But we want to make sure that we do it as much as we can and I think we've hit most of it. Even the tape on the box is made of recyclable materials. And I'm still looking to improve; I don't think we've landed on omg, this is a perfect way forward. It's the best of what we can find today and we keep trying to improve on every single part.
Dao Tran: Within the sustainability sector there's so much innovation that there are always ways to improve.
Veronica Chou: Yes. Regarding innovation, I personally do some investments in material science so people send me a lot of new technologies. And as a brand, we're looking to partner with a lot of people. We definitely have very interesting things coming up in the short term, near term and also the longer future. We just launched our – I want to say it's the world's only spill-proof eco denim. Which is as sustainable as it can be. The black denims are dyed using 50% less water than traditional techniques, and if you spill wine or coffee or whatever, it literally just rolls off. Your floor might get dirty, but your jeans will be fine and you can wash them less.
Dao Tran: I love the whole idea of doing less laundry, but how do you counteract the stretching?
Veronica Chou: That's specifically why the two black denims that we have are not crazy stretchy. We deliberately found a fabric that has a really good recovery. That also has the added benefit of holding you in, so for the bigger customer, it gives you a better shape.
Dao Tran: Here's another question: How do you change women's mindset towards laundry?
Veronica Chou: I know. That was a hard one for me as well. I think it's easier with denim, but we have t-shirts that are odor and water-based stain-resistant and we'll have more hoodies and sweatpants coming out in the same material. But I tried it out and wore our t-shirt to the gym for 5 days straight.
Dao Tran: That's pretty pushing it.
Veronica Chou: Yeah, I know! Every time I hung it out I was like, I need to wash it! It was very difficult for me, so it's going to be a long journey to get people to change, but it really does work, I really did work out in it for 5 days and it didn't smell and I'm going to challenge myself to keep it for longer without washing.
Part of my struggle right now is we have so much messaging, how do I communicate all that to a consumer who doesn't have all the time to read everything?
Dao Tran: Seriously? It's saving time, money, and the environment. What's not to love?
Veronica Chou: Right.
Dao Tran: Offsetting and carbon neutrality. How does that work?
Veronica Chou: As we move about in the day, there are carbon emissions associated with things we do or consume. For example, our business has an office space that uses energy. You can calculate your carbon emissions and offset with a donation to an eco-project – it could be reforestation, it could be solar/wind, we've chosen to partner with planting trees because I believe trees are one of the most efficient things in our world to take away carbon. We try to reduce our carbon footprint as much as possible in the first place, then offset whatever we cannot reduce.
As a company, we've offset our prelaunch activities and we will be doing that on a regular basis. Further, not only is each shipment offset by planting a tree, but consumers are also given the option to donate to plant trees upon checkout. It's $1 per tree.
I offset my travels privately – let's say I fly economy for 3 hours, that would be $3, it's not a crazy amount. If you want to do it yourself, there's a website called www.cooleffect.com and it's super easy.
Dao Tran: Cool, thanks for the tip! I'm curious about the carbon footprint on the returns, people do order different colors and different sizes to try on.
Veronica Chou: Yeah, the returns are big. But if you don't count that and just compare the journey of the item to your door, deliveries could be more efficient because they bypass the shop, and there are carbon emissions associated with a shop.
Where Everybody & Everyone can control it is we try to find factories next to our fabric mills. For example, the mill for our sustainable silks is next to where we sew up the clothes. And the same for our t-shirts, it's like 15 minutes away. Versus others who buy fabric from Italy and ship it to Portugal to be sewn, then another place for finishing before the destination country.
Because my focus business is in America, I have tried to move as much manufacturing to America as possible.
Dao Tran: That's another good sell – Made in America.
Veronica Chou: Our denim right now and eventually our t-shirts will be Made in America. Honestly, it was a little harder because most of the American factories are not very sustainable. It was really hard to find!
Also – China has been such a big manufacturing country, especially in clothing, there's a lot more skill sets in China. It just comes out better if you make it in China, it's better quality, of course, better price points, and it just looks better.
Dao Tran: Interesting to nevertheless decide to manufacture in America because of the ideology.
Veronica Chou: Climate crisis is something that I'm super passionate about. I can only speak from my personal experience, which is once I had kids, it became a much more important thing. I started learning about sustainability in clothing about 6 years ago, then I got pregnant 5 years ago. At the beginning, I was super nervous, everything for my kids had to be organic and I'm like, wait, what about myself? So that's kind of like my journey.
I believe in a world where material science can enable us to continue our efficient and convenient lives that we already have. I think we can use and buy things, but that don't necessarily harm the planet. I really do believe in science and technology.
Dao Tran: What did you study?
Veronica Chou: Oh, I studied communications. I wanted to study fashion design like every other teenage girl but my father said no. We have a really good relationship, he helps me out a lot and I learn a lot from him.
Dao Tran: Sustainability has exploded and taken over the conversation in the last few years. What do you think changed it or drove it?
Veronica Chou: A lot of people talking about it. A lot of celebrity power. It reached a tipping point. There have been a lot of NGOs and organizations in fashion that have been pushing forward the agenda and mainstream media picking it up. It's a little bit of everything.
Dao Tran: It's the Zeitgeist.
Veronica Chou: I'm really happy this has happened.
Dao Tran: Thanks for fighting the good fight and good luck with everything!
Veronica Chou: Thank you. Good speaking to you!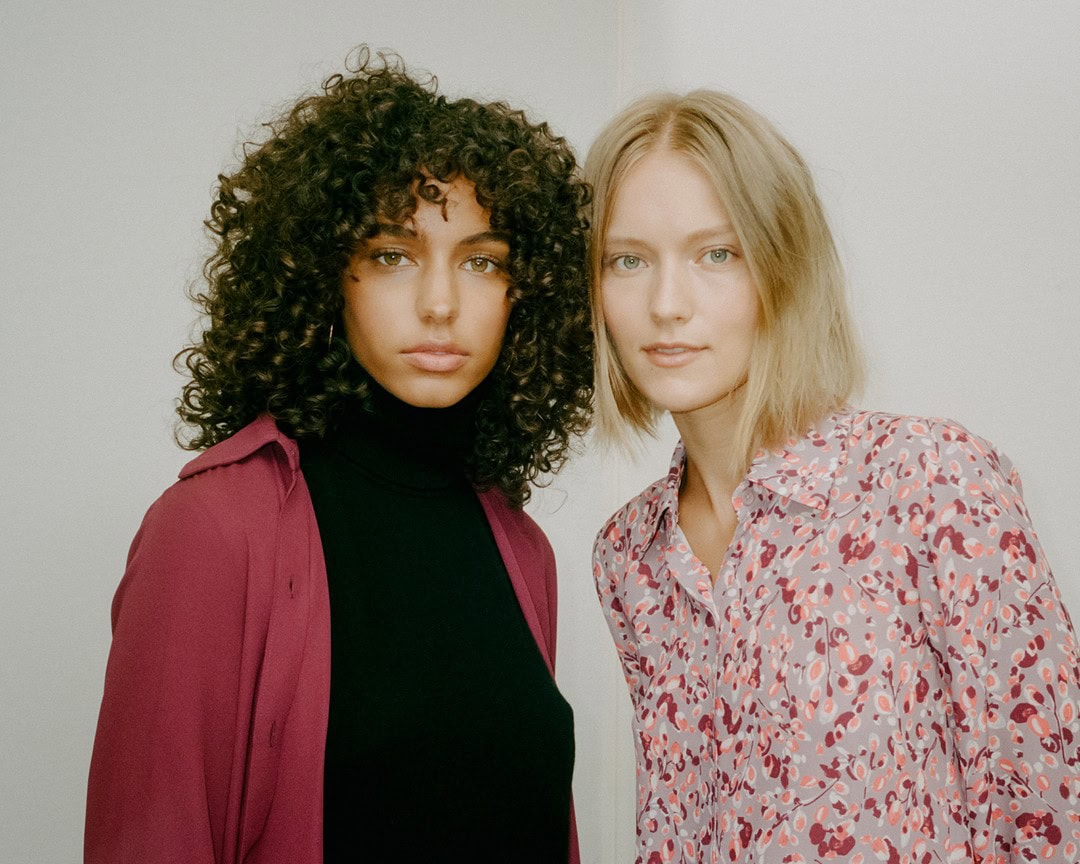 ---