Review of Versace Holiday 2022 Ad Campaign by Director Tommaso Ottomano and Photographers Carlijin Jacobs and Teresa Ciocia with talent Lily McMenamy, Kit Butler, Sora Choi, Mila van Eeten, Brando Erba, Ismael Savane, and Gottmik
Versace goes out for a night at the opera with its new Holiday 2022 campaign. Starring model Lily McMenamy, the opulent, immaculate, and indulgent campaign was directed by Tommaso Ottomano, and features photography by Carlijn Jacobs and Teresa Ciocia.
The campaign was inspired by Gianni Versace's Versace Teatro books published in 1987 and 1992. Both books are a collection of essays, alongside costume and stage design sketches by Versace, which showcase his long-term admiration for and work within the world of theater. For this year's Holiday campaign, the brand worked in collaboration with Franco Maria Ricci, the renowned publisher that published the original Versace Teatro books, to create a new poster featured within the film that recalls the graphic look of the books. Another aspect of the brand's history is present as well, as Lily McMenamy is the daughter of iconic model Kristen McMenamy, who largely helped to define the Versace look in the 90s.
The film opens as McMenamy is jolted awake by a beeping alarm clock, whereupon she hops into her orange Versace gown and dashes off to the opera. Fashionably late, she arrives as the orchestra is warming up, and works her way through the building's labyrinthine interior. Propelled by energetic editing that keeps things moving at a bracing clip and a dynamic jazz soundtrack, she encounters on her journey a cast of eclectic young revelers, theater lovers and performers drawn from the annals of Versace legend – including a conductor played by the visionary and very popular drag performer Gottmik (the first openly trans man to compete on RuPaul's Drag Race).
The film concludes as the curtain rises again on a stage tableau, where our star stands triumphantly, now clad in a glittering monogrammed bodysuit – only for her alarm to go off and to wake up right back at the beginning. Was it all a dream?
If you blink during the segment of the film when McMenamy first arrives at the theater you might miss the string lights and wreaths hanging outside, and thus fail to recognize this as a holiday campaign. But as holiday campaigns so often feel overdone, it's better to err on the side of too little than too much. Like Gremlins, this is a story that happens to take place around Christmas, not a Christmas story. This is a story about Versace, and unmistakably so.
Uniting the opulence and epic narrative of theater with a high-gloss, sensual immediacy, Versace takes its cue from a legacy of performance and panache to tell this story for a new generation.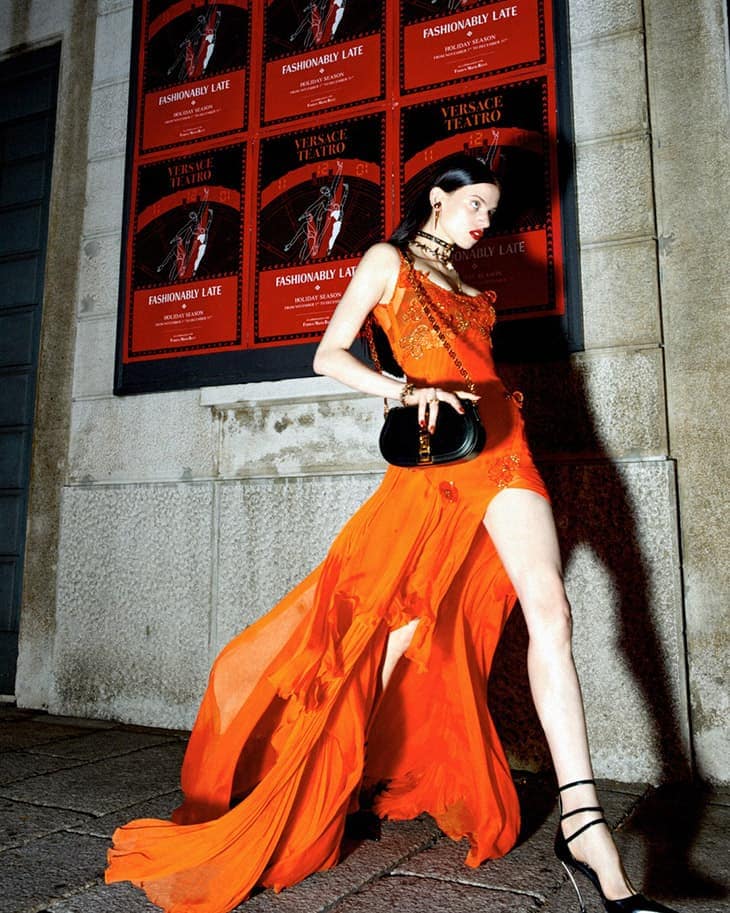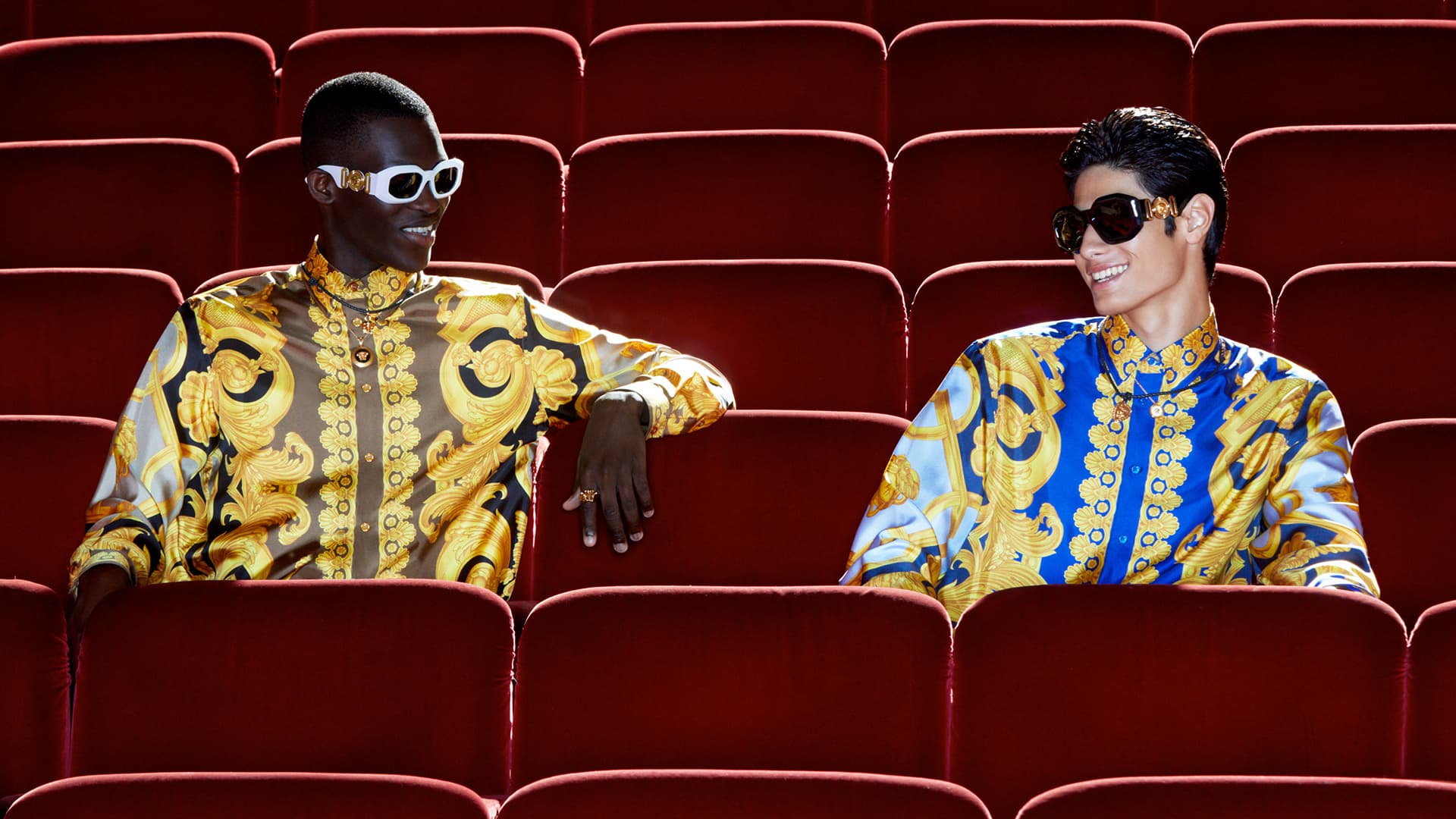 VersaceCreative Director | Donatella Versace
Director | Tommaso Ottomano
Photographer | Carlijin Jacobs and Teresa Ciocia
Talent | Lily McMenamy, Kit Butler, Sora Choi, Mila van Eeten, Brando Erba, Ismael Savane, and Gottmik
Stylist | Jacob K
Casting | Piergiorgio del Moro
Set Designer | Andrea Cellerino
---