Review of Versace Resort 2022 Ad Campaign by Creative Director Donatella Versace with Photographer Lea Colombo
Versace takes a hit of optimism with a psychedelic new campaign for the house's Resort 2022 collection by photographer Lea Colombo.
The graphics and colors of the collection throw signature Versace codes back to the heady, radiant aesthetics of the 70's, all seen through a contemporary lens. Psychedelic-rock-inflected motifs fuse with Medusas and labyrinth touches, reflecting the spirit of love and positive change that characterized the era back through the now.
I think there's a renewed sense of optimism right now and I wanted this collection to speak to that. This season is about having fun with fashion again and it feels right to put something positive into the world. This is what the new now looks like to me.

– Donatella Versace
Colombo's distinct photographic style is a great match for the aesthetic of the collection. Her use of high-contrast, washed-out colors and glimmering, distorted projections make the psychedelic energy of the collection really pop.
The short film takes an approach that uses a rather different technique and aesthetic to accomplish a similar feeling of mood. The models are filmed in a minimal, all-white studio space, which stands in sharp contrast to Colombo's color-soaked photographs. Instead, the film uses camera effects – which mimic a kaleidoscope or looking through a surface of rippling water, or that infinitely multiply a single subject – to arrange the colors and patterns of the clothing itself into a fluid and expansive visual world.
It's an indulgent and dazzling campaign that excellently captures the mood of possibility and positivity that unmistakably inspires the collection. We don't need to drop a tab to feel the magic Versace is conjuring.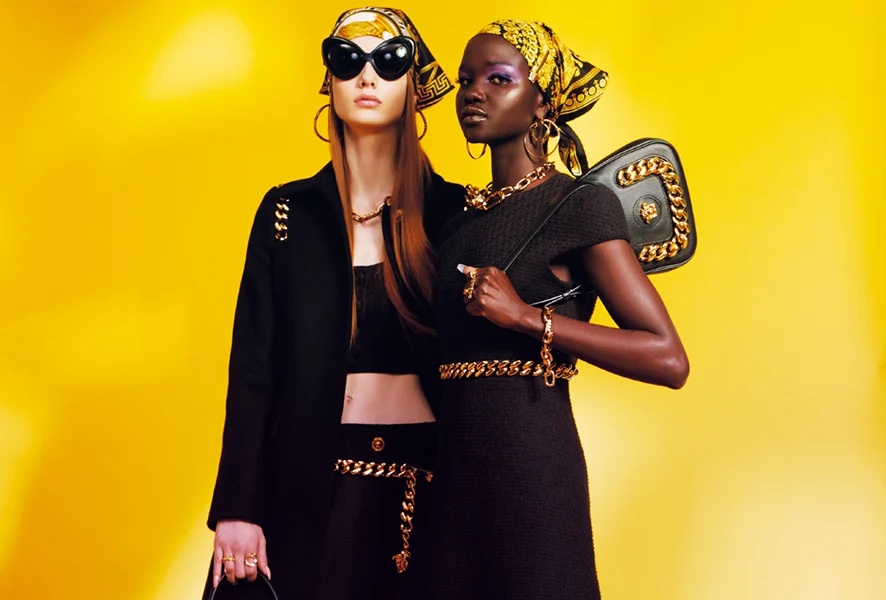 Versace Creative Director | Donatella Versace
Photographer | Lea Colombo
Models | Akon Changkou, Alyda Grace, Habib Masovic, Kelvin Adewole, Kiki Willems, & Ryan Park
Stylist | Jacob K
Hair | Alessandro Squarza
Makeup | Lucy Bridge
Manicurist | Simone Marino
Casting Director | Piergiorgio Del Moro

---