Deja Vu: Versace's Checked Past
Review of Versace Spring 2024 Fashion Show
By Lizzy Bowring
THE COLLECTION
Nostalgic Elegance: The collection effectively evokes past decades, especially the '60s, with a modern twist.
Color Mastery: The progression from black and white to sherbet pastels demonstrates an expert use of color to set the collection's mood.
Potentially Alienating: The sylph-like abbreviated silhouette might not resonate with everyone, potentially fostering a "think skinny" mindset.
Lack of Diversity: Lack of diversity can perpetuate harmful stereotypes, further marginalizing underrepresented groups.

THE VIBE
THE THEME

The undying spirit of Versace is often embodied by Donatella's relentless pursuit of raising the bar; from the outset, this was a cohesive collection. At the heart of Donatella Versace's newest collection lies a mesmerizing blend of past and present. Tinged with nostalgic references and delightful, phantasmagoric shapes that evoked a 60s Barbarella vibe, along with several of the shapes from the collection of 1995 and echoes of couture nuances, models strutted in undeniable strength, (thigh-high sugar almond pastel boots and all) exuding the femme fatale narrative currently playing within several collections! Be warned, quiet luxury this is not! It's Versace's signature audacity.
And so, the collection speaks volumes about a return to sensuality, confidence, and unapologetic glamour. With 75 looks spanning men's and womenswear, Donatella Versace covered or uncovered almost everything – from city-day dressing to eveningwear; it was a one-stop shop for that uber-confident woman.
THE BUZZWORDS
Up to 3 keywords: sensuality, unapologetic, glamourous, figure-hugging, audacious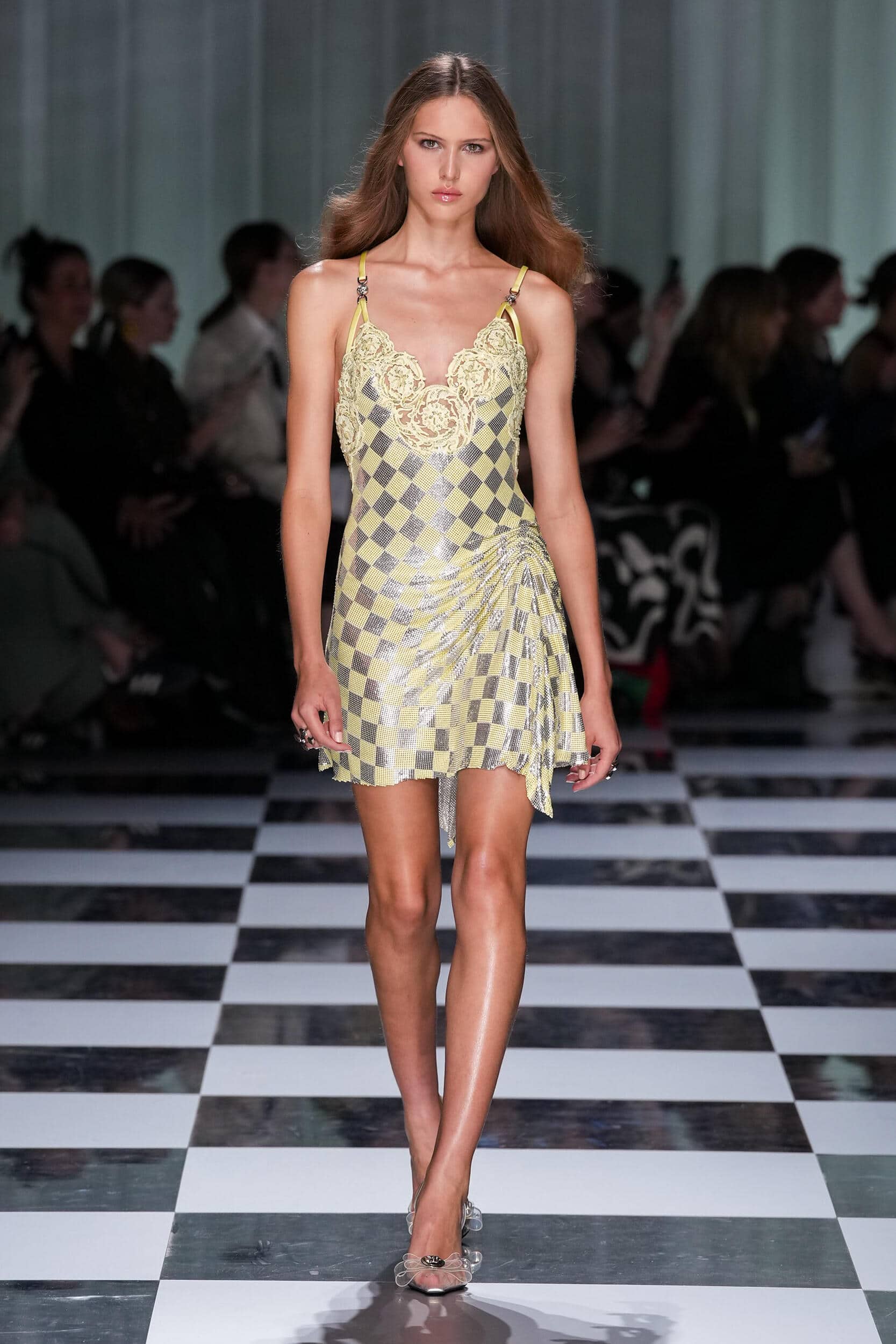 THE SHOWSTOPPER
Look # 74
The showstopper dress was a testament to pure glamour: a checkerboard design in mint green and silver metal mesh, intricately embellished with crystal beads and molded to fit every curve of Schiffer's curves. The ensemble was perfectly rounded off with silver Gianni ribbon pumps.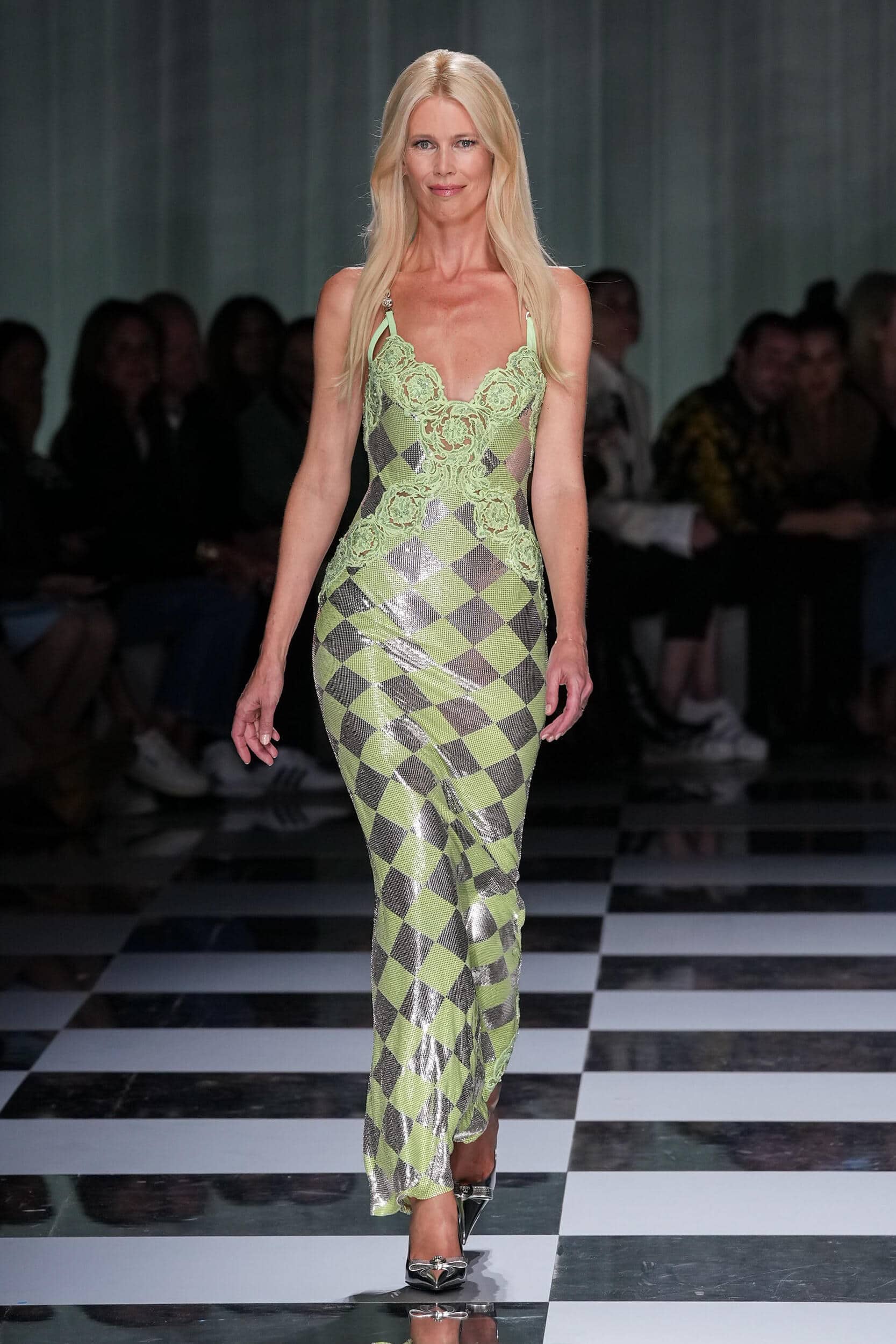 THE DIRECTION
Showmanship: Donatella's ability to put on an enthralling show, underscored by the inclusion of supermodels like Claudia Schiffer and Gigi Hadid.
Risk of Repetition: The deliberate contrasts and juxtapositions, if overdone, could become a predictable or repetitive motif for the brand.

There's no doubt that Donatella knows how to put on a show, and with the inclusion of her supermodels it can only be a testament to her unfailing belief in what she does best. Claudia Schiffer and Gigi Hadid were among those supermodels who glided over her checkerboard runway – commanding attention with every step!
Yet, With every piece presented, there's a deliberate choreography of contrasts. The collection's color palette, a stark shift from black and white monochromes to sugary pastel hues like lime, pink, and powder blue, is a testament to Versace's ability to play with mood and tone. These pastels serve not just as aesthetic choices but as a deliberate juxtaposition: the sweet innocence of the colors against the assertive, figure-hugging silhouettes. The black and white checkerboard backdrop grounds the collection, lending both depth and a touch of vintage charm. These colors aren't merely for aesthetic appeal but a deliberate attempt to juxtapose the collection's sexiness with innocence. This becomes especially evident with the figure-hugging silhouettes being sweetened by the soft sugar-pink tones. Yet, the backdrop of a black and white checkerboard provides a grounding, adding depth to the pastel parade. One can't help but ponder the significance of the cropped jackets, rounded sleeves, and abbreviated skirt lengths. Do they speak to the current economy, or is it a nod to the bygone era of 60s fashion?
THE WRAP UP
While the collection is a testament to Versace's commitment to luxury and flair, there's an underlying sense of restraint. Compared to previous offerings, there is a narrowness in the color palette and the breadth of fresh ideas. While Donatella is known for overfilling her creative cup, this season felt a tad withheld. Could it reflect the world's current state or a strategic choice? Where were the cascading ideas, the surging waves of creativity that once seemed boundless from Donatella's atelier? The season, while grand, echoed a note of caution. It's as if the collection momentarily hesitated between its decadent past and an uncertain future. And so, we are left pondering: in the world of Versace, when is less truly more, and when does it leave us yearning for the opulent excess we associate with the brand?
However, one thing remains certain: Versace continues to command attention even in its simplicity, ensuring the fashion world eagerly anticipates its next move. The body is back!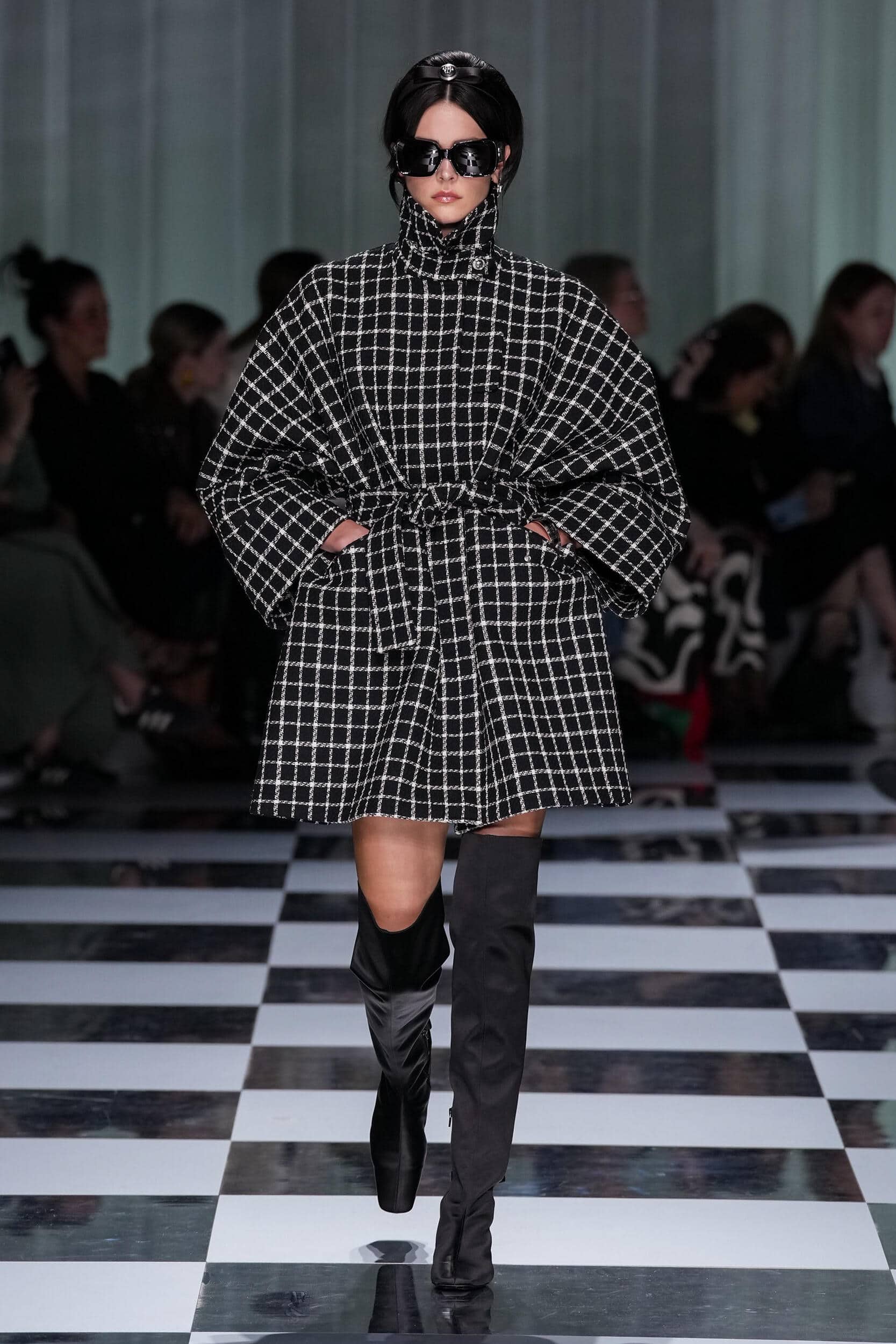 ---