---
Review of Victoria Beckham Spring 2023 Fashion Show
Victoria Beckham's Soft Power Dressing Shone Bright in the City of Lights
By Angela Baidoo
Victoria Beckham's namesake brand has found its home in Paris, although not born there the city of lights embraced the designer and enabled her to bring forth a slightly shifted brand aesthetic that felt very much in keeping with her peers showing across the week, a little Avant-garde, a lot of emphasis on creative construction, and ultimately a collection that lived up to its slot on the Parisian calendar.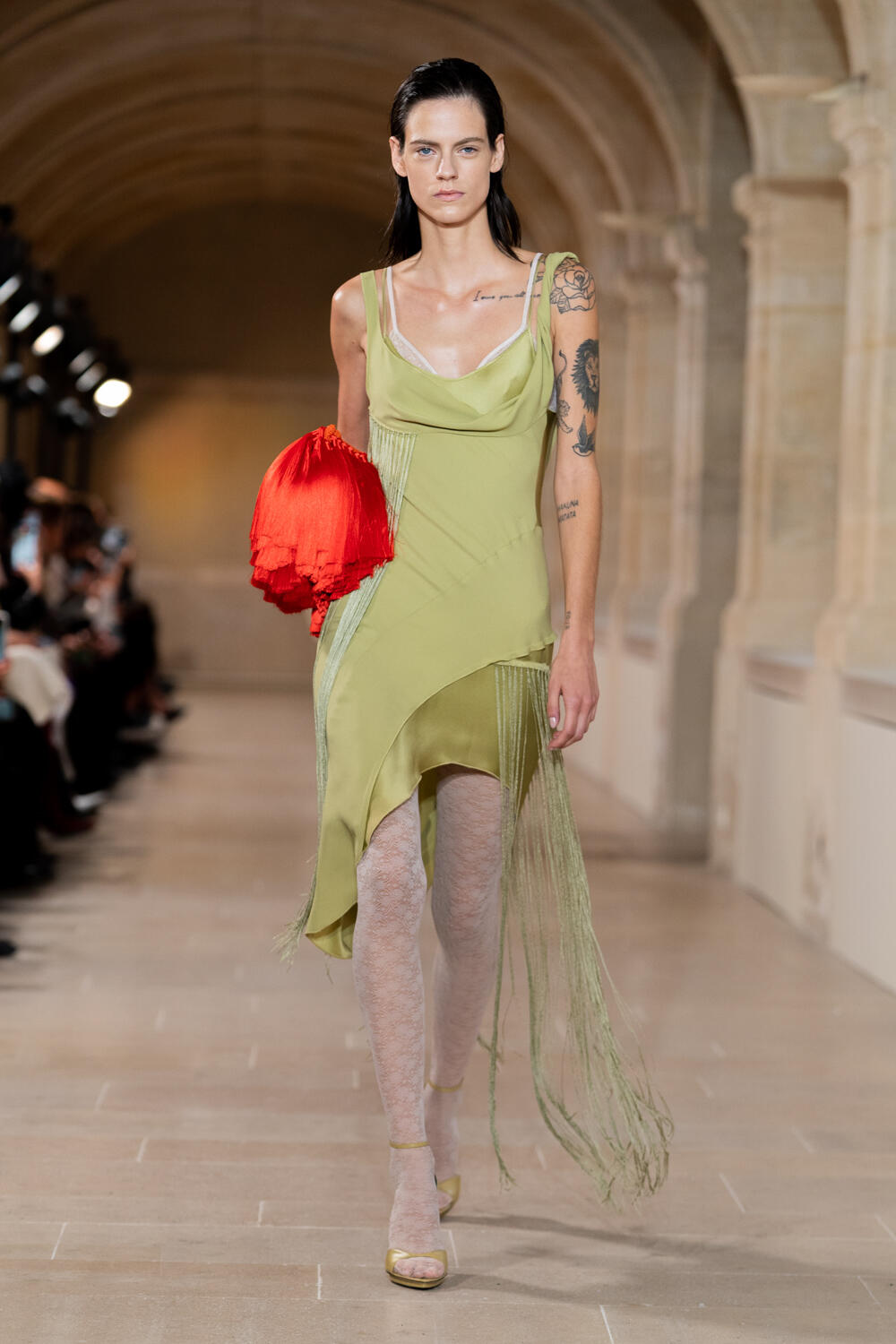 Silhouettes underscore the heritage of Victoria Beckham: masculine constructed tailoring alongside sinuous, sensual dresses, reminiscent of lingerie, [are] conscious of the body."

– Victoria Beckham
There have been a number of moving parts to the Victoria Beckham brand in recent years, not least the folding of her Victoria, Victoria Beckham offshoot into her mainline to allow her a singular focus, and for a wider breadth of price point to aid in accessibility. So, with a move from London – where she has been a major draw for the city – to stand shoulder-to-shoulder with the likes of Givenchy and Saint Laurent – a lot was riding on this spring summer 2023 debut, and she did not disappoint.
Rather than a traditional runway, the collection was staged within the hallowed halls of the Val-de-Grâce Catholic Church, affording each and every one of the attendees an up-close look at the collection as it wafted by.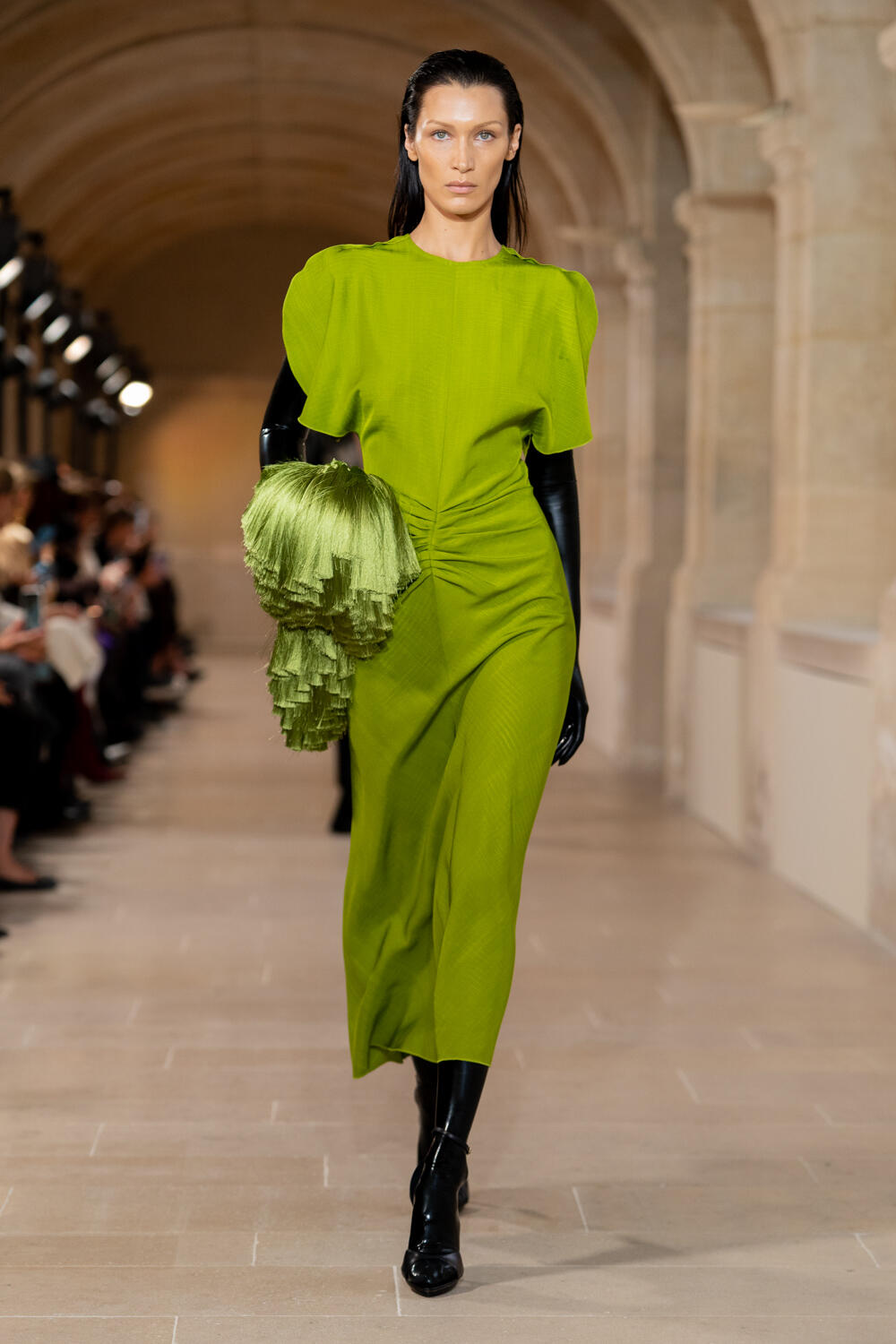 Tapping into a new kind of soft power – a fitting oxymoron – gone were the sportier elements from last season and in their place was a further emphasis on sleek tailoring, boudoir dressing for day, and textured knits, with an extra-large tassel details which made for some stand-out accessories.
The dress was king in this collection, followed closely by her collarless blazers, which on closer look featured a Margiela-esque bonded detail which gave the impression that it had been trapped between the outer fabric and facing only giving a faint outline, very clever, but in a way that doesn't take itself too seriously. But, back to the dresses which will be the main draw come next year, as Beckham knows her way around the body choosing to develop more modest thirties-style bias-cut dresses with ruched-fronts that were given in to a little subversion when worn with full-length rubber elbow gloves. Being mere inches away there was an opportunity to appreciate the work of the craftspeople employed by the brand. Cowl-neck dresses had long tonal fringing affixed under the bust, branded embroidered lingerie was layered under tiered ruffles, and an organza top looked as if constructed from circular panels.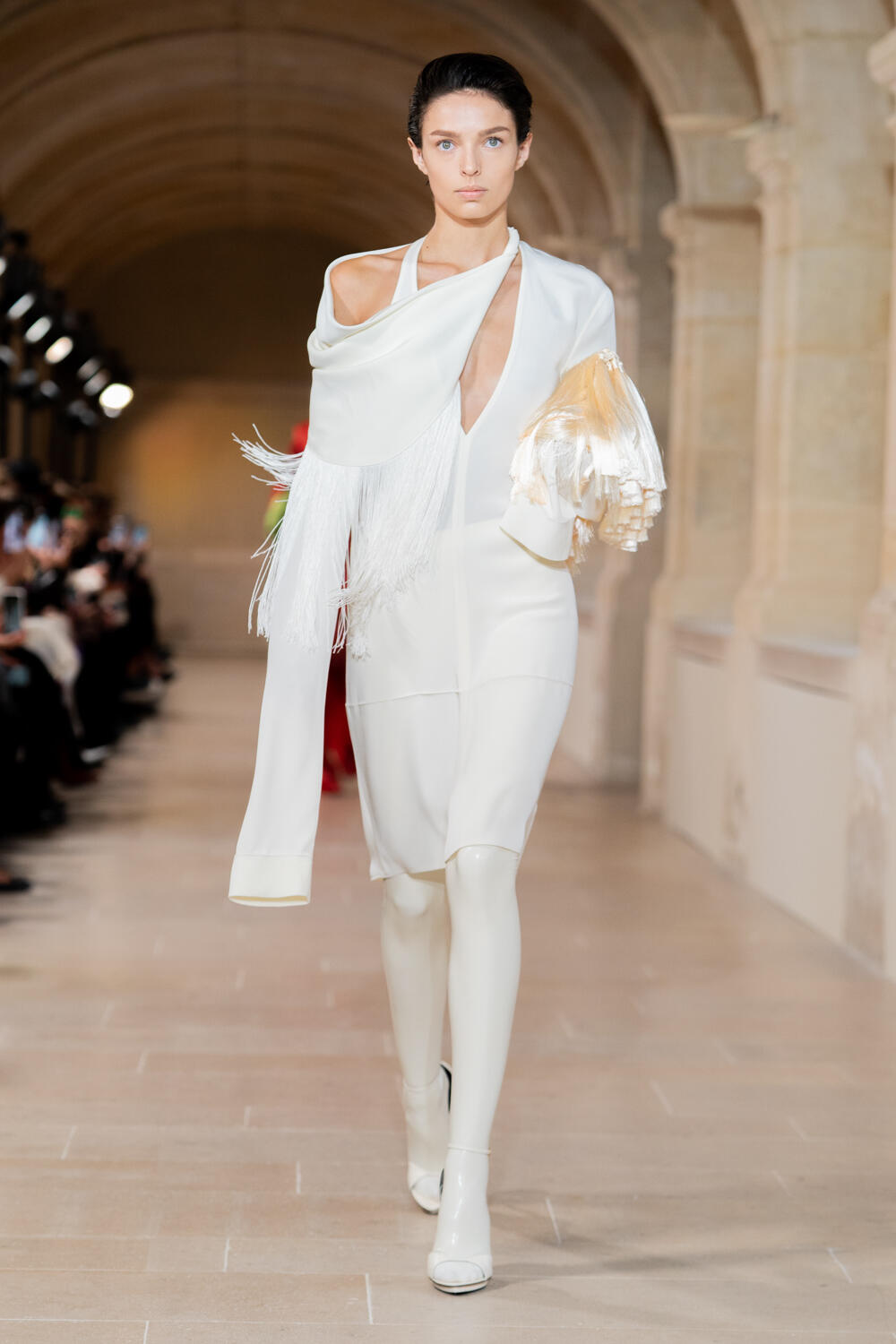 Trains, outside of the bridal context are becoming a thing for next season, and here a two-piece with contrast tipping in lavender or black, would have worked without the addition of this excess fabric, but for a halter dress colour-blocked in blue at front and red for a fishtail skirt with train at back, will be one of Beckham's calling cards for this collection next year.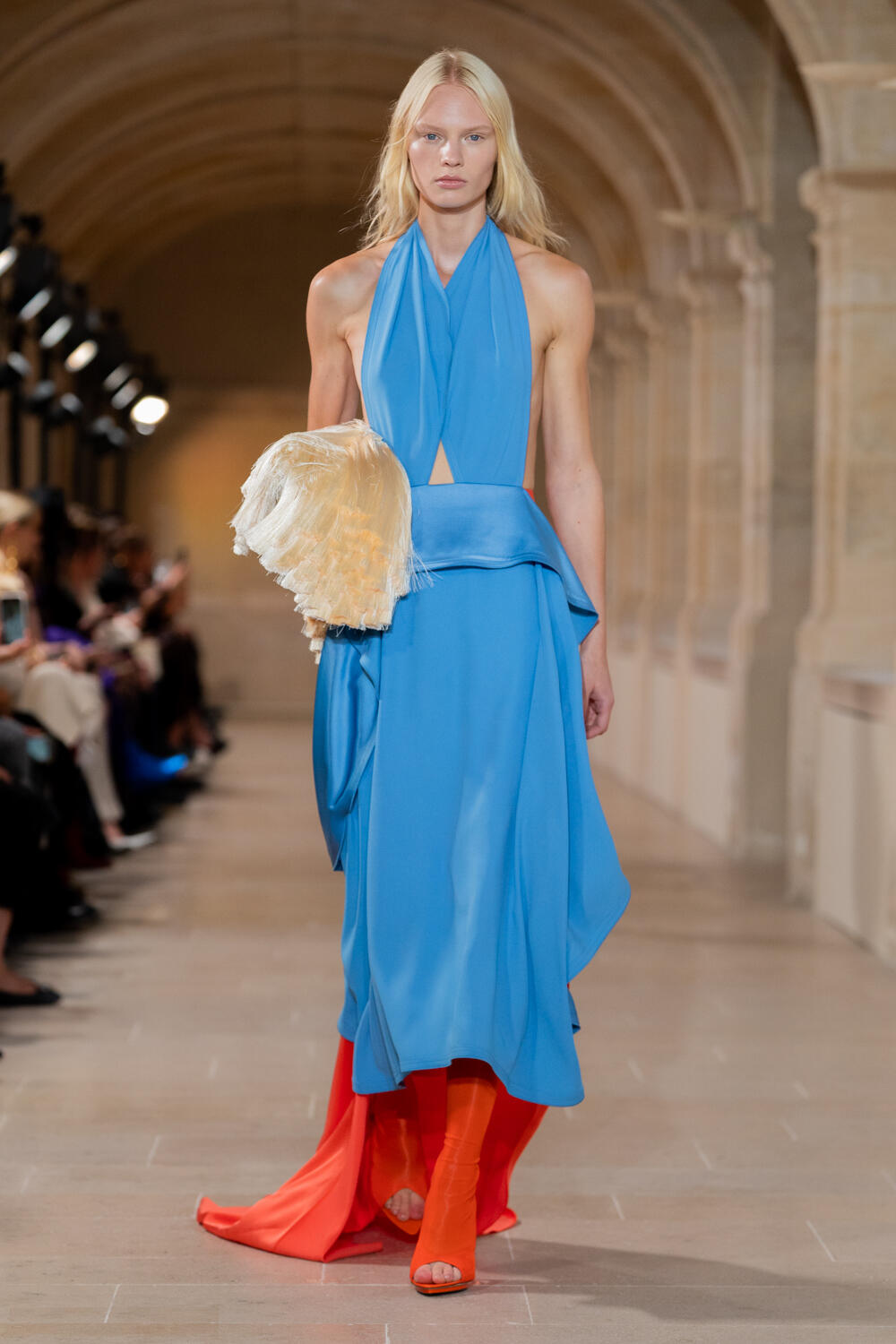 Beckham embraces the undercurrent of sexiness which pulses through her host city, and is decidedly more self-assured than showy
Victoria Beckham has taken the idea of deconstruction and flipped it on its head to create an ultra-feminine narrative that will stand-out in the market for a certain type of self-assured woman who is seeking clothing which emphasises craft and her innate sense of her own autonomy.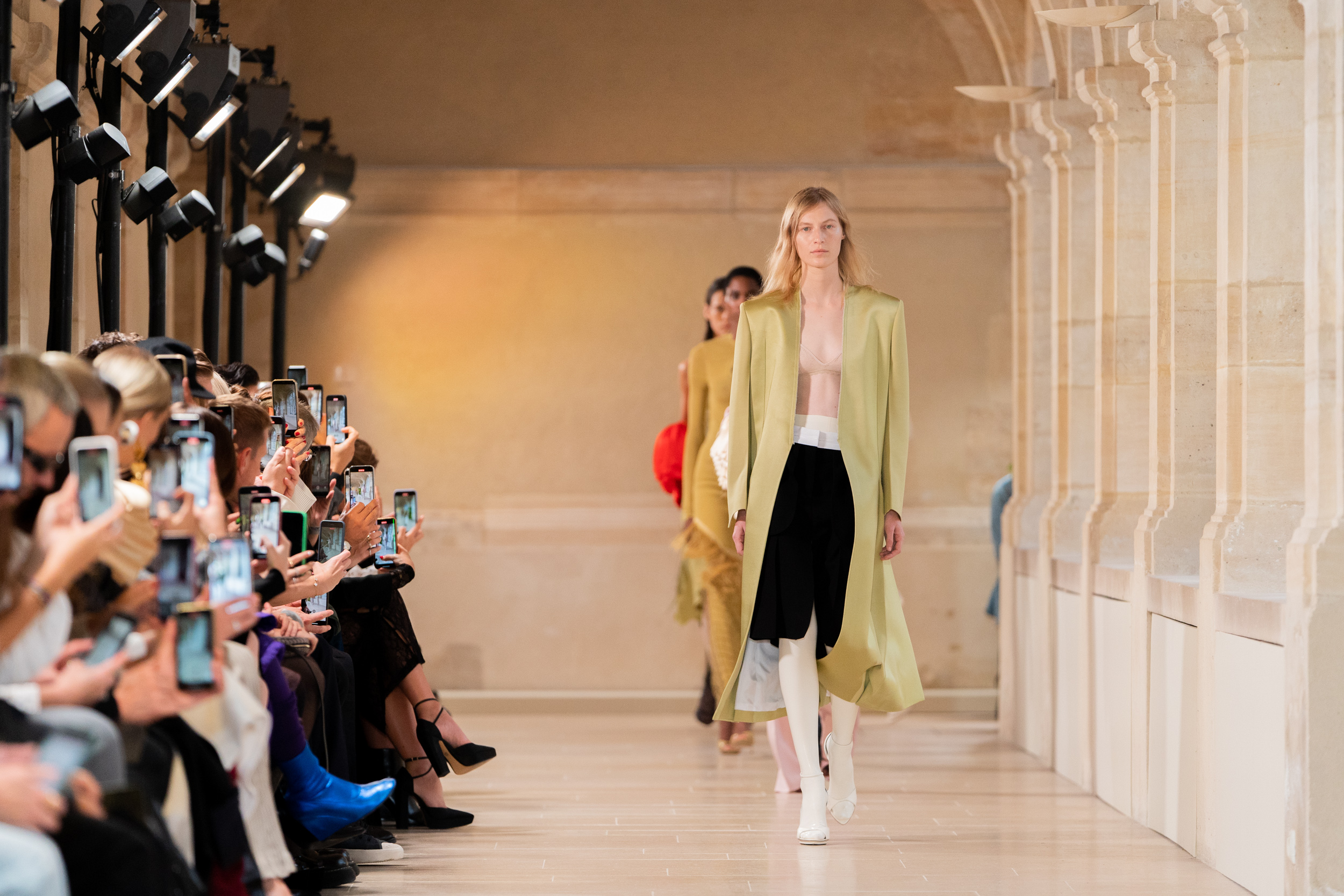 ---