Building Brand Beckham
Review of Victoria Beckham Spring 2024 Fashion Show
By Angela Baidoo
THE COLLECTION
THE VIBE
THE THEME

Coinciding with the celebration of her one-year anniversary, when she first made the decision to show in Paris, Victoria Beckham also took the moment to launch her new house fragrance, evidence if ever it was needed that the designer has her sights on becoming a fully-fledged lifestyle brand, catering to all categories and all markets.
Following last September's successful debut featuring tailoring, dresses, knitwear, and denim. Today's show gave us an additional focus of loungewear, with knitted or strapless bodysuits, outsize utility jumpsuits, and drop-shoulder boxy tops. Adding to her strong tailored looks, her eclectic take on femininity saw simple grey marl jersey dresses hide subtle directional construction techniques which help the designs stand away from the body with a flared neckline. Her other necklines updated the classic sweetheart style with an open keyhole cut-out which was applied to the simplest of cotton tunics to a draped grey jersey strappy mini. Her tailoring stuck to the script and offered more in the way of oversized silhouettes with a nod to the unfinished – raw hems – and while the classic grey and check versions will be a hit with her customers, the sheer black iterations in chiffon (lined with Bermuda shorts for off-the-shelf wearability) are a fresher take on the summer suit.
Just as strong were her casual looks which took on a coastal underpinning, as the nautical sweater got an update with an open neckline, a pastel pink broidery set could effortlessly be worn as nightwear, and an abstract fishing net became a print for a sheer maxi dress. Her range of gowns encompassed the fluidity of satin for her bias-cut creations to gathered chiffon and a slip updated with stitched padded bra cups.
THE BUZZWORDS
Impactful elegance. Controlled Drapery. Coastal Dreaming.
THE SHOWSTOPPER
Look # 26
Her gowns have become an unofficial calling card, as the designer understand the value in understated elegance through a well-placed gathered detail or a more directional hoop insert, here layering, patchworking, and padding created a beautiful hybrid in pastel mint.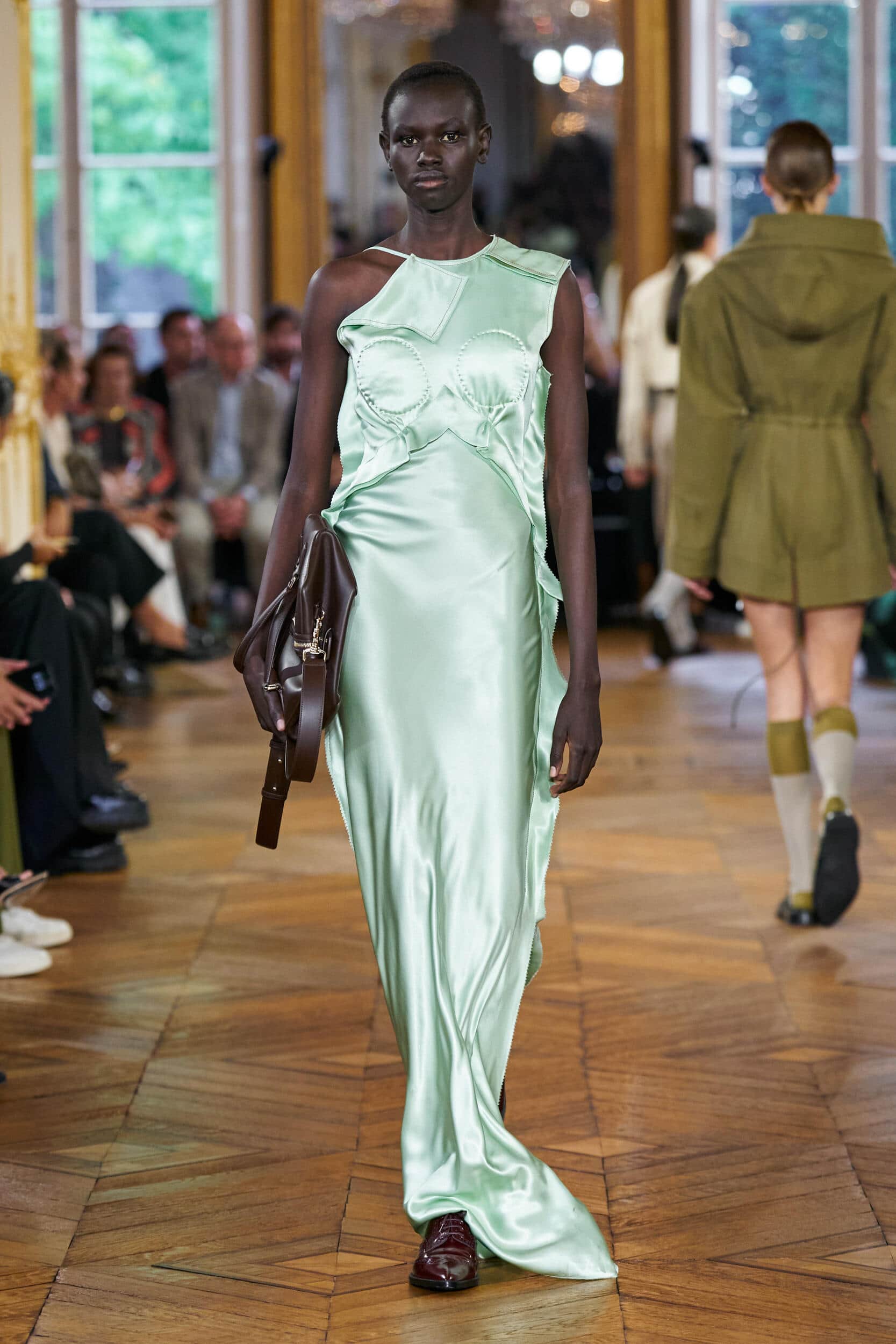 THE DIRECTION
PROS
Adding in new categories and a section fit for weekend lounging at home of by the coast, Beckham is expanding her reach by becoming a full lifestyle brand.
THE WRAP UP
Showing among her peers in Paris is no mean feat and requires the confidence to know that your offer is strong enough to be held up as worthy, and each season as the designer slowly builds on a Beckham brand world, she is showing how expansion into new categories and a relaxing of formal codes makes her just that. Creating signatures in her softly skewed gowns and atypical tailoring, each season the design proves how much more she has to say.
---