---
Review of Viktor & Rolf Fall 2022 Couture Fashion Show
The Power of Transformation
By Lizzy Bowring
Standing outside the Pavillon Cambon 46, rue Cambon 75001 Paris, and in conversation, the question arose, why do we do this to ourselves? Standing in a thronging crowd, being pushed, trodden on, and pulled in different directions! Because we get to witness shows such as the Viktor and Rolf presentation today! Because we love what we do. And because we are fortunate enough to get to view such refined and sophisticated craftsmanship in the light of Haute Couture as it is meant to be. It makes it all worthwhile.
Viktor and Rolf are known to challenge the preconceptions of fashion, bridging the divide between fashion and art and pushing the boundaries of what defines fashion. Having founded their avant-garde luxury fashion house in 1993, they approach their designs by tackling stereotypical fashion behaviors and exposing these vulnerabilities to a runway audience.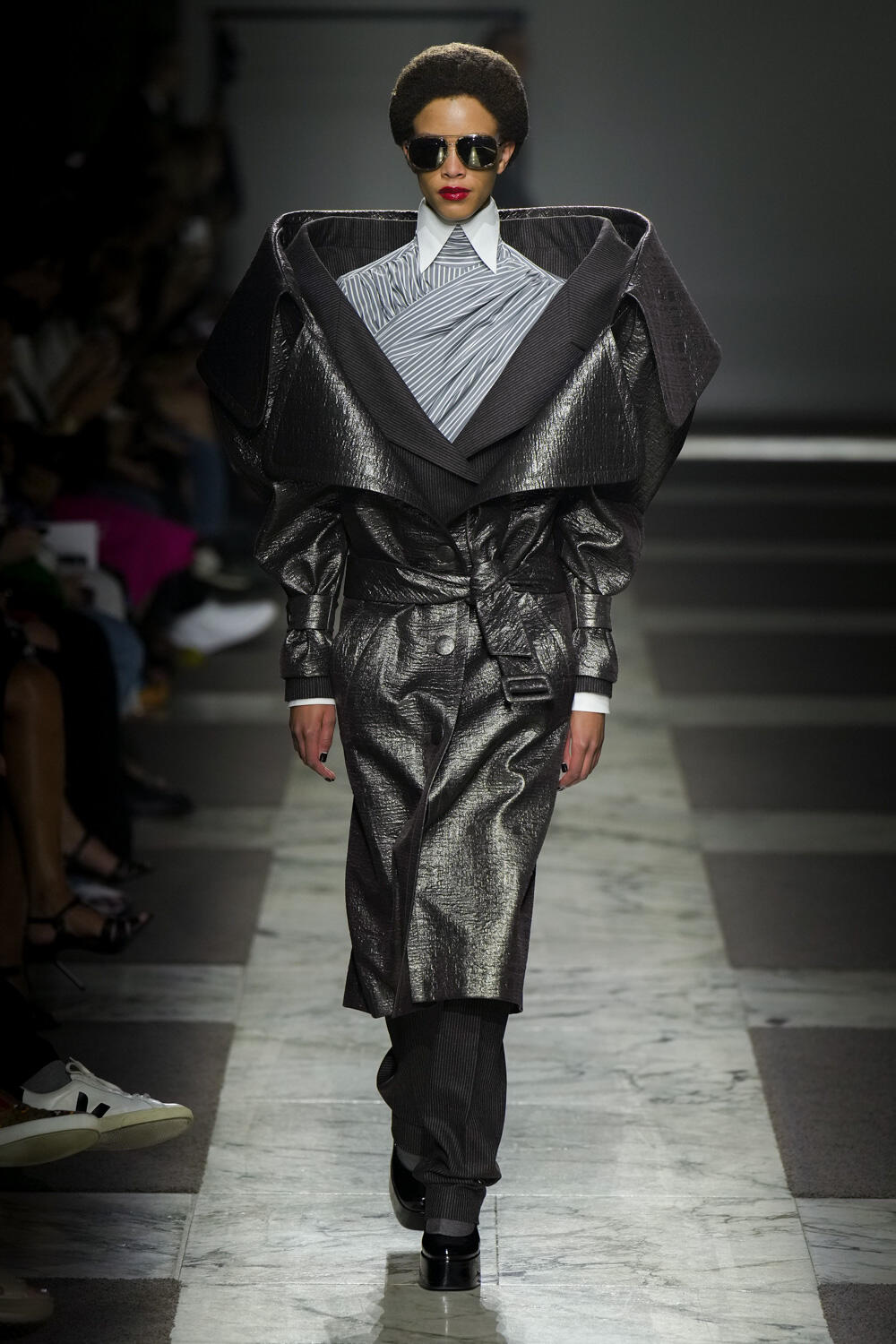 Escaping reality is one thing, but the duo always has presented an underlying message of beauty and hope.
Over the years, they have attracted much attention from the media due to their excessive silhouettes. Last season, Viktor and Rolf presented a collection that showed exaggerated shoulders that hovered surreally around the ears. In today's show, the first 'episode' featured something along the same lines – oversized masculine tailoring with vastly exaggerated necklines with a shoulder line suspended outwards from the tip of the shoulder to reveal a portion of clothing that looked somewhat normal underneath. And then it switched up a notch to 'the intermezzo.'
Viktor and Rolf emerged on to the stage with a rolling rack, removed their jackets and turned to face the statuesque model, and then the creativity really began.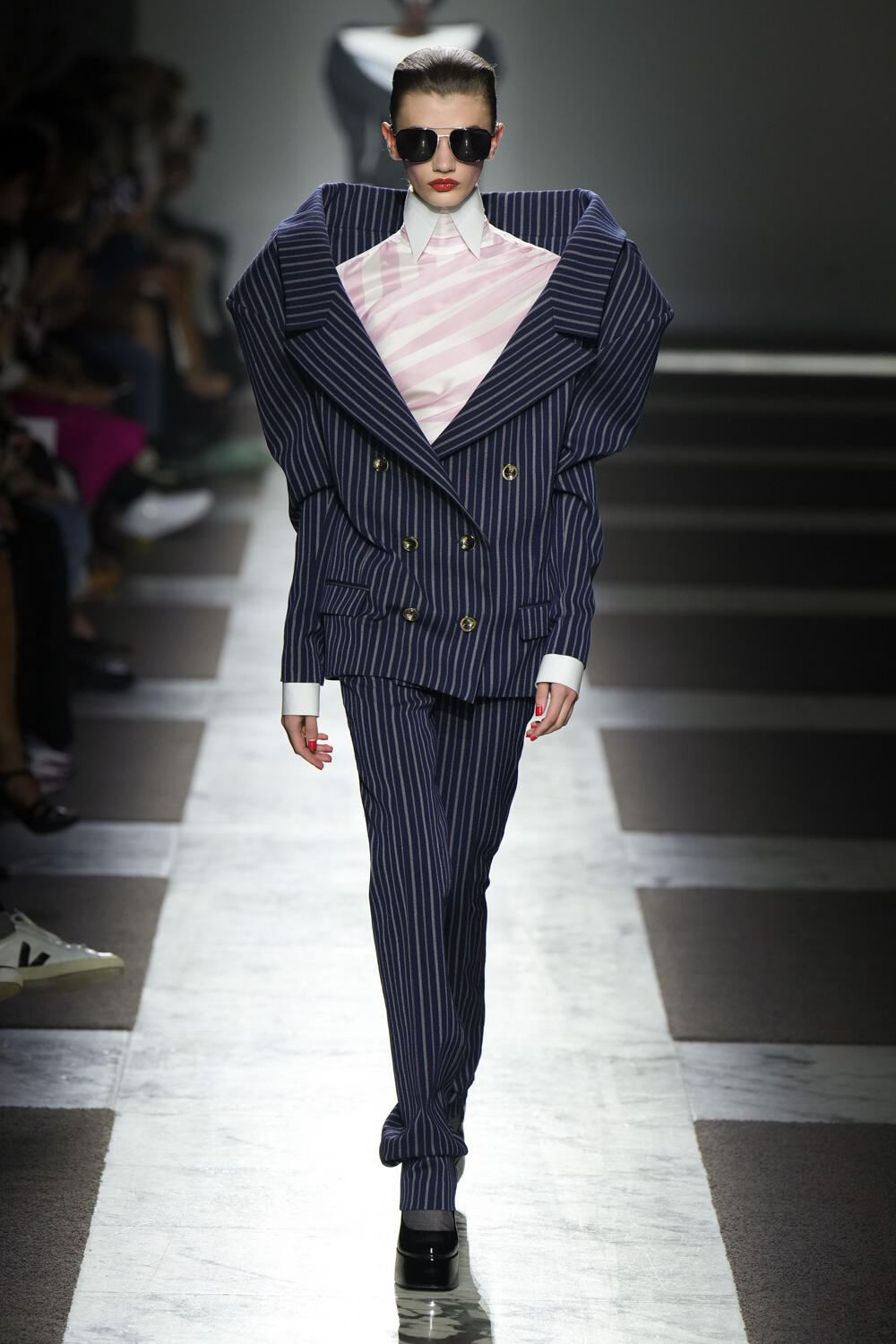 They meticulously began to undress her. First, they removed her sunglasses, followed by the pinstriped coat, taking apart the two structures that held the jacket to extend past her shoulders. She was left standing in her striped shirt and slim trousers, which fell in soft pools around her ankles when the heavy shoes were removed and replaced with ballet flats.
All the while, the audience sat, drinking it all in, silent, watching. Every movement from the duo, methodical and organised.
Gently yet deftly, they pulled on the drawcords, first in the neckline of the coat and then in the neckline of her jacket, allowing the material to gather and change shape softly. No longer rigid and masculine, but a soft feminine shoulder line had evolved, the shape morphing into a single voluminous ruffle that enveloped the neckline and rippled down to the waist. Even the music was different to suit the different, changing moods.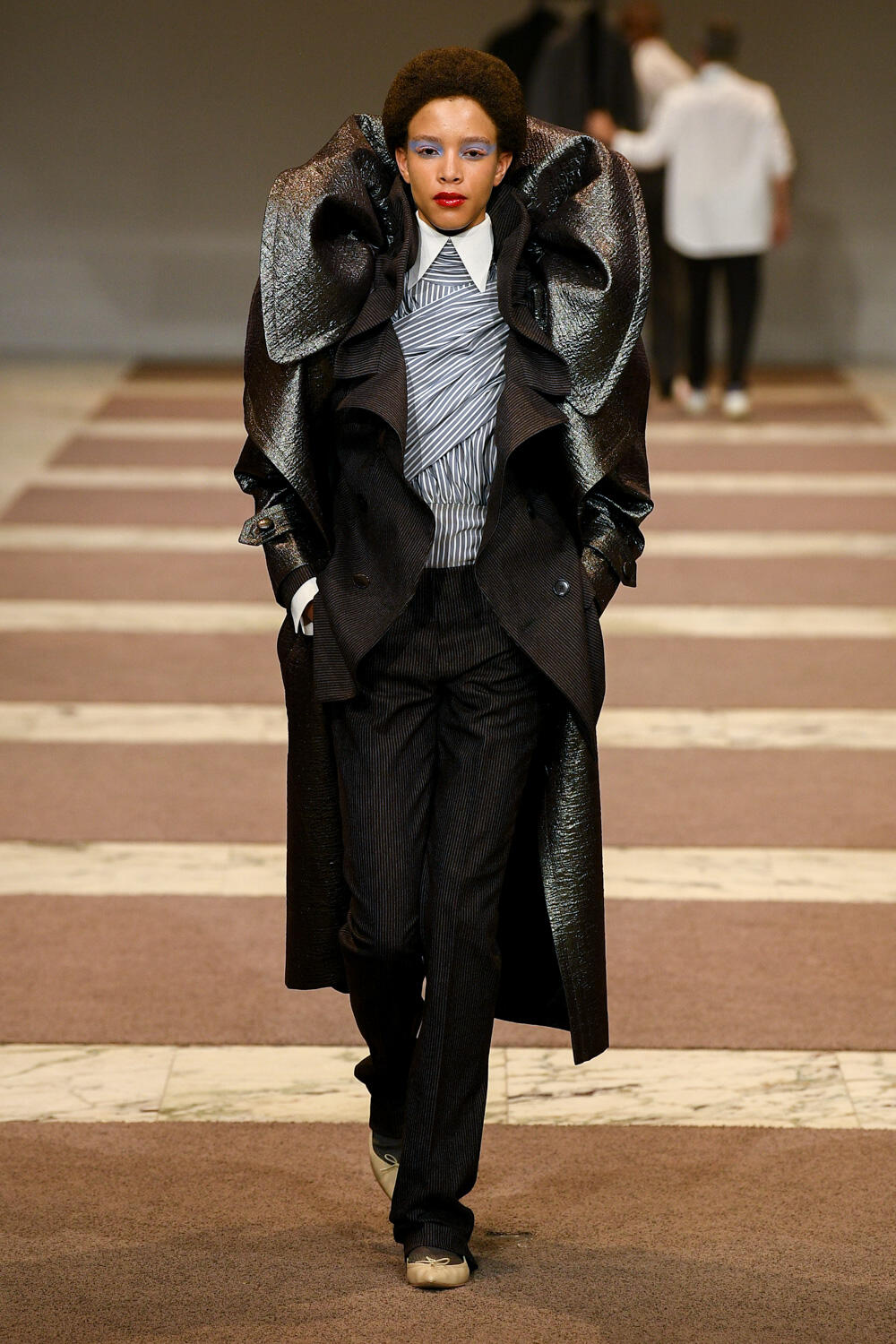 Every silhouette was shown twice, once with construction, with an extreme silhouette, and once without construction with a much softer form. When interviewed post-show by The Impression, Rolf shared …
It made me think a lot, about changing your body; we wanted to do something rigorous, rigid, so we looked at revisiting old classics in men's tailoring and look at it in a new light, and to show this extreme silhouette juxtaposed against a soft, feminine identity.

– Rolf
That's why they decided to show every outfit twice, one with construction with wildly exaggerated proportions and one with structure removed. So the proportions are different and wearer friendly.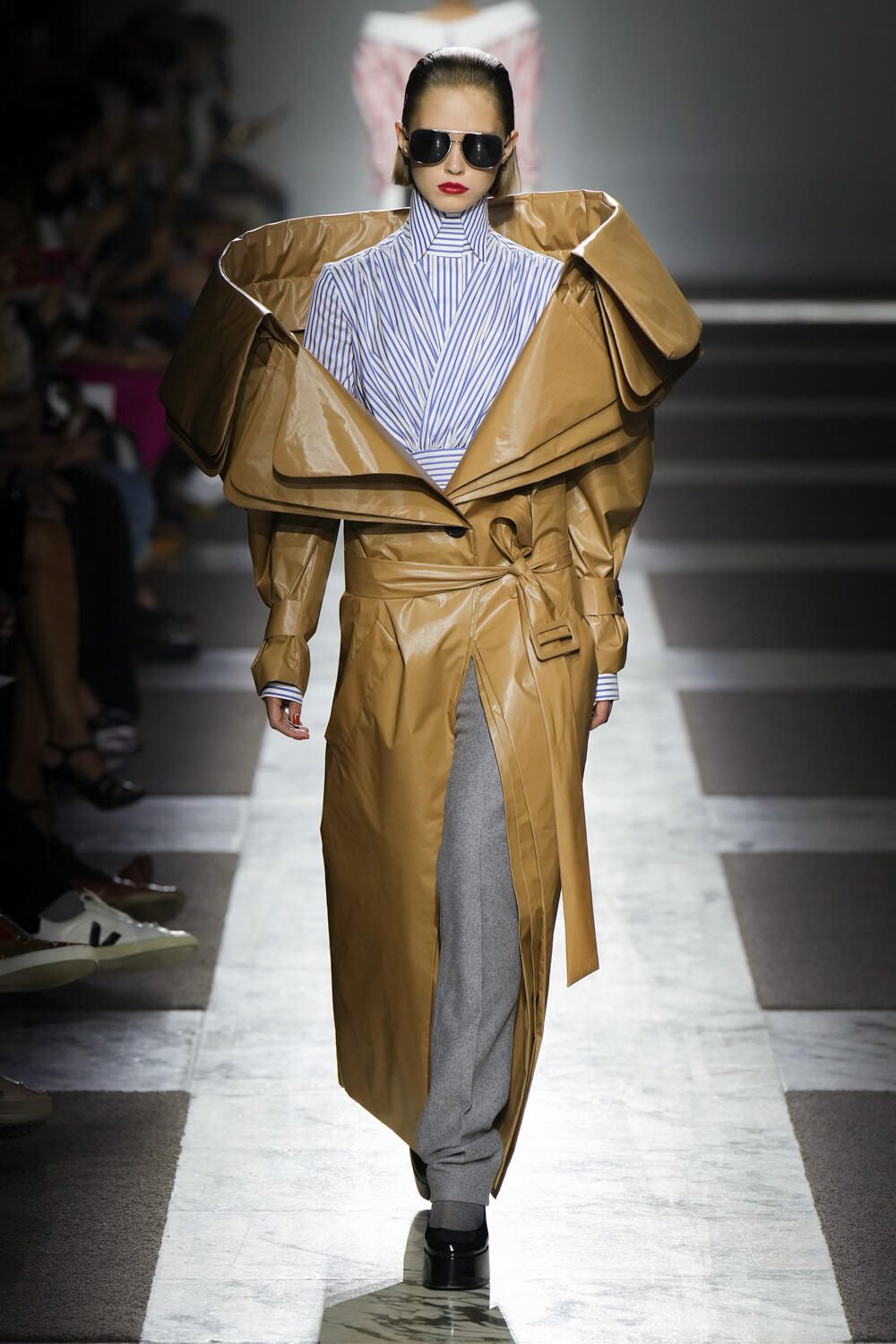 For Viktor and Rolf, the power of transformation is vital to their work, and perhaps there is a symbolism in today's collection that speaks to the state of our world.
"We look around and see whats happening,so its essential for us to show the power of transformation. Next year will be their 30th anniversary." Every five years, they seem to have this socially conscious urge to send a positive message like they did today—the power of transformative positivity.
---