---
Review of Viktor & Rolf Spring 2023 Couture Fashion Show
Turning the expected upside down
By Lizzy Bowring
Viktor and Rolf are master craftsmen, particularly when it comes to literally, turning things upside down. From last season's magical inferences of glamorous pieces that became fabulous sculpted sartorial clothes and the unforgettable and unique wearable art of 2015, this S/S 23 Haute Couture saw the duo approach their thought process turn to a classic, feminine, yet surrealist aesthetic.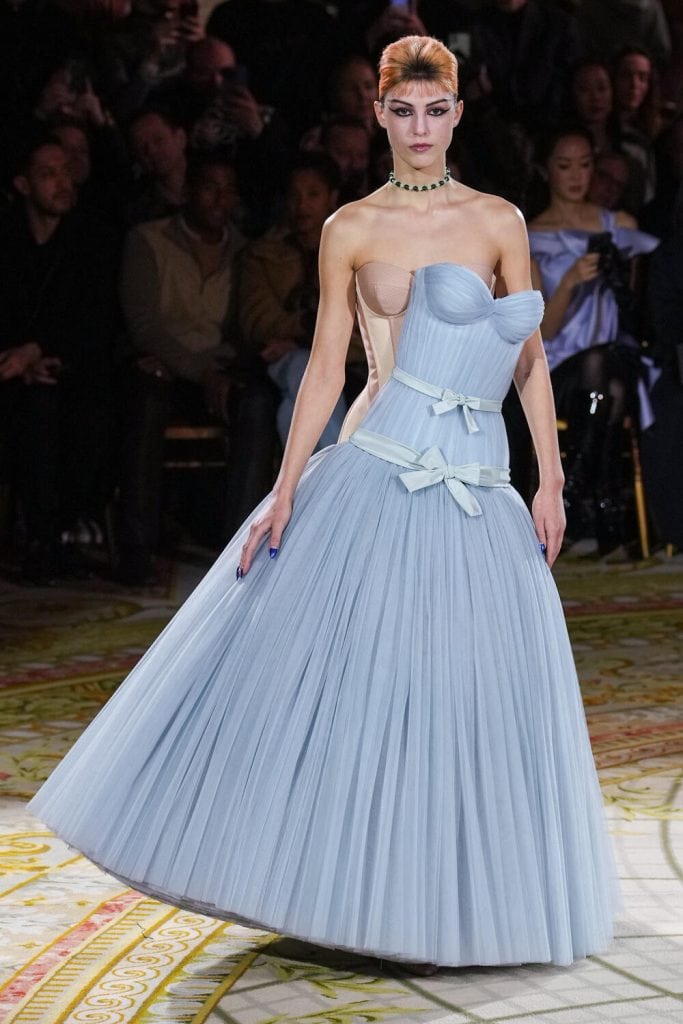 Always provocative and conceptual, the pair presented an inspiring collection that was a 'parade of dreamlike constructions.
And while pre-empting what Viktor and Rolf may present, one just had to drink in the beauty of the host venue, the Intercontinental Paris Le Grand, with its ornate ceilings and chandeliers. Titled 'The Spring Summer 23, 'Late-stage Capitalism Waltz', alludes to the heydays of the mid -20th century when the silhouette changed drastically.
Fashion has always been part of one's personal and cultural identity and has defined individuals and generations; it is a measure of aesthetic and cultural progress punctuated by decades of different trends and styles. The mid-20th century signified a renaissance in fashion and an everlasting memory in history. The austere silhouettes of the 40s gave way to a new feminine shape with tight waists and full skirts, a trend that set the tone for classic and timeless looks – then and now. Christian Dior's 'new look' influenced softer shoulders, corseted waists, and fuller long skirts held in place by flared stiff petticoats.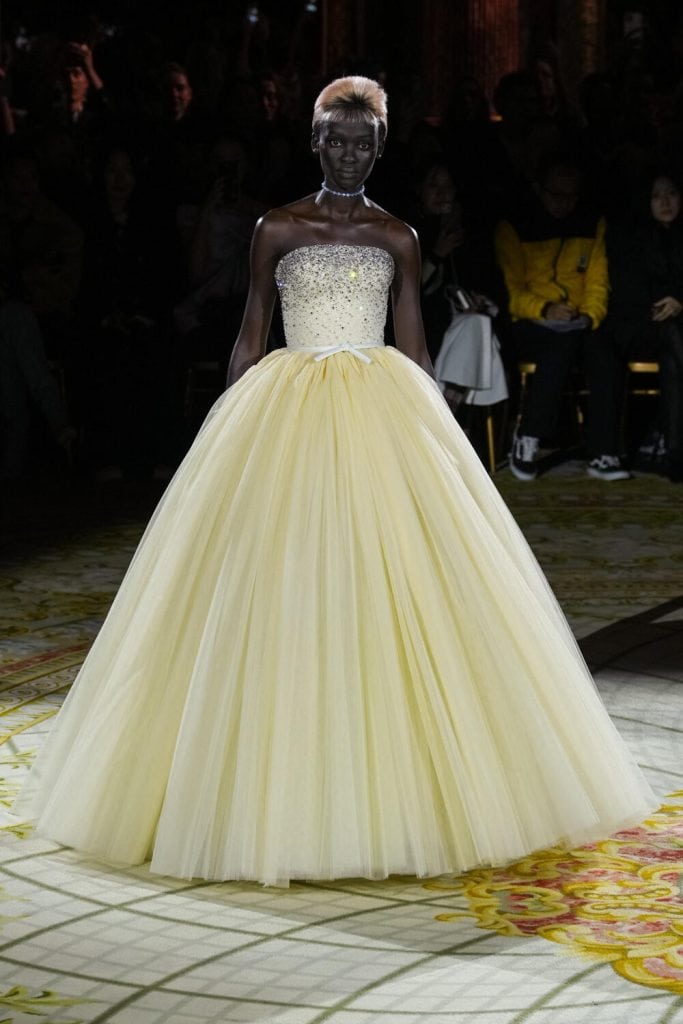 A corset was essential in a woman's wardrobe because the ideal body shape for the era was the hourglass (figure eight). Provocative and sexy strapless gowns demanded the use of strapless brassieres, and every woman of style had them. Dresses became ultra-glamorous and stylish, influenced by movie status icons. High fashion for women was luxuriously feminine low-necked evening dresses and boned strapless dresses in taffetas, lace, nets, tulle, chiffon, and satin.
And so, with their deft cutting-edge couture, Viktor and Rolf presented an unconventional 'spin' on the traditional debutante ball gown.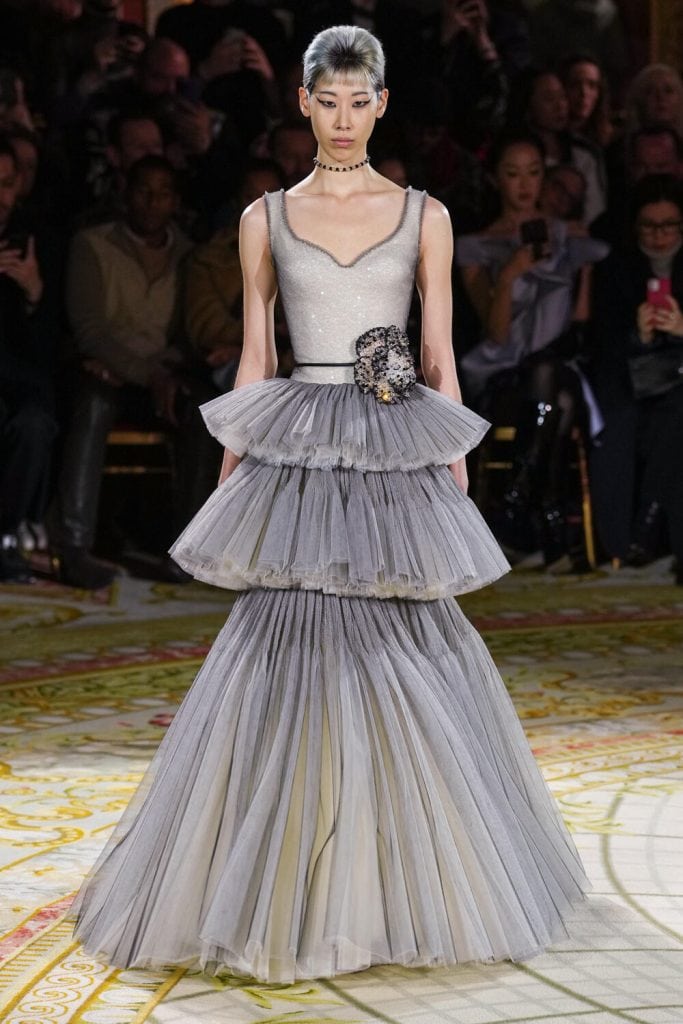 In a mouth-watering palette of sugared almond pastels, a sophisticated parade of full-skirted gowns glided around the ballroom. From the frothy, full crinoline shapes in the skirts to the masterly crafted boned corsets, this was Haute Couture craftsmanship at its best.
Things are never as they appear with this clever design duo. One could have expected a further exploration of the past season's intricately masterminded sartorial imagery. Still, the audience was treated to a sublime Viktor and Rolf take on the traditional ballgown. It was a surprise to see the first opening silhouette carefully float around the ballroom, a vision in barely there sherbet lemon; one would be forgiven if they thought this was a bit tame for Viktor and Rolf.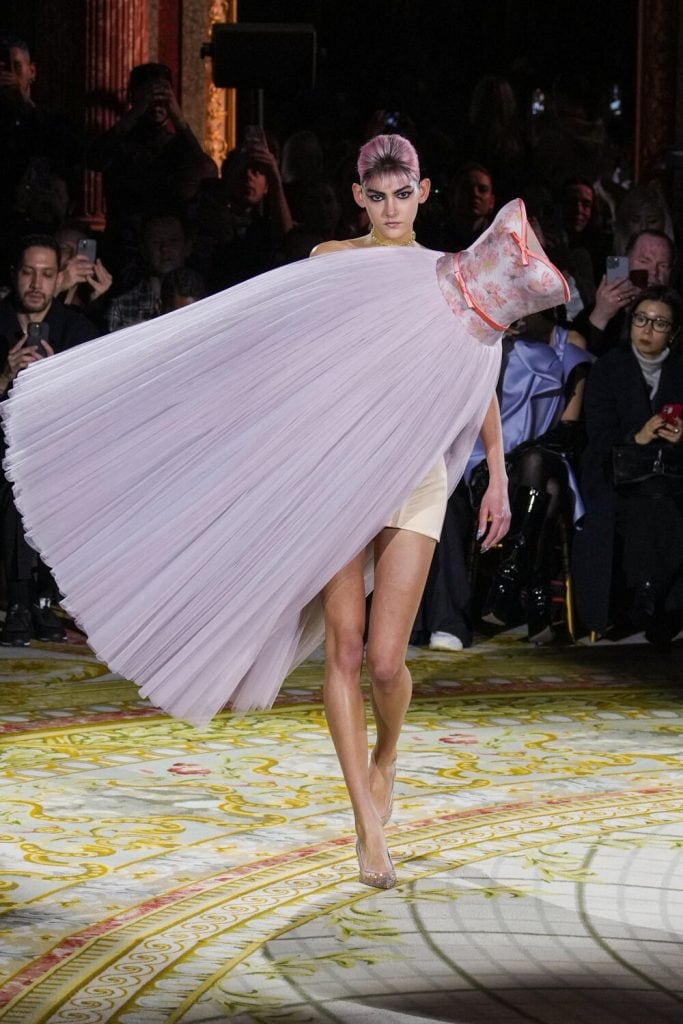 There were several gowns in layers of wedding cake iterations with pleated tiers released strategically to provide fullness without distorting the fine lines. A stunning gown carefully crafted to mold perfectly around the model's feminine form, the dropped waist gilded by a little wrap-around tie finished with a discreet little bow was perfection. Each silhouette wore the luxurious corsetry underpinning, defining the feminine waist and hourglass shape.
But just when one had finished drinking in the beauty of these initial looks, cinderella's clock started ticking on her countdown to midnight, and the dresses came, enveloping models' torsos at oblique clockwork angles, including one gown upturned gingerly on the model at a 360-degree angle. That silhouette required guidance from the room. But there were more, so incredibly manipulated that they were at one with the body and not merely an item carried.
It was all mesmerizing, transporting the viewer into another era where life was a little luxurious and women dared to be women.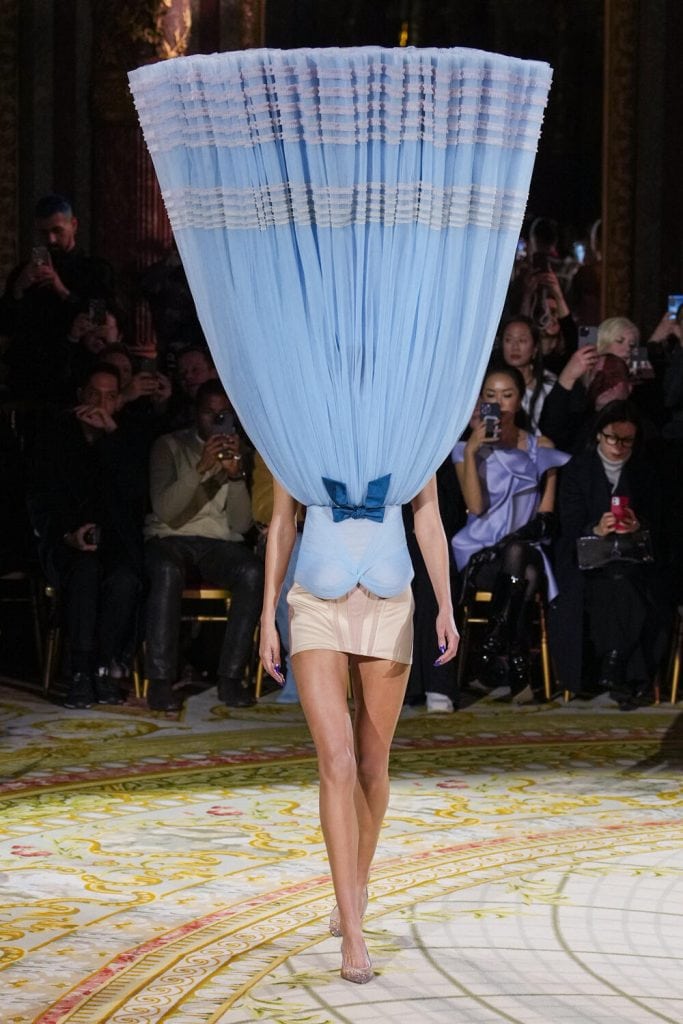 Judging by the gasps from the audience and the cheers at the closure, this collection was LOVED by all. It was as they say: "Things never are as they seem!"
---