---
Review of Wales Bonner, Kidill, Lanvin, Sankuanz, Taakk, Gamut, & Basscoutur Spring 2022 Men's Fashion Shows
It's Spring Time in Paris, And Young Designers Leading the Charge for Renewal
By Long Nguyen
New to this Paris show season is Burberry men's digital show marking the first time the British heritage brand is on the official Paris calendar. Courrèges is launching menswear with its showing instead of combining into a co-ed format as last season, signaling a greater focus on the men's business.
Many of the younger labels in Paris – Egonlab, Valette Studio, Boramy Viguier, Uniforme, Phipps, Arturo Obegero, Alled Martínez, Avellano – opt for a dual hybrid format. These brands follow their digital presentations on their scheduled hour by in-person appointments at their showroom space, inventing the 're-see' model anew from the old era now available immediately. Hybrids of all kinds are the new motto of these young designers.
As fashion regains its vigor, it remains to be seen whether this new season is coming back to the era before March 2020 or is becoming a different fashion world.
Wales Bonner
There is such precision in Grace Wales Bonner's deep blue dyed Japanese floral print that references a shirt worn in an old photograph by the work of the Burkinabe artist Sory Sanlé taken in the 1970s. The West African photographer was documenting an intense period of rapid social-political-cultural transformation from colony to emerging as a cosmopolitan oasis in the West African desert.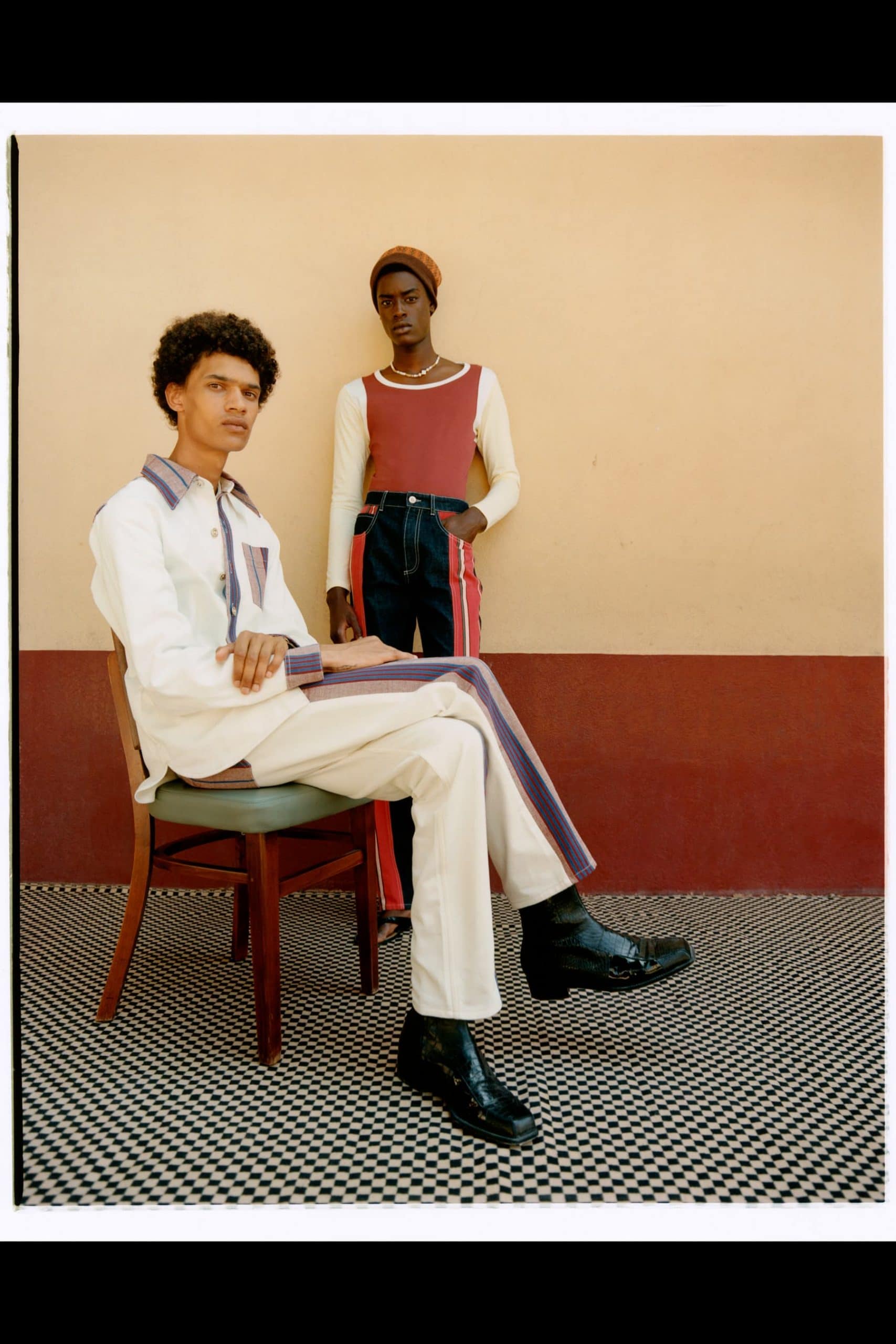 In this shirt, in hand weaved cotton artisanal dyed orange shirt. In the hand-stitched green jacquard single breast jacket, the garments demonstrate the seamless way that the London-based British Jamaican designer Wales Bonner integrate the different cultures, merging diverse culture and thinking into and onto her fashion.
Wales Bonner's fashion work has been an in-depth exploration to find a new manner to represent the identity and sexuality of Black males today and, by extension, male in general, looking through the lenses of her Jamaican heritage and British upbringing. Using her fashion as a portraiture platform, Wales Bonner not just creates new clothes each season.
Instead, her seasonal narratives are built chapters by chapters, looking at areas of local cultures often ignored and finding new expressions for them using her clothes as the tool to visualize a new way of being together. Fashion here is a force of cultural unity.
For this spring 2022 collection, the designer found her voice in West African studio portraiture tradition, specifically Sory's work. The artist captured on his Rolleiflex camera black and white shots of people's lives in Bobo-Dioulasso, the second-largest city in Burkina Faso (formerly Upper Volta) after the capital city of Ouagadougou. Besides being a chief trade route and an industrial town, Bobo-Dioulasso is known for its music as the city is considered West Africa's dance capital.
Wales Bonner particularly liked Volta Jazz, an orchestra musical music scene defined by Bobo Yéyé Belle Époque. The different groups of people came to dance and socialize in Sory's studio in Upper Volta when he photographed them and recorded the active nightlife scenes.
In a moody short film by Black American photographer Joshua Woods and shot in Marseille, the designer brought back to life this forgotten era, a time of cultural upheaval. A rectangular radio from decades ago, as seen in the video, solidifies the feel of a distant era.
Translating Sory's iconic imagery into clothes means incorporating the artist's geometric flooring patterns or impromptu studio backdrops into grey West African jacquard pattern tracksuit, into orange and brown stripes lines of light camel mohair knit sweaters and shorts. The orange/brown gradient stripe long hooded shirts or the red bar on blue denim jeans are unique fabrics made from some cloths and clothes in Sory's photographs. The cotton of the deep blue cotton jacket with red stitched piping and drawstring pants is handwoven and dyed in the local artisanal traditions.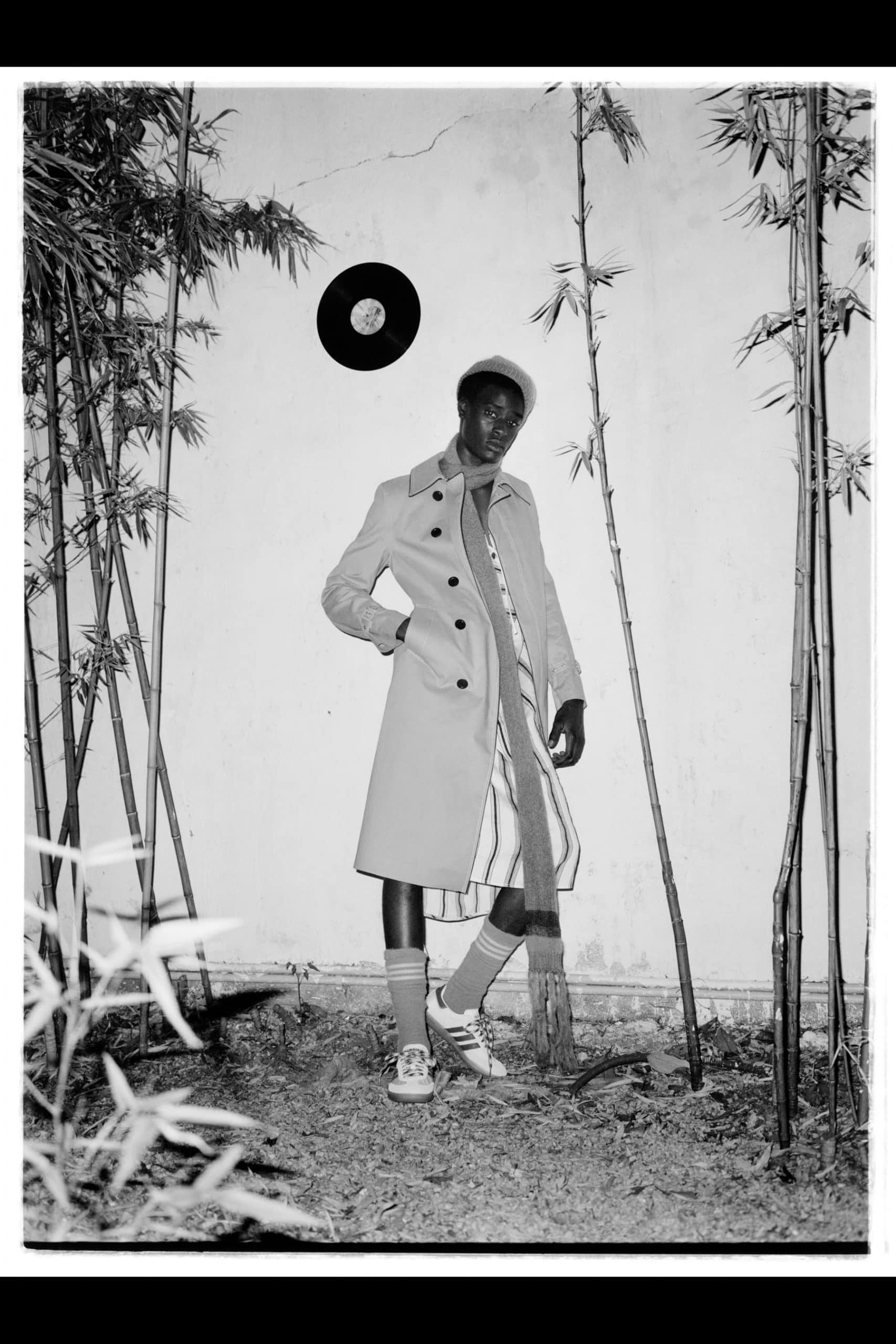 Tailoring has always been a central tenet of Wales Bonner's work incorporating the British tradition of crafts with inventive additions like the cotton stripes sleeves on a white slim fitted ecru linen three buttons single breast jacket with loose flowing pants. A green weave knee-length coat is now a suit with matching pants and a yellow stripe cotton shirt. This season's primary shape is a lean structure body reflected in the camel oversized collar coat paired with a white striped cotton shirt-dress.
Wales Bonner continues her work with Adidas Originals with jacquard knitwear and a new OG jacket as a cropped slim tan body with green sleeves.
Kidill
"My favorite things have not changed since I was a teenager, and I think they will not change. The essence of punk is not designing on the surface, but putting it spiritually is about being yourself. I intend to update myself through making clothes without being caught in the culture of the past," says the Japanese designer Hiroaki Sueyasu told via email from Tokyo of the foundation of his brand Kidill based steeply in the culture and the idea of punk.
The British-born and Japan-based graphic artist Trevor Brown explores paraphilia and fetish themes and creating images around the junctures of innocence, violence, and misogyny that have influenced Japanese popular culture. In a book titled La Nursery Noire, Brown's 2019 series of photographs featured images like a doll being chopped up on a kitchen table by another wearing a black latex apron and elbow gloves. The limited-edition photobook included pages with removable stickers to un-censor specific images that the book's publisher deemed unacceptable.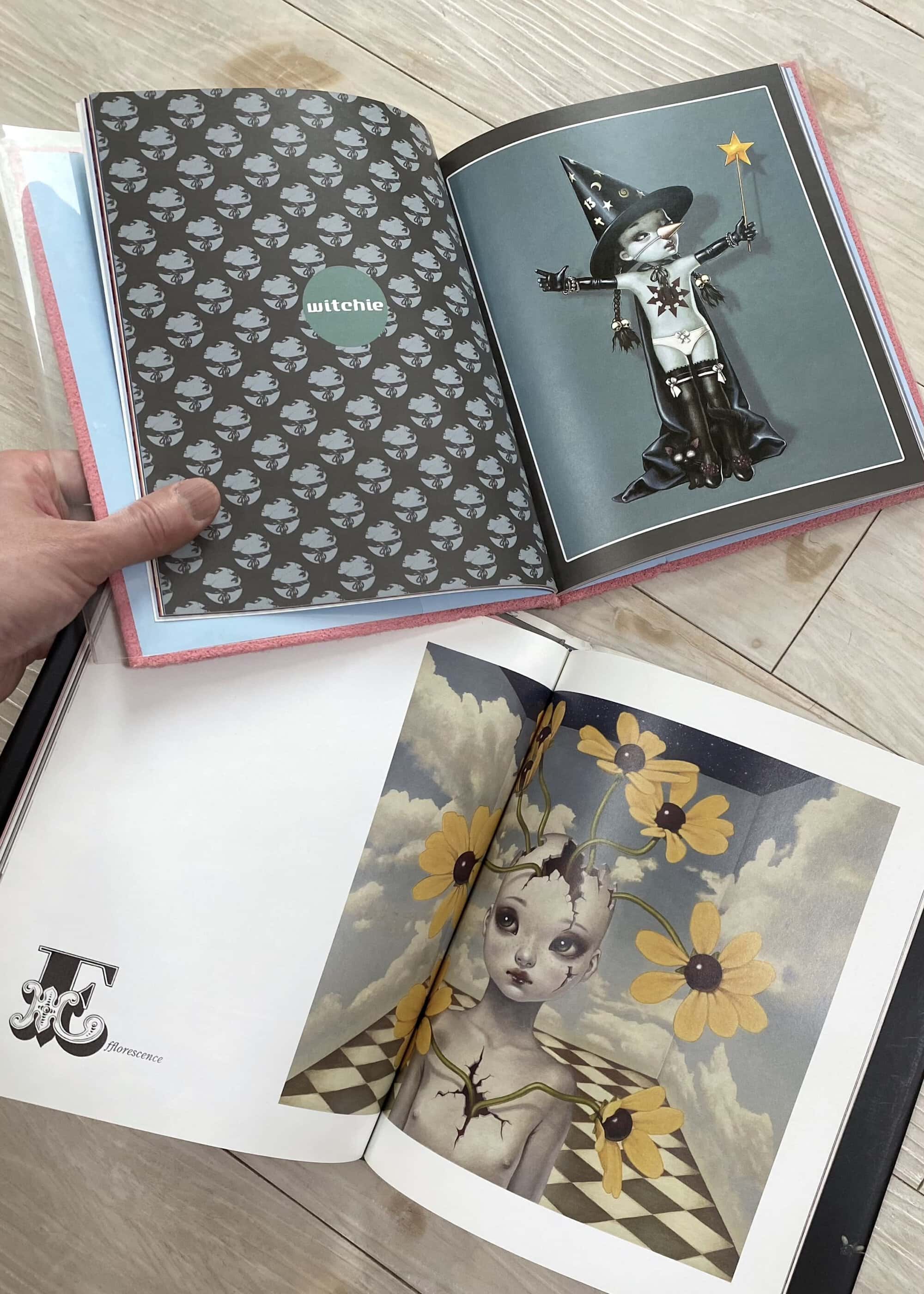 "Brown's artworks are a mix of kawaii and grotesqueness, and having both of these concepts coexisting is fascinating. It might be as cruel and masochistic. Still, I could feel both madness and purity as it has taught me that evanescence, fragility, chaos, madness all exist in very close proximity," Sueyasu said.
In his spring collection, the idea of fragility, innocence, and beauty translate directly into a powerful yet specific vision of inventive streetwear clothes featuring images from Brown's work on the finale look of an A-line knee-length zippered cape in wool with a collage of the artist's prints in a kaleidoscope of rectangle patchworks paired with black jeans printed with a series of dolls' heads. Other manifestations of Brown images reprinted onto an oversized purple sweatshirt worn with a big olive military coat with Utopia/Disaster printed in front and great denim with large pants with side silk panels.
This spring 2022, genderless clothes are quintessential Kidill.
Sueyasu's punk affinity is evident through the white cotton oversize shirt/dress and 'lips' blouson or the all red straight jacket contoured by belt restraints. Of course, there can't be punk without the genre's sartorial representative – red tartans. A new version of the MA1 bomber features a red tartan front and black sleeve, a brown tartan slit front skirt, and a black fishnet knit sweater. But the colorful tailored single breast suit in vibrant print doll heads or the black and red lips version extends the brand range into tailoring rather than more street and youth-oriented clothes.
In another art collaboration, the Japanese rope artist Hajime Kinoko tied bondage rope around print shirts or used the lime green rope as a crochet top. The effect is one of restraint and freedom, at least in fashion.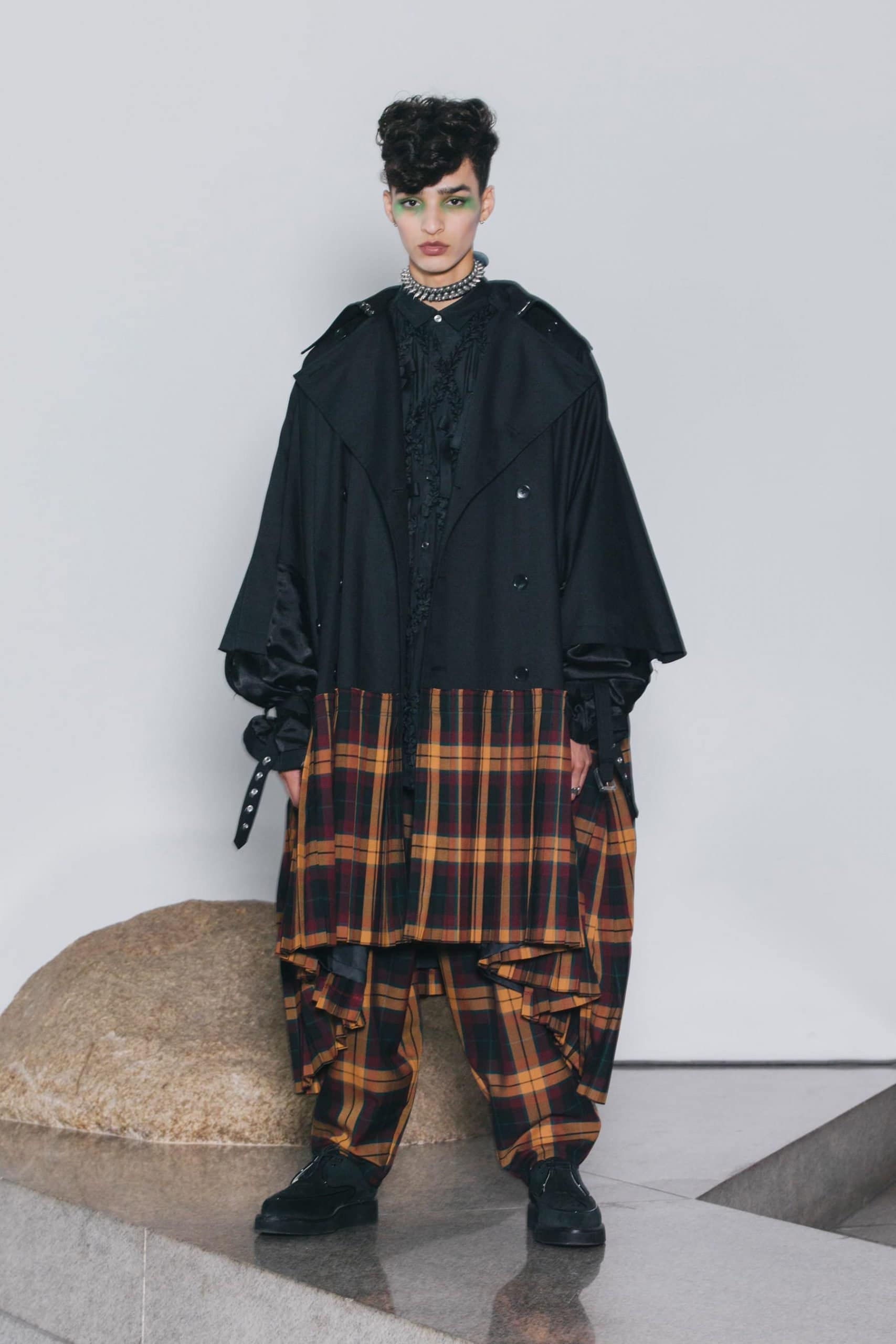 "It's difficult to create a new culture in this age. I think the new generation enjoys finding their comfortable place in SNS and connecting with people. I think there is a possibility that new values will be born from the world of SNS. My fashion sense will not change, but I have a strong desire to design stronger clothes. It is no use being timid in these times, and I design clothes with a strong mind to surpass my past. I was pure and faithful to where your desires are directed. Otherwise, I believe that we cannot produce strong clothes," Sueyasu wrote after the email exchange.
He's right on the notion that strong clothes require solid beliefs and firm commitments.
Lanvin
With the theme of travel – not literal but more metaphysical – Bruno Sialelli, the creative director at Lanvin, ushered a vibrant men's spring collection as hybrids to memory and heritage but focused on the clothes for the current moment in a dreamy music video format presentation.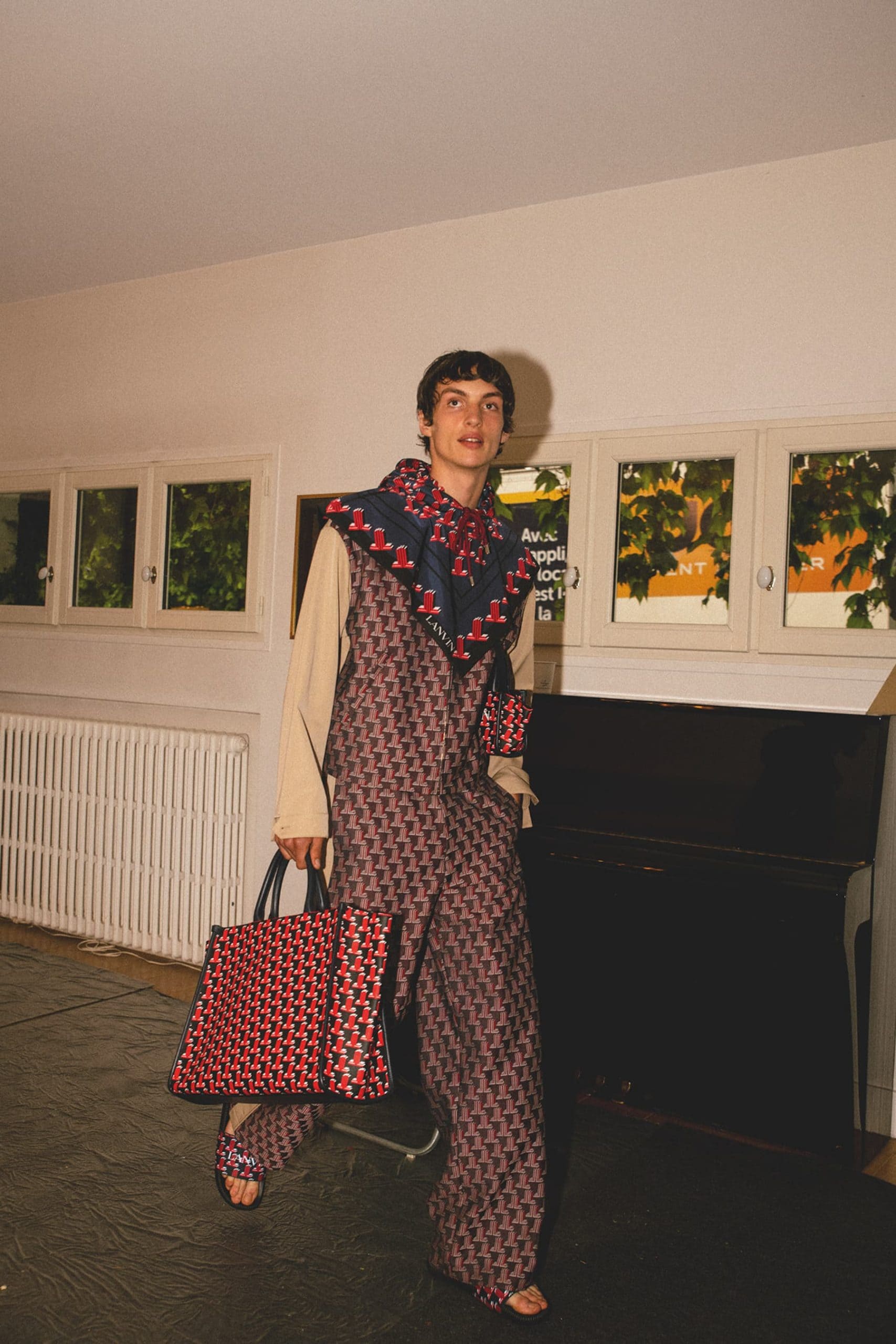 Somewhere in an imaginary beachside shack dreamt up by one of the models seeing a photo of palm trees on her smartphone, a bunch of male and female models are having a lot of fun hanging out, but in a more relaxed manner than the last time in a busy music video discotheque.
The video makes a lively presentation of a substantial collection of clothes, ranging from dressy chocolate single breast cinched back one-button suit to the sporty foamy mock neck short sleeve tee shirt and multi-pockets cargo shorts. But, Sialelli is conscious that younger men today no longer espouse a boundary of formal/casual in their wardrobe habits.
Thus a great tailored square stripe oversized lapel coat tops, a logo neoprene scuba legging, and zippered neoprene shirt. A purple and green hooded blouson and green shorts are made from fine leathers, while actual suits come in pastel pink, green, and pale blue, designed unconstructed to look like wearing pajamas.
Even in the fast-paced music style video, eyewear, footwear, and bags are ubiquitous, emphasizing what matters is the bottom line. Models in the video wore Aqua blue, white, dark brown tinted full-frame sunglasses; giant multicolor sliders with or without beadings; and carried a white Cat Raffia bag and different sizes of JL Monogram totes.
Sankuanz
Other showings today included Shangguan Zhe's Sankuanz looking at youth culture and streetwear from another perspective in a video titled Bell from Another China, giving this brand another firm footing in the current asexual aesthetics blessed the cross-cultural delineations and minus the apocalyptic vision of his Fall 2021 show.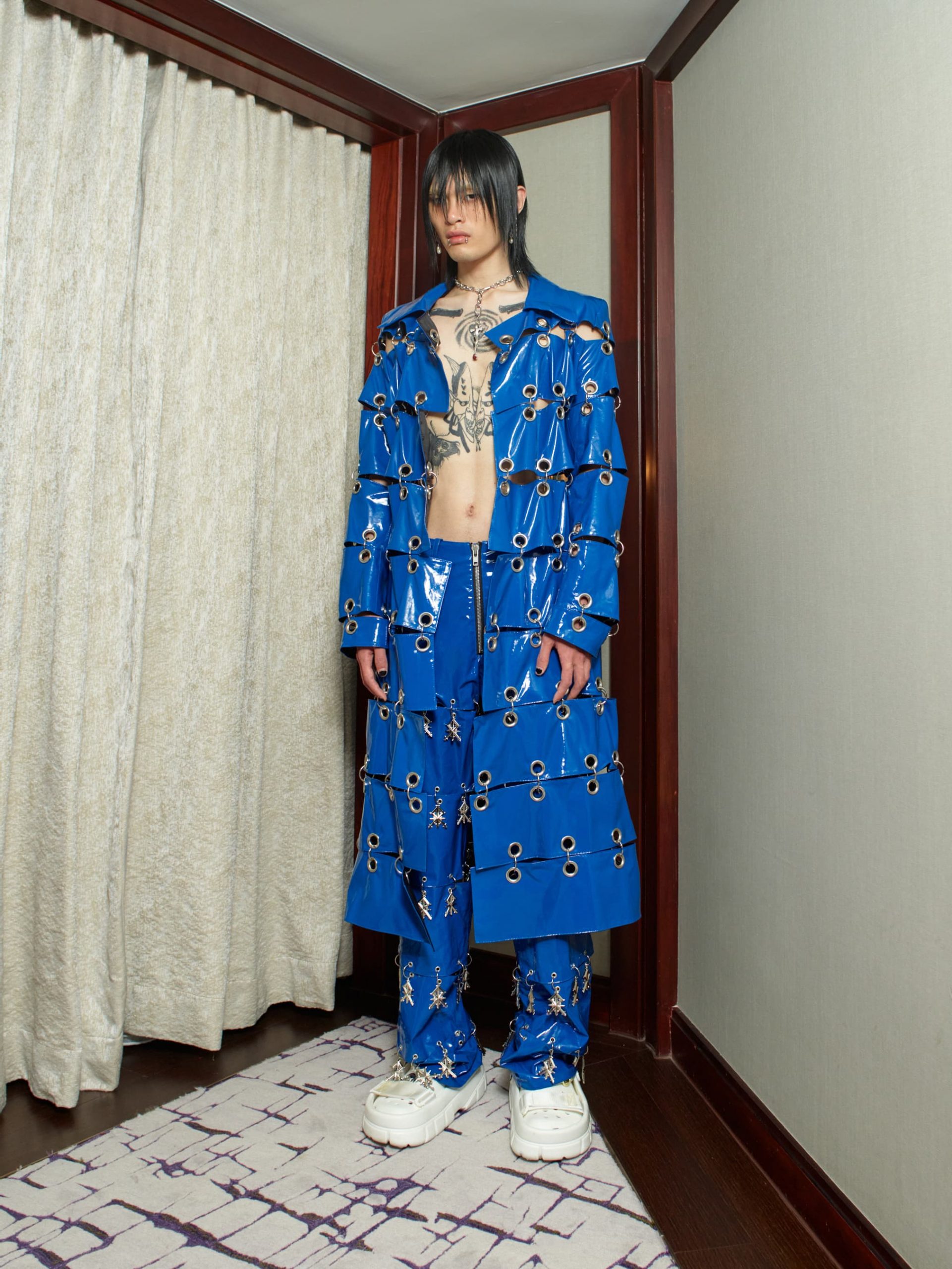 Zhe's deconstructions of classical shapes morph the clothes into odd silhouettes with loose black coats with oversized sleeves or oversized black trench with metallic circular hoops. The collection felt less aggressive than in the last few seasons. Even the aqua blue vinyl cut-out long coat connected by metal rings and matching pants didn't have that anguish end of earth vibe.
Instead, Zhe's strength in tailoring shines through clearly – camel tie-dye flowing suit, rigid shoulder Mao pantsuit, or a simple black single breast fitted coat affirm the designer's calmer approach and an extended range of garments. Zhe uses marine blue in textiles like wool or heavy cotton to reflect the blue in Chinese blue and white vases from imperial China.
As the models walked around in a circular building in the video, the collection moves a step forward for Sankuanz, a lighter approach intellectually and a more mature sense of the clothes for now.
Taakk
Similarly, Takuya Morikawa at Taakk is progressing on this same course towards a more terrific refinement in distilling his fashion quest to reshape modern menswear since the brand's founding in 2014. Title Dance With Earth, the designer, talked about the beauty of the shapes found in nature and landscape and the similar way for fashion design. The video directed by the film artist Nagisa Kodama shows the emotion of the lengthy process of creating clothes from scratch.
In one segment, Morikawa talked about his tuck-in jacket where he altered the fabric at the bottom to fit into the pants and made the sleeve cuffs more like a shirt to be rollable. Or, he mentioned a jacket that starts as in linen and ends as reflective nylon held together by floral embroideries and a silk shirt with colorful floral shapes done by hand tie-dyeing.
Morikawa's fashion stems from this material aspect rather than as high concept and high art.
Taakk's spring collection verges on the level of very refined men's semi-couture. The emphasis on perfect cutting and elaborate creation of new materials in an ecru to light yellow degradation on a long single breast jacket decorated with hand-made flowers at the chest pocket and shorts. The particular method of tie-dyeing to create flower shapes and colors sees great iterations in a black cardigan shirt jacket and shorts or a long black coat with mountain backgrounds.
In a way, these Taakk clothes are a counterbalance to the streetwear invasion that has erased much of this kind of aesthetics in menswear. It is easy to dismiss this collection as old-style and obsolete, but it is a lonely yet courageous voice yearning for an opposite view of menswear. And in fashion, more voices are better than fewer.
Gamut
The Gamut anonymous collective team did an excellent job pulling together multiple friends from the Paris underground cultural scene to partake in the shooting of this season's new collection. But the garments made from repurposed and deadstock materials underlined by fundamental total deconstruction in this collection did little to understand fashion further.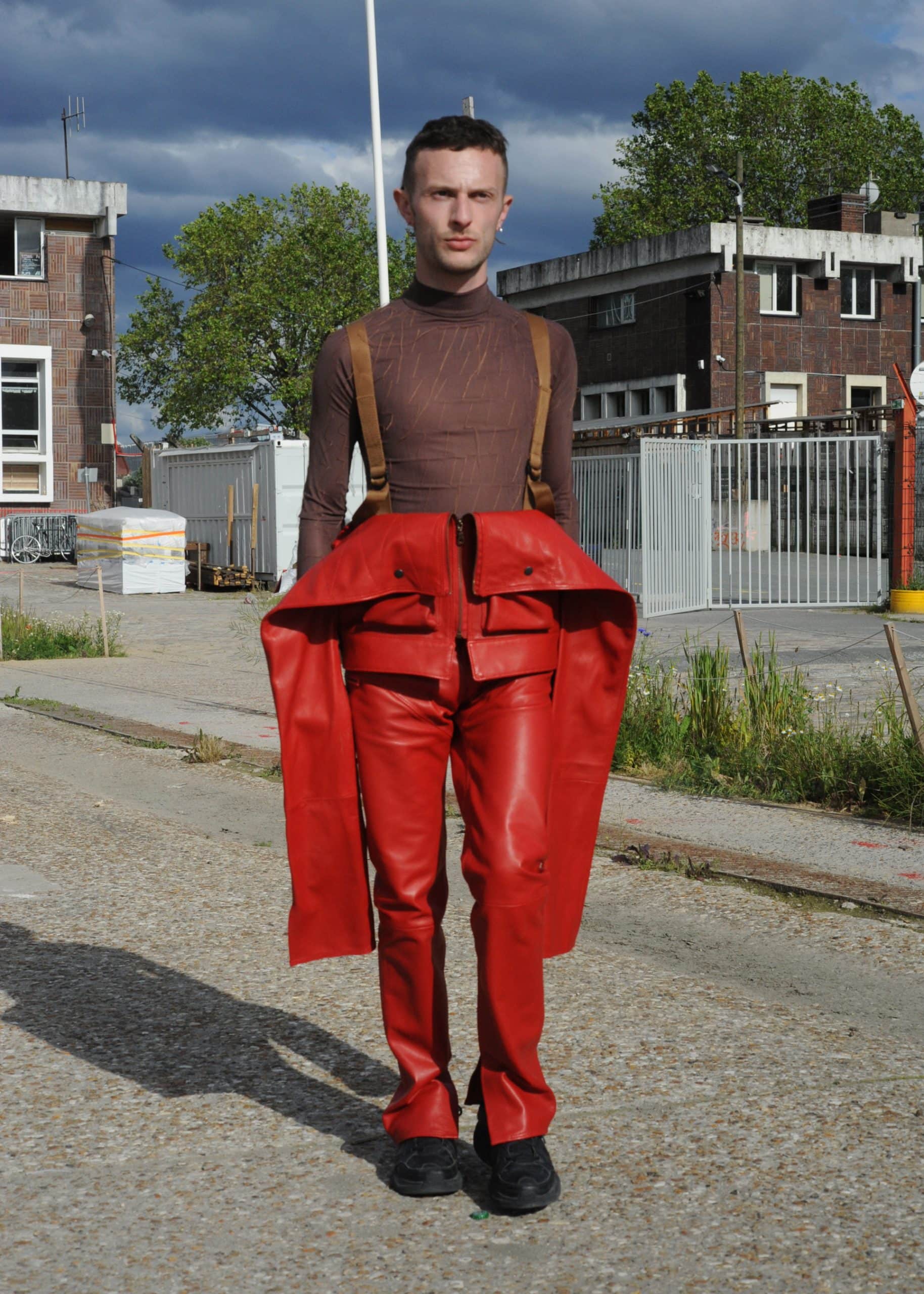 Instead, the clothes tread the familiar territory say of Martin Margiela but did not meet the old master's command of first of ideas, then methodology in knowing what to take apart.
A black leather front zipper jacket without shoulders recalled Margiela Fall 1998 collection. The Belgian designer decided to entirely forgo the shoulder area after struggling with what to do with them. The purpose of a black infant size jacket paired with loose green pants beyond making some points about being avant-garde is not precisely clear.
Having clarity of purpose then clarity of design vision is critical, especially in fashion.
Basscoutur
Finally, Riad Trabelsi, the French-Tunisian designer behind the brand Basscoutur, is now taking his design motto and the notion behind his launch of the label in 2015 to a level of a maturing business with the spring 2022 presentation of a vastly expanded collection offering a better range of clothes to his ardent followers.
In an animated video and collection titled ADN Louled, Tribelsi is taking the brand beyond its founding idioms of recycling and repurposing materials to rediscover different cultures that can now be part of the clothes.
These laissez-faire clothes, all unisex – boxy jeans, patchwork pieces of denim and layered dresses, crop tops, safari khaki jackets, and a collar djellaba – seems freer of the burden to prove something or to make a statement to be heard.
Now, Trabelsi's job is to have better merchandises that still cater to the same urban youths that have embraced Basscoutur since the very beginning. These kids are Embracing the idea of this outsider fashion brand speaking directly to the kids using the same language, the same signs, and in clothes familiar to all in their community.
---