---
Review of Y/Project Fall 2022 Fashion Show
Glenn Martens Wows with a Fluid Proliferation of Deconstruction and Detail
By Mark Wittmer
Y/Project marked its return to physical shows after several seasons of digital with an excellent collection that may be creative director Glenn Martens' best yet. The expansive, industrial space of an immense shipping-van garage and choice of music – an extended and atmospheric club mix of the iconic Queen of the Night aria from Mozart's The Magic Flute – combined to provide an evocative backdrop for the gender-fluid collection's similarly fluid reconsiderations of structure, detail, and form.
Rather than rely on quick collaborations, overt themes, "destination" collections, or constant reinventions – as many of his contemporaries seem to do – a major part of Martens' creative genius is to push his own established language ever forward, finding a fluid evolution that constantly references and subverts itself. His favorite design themes of modularity, asymmetry, deconstruction, and novel experimentation on familiar forms are present throughout this collection, pushed to mind-binding new heights.
The first look to slowly make its way down the very lengthy runway is a jumpsuit suit: a perfectly tailored, slightly oversized jacket that flows seamlessly into its gracefully ballooning pleated pants. It's a very strong start that boldly signals the hybridity, the sophisticated delight and uncannily familiar weirdness, that is about to come. "
What follows is a masterclass in repurposing and subverting established fashion codes to create wholly visionary pieces. Deceptively detailed denim makes inventive use of buttons, wash, cut, and pleats (Martens certainly must have many denim ideas on his mind since his contemporaneous appointment as creative director of Diesel). Previous seasons' braided tangles of knitwear – which offer the wearer many options for which hole to stick their head through – returns in more detail and with impeccably intact forearms. Familiar sportswear items are incomprehensibly knotted and made to undulate through devious structural tricks.
A colorful and cheeky new print appears throughout the collection, mimicking life-size nude sculpture to create a sort of optical prank that both builds up and deconstructs the function of clothing as something that conceals. It's an idea we've seen before, but coupled with Martens' sense of reference and reconfiguration, and in the context of the collection as a whole, they take on a refreshing sense of life in their tongue-in-cheek sexiness.
Accessories add further to the endless proliferation of details into which it's a pleasure to get lost: belts that snake in and out of jackets, jewelry that suggests digital tribalism, accordion bags, tabi toes.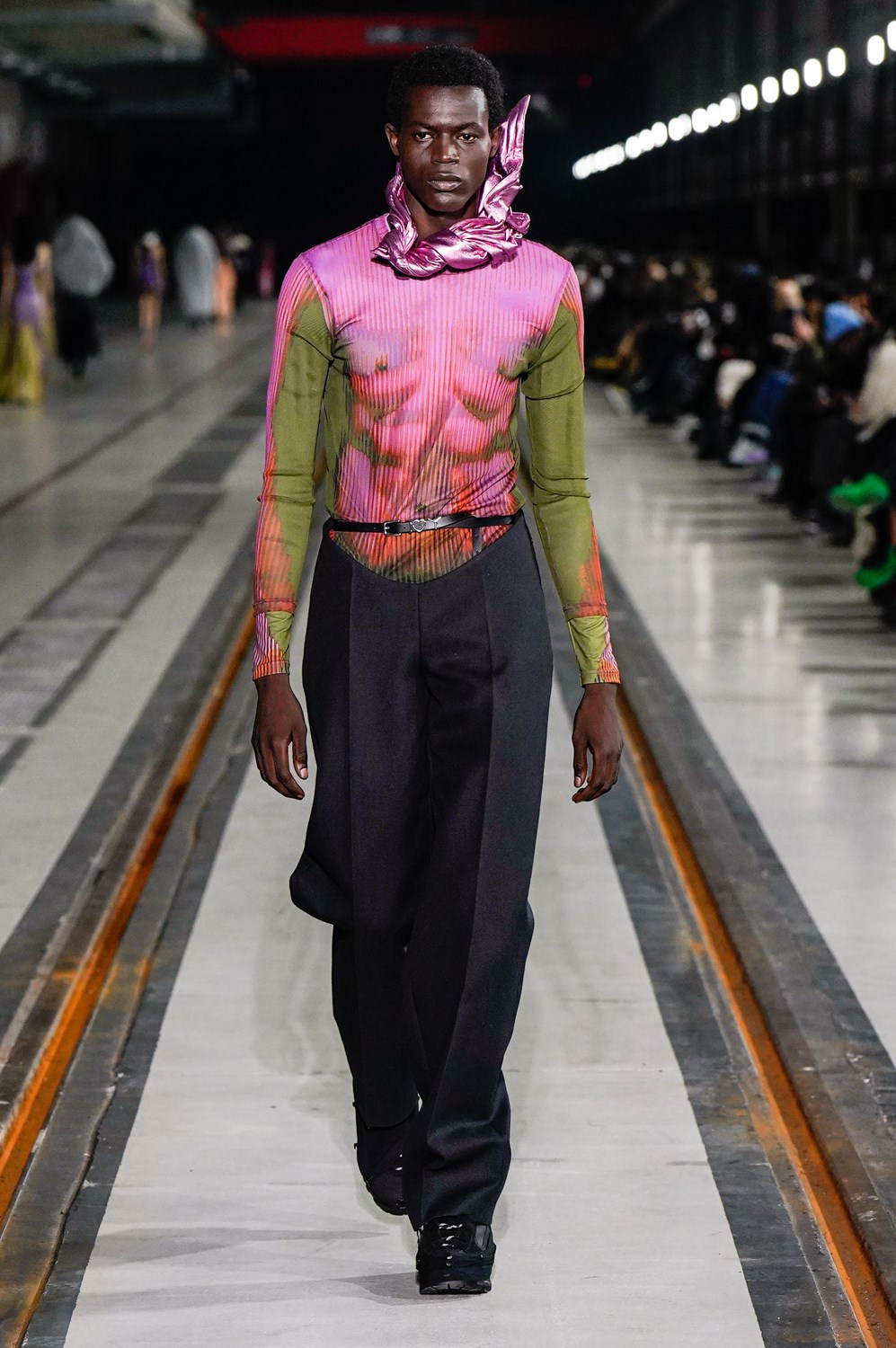 Kerchiefs make smart use of Y/Project's recurring technique of creating flexible interior wire structures, allowing wearers to craft their own shape and sense of flow, one of the most simple and immediate expressions of the collection's sense of independence and fluidity. "
Mesmerizingly detailed, brilliantly constructed, and with a generous affirmation of the brand's forward-thinking ethos of individuality and expression, the collection was an excellent way to return to physical shows and bring Y/Project's path forward. Glenn Martens may be taking on more work – at Diesel and, for this couture season, at Jean Paul Gaultier – but he's also working better and smarter than ever.
---