---
Review of Yanina Couture Spring 2022 Couture Fashion Show
Discouture
By Mark Wittmer
Paris Couture week's special guest designer for the Spring 2022 season, Yulia Yanina of Moscow's Yanina Couture, closed out the season with an unexpectedly and irrepressibly colorful collection.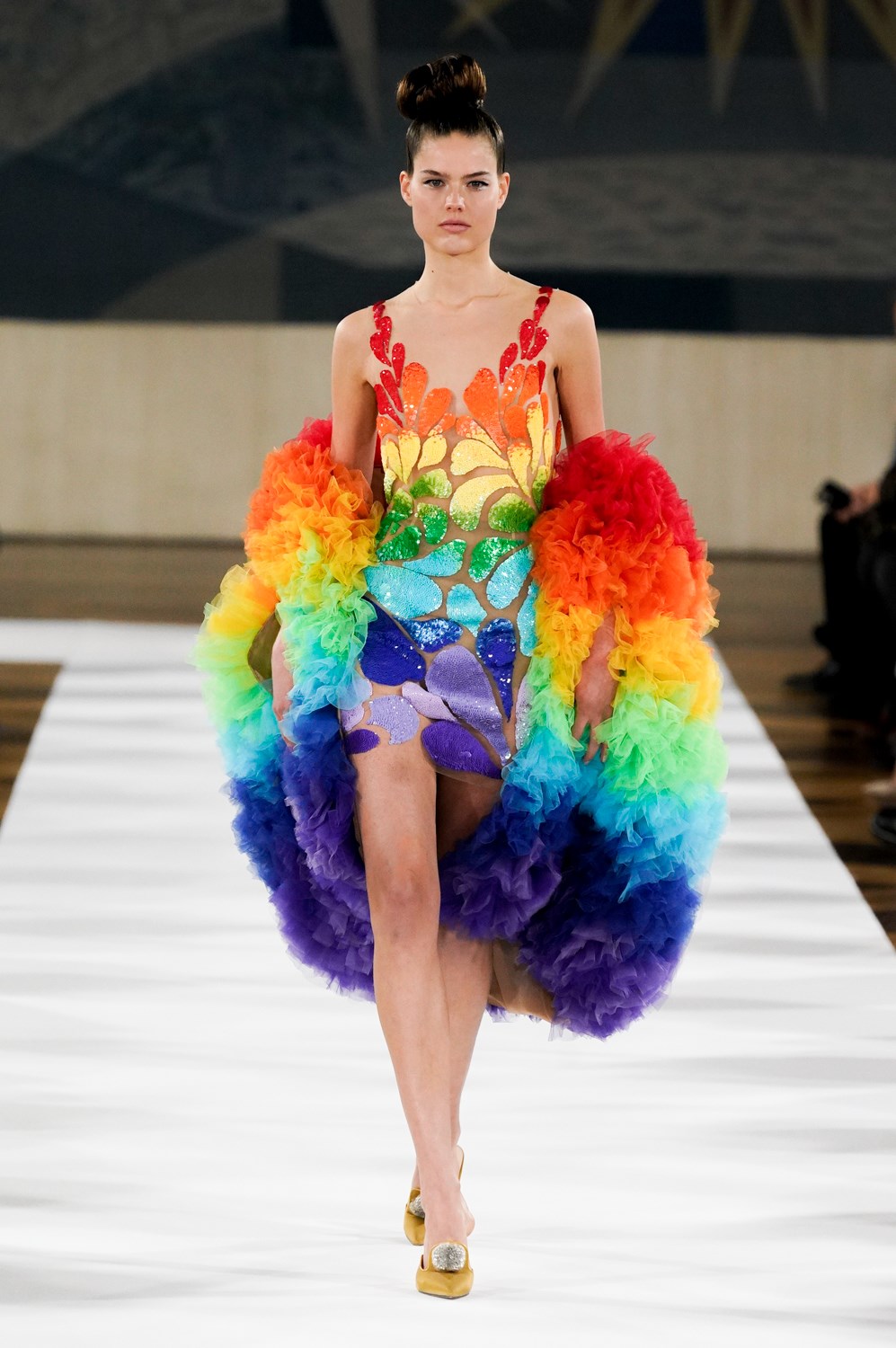 To the appropriately groovy soundtrack, the first model strode out in a look composed of fluid, sparkly shapes and layers of airily bouncing chiffon executed in all colors of the rainbow – a first impression that was delightfully at odds with the Russian Embassy location and the audience's apparent expectations."
The ensuing collection was similarly groovadelic, with looks that combined your typical haute-couture, crystal-clad sophistication and ostentation with free-wheeling floral patterns, disco-floor ready capes and bell-bottoms, and even a lava-lamp butterfly.
Subtly sprinkled throughout the collection are also smart references to traditional and folk dress of Yanina's home country of Russia – scalloped skirts, rectangular cut bodices, cropped jackets with exaggeratedly puffy sleeves – reinterpreted and illuminated through the couture sensibility and high-flying feeling of vibrancy.
It's a unique synthesis of perspectives, one that feels especially pertinent and welcome to cap off a unique week of couture shows, even if it (happily) subverted our expectations. The collection exudes an infectious feeling of lightness and positivity. It's exciting to see a couture collection that leans into positivity and fun, still maintaining its sophistication, sparkle, and craftsmanship without being pretentious about it. Yanina has a strong voice here: following two years now of distance and loss, her work celebrates the often taken-for-granted beauty of the world, expressing it through a universal language of clouds, sunshine, flowers, and color. We can't help but answer her call.
---