---
Review of Yohji Yamamoto Spring 2022 Fashion Show
Hopelessly Romantic: A Master at Work
By Anna Ross
Yohji Yamamoto's bow at the end of his runway was incredibly poignant: last night's show marked 40 years since his first collection in Paris, the designer remaining a firm favorite on the schedule ever since.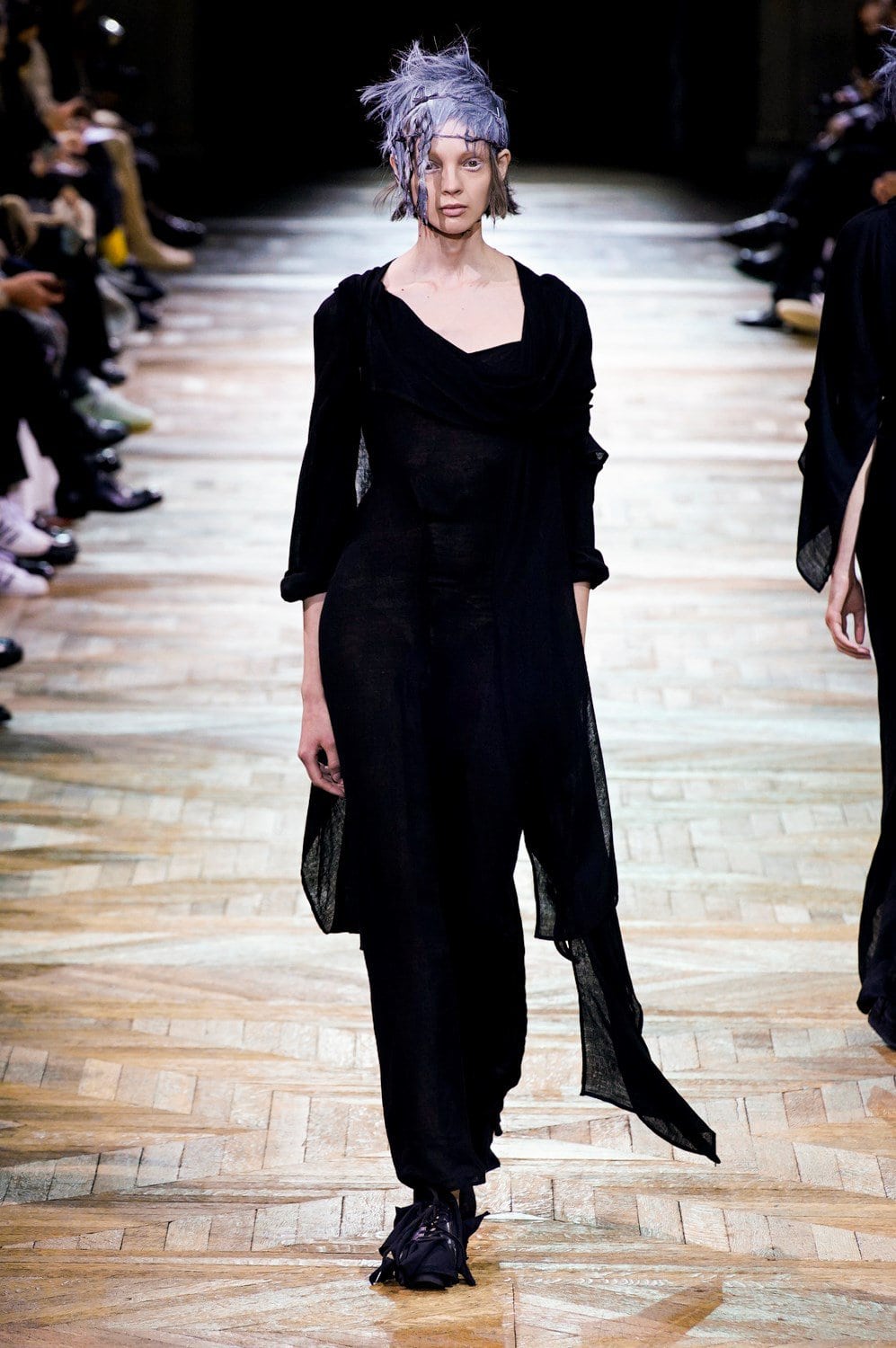 I've never seen a Yohji show in the flesh, but to see it was indeed a privilege. Yamamoto is without a doubt – an artist – through and through, his vision unwavered – totally unperturbed by any fleeting trends or latest social media hype. Unlike many of his peers, there's no pandering to Gen-Z here or sexing up his roster for the sake of post-lockdown partying – he knows his customer, and his customer knows him, that much is clear from the legions of super fans waiting in the pouring rain outside the venue – and the audience who more or less unanimously dressed head to toe in his signature color: black.
On last night's Impression Show, our team offered Yohji their highest show scores, with Mark Wittmer giving the designer a perfect ten, saying the show brought him to tears, even viewed from Washington via live stream. To be there in the flesh was even more moving: the insane level of detail that goes on in these garments simply cannot be captured via photograph or video.
One has to see Yohji Yamamoto in the flesh to believe its brilliance.
The collection proceeded with a handful of draped, bias-cut dresses in soft linen, boasting reverse tucked seams engineered to protrude around the body. Although abstract in their form, these were entirely wearable, rendered in soft linen and paired with laced flats boasting the same play on material manipulation. Sometimes Yohji's girls proceeded in threes, showcasing the intricacy of the designers pleating, tucking, pinching and folding on dresses that could to the untamed eye look the same, but each drastically different.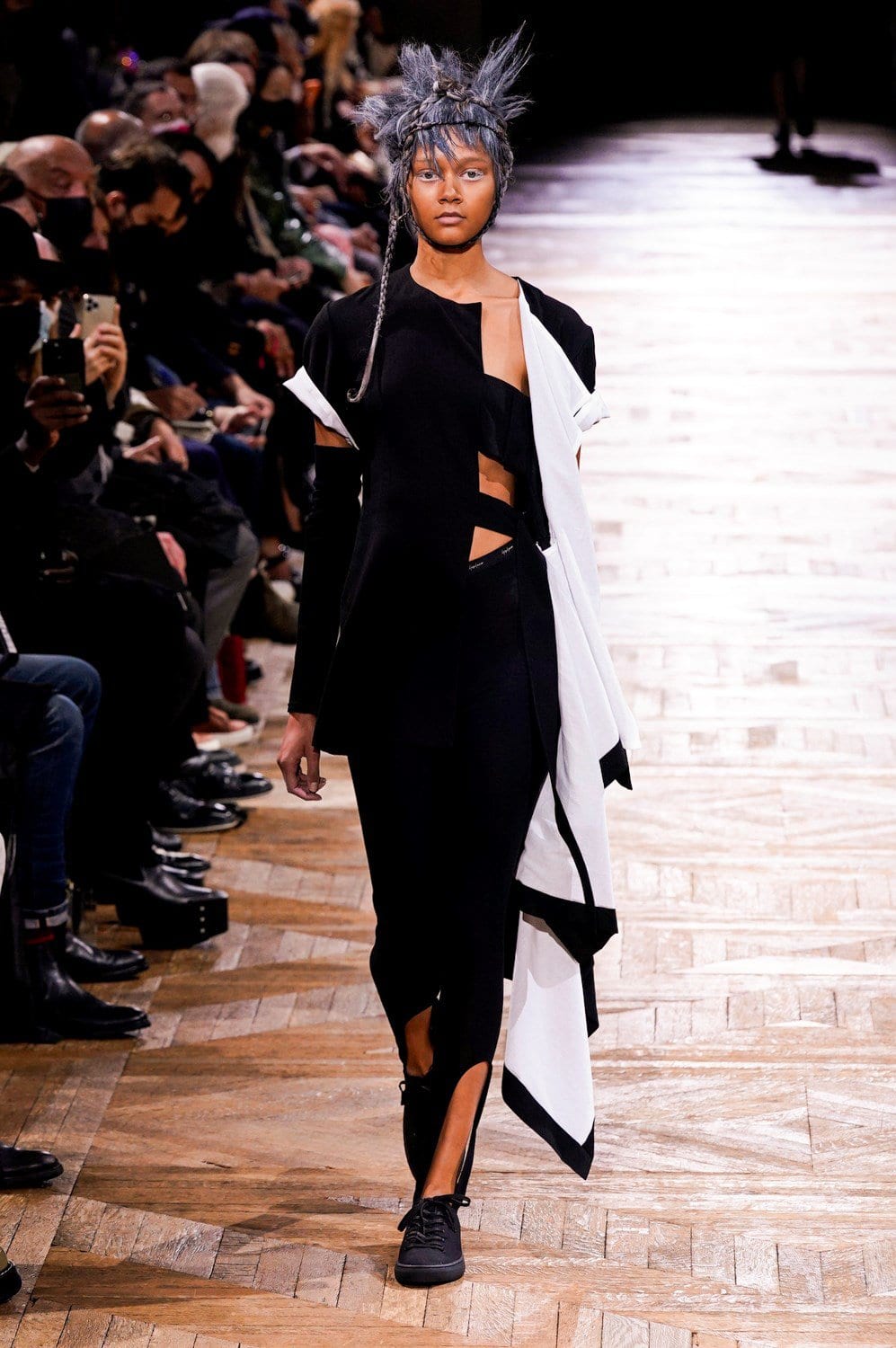 Next up, trench coats, but not your run-of-the-mill, en-vogue, oversized renditions: for Yamamoto, they came short-sleeved, framed with wooden appliqué, while accordion pleating lendt structure to their backs or dramatically draped storm caps. Mini dresses were offered with soft volume at the bust, sleeve or skirt, worn with cut-out stirrups or asymmetric brogues. Shirt dressing in barely-there sheers featured wild strapping around the torso, while a series of tailored tops, complete with cascading panels that displayed the level of pattern-making mastery that the designer is renowned for.
A series of dresses with contorting seams came intersected with moments of plaid, pinstripes, velvet or embroidery, cut in clouds of 3D that floated ethereally around the body, complex as hell, but light as air. These were, to put it simply, exquisite.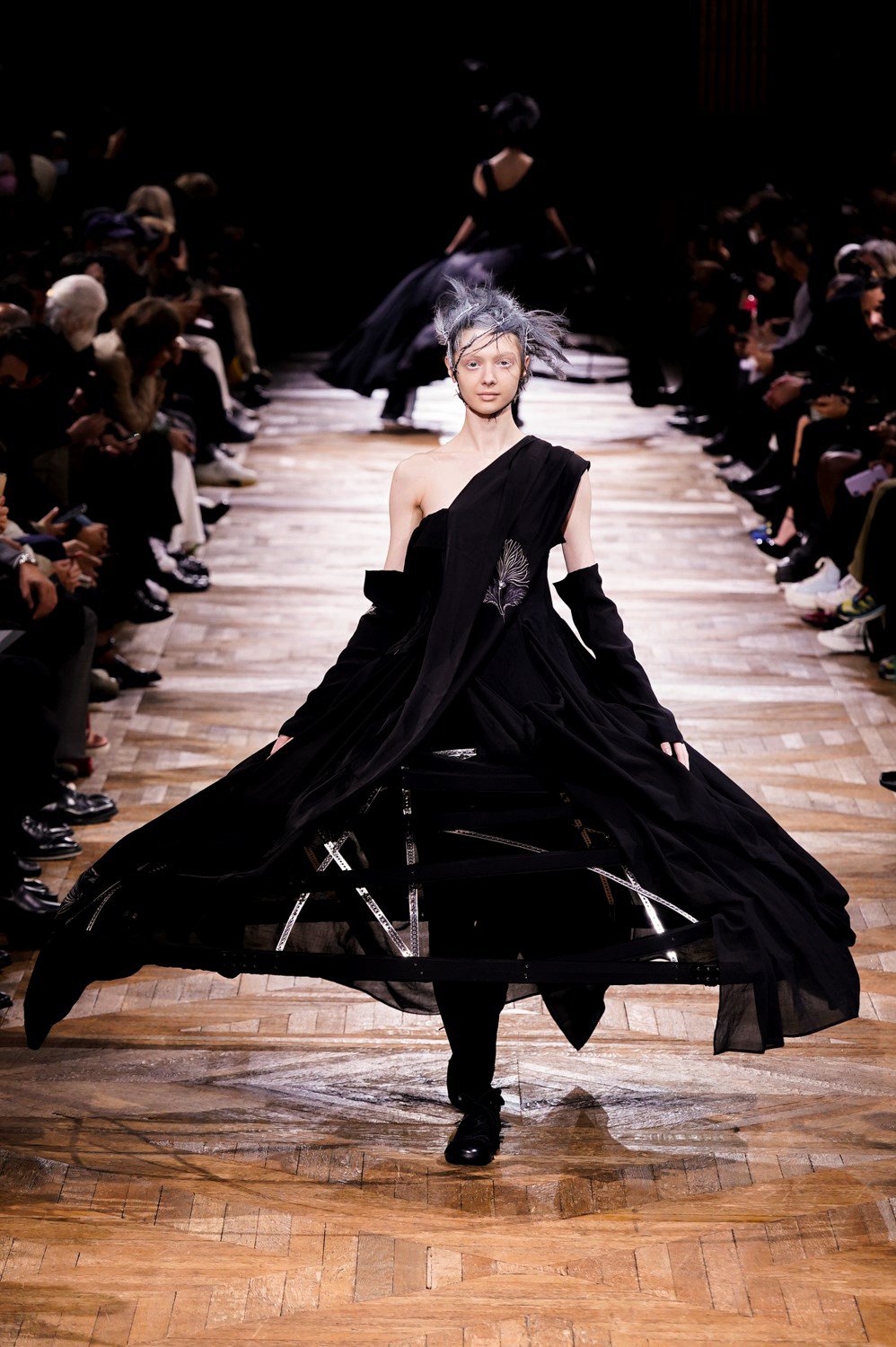 As within many of the designer's previous outings, nods to historic dress were spotted throughout sleeves, necklines, corseted waists or dramatic skirting. One such corset came laden with chains and hardware, matching the barbed wire worn around the model's heads and necks: there's pain in beauty.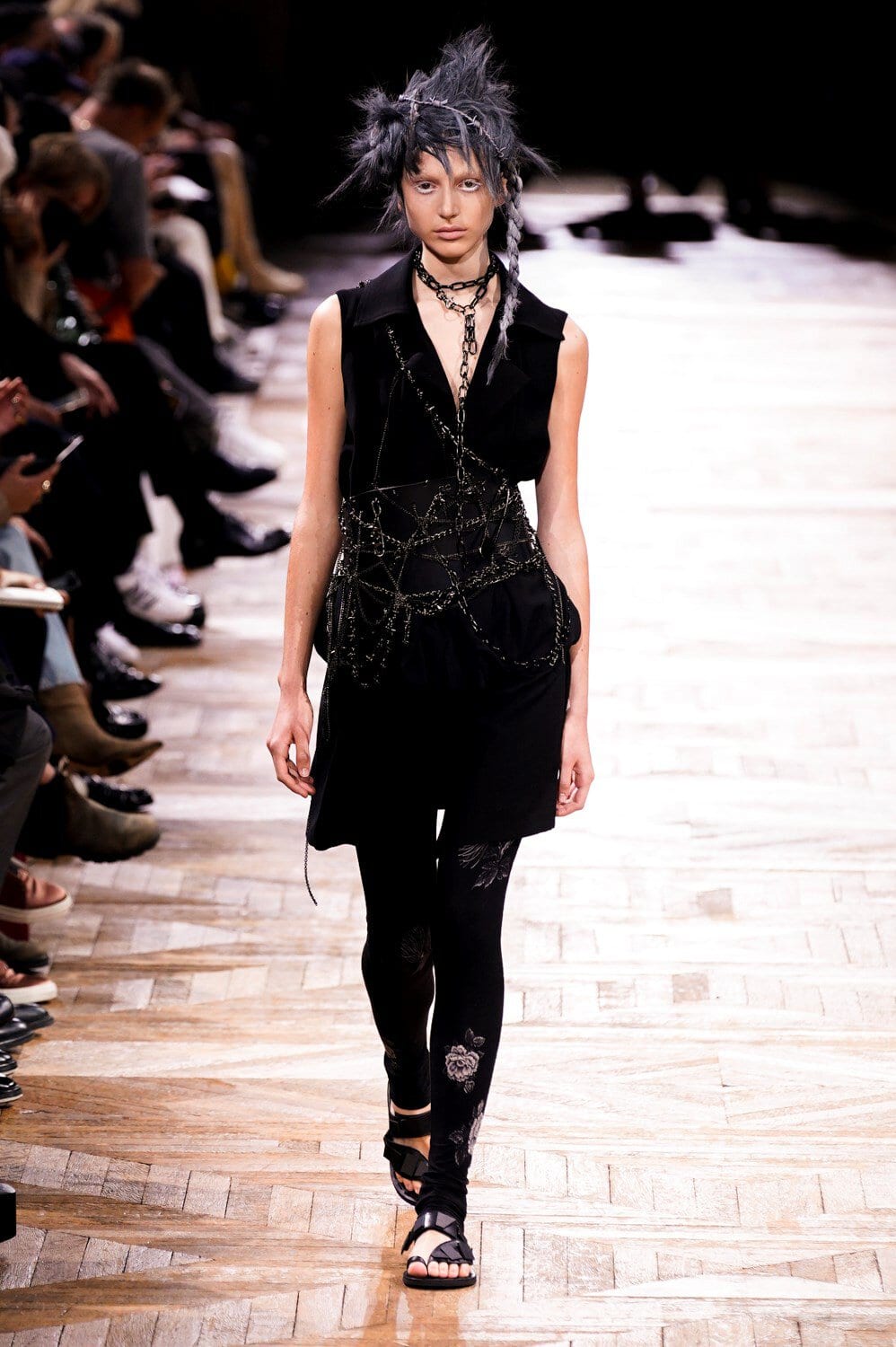 To close, a trio of concealed and revealed hoop skirt dresses, around 2 meters wide in diameter, resembling the caged looks from his archive, except his S/S22 renditions came in tough leathers, some dotted with hardware, so broad that they brushed the audience's legs while the models drifted past. Flowing silks made waves behind these encompassing structures – Yohji's gothic brides handing out black roses to the crowd. Hopelessly romantic.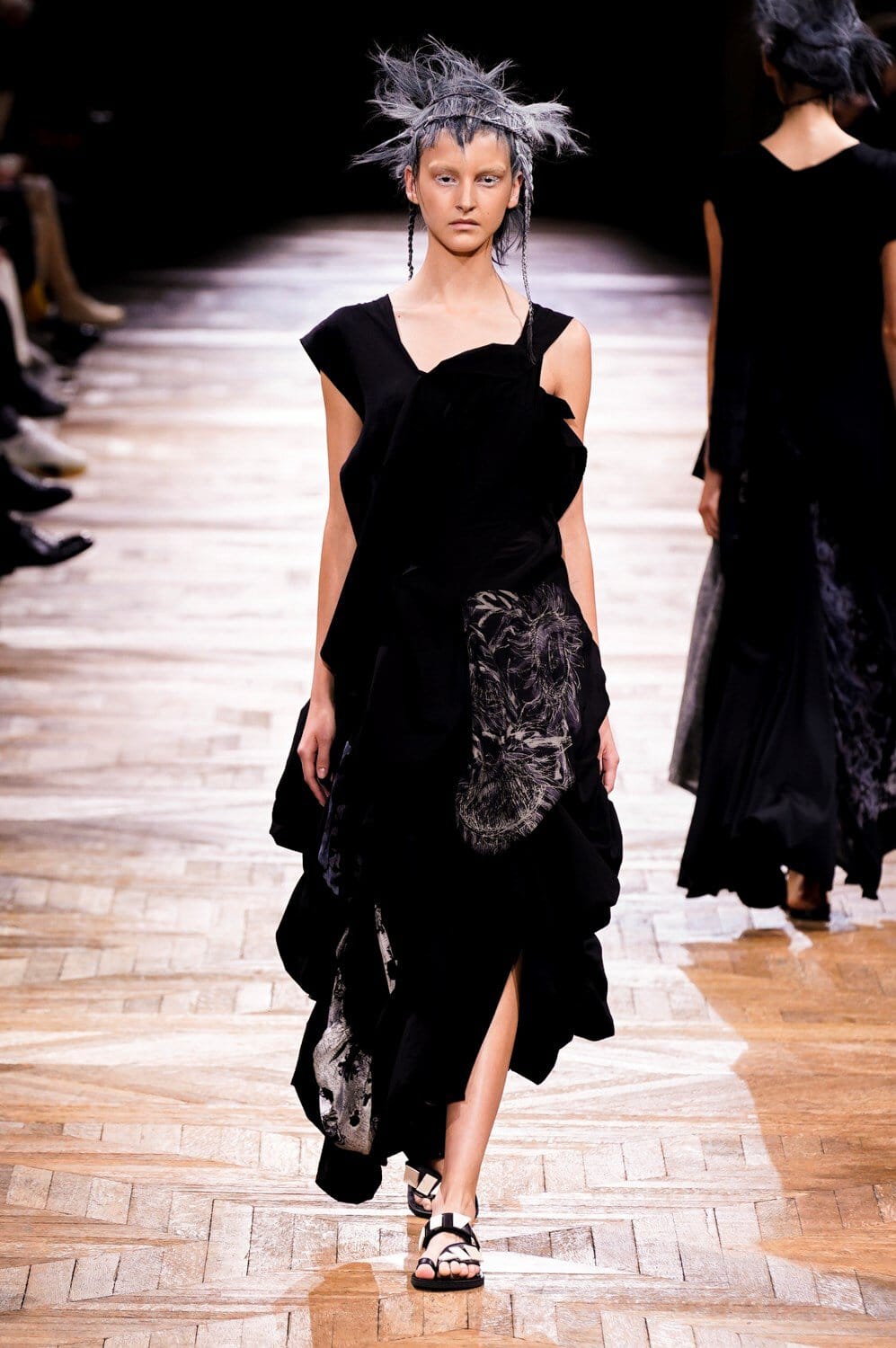 The final look presented a single white rose drawn upon its train, signalling hope amongst recent despair.
Shows like this are why fashion week matters.
---