Review of Zegna x Norda Spring 2023 Ad Campaign with Marlon Patrice, Thea Klaeboe Aarrestad, Koby Pederson, Patrick Stangbye and Adam John
"Every road and every path, at Zegna, starts from and leads to, Oasi Zegna, the home of our values. This includes our new collaboration with Canadian trail running shoe specialist, nordaTM. This collaboration celebrates our shared love for nature and spirit of sustainability, ignited generations ago by ZEGNA's founder who began planting over 500,000 trees across our 100 km2 natural territory: Oasi Zegna. From the Italian Alps to the Canadian mountainside, this new progressive partnership with nordaTM embodies our mutual values of design quality and innovation to create a technical wardrobe built for the toughest conditions while acting in harmony with nature." – Zegna
The Zegna x nordaTM collaboration represents the latest evolution of the Outdoor Collection, which is set to showcase a new design partner each season. Developed with the mantra, 'Zegna Through the eyes of nordaTM', the collaboration features pieces inspired by the trails of Oasi Zegna's natural territory, which is now discoverable in nordaTM's community-driven directory of the world's best trail-running locations.
The collections campaign imagery sees avid trail runners Marlon Patrice, Thea Klaeboe Aarrestad, Koby Pederson, Patrick Stangbye and Adam John put the ZEGNA x nordaTM collaboration to the test while discovering and journeying through the unbeaten paths of Oasi Zegna.
The ZEGNA x nordaTM collaboration features an exclusive collection of footwear that incorporates bio-based Dyneema®, the fibre reputed to be the world's strongest, is also impeccably lightweight, and water resistant, making it an ideal choice for sports taking place in tough conditions. 75% of the energy used to manufacture Dyneema® is derived from renewable energy sources — the reduction in CO2 emissions of which is equivalent to taking nearly 13,000 vehicles off the road each year. A considered choice for the collection, the fibre's use reflects ZEGNA and nordaTM's shared beliefs in innovation, sourcing the world's finest materials and leaving the lightest footprint possible.
The ZEGNA x nordaTM collaboration enables ZEGNA to speak to a new audience where luxury outdoor is a space for experimentation.
What do you run for?TM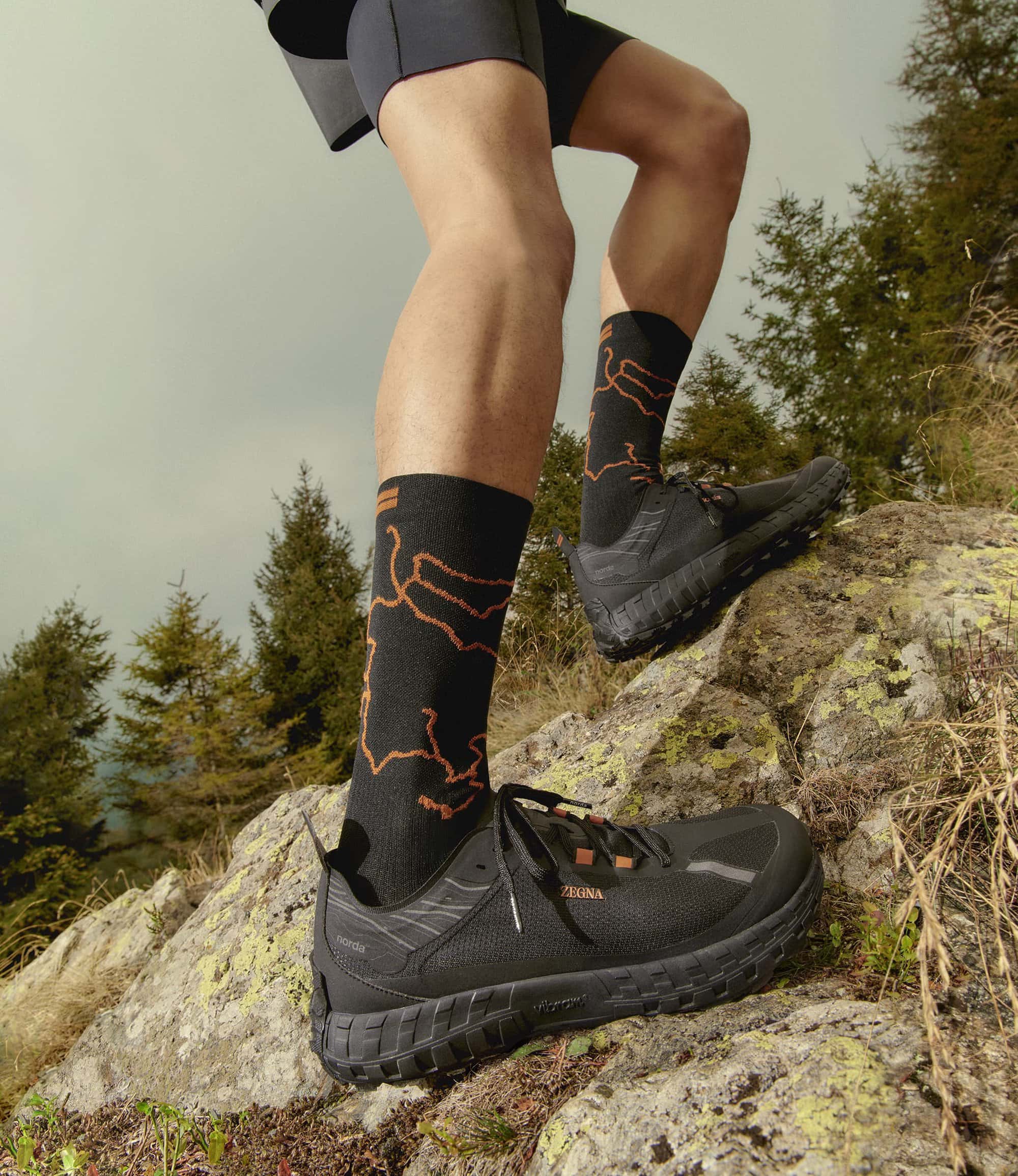 Talent | Marlon Patrice, Thea Klaeboe Aarrestad, Koby Pederson, Patrick Stangbye and Adam John


---