Review of Balenciaga x Adidas 2022 Ad Campaign by Creative Director Martine Thiefenthaler and Photographer Joshua Bright with models Bella Hadid, Jermell Charlo, Isabelle Huppert, and Khadim Sock
Balenciaga and Adidas make money moves with the new campaign for their Demna-designed collaborative collection. The campaign features creative direction from Martine Thiefenthaler and photography by Joshua Bright.
With its cultish evocation of the intersection of desire, technology, and systems of exchange, Balenciaga's Resort 2023 show held at the New York Stock Exchange, where this collection debuted, was an incisive expression of its commitment to the esoterically alluring contradictions of contemporary consumerism. Against a backdrop of eerily glitching digital stock counters that seemed to suggest economic collapse, the latex gimp suits worn under iterations of bourgeois sophistication or hypebeast extravagance made their message strikingly clear: money is the greatest fetish of all.
The campaign revisits these themes by returning to the New York Stock Exchange, but this time takes us a few floors up to the executive offices. Bright's cheeky portraiture sees his models pose as if they own the place, exuding an impatient and business-minded attitude that, like their surroundings, makes for a surreal contrast with the oversized tracksuits, trainers, and soccer jerseys that they wear.
An accompanying video stars returning brand ambassador and muse of the moment Bella Hadid as she slurps the last drops of green smoothie out of her insulated water bottle with a metal straw. Intentionally provocative and unsettling in its ASMR-like amplification of one of the most irksome sounds you can hear at the office, the video fittingly ties off a drily humorous campaign that almost dares us to act outraged at the elevation of simple sportswear for the masses to a Balenciaga price point and to the upper echelons of capitalist exchange.
It's the kind of campaign that only Balenciaga could pull off, and they do it almost frustratingly well.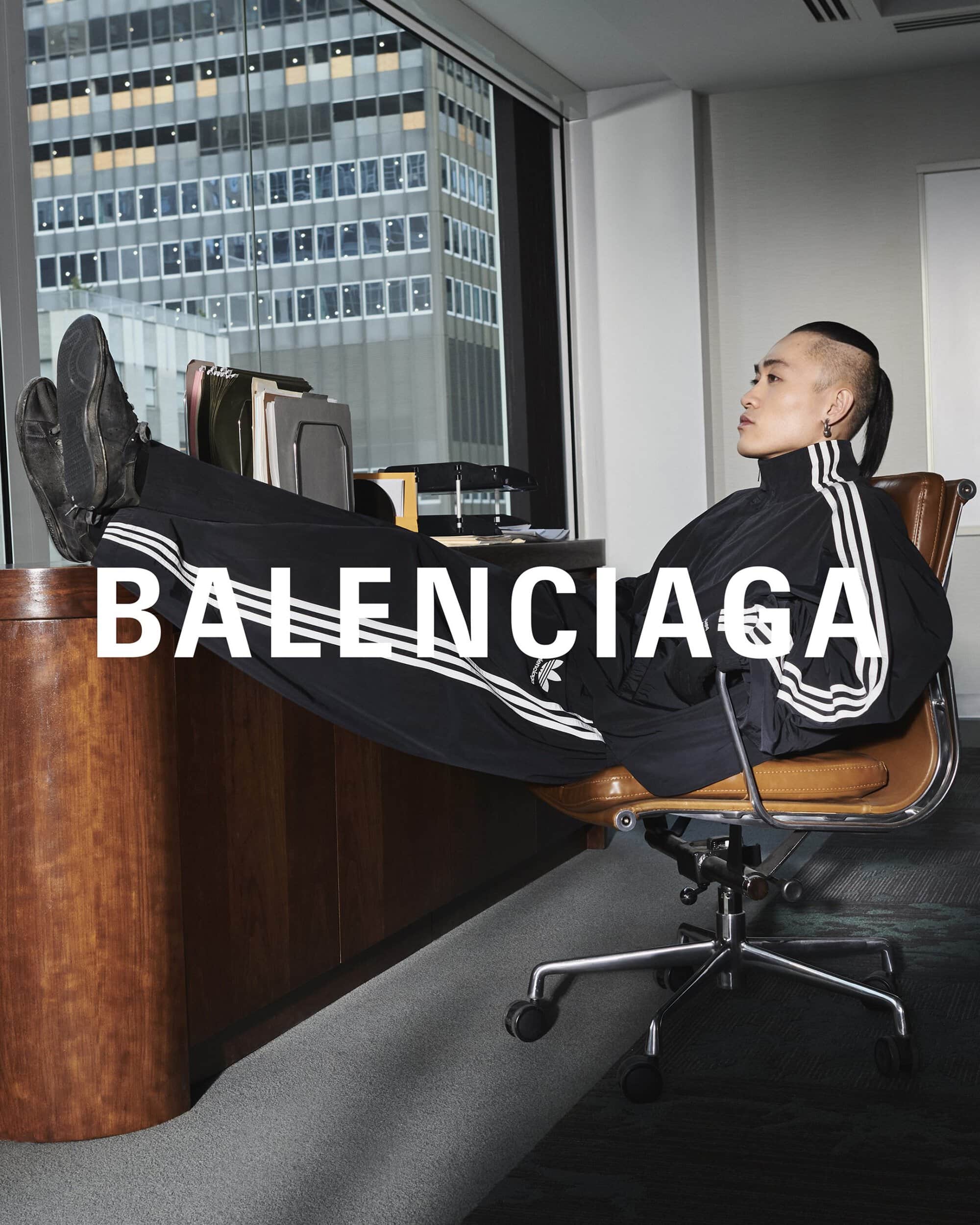 Balenciaga Creative Director | Demna
Creative Director | Martina Tiefenthaler
Photographer | Joshua Bright
Video Director | Rosie Marks
Models | Bella Hadid, Jermell Charlo, Isabelle Huppert, Khadim Sock
Stylist | Jonathan Huguet
Hair | Owen Gould
Makeup | Sam Visser
Location | New York Stock Exchange

---